« April 2005 | Main | June 2005 »
May 31, 2005
Latest Dance Articles
On the web
NYCB (Baiser de la Fée, Tālā Gaisma, Brahms-Schoenberq Quartet)
. . . the rival pressure from ABT's contingent of pyrotechnicians is strong. The appetite of the audience today is for male virtuosity, and NYCB needed De Luz to keep up, but the Balanchine repertory suited to a short male pyrotechnician is limited; principally Edward Villella's roles. Baryshnikov encountered a similar problem during his brief tenure. Where is their repertory to come from?
And if you like me, find train wrecks eerily fascinating, Nancy Dalva reviews one this week: Eifman's Anna Karenina.
In print
The latest print issue of Dance View has come out and my piece on the latest Balanchine Foundation taping, Merrill Ashley coaching Ballo della Regina, is included.
Ashley keeps correcting Scheller's placement. She brushes the front of Scheller's hips to show what she wants. "This always has to be long. You don't want to see a crease . . . you're on balance. I'm never on balance." Classical placement pushes the body gently forward from the back of the shoulder blades to avoid "sitting back". Ashley asks for a slightly different, even more stretched alignment by lengthening the front of the hips. For Ashley in Ballo della Regina, classical alignment is stasis.
This article isn't available on the web, but several earlier ones in a series of reports on the Balanchine Foundation Interpreters Archive tapings are. You can subscribe to Dance View at its homepage - do consider it, it also supports the web edition, Danceview Times.
Posted by Leigh Witchel at 5:02 PM | Comments (0) | TrackBack
Wireless Internet Access for the coordinated
The Hilton Olympia does not have wireless in the rooms, and charges a fortune for high-speed (don't even think about the phone charges for dialup). After walking up Kensington High Street in a fruitless search for reasonably priced wireless I discovered that if I take my computer to the hotel window and hold it just so . . .
I will do my best to blog from this position for the next two days.
Posted by Leigh Witchel at 10:03 AM | Comments (0) | TrackBack
May 28, 2005
Leigh's Dance Card - UK Edition
This is quite a feast.
London is for Ballet Review, Brum for Dance Now.
London
June 1 - Swan Lake. Roberta Marquez and Ivan Putrov
June 2, 4 (matinee and evening) - Symphonic Variations, Les Biches, A Month in The Country. I am drooling at the thought of this. I've never seen Les Biches and haven't seen A Month in the Country since 1983. I welcome any chance to see Symphonic again.
June 7, 8 - The Dream, Three Songs - Two Voices, Symphony in C
Birmingham
June 9, 10 , 11 Stravinsky Celebration - Dumbarton Oaks, Duo Concertant, Scènes de Ballet, The Rite of Spring.
Blogging may be touch and go depending on where I get access, but if I've got access, I shall certainly check in!
Posted by Leigh Witchel at 11:55 PM | Comments (1) | TrackBack
May 27, 2005
We come here via the most unexpected paths
A hearty, if ambivalent, welcome to the reader who found my blog via Google with the following search:
cooking women's tits for dinner
As they said in The Cook, The Thief, His Wife and Her Lover, "Bon Appetit!"
Posted by Leigh Witchel at 2:51 PM | Comments (1) | TrackBack
May 25, 2005
Kitty out of the doghouse
My computer is working again thanks to the nice folks at Hewlett Packard.
After Javi made a snack of the power supply cord, the poor computer acted as if a circuitbreaker went or it had a blown fuse. The phone tech support guy said to try this fix before sending the computer in: Take the battery out and disconnect the power supply. Depress the "hard reset" button for at least 30 seconds - on my ancient Omnibook XE3, that's on the left side of the computer next to the PCMCIA slots. You will need a needle or some other thin object to do this.
This action drains the capacitors (or I think that's what he told me). When done, replace the battery and try turning the computer on. I have a second battery with a charge in it, so I used that one.
Success.
Kitty has been spared my wrath.
Posted by Leigh Witchel at 11:59 PM | Comments (1) | TrackBack
May 23, 2005
Most recent articles
Two pieces this week in Danceview Times

Modern Times - NYCB 5/21 matinee.
All we need is a volcano virgin at the end, but all we get is a blackout.
Dana Tai Soon Burgess & Co. in Tracings.
The story of immigration is the story of our country; millions of voices each tell individual tales that blend into one. The details of each tale—my great grandfather was a cabinet maker, Mr. Burgess' worked on a plantation—are most interesting to ourselves. One must escalate the telling of the tale to something much more than the details.
But don't just read me on Burgess, please read Alexandra Tomalonis' or Chris Correa's reports on the company. They get a lot more out of the performance than I did.
In the same vein, Tom Phillips' perceptive, informative and stylish report on the Otaku exhibition at the Asia Society shows just how much I missed in my report.
I've said it before, but Phillips is one hell of a writer.
Posted by Leigh Witchel at 7:23 PM | Comments (0) | TrackBack
Kitty in the Doghouse
Somebody thought the cord to the power supply of my computer looked mighty tasty.
I saw the frayed power cord and touched it to see if I could fix it with electrical tape.
*zzzzZZZZzzzzot*. And the computer turned off and would not turn back on again. Luckily I have a second, older computer but that took 4 hours to get up and running, put necessary information on it and hook up to the internet. So I was late with copy to Danceview Times as well.
And the most frustrating part is there's no point in even getting mad at her, because she doesn't understand why unless I catch her in the act. So I get to feel either frustrated or like an ogre.
SOMEBODY is lucky she wasn't made into a purse or a hat.
Posted by Leigh Witchel at 7:13 PM | Comments (2) | TrackBack
May 21, 2005
Most Recent Articles
Both in the current (Spring '05) Issue of Ballet Review. Holy Moly, Spring '05 actually appeared during Spring, '05! Ballet Review has not always been known for its punctuality. The magazine can be difficult to find, but is available in the promenade gift shop of the NY State Theater during NYCB performances - or email Ballet Review
Royal Winnipeg Ballet in Mark Godden's The Magic Flute, Halifax, NS
. . . Godden has favored storytelling over dance values, an endearingly retro quality.
He's not entirely retro. His dance vocabulary moves with the prevailing wind for contemporary ballet; classical legs with the semaphoring arms that come from not only Forsythe or Kylián, but jazz and club dancing as well. Godden's results are occasionally precious, but more often acceptable. The work looks tailored to the company and he makes the dancers look good.
. . .
Godden doesn't falter in his handling of narrative, but there's also music, and he's up against Mozart. He's attracted to the humor of the libretto but doesn't know what to do about its delicacy. [Tara] Birtwhistle is given very earthy choreography but we're listening to Cheryl Studer's coloratura trills at the same time. Godden has the obvious analogue to coloratura vocal technique right at hand – pointe work – and dancers who are fluent at it. He uses pointe vocabulary, but sticks with the forceful aspect of it, relévés and turns, and avoids bourrées and other coloratura filigree. Godden also doesn't make much of ensemble work; it's all unison and tends towards the hyperactive. His vision has a great deal less texture than Mozart's.
The Bolshoi Ballet in Don Quixote - Boston, MA
During the scene at the gypsy camp, Yulianna Malkhasyants does a dance with over-the-top mood swings that is the kind of freak-out I've only seen her and the Kirov's Galina Rakhmanova put over. . . The Bolshoi's Mercedes (Maria Isplatovskaya) does her share [of backbends] during the tavern scene directly to the audience, pointedly and excruciatingly slowly after Espada flirts with another woman. They're a triumphant trick to enforce her status. "Watch this. You can't leave me. I can fold myself in half backwards." And after astounding the audience and Espada she disappears, of course, never to be seen again.
. . .
Of all the smaller roles, character and classical, the loveliest dancer was Nelli Kobakhidze. One of a trio of Dryads in both performances, she danced the second variation during the act 3 grand pas. She's a long-limbed beauty, delicate and strong all at once.
The corps de ballet danced as a single organism, fanning itself in unison in the first act or leaping and banging tambourines as one. The character dances are really classical dances with slight character flavoring, but they sell them as if they were actual character choreography. All the corps work is relatively elementary, but that's a feature, not a deficit. It allows for beautiful clarity as well as ease.
Posted by Leigh Witchel at 11:23 PM | Comments (0) | TrackBack
Leigh's Dance Card - Pre-UK Edition
Today - NYCB Matinee. Stravinsky Violin Concerto, Polyphonia, Glass Pieces. On duty for Danceview Times.
5/22 - Dana Tai Soon Burgess at the Asia Society. Also for DVT.
5/26 - NYCB in Jewels. Off duty. An entirely new cast including Bouder goes into Emeralds, Ansanelli is in Rubies. Wouldn't miss it for the world.
5/28 - NYCB matinee, again for DVT. Baiser de La Fée, Tālā Gaisma, Brahms-Schoenberg Qt. (with Nichols in the 1st movement)
Posted by Leigh Witchel at 11:01 PM | Comments (0) | TrackBack
May 16, 2005
Current Knitting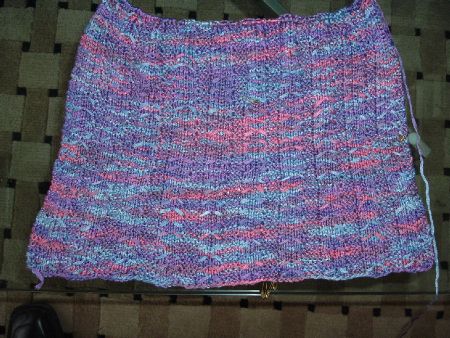 I often catch up on knitting during the travel time on a trip. I managed to squash the poncho into my luggage, and got it to the bottom garter edge.
I also brought a tunic I started in 2003 and let languish. It's made from variegated (peach/purple/blue) rayon ribbon that's probably close to two decades old called "Whispers". I ripped a portion back from an early machine knitting project that looked shapeless and awful. I'm knitting this in a slip stitch pattern called "Little Tents" (from the Walker Treasuries) in a firm gauge on a US 6 needle. It shimmers beautifully. I improvised an elegant and simple waist shaping by gradually decreasing the three garter stitches between each "tent" down to two and then reversing the shaping. This was photographed on Saturday in Toronto. I'm probably only a bit under the underarm by now.
Posted by Leigh Witchel at 11:33 PM | Comments (2) | TrackBack
May 15, 2005
You never know who will sit next to you - and maybe this is a good thing
The press office at the National Ballet of Canada tends to be very good about seating. Usually it is in a different area than House seating - which tends to be the front row of the second section. Seated there during the performances of An Italian Straw Hat were Kevin McKenzie at the matinee and Rex Harrington in the evening.
Saturday night Peter and I sat together, Desirée already had her subscription seat several rows closer. My row was mostly empty after my seat. Until just before curtain. Then, Karen Kain sat down and Guillaume Côté immediately behind. Ordinarily, this would be a pleasant thing, but I was "on duty" for Ballet Review with my telltale yellow pad and I had seen Côté's cast for the purpose of reviewing a few hours before. At moments like that you just want to blend into the audience.
Of course, this salad can only get more tossed. The lights go up for intermission, I look behind me and we're sitting directly in front of my friend (and host) John's ex. The lights start to go down and who should sidle into the seat vacated by Kain?

James Kudelka.
It was one of those situations where you're glad that even if you know all of these people, they don't know you.
Posted by Leigh Witchel at 5:28 PM | Comments (0) | TrackBack
Dining in Toronto
Being partial to Asian food (and being cheap) I tend to seek out that out wherever I travel. I had good luck in Toronto this trip finding reasonably priced good meals.
You may already know I am a sucker for Banh Mi. Rose's Cafe on Broadview at Gerrard does not have New Saigon Sandwich in Boston beat for quality, but they blow them away on price. A sandwich is $1.50 CDN. Several varieties are available, but with understandably cheaper meats and cold cuts than in Boston. The ""BBQ Pork" is actually sliced pork sausage, but no matter, it's still tasty.
Chris is vegetarian, so when John, Chris and I went out to eat, I wanted to go somewhere we could all enjoy. Although all the Southern Indian restaurants on the strip of Gerrard are less inviting than the more familiar northern Indian ones, I gently insisted we try Southern Indian because of its unfamiliarity.
Udupi Palace is quite a ways farther east on Gerrard in Little India (near Cogswell). Udupi Palace is the largest of the places, right next to the Saree Emporium. It's not much of a palace; it's rather a large bare dining hall. The food is another matter, though. Southern Indian cooking leans towards vegetarian and the main delicacies are dosas and uttapam, both crepes of mixed rice and lentil flour. An uttapam is open faced, a dosa is enormous, spilling over the plate to be filled (or not) and eaten with coconut chutney and sambar, a dal and lentil stew.
We began with a mixed appetizer plate. This is and idli (a steamed cake of the same flour mix) - a vada - similar base, now fried - it's amazing how different rice and lentils can taste in their endless guises - and a few fritters. Beware the long thin ones. They contain a whole hot chile within.
John and Chris both had dosas, I had the Southern Indian Thali which was a large portion of rice, a roti and a papad wafer surrounded by several vegetable dishes on a large metal thal or plate. It was filling and interesting - several of the dishes, sambar and rasam, a thinner lentil-tomato broth are not familiar from northern Indian cuisine. None of it is painfully hot. Total for three people including tip was about $43 CDN.
Spring Rolls is on Front and Jarvis, and a good place to get a pre-ballet meal. It's a bright, modern noodle house, but bowing to the low-carb craze there are other options. Wanting a light lunch, I had the chicken satay and mango salad, which was very good. We spent $11 CDN per person including tip for lunch.
On the non Asian front, I went for brunch with my friends Desirée and Peter to Batifole. Batifole is also on Gerrard, in East Chinatown a few blocks from Rose's Cafe, but tucked amidst the Chinese groceries (where I again bought Pocky!) it is an upscale French cafe. We all shared rillettes de lapin , then Peter had scrambled eggs with lamb sausage (they looked like chic merguez). I had the omelet of the day (mushroom and brie) and Des had clams and mussels and then a cinnamon waffle with stewed fruit that ended up bein a communal dessert. The atmosphere is laid back (think Brooklyn Heights instead of Manhattan) and the prices within bounds - about $25 CDN per person ordering liberally.
Posted by Leigh Witchel at 5:02 PM | Comments (0) | TrackBack
May 13, 2005
Friday Cat Blogging - Hallucinogenic Ted Nugent Edition
[Slashing electric guitar riffs]
Cat Scratch Fever!!!
[More guitar riffs]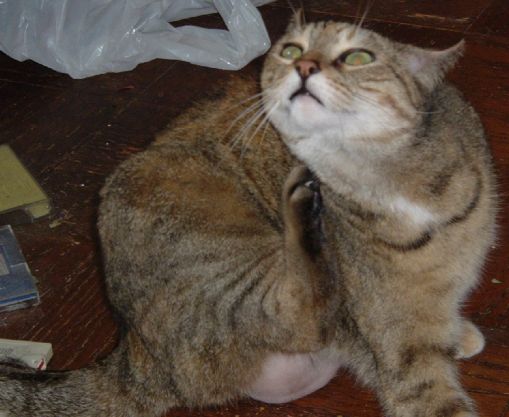 That is just one scary picture. She's not at all a scary cat.
Posted by Leigh Witchel at 2:22 AM | Comments (1) | TrackBack
May 12, 2005
Dancer and Superdancer
One of the more telling assessments of my work as a choreographer was probably made by Septime Webre in a phone conversation we must have had around a decade ago. I'm not sure of the conversation surrounding this quote from Septime to me, but it sticks in my memory.
"That's because you're inspired by high culture and I'm inspired by kitsch."
Few blanket statements are absolutely true, and that one isn't either, but at minimum the assessment about me is more true than not.
My attraction to art has always been about the ideal, not the real. I don't want to see us as we are, but as we could be. I think the dichotomy is also very important to understanding someone's taste and attractions.
There is a duet danced topless in Fiona Marcotty's piece. After her rehearsal I said jokingly to her that I was glad that the dancers she chose to be topless were the ones we would most want to see topless. And she said legitimately that would be her usual reason not to choose those dancers.
At the dress rehearsal of Ursula and the 11000 Virgins last night, Vicky Schick and Derry Swan were particularly lovely and there is a striking duet of a saint and a dragon. Alas, you can't tell the saints without a program – the only one I could ID for certain was Elizabeth Zimmer as Saint Wilgefortis, because she told me so in advance.
I've long been fascinated by saints and hagiography, and among the tales of the weird, but I'm more moved by the hope of transcendence and grace. Apologies, this link is in Spanish, the original English is the story of Cornelia Connelly from Kenneth Woodward's Making Saints.
I'm not a believer, so I don't believe in divine grace. Strangely enough, I do believe in grace, or at least the state of being inhabited by something greater than oneself for its purposes. I've seen it in ballet. Darci Kistler is the dancer that comes to mind. There's no way to describe the effects she had in her greatest roles, except that she was channeling something else much greater than any of us, and she had no idea why or how.
I'm torn between understanding that a certain amount of neurosis is involved in saintly behavior, and creative behavior as well. Still, I think we destroy what's admirable about it by reducing it to neurotic impulses. There's more to grace than being undersexed.
Posted by Leigh Witchel at 4:43 PM | Comments (0) | TrackBack
Another thought inspired by Darger.
Taking from my own essay's quote on Darger:


Henry Darger fulfills every romantic myth of the artist: Solitary, unbalanced, undiscovered, untrained, unrecognized, impoverished and conveniently dead, therefore available for romanticizing, analysis and exploitation.
When did we go from being more interested in an artist's works to being much more interested in his or her life? We all know it's happened, but when did it happen?
Posted by Leigh Witchel at 3:44 PM | Comments (0) | TrackBack
May 11, 2005
Henry Darger's Ghastly Innocence?
As well as my piece on Pat Graney's The Vivian Girls, I commend to you Lisa Traiger's report made when the work was performed in the Washington, DC area, which does more justice to the details of the dance itself than my report.
I find one sentence in Lisa's piece especially striking:
Darger's work is ghastly at its core and strangely enticing and beautiful—its colors, its imaginings, its fantasy—on the surface.
This is completely the opposite of how I see Darger's work. To me it's ghastly only on the surface and innocent at the core.
I think about the goriness in Darger they way I think about the Brothers Grimm, or childhood rhymes like Ring around the Rosie, which we've completely forgotten is about the plague. Or for that matter even Roadrunner and Bugs Bunny cartoons. The awfulness, the deaths, the two ton anvils turning Wile E. Coyote into a pancake are omnipresent and almost zestily unreal. He's up in the next frame, laying out rope for his next trap of the Roadrunner, and this time he's going to get shredded into ribbons by rotating knives.
It's quite possible the dismembered and hanging children in Darger's work betray the darkness in the soul underneath. He's not here to tell us. Is it also possible they also show a child-like innocence where the fascination with the grisly and the ghoulish is a sort talisman against it?
Posted by Leigh Witchel at 2:52 PM | Comments (3) | TrackBack
May 10, 2005
Latest Dance Article
Pat Graney Company at DTW last weekend.

Henry Darger fulfills every romantic myth of the artist: Solitary, unbalanced, undiscovered, untrained, unrecognized, impoverished and conveniently dead, therefore available for romanticizing, analysis and exploitation.
There's tons to read this week at Danceview Times, so read it all and enjoy!
Posted by Leigh Witchel at 3:16 PM | Comments (0) | TrackBack
Leigh's Dance Card - Stuff I would go to this weekend if I were in town
But I'm not. So go for me.
I saw Fiona Marcotty's work in rehearsal last Saturday. It's poignant, well-crafted and she has beautiful dancers. She's part of Soaking WET - a series at the West End Theater that David Parker produces with his usual intelligent touch.
Fiona's performances are Friday and Saturday May 13, 14 at 8:30 pm and Sunday May 15 at 5:00 pm. Call 212 337 9565 for reservations - this place has limited seating so reserve early.
*
Who could resist Elizabeth Zimmer as Saint Wilgefortis?
She (along with Wendy Perron and other people in the dance scene) will be playing a multitude of saints in Christopher Williams' Ursula and the 11,000 virgins. Being a lover of hagiography, it's almost too delicious to contemplate.
PS 122 at 8pm Thurs-Sat, 5 pm Sunday. 212 477.5288
*
What I'm actually going to see this weekend?
My pals John and Chris, who will finally get their afghan and the National Ballet of Canada in An Italian Straw Hat.
Posted by Leigh Witchel at 2:27 PM | Comments (0) | TrackBack
Victory
My matzo ball hypothesis has been tested, and looks to be correct.
A loose paste (3 eggs to 1 cup of matzo meal, and enough broth - it was slightly less than 1/2 cup so add a bit at a time) will make a fluffy matzo ball.
Now I get to eat them all! This is good. I love matzo ball soup.
Posted by Leigh Witchel at 11:40 AM | Comments (0) | TrackBack
Crankiness, thy name is fireFTP
Sorry about the silence. I foolishly thought I would update to Movable Type 3.16, which took three days because fireFTP crashed Firefox randomly and corrupted files during the upload.
Posted by Leigh Witchel at 11:02 AM | Comments (0) | TrackBack
May 6, 2005
Friday Cat Blogging - Quieting the masses edition
All right, already.
Here she is.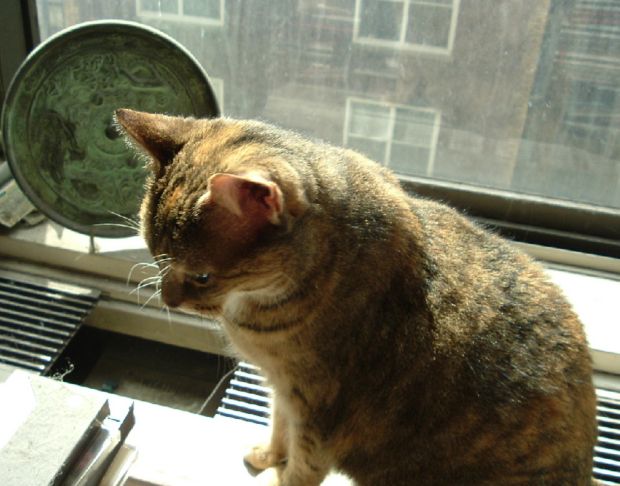 Posted by Leigh Witchel at 12:33 PM | Comments (1) | TrackBack
May 5, 2005
Oh Frabjous Day!
Carla Körbes has been promoted to soloist at NYCB. Confirmation is a little squib in the middle of the the Times' review of the Spring Gala.
Körbes is not a steely technician, nor the sort of just-add-water dancer that can speed through the ranks at NYCB. Peter Martins has said in interviews that before promoting a dancer he wants to know he does not have to worry about them. Körbes is harder for him to promote given those criteria; she's an act of faith. She may always need a little extra care or special handling. What she has is one of the most unforgettable presences of the young dancers in the company.
I'm so glad this happened. I bet there are going to be a lot of happy faces in the Fourth Ring tonight.
Thanks to harpergroup at Ballet Talk for catching this.
Posted by Leigh Witchel at 3:24 PM | Comments (3) | TrackBack