« Leigh's Dance Card | Main | This is a cartoon about chutney »
January 29, 2006
AFO
The silk purse is an AFO (Almost Finished Object, for non-knitters). It was taken off the needles a few days ago – apologies for not blogging for a bit, I needed to break a logjam in an article I have to get written.
This was an absolute pleasure to knit. There was the tactile pleasure of the silk and the kinesthetic pleasure of the pattern – slip stitch patterns require just enough thought to be interesting, but not enough to slow you down. But the biggest pleasure of all was the efficient use of the medium. I've had this yarn marinating in the stash for over a decade and a half, and when I finally used it, I feel like I made exactly the project it was meant to be. That sort of creativity satisfies me even more than creating without parameters.
You can find the chart for this in Barbara Walker's Charted Knitting Designs
.
This is the piece laid flat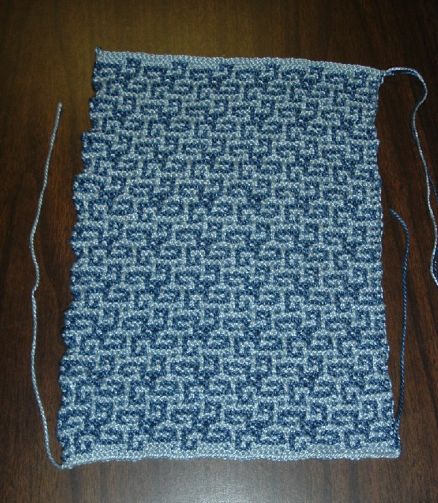 And folded into an envelope clutch.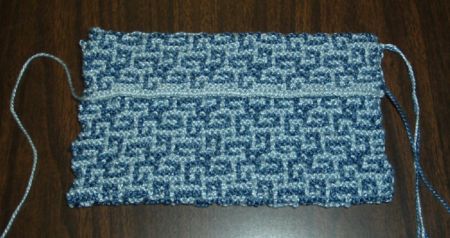 I'll line the bag and make some thicker cord from 3-4 plies of the silk as a strap and as an edging for the flap.
Posted by Leigh Witchel at January 29, 2006 11:31 PM
Trackback Pings
TrackBack URL for this entry:
http://www.leighwitchel.com/cgi-bin/mt-tb.cgi/377
Comments
Very, very nice. Elegant. Lovely. GOOD JOB!
Oh, but I am bored with my knitting right now. I need something fun to knit! (stamping feet) (well, not really, 'cause it would upset the cat on my lap).
Sigh.
Posted by: Grace at February 2, 2006 11:06 PM
Post a comment