April 15, 2006
Ich bin ein New Yorker
Over at First Draft, Scout was talking about the recent immigration rallies and asking how long her readers' families have been in the United States. I'm between third and fourth generation on both sides and my family's history formed my pet theory of immigration:
The first generation gets here.
The second generation makes it.
The third generation looks around and thinks "There's got to be more to life than making it."
I'm proud to be an American (Hmm. Catchy. Someone should write a song . . .) but my real pride comes from being a New Yorker. I was born in the city, at the French Hospital, which is no longer a hospital. One night about a decade ago, I was walking on 30th Street and saw a large building that looked like a converted condominium labeled "The French Building" above the lintel. "Oh my," I thought, "I was born there." I hadn't been there since my birth. I should have been born at Beth Israel Hospital farther downtown, but it seems that I wasn't going to wait that long as my Aunt Molly was driving Mom to the hospital.
I was raised outside the city in Mamaroneck, but moved back to the city by the age of 21, at first to a tenement sublet share at 21 First Avenue in the East Village when it was only hip in the minds of developers. Mom: "We spent 30 years moving out of that neighborhood only to have you move back?" I moved out of that place within two months to Midtown, had a share at 714 9th Avenue (on the corner of 49th) for six months and then my name on the lease of a two bedroom walkup on 50th & 9th until 1991 when I moved to my present apartment on 56th Street.
I've been in New York on momentous days; the blackouts, the Bicentennial, the blizzards of '93 and '96 – I didn't go outside for the one in '06 – and yes, September 11. I don't think it's the momentous days that make one a New Yorker, in much the same way that New Yorkers take pride in not having been to the top of being to the Empire State Building. Being a New Yorker is taking the subway or walking to work every day, the same route every day. It's shopping at the grocery store with your ubiquitous "old lady" folding cart; the only practical way to shop in a primarily car-less city. It's grabbing something fast, a bagel or a banana, at the Korean deli. It's knowing where to get the best hot dog in the city, cheap (Gray's Papaya). It's the promenade at the State Theater or standing room at the Met. It's not about the extraordinary, it's about the quotidian. I go to sleep in the city, I wake up here, I spend my days here. It forms the rhythms of how I think. It's what I know. It's my first allegiance. I am a New Yorker.
Posted by Leigh Witchel at 5:06 PM | Comments (1) | TrackBack
April 13, 2006
Linkage
Dance
Lisa Rinehart's piece on James Sewell Ballet shows something she does particularly well - air her criticisms without seeming to try and settle a score.
James Sewell tries hard to make amusing, irreverent and meaningful dance, but with the three pieces on offer at the Joyce, he comes up short. His influences are a mixed bag of classical ballet, six years of contemporary dance with Feld Ballets/NY, and dabblings in yoga and Qigong. The result is work that's decently structured, professionally presented and essentially unremarkable—a virgin pina colada for the subscription set.

This is harsh criticism (better to be flat out bad than serviceable), but there's a method to the meanness. Sewell can do better.
There's a lot of food for thought on both sides of that idea - easy enough to say someone can do better. Yet, the painful truth is that some work, no matter how competent, is still not a valuable addition to the canon. And try telling that to the artist (myself included) who needed to make it.
Current Events
A picture is worth a thousand comebacks. Read this entry on immigration by The Editors at the Poorman (scroll down at a leisurely pace for the best effect) for one of the best single picture retorts I have seen.
Posted by Leigh Witchel at 11:49 PM | Comments (1) | TrackBack
March 13, 2006
Incident
I was waiting for the D train to take me up to Lehman College in the Bronx on Saturday evening, where I was going to see Sleeping Beauty. An older lady, voluble and friendly, came up to me because she saw me knitting a hat and wanted to talk about teaching her grandson to knit. At first I froze, waiting for the inevitable "I'll bet you find that relaxing." But that never came, she knitted herself and we got to talking. She was with three companions, two of whom were French including a middle-aged French-Arab woman. I started talking French with them to try and be welcoming. The Arab lady was very nice - from Narbonne, near Montpellier. I took out a lace project, that impressed her far more than the simple hat. "C'est un châle." I said, doing my best in my rusty French.
They were going to the same stop as me, but not to Lehman for the show so to make small talk I asked the American lady where they are going. "A human rights meeting." She sounded embarrassed so I apologized and explained I only meant generally. "You don't frighten easily?" she asked. I said no, but I was bracing myself. The Arab (more accurately Moroccan) woman, Aicha, is the mother of Zacarias Moussaoui. The American woman I was talking to lost her son in the Towers. Through his trial, they have become close.
I had no idea what to say. By this point Aicha had moved to the other side of the subway car to speak with another of her companions and I was talking only to this woman (she's not a public figure, so I don't wish to identify her.) I asked about her son, but I knew his story even before she told it. I had heard it a hundred times. Cantor Fitzgerald, this time in the IT department. Memories of the days immediately after, the color xeroxes of the missing lining the walls of the subway stations, the candles in Union Square Park, the raw shock and pain of the bereaved, the acrid stink in the air came back. I told her I was impressed with her.
Going out of the train, my friend Mary caught me - we were going to the performance together, but had to travel separately and didn't know we were on the same train. I said my goodbyes to the ladies; we went down the hill towards Lehman and they went up to their meeting.
There's no moral to this story. 3000 people are still dead. We're trying to kill another man, and he's no innocent but it hasn't yet been proven that he had anything to do with it. And someone who lost her son finds the way she can make sense of it is to work for mercy.
Postscript 3/15/06: Greetings to those stopping in from AMERICABlog, Buzzflash or Metafilter. Thanks for stopping by, please feel free to look around. I don't blog often on politics, when I do it's in the category "current events" and you can find a category list on the home page. More about my blog here. Y'all come back.
Update: It's a shock to see how many people have read this. So far, the most interesting comments have come from Metafilter, where I have been called a liar, moralizing and female. I can only categorically refute the third.
Posted by Leigh Witchel at 11:06 PM | Comments (19) | TrackBack
March 9, 2006
Dance Linkage
It's an old link, but I very much liked this article by Jeffrey Gantz comparing Balanchine and Mark Morris' use of music:
Morris gives us comfort-food dance; Balanchine is Jacob wrestling with the angel. Nancy Reynolds in Repertory in Review describes Concerto Barocco as "a ballet especially for the legs and feet." Balanchine is all about legs and feet, about limbs and appendages galvanized by the center of the body and reaching, reaching, reaching. The original version of his Square Dance, another dance set to Baroque music (Vivaldi and Corelli), has Elisha Keeler calling, "Now keep your eye on Pat [Patricia Neary]/See what she is at/Watch her feet go wickety-wack." MMDG feet never go wickety-wack; they don't do much of anything.
At Downtown Dancer, Rachel is protesting a very odd editorial stance at Dance Europe. For further background see Stephanie Freid's blog and also Steven Weiss' Canonist for a not very productive sort-of exchange between the parties.
The one party I can't find an official postion from yet is Dance Europe. I hope they respond to this, either to confirm or deny. A commenter in Rachel's thread posts to say the statements are inaccurate.
While neither my situation nor my position on Israel would be the same as Stephanie's (she lives in Tel-Aviv) this quote seems particularly apt:
I'm against the occupation too, for the record, and want a resolution to the HLC (Holy Land Central) mess more than does the London Dance Lady because I have more at stake.

But we're talking dance here, folks.
Dance Europe is a dance magazine. Not a political organization. Injustice is a powerful and thorny issue, but when you start blaming the dance organizations in one country for the actions of their governments where do you stop? Are we going to stop writing about American dance companies for Iraq? Indian dance companies for nuclear proliferation? Turkish dance companies for Armenian genocide? English dance companies for Northern Ireland?
Who is the judge of which dance companies are represented by governments moral enough for us?
Posted by Leigh Witchel at 5:03 PM | Comments (0) | TrackBack
January 11, 2006
To the IRS:
I would like to commend the security guards at your Midtown Manhattan branch for preventing me from entering your building to get 1099-MISC forms today [January 10, 2006] because I had in my possession a fork.
This fork, with its five metal tines dangerously blunt, looked like a common lunch fork. Most people might have mistaken it for that. But sharp-eyed security guards and Jewish mothers know, "You can put an eye out with one of those things!" Who knows what havoc I could have wreaked with that seemingly ordinary fork? I had been in two banks prior to attempting to enter the IRS building and amazingly enough the tellers did not object to my fork, even though I might have robbed either of them with it.
I asked the security guard if he would let me leave the fork and go up and get the forms, but bravely, he would have none of that. He knew the rules. The Fork Must Stay Outside the Building. Chastened and banished, I left, but the building remained fork-free and safe.
Your guards are admirably vigilant in protecting the Internal Revenue Service from potentially dangerous lunches (though were that the case, I'm amazed they missed the beans I was going to eat with that fork) but would it be at all possible to inject a bit of common sense in your otherwise understandable desire for safety?

Very truly yours,

Leigh A. Witchel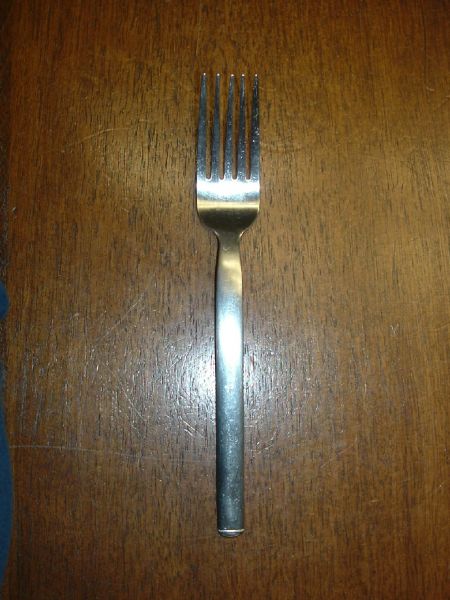 DANGER! FORK OF MASS DESTRUCTION!!!1!
Posted by Leigh Witchel at 12:05 AM | Comments (5) | TrackBack
December 29, 2005
Link dump
A cornucopia on several subjects of interest (at least to me!)
Via dirac in the links forum at Ballet Talk:
R. D. Adams writes a measured assessment of NYCB in the NY Press.
Ismene Brown's take on the year in the dance includes a view of the Royal Ballet that is the opposite of mine; partly because my viewing is not as complete, but it also shows that two reviewers can be looking for completely different things. At this point, I'd rather see the Royal Ballet find themselves as a company than see any new work that didn't assist in that goal, and I'd argue that almost no guest choreographer, especially any whose native tongue is another discipline than ballet, does that.
Robert Gottlieb's take on Ballets Russes is, as only Gottlieb can be, provocative, but he's right about the historical context being a lost opportunity. What's also interesting to me is a connection with something Francis Mason said at the Balanchine symposium in 2003 at the University of Michigan. He moved to NYC in the late 1940s, saw Massine's ballets and hated them, thought they were ridiculous. Contrasting to that was the aesthetic of Balanchine. And here is Gottlieb, implying a similar divide. At the symposium I told Mason (who is my editor at Ballet Review) jokingly that I would one day corner him and get him to defend his statements about Massine. It makes me want to see his work and find out why he went into such eclipse.
In researching for a forthcoming article in Knit.1 Magazine on travel and knitting I came across this brochure for an exhibition I deeply regret missing. It's for knitting's mad scientist, Debbie New, who seems like a mild mannered grandmother but thinks in five dimensions, all of them a different color.
The Random Stripe Generator is both useful and fun. Find out how stripes look in given proportions. A less high tech way to do the same thing is to wind the yarn around a strip of cardboard, but this is even easier.
I've already talked about James Wolcott's crush on Veronika Part. He defends himself here against the hordes who've decided he is gay gay gay. Not that I ever suspected otherwise, but I'm relieved he's straight. Just means there's more room in the castle for us queens.
Speaking of gay gay gay, here is the movie poster you just never never never wanted to see.
Apology accepted.
Posted by Leigh Witchel at 6:26 PM | Comments (3) | TrackBack
September 11, 2005
September 11
The song that I couldn't get out my head for weeks after:
Many's the time I've been mistaken,
and many times confused
Yes, and I've often felt forsaken,
and certainly misused.
But I'm all right, I'm all right.
I'm just weary to my bones.
Still you don't expect to be bright and bon vivant,
so far away from home,
so far away from home.
I don't know a soul who's not been battered.
I don't have a friend who feels at ease.
I don't know a dream that's not been shattered,
or driven to its knees.
But it's all right. It's all right.
For we've lived so well so long.
Still, when I think of the road we're travelin' on,
I wonder what's gone wrong.
I can't help but wonder what's gone wrong.
And I dreamed I was dying.
I dreamed that my soul rose unexpectedly,
and looking back down at me, smiled reassuringly.
And I dreamed I was flying,
and high up above my eyes could clearly see
the Statue of Liberty sailing away to sea.
And I dreamed I was flying.
We come on the ship they called the Mayflower.
We come on the ship that sailed the moon.
We come in the age's most uncertain hours,
and sing an American tune.
But it's all right, it's all right,
it's all right.
You can't be forever blessed.
Still tomorrow's gonna be another working day
and I'm tryin' to get some rest;
that's all - I'm trying to get some rest.
- Paul Simon -
"There Goes Rhymin' Simon", 1973
A different song sticks in my head when I think about Katrina and New Orleans:
Well we know where we're goin'
But we don't know where we've been
And we know what we're knowin'
But we can't say what we've seen
And we're not little children
And we know what we want
And the future is certain
Give us time to work it out
We're on a road to nowhere
Come on inside
Takin' that ride to nowhere
We'll take that ride
I'm feelin' okay this mornin'
And you know,
We're on the road to paradise
Here we go, here we go
Chorus
Maybe you wonder where you are
I don't care
Here is where time is on our side
Take you there...take you there
We're on a road to nowhere
We're on a road to nowhere
We're on a road to nowhere
There's a city in my mind
Come along and take that ride
And it's all right, baby, it's all right
And it's very far away
But it's growing day by day
And it's all right, baby, it's all right
They can tell you what to do
But they'll make a fool of you
And it's all right, baby, it's all right
We're on a road to nowhere
- Talking Heads -
"Little Creatures", 1985
Posted by Leigh Witchel at 12:01 AM | Comments (0) | TrackBack
September 6, 2005
America's own Marie-Antoinette
Barbara Bush on the refugees in the Astrodome:
"Almost everyone I've talked to says we're going to move to Houston."

Then she added: "What I'm hearing which is sort of scary is they all want to stay in Texas. Everyone is so overwhelmed by the hospitality.

"And so many of the people in the arena here, you know, were underprivileged anyway, so this--this (she chuckles slightly) is working very well for them."
Qu'ils mangent du gâteau de la brioche! (Thanks to Nanatchka for pointing this out. Just goes to show what happens when you translate a translation back into its original language.)
Posted by Leigh Witchel at 11:02 PM | Comments (1) | TrackBack
September 4, 2005
Katrina: Ways to help
You all know just how awful the scale of the damage is in New Orleans; there's nothing I can link to that you probably haven't already read.
The no-brainer donation is to the American Red Cross. OK, I lied, I am linking to something, just so you can see the scale of the foul-ups. Billmon's post on an earlier flood shows that some things don't change.
He's also got a huge list of relief organizations. Choose your favorite. However, if you're a miles whore, you can do the same amount of good and feed the miles junkie monkey on your back. A few airlines and hotel chains, including American Airlines and Starwood are offering a miles bonus for donations. Just make the donation through their link - the charity still gets the full donation but you get 500 miles for a donation of $50 and up. Andrew Cram's great Frequent Flyer Resources site has a list of all miles and points programs that are offering to help relief efforts. If you have any orphan miles rotting, or need activity in a dormant program, donate some miles to the cause. Miles or no miles, make the donation.
Hat tip to Flyertalk again.
Posted by Leigh Witchel at 12:48 AM | Comments (0) | TrackBack
August 16, 2005
You could see this one coming miles away
I won't talk about politics frequently here (I'd prefer to talk about subjects on which I have more expertise) but the story of Jean Charles de Menezes bothered me from the beginning.
I'll let the headlines tell it.
Suspected suicide bomber shot dead at London underground station
devolved quickly into

Suspect shot dead 'had no bomb'

and finally to the awful
Shot man not connected to bombing
Met Police Commissioner Sir Ian Blair came out with a heartfelt non-apology

Police chief 'sorry' over death
He acknowledged "somebody else could be shot" as the hunt continued, but added "everything is done to make it right". But he said the "shoot to kill" policy for dealing with suspected suicide bombers would remain in force. [Home Secretary Charles Clarke] told the BBC: "I very, very much regret what happened. "I hope [the family] understand the police were trying to do their very best under very difficult circumstances."
I'm glad that the very best the police could do was to pump seven bullets into the head of the wrong man.
Amazingly, everyone started offering non-apologies, even London's mayor Ken Livingstone, a man not exactly known for shirking from controversy.
London Mayor Ken Livingstone described Mr Menezes as a "victim of the terrorist attacks". He said: "Consider the choice that faced police officers at Stockwell last Friday - and be glad you did not have to take it."
Tim Hames at the Times of London was one of the few willing to question the police:
Oops, sorry, won't do. We can't just shrug our shoulders over this shooting
The inquiry that is coming out seems to be telling a different story.
It was a catastrophic failure of intelligence - ending in the death of an innocent man mistaken for a suicide bomber.

An official inquiry is underway into the fatal shooting of the young Brazilian Jean Charles de Menezes - a tragedy shrouded in confusion from the start.

Now tonight, leaked documents and photographs from that report reveal just how badly the police operation may have gone wrong. The leaked draft - obtained by ITV News -shows:


• The day after the July 21st London bomb attacks, at 9.30am, Mr de Menezes left his home - his block watched by police who thought it housed one of the would-be bombers.

• As Jean Charles made his way out, a surveillance officer was apparently relieving himself and couldn't communicate his observations or video him.

• De Menezes continued on his way - boarding a bus to Stockwell Tube Station.

• Gold Command instructed officers that he was to be stopped from entering the tube system. But this apparently didn't happen.

• De Menezes used his electronic card to pass legitimately through the barriers - he did not jump them - and even stopped to pick up a free newspaper.

• He started to run, possibly to catch a train just pulling in - as armed officers received positive identification of their target - and authorisation to shoot to kill.
More at the Times. He wasn't wearing a heavy jacket. He didn't jump the turnstile. He didn't run from the police. This wasn't about an error made in a split second. It was a monstrous bungling of protocol. If one wishes to argue for the necessity of a shoot-to-kill policy, it might help if the people responsible were able to properly identify their suspects.
Tune in tomorrow when Ken Livingstone explains to us how a man whose doctor removed his heart instead of a lung was actually the victim of lung cancer.
Posted by Leigh Witchel at 5:13 PM | Comments (3) | TrackBack
August 4, 2005
Subway Search Update
I haven't encountered a subway search yet, but The New York Civil Liberties Union has filed suit against the police department to stop the searches. Read here about the plaintiffs.


Andrew Schonebaum . . . commutes daily to his job on the E subway line . . . he was instructed by a police officer at the turnstiles by the main entrance to the Roosevelt Avenue station to go to a table where the bag of another subway passenger was being searched. The police officer at the table asked him to open his bag, which contained a copy of the Sinclair Lewis book "It Can't Happen Here," and then asked him to open another compartment. In turn, he complied with both instructions and the officer visually inspected both compartments. Mr. Schonebaum asked for the officer's name and she gave it to him, asking "Aren't you happy to have your bag searched?"
The political among us make snarky political comments with Sinclair Lewis novels. I'm still tempted to buy the biggest, nastiest looking dildo I can find and stick it in my backback. Who knows, maybe I'll get a date.
Posted by Leigh Witchel at 2:33 PM | Comments (1) | TrackBack
July 22, 2005
Random Searches on the NYC Subways
Articles on same in The New York Times and The Associated Press (via ABC News).
The most disturbing thing to me is that people somehow think that this will make them safer. Random checks of people's bags with the option to simply go to another entry point where one might be not be searched won't do a thing except give nervous little chickens the sense that the sky is not falling. The potential for harrassment and abuse is quite large. At least at the New York State Theater, which has been doing its own deeply pointless search since after 9/11, everyone gets subjected to it. But only at curtain time. So an enterprising and determined bomber will just come at an earlier time, or through another entry.
I've written Mayor Bloomberg to protest this. Especially if you are a New York City resident, I hope you will call 311 or write him urging him to rescind this pointless exercise as well.
July 22, 2005
VIA FACSIMILE (212) 788-2460
Mayor Michael R. Bloomberg
City Hall
New York, NY 10007

Dear Mayor Bloomberg:
I am writing to register my absolute dismay over your decision to
institute random searches in the New York City subway system.
Although safety of our citizens is of paramount importance, this action is purely cosmetic. Random searches are like trying to find a needle in a haystack; the only thing they provide is harassment, inconvenience and the immense possibility for abuse.
If a police officer requests to search my bags randomly, I will refuse. And simply enter the subway at another point. The system cannot be secured except by draconian methods that are worse than the safety they provide.
I strongly urge you to reconsider a decision that will do far more harm than good. Your actions on this matter will have immense bearing on my vote in the next mayoral election.
Very truly yours,

Leigh A. Witchel
Posted by Leigh Witchel at 4:45 PM | Comments (4) | TrackBack