April 3, 2007
Tuesday Night Jukebox - Unkosher for Passover Edition
Everyone knew about the Scissor Sisters well before me, and I wish I were a little earlier on the bandwagon. The video for "Filthy Gorgeous" celebrates the downtown club scene; my friend Dirty Martini is in it. Murray Hill, the drag king without whom there would not be Christmas, is the one spanking Jake Shears.
Ahhhh. Jake. He's totally not my usual fantasy type but there is something so magnificently out there about him, to say nothing of the way the outfit that he is wearing fits him that makes me want to. . .well, you know. As one of his lovers interviewed said he "helped me find my inner daddy."
Posted by Leigh Witchel at 11:19 PM | Comments (1) | TrackBack
February 21, 2007
Curse you, Showtunes!
Much as I love Showtunes, I did not need to get Wig in a Box stuck in my head.
Now it's your turn.
Posted by Leigh Witchel at 12:40 AM | Comments (2) | TrackBack
February 20, 2007
Chicago Thaw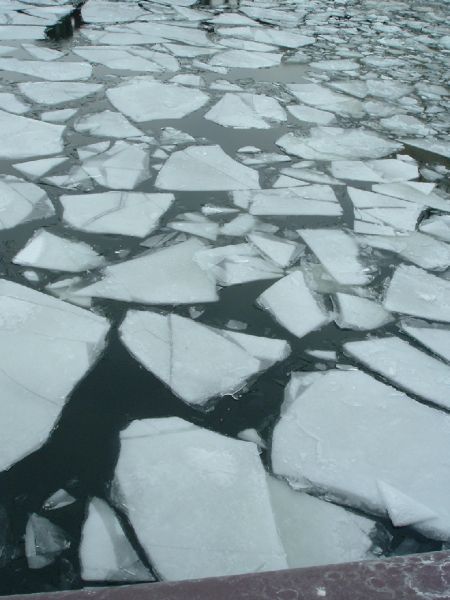 Looking over the bridge on LaSalle Street, 2/19/07
Despite the inauspicious beginning it was a lovely trip.
I saw the Saturday and Sunday matinées at the Joffrey. The long version will be in Ballet Review, the short version is it was worth the trip, and the alternate version lives here – Franklin, a fellow knitter and blogger was my companion on Sunday. He provided excellent company!
I saw several other good friends and got more sense of the city – what's to get a sense of, it's a grid, right? Yeah, and so are New York and San Francisco. Chicago's grid has the added benefit of forcing you to memorize the early presidents in order.
Before going to Chicago, on David B's recommendation I read Devil in the White City
, a book that runs the parallel courses of the Columbian Exposition in Chicago in 1893 and Dr. H. H. Holmes one of the first serial killers who used the fair as a lure for victims. It bills itself as pure history; historians I know roll their eyes when that is said. There's plenty of research in the book; there's also plenty of conjecture. It's You Are There history.
The author, Erik Larson, is better on the Fair and its architects than he is on Holmes. It's probably a good thing, but he has an easier time making more comprehensible men such as Daniel Burnham and Frederick Olmstead come to life than a psychopath such as Holmes who is fascinating in a grisly way, but ultimately reads as a cardboard cutout villain.
That said, Larson does some great things in this ripping yarn. The conjunction of the two plot threads isn't just historically correct; Larson teases out the opportunity and energy in both Chicago and fin de siècle America that fed both builders and madmen. It's a portrait of a city and a country that rings true. Larson also pays special attention to architecture that opens your eyes. It could also be that my friends David B. in Chicago (whom I just visited) and David S. who just moved to Atlanta from San Francisco are an architect and a landscape architect respectively. I found myself noticing the lampposts on Madison Avenue as my bus moved uptown on the way to Boston, and staring upwards at cornices and molded decorations.
Larson's book captures one of Chicago's most vigorous architectural periods; a trip downtown will bring you face to face with some of the buildings described, except, alas, the World's Fair itself. What remains of it is far to the south; David took me there on my first visit to Chicago. My hotel (the Club Quarters Central Loop – gotten again on Priceline for $68/night) is right next to the Rookery, which housed the firm of Burnham and Root. Go to see the Joffrey Ballet at the Auditorium Theatre and you are in Adler and Sullivan's masterpiece. To cap it off, go up the stairs in the Art Institute of Chicago towards their phenomenal Impressionist collection. There is an exhibit of fragments of ironwork and moldings from buildings designed by these very architects. You really are there.
After lunch with David on Monday, as he said with satisfaction the first day above freezing in Chicago in more than a month, I had two hours to kill before heading to O'Hare, and they were profitably spent at the museum. With only that length of time, I decided to see only the Impressionist and American collections, but that means one sees Caillebotte's amazing scene of Paris in a drizzle, Seurat's La Grande Jatte and van Gogh's haunting and claustrophobic picture of his room in Arles. The American collection has Hopper's brilliant Nighthawks and the iconic American Gothic, a painting that's a good deal better than the image that resides in everyone's imaginations. It was an excellent farewell to a vigorous city.
And to make mischief . . . Franklin looks very hot in leather.
〈skips merrily away&rang
Posted by Leigh Witchel at 10:59 PM | Comments (1) | TrackBack
September 2, 2006
Eye of the beholder
Last night, I was heading home after dinner with my friend Andrea, a classmate from ballet days and class with the formidable Madame Darvash. Can't recall the name of the restaurant, the credit card receipt only lists them as "Vietnamese Food", but it's at 121 University Place. Excellent Bo Luc Lac, reasonable prices, but it was a busy Friday night and the waiters practically grabbed plates away from you the moment you didn't seem to be finishing it and cleaned the table up around you.
On the subway ride back, I was working on the last sleeve of the Bamboo sweater. The car was relatively empty at West 4th, and filled a bit with each subsequent stops. Two twenty-something guys sat next to me at West 14th. A man got on at 34th. He looked as if he had come from a fantasy equestrian event; thigh high leather boots over khaki pants, blue blazer, green walking stick, straw hat with what looked like Christmas ornaments decorating the brim.
I'm thinking, "Work the outfit!" I notice one of the twenty something kids stealing glances at him too. My guess is we're both thinking the guy is a bit of a New York character – a freak. I think about this for a moment. I'm sitting here like the screaming faggot I am knitting on the subway and the boy next to me has a ring through his nose. And we're all over the equestrian freak across the car?
The moral of this subway story is either: Scratch a normal person and there's a freak underneath, or scratch a freak and there's a normal person.
You pick.
Posted by Leigh Witchel at 12:36 PM | Comments (3) | TrackBack
August 27, 2006
Department of Maybe That's Not How You Wanted to Put That
Seen in the subway today - a poster for the anti-HIV medication Truvada. The slogan, also on their website, is "You've worked hard to get where you are."
Maybe they want to reword that just a bit.
Posted by Leigh Witchel at 11:00 PM | Comments (0) | TrackBack
March 7, 2006
Aspects of the Feminine
It was a scene almost out of an E.M. Forster novel; a view of India that through western eyes was stereotypically oversimplified – that of elegant chaos. "Dancers with a Difference" was a performance of four female soloists at the Indian Consulate. Hundreds of people were generously invited; the amount that accepted and showed were at least double the seating prepared. A white sheet was spread in the front of the ballroom where the performance took place to protect the oriental carpeting; people took off their shoes and sat down and still there was not enough room; not room for the consul's guests, nor room for the dancers themselves. We squeezed to the side as they stepped over us to reach the stage. Elderly women were fanning themselves with postcards to combat the excessive heat from the crowd. I shed my shoes first, then my sweater. By the third performer, I wasn't sure that I could feel my legs. People paid attention, but attention in a different way; they talked, they laughed. I could hear one of the dancers behind me stamp in sympathetic rhythm as she was carried by the beat when another performed. Much the same, in a row of chairs behind the musicians playing; a drummer from a previous performance drummed his thighs. The ballroom of a Fifth Avenue mansion built by the Astors felt like a festival outdoors.
The four soloists, Swati Gupte Bhisé, Anita Ratnam, Rajika Puri, and Janaki Patrik each specialize in a different area of Indian dance; each were allotted fifteen minutes to give us a taste of it. Bhisé showed us "at aerobic speed" Ashtanayika: 8 Broad Facets of a Woman in the Bharatanatyam style. Ratnam performed Neo Bharatam, a forceful amalgamation of classical and modern styles; Puri danced in the Odissi style a section from Devi Malika depicting the story of Radha and Krishna, and Kathak – The Art of the Storyteller gave Patrik a chance to break down the art of Kathak for us. Each style is subtly different. Kathak is marked its spinning charkas and percussive stamps. Bharatanatyam is flickering where Odissi is sinuous.
Bhisé had two students perform with her, beautiful Indian girls of about fourteen years of age. It is quite marvelous to see the movement on young girls; in its oblique innocence it almost seems devised specially for them. Each girl was adept at the motion of rotating the neck and head off the axis of the spine and the beautiful wide-eyed but strangely focused stares that throw us into another world and perception. One of them stumbled and fell during a plié; she quickly got up and it only made her more delicately attractive.
The strange connection I came away from the performances was with the relationship between these dances and drag. It's certainly not a direct one, but I think it's there, and if I had to guess how it would be to trace back from Martha Graham's onstage mystique to Ruth St. Denis' fascination with ethnic dance. It was most apparent in Bhisé's dance. She presented us with "8 broad facets of a woman" – what is drag but the same boiling down not of womanhood, but the broadest essences of femininity? In the same way Bhisé's portraits went beyond womanly to hyper-feminine; the woman who shouts at her lover to leave immediately, and then is furious when he takes her literally. Ratnam showed us seven graces of the Buddhist Goddess Tara; again broad strokes and essences boiled down. Puri's tale of the love of Radha, as fair as sunlight and the roving Krishna, whose skin is as deep blue as the evening sky was the gentlest of all. It showed another aspect of the eternal feminine; She Who Forgives, part Graham, part torch songs.
The hyper-feminine extends to the idea of the diva; a divahood similar to old-school modern dance. Each woman could hold a stage in an overcrowded, overheated room; Puri readjusted her microphone barely missing a beat from the spell she wove. Amidst the powerful stampings in Ratnam's dumb show were moments of silent-movie mime. It tapped into the same mystique as a lip-synch of a Pop Goddess. The only westerner of the lot, Patrik's work was the most direct and constructed like a lecture-demonstration; a simple theme was amplified and varied into impressive elaboration. She was also the one who broke one of the rules of divahood on stage: If the music is off tempo, if the microphones are not working, if the volume is too low, do not let the audience know it is disturbing you. Carry on as if nothing is amiss and kill the offending parties afterwards.
Before sending us out into the winter night, the consulate treated us to a feast that was perfect given what had come before; delicious tandoori chicken, samosas and kachoris were served in a packed room where the waiters ran out of glasses and plates long before the people stopped arriving.
Posted by Leigh Witchel at 6:13 PM | Comments (3) | TrackBack
March 4, 2006
In a crowded and noisy bar, things sound different
After seeing him last week in San Francisco David came here with his boyfriend Duane to visit.
We went first to Pam Real Thai and then out to Therapy for drinks.
I don't know where or why in the conversation (or after how many cocktails) David asked if I were a gerontophile.
I thought he said Torontophile.
Of course I said, I've been there several times.
Posted by Leigh Witchel at 11:58 PM | Comments (0) | TrackBack
February 25, 2006
Mood Swings - A visit to San Francisco
Thursday 2:00 pm EST Mood: Frazzled. Preparation for a trip is usually last minute for me. Two things usually happen; I can be relied upon to not pack to the size of suitcase I had hoped to – (aimed for carry on, had to go one size up and check it) and forget one tricial item. This time, it was my belt, which I discovered as I absentmindedly hitched up my pants. I had to go to the post office anyway, I went to Daffy's bought one.
Thursday 5:00 pm EST Mood: Panicked. When I plugged my computer into a power supply at the terminal, no power came through and I figured the outlet was defective. My computer had been working this morning, after all. When I plugged it in a second time at a different part of the terminal with the same result, angst set it. I have an old computer and had two batteries, which would have had an hour of computing time at most between them. How to make that last over three days? I had my PDA and a folding keyboard with me that would suit for writing, but even that got recharged via the USB port by the computer. On the plane, I called my friend Peter for magic words. "Maybe I've already said them, Darling. So if the computer starts working in the hotel, I will take credit." "And I will be happy to give it to you, darling."
In Flight to OAK Mood: Irritated. This was my first time in JetBlue. It's a completely acceptable economy product, but nothing special. If the plane as packed, as this one was, all economy is cramped and irritating even with a 34 inch seat pitch. I do like the cookies. Flying into OAK instead of SF was not appreciably more difficult except that it involves about a 15 minute bus transfer ($2 exact change) from the airport to the BART station. It probably took an hour from de-planing to get to my hotel.
I alternately worked on an article for Ballet Review and a lace shawl I keep as a portable travel project. I saw the battery indicator on my PDA drop from full to ¾ and my mood blackened.
Thursday 11:30 pm PST Mood: Relieved. Check in to the Ramada Hotel on Market Street is fast and friendly and the hotel is an insane bargain ($45/night on Priceline). Amusingly enough, they gave me the exact same room, room 443 with a single queen bed that I had the last time.
In 2004, when they gave me this room the desk clerk announced that he had "a non-smoking queen for me." It was all I could do not to break into my Paul Lynde voice and say "Well, heh heh send him on up."
I plugged in the computer, pulled out the plug, finagled with the power supply, reconnected the pieces, plugged it in again. I've never been so happy to see a little green light. It's a bit sobering to realize how dependent I am on my computer and the Internet. The hotel has wireless service that isn't stunningly reliable, but it's free.
Friday 7:40 am Mood: Satisfied. The fitness center at the hotel isn't great – no elliptical trainer, but two treadmills, two bikes, a stair climber and creaky Universal weight system but it will do.
9:30 am Mood: Elated. I knew that Saigon Sandwich, was only a few blocks from my hotel, but no one told me that so was an entire Vietnamese neighborhood. I bought two heavenly Banh Mi, one roast pork and the other roast chicken and had a breakfast picnic under a flowering bush in a playground near the museum of Asian Art.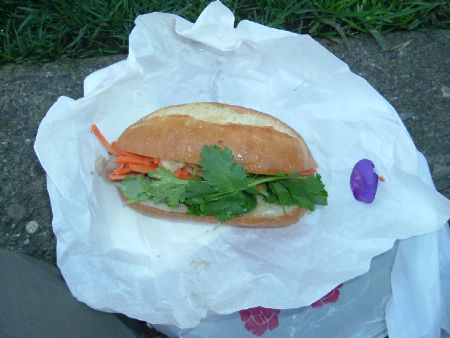 There is a show here of 18th Century painters from Kyoto, I am going to see it today.

11 am Mood: Confused. I'm supposed to meet my friend Rachel for lunch, but I only know her email and she hasn't returned my correspondence. Where is she and how can I get her phone number? I call one friend to get the number of another friend who might have her number and work on other writing in my hotel.

1:30 pm Mood: Resigned. No word from Rachel so I set off for Artfibers, one of the most well-known yarn stores in the city. The walk up Market Street is full of Beaux-Arts buildings and street freaks.
2:15 pm Mood: Covetous. I wasn't going to buy anything at Artfibers, but I want a souvenir of my stay here. I decide on two skeins of Shibori, a hand-dyed silk/kid mohair in forest colors.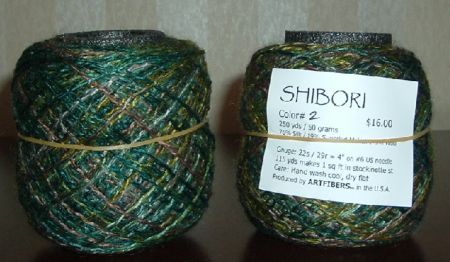 Though it's expensive, it has excellent yardage and 2 skeins should make a beautiful scarf to remind me of here. The staff is friendly and helpful and they keep sample balls and needles available for swatching as well as a comfortable place to knit. It ain't cheap here, but it's worth looking into.
2:45 pm Mood: Bemused. Poor Rachel called me full of contrition. She's not even in town, her husband and she went to Santa Barbara at the last moment. I'm sorry to miss her, but I'm having a great day anyway, so I do my best to absolve her.
5:45 pm Mood: Hungry. After picking up tonight's tickets I meet my friends Mark and Christopher and Christopher's ballet buddy Patricia for dinner at Absinthe. The restaurant is popular and expensive, but the food is commensurate with the price. After a cheese appetizer, we all chose the grilled sturgeon, rightfully recommended by our waitress. I split an excellent tarte tatin with Mark. Dinner with wine was $60 per person. More than I'd usually spend, but meals like that are great fun when shared with others.
8:00 pm Mood: Attentive. San Francisco Ballet Program 3. The most interesting dilemma is to figure out how to compress this into 500 words. I have 5 pages of notes already and two more performances to see. The Taylor piece is formulaic, Magrittomania is fascinating even if I don't love it and I have a soft spot in my heart for Rodeo. Muriel Maffre, who does the lead in Magrittomania with Tiit Helimets is the world's greatest Weird Ballerina. She does one wildly extended and arched tendu with a prehensile foot and you see she's a magnificent freak.
11:00 pm Mood: Flirtatious. We all head to Mecca, a lounge close to the Castro. Randy, whom I've known in correspondence for as long as I've known Mark but we've never gotten to meet in person, comes with his big hunky boyfriend Jim. Jim and I, well . . . hit it off pretty quickly. It went no farther than a flirtation and Randy didn't seem to mind one bit. It's confusing, but amusing. Where is Leticia Baldridge to advise on such things?
In any case, it was close to a perfect day. I headed back to the hotel at 1:00 am exhausted and satisfied.
Posted by Leigh Witchel at 2:14 PM | Comments (1) | TrackBack
February 18, 2006
It's All Drag
Running to the train today I passed a gentleman in a black leather biker jacket and a black leather cowboy hat. He looked quite proud of his ensemble, which was complemented by the parcels and bags, presumably from Sephora or Saks Fifth Avenue.
I was thinking that if he just wore a tool belt, he could have been at least three of the Village People with a single outfit. But his drag was effective. Like they said in Gypsy, ya gotta have a gimmick.
Posted by Leigh Witchel at 11:23 PM | Comments (0) | TrackBack
February 15, 2006
Leaving Brokeback Mountain
I'm relieved I wasn't alone in finding Brokeback Mountain depressing. It wasn't particularly cathartic for me; whatever mistakes I've made in my life, they weren't those. Still, taking from Proulx' own description of Ennis del Mar, he felt about as bad as he ever had and it took a long time for the feeling to wear off.
Here is assorted interesting reading on the movie:
David Ehrenstein raises objections; once you get past the Evil Bitter Queen persona in his own blog, the points are interesting – most interesting to me is in the comments at Fablog referring to a standard plot device from Vito Russo's The Celluloid Closet
: "The Faggot Dies".

Daniel Mendelsohn talks eloquently of the "tragedy of the closet" in the New York Review of Books. I agree with him in that the tragedy is specifically a gay one but I wouldn't rule out the universality of the narrative. Regarding both of the above, we have an addiction to sad stories and doomed lovers; I don't think it's sadism as much as a talisman. We see and tell sad stories in part to ward off tragedy in our own lives. We aren't always punishing those characters; they're protecting us.
Suzette Chan's piece on Brokeback and Arcadia is also quite nice and got me thinking.
The original story can be bought
or found sprinkled throughout the net – do a Google search for the first line of the novella - Ennis Del Mar wakes before five, wind rocking the trailer, hissing in around the aluminum door and window frames. It's worth noting that the version that originally appeared in the New Yorker did not have this preface.
Rereading the short story again got me thinking about the differences between the story and the movie. The ones that stand out for me fall into two areas. The first is to subtly change Ennis' character in order to push him further, if that were even possible, into the closet.
In the story, it's Jack rather than Ennis who calls their first sex "a one-shot thing". The screenplay may have given the line to Ennis to give him something more to say; his only response was "I'm not no queer", and it fits into the movie's view of Ennis.
This is the novella on their first leavetaking at the end of the summer:
"Well, see you around, I guess." The wind tumbled an empty feed bag down the street until it fetched up under his truck.
"Right," said Jack, and they shook hands, hit each other on the shoulder, then there was forty feet of distance between them and nothing to do but drive away in opposite directions. Within a mile Ennis felt like someone was pulling his guts out hand over hand a yard at a time. He stopped at the side of the road and, in the whirling new snow, tried to puke but nothing came up.
In the movie, Ennis walks. He doesn't have a truck; he always has fewer possessions than Jack and his poverty is central to his character. So is his frustrated anger. He doesn't just try and vomit when he leaves Jack, he punches a wall repeatedly in tears and yells, "What the fuck are you looking at?" when he notices that someone can see him. He's also not just at the side of the road; he's in (what looked like) a small space between two buildings – caged and observed.
Jack's speech in the climactic scene in the movie ("I wish I knew how to quit you.") is lifted straight from the story, but Ennis' reaction is not:
Ennis stood as if heart-shot, face grey and deep-lined, grimacing, eyes screwed shut, fists clenched, legs caving, hit the ground on his knees.
"Jesus," said Jack. "Ennis?" But before he was out of the truck, trying to guess if it was heart attack or the overflow of an incendiary rage, Ennis was back on his feet and somehow, as a coat hanger is straightened to open a locked car and then bent again to its original shape, they torqued things almost to where they had been, for what they'd said was no news. Nothing ended, nothing begun, nothing resolved.
This is how the quote is reported at IMDb though from memory I think it is slightly off:
Ennis Del Mar: [crying] Well, why don't you? Why don't you just let me be? It's because of you that I'm like this! I ain't got nothing... I ain't nowhere... Get the fuck off me! I can't stand being like this no more, Jack.
It's not made clear what brings Ennis to his knees in the story; it could be anger, it could be the fact that Jack threatened to leave him, it's probably several things at once. The movie verbalizes and brings to the fore the frustrated self-loathing. It was Heath Ledger's hook into Ennis' character as well:
Those involved with making the film had much to say at the Venice festival on Friday. While Gyllenhaal and Ledger have previously taken a "so what?" attitude to the film's homosexuality, they did acknowledge a bit of discomfort at the love scenes. "I was really lucky that my character was uncomfortable with it and knew it too," Ledger told reporters, "so I could use my own level of discomfort, because it was new and strange for me, and that worked for me."
In the story, while Ennis' self-awareness is flawed, he isn't clueless about his sexuality.
Ennis pulled Jack's hand to his mouth, took a hit from the cigarette, exhaled. "Sure as hell seem in one piece to me. You know, I was sittin up here all that time tryin to figure out if I was -- ? I know I ain't. I mean here we both got wives and kids, right? I like doin it with women, yeah, but Jesus H., ain't nothin like this. I never had no thoughts a doin it with another guy except I sure wrang it out a hunderd times thinkin about you. You do it with other guys? Jack?"
"Shit no," said Jack, who had been riding more than bulls, not rolling his own. "You know that. Old Brokeback got us good and it sure ain't over. We got a work out what the fuck we're goin a do now."
"That summer," said Ennis. "When we split up after we got paid out I had gut cramps so bad I pulled over and tried to puke, thought I ate somethin bad at that place in Dubois. Took me about a year a figure out it was that I shouldn't a let you out a my sights. Too late then by a long, long while."
For the movies' purposes, this was more self-reflection than they wanted the character to have.
I noted previously that the movie added an incident where Ennis decides to attend his daughter's wedding even though it will jeopardize his employment. It's not in the original story; I saw it as Hollywood's necessary glimmer of hope. What it substitutes for is:
Around that time Jack began to appear in his dreams, Jack as he had first seen him, curly-headed and smiling and bucktoothed, talking about getting up off his pockets and into the control zone, but the can of beans with the spoon handle jutting out and balanced on the log was there as well, in a cartoon shape and lurid colors that gave the dreams a flavor of comic obscenity. The spoon handle was the kind that could be used as a tire iron. And he would wake sometimes in grief, sometimes with the old sense of joy and release; the pillow sometimes wet, sometimes the sheets.
A funny substitution because in its own way, the dream sequence is as Hollywood as a reconciliation. It isn't just Hollywood, either. It's the dream of Paradise that is the consolation we offer for loss. Somewhere, somehow, we will be reunited. Ennis performs as much of an expiating ritual as he can, constructing his own small shrine to his lover. From an interview (not directly linkable, but in the 2/14/06 issue at Advocate.com and called "Brokeback's Big Secrets") the idea to switch the shirts so that Ennis' was now protecting and enfolding Jack's was Ledger's. Ennis' dreams are the cousin of Solor's opium vision of the Kingdom of the Shades in La Bayadère. And having mentioned that, I am doing an incantation to prevent Brokeback Mountain from ever, ever becoming a ballet, although I can already see the long ghostly line-dance of cowboys snaking in . . .
Posted by Leigh Witchel at 3:17 AM | Comments (0) | TrackBack
February 11, 2006
Brokeback Mountain
I don't go to many movies. It's easy, too easy for me to get swept into the story as if it were fact rather than fiction and I don't like the feeling of getting my emotions jerked around. I knew I had to see Brokeback Mountain (I didn't want to lose my gay card), but I waited a while, deliberately until I was feeling in a very good mood, as I knew it wasn't a film I wanted to see were I feeling low.
Good thing, that. I made it through fine to the final scene. The movie moves slowly and deliberately with the artifice of storytelling. It's Hollywood, but Hollywood at its best. The gorgeous location shots were filmed in Kananaskis Provincial Park in Alberta. It makes me want to see the Canadian Rockies. I'm a weeper at shows, can't do much about it. I cry at the end of Giselle, La Sylphide, Swan Lake, hell I cry at the end of West Side Story Suite. It's as much cued by the subject as it is by music; the right progression of chords and there I go. I was mostly dry-eyed until that final mournful theme
was played, and then . . . waterworks. I bundled my jacket collar up and left the theater in a hurry.
The thing I came away from Brokeback with was sadness at Ennis (Heath Ledger) being so beaten by circumstance from the start that he couldn't even imagine a life where he was happy. All the characters deserved better from their lives. The movie opens up the short story
by Annie Proulx; to me the biggest liberty they take is slightly changing the circumstances at the end. The movie adds an incident; Ennis gives up work to attend his daughter's wedding. Hollywood needed to add a glimmer of hope, and put Ennis' final enigmatic line "Jack, I swear. . ." into context. It could have been a hell of a lot worse.
I watched it for the sex too, which was minimal. Unlike other gay men, I didn't find the rough ease of their first sex implausible. It isn't usually that fast, but it can be (Too Much Information, but my first was like a hot knife into butter. After that, it was another matter.) It's never said overtly, but Ennis and Jack's masculinity is another can of worms for gay culture. What are we looking for when we're attracted to another man? Often, it's their maleness. And the unspoken corollary is that we ourselves, or any gay man who isn't butch, are not man enough.
The line that echoed in my head on the walk home wasn't from the movie. I involuntarily fix movies in my head. The perfect non-butch fix would have been for Cowgirl Glinda, the Good Witch of The West in heels and spurs, to ride into camp and tell Ennis that he had been wearing the fucking ruby slippers the whole damn time. I wanted him to say yes to the possibility of being happy. The last line from Ulysses
was what stuck in my head. It's completely out of context but it was what I wished for anyone in that untenable situation.
Yes I said yes I will Yes.
Posted by Leigh Witchel at 11:25 PM | Comments (1) | TrackBack
October 1, 2005
I am SO gay
While doing bicep curls tonight I caught myself lip synching.
To Nancy Sinatra.
These Boots are Made for Walking.
I am SO gay.
Posted by Leigh Witchel at 11:19 PM | Comments (1) | TrackBack
September 19, 2005
Stranger in a strange land
My two second cousins gave their parents a surprise 30th anniversary party. They did a lovely job; their mom (my cousin) was quite stunned and delighted.
Besides enjoying the good food, the thing I left the party thinking was that I don't feel like myself in the straight world. I feel comfortable around straight people, of course, especially my relatives, whom I like very much. I don't like exclusively gay situations because the view becomes too narrow. But when I'm in a room full of people who are going to get married, buy houses, have children . . . I'm the outsider.
I was talking with my cousin about the hesitation of moving from New York to smaller cities because I was worried about feeling different. "But they have a Jewish community," she said. Yes, she missed the exact reason, but she got the concept anyway. In Westchester, Janet can live a life as a Jew among Jews. She's home, and it's something she could even take for granted. I want that too. I don't want to spend every day having sensibilities that everyone tolerates, but no one shares. If I'm being swallowed into a life that isn't mine, I become strident and out myself gratuitously just so I can maintain a sense of self.
I've rarely felt like the Other in my life, probably because though I'm in a few (non-disadvantaged) minorities, they're not minorities where I have lived. I've lived my life in a world where my identity lies at the common center with a large community. What would it be like to no longer have that?
Posted by Leigh Witchel at 12:50 AM | Comments (3) | TrackBack
June 27, 2005
Dick Bars
The weather in DC had cooled some by the time Tom and I went out for the evening. I didn't know where we were going; we got in his car and I followed the route as best I could. We drove along the Tidal Basin and the Washington Channel. My memories of that are Fannie Fox, the Tidal Basin Bombshell, and Congressman Wilbur Mills.
We came to a non-neighborhood of low industrial buildings. Tom told me we had crossed just into SE. I looked it up on a map the following day; the dividing line is South Capital Boulevard, which we were just off of. This no man's land was where the strip clubs are.
(R-rated, so continued as an extended entry)
Tom didn't call "Secrets" and the other bars there strip clubs; neither did my other friend in DC. It isn't an accurate term, since there was no stripping going on. They called them more accurately "dick bars". Guys stand up on platforms, naked. Well, they aren't naked. That's illegal. They're wearing shoes and socks. Most of them make a pretense to dance while they're up there but mostly they rub or stroke themselves in the hopes of attracting a tipping customer. I assume more could happen, but I didn't see more than someone fondling a dancer's legs or butt, and then slipping a folded bill into the guy's sock. I did see one guy attract a dancer's attention in a novel variation of blowing in his ear; only that wasn't the hole he blew into.
The dancers seemed to be in their twenties with different body types, both taller and skinny and short and more developed. Almost all of them had flat stomach muscles; for that I hated them. My favorite guy was of medium height with nice pecs. He danced on occasion – he vogued, and did it like it was his one good dance move, but he was endearingly bad. Mostly he would play with his nipples or stroke himself (for those needing details, he was the "beer can" sort), and that did get him quite a following, even more than the skinny boy clambering up on the poles above the bar like a monkey. Impressive, but I'm not going up there to put a bill in his sock. Voguing wasn't Nice Pec's only dance move. He did do a sort of shake-and-bake thing that looked kind of how-does-he-do-that? hot from the rear view and kind of wanga-wanga-wanga funny from the front.
There's a second half to the bar, named Ziegfield's. This is where the drag shows are, starring Ella Fitzgerald (no, not the real one), who's a local legend. She's a formidable little drag queen; her best and most evil moment came when she dragged three (biological) females on stage to a version of the theme song from "Bonanza" sung with only one word: "Poontang". You can guess what this involved for the poor humiliated women. The place had a reasonable amount of straight women in it; they seem to go for bridal parties. Go figure. Other drag queens included a HUGE Latina mama in some sort of fuzzy purple vest that made her look like a Care Bear and the tall skinny black queen who did the repent-and-find-Jesus gospel lip synch. She did it absolutely without irony, and either it was a coup of performance art or it just didn't matter to her that she was singing about finding Jesus while there were naked guys stroking themselves on the other side of the bar.
Tom thought this would round out my dance experience in DC, and he was right, but how could I tell him in the middle of a Dick Bar my dark confession that only a few of my gay friends - and now the whole goddamn internet – know:
I think penises are funny.
Well, think about it. They are.
It's not like I don't like them; I've been best friends with my own for years. But, I mean, this skinny wiener thing either hanging or sticking out there unprotected? I'm not sure in which state it looks funnier. Who thought up this design?
I'd only been to a Dick Bar once before in my life and that one was a strip club: the now closed Gaiety in New York. Again, it wasn't my idea. It was about a decade ago and I was going with a female friend to meet her then-boyfriend, who danced there. Honest.
The Gaiety presented a show on a stage and the guys came out one by one. They'd dance around briefly in front of a silver glitter curtain, disappear for about a minute behind the curtain and return erect. The atmosphere was dark and seedy, and it was expensive (I think $15 even back then). I don't recall the other men that well, but I do recall Tony, the guy I had come to see, because he came out with a goofy he-has-to-be-straight grin on his face and his schlong sticking out in front of him. It was just enormous. Hilariously so.
I collapsed over hooting in the Gaiety.
"YOU PUT THAT WHERE????" I started howling to my friend, who turned several shades of red, poor dear.
"Please stop laughing." she pleaded. I did my best, but was practically hiccupping instead.
Posted by Leigh Witchel at 7:23 PM | Comments (0) | TrackBack
June 26, 2005
The Princess Packs
I generally describe my packing skills as being like a princess on the Titanic, though I enjoy almost as much another description from the same thread - "Joan Collins on safari".
I'm in Washington DC right now seeing Suzanne Farrell's revival of Don Q - on duty for Dance International. I've been good, honest. I only brought my smallest 18 inch carry-on, my laptop and my usual knapsack. It still amazes me that for one weekend I somehow managed to convince myself I needed three pairs of shoes and get them packed.
And I did wear all of them.
Posted by Leigh Witchel at 4:56 PM | Comments (0) | TrackBack
June 16, 2005
You may never think of kiwis the same again.
Just what the world needs. A new product specifically for shaving your balls.
Bodygroom may be a relatively pointless device, but the animation is hysterically funny. It can be cranky on Firefox, and do navigate through, the animation is not only on the index page.
Link via Stay Free Magazine, which is hereby added to the blogroll. I've been a regular reader for about a month since a discussion on Steven Berlin Johnson's "Everything Bad is Good for You". I agree with their cynicism on commercialism.
Besides, they mentioned Dirty Martini today - and that reminds me, I should link her as well.
Posted by Leigh Witchel at 5:12 PM | Comments (0) | TrackBack
June 3, 2005
Soho
On Tuesday night I met with with Chris, BAHumbug from Flyertalk, in Soho. The area near Old Compton Street seems to be the epicenter of London gayness. Chris kindly put up with my hobbling about in new shoes (I never learn. Don't pack new shoes, but at least I also packed bandaids) and the attendant indecisiveness provoked by the pain of open blisters. So I put myself in his hands and we strolled (well, I gimped) to Soho Square, which is jammed with boys, including one boy who seemed to be using a stroller as a prop for cruising. Someone needs to tell him that a small baby does not make other men want to have casual sex with you. Chris was more sage about the child. "Borrowed from a lesbian friend" he intuited with the perspicacity of his countryman Holmes.
Posted by Leigh Witchel at 6:14 AM | Comments (0) | TrackBack
April 17, 2005
Straight-dar
I'm sure heterosexuals find it as important as homosexuals to recognize the secret signs that tip one off to a fellow heterosexual. As a public service here are just a few.
Beige or oxblood shoes with a blue or black suit. Proven in tests to be 90.26% accurate in confirming the heterosexuality of the wearer.
White gym socks worn with the same suit raises the accuracy of heterosexuality indication to 99.984%.
Posted by Leigh Witchel at 8:19 PM | Comments (0) | TrackBack
March 21, 2005
As God is my witness, I will never wear leather pants again.
The horror of it all.
Those who know me as a traveler know I'm an inveterate overpacker – I pack like a princess on the Titanic. Well, if you're going someplace fabulous, you need outfits and San Francisco is fab-u-lous. You need outfits for the theater, and outfits for knocking about in, and gaywear and . . . and . . . and . . .
I think I showed admirable restraint this trip. One rolling garment bag. But the leather pants got snuck in amidst the gaywear.
I did get two wearings out of them. I wore them to the ballet on Saturday night with a French-cuffed shirt. In my own fantasies they made me look vaguely louche, and it meant my friend Mark and I could go out afterwards without me having to change. I note though, that San Francisco men dress even less than New York men. On first impression, there's much more of a butch fantasy going on in San Francisco, but as one friend said before to me, "Everyone's a top in San Francisco, just like everyone's a bottom in New York." Lots of facial hair and flannel.
I went to Midnight Sun with Mark on Saturday night. As David put it afterwards, it's an S&M bar: Stand and Model. The choice wasn't Mark's fault; the problem is I'm like Goldilocks about bars. This bar is toooooo empty. This one is toooooo full. This one is toooooo loud. This one doesn't have nice chairs . . . And so on. But you know, even Goldilocks finally found a bed she liked.
I had Sunday evening to myself after the ballet so decided to go back, armed with a great deal of advice. Paul suggested The Stud on 9th and Harrison, but Peter said it would be jammed. Peter suggested Twin Peaks (The first gay bar in the Castro to have large plate glass windows) because people would be friendly; Mark dismissed it as "The Glass Casket" or "Tomb with a View".
So armed with contradictory advice, I ventured forth. I tried to keep outfit angst to a minimum. I knew which sweater I was wearing; but should I wear the AbercroZombie cargo pants (in case I needed to blend in quickly with the million other gay men wearing them that evening) or wear the leather pants?
I opted for the latter. Much to my humiliation.
Things were fine most of the evening. I Goldilocksed my way down the Castro, looking for the bar that was juuuuuuust right. The Edge was mobbed and pointless. Harvey's, which had looked so promising with a drag evening the night before (but alas, Mark loathes drag shows) was dead. So was Twin Peaks, so was Moby Dick's. So Midnight Sun it was, which was neither too empty nor too full. The bartenders are quite friendly, and I think I almost spoke to two or three people there. It has enormous video monitors, and they tend to give the men there (who are probably more frightened than snobbish) an excuse to avoid other people.
I tried Badlands after. I actually did have a friendly conversation there, but the music was so loud there we conducted it at a scream and gave up after three minutes. At this point I was fine with ambling back to the hotel.
And this is when it happened.
As I got on the F Trolley up Market, I pulled out my fare and asked rhetorically, "It's $1.25, right?"
Well, the African-American woman running the trolley took one look at me, sizing me up and said, "Yes, but for you in your leather pants, it's $5." And then she laughed with her two friends.
I had just been read left, right and center by a female trolley operator.
Shady black women: the one thing no queen, no matter how acid-tongued, has any defense against. Crushed, I slumped into my seat.
Posted by Leigh Witchel at 11:53 PM | Comments (9) | TrackBack