May 3, 2007
Gone fishing
Apologies. Same as usual - I need the time in the day I would spend blogging for other things.
In the meanwhile, please read my writing on dance at Danceview Times on the web, or in print in Ballet Review, Point Magazine, Dance Now, Dance International or Dance View.
For me on knitting, check out Knit.1 Magazine, Vogue Knitting and Knit Simple.
I've turned off the comments to keep the spam to a minimum but feel free to write.
Posted by Leigh Witchel at 12:28 AM | Comments (0) | TrackBack
March 15, 2007
Back very soon
Two articles submitted, two more will be after final polishing. What a relief.
In Philadelphia this weekend, seeing Pennsylvania Ballet for Ballet Review.
In the meantime, here is something so fabulous you will barely be able to stand it.
Posted by Leigh Witchel at 1:36 AM | Comments (1) | TrackBack
February 27, 2007
Hiatus - It'll be a bit longer.
Sorry folks - the usual.
Everything is fine, but I have four articles on deadline; when I get them out of the way I'll be back.
Posted by Leigh Witchel at 11:35 PM | Comments (0) | TrackBack
November 21, 2006
Stating the obvious: Blog hiatus
Hey folks -
Apologies for the silence; it's going to last a while longer. There are no crises, actually life's pretty good. I just need the half an hour or more daily it takes to make a substantive blog entry to do other things, like write articles. Meanwhile, I am writing, knitting and traveling. Heading to London today to see the MacGregor/Wheeldon/Balanchine Triple Bill and my brother/sister-in-law for Thanksgiving. She Who Must Be Petted will be visiting her favorite neighbors in the interim.
I'll be back when I've cleared some stuff off my plate.
Posted by Leigh Witchel at 11:25 AM | Comments (0) | TrackBack
September 24, 2006
Sunday cheap excuse cat blogging
I'm in deadline crunch. Articles for Knit.1 and the DCA newsletter, teaching knitting classes at night and going to Seattle on Friday. Blogging will probably be light, though I will try for some substantive stuff if possible.
But since you only come here for the cat blogging anyway, here is a classic pose from She Who Must Be Petted, Guardian of the Caller ID.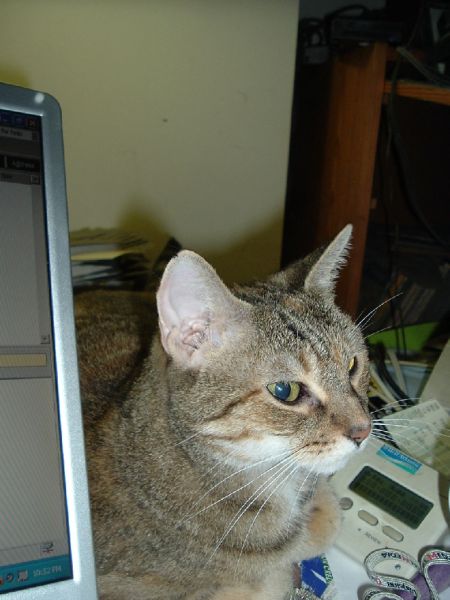 Posted by Leigh Witchel at 10:57 PM | Comments (1) | TrackBack
June 28, 2006
Light posting for a while longer
Apologies. There's no crisis, I just have four articles I need to finish.
I'll be back as soon as I can.
Posted by Leigh Witchel at 12:13 AM | Comments (0) | TrackBack
February 14, 2006
Happy Blogoversary!
Today is my First Blogoversary. Happy Blogoversary to me!
This might be a good time for a précis about the blog for newcomers.
The blog concentrates on a few areas of interest to me, usually in rotation. The main topics are dance and ballet, knitting, food, travel - particularly miles/points and Priceline bidding, and all-too-infrequent appearances by She Who Must Be Petted. I also announce my upcoming articles and projects here. Other topics will come up; part of the fun of blogging for me is that I can talk about what I please, but within that freedom I impose some restrictions. This blog is more column than diary; blogs should be personal but I'm not going to bore you with the minutiae and tedium of my life. My main criterion for a post is potential interest/use to the reader. Look around, there should be posts on something you wanted to know about or that will make something easier the next time you try it.
If you're only interested in one of the topics, you can filter out other posts by reading the topic archives but I hope to interest you in the other topics as well.
I plan to tune up the site and do some (mild) design changes in the next few weeks.
Thanks for sticking around and reading. I appreciate it.
Posted by Leigh Witchel at 7:02 PM | Comments (3) | TrackBack
December 20, 2005
Making the dance blogosphere bloggier
Slowly but surely, the dance blogosphere is picking up steam. A few dance bloggers have been having a conversation via email regarding multimedia blogging; Ed McPherson suggesting video blogging and Doug Fox talking about podcasts. I think both ideas are exciting, but not ones I'm going to take up. What I'm doing here, particularly relating to dance, seems to be oriented towards dance writing and the written word. I hope Ed and Doug will follow up on their ideas.
What else can we do to stimulate the discussion? Individual blogs have a clearer focus as the discussion and topic can be under closer control, but group efforts are what will make the conversation grow. Artsjournal's roundtable about New York brought new voices into the arena. Assuming my role as resident crank of the dance blogosphere, I thought the results were mixed; there was some interesting discussion and some bloviating. There's no sin in that – blogging arose in the first place as a place for people to mouth off. But if there's enough of it in what's supposed to be a discussion, a roundtable becomes a circle jerk.
The point I'd like to make to dance bloggers out there is that without the web of links that interconnect and cross-reference, it isn't really a blog; it's a diary or a column. Use the medium. Comments and especially trackbacks can be a hassle because of spamming but without them people don't know that you've referenced their blog (This means you, Mr. Wright!) and there's no feedback. If you're using Movable Type, upgrade to version 3.2; the spam control is significantly improved. I got rid of most trackback spam with a single plug-in, TBPingLinkLookup.
If you can, make an effort to read other dance blogs and continue their discussions. This won't suit everyone; Rachel Howard isn't blogging for the same reason as Rachel Feinerman. But that's what will build the web that keeps bloggers like Ariel from feeling like they're out in the wilderness.
Posted by Leigh Witchel at 11:54 PM | Comments (1) | TrackBack
December 10, 2005
Apologies
for the more sporadic posting. I'm on deadline with three articles; I'll try to get back to daily posting as quickly as I can.
Posted by Leigh Witchel at 6:44 PM | Comments (0) | TrackBack
November 21, 2005
Latest Bloodcurdling Google Search
I guess this is Part 2 of an unplanned series
Welcome (from a safe distance) to the person from India who found this blog by searching for i like men rubbing their penises against me in crowded buses
Remind me to think twice before getting on a bus in India.
Posted by Leigh Witchel at 3:10 PM | Comments (0) | TrackBack
November 16, 2005
Roll Call
Doug Fox over at Great Dance is working to keep the discussion going about the dance blogosphere with an open thread inviting dance bloggers to introduce themselves. So check it out, and check in.
Posted by Leigh Witchel at 10:53 PM | Comments (0) | TrackBack
November 15, 2005
More on the dance blogosphere
Via Rachel at Downtown Dancer, Doug Fox at Great Dance has made an interesting white paper on using blogs to strengthen dance companies.
There's lots of good stuff there, but I'm going to rely on my own experience as a professional writer, Artistic Director and all-around crank to pick at a few things.
A blog may be inexpensive but it is labor-intensive. The things Doug mentions - cultivation of a voice and consistency especially – are not to be taken lightly. Writing is a skill. It takes me a good hour to do a decent blog entry. Good blogging isn't just a diary or an advertisement. It's the careful cultivation of a public persona. Expect it to take time and don't necessarily expect to be good at it.
The internet is a phenomenal tool for increasing visibility and profile. I have used it for both. But as much as writing is an art, so is self-promotion. We had an unwritten rule at Ballet Talk that a member was allowed to promote their own work in proportion to the amount he or she contributed to the whole. If someone only showed up when they were announcing their own performance, we suggested they might wish to post elsewhere. My suggestion would be that if you enter into the blogosphere because you want to contribute to the discussion, you will do something of value. If you enter it to promote your dance concert people will, and should, smell it a mile off.
Amateur voices in the blogosphere are essential. The blogosphere thrives on having a large number of voices. I'd also like to self-interestedly say something for recognizing the value of the pros. I've been on both sides of this issue – at the mercy of reviewers and one myself. Pros contribute several things to the conversation that others don't – the greatest is a depth of viewing. I've got a bit more than two decades of dance viewing under my belt (I deliberately did not begin writing on dance until I had been watching for more than a decade). John Percival can tell you what Scènes de Ballet looked like in 1948. It's more than "I was there". Dance writers place dances in context, tell you what to look for, and what's changed.
It isn't as if the Internet precludes quality writing. One reason I love writing for Danceview Times is that it adds the value of new media (immediacy, access and SPACE!) while preserving a level of quality associated with print. But there's plenty of dross on the Internet because of the low barrier to startup. I started writing because I thought too many people were looking at the dancers and too few at the dance. I find it disheartening when I see "You too can be a critic" articles. Writing on dance isn't about voicing your opinions – I mean, who really cares what I think of Christopher Wheeldon or Ashley Bouder? I love her and you loathe her and that's that. Why do I love her and what can I show you about her? Can I show you a different way of looking at a blackbird? The dance writers I admire are champions of an aesthetic. I skip the ones who write a self-centered and self-aggrandizing litany of opinions.
Getting paid to review doesn't magically make one a good reviewer. You can train your eye, but some people are blessed with that via instinct (Estelle and Michael at Ballet Talk come to mind quickly). Tom Phillips was a pro writer before he took to dance writing, he's one of the best I've seen enter the field recently – the other being the only writer I can think of who is more of a walking conflict of interest than me, Lisa Rinehart. Rinehart is also one of the best new dancer-reviewers. Being a dancer also doesn't necessarily make one a good reviewer; dancers tend to think of dance from that unique point of view – and any dancer can name you any number of lousy dances that are still delightful to dance.
I hope that Rachel, Doug and I aren't setting up an echo chamber of links and trackbacks. Rachel Howard wrote hopefully yesterday about the blossoming of the dance blogosphere. I think we need a few more people to join in before we can savor the bloom on the rose - so make a comment or post your own entry!
Posted by Leigh Witchel at 5:44 PM | Comments (3) | TrackBack
October 19, 2005
My powers are awesome
Those of reverse summoning, that is.
Just as I report that Tobi Tobias and Brendan McCarthy are on hiatus, both post.
I can't say I mind; I'm happy to read the both of them.
The dance blogosphere shouldn't be an echo chamber - one of the reasons I've tried to keep this blog from getting too personal. As I've said before, this isn't my journal. My guideline for making a post is that it should contain something useful or amusing to the reader. Probably like other professional writers who blog, I think of a blog the same I would think of a newspaper or magazine column, but enriched with commentary and hyperlinks (and detracted by the absence of an editor).
The biggest suggestion I can make to other members of the dance blogosphere is read and discuss what other dance bloggers are saying, including using linking and trackbacks. At least a few of the pro writers will never do this. As said previously, they're writing articles, not blog entries. An article takes enough time and effort - commenting and linking is more labor intensive than it seems if you do it discerningly.
Posted by Leigh Witchel at 5:10 PM | Comments (0) | TrackBack
October 17, 2005
The Dance Blogosphere
In a tangential remark in the comments on the dance blogosphere and its comparative quiet, Rachel of downtowndancer mentions something I've been thinking about for a while. Compared to other special interest blogging, dance blogging is relatively rare and at times, barely blogging.
Right now, it's operating on a skeleton crew. Tobi Tobias has taken time off from blogging until the end of October. Brendan McCarthy just went on hiatus. But there's more to this than frequency. It's a question of community. Several of the dance bloggers, including myself, Tobias, Rachel Howard and Alexandra Tomalonis (whose blog is also sadly inactive) are already professional writers and that creates a different dynamic. For instance, what Tobi is doing is a blog in name only. It's her usual incisive and skilled writing, which is enough for me, but it's a column of the sort she has written most of her career rather than a blog. There's no comment section and no links, which are unique features of blogging and the engine to get a discussion and community going.
Some of this could be because of the strength of the dance discussion boards and news sites. Dance blogs will have to find the niche not filled by places like Ballet Talk, DanceView Times, Ballet.co, Critical Dance or Dance Insider. One thing blogs could be is a bridge between dance communities. Few of the sites above are collegial with one another, unfortunately often for justifiable reasons.
I'm with Rachel in hoping that the dance blogosphere starts getting the critical mass in conversation to get some real discussions going. If you're out there and blogging on dance, please let me know - in the comments, so that everyone else knows, too. I'll be happy to add you to my reading list. Maybe dance bloggers could get a web ring going. I'm glad we haven't gotten into the hair pulling and shouting that goes on in the political blogosphere, but fer chrissake, look at the size of the community that follows my friend Stephanie Pearl-McPhee's blog on knitting. Are dance enthusiasts really that much smaller a number?
Speaking of the political blogosphere, one of the sharpest hair-pullers around, James Wolcott, once again blogs on dance with a favorable mention of Roger Copeland's book on Merce Cunningham. Kudos to Wolcott for insisting that dance is something that every culturally literate person should be interested in.
Posted by Leigh Witchel at 7:21 PM | Comments (1) | TrackBack
October 16, 2005
Movable Type 3.2
I upgraded when this first came out about one month ago and I'm quite pleased. The most significant improvement is that the filtration devices for comment and trackback spam are effective - it was a real nuisance previously. I accidently caught one legitimate comment, but setting the comment filter to automatic moderation for more than two HTML links filtered out all the garbage. If you're on an earlier version, I think it is worth investigating.
Posted by Leigh Witchel at 9:33 PM | Comments (0) | TrackBack
August 15, 2005
Blog readers
When I first started reading blogs, I checked each blog individually - a time consuming process.
A blog reader monitors the blogs you select and notifies you when there's a new entry. So you don't need to surf randomly.
I use Bloglines. It's seamlessly integrated with the Firefox browser, costs nothing and there are no advertisements. Not every feed works perfectly (I can't get Kristin Sloan's blog The Winger to work via a feed, for instance) but most do.
And if you like reading my blog and want to know when there's something new, it's the most unobtrusive reminder. Just click on the "subscribe with bloglines" button on the top of the right hand navigation bar.
Posted by Leigh Witchel at 9:35 AM | Comments (1) | TrackBack
August 14, 2005
Six Month Blogoversary: How'm I Doin'?
Six months is a bit of a silly milestone, something from childhood when a half a year was a significant chunk of your whole life. Still, I made my first post to this blog six months ago today and it seems like a good time to assess.
The blog has kept pretty close to what I thought it would be when I began it, an informal column about subjects that interested me. I'm writing this with an audience in mind rather than to get stuff off my chest so if you're out there lurking and have a moment, please introduce yourself either via email or in the comments. I'd be interested to know who's reading. If you have comments about the blog itself, please consider telling me.
For instance, I've wondered if the basic focus on a few wildly varying topics makes it hard to read with any regularity. I probably won't change that, but I did move the categories navigation up to the top of the sidebar so people uninterested in dance could get to the posts about knitting, or what have you - though I hope to make a topic interesting enough that you'd consider reading on it even if it isn't a usual interest.
So let's light half a candle!
Posted by Leigh Witchel at 12:55 PM | Comments (4) | TrackBack
May 31, 2005
Wireless Internet Access for the coordinated
The Hilton Olympia does not have wireless in the rooms, and charges a fortune for high-speed (don't even think about the phone charges for dialup). After walking up Kensington High Street in a fruitless search for reasonably priced wireless I discovered that if I take my computer to the hotel window and hold it just so . . .
I will do my best to blog from this position for the next two days.
Posted by Leigh Witchel at 10:03 AM | Comments (0) | TrackBack
May 27, 2005
We come here via the most unexpected paths
A hearty, if ambivalent, welcome to the reader who found my blog via Google with the following search:
cooking women's tits for dinner
As they said in The Cook, The Thief, His Wife and Her Lover, "Bon Appetit!"
Posted by Leigh Witchel at 2:51 PM | Comments (1) | TrackBack
May 10, 2005
Crankiness, thy name is fireFTP
Sorry about the silence. I foolishly thought I would update to Movable Type 3.16, which took three days because fireFTP crashed Firefox randomly and corrupted files during the upload.
Posted by Leigh Witchel at 11:02 AM | Comments (0) | TrackBack
March 7, 2005
Communication Breakdown
Apologies to all. I had a marvelous weekend in Philadelphia, but not only did the antenna snap off my cell phone (this is the Cell Phone Gods telling me to upgrade) but the keyboard on my laptop also decided not to work.
I promise to catch up ASAP. Don't bother trying to call me on my cellphone, though. I'm working on a longer term fix on keyboard issues.
Posted by Leigh Witchel at 1:24 PM | Comments (0) | TrackBack
February 16, 2005
Getting the hang of Movable Type
Comments now work. I had to dicker around in the archives preference to change to a different template.
For those considering setting up a blog on your own, set aside the better part of an evening. It is interesting, though. Besides Movable Type's own support forums, Elise Bauer's Movable Type tutorials are invaluable.
Posted by Leigh Witchel at 12:48 AM | Comments (0) | TrackBack