February 4, 2007
Four nice things about San Francisco
Tina LeBlanc – 42 year old mother of two. Danced the lead in Divertimento No. 15 on Friday, a lead in both The Dance House and Blue Rose on Saturday night and a lead in Artifact Suite on Sunday matinee. Looks fabulous. We hate her.
Artifact Suite – for someone as ambivalent about Forsythe as I am, these are strong words, but it's the best ballet of the post-Balanchine/Ashton era. The first part is gimmicky with a fire curtain dropping with a clunk to the audience's giggles, but the second part is an atomic age ballet blanc of extraordinary power. It's on program one on Feb 8 and matinee and evening on the 10th. If you can see it, don't miss it.

EOS Wine Bar – My friend Don and I went to dinner there before Saturday evening's performance so I didn't drink, but the food there is marvelous. It's "fusion" which is more gimmicky as a concept than a result. The food is delicious, roasted Brussels sprouts with sesame, winey dumplings stuffed with shiitake in mushrooms, sea bass and especially black pepper filet with eggplant.
Opal Hotel – A very solid hotel bargain. $44 a night on Priceline got me a room. The décor is uninspiring (mmm, tan!) but the rooms are clean and the bed is comfortable. The price includes in room wired access (bring a long Ethernet cable), a fitness center with only barbells but good Lifecycle cardio equipment, and a convenient if uninteresting breakfast. The staff is helpful even if the room I got was close to the elevator. For $44, I wasn't complaining.
Of course, the nicest things about San Francisco are Peter, Mark, Randy, Jim, Don, Jenny, Rachel, Paul and Helene. The only thing missing is David.
Be back home tomorrow.

Posted by Leigh Witchel at 8:54 PM | Comments (1) | TrackBack
October 21, 2006
Portland: Coming and Leaving II
Bernie dropped me off at the hotel and I met my friend Joan Schrouder shortly after to go to Oregon Ballet Theatre. Joan is a knitting buddy. She teaches nationally; she and I met a decade ago at Stitches. After a quick Thai meal we walked to the Keller Auditorium. The crowd milling in front of the theater was more dressed up than I had anticipated; I forgot this was the opening night of the season.
When I invited Joan, I described the program as being "a great program for someone who doesn't get to go to the ballet all the time." This isn't an insult; that's 99% of OBT's audience. We're spoiled in the dance capitals. The company was bringing The Four Temperaments and The Concert to Portland for the first time. It was heartening to see the house very full. OBT danced 4Ts as I've seen other smaller regional companies do it – like a precious gift. It's great to see it from a fresher perspective. Francia Russell, artistic director Christopher Stowell's mother (and director emeritus at Pacific Northwest Ballet) set this version – which is slightly different than City Ballets (think pink lampshades instead of white ones). We know each other tangentially from the series of interviews I did with her in 1997 about Agon and Melissa Hayden's coaching sessions at the Balanchine Foundation but we've talked more often than she's seen me. I waved at her from my seat and she returned the greeting with the sickly look I recognized from the times I've had to warmly greet someone while I was racking my brains trying to figure out who they were.
A group of PNB dancers (I recognized Benjamin Griffiths and Jordan Pacitti) were two rows behind me to cheer on their fellow dancers; sure enough, there was Peter.
"You again!" I pointed at him in mock accusation.
"You're everywhere," he said, bemused.
The best part of all was that Joan loved the evening. It's such a joy to take someone to the ballet that doesn't usually get to go.
Sunday morning I was scheduled to meet internet knitting buddies at Mabel's, a yarn shop/café. Just as I was about to find the #4 bus Gary called and asked me if I wanted a ride in the rain. We drove through bohemian neighborhoods across the Willamette River. I met Duffy and Melissa there and we spent a relaxing morning knitting and gabbing. I worked primarily on the sleeve of Owen Robert's Aran. Duffy was starting the toe of a sock; Melissa was working on afghan squares in a mauve ombre alpaca and Gary was making a very simple scarf but in the most tactile yarn – Jo Sharp Alpaca Georgette. Really tasty stuff; we were all copping a feel. I took a tour round the shop, but beyond the Blackberry scone (thank you, Gary!) and the almond hot chocolate; I remained on my yarn diet.

I met Bernie and his daughter Gwen at the matinee. Gwen is getting ready to go down to Miami City Ballet to study at the school. Unfortunately but understandably, the Keller auditorium was more sparsely populated than at the opening and the performance was slightly weaker. One of the big differences between a smaller company and a major one is the depth of the company in casting. That's a direct function of size. OBT may double cast each ballet, but they don't really have two casts.
After the performance we walked around the fountain directly opposite the theater and I took a picture reminiscent of the Japanese Gardens.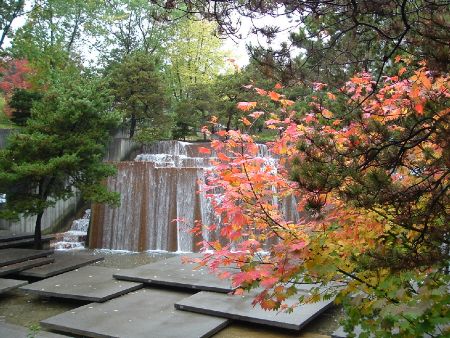 We then went out for the seafood I had been craving at Jake's. When in Portland, go to Jake's (Yes, it's part of a chain. No, it doesn't taste that way at all.) Get the crab and shrimp cakes, and also the Dungeness Crab Leg cocktail. They go perfectly together. If you ask nicely, the waiters might do half orders (ours added a crab cake to the plate to make for even splitting). I placed myself in the amiably pushy waitress' hands (I like waitresses who tell you what's particularly good on the menu) and she insisted I have the locally caught wild salmon and then the Chocolate Bag for dessert. The salmon was cedar plank roasted with slight woody tang and exactly as she promised, the chocolate bag containing white chocolate mousse and berries in raspberry sauce was lighter than the description made one suspect. It was an absolutely wonderful meal, as was the company.
On Monday morning the sky began a sodden gray, but as in Vermont, the weather in Portland changes rapidly because of the mountains. It brightened up about an hour later and I had just enough to have time for a walk along the river – the hotel was right next to it. There were flocks of geese, leaves turning colors, boats and joggers.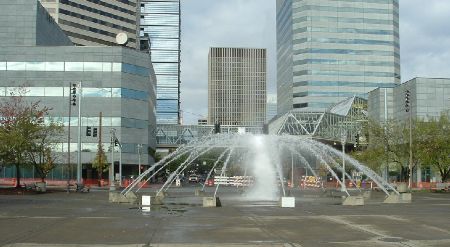 I bought a blueberry muffin from a shop on the walk and sat down on a bench to watch the river.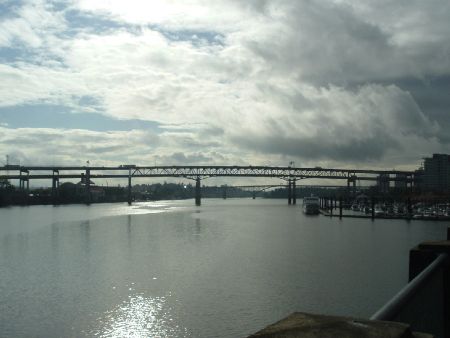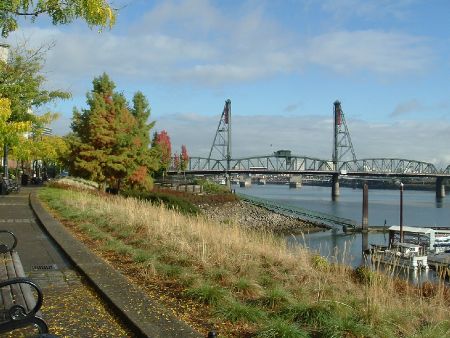 By the time I rode back to the airport on light rail it was overcast again, but the scenery was still lovely with grays, greens and yellows. Portland, like Seattle, is a city that prides itself on quality of life; clean public transit and free wifi in the airport. It seems almost quaint to a New Yorker, we don't do "quality of life" here. But then again, we can't.
On the walk back from the river just as I got back to the Four Points, I paused to admire a climbing rose on the side of the hotel. Most of the flowers were fading, but lower down one was still in full flower.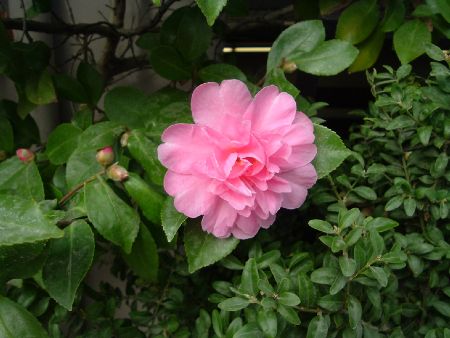 It was a lovely way to say goodbye to the City of Roses.
Posted by Leigh Witchel at 1:00 PM | Comments (0) | TrackBack
October 2, 2006
Seattle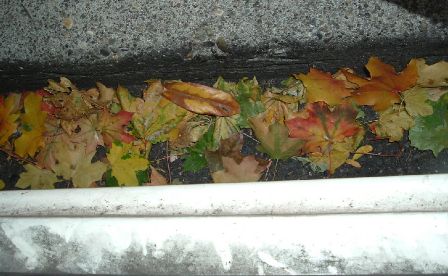 I sometimes wonder about my willingness to travel great distances for only a short period; it took as long to get here as to get to London. It was worth it; Seattle is quite pretty and it was a very productive weekend.
United Airlines flight 689 to Seattle involved a plane change at O'Hare but both planes operated with the same flight number. I packed lightly and dutifully put my toiletries in a Ziploc bag as part of our country's ongoing War on Moisture. Security lines were slightly longer than I recalled but this was a peak time. At 3 pm on Friday it took about 20 minutes from arrival to the gate. I had requested to upgrade my fare with miles, but United had sent the wrong plane; an Airbus 320 that was part of their TED fleet instead of a Boeing 757. TED planes are all coach seating; I got no upgrade but what the hell, the fare was $141 roundtrip. I bet there were at least a few mildly ticked off elite passengers. A fellow in my row was bumped out of Economy Plus into a middle seat of . . .what's the regular area called? Steerage? Economy Minus? Because of the late arrival of the incoming plane and runway delays at LaGuardia we were nearly an hour late into O'Hare; we arrived in B concourse and my connection to Seattle left from C17 in 33 minutes. I'm glad I packed light. I sprinted to C17 and said to the gate agent, "Hi, I just arrived from the New York leg of flight 689. Do I have time to pee?" Luckily, I did.
The ORD-SEA leg was on the proper aircraft (do they levy a fine for flying an Airbus into Sea-Tac airport, original home town of Boeing?). An hour into the flight I realized that the woman behind me was also knitting a sock, so that led to a very pleasant conversation that passed the hours until landing. We made up time on this leg so I only arrived in Seattle 30 minutes late and took the Kings County public bus into downtown. It's the most inexpensive way to get downtown ($1.25) but there was quite a cast of characters on the bus; several inebriated vagrants, one of whom shouted "WOLVERINES!" when we hit Michigan Avenue, a pack of black girls jeering the vagrants and in the front several hapless tourists including me, all clutching our suitcases bemusedly. It wasn't at all threatening. Just odd.
I arrived at the Renaissance Hotel at about 11:30 pm PDT. I left the office at around 1:45 pm EDT so it was more than half a day's journey and my body thought it was 2:30 am. Though I arrived late, luck was on my side. The nice desk clerk gave me a corner room (perhaps a junior suite? It's a living room and a small bedroom) on the 21st floor with views.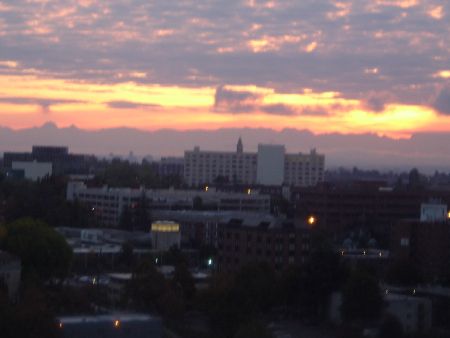 Sunrise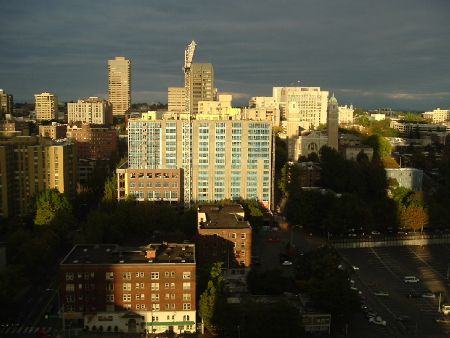 Sunset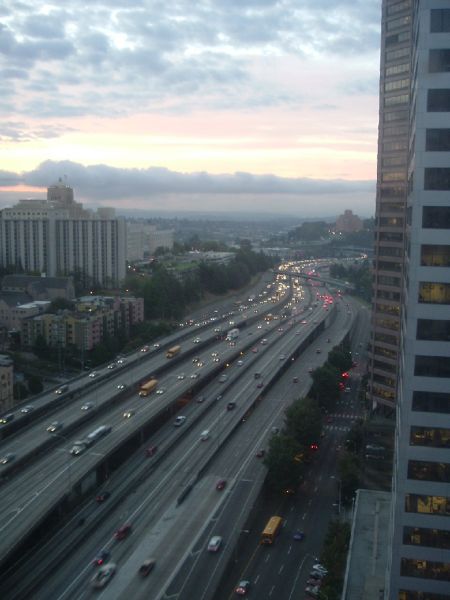 So they're of the highway, what the heck. The large buff colored building down the highway at the right is the headquarters for Amazon.
The Renaissance a nice hotel, though about due for a renovation; the decor feels slightly stale. At the price I paid ($65/night), no complaints at all. Free wireless in the lobby; a fitness center on the 28th floor. The fitness center is not great, not merely because the treadmill attacked me without provocation. There's one Universal weight machine and no bench so weight training is limited to impossible. If all you want to do is use a stair climber or treadmill, it should be fine. There is a pool and whirlpool as well.
My friend Sandi and I met the next day and we caught up and then played tourist. Lunch was at Maximilien in the public market; the food was good, the view of the sound lovely (Sandi obligingly pointed out the mad parasailors madly parasailing in the cold water). The service was fine until when Sandi requested the check and the waiter pointedly put it in front of me because I was the man. Dude, I know you're French, but it's Seattle.
We played tourist and walked through the Public Market. I got fresh doughnuts from one stand; Sandi went to her favorite bakery and got croissants; in between we went to a cheese maker. As Sandi noted, they eat well out here. I've been to Seattle for only three short visits, but it did seem to be a city that prides itself on lifestyle. After lunch, we did a drive along the water – several different waterfronts. Seattle's surrounded by them. In the evening, we went to PNB together.
I haven't seen Peter Boal since well before he left for Seattle; we spotted each other immediately as he came from backstage into the auditorium. It was a warm meeting, but we each were trying to be respectful of the fact that there was a professional conflict; I was reviewing his company. What the hell, at this point I'm used to it. I've written my review and honestly believe it's not different than what I would have written had I not known him. It was not, however, the review I thought I would write. I took a different angle. I assumed I would spend most of the review on Carla Körbes – for a New York audience she's the most newsworthy thing – but she only danced in In the Middle, Somewhat Elevated and did fine, but she's not a natural choice for the role; she's a little too soft. So the review became more general. The company looks fine; rather than coming in and overhauling, Peter has mostly continued the work Kent Stowell and Francia Russell started.
I saw the matinee the following day. Walking there I took Sandi's doughnut suggestion and stopped off at Top Pot Doughnuts, considered Mecca for the doughnutophile. I had a maple dipped old fashioned and a Double Trouble (a chocolate glazed chocolate doughnut). They were cakey and moist, but I'm about as discerning with doughnuts as I am with wine. I liked the ones I had in the Public Market more because they were still warm.
In the Middle got an electric performance from the first cast. Patricia Barker is retiring at the end of the season (Peter announced her farewell performance, which will be put together by him and Barker – as June 10, 2007); her performance in In the Middle was a fine way to say farewell to the role. Carrie Imler sailed through Theme. No surprise, she's another CPYB girl; I know of three in the company (Imler, Noelani Pantastico and Kara Zimmerman).
For dinner, I wandered to the waterfront because I had a fish craving. I tried Elliott's Oyster House and spent good money on good fish; a Dungeness Crab cocktail to start and a more elaborate grilled Coho salmon dish. The quality of the both the crab and salmon was quite good, but I still have nostalgia for when there were simple fish dives you could get a plate of broiled fish (and the plate had a blue or red rim), a baked potato in silver foil and two side dishes. I bet Seattle has them; I just don't know where they are.
I got a tremendous amount of writing finished on this trip; an article on knit care for Knit.1; two pieces revamped from this blog for the newsletter of the Dance Critic's Association and the PNB review. I even got plenty of knitting done (progress on a pair of socks and a baby sweater – I'll blog on both soon.) Put me in a clean hotel room with a handsome view and the possibilities are endless.
Posted by Leigh Witchel at 12:53 PM | Comments (0) | TrackBack
September 2, 2006
Eye of the beholder
Last night, I was heading home after dinner with my friend Andrea, a classmate from ballet days and class with the formidable Madame Darvash. Can't recall the name of the restaurant, the credit card receipt only lists them as "Vietnamese Food", but it's at 121 University Place. Excellent Bo Luc Lac, reasonable prices, but it was a busy Friday night and the waiters practically grabbed plates away from you the moment you didn't seem to be finishing it and cleaned the table up around you.
On the subway ride back, I was working on the last sleeve of the Bamboo sweater. The car was relatively empty at West 4th, and filled a bit with each subsequent stops. Two twenty-something guys sat next to me at West 14th. A man got on at 34th. He looked as if he had come from a fantasy equestrian event; thigh high leather boots over khaki pants, blue blazer, green walking stick, straw hat with what looked like Christmas ornaments decorating the brim.
I'm thinking, "Work the outfit!" I notice one of the twenty something kids stealing glances at him too. My guess is we're both thinking the guy is a bit of a New York character – a freak. I think about this for a moment. I'm sitting here like the screaming faggot I am knitting on the subway and the boy next to me has a ring through his nose. And we're all over the equestrian freak across the car?
The moral of this subway story is either: Scratch a normal person and there's a freak underneath, or scratch a freak and there's a normal person.
You pick.
Posted by Leigh Witchel at 12:36 PM | Comments (3) | TrackBack
March 18, 2006
Wild Turkeys and Pork Uteri.
It's been that kind of day. Stopping off to grab dinner after seeing Paul Taylor tonight, the muzak in the store was a klezmer version of "Hazy Shade of Winter".
I went to see Mom in Mamaroneck. Seeing Mom means eating Chinese food, so I did some research and suggested that we try Aberdeen Seafood and Dim Sum in White Plains.
Aberdeen is in the Residence Inn at 3 Barker Avenue and not immediately obvious from the street. We went relatively late on Saturday afternoon so it was not painfully crowded, but reservations are suggested. For people who can't get into New York for dim sum, Aberdeen is probably the next best thing; respectable quality dim sum mostly comprising the standard hit parade.
Most of the dim sum were winners. The shrimp in rice crepe and shrimp shiu mai were as good as those I've had in Chinatown. I've not had fried shrimp rolls before, though it was a very simple and good dish – plain shrimp fried in a wonton wrapper. The baked pork bun with a paste-like filling was not particularly interesting but the fried one with a skin puckered with bubbles was delicious, as was the grilled bun. Turnip cake came to our table only lukewarm; it's a dish at its best freshly made. As in New York, it comes with Hoisin sauce. I asked for it with turnip cake in Toronto and they looked at me like I was nuts. Sticky rice was studded with what looked like dried shrimp and was also relatively disappointing.
Steamed dishes were brought round on carts, other dishes were carried by hand on trays round to each table. The salt fried shrimp looked delicious, but by then we were full. We did have the Chinese Greens in oyster sauce, which was a welcome accompaniment to all the starch; I'm glad places are adding it to the menu. Dishes range between $2.50 and $6; 11 dishes cost us $60 with tax and tip. Mom loved it, so mission accomplished.
There is a mall across the street from the restaurant with an enormous Asian grocery store, Kam Sen Foods. Inspired, Mom bought the same Chinese greens we had just eaten labeled Yu Choy. I needed soba, tamarind and rice vinegar. I didn't need Pocky, but then again, doesn't one always need Pocky? Besides the cognitive dissonance of trundling down the aisles with my tiny shopping cart while the loudspeakers blared Latino music, the best part was seeing these next to the really cheap beef bones: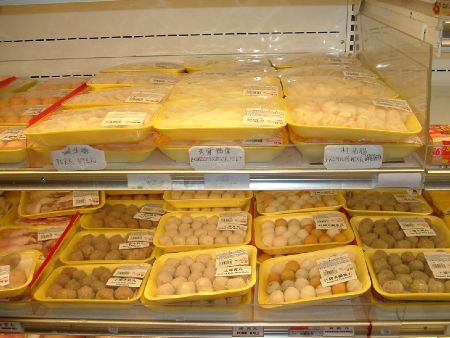 Pork uteri. Yep. And Boneless Duck Feet and Premium Pork UterusIntestines.
Mmmm. I didn't buy any, but you can put recipes in the comments.
The lady who was with Aicha el-Wafi (you know, the one I lied about meeting?) warned me that Goldman Yarns was going out of business and Mom asked if I wanted to stop by. That's about like asking a crack addict if he wants a little hit. We got there about an hour before the store closed its doors for good. Yarn was 70% off and needles 50% off. I regained consciousness about $70 later.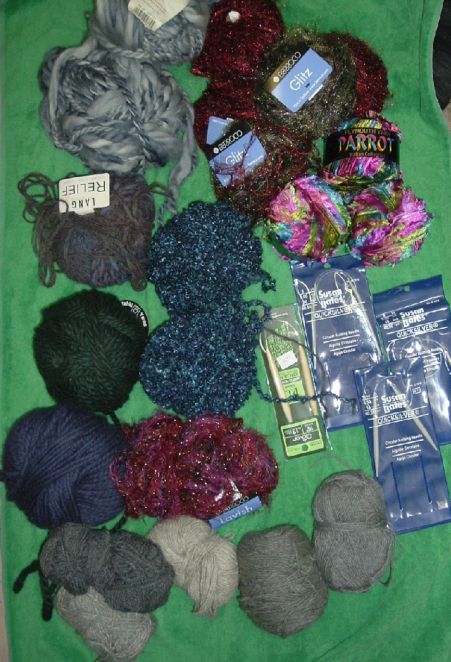 I know you're going to want to know: Two skeins Rowan Biggy Print, two skeins Takhi Baby, six skeins Berocco Glitz, three skeins Plymouth Parrot, one skein Lang Relief (I have another in that color that I bought at Patternworks about a decade ago), one skein Berocco Lavish and a few skeins unlabeled beige and gray stuff that will make hats for guys. It's all going to be made into hats and scarves.
We drove home via I-95 and exited at Playland Parkway near Rye. Heading off the exit, I noticed two large black birds at the side of the road. Bigger than pheasants . . .good grief. Wild turkeys. Something I have never seen before. I was driving so I'm afraid there's no photo.
Posted by Leigh Witchel at 11:13 PM | Comments (2) | TrackBack
February 28, 2006
I left my cell phone . . . in San Francisco . . .
Everybody sing along!
It started to rain on Sunday, making it a good day to leave but there was plenty to do before.
The burrito pilgrimage was to El Tonayense, a taqueria in the Mission district on 24th & Shotwell. We found it on a walk two years ago, and we've gone together on every visit I've made since. Peter gets the super carne asado burrito, affirming my Jewishness I get the super al pastor with grilled pork. Being adventurous and gluttonous, for the first time we ordered something else in addition – a chicken super quesadilla – just so we could explore the menu. The quesadilla was heavenly and unlike those I have had in NYC – this was closer to a burrito without rice. Mexican food in California puts the slop served in New York City to shame. Cal-Mex is a cuisine; NYC Mexican restaurants serve stuff only good as an excuse to soak up the alcohol in a margarita.
Balmy Alley is a few blocks from El Tonayense on 24th; an alleyway lined with murals including this one.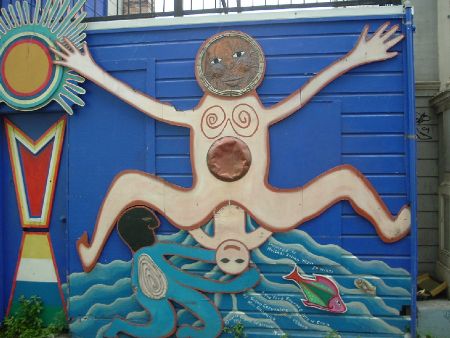 Oh happy womb!
Peter and I walked off our gluttony through the Mission District before I headed to the ballet. Alas, Peter's back was bothering him and he wasn't up to sitting through the ballet, so I gave his ticket to an usher who needed a seat. The program was the same as Friday night's with some cast changes – Katita Waldo instead of Muriel Maffre in Magrittomania, Kristin Long and Matthew Stewart for Rory Hohenstein in Rodeo. Alas, Damian Smith, a dancer I like very much, is replaced in his roles. Magrittomania holds up on a second viewing, though Waldo is not as extreme as Maffre. Spring Rounds looks negligible; as a friend said who saw it in Paris, paint-by-numbers Taylor. Long and Stewart do great work in Rodeo.
It was drizzling before the ballet but as we leave it is raining heavily. I take the short walk to the hotel to pick up my suitcase and then head to BART. The station is immediately next to the hotel – another good thing about the Ramada. I head across the bay to Berkeley to have dinner with my friend Paul.
Paul is one of the most beautiful thinkers I know. Every conversation is tinged with poetry. He's from the Deep South, which has something to do with it. Very good Thai Beef Salad and Chicken and Coconut soup at Racha Café wash down the conversation on Brokeback Mountain, Mark Morris, Frederick Ashton and aging parents. It's no use to try and explain what is so special about the way he thinks, just read his review of the programs I saw at SFB (but on different nights with different casts)
Paul drove me to Oakland Airport; when I got there I learned that the same headwinds that had made my outbound flight so long delayed this plane and projected departure was an hour late. I passed through security and headed for the gate. Searching around, I finally found a quiet place with an outlet, took out my charger to charge my phone – and realized I had no phone to charge. After ripping apart my bag, a kind soul let me borrow her phone and I left a message for Paul. He doesn't have a cell phone, so there was nothing more to be done.
The headwinds worked in our favor on the flight back; it was slightly more than four hours and I slept most of the way. Even with losing my cell phone it was a marvelous trip. I called my phone when I got home, and there was one mysterious message – no voices, just ambient noise. From that, I guessed that it had fallen out of my bag and opened, but did it happen on BART (I made a call to Paul to let him know I was arriving) or in Paul's car?
Right before I was about to order a new phone I got an email from Paul. My phone was under the passenger's seat. It beeped at him; it must have been lonely. I'll see it quite soon.
Posted by Leigh Witchel at 11:11 PM | Comments (0) | TrackBack
February 26, 2006
A whole lotta eatin' and drinkin' goin' on.
Day two in San Francisco was as good as day one.
I haven't seen my college suitemate Don for several years. We met in the lobby of my hotel; with the exception of a few gray hairs he looked much the same as in college. "You didn't think I was going to get fat and bald?" he asked. "I'm glad we're both vain." I answered. He had bicycled to the hotel, probably the reason why he looks much the same. He had made a reservation at Absinthe, I laughed and he apologized, not knowing I had eaten there last night. No matter, it was just as good for breakfast. I had the blueberry pancakes, he had eggs and bacon and both were as good as their premium price would demand.
After brunch, we went to the plaza of the Civic Center to talk and catch up. He told me about his wife and children, we both exchanged news about our parents and siblings. It was slightly colder than the day before but clear and sunny; there was some sort of demonstration of various leftist causes in the plaza.
My hotel is only 2-3 blocks away from City Hall; David met me there at 2:30. He also had not gone to seed; he looked thinner and even more like Clark Kent than the last time I had seen him six years ago. Welcome to the era of the Internet where you have close friends you speak to all the time, but don't see for years on end.
We went to the exhibit of Kyoto artists at the Museum of Asian Art. His favorite paintings were of two waterfalls; I liked those very much but favored the one of a monkey by Rosetsu that is on the linked page.
Dinner followed the Japanese theme; we went to Yum Yum Fish, which is near his apartment about a 20-5 minute MUNI ride from the hotel. The place is a dive (three tables in what looks like a fish market) with top quality sushi for dirt cheap. Six pieces of nigiri sushi (salmon, yellowtail, eel) and a huge plate of rolls ("Dynamite" roll – spicy tuna, BBQ Eel, California roll with real Dungeness Crab, and Salmon belly roll) set us back $22.50 and the fish is fresher than I recall even at the best sushi places in NYC.
We hustled back to the Opera House for Program 2. The highlight is Gonzalo Garcia's performance in Apollo, which is as good as I recalled it, only the production around him has gotten even more taut. Besides my friends, that was the thing worth flying across the country to see.
I took David out for dinner and gave him an knitted watch cap I made for him in his favorite color - orange of all things. Happy Birthday, Chuckles! David took me out for a drink at the Orbit Room and the cocktails were interesting enough that we both decided to have one instead of our usual safer drinks. I am an alcohol sissy; I usually get a vermouth and soda so I don't become incapacitated but I went for a Venus Lemonade and he chose a Mojito. We toasted his boyfriend Duane, away on business in New Orleans, but who sent David $10 to buy me my drink. Thank you kindly, Duane.
I stumbled home in a happy state of exhausted mild inebriation. Now, I'm off to shower, pack and vacate the room, then see Peter for a burrito pilgrimage in the Mission District and the matinee at SFB, then dinner with Paul. On the red eye and back in NYC at 5 am. I'm having a delightful weekend.
Posted by Leigh Witchel at 12:38 PM | Comments (0) | TrackBack
February 25, 2006
Mood Swings - A visit to San Francisco
Thursday 2:00 pm EST Mood: Frazzled. Preparation for a trip is usually last minute for me. Two things usually happen; I can be relied upon to not pack to the size of suitcase I had hoped to – (aimed for carry on, had to go one size up and check it) and forget one tricial item. This time, it was my belt, which I discovered as I absentmindedly hitched up my pants. I had to go to the post office anyway, I went to Daffy's bought one.
Thursday 5:00 pm EST Mood: Panicked. When I plugged my computer into a power supply at the terminal, no power came through and I figured the outlet was defective. My computer had been working this morning, after all. When I plugged it in a second time at a different part of the terminal with the same result, angst set it. I have an old computer and had two batteries, which would have had an hour of computing time at most between them. How to make that last over three days? I had my PDA and a folding keyboard with me that would suit for writing, but even that got recharged via the USB port by the computer. On the plane, I called my friend Peter for magic words. "Maybe I've already said them, Darling. So if the computer starts working in the hotel, I will take credit." "And I will be happy to give it to you, darling."
In Flight to OAK Mood: Irritated. This was my first time in JetBlue. It's a completely acceptable economy product, but nothing special. If the plane as packed, as this one was, all economy is cramped and irritating even with a 34 inch seat pitch. I do like the cookies. Flying into OAK instead of SF was not appreciably more difficult except that it involves about a 15 minute bus transfer ($2 exact change) from the airport to the BART station. It probably took an hour from de-planing to get to my hotel.
I alternately worked on an article for Ballet Review and a lace shawl I keep as a portable travel project. I saw the battery indicator on my PDA drop from full to ¾ and my mood blackened.
Thursday 11:30 pm PST Mood: Relieved. Check in to the Ramada Hotel on Market Street is fast and friendly and the hotel is an insane bargain ($45/night on Priceline). Amusingly enough, they gave me the exact same room, room 443 with a single queen bed that I had the last time.
In 2004, when they gave me this room the desk clerk announced that he had "a non-smoking queen for me." It was all I could do not to break into my Paul Lynde voice and say "Well, heh heh send him on up."
I plugged in the computer, pulled out the plug, finagled with the power supply, reconnected the pieces, plugged it in again. I've never been so happy to see a little green light. It's a bit sobering to realize how dependent I am on my computer and the Internet. The hotel has wireless service that isn't stunningly reliable, but it's free.
Friday 7:40 am Mood: Satisfied. The fitness center at the hotel isn't great – no elliptical trainer, but two treadmills, two bikes, a stair climber and creaky Universal weight system but it will do.
9:30 am Mood: Elated. I knew that Saigon Sandwich, was only a few blocks from my hotel, but no one told me that so was an entire Vietnamese neighborhood. I bought two heavenly Banh Mi, one roast pork and the other roast chicken and had a breakfast picnic under a flowering bush in a playground near the museum of Asian Art.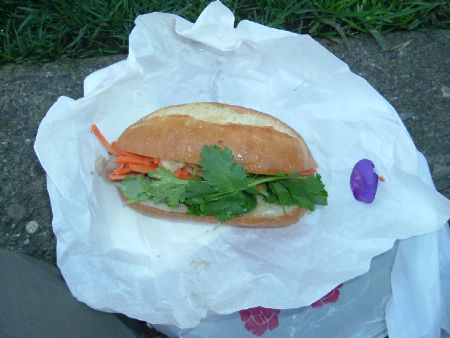 There is a show here of 18th Century painters from Kyoto, I am going to see it today.

11 am Mood: Confused. I'm supposed to meet my friend Rachel for lunch, but I only know her email and she hasn't returned my correspondence. Where is she and how can I get her phone number? I call one friend to get the number of another friend who might have her number and work on other writing in my hotel.

1:30 pm Mood: Resigned. No word from Rachel so I set off for Artfibers, one of the most well-known yarn stores in the city. The walk up Market Street is full of Beaux-Arts buildings and street freaks.
2:15 pm Mood: Covetous. I wasn't going to buy anything at Artfibers, but I want a souvenir of my stay here. I decide on two skeins of Shibori, a hand-dyed silk/kid mohair in forest colors.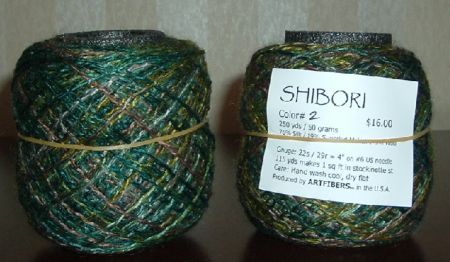 Though it's expensive, it has excellent yardage and 2 skeins should make a beautiful scarf to remind me of here. The staff is friendly and helpful and they keep sample balls and needles available for swatching as well as a comfortable place to knit. It ain't cheap here, but it's worth looking into.
2:45 pm Mood: Bemused. Poor Rachel called me full of contrition. She's not even in town, her husband and she went to Santa Barbara at the last moment. I'm sorry to miss her, but I'm having a great day anyway, so I do my best to absolve her.
5:45 pm Mood: Hungry. After picking up tonight's tickets I meet my friends Mark and Christopher and Christopher's ballet buddy Patricia for dinner at Absinthe. The restaurant is popular and expensive, but the food is commensurate with the price. After a cheese appetizer, we all chose the grilled sturgeon, rightfully recommended by our waitress. I split an excellent tarte tatin with Mark. Dinner with wine was $60 per person. More than I'd usually spend, but meals like that are great fun when shared with others.
8:00 pm Mood: Attentive. San Francisco Ballet Program 3. The most interesting dilemma is to figure out how to compress this into 500 words. I have 5 pages of notes already and two more performances to see. The Taylor piece is formulaic, Magrittomania is fascinating even if I don't love it and I have a soft spot in my heart for Rodeo. Muriel Maffre, who does the lead in Magrittomania with Tiit Helimets is the world's greatest Weird Ballerina. She does one wildly extended and arched tendu with a prehensile foot and you see she's a magnificent freak.
11:00 pm Mood: Flirtatious. We all head to Mecca, a lounge close to the Castro. Randy, whom I've known in correspondence for as long as I've known Mark but we've never gotten to meet in person, comes with his big hunky boyfriend Jim. Jim and I, well . . . hit it off pretty quickly. It went no farther than a flirtation and Randy didn't seem to mind one bit. It's confusing, but amusing. Where is Leticia Baldridge to advise on such things?
In any case, it was close to a perfect day. I headed back to the hotel at 1:00 am exhausted and satisfied.
Posted by Leigh Witchel at 2:14 PM | Comments (1) | TrackBack
February 12, 2006
More on mushrooms
Since Grace and I both expounded on the virtues of frying mushrooms I discovered that the same trick works for canned mushrooms as well. I'm not going to say it makes them taste as good as fresh but the improvement is remarkable. Before proceeding with any recipe, take an 8 oz. can of mushrooms and squeeze them out as much as possible, reserving the liquid to add to the dish or for another use. Add about 3T oil to the pan and sauté the mushrooms until they start to become crisp and golden outside. This takes longer than with fresh mushrooms, as long as 20-30 minutes. They will not develop much scent, but their taste will intensify considerably.
Posted by Leigh Witchel at 11:25 PM | Comments (2) | TrackBack
February 8, 2006
When it rains it pours.
I have now knit five toilet paper covers. Really. They are to accompany an upcoming article on embellishing knitting in Knit.1 Magazine. I won't spoil the fun by telling more (especially as I have neither decorated the TP covers nor written the article) but to my satisfaction it seems that a toilet paper roll has similar dimensions to a human head. Ruminate on that, but it does mean that the covers make very cute little skullcaps as well.
The Travel Issue of the magazine comes out on the 14th, coincidentally, my first blogoversary. I have a piece in this issue on knitting and travel. Also upcoming in Ballet Review are two articles, one on the June repertory in London and also Swan Lake at Pennsylvania Ballet.
The writing queue overfloweth right now.
Finished in first draft:
La Sylphide in London and Toronto – Ballet Review
Pennsylvania Ballet – Balanchine Program – Dance International.
Being written –
One act English Ballets – Royal Ballet & Birmingham Royal – Ballet Review.
Future Projects –
San Francisco Ballet – Pointe Magazine
An article for Vogue Knitting
A sweater for Vogue Knitting
White Nights at the Mariinsky – Dance Now
And the Swamp Thing of the queue – the potential rewrite of a manuscript for Knit.1 that, if it goes through, will vacuum up most of my time for the next two months. I apologize for being coy, but I'd rather not get the editors pissed off for giving away content. I really enjoy working with both Adina and Leslie at Knit.1. They're reasonable and fun, and Adina makes me feel calm . . . at least in comparison.
You can catch Adina on the tube on March 5 at 3 pm on the Oxygen Network; she's on a new show called Stitchcraft that also features Miss Lily Chin, whom I coincidentally had dim sum with today at Ping's Seafood. The perennially stylish Eve Ng arranges a get-together after Chinese New Year, and we all gorged on turnip cake and roast pork wrapped in rice noodle. We've sampled a few of the dim sum places: Golden Unicorn, 20 Mott and Ping's. I'm partial to Ping's; the dim sum get to the table most fresh here. Go with a large group so that you can sample more. Overeating wildly was about $16 per person.
Posted by Leigh Witchel at 11:57 PM | Comments (2) | TrackBack
February 6, 2006
Philadelphia
I love spending the night in a hotel. It's a treat for me to be in an uncluttered room. I got the Philadelphia Marriott Downtown on 12th and Market for $47 on Priceline + taxes and fees. The room was lovely, it was at most a ten minute walk from the ballet and I even had a view of City Hall from my room. There is also a very large fitness center including a pool and at least ten treadmills.
Connie and I had planned to go to Singapore, our favorite Chinese vegetarian restaurant to commune with the heavenly orange non-beef. My friend Dale had also decided to go down to see the performances and we were surprised by a friend from Los Angeles who had flown in for the day to see the performance! So we all headed to the restaurant and even Dale, as confirmed a carnivore as me, agreed that the orange non-beef was celestial.
The one drawback to the Marriott was that at 6:46 am, someone pulled a fire alarm, starting off a very Orwellian loudspeaker alarm. Waking up to noises and flashing lights, it took me about half a minute to realize where I was. It was a false alarm, but I noticed the view out the window of City Hall and Philadelphia's mirrored skyscrapers, now against a background of the most beautiful lapis sky. I would have missed it if the alarm hadn't have gone off. I admired it for a few minutes before going back to bed. You never know when a bad situation is going to turn itself inside-out to become an opportunity.
Posted by Leigh Witchel at 9:46 PM | Comments (3) | TrackBack
January 23, 2006
Shopping and Dining with Mom
I took Mom to Costco yesterday. She's getting older and trips that involve bulky objects and lifting are tons easier with my help than without. I think we got most of the things she wanted and I went shopping myself at Costco for the very first time.
We'll start with what I put back: a two pound jar of herring bits in wine and one pound of vacuum packed baked smoke salmon. I ended up buying two loaves of baked-in-store bread, one loaf of Eli's Bread, a pineapple and a three pound bag of salad. Dole Classic Iceberg.
"How can you eat that?" Mom asked. Yeah, I know, but it is so convenient when you're (perennially) late for work and trying to pack lunch. The house Italian loaf is labeled Artisan, which is pushing things. Real Italian or French bread has a specific crust and crumb, this tasted like stuff you can produce with supermarket flour in a home oven. Pleasant enough, but I got suckered by the smell. I know from both friends and family that Costco is all about the high quality of their meats, but I would have been carrying them around for several hours before getting back to New York City.
When I take Mom out for dinner, we have Chinese food. Always. Mom is nothing if not maddeningly consistent. The living room of the house I grew up in is much the same as when we moved there when I was four. Only more dilapidated, like Miss Havisham's parlor.
Mom likes to go to a cheap buffet in New Rochelle. Lots of mediocre food, lots of choices, a vast plastic expanse with steam tables, huge television sets and obese people piling French fries onto their plates. All for only $11.95 and there's a senior discount. Mom trained me well with cheap genes; I regard all-you-can-eat as a challenge and an obligation to be unprofitable to the restaurant. So I don't like it much there. We went before Thanksgiving a month later on her birthday. I suggested that I would like to go elsewhere the next time.
Central Seafood (formerly Hartsdale Garden) is right opposite where Mom used to work. The place is a large Chinese restaurant in the old style; gumball machines for the Kiwanis club in the entry along with aquariums with overgrown fish and inert lobsters. However, the food isn't from Column A and Column B.
Most of the one-from-column-A restaurants from my childhood are gone, but there's still one in Mamaroneck, Tung Hoy. When I was a child it was in an immense (from a five year old's perspective) room in a shopping center bordering on Larchmont. I always got the wonton soup. I still love wonton soup, red tinged pork and all. Tung Hoy moved down the road from its original location to the former site of China Lion, yet another Chinese Restaurant. With Mom, I've eaten in them all but oddly enough, not one of the most ubiquitous in Mamaroneck, Lum Yen. We went back to Tung Hoy about two years ago. It was dreadful. Sticky, pasty dumplings and cold food. And it was mobbed. Maybe this explains the mysteries behind force of habit.
We've gone to Central Seafood about three times. Each time, one dish has been an unexpected surprise and the other a disappointment. Fish dishes there have been wonderful. Last time we had halibut in black bean and garlic, this time flounder sautéed with vegetables served on top of the deep fried flounder carcass. I didn't realize that was edible, but it was dramatic. The fish is top quality and prepared sensitively. We also ordered MaPo Tofu, which was made with silken tofu and insipid because of it. On Chowhound, someone mentions that the restaurant excels at uncommon dishes and falters at the Cantonese hit parade. That seems about right.
When we first came in the table next to ours was occupied by a couple. The gentleman was Chinese, and spread out in front of both of them were at least four main courses. I think he was having a do-it-yourself Chinese New Year banquet. Once they left with a bag of leftovers, another couple came in and things went from aficionado to tyro. The man quizzed the waiter for his recommendation on exactly which was the best Lo Mein. The waiter didn't get the subtlety of the request and just shrugged. I hear the Chop Suey is great, too.
Prices are slightly more expensive than in New York; a meal for two will run around $23 per person including tax and tip. The restaurant was named Best Chinese Restaurant in Westchester last year. If you need to take your Mom out for Chinese in Westchester, go there but don't order the standards.
Posted by Leigh Witchel at 5:47 PM | Comments (0) | TrackBack
January 21, 2006
The best thing to put on sliced bread
I had brunch today with a friend from American Ballet Theatre. Though no blood curdling news was exchanged, it was still dishy enough to remain unreported (I love my friend. I usually get one story I can dine on for a few weeks per meal.)
What is reportable is where we went for brunch - Le Pain Quotidien. There are several in the city; this one is on 19th Street off of Broadway in the building adjacent to ABC Carpets.
Le Pain Quotidien is expensive (our breakfast was $16 per person for not that generous a meal) and the service was friendly but not careful. The waitstaff didn't check frequently for empty water glasses and a request for a refill took a long time. When we asked for spoons, the waitress apologized and said they were low on spoons and would get one as soon as they had some. We smiled, and then my dishy pal said to me as soon as she was out of earshot. "I don't care. Not my problem. You don't have spoons, go and wash some." When the spoons finally came several minutes later, at least my pal's was clean.
We shared their bread basket, two side orders of ham and gruyere cheese and each had a hot chocolate. The hot chocolate is quite good; hot steamed milk served in a French cafe au lait bowl with a small pitcher of chocolate syrup on the side. The assortment of breads are very good (though skimpy on butter) and the cheese and ham plates are fairly priced for the good quality of the ingredients.
It was a mixed experience, but the most fabulous thing there was the "Brunette", a Belgian praline spread that is what prompts this blog entry. It's incredible stuff, a paste the color of tahini with a smooth hazelnut taste that makes Nutella seem juvenile. It's available for sale for those who don't want to chance a meal. I should have bought a jar on the way out, but alas, I forgot.
Posted by Leigh Witchel at 11:58 AM | Comments (2) | TrackBack
November 29, 2005
Dining (and yarn shopping) in Toronto Part II
A visit to Toronto means lots of meals with friends. Desirée and I went to Spring Rolls before the ballet. It was as reasonable and reliable as the previous visit. On a snowy day, a bowl of pho was the perfect dinner. Spring Roll's pho is made for Western palates; rare beef, brisket and meatballs - no tendon and no tripe. Dinner was under $20 CDN per person ordering liberally.
Steph, Danny and I met at Vienna Home Bakery with a bunch of Stephanie's pals for a yarn crawl to Romni Wool and lessons in All Things Canadian. This includes the fact that milk comes in bags and that Tim Horton's Maple Dip is the Donut of Our People. I nearly lost my Honorary Canadian badge by sassing that a Butter Tart with nuts was just a pecan pie.

Romni Wools is big, disorganized, full of interesting yarns and generally friendly, but something happened there that has happened before and turns me off the place. I took two skeins of Jawoll Cotton from a bin clearly marked "Jawoll Cotton - $6.99". When I got to the register, the woman looks it up in her book and says, "Oh no, it's $8.99." When I said that the yarn was marked at $6.99, she said that it must have gotten into the wrong bin. Obviously the wrong bin marked with the correct yarn name. This has happened before there, caveat emptor.
John and I had dinner on Friday at Natchos Thai Thai, which like Spring Rolls is close to his office and to the Hummingbird Centre. Thai food here is good if not stellar, but there's also plenty of it. A good deal is the dinner for two for $40 (which ends up being about $53 with tax and tip). It includes mixed appetizers and three entrees to share as well as one portion of dessert.
Sher-e-Punjab on the Danforth is an established Indian Restaurant that does standard Mughal fare quite well and quite hot. I had prawn saag and shared a more hot than buttery butter chicken with John. The naan were particularly good. Dinner in a large group on Saturday night came to around $17 per person.
John and Chris had just noticed Bamboo on the Danforth and we decided to try it out for dimsum at Sunday lunch. The restaurant was small, quiet and uncrowded, so dimsum was made to order rather than premade and served from carts. This makes a difference. The beef ribs in black bean sauce were particularly good and a surprise to me as I expected spare ribs and they were meaty short ribs with lots of meat and little gristle and bone. Taro cake was also very good but they don't serve it with Hoisin sauce; I'm used to that in NYC. Worth a visit and about $17 per person in a group ordering liberally. I can't find them on the web, but Bamboo is on the north side of the Danforth near Logan (between Chester and Pape stations).
Posted by Leigh Witchel at 12:30 AM | Comments (4) | TrackBack
November 20, 2005
Department of "How did I ever live without one?"
Ladies and Gentlemen, I present the Chinese wire strainer.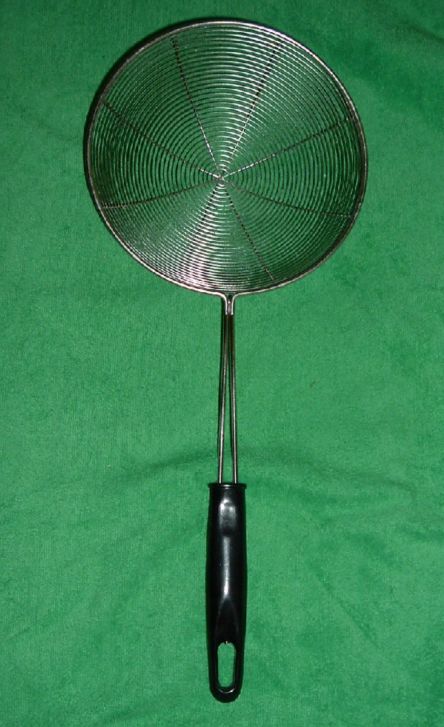 Up until now, I had been using my fine mesh strainer or a slotted spoon to remove items from boiling water. The flatter bowl makes this much more maneuverable and it's wide enough to catch obstinate noodles in one or two scoops. Mine cost $3 at a discount store. I use it all the time.
Posted by Leigh Witchel at 11:44 PM | Comments (0) | TrackBack
October 3, 2005
Neighborhood Thai
My neighborhood is blessed with several excellent Thai restaurants, three of which are favorites of mine. I ate at all three this week (!) - out of town friends like Thai food! They're all places with little ambiance but great food and dirt cheap prices.
Pam Real Thai is on 49th Street slightly west of 9th Avenue. It does not take reservations and gets crowded at dinner time - the kitchen is marvelous (and the food tends to be hot, so don't think you need to tell them to make things spicy). Recommended dishes include the pad prik khing (string beans in a chili sauce with your choice of meat - it is particularly good with beef), narm tork (a marinated beef salad) and the pad kra prow ( duck with peppers in a hot sauce). It's cash only and an extravagant meal will come to around $35 for two. You can easily eat for less.

Wondee Siam is on the east side of 9th Avenue between 52nd and 53rd. It's another neighborhood joint, barely a storefront, even tinier and more crowded than Pam Real Thai, and with a kitchen that rivals it. Each has their partisans; I have had great meals at both. The link above has reviews noting a deterioration at Wondee that I have not experienced. Same price range, also cash only. Particularly good here are the duck and beef salads, and fried ice cream ends the meal hedonistically.
If you need a some ambience, Wondee Siam has an upscale sister, Wondee Siam II one block north on the other side of the street. Though still simple, the room is much prettier, the food only slightly more expensive ($1-$2 per entree) and they take credit cards. The kitchen is a bit better at the original though.
Posted by Leigh Witchel at 3:09 PM | Comments (2) | TrackBack
September 12, 2005
The Vegetable Challenge
On Saturday I finally shopped at the Farmer's Market again.
Grace can laugh at me derisively now. There's a Farmer's Market right around the corner on Wednesday and Saturday but I just never have time to go. I've been trying (and succeeding!) at eating more healthily and that means fresh fruits and vegetables. I've always liked them, so having them in my diet isn't unpleasant, but it does mean more shopping and cooking, and also slightly more expense. This week I am trying to expand my vegetable repertoire. I haven't yet eaten or cooked something completely new (in four decades, one has tried a lot of vegetables) but I've made a few things I haven't made in a long while, like ratatouille.
The Farmer's Market purchases were parsley (I'm trying to use it, not just for its flavor, but nutritive values. Green leaves are good) and a gorgeous leafy bunch of beets. The attendant asked me if I wanted the tops removed and I accidentally shouted "NO!" Much to my shock, many people do. Beet greens are delicious.
And yeah, a head of lettuce. Iceberg. I've loved crunchy, tasteless Iceberg lettuce since I was a kid. So sue me.
The beets were roasted last night and the greens soaked repeatedly (real food has dirt in it. . .) The beets will be dressed with a (parsley!) vinaigrette and combined at the last moment with diced celery for a salad that I read about first in one of Elizabeth David's books. I think I'll also save one or two to combine with roasted potatoes and carrots for a different salad - I first had that at a downtown food cafe, Barocco, in the early 90s.
The greens (about a pound and I did not use the stems here) were cut into chiffonade along with some surplus parsley and cilantro and combined with a pack of frozen spinach and a bit of frozen corn and cooked in an Indian manner. Saute 1 tsp cumin seed, 1 clove minced garlic and one finely chopped jalapeno pepper in around 2 Tb of oil in that order. Wilt greens in oil. Sprinkle about 1/2 tsp of ginger powder over. Add in thawed and squeezed out spinach (reserve liquid). When all greens are combined, add in liquid and about 1/3 cup frozen corn. Cook until liquid is mostly gone, add 2 tsp (or to taste) butter and 1 tsp garam masala. It's really good. The basic concept is from Julie Sahni's Classic Indian Cooking, but she uses potatoes. I had the same dish with corn at Kishti, an Indian restaurant in midtown.
So take the vegetable challenge. And if you've got a good recipe, let me know.
Posted by Leigh Witchel at 2:50 PM | Comments (3) | TrackBack
August 10, 2005
Cooking binge
I'm not sure what got into me this weekend. I usually cook for the week ahead, but this was something - even for me.
Over the weekend, I made pasta sauce (this recipe less the rendered bacon), borscht, gazpacho, chicken and dumplings, and Punjabi black eyed-peas (lobhia). My recipes for gazpacho and chicken will follow in the next few days; for the lobhia I use Madhur Jaffrey's recipe from A Taste of India.
Posted by Leigh Witchel at 7:18 PM | Comments (0) | TrackBack
July 14, 2005
Jury Duty - In search of Banh Mi
Jury duty in Manhattan is boring, but in all fairness, they've made it easier each time I have served. They now discharge jurors after two days if not picked for trial, however two days service only exempts you for two years. The law changed last September, but a serving on a three to eight day trial exempts you for four years and eight or more days exempts for six years. In the jury area at 111 Centre Street there is a work room with carrels with power outlets and miraculously, Ethernet cables. Get there early if you want one; there are only about 12 powered and wired carrels. The experience is quintessentially New York; the building itself is not equipped to handle the traffic going through it, especially the elevators. The two supervisors of the juror room are both crusty and affable. They treat jury orientation as a comic monologue and we're the captive audience.
Please be sure to sign in even if you are late. If you do not sign in, you will be marked absent and have to repeat service. People who have forgotten to sign in often approach the desk filled with irritation, and on the other side, we court officers sit here, filled with self-righteousness.
It's really not bad.
Yesterday they let us out for lunch from noon to 2, so I went home as I had forgotten my umbrella and cell phone. Today I was determined to treat myself to a meal in Chinatown, one of the few perks of jury service. My usual spot would have been Nha Trang, about two blocks from 111 Centre (go through the unfortunately named Bernard Kerik complex of the jail). This time I was determined to go to Saigon Banh Mi. (Scroll about 1/4 way down)
Saigon Banh Mi is farther into Chinatown, on East Broadway a few blocks from Golden Unicorn, our usual dim sum spot. I'm not sure of the route from the courthouses to East Broadway except that I needed to head east. Wandering eastwards through Chinatown is interesting in itself but by the entrance to the Manhattan Bridge I knew that I didn't have a clue where I was going. So I called the perennially stylish Eve Ng, who, as she said "can walk through Chinatown blindfolded". As well as east, I had headed north instead of south and Eve chatted with me and navigated me via cell phone to the East Broadway Mall . . . Where a sign said that Saigon Banh Mi had moved to 138-01 Mott Street. I was not only crushed, but sweaty, and robbed of my will to eat Banh Mi.
On Eve's advice as I walked back toward the courthouse I stopped in at a little storefront on Mosco Street between Mulberry and Mott that has a little sign out front saying "Fried Dumpling". Inside they sell four round fried pork buns or five crescent shaped potstickers for a dollar. Business with white pussyboys is conducted in sign language. I had the potstickers. They are freshly made in the little infernally hot store and they're pretty darn good for a buck. Nha Trang had a line waiting to eat, but New Pasteur right next door is also very good and not quite as crowded. I had my usual, Com Bo Luc Lac - Beef cubes and rice - $5. I live for Bo Luc Lac.
Posted by Leigh Witchel at 5:19 PM | Comments (0) | TrackBack
June 3, 2005
Dinner in London
We had dinner at a Chinese restaurant, Y Ming, right behind the Palace Theater on Greek Street. It's a pleasant Chinese restaurant a few steps up from the neighborhood variety. Some of the dishes are less familiar in NY (more lamb dishes, though we have them, the same with stewed as well as fried dishes) and after some convincing Chris prevailed on me to have the aubergine with garlic despite my childhood prejudice about eggplant. An excellent choice, it was delicious, as was the chicken with lemon and coriander. I was less interested in the Empress Beef, which are small chunks of beef stewed with anise. It's similar to the Vietnamese Bo Kho, only the Vietnamese version is wetter and also more interesting.
There's no way of getting around it, an American in London is going to have sticker shock. Because Priceline helps so much on hotels, mine usually arrives at the food bill. The only way to avoid it is to stop thinking in dollars to pounds. A dollar and a pound both have the same purchasing power. The meal we had would have cost somewhere around $40-$50 in NYC. It was £50 here. To economize on days when I am not eating with friends I grab food from the markets.
Posted by Leigh Witchel at 6:16 AM | Comments (0) | TrackBack
May 15, 2005
Dining in Toronto
Being partial to Asian food (and being cheap) I tend to seek out that out wherever I travel. I had good luck in Toronto this trip finding reasonably priced good meals.
You may already know I am a sucker for Banh Mi. Rose's Cafe on Broadview at Gerrard does not have New Saigon Sandwich in Boston beat for quality, but they blow them away on price. A sandwich is $1.50 CDN. Several varieties are available, but with understandably cheaper meats and cold cuts than in Boston. The ""BBQ Pork" is actually sliced pork sausage, but no matter, it's still tasty.
Chris is vegetarian, so when John, Chris and I went out to eat, I wanted to go somewhere we could all enjoy. Although all the Southern Indian restaurants on the strip of Gerrard are less inviting than the more familiar northern Indian ones, I gently insisted we try Southern Indian because of its unfamiliarity.
Udupi Palace is quite a ways farther east on Gerrard in Little India (near Cogswell). Udupi Palace is the largest of the places, right next to the Saree Emporium. It's not much of a palace; it's rather a large bare dining hall. The food is another matter, though. Southern Indian cooking leans towards vegetarian and the main delicacies are dosas and uttapam, both crepes of mixed rice and lentil flour. An uttapam is open faced, a dosa is enormous, spilling over the plate to be filled (or not) and eaten with coconut chutney and sambar, a dal and lentil stew.
We began with a mixed appetizer plate. This is and idli (a steamed cake of the same flour mix) - a vada - similar base, now fried - it's amazing how different rice and lentils can taste in their endless guises - and a few fritters. Beware the long thin ones. They contain a whole hot chile within.
John and Chris both had dosas, I had the Southern Indian Thali which was a large portion of rice, a roti and a papad wafer surrounded by several vegetable dishes on a large metal thal or plate. It was filling and interesting - several of the dishes, sambar and rasam, a thinner lentil-tomato broth are not familiar from northern Indian cuisine. None of it is painfully hot. Total for three people including tip was about $43 CDN.
Spring Rolls is on Front and Jarvis, and a good place to get a pre-ballet meal. It's a bright, modern noodle house, but bowing to the low-carb craze there are other options. Wanting a light lunch, I had the chicken satay and mango salad, which was very good. We spent $11 CDN per person including tip for lunch.
On the non Asian front, I went for brunch with my friends Desirée and Peter to Batifole. Batifole is also on Gerrard, in East Chinatown a few blocks from Rose's Cafe, but tucked amidst the Chinese groceries (where I again bought Pocky!) it is an upscale French cafe. We all shared rillettes de lapin , then Peter had scrambled eggs with lamb sausage (they looked like chic merguez). I had the omelet of the day (mushroom and brie) and Des had clams and mussels and then a cinnamon waffle with stewed fruit that ended up bein a communal dessert. The atmosphere is laid back (think Brooklyn Heights instead of Manhattan) and the prices within bounds - about $25 CDN per person ordering liberally.
Posted by Leigh Witchel at 5:02 PM | Comments (0) | TrackBack
March 30, 2005
I invite you to dinner!
English spoken here:
Some wonderful recipe websites from around the world.
Marina Dedeshina lives in Archangelsk, in the north of Russia. Click on "I invite you to dinner" on the left-hand navigation bar to read her recipes. I offer you the first one as a sample.
Chocolate heart

5 eggs good shake up with 1 glass of sugar, to add 1 tea spoon of a fluffer of the test, 2 big spoons of 1 glass of a flour, 11gr (pack) of vanillin and a handful of pounded fried nuts. The form to grease with creamy margarine and to lay out a dough. Bake 40-50 minutes at temperature of 180-200 degrees. Take out from the form, cool, cut on 2 parts and to grease with a "fast" cream - sour cream+any jam (I have put strawberry), it is possible to impregnate slightly rum or cognac. Press parts densely and pour the chocolate, dissolved on a water bath. To strew fried nuts . Give a pie to become impregnated with a cream 2-4 hours and it is possible to submit to a table!
It looks quite tasty in the picture but I am trying to figure out what "fluffer" is. Or "fast" cream, at least before I submit to a table.
Closer to the equator, India Tastes is not nearly so picturesque in language, but the recipes are interesting for their abbreviated authenticity.
People in the south of India eat sambar, a lentil and vegetable soup/stew with rice on a regular basis. A recipe for it is not specific, nor does it need to go into techniques, so for an outsider there's an air of mystery.
Sambar

Vegetables required - Onions, Raddish, potato, green peas, drumstick, green peppers(Capsicum), pearl onions, okra, eggplant, pumpkin, chowchow

Heat 2 teaspoons of oil and add 1 tsp mustard seeds. When the mustard splatters add 1/2 fenugreek seeds and 1/4 tsp asafoetida. Add any of the vegetables (cut into large pieces) and fry lightly.Add 2 cups of water and allow it to boil.Add 1 teaspoon salt, 1 1/2 teaspoon sambar powder and tamarind juice(amount vary to taste). Heat until the raw smell of tamarind is gone. Then add 1 cup boiled toor dal(like paste) and heat until it mixes uniformly. Add a teaspoon of kari masala powder.

If you want to use fresh paste, you may grind Sambar paste and add it to the sambar instead of kari masala powder. Add a bunch of curry leaves.
There's also the problem of unfamiliar terminology or ingredients, but the site realizes that and offers a picture glossary and also kindly usually refers to ingredients in English rather than Hindi, although in some recipes that can be random. Drumstick by the way, is a long bean common in the south of India.
Bon appetit!
Posted by Leigh Witchel at 9:53 AM | Comments (1) | TrackBack
March 26, 2005
You Cranium Dining
Miss Mary (Mary Carpenter, who worked with me for six concerts running) is part Ukranian, which meant a pilgrimage down to Kiev on 7th St and 2nd Avenue with Abe and Cynthia for an appropriate Easter meal.
I remembered Kiev as a greasy spoon joint. They've upgraded: upholstered banquettes and signature martinis, but the prices haven't gone up that badly (it was never all that cheap.)
The borscht now comes in a square china bowl, but it's rich with beef. I altered my own borscht recipe after sampling the borscht at Veselka (up the avenue two blocks at 9th Street). My recipe is an amalgam of Eugenia Doll's recipe (from the Gold & Fizdale cookbook) and Bernard Clayton Jr.s recipe from The Complete Book of Soups and Stews. Now I add more cubes of stewed chuck and spike it with a larger shot of white vinegar. Still, Kiev should know that sour cream is not optional.
The presentation of entrees was quite handsome, but almost funny considering the materials. Mary ordered the Kozak, an assortment of all the foods she craved for Easter (potato pancakes, pierogies, Kielbasa and beet salad.) The whole thing came in nouvelle cuisine layers, the pierogies atop the pancake, the grilled kielbasa split atop that and the beet salad sprinkled over the sausage. At the edge of the square plate were dabs of sour cream, applesauce and mustard like painter's pigments. Well, it was lovely, but this is a peasant meal. I tried the Chicken Kiev, which was well made but I'm going to have to remember that Chicken Kiev tastes insipid by nature to me. After sharing a chocolate blintz for dessert, we all went to Sunrise Mart to get Pocky. I love the fact that Glico makes "Men's Pocky". Of course, that's the one Mary bought. I got Crushed Almond Pocky, not feeling butch enough to handle Men's Pocky.
Update: Here's Cynthia's picture of the Nouvelle Kielbasa.

Posted by Leigh Witchel at 11:20 PM | Comments (4) | TrackBack
March 14, 2005
Double Happiness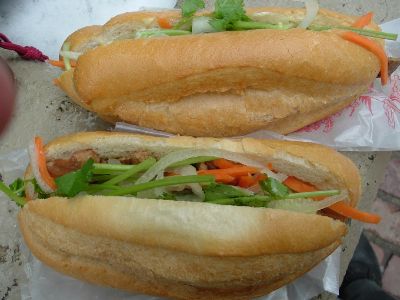 Two Banh Mi from New Saigon Sandwich. They are Gringo banh mi, one filled with teriyaki chicken and the other with grilled beef. The most Vietnamese version has Vietnamese coldcuts and paté along with the toppings (vinegared scallion, carrots, radish, cucumber, cilantro and nuoc cham)
The woman behind the counter took one look at me and didn't even bother asking me if I wanted chilies. She knew a white pussyboy when she saw one. They're still delicious, especially the magnificent crispy baguettes.
Posted by Leigh Witchel at 12:39 AM | Comments (1) | TrackBack
March 12, 2005
Blogging (and dining) from Beantown
This month has included a lot of traveling on the weekends; I've enjoyed packing them pretty full. Both Philadelphia and Boston are great weekends from New York, and you can get a lot of weekend in on a decent budget.
Random Notes:
Food experiences - New Saigon Sandwich is on Washington off Kneeland less than a block from the Wang Center and I have been longing for Banh Mi (Vietnamese Hero) from there since I was in Boston last October. Heaven on a baguette for $2.50 and the perfect pre-theater snack.
Pho Pasteur is two doors down, and I finally had a more authentic Vietnamese Pho (noodle soup) with the ingredients (tendon, tripe) I usually avoid. I did fine until I actually thought about what I was eating. $5.75 for an enormous bowl.
Slightly more upscale on Newbury past Exeter (what's the "F" block named again?) was Kashmir, which served good vegetarian food (it balances out the beef tendon, doncha know).
When I arrived late on Friday night I was having a serious nostalgic fish craving. There used to be a diner style restaurant in Waltham, where I went to college, called simply Waltham Seafood. It was the kind of place with formica tables and paper placemats where they served fresh fish on white plates with a maroon stripe around the rim. The fish was fresh, fried or broiled as you wished and served with a potato and vegetables. Haddock, sole or scrod. I had a huge craving for a plain old fish dinner at a plain old place like that.
Getting into town at ten pm I figured I would have to take what was open. Legal Seafoods is catty corner to my hotel so I decided to give it a try. I had a nice seafood combo, but it didn't satisfy the nostalgia craving. What I really wanted was my memory of broiled sole served on a white plate with a baked potato wrapped in foil. I saw my friend Dale the next day and he told me that Waltham Seafood closed a few years back. I'm not sure where you can get that kind of simple, cheap seafood dinner anymore.
Posted by Leigh Witchel at 12:09 PM | Comments (8) | TrackBack
February 14, 2005
Hygienic, Flavourful & Tasty.
What is Sambar? It's a southern Indian lentil and vegetable soup-stew. It's meant to be eaten over rice like a stew, but the consistency is more soup-like.
As an adventure, I went down to the East Village yesterday to go Indian and Japanese grocery shopping. The fiery spice mix for sambar can either be homemade or bought. As I had not tried the bought version, I decided to get some commercial mix (called either sambar masala or sambar podi) to see how it compared.
At Dowel Quality Products (1st Avenue & 5th Street) I found two varieties of sambar powder, but this was the one that I had to buy.
Hygienic, Flavourful & Tasty. What more could one ask of a new blog?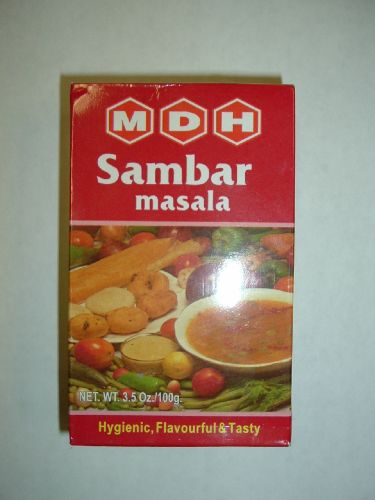 Posted by Leigh Witchel at 11:29 PM | Comments (0) | TrackBack