June 6, 2008
Waiting
Several years ago, when I was visiting my friend John in Toronto, I was knitting a pair of socks for my brother. It was in my usual pattern (for the knitters out there, Twin Rib, short row heel, made out of Fortissima sock yarn) and I had finished the first sock and was about three quarters done with the second.
I lost the second sock somewhere.
I don't know where. It could have been at brunch with John, it could have been where we parked. It could have been walking around.
I spent portions of the next two days going back to places, calling and making inquiries to see if it had turned up. When you lose something, places need to be revisited; possibilities need to be crossed off the list. Until that point, the sock still might have been found – I couldn't allow myself to admit it was gone, I had to keep looking. As much frustration there was in losing the sock, dealing with that point before the loss is final was somehow worse. Sometimes, things turn up, like my driver's license a few days ago when an airline mailed it back to me. Usually they don't. In the interim, you're suspended, unable to deal with the loss, because it might not be lost. You just have to wait.
Javi went to the hospital today. She lost a serious amount of weight while I was traveling. I was haunted by thinking that she may have starved herself (cats do) because she was upset. Because she hated going out of the building so much, I tried to get her to eat first without involving a vet. I tried bribing her with different food. For a few days she'd eat temperamentally, eating one food one day and refusing it the next, or eating the same food on a plate but not in a bowl, or on the bed but not at her usual spot. Last weekend, she started hiding and refusing food.
I took her to a local vet. He tried to not be alarmist, but couldn't help saying, "You have a very sick kitty." Things yo-yoed. She looked awful that day and much better in the night. We went over and spent time with our neighbors Janet and Mozart and she was social, even though she was weak. The next morning I went to the vet and got food for feeding via syringe. She accepted it, not happily, but she did. I thought if I could feed her, maybe I could help her get better. I could do something. The vet suggested I take her to a nearby hospital for a sonogram.
When I saw her that night my optimism was gone. She came out to greet me listlessly and I really looked at her. She couldn't jump up and down and even climbing was hard. She needed to find flat surfaces to lie down on, and she had no energy. I had never seen her look like this. When I held her, she didn't resist, and all I felt was bones and fur. She had lost more than half her body weight.
When something is lost, you can't admit it is lost until you exhaust the possibilities.
My eyes kept closing and then snapping open. At 4:30 am I took a klonopin and passed out about a half hour later, getting up a little before nine. I didn't bother showering and took Javi to the hospital.
The female doctor there was very caring, but more aggressive than Dr. Fisch. She didn't want to do just a sonogram, but also chest x-rays and blood work, and then if treatment was possible, to keep Javi for the weekend for testing and transfusions. I didn't know what to say; I said yes and handed them my credit card.
When I got home, I called Dr. Fisch. "She's really very sick." He said. "I guess the x-rays make sense, I thought of doing them myself, as does the blood work to see if there's any movement. But I would have done the sonogram first to see if anything further was even necessary."
The hospital doctor called me about an hour later. "There are possibilities, but I promised, and I want to check in with you before we do anything." She explained that there was a mass in Javi's intestine, and bleeding. She was anemic but the cause of the anemia would require further testing.
A hundred possibilities opened. Were any of them not dead ends? When my last cat Winnie died, I took her to the Animal Medical Center. They made her life – and death – hell over a week with exploratory surgery and learned nothing. I asked if I could call Dr. Fisch. "Of course. He speaks to me three times a day. Just tell him to call Jenny."
Dr. Fisch is easy to read and he's not one to dissemble. "Well, she has some sort of cancer. They could do something but it would take further tests and at minimum surgery and chemo. Maybe she could live a year. Maybe she'd never get out of the hospital."
I asked if it was time to put her to sleep. I hate that term.
"I wouldn't talk you out of it, no."
I called Jenny and told her what Dr Fisch said. "Honestly, I wouldn't talk you out of it either. I want to give you every option."
When something is lost you need to exhaust every possibility before you can admit that it is lost.
I couldn't. I hope I did it for Javi. But I have to live with the fact that I also did it for me. I couldn't stay hostage to hope.

Posted by Leigh Witchel at 7:51 PM | TrackBack
March 19, 2007
Why we knit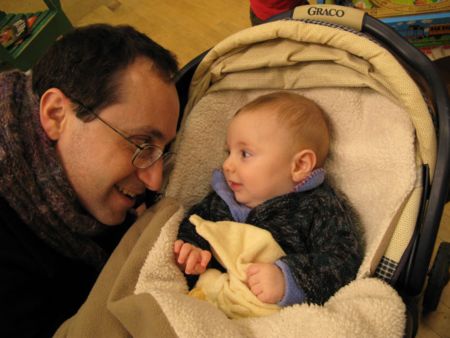 Beauty and the Beast. Nick's wearing the sweater I knit for him (Connie had the good sense to stuff him into it for my visit); I'm wearing a scarf I made from Noro Nadeshiko (wool/silk/angora) several years ago.
Posted by Leigh Witchel at 10:44 PM | Comments (3) | TrackBack
February 20, 2007
Chicago Thaw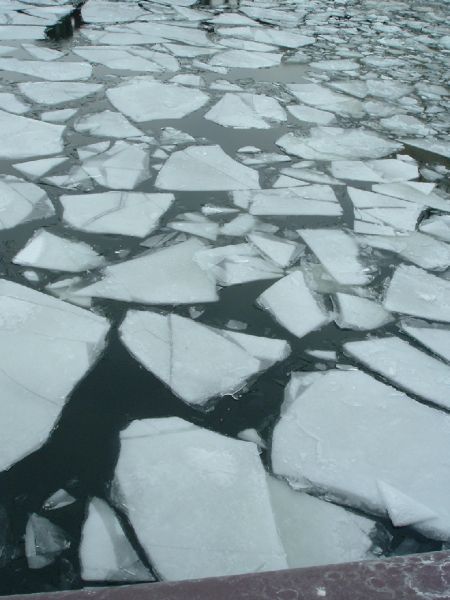 Looking over the bridge on LaSalle Street, 2/19/07
Despite the inauspicious beginning it was a lovely trip.
I saw the Saturday and Sunday matinées at the Joffrey. The long version will be in Ballet Review, the short version is it was worth the trip, and the alternate version lives here – Franklin, a fellow knitter and blogger was my companion on Sunday. He provided excellent company!
I saw several other good friends and got more sense of the city – what's to get a sense of, it's a grid, right? Yeah, and so are New York and San Francisco. Chicago's grid has the added benefit of forcing you to memorize the early presidents in order.
Before going to Chicago, on David B's recommendation I read Devil in the White City
, a book that runs the parallel courses of the Columbian Exposition in Chicago in 1893 and Dr. H. H. Holmes one of the first serial killers who used the fair as a lure for victims. It bills itself as pure history; historians I know roll their eyes when that is said. There's plenty of research in the book; there's also plenty of conjecture. It's You Are There history.
The author, Erik Larson, is better on the Fair and its architects than he is on Holmes. It's probably a good thing, but he has an easier time making more comprehensible men such as Daniel Burnham and Frederick Olmstead come to life than a psychopath such as Holmes who is fascinating in a grisly way, but ultimately reads as a cardboard cutout villain.
That said, Larson does some great things in this ripping yarn. The conjunction of the two plot threads isn't just historically correct; Larson teases out the opportunity and energy in both Chicago and fin de siècle America that fed both builders and madmen. It's a portrait of a city and a country that rings true. Larson also pays special attention to architecture that opens your eyes. It could also be that my friends David B. in Chicago (whom I just visited) and David S. who just moved to Atlanta from San Francisco are an architect and a landscape architect respectively. I found myself noticing the lampposts on Madison Avenue as my bus moved uptown on the way to Boston, and staring upwards at cornices and molded decorations.
Larson's book captures one of Chicago's most vigorous architectural periods; a trip downtown will bring you face to face with some of the buildings described, except, alas, the World's Fair itself. What remains of it is far to the south; David took me there on my first visit to Chicago. My hotel (the Club Quarters Central Loop – gotten again on Priceline for $68/night) is right next to the Rookery, which housed the firm of Burnham and Root. Go to see the Joffrey Ballet at the Auditorium Theatre and you are in Adler and Sullivan's masterpiece. To cap it off, go up the stairs in the Art Institute of Chicago towards their phenomenal Impressionist collection. There is an exhibit of fragments of ironwork and moldings from buildings designed by these very architects. You really are there.
After lunch with David on Monday, as he said with satisfaction the first day above freezing in Chicago in more than a month, I had two hours to kill before heading to O'Hare, and they were profitably spent at the museum. With only that length of time, I decided to see only the Impressionist and American collections, but that means one sees Caillebotte's amazing scene of Paris in a drizzle, Seurat's La Grande Jatte and van Gogh's haunting and claustrophobic picture of his room in Arles. The American collection has Hopper's brilliant Nighthawks and the iconic American Gothic, a painting that's a good deal better than the image that resides in everyone's imaginations. It was an excellent farewell to a vigorous city.
And to make mischief . . . Franklin looks very hot in leather.
〈skips merrily away&rang
Posted by Leigh Witchel at 10:59 PM | Comments (1) | TrackBack
February 19, 2007
Darn or Pitch?
Telling a non-knitter that you're darning socks provokes confusion. Everyone has heard the word "darning," but few people really know what it is. They usually know it's repairing, and that seems even more confusing. Why repair something that costs a couple of bucks?
Hand knitters understand. A pair of hand knit socks takes upwards of twenty hours to make and is an object worth repairing.
I believe my first pair of socks is approaching its tenth anniversary; others are coming up on theirs. Socks get more abuse than almost any other knitted item; they're bound to need fixing.
Here are some of the repairs made. It's interesting for me to see how my sock making evolved from bed socks to socks wearable in shoes.
My first sock was striped in DK weight wool. I think the blue is Wendy Ascot, the gray is Swilan Favora and the yellow is Nylamb. I believe I used a basic pattern by Theresa Gaffney from Threads Magazine with a shaped calf and a gusseted heel. It's got awkward stripes and only good as a bed sock, but oh, it's nice on cold winter nights.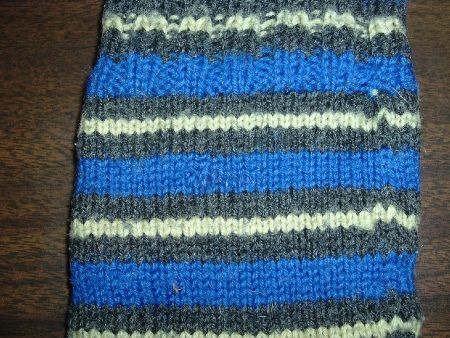 The sock sprouted a hole high up in the calf. That's not from wear, so I have to assume that it was the bane of my existence, a carpet beetle. I have no more Wendy Ascot, so I matched the color as best I could – though not the fiber remotely. My closest match was Euroflax linen. Though distinctly unkosher, I think it was no harm otherwise on a small graft, pictured below.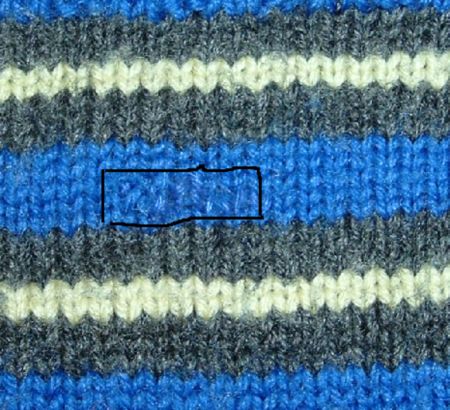 Apologies for my poor photo manipulation skills.
I've had to graft these next socks from Koigu yarn several times already, but I can't bear to part with them because the colors are so pretty. Koigu Painter's Palette is 100% merino, so there's nothing to reinforce them. The painful truth is that if a sock needs a repair. It will soon need more. The fibers have weakened. The other lesson I keep forgetting is that once a sock has needed a repair, you shouldn't machine wash it any longer. I keep forgetting and tossing these in the watch, only to have them come out sprouting new holes.


These socks from Froehlich Wolle are the first socks I made (in 2000) for myself that could be worn as a normal sock. Froehlich wears very well, but I could see the area behind the heel (and naturally, immediately above where I reinforced the sock) was not fraying but becoming thinner and thinner. Instead of grafting, I took matching yarn and wove it through the back of the sock to reinforce it. Yet, see lesson above. I just machine washed this pair, only to find one had come out with the cuff frayed and needing repair.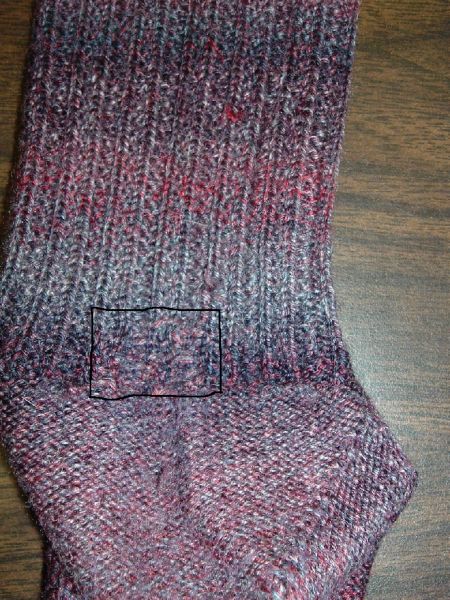 So sock knitters, what do you do? Do you try to prolong your socks' lives by darning or do you take the first hole as a sign that more will soon follow and retire them?

Posted by Leigh Witchel at 11:14 AM | Comments (4) | TrackBack
February 14, 2007
Latest Knitting Article
Extreme Knitting, in the Spring 2007 issue of Knit.1. This one took time to come together, but doing the interviews with people like Debbie New
or Janet Morton (who knit a house cozy) was an absolute blast. I also tell yet again my story of knitting a sweater for a Visible Horse. This isn't online, and should be hitting newsstands now.
"That's really relaxing, isn't it?" People associate knitting with relaxation. We know better. Ask any knitter feverishly trying to do the last two inches of a sleeve on the ride over to a holiday gathering.

Sometimes the tension is self-inflicted. "I need more yarn!" my friend Grace Judson said urgently to me on a fall day in Union Square Park in Manhattan. I complied and pulled more yarn from a skein, laying it down neatly so it would feed unobstructed on to her needles. We weren't shopping; she about to win [in 2002] the fastest knitter in America competition, and I was her obedient, if inept, yarn boy.

. . .

"Sock Wars came about as a natural progression," [Julie] Gardner continues. " I wanted it to be interactive, as opposed to people doing their own thing. I was mulling over how to achieve this when I heard about 'Street Wars.' I had a thousand possibilities rattling around in my head. Death by Knitting appealed the minute it occurred to me. I love the idea of moving knitting outside the traditional realm. Anything that gets us away from the 'knitting is the new yoga' cliché is progress."
Posted by Leigh Witchel at 8:18 PM | TrackBack
February 7, 2007
Latest FO's
The cabled hat is finished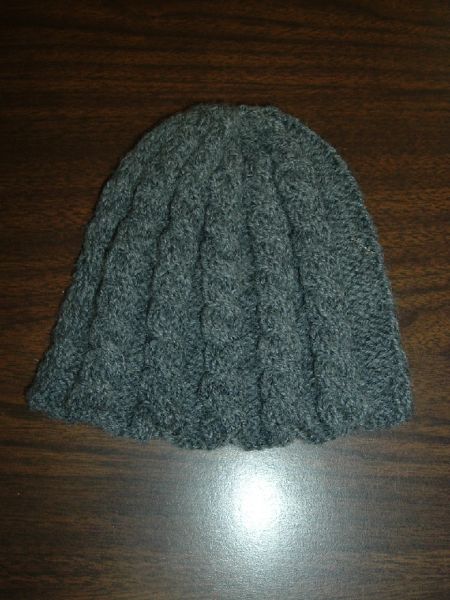 But alas, it's too small for its intended victim's head. It will go in the gift basket and I'll make Frankie another hat.
I imagine that older siblings feel deprived of attentions when newborns arrive so I made Alex's brother a cap based on the fez I made for Knit.1 Magazine. Instead of embellishing with I-cord I knit the contrast colors directly into the hat.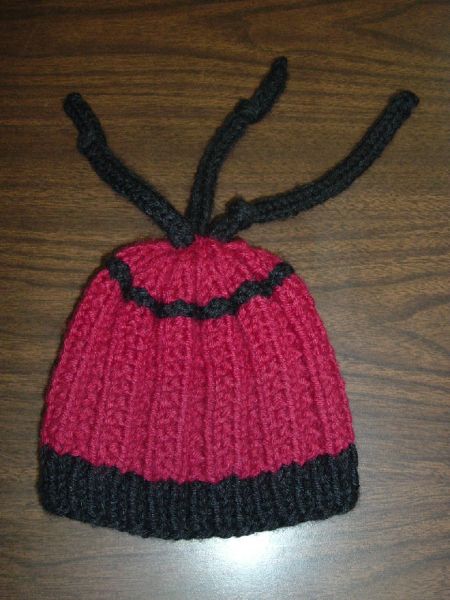 And Nick's Sweater is all done, with blocking and little star buttons.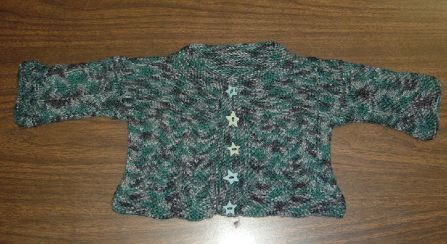 Here's a closer look.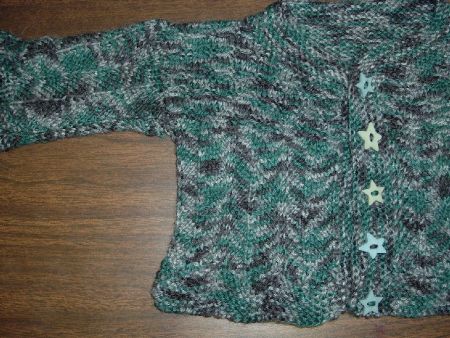 I think Nick approves.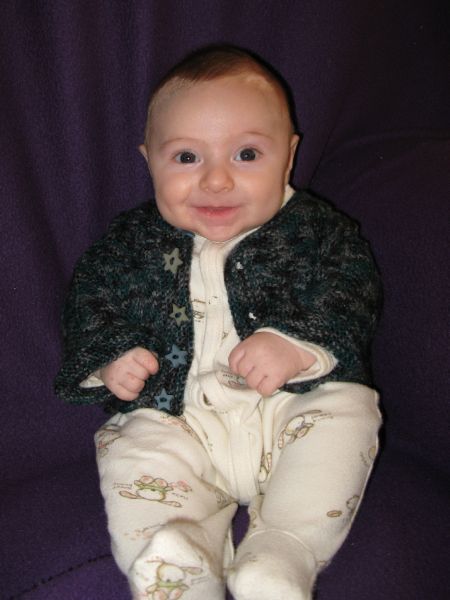 I didn't do much knitting in San Francisco. I'll continue with David's scarf in earnest once I'm sure about the design - I've taken a photo of it in progress and sent it to him for approval.
Posted by Leigh Witchel at 7:52 PM | Comments (2) | TrackBack
February 1, 2007
Preparing knitting for traveling
I've always got knitting with me; on a long trip I think I'd go nuts without it.
You can bring knitting on planes in the United States, but each country sets their own security policy. The only time I ever was asked to put away my knitting was on a BMI flight from Charles de Gaulle airport to Heathrow. My project, the wedding afghan for my brother and sister-in-law made it through security with no comment and the plane was on the runway as I was busily trying to get the thing done; I had three days left and a foot to go. The stewardess had the usual reaction of amused fascination, but the purser then came by and asked apologetically if I would put my knitting away. "It's not what you would do but what others might." CDG-LHR is a 45 minute flight and not worth the argument; I simply put it away no matter how silly I thought the logic was. You can kill someone with your bare hands if you've a mind to (I don't!) what I had was a long blunt plastic circular needle with four pounds of cabled wool afghan hanging from it. As far as I'm concerned, if I could figure out how to hijack a plane with an unfinished wool throw, I deserve to. And I deserve to have the plane take me wherever I please.
Me shaking cabled wool throw at pilot threateningly: Take this plane to Reykjavik!
Even though current TSA rules permit knitting needles in carryon luggage, TSA screeners are permitted discretion to not allow any item they construe as dangerous. To raise the fewest objections, use blunt-tipped circular needles in plastic, bamboo or other non-metallic material.
What knitting project to bring? Small is beautiful. So are things that don't involve multiple balls of yarn. I've broken those rules when I needed the time to make headway on a project, but I truly regretted the zillion color Fair Isle sweater I dragged from Paris to Antwerp to Rotterdam to Amsterdam to Bruges to Brussels. And the damn thing still isn't done.
Currently tucked into my carryon are John's socks – both at the heel turning, and a scarf for my friend David from silk/mohair I bought at Artfibers on my last trip to San Francisco. More than enough knitting for the weekend, and each fits into a gallon Ziploc bag with room to spare and crush.
Along with the project and needles, I tuck in a plastic darning needle and a small package of ring markers. And I'm off to the airport.
See you in San Francisco!
Posted by Leigh Witchel at 12:09 PM | Comments (2) | TrackBack
January 29, 2007
Swag winners!
It's my contest, I can have multiple winners. We've got three.
Javasmom and Deb D get skeins of evil and wonderful Jaeger furry yarn (either sparkly cherry-red Vienna or sparkly blue Wolga - you two get to fight it out.) Javasmom gets some because, unlike her dog, it won't felt and Deb D gets some for the best save after assuming I had a vagina. I don't, not even a spare. I am hoping she will knit something drag-o-licious.
As for the calendar, it's going rather randomly to Tallguy in Alberta. Probably because he's in Alberta. I want to suck up to him, 'cause I intend to visit Banff one of these days.
Thanks for commenting, and stick around for more knitting, dance and other stuff.
Posted by Leigh Witchel at 10:42 PM | TrackBack
January 25, 2007
Current Knitting
The socks in Confetti are now both at the heel turning. They're large, so they've found a home with my friend John in Toronto, who is a size 12. It's appropriate; the yarn was bought in Toronto, so it is returning home. John's birthday isn't for several months, so they've been set aside in favor of more pressing tasks.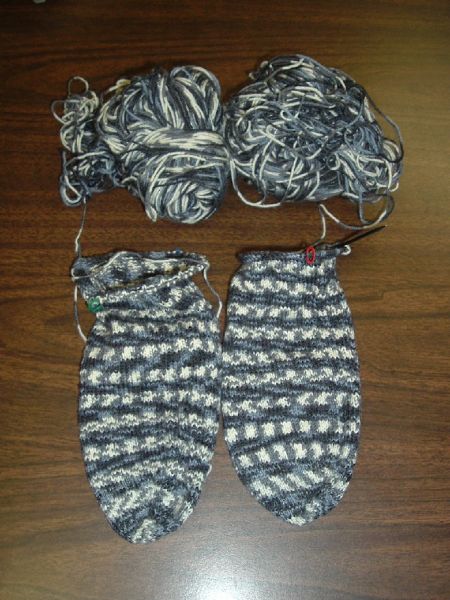 The current walking project is a cabled hat made much like the one I made last year for my brother. I may not be knitting while walking much in the next few days; it's bitterly cold.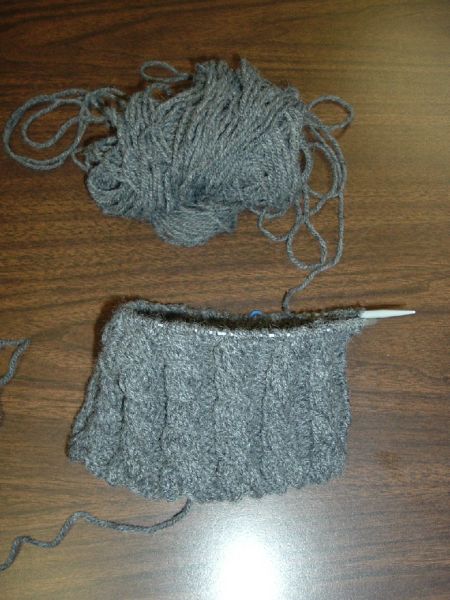 I began Nicholas' sweater back in October, but restarted it at the beginning of this year, feeling there were enough small errors that I was happier just starting again. The bottom chevron stitch curls naturally and will need blocking. I tried several different stitches for the yoke before deciding on a modification of Swag Stitch, which had both a nice horizontal effect (a good thing at the yoke, not that a baby needs to look broad shouldered) and a pretty retro feel. Swag Stitch, in the Walker treasuries, also works up lickety-split. I need to complete the seaming, do borders and buttons and finally block it. It better turn out well. Though I had nothing to do with his creation (scout's honor, though I was never a scout), it seems Nicholas Leigh is my partial namesake.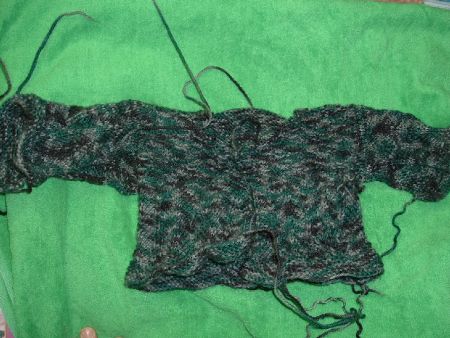 Here is a closer look.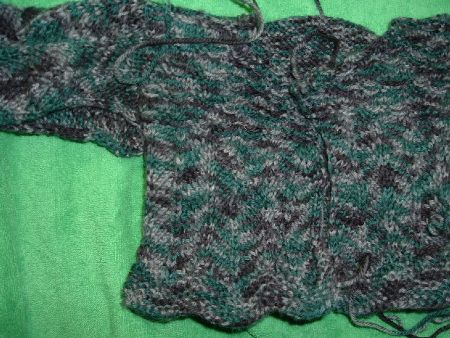 Posted by Leigh Witchel at 10:59 PM | Comments (1) | TrackBack
January 20, 2007
Swag!
I have an extra copy of the Stitch 'n Bitch 2007 Calendar
. I'm not much of a paper calendar user, so I'd like it to go to a good home. However, I'd like the lucky recipient to earn it.
Here's the contest. Leave a comment, any comment. Why you want the calendar, contribute a quick-knit pattern or link, follow up on something else I've written, whatever. Amuse, entertain and/or enlighten us. I'll give the calendar to one of the commenters at the end of next week. If you make a comment as a contest entry on some other thread than this one, put something to the effect of "by the way, gimme the calendar!" at the end. Because of comment spam, I need to approve all comments so be patient. I usually get to them within a short while if I'm at the computer. Multiple entries permitted, but don't turn into comment spam yourself.
Have fun!
[Update: You don't need to deserve this calendar to get it. Say something funny. Say something useful. Say something interesting. Say something amusing. Have fun.]
Posted by Leigh Witchel at 2:11 PM | Comments (36) | TrackBack
January 16, 2007
Latest Knitting Articles
The Opposite of Love is Moths (I don't title 'em, I just write 'em) in the current issue of Knit.1
Knitted items are like relationships: It takes work and tender loving care to keep them in shape. Both are also inherently fragile and gradually disintegrate over time, but who's bitter?
Brandon Mably's Colorful Wanderlust
in the current issue of
Vogue Knitting
. That's the one with my sweater in it; his (the "handprint" sweater) is right next to mine.
At 8:30 a.m. en route from Seattle to Portland, Brandon Mably whoops with satisfaction and relief. Somewhere near Centralia, Washington, hometown of modern dance legend Merce Cunningham, Mably needs his morning caffeine and has finally found a Starbucks. He brings the same joyous enthusiasm to the workshops in color and design he teaches around the world and now to his new book, Knitting Color.
Note the completely gratuitous reference to Merce Cunningham. Can't help it; it's the first thing I think of when I think of Centralia. This gratuitous Cunningham reference is brought to you by my friend Nancy Dalva, whose love for Merce and elegant, passionate writing about his work helped me understand and appreciate it.
The articles are only available in print.
Posted by Leigh Witchel at 11:22 AM | Comments (3) | TrackBack
December 24, 2006
The Rest of the Knitting
Catching up on what I was knitting while I wasn't blogging:
Besides Owen Robert's Aran I took two other projects off my UFO list.
I finished Danny Ouellette's Easy Head Hugger Hat back in March, 2005 but hadn't darned in the ends or blocked the hat to give it its fez shape. I went to Toronto in November and brought assorted knitted gifts for friends; something I'm now trying to do when I travel. Instead of picking what hat to give each person, I make one or two extra and let everyone pick the one they like. Good thing, that; no one in Toronto chose the object I thought they would. My friend Desirée chose the hat; I thought she would chose the elongated scarf in Biggy Print (it went to Denise). The night before I left John and I searched for a form to block the hat. We were downstairs in the den watching TV; John pointed to the wastepaper basket.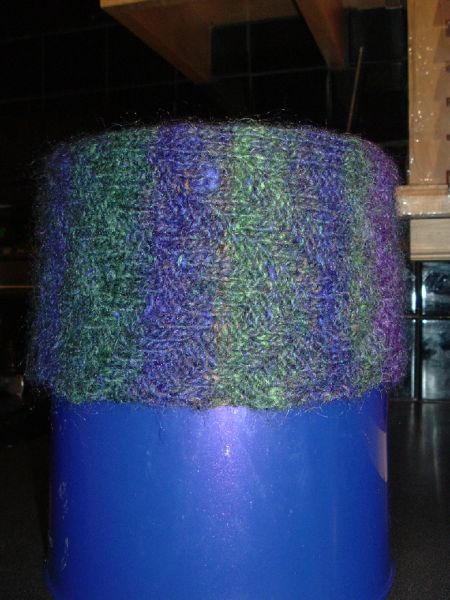 Voila.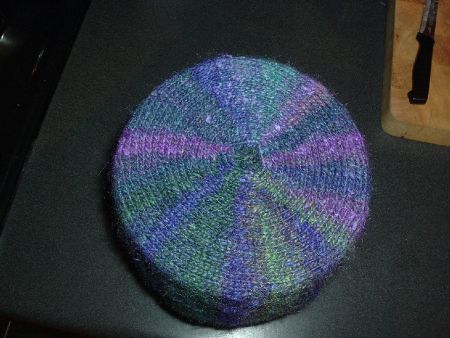 The hat ended up looking more cloche-like than fez-like on Des, but I think it's rather fetching.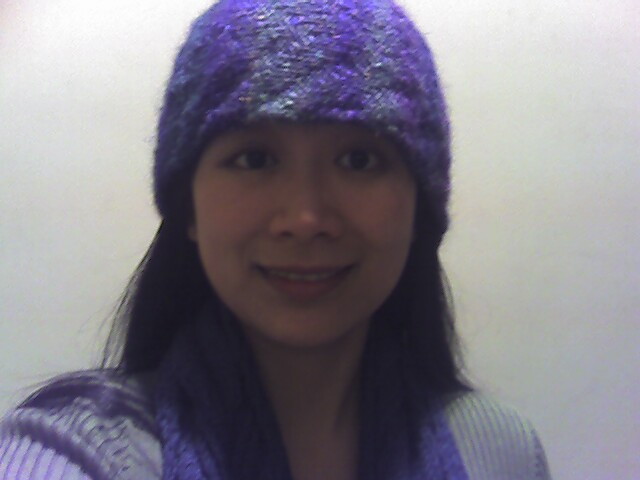 The disaster socks for Dad from last year are now socks for my friend Mary, because I like her and she has the smallest feet of anyone I know. One sock was at the toe decrease (actually it needed to be ripped back a few rows) and the other was just past the heel turning. Alas, I hated knitting these every inch of the way. I got the bright idea that because sugar-stick ribbing is meant for circular knitting, it would make a neat sock. Well, it's a neat sock, but not a good sock. The pattern is fiddly to knit and has limited elasticity. Further, because I'm a glutton for punishment, I just had to knit the foot so the pattern was only on the top of the foot and the sole was knit plain. This meant inserting compensating increases and decreases at the start and finish, which would have been nifty except it didn't stop the whole pattern from shifting over slowly. That's the nature of the stitch, and why it was meant to be knit in the round so it could spiral. The whole foot twists a quarter turn. I jammed my foot into the sock and luckily it seems the twist disappears in wearing, but still. I'm glad I finished them; never again for that design.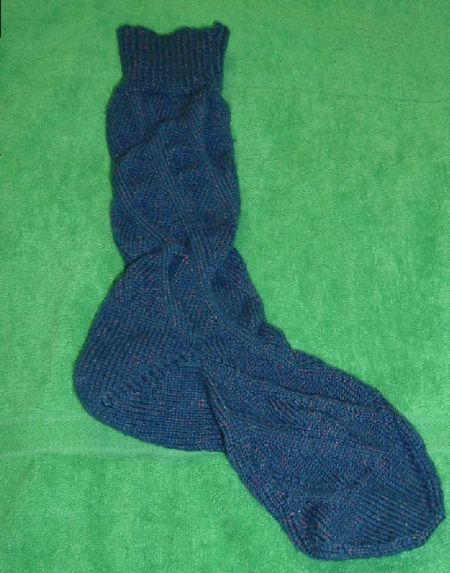 I also finished a pair of my standard socks for my sister-in-law, but those never made it out of WIP status to UFO. I cast them on in September and they were finished just before I took the bus back to London from Bristol. I forgot to bring wooly nylon with me on the trip, so the toes were knit in Bristol (after checking fit) and I borrowed a spool of black sewing thread to use as reinforcement.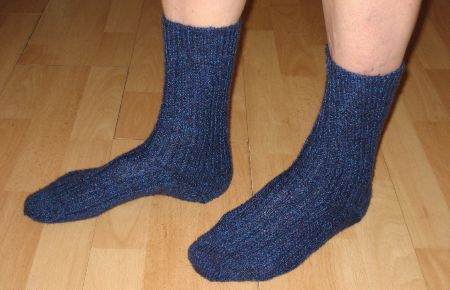 The last holiday gift was made for my Mom. It's her birthday today, but I give her a separate Christmas gift; almost everyone born near Christmas feels gypped by combined presents. This one is the another lengthwise garter striped scarf, but I think the color combination is particularly nice and it stretched out the dark blue yarn, "Curly" from the Goldman's haul enough for a full scarf. That's the best thing about a lengthwise scarf.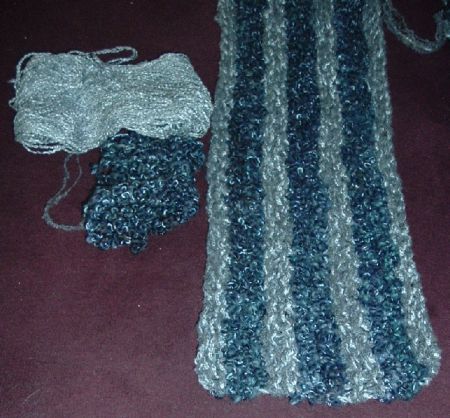 Besides the projects already described as part of the quick knit resources, I also made three more blouse scarves, four more London Beanies (it's now my hat of choice for male friends and one of Helen Fleischer's felted hats awaiting felting.
The baby sweater for Nicholas (formerly known as Kangaroo) moves into WIP position, but I was weak; I read about Judy Becker's Magic Toe-Up Cast-on in Knitty and had to try it with some sock yarn in stash. (DCB Confetti - a self patterning yarn I bought in Toronto)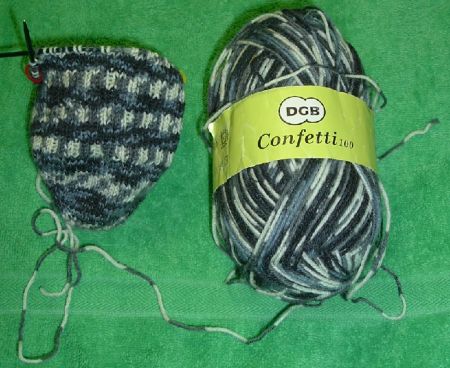 Now that I've tried the cast on, I'm committed to knitting the socks, but they are moving quickly as I'm using K3, P1 instead of my usual Twin Rib. Mary Dominski ("Dr. Sock") suggested this to me a few years back when I first tried self-patterning yarns; Twin Rib obliterated the pattern while K3, P1 gave elasticity while letting the patterning show. I'm still not fully converted to toe-up cast ons. I find them fiddly for the same reason as sugar-stick ribbing. Both involve a lot of increases and a "make one" increase with 12" circular needles is harder to manipulate than decreasing.
Posted by Leigh Witchel at 11:25 PM | Comments (2) | TrackBack
December 23, 2006
Sneak Preview of the Bamboo Sweater in Vogue Knitting
Woohoo! It's up on VK's website. It's the first picture in the "By Invitation Only: Man to Man" feature. (Note: This link will probably only be good until the next issue comes out about two months later.)
I like the contrast between the three sweaters pictured (according to the table of contents, there is one more not shown). It's nice to be doing the "practical" sweater for a change.
Posted by Leigh Witchel at 12:34 AM | Comments (7) | TrackBack
December 21, 2006
FO: Owen Robert's Aran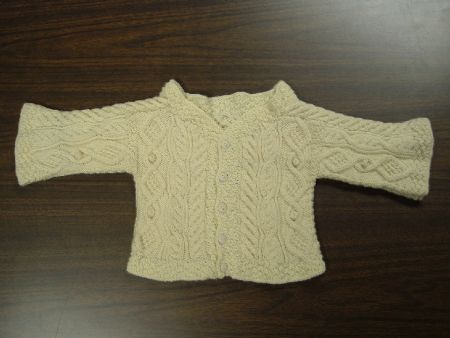 Well, this one took a while, but I'm really happy with it. According to my records I cast it on in May of 2003. It's a miniature Aran, but because of the scale (and the Sausage Cable in the middle) it has Tyrolean echoes as well. There is no pattern; it's a basic boxy sweater with a saddle shoulder that accommodates a central cable. I stopped working on the sweater in October of 2003 because I thought it would not fit the intended wearer, my friend Connie's first child Alex. (I was wrong). I picked up again in September of this year, and finished it. It needed half of one sleeve, all of the second, assembly and borders. And repair of a carpet beetle hole.
The yarn is a superwash wool I bought at Smileys several years ago, Swilan Turbo. Superwash wool often grows with washing; in this case that was a good thing, and it probably happened because the tightly knit textured stitches relaxed. Above is after soaking in a basin with soap to get rid of accumulated dirt from handling and knitting; below is the sweater before washing.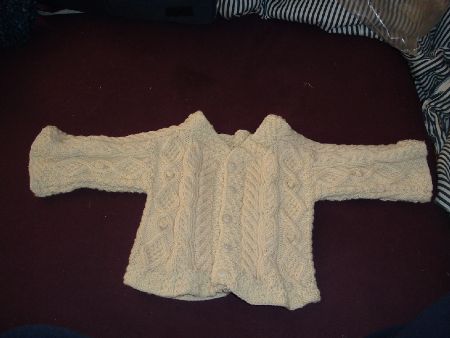 Here's the back. The patterns are all from Barbara Walker's treasuries. Aran Moss Diamond and Bobble, Sauasage Cable and Staghorn Cable. The Staghorn Cable is broken in two in the front of the cardigan. I hope it makes a special sweater for a first child.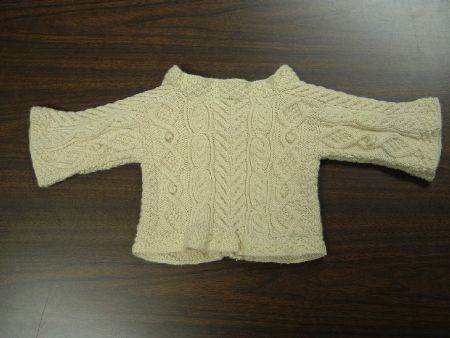 Here's a closer look: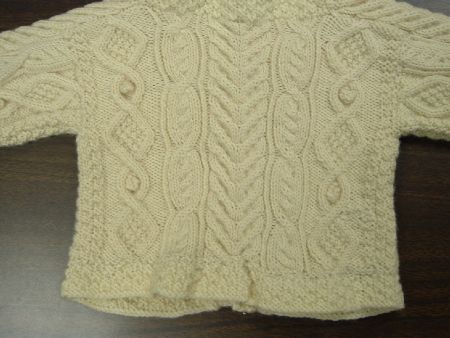 Posted by Leigh Witchel at 5:46 PM | TrackBack
December 20, 2006
Quick Knit Resources
I've been doing a lot of knitting, much of it gifts to bring to friends when I travel and holiday gifts. For my benefit and yours, here are some good, fast patterns all gathered into one place for when you've got one more gift to make, now.

Hats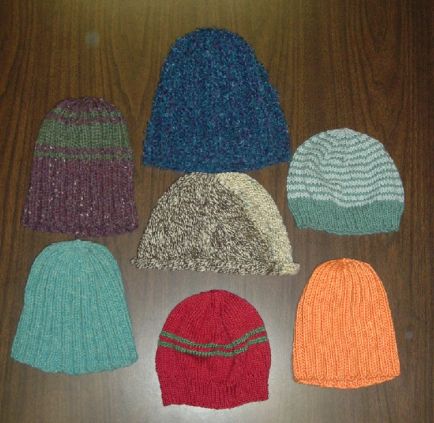 Hats are the fastest gift you can make except for headbands. Those barely need a pattern except to note that they should be about 4.5 inches wide and a double thickness is better than a single one, with a nice soft yarn next to the ear.
Ribbed watch cap:
My watch cap recipe lives here. I can make one of these in worsted yarn or heavier in a few hours. This is a great all around hat that everyone wears and can be made plain or fancy depending on the yarn.
Shorthand version: Cast on a multiple of 4. p2 k2 tube for appx 7 inches w/o cuff, 9 inches with.
Decrease rounds -
p2tog,K2tog
P1, K1
K2tog
K
K2tog
Mitered hat: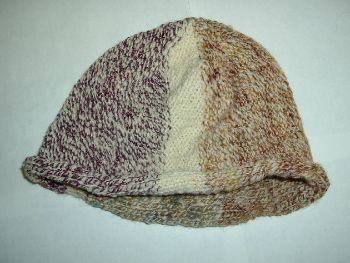 Choose this if you have a textured yarn; it looks great in thick and thin or slubbed yarn. I think it makes more of a woman's hat, but I've had male friends choose it from the gift basket. It takes a bit longer to make that the watch cap because of the grafting, but it is still quite fast in worsted weight or larger.
Nancie Kremer's original pattern has vanished due to "link rot" but can be found here. My version is here
Shorthand for both versions. You're working the hat laterally rather than vertically in short-rowed pie wedges to create the crown. Cast on your stitches provisionally. Working in garter stitch or stockinette (textured yarns look best turned inside out to the purl side) place a marker about 1/3 of the way from the crown. Work short rows from the crown, 1 stitch per row until you reach the marker, then reverse shaping. Repeat wedges until the hat is correct size (that will be more wedges in garter than stockinette). Graft, sew or cast off the edges together.
London Beanie: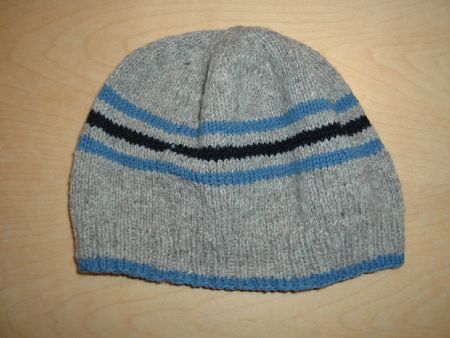 This is the perfect gift hat for young or fashion conscious men. The one above was in fact given to my friend Alexander in London! Mark Thrailkill's original pattern lives here.
I usually use sport or DK weight yarn on a US 6 needle with 81 stitches to start, or fingering wool as above (that's the leftovers of a skein of Haneke Merino) on a US 3 with 117 stitches to begin. I also use a long-tail cast on instead of cable cast on and I work a plain row between each row of decreases. Even in thinner wool this pattern doesn't take more than two days to make, and less in sport weight. The pattern uses less than a skein of wool, plus uses up various oddments that were too nice to throw away and can be tucked into a stripe. It's great portable mindless knitting, so make a batch of them while you're on the go and save them for gift-giving occasions.
Shorthand for my version. Cast on a multiple of 9, K2, P1 rib for about 1.25 ins. Increase round: K9, inc1 across round. Work in stockinette with whatever stripes are desired until 5.25 ins (or try it on and see if it fits round ears as you want).
Decrease rounds:
K8, K2tog
K
K7, K2tog
K
etc until you only K2tog. Break yarn, pull through rem sts
TP cap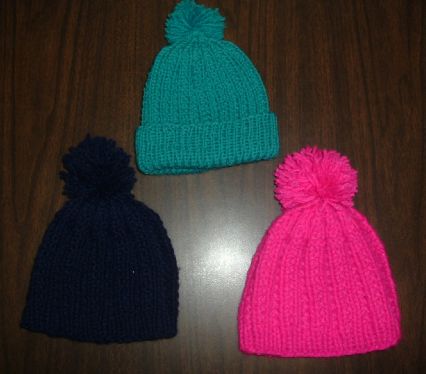 I made this originally as a toilet paper cozy for the wonderful "Art" issue of Knit.1 Magazine and I reproduce it here with their permission (Thank you, Adina!)
Embellish it like crazy as in the issue, or made plain with just a pompom it makes a great close fitting cap that knits up in a few hours.
Yarn: 1 skein Woolease or other light worsted yarn worked double throughout pattern.

US 10.5 needle (16 or 24 in circ) and US 10.5 dpns.

Pattern Stitch:

Twin Rib
Multiple of 6

Round 1 K3, P3
Round 2 K1, P1
Repeat these two rounds

Body

CO 66 sts. Join round.
Work K1,P1 rib 5 rounds
Work twin rib 20 rounds or 5 inches total (or to fit.)

Top

Purl 1 round
Work 3 more rounds (starting with pattern round 1) in twin rib.

Decrease for top

*K1 K2tog, P1, P2tog * 44 sts
K2,P2
*K2tog,P2tog* 22 sts
K
*SSK* - 11 sts
K
K1, *K2tog* 6 sts
Break yarn, thread through final stitches and pull tight.

Tam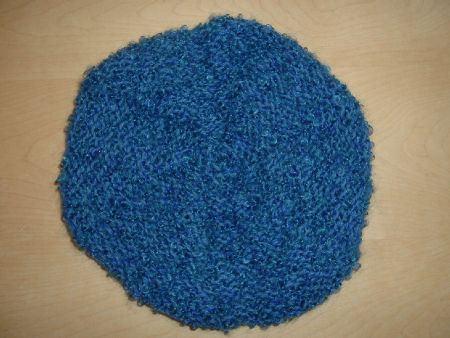 This one is fast. I made this one with three strands of yarn held together on 8mm needles in about two hours and given to my friend Lynette in London. Here's a shorthand pattern:
Cast on 60 sts (or a multiple of 6), placing 6 markers. Work k1, p1 ribbing for 1.5 ins. Change to stockinette stitch, work an increase after each marker every other round (so you increase six stitches total in the round). Keep going until there are 84 sts, or you've increased 40% of the original number. Work even until the hat is four inches total. Now K2tog after each marker every other round until there are 48 sts, or 80% of the original number. Work even one more round, decrease after each marker every round until you have 6 sts left. Break yarn, pull through remaining stitches.

Amelia Earhart cap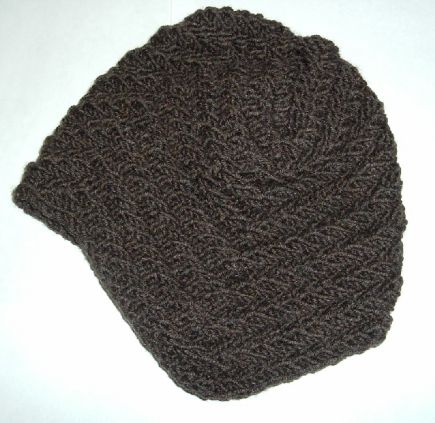 This one has also vanished from link rot, but can still be found at archive.org. It takes a little longer than the other hats to make, especially if you graft the end, but it is so much fun to knit. Use a smooth, cabled yarn. I've used Filatura di Crosa Zara, Baruffa Maratona and Lion Brand Microspun. The latter has a smaller gauge, so I increased the length to 44 sts and added two more sets of short rows – it could have been slightly smaller. I think this hat looks its most charming on a woman with long hair and bangs.
---
Scarves
Blouse scarf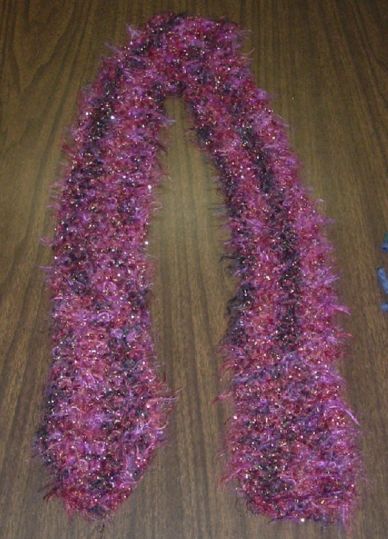 This is a classic fast gift and excuse to play with novelty yarns. It knits up in only a few hours but usually a bit more time than a hat. My original source was Dez Crawford's pattern.
Here's a shorthand version. Use a novelty yarn; they're a bitch to knit with, but plain yarn will make something that looks very po'faced. Cast on 3 sts, work in garter, inc 1 st at beginning of each row until scarf is 4" wide. Work to desired length (about 4 feet), dec 1 st at beg of row until 3 sts remain, K3tog to cast off.
Lengthwise garter scarf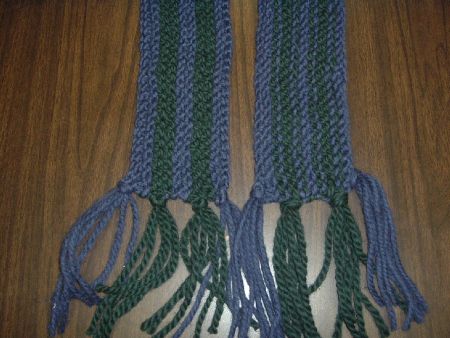 I can't tell you how many times I've had what looked like more yarn in stash than I needed for a hat, but a questionable amount for a scarf.
I think a slightly thin scarf is the lesser evil compared to a too-short scarf, so cast on sufficient stitches for the right length and keep striping (two rows or four) as long as you can while maintaining symmetry.
A standard "chain" cast off does not match the cast on, and a long edge, the disparity becomes striking. Try the sewn garter stitch cast off from Elizabeth Zimmermann's Knitter's Almanac
:
Begin with yarn at the right side. Break yarn, thread through needle.

*Thread needle through first two stitches as if to purl. Thread needle back through the first stitch as if to knit. Drop off first stitch*

Continue until you've cast off all the stitches. This has a similar tension and look to a cast on; use it where you want the cast off edge to match the cast on.


Elongated stitch scarf
This is another great way to stretch out novelty yarn, and it is fast as the wind. Rowan Biggy Print is super-duper bulky, but has only 33 yards per skein. With this pattern I was able to stretch two skeins into a thin four foot scarf.
By doing the garter ridges with one four ounce skein of plain worsted black wool, I was able to make a little more than one skein 50g skein of Divé Lauren into a full size scarf for my friend Jane in London.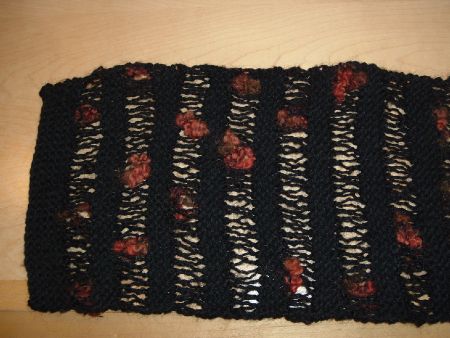 Because of the gauge, this took longer; about 8-10 hours from start to finish. The Rowan scarf might have taken three.
You're just working in garter stitch (9 sts, US 17 for the Rowan, 30 sts, US 10 for the Lauren) and making 3 (5 for Lauren) ridges to begin. You may work the ridges in plain yarn. Introduce your novelty yarn as follows:
K the st, *wrap the yarn twice round the needle and K the next st.* Continue across the row.
K the next row, dropping the wraps.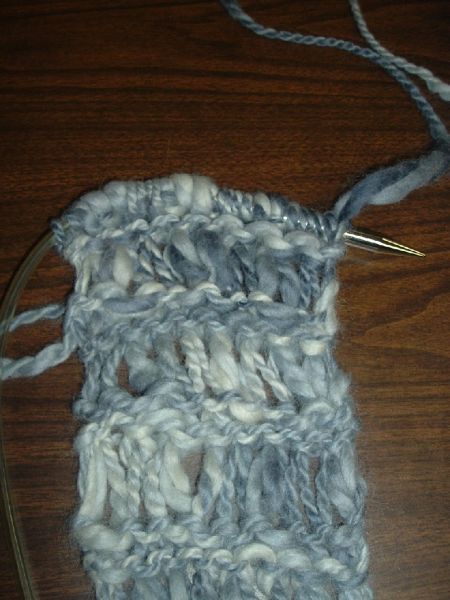 I worked three more knit rows on the Rowan scarf in between elongated stitches, and seven in the Lauren.
Multidirectional scarf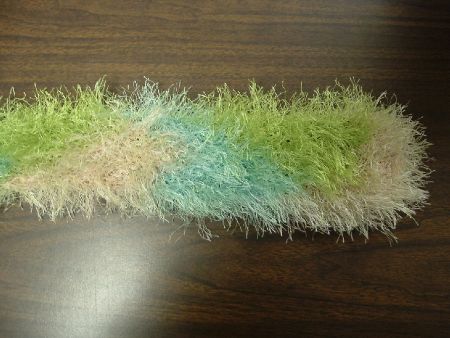 This one seems to be the latest fad among knitters. It looks great in yarns with long striped color changes like Noro yarns. I did the one here in Lion Brand Fun Fur (I am finally using all the stuff up that my knit.1 editor yarn-bombed me with when I was doing the embellishing article). The changes of direction can't be seen through the fur, but it makes the colors into interesting polygonal blocks. Depending on the gauge of the yarn, the thickness and the length of the scarf, it doesn't take that much longer than a blouse scarf.
Posted by Leigh Witchel at 11:40 PM | Comments (3) | TrackBack
October 21, 2006
Portland: Coming and Leaving II
Bernie dropped me off at the hotel and I met my friend Joan Schrouder shortly after to go to Oregon Ballet Theatre. Joan is a knitting buddy. She teaches nationally; she and I met a decade ago at Stitches. After a quick Thai meal we walked to the Keller Auditorium. The crowd milling in front of the theater was more dressed up than I had anticipated; I forgot this was the opening night of the season.
When I invited Joan, I described the program as being "a great program for someone who doesn't get to go to the ballet all the time." This isn't an insult; that's 99% of OBT's audience. We're spoiled in the dance capitals. The company was bringing The Four Temperaments and The Concert to Portland for the first time. It was heartening to see the house very full. OBT danced 4Ts as I've seen other smaller regional companies do it – like a precious gift. It's great to see it from a fresher perspective. Francia Russell, artistic director Christopher Stowell's mother (and director emeritus at Pacific Northwest Ballet) set this version – which is slightly different than City Ballets (think pink lampshades instead of white ones). We know each other tangentially from the series of interviews I did with her in 1997 about Agon and Melissa Hayden's coaching sessions at the Balanchine Foundation but we've talked more often than she's seen me. I waved at her from my seat and she returned the greeting with the sickly look I recognized from the times I've had to warmly greet someone while I was racking my brains trying to figure out who they were.
A group of PNB dancers (I recognized Benjamin Griffiths and Jordan Pacitti) were two rows behind me to cheer on their fellow dancers; sure enough, there was Peter.
"You again!" I pointed at him in mock accusation.
"You're everywhere," he said, bemused.
The best part of all was that Joan loved the evening. It's such a joy to take someone to the ballet that doesn't usually get to go.
Sunday morning I was scheduled to meet internet knitting buddies at Mabel's, a yarn shop/café. Just as I was about to find the #4 bus Gary called and asked me if I wanted a ride in the rain. We drove through bohemian neighborhoods across the Willamette River. I met Duffy and Melissa there and we spent a relaxing morning knitting and gabbing. I worked primarily on the sleeve of Owen Robert's Aran. Duffy was starting the toe of a sock; Melissa was working on afghan squares in a mauve ombre alpaca and Gary was making a very simple scarf but in the most tactile yarn – Jo Sharp Alpaca Georgette. Really tasty stuff; we were all copping a feel. I took a tour round the shop, but beyond the Blackberry scone (thank you, Gary!) and the almond hot chocolate; I remained on my yarn diet.

I met Bernie and his daughter Gwen at the matinee. Gwen is getting ready to go down to Miami City Ballet to study at the school. Unfortunately but understandably, the Keller auditorium was more sparsely populated than at the opening and the performance was slightly weaker. One of the big differences between a smaller company and a major one is the depth of the company in casting. That's a direct function of size. OBT may double cast each ballet, but they don't really have two casts.
After the performance we walked around the fountain directly opposite the theater and I took a picture reminiscent of the Japanese Gardens.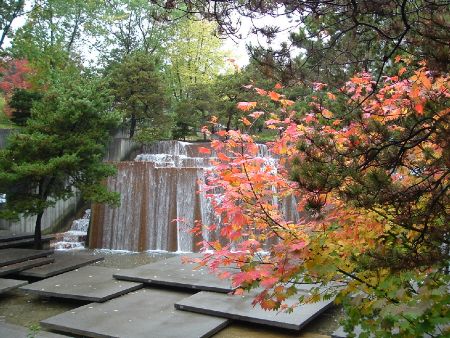 We then went out for the seafood I had been craving at Jake's. When in Portland, go to Jake's (Yes, it's part of a chain. No, it doesn't taste that way at all.) Get the crab and shrimp cakes, and also the Dungeness Crab Leg cocktail. They go perfectly together. If you ask nicely, the waiters might do half orders (ours added a crab cake to the plate to make for even splitting). I placed myself in the amiably pushy waitress' hands (I like waitresses who tell you what's particularly good on the menu) and she insisted I have the locally caught wild salmon and then the Chocolate Bag for dessert. The salmon was cedar plank roasted with slight woody tang and exactly as she promised, the chocolate bag containing white chocolate mousse and berries in raspberry sauce was lighter than the description made one suspect. It was an absolutely wonderful meal, as was the company.
On Monday morning the sky began a sodden gray, but as in Vermont, the weather in Portland changes rapidly because of the mountains. It brightened up about an hour later and I had just enough to have time for a walk along the river – the hotel was right next to it. There were flocks of geese, leaves turning colors, boats and joggers.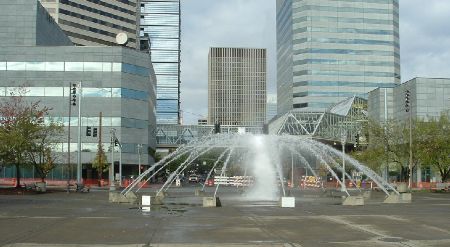 I bought a blueberry muffin from a shop on the walk and sat down on a bench to watch the river.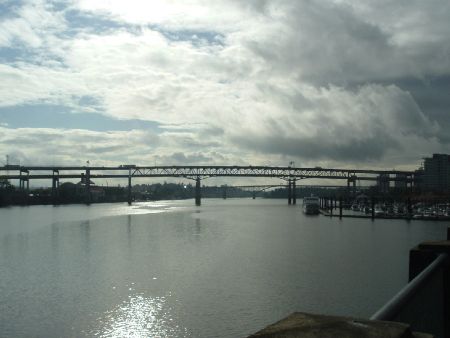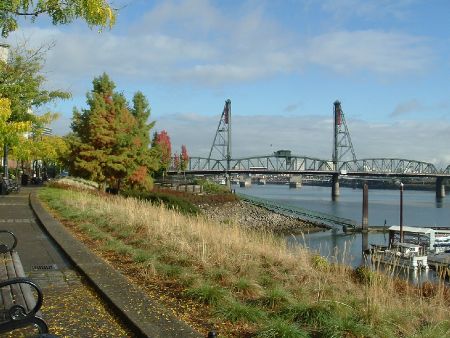 By the time I rode back to the airport on light rail it was overcast again, but the scenery was still lovely with grays, greens and yellows. Portland, like Seattle, is a city that prides itself on quality of life; clean public transit and free wifi in the airport. It seems almost quaint to a New Yorker, we don't do "quality of life" here. But then again, we can't.
On the walk back from the river just as I got back to the Four Points, I paused to admire a climbing rose on the side of the hotel. Most of the flowers were fading, but lower down one was still in full flower.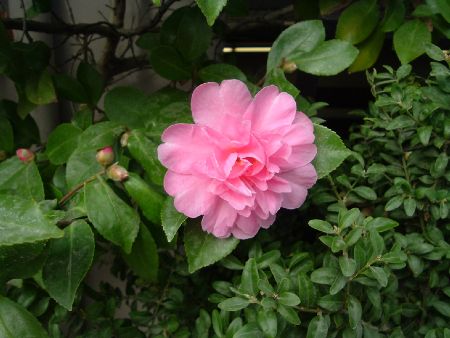 It was a lovely way to say goodbye to the City of Roses.
Posted by Leigh Witchel at 1:00 PM | TrackBack
October 19, 2006
Current Knitting: Oooh, baby, baby
Everyone is breeding.
Connie's second child, who when I last spoke to her still had his placeholder name of "Kangaroo," made his debut last Thursday. I didn't know this, but spent most of the flight the next day to San Francisco (en route to Portland) knitting his sweater.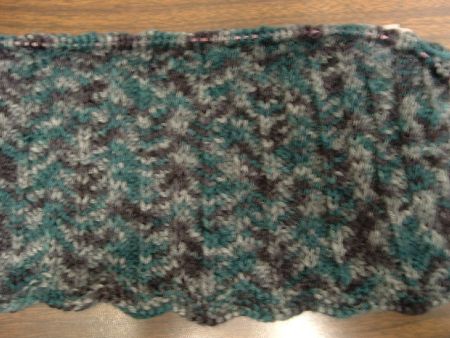 (Apologies, it's not your eyes, it's my lousy camera skills.) The yarn is Emu Superwash, bought in the basement sale room at Romni Wools in Toronto last year on a foray with Stephanie, Danny and Cassandra. Like most machine washable wools and cottons, it was bought with future babies in mind. When I use an ombre yarn, chevron knitting patterns are among the first I try; they tend to make the variegation more interesting.
I'm at the armhole division and was swatching for the yoke. I planned on using trinity (or blackberry, or bramble, or whatever of a zillion names you call it) stitch; in other sweaters it's also worked well with variegated yarns with short repeats, breaking the colors into little multicolored popcorns.
I've done the merest scrap of a swatch here, but I'm already concerned.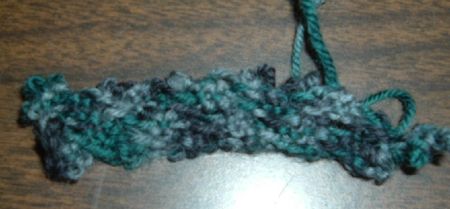 That's looking not very bobbly and suspiciously muddy. I may try again because I changed the way I increased for the bobbles. Usually I knit, purl and knit into the same stitch; this time I knit three times into the stitch. It makes a smaller hole, but it also throws the bobble off center, and that may be why it looks wrong. If not, I've pulled out my Walker treasuries to find other patterns to swatch on the plane.
Connie wanted something simpler than the Aran below.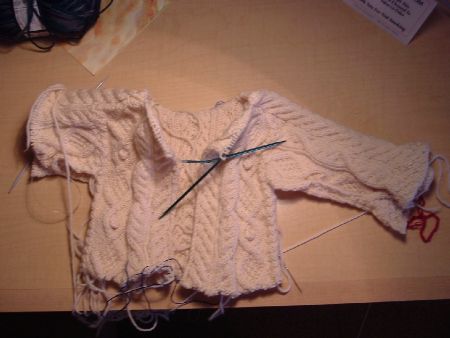 This will now go to Amy's boy to be, Owen Robert. That is how it looked after the flight to Portland. I redid the end of one of the sleeves that wasn't in proportion and flared too much, and finished the other sleeve and it looked like this yesterday: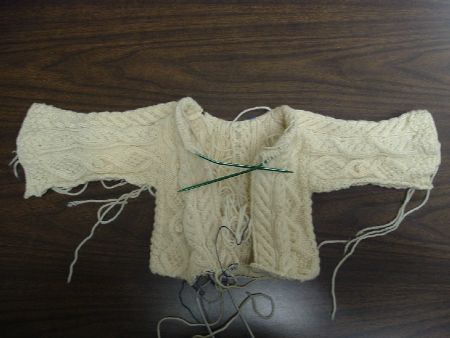 I'm now working on the bottom border. Connie's reasoning was kind; the elaborate sweater is more meant for a first baby. Indeed it was; it was originally knit for her first child Alex, and set aside about 3/4 done because I thought it would be too small for him (I was wrong, by the way.)
The back: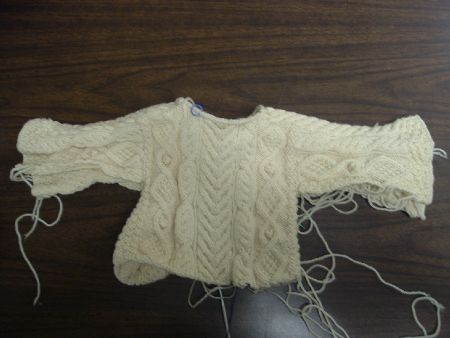 And in closer detail: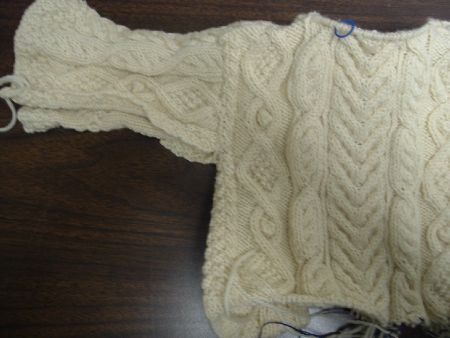 In the office, today was Jennifer's last day; she should be giving birth to Jay Dee in about two weeks time.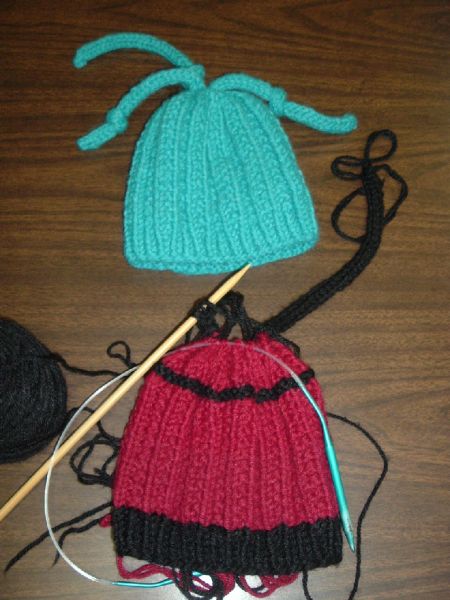 The blue hat was my gift; it's yet another toilet paper cozy cap, but topped off with I-Cord. Instead of decreasing down to 6 stitches, I decreased to 12 and worked 3 I-Cords of 4 stitches each, knotting them in different spots.
I made the same hat in the Turkish Fez colors I used in the Knit.1 article for a gift for Alex. I figured with all the attention Kangaroo will be getting, he may need some acknowledgment as well.
In non-baby knitting, the scarf for Rajika was quickly finished and presented to her when we both went to Shen Wei. I thought the brilliant colors were right for her; happily she was delighted.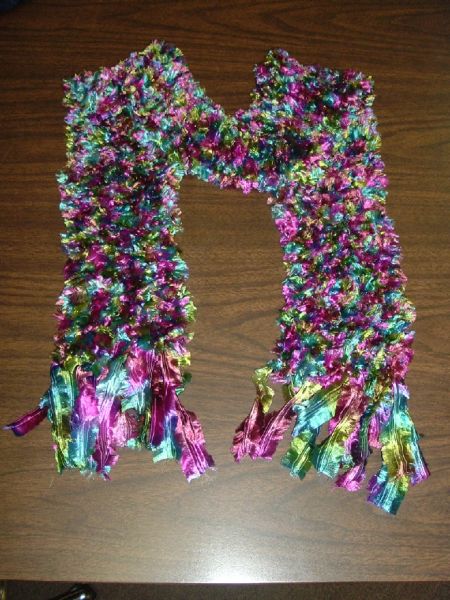 Currently on the needles, socks for my sister-in-law.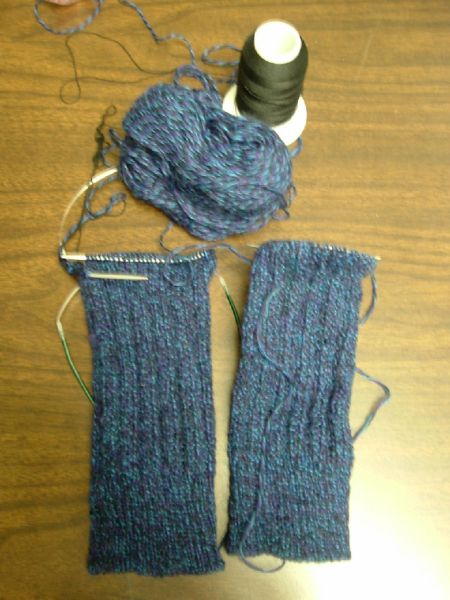 The usual pattern, knit on US1 needles in Brown Sheep Wildfoote; the older formulation that everyone complained about, so I figured I had best knit it to get it out of my stash. I can't say it is the most wonderful sock yarn I have ever used, but it isn't the worst. To prevent second sock syndrome, I do each sock part alternatively; first one cuff then the next, then one calf to the heel turning, then the other and so on. It also seems like the socks are more consistent than if I knit the first entirely and then the second.
Posted by Leigh Witchel at 11:26 PM | TrackBack
October 5, 2006
Life Imitates Article
While in Seattle, I was working on both an article on caring for knitted items (including washing, storage and avoiding insects) and also this baby sweater: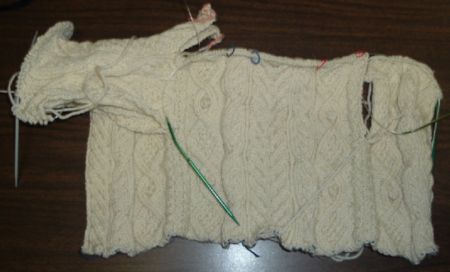 I had started it three years ago and abandoned it when I thought it would be too small for the baby in question. I was wrong, but didn't find that out until after I has made a second sweater.
The sweater is a rather elaborate cabled affair that feels part Irish, part Tyrolean to me. For the record, the patterns are Moss Diamond and Bobble, Sausage Cable and Staghorn Cable, all from the Walker Treasuries. These pictures are from before I left for Seattle.
On the plane I finished out one of the unfinished sleeves and picked up stitches for the second. Looking at this picture now, there was something there I didn't notice at the time. It's at the bottom right.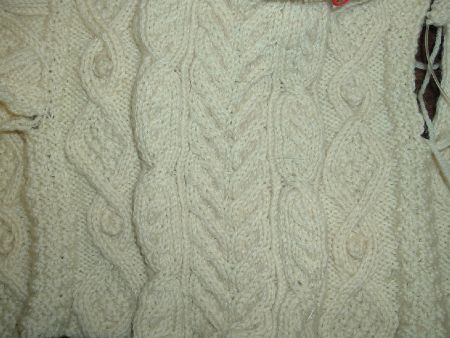 See it?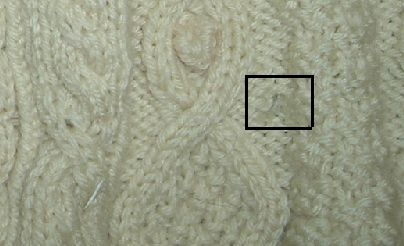 Yup, three years of indifferent storage took its toll. The evil carpet beetles found a spot to munch.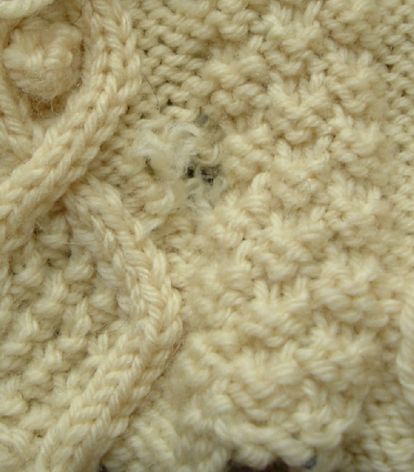 There's what the hole looked like after I had been knitting and handling it a bit and the weak spots gave way.
What to do? Microsurgery. This took double pointed needles and a yarn needle as well. Pick the hole apart until all the frayed and broken area is gone. Leave the threads, don't clip them back. Catch the loops on dpns.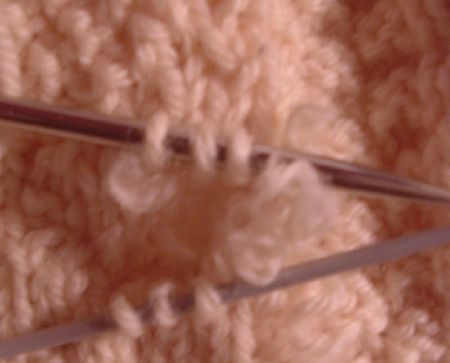 Thread matching yarn through the yarn needle. Duplicate stitch one stitch at the bottom corner, then knit the stiches on the dpn in pattern. At the other side, duplicate stitch to attach the yarn and bring the yarn up one row. Then work in pattern back on the dpns. Continue until all the rows are repaired -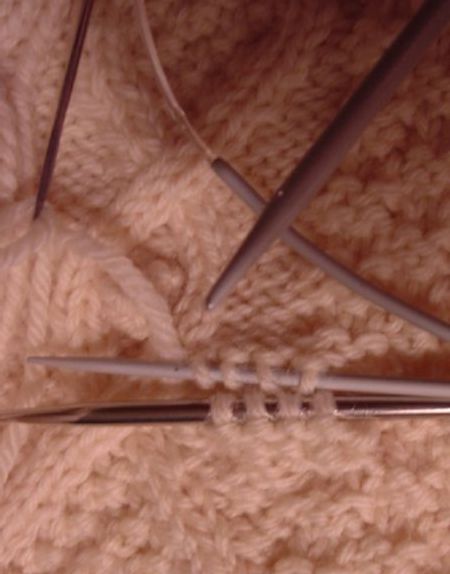 And you can graft the final row together as if you were grafting the toe of a sock. The fix is below the needle. It needs some neatening, and also looks much better at actual size.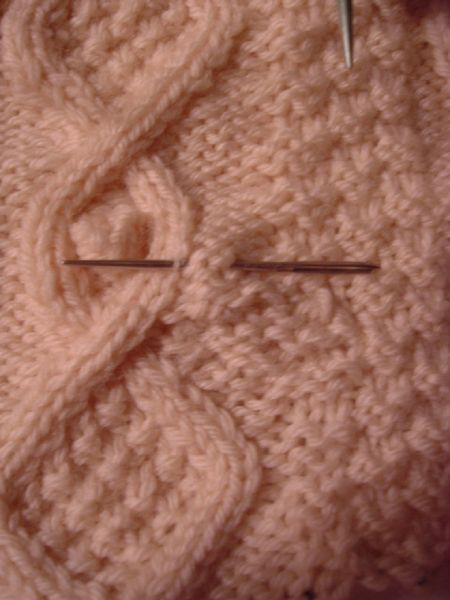 This is the back. They frayed sections stay unclipped so they don't work loose.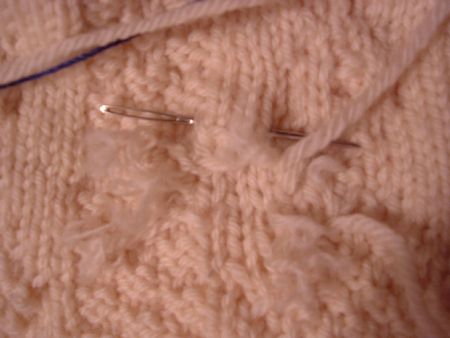 Posted by Leigh Witchel at 11:03 PM | TrackBack
September 18, 2006
FO and Yarnapalooza
The Bamboo Sweater's final few ends were darned in Saturday before I taught a class on entrelac at the uncivilized hour of 9 am. Thankfully, the students were not uncivilized at all. I enjoyed the folks at the LI Knitting and Crochet Guild very much and hope they'll have me back in the future. I had one embarrassing brainfart; I teach workshops from a detailed handout and syllabus but haven't taught entrelac for a few years. I started to show entrelac in the round and realized I hadn't joined a round in a while. It took me a few tries to rejigger my brain to show exactly how the stitches needed to be picked up. That information got placed in careful detail in my syllabus, along with notes on what I want to add to the class to develop it.
The next day I braved the chaos of the Knit Out at Union Square. I met the perennially stylish Eve Ng (it's like "Millionaire Playboy Bruce Wayne" – I can't write Eve's name without putting "perennially stylish" in front of it) after a game of Cell Phone Marco Polo.
"I'm at the east end of the Fashion Show. Can you see me?"
"Marco!"
I ran into several of my students from yesterday who trekked in from Westbury to be part of the hoopla, and then went to the Soho Publishing Booth to say hello to Leslie Barber and the other staff. Stephanie Pearl and my editor Adina Klein were doing the fashion show with judicious skepticism. Neither of them are all that tall, so when a model swept by in a full length crocheted duster, both immediately asked, "How tall are you?" The model found time to answer – 5'9" – and Steph observed that if she wore it she'd be pleased to have a coat with a train so that she could sweep the floor at the same time. Another model walked past and Steph observed her with a gimlet eye. "I wouldn't let my 17 year old daughter leave the house in that, eh?"
Eve and I had lunch together, then met Stephanie after her book signing. She seemed a little fried; having been the performing seal at one or two knitting conventions I understood at least a little. She grabbed food and a beer and we headed into the park to illegally picnic on the grass, next to a boy in leather pants and grubby thrift store ties including one of – was it Donald Duck? As he stalked past working his rebellious punkitude, I learned over to Steph's friend Cassie and whispered, "Don't tell me, you're from Wisconsin, right?" Yep, I'm a cranky New Yorker.
Cassie said she needed to meet Joe at 4 pm at a statue behind the main stage of the Knit Out, and to memorialize the Bamboo Sweater, before it went away to the folks at Vogue Knitting for a year, Eve took a picture of me in it.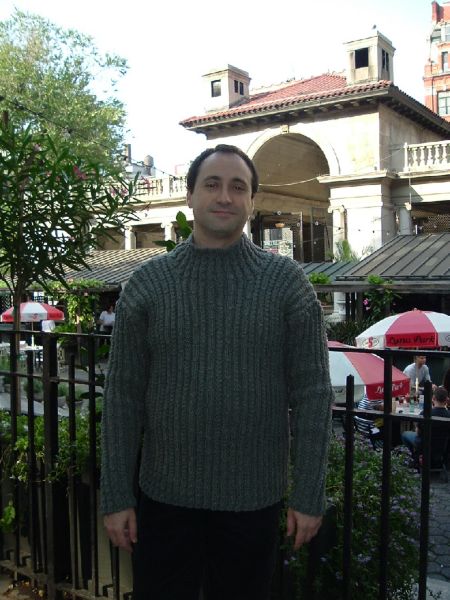 I loathe almost all pictures of me, but I look slightly less like the love child of Queen Victoria and Richard Milhous Nixon here, though no less constipated than usual. I'd also like to mention what a joy it is to wear that sweater in 80 degree weather. Ecch. I took it off immediately. If I made it again, I'd shorten the sleeves about half an inch and set the neck slightly higher - I began it about 4 ins. from the shoulders - I'd raise it 1/2 to 1 inch. (I'd also consider making it in Aurora 8 instead of Aurora Bulky to make it lighter and more affordable, but don't tell anyone.)
After handing off the sweater and I met the associate and tech editors and got to know the Soho Publishing folks a little better. Be nice to the tech editor, unless you want your pattern to have three backs and four sleeves. Michelle, the associate editor, and I discussed sock yarn, a topic knitters are about as fond of as the British are of discussing the weather. When in doubt or at a loss for polite conversation, discuss sock yarn. She's currently working in Trekking; I'm making my usual Twin Rib socks for my sister in law in old Brown Sheep Wildfoote I want to see out of my stash.
Eve went home and I bumped into Steph and Cassie again. I asked Cassie if she met her husband yet, assuming that was Joe – Steph's husband is also named Joe, which is what brought about that assumption. Whoops. Joe was Jo, Cassie's friend from Canada. After about 30 minutes of talking, Jo and I formally introduced each other and we immediately realized, laughing, that we had known each other from another knit list for several years. Cassie brought us on a short walk to Stuyvesant Square – a lovely little pleasure since I had never seen it before and we sat and knit for a few minutes before Jo had to leave for the airport.
Posted by Leigh Witchel at 2:06 AM | Comments (1) | TrackBack
September 15, 2006
Leigh's Dance (and Knitting) Card
The dance season is starting again for me -
Tonight I'm going to see the program of new choreography at the Miller Theatre. I'm not on duty with this one (my friend Aleba is doing the PR and I assisted slightly with that, so I'm happy to avoid yet another conflict of interest)
I'm teaching a workshop on entrelac tomorrow at the Long Island Knitting and Crochet Guild's "Day of Learning". I've got a love-hate relationship with the technique; you can make some gorgeous mosaic-like effects with it, but it's incredibly fiddly. I do it once every several years after I've forgotten just how tedious it was the last time I did it.
On Sunday, I'll be at the New York Knit Out, a chaotic yarnapalooza in Union Square. When I'm not overwhelmed by the crowd and hiding in a corner, it's a lot of fun and I get to see a few people I only see a couple of times a year.
Posted by Leigh Witchel at 4:13 PM | Comments (1) | TrackBack
September 12, 2006
Bus(t) Knitting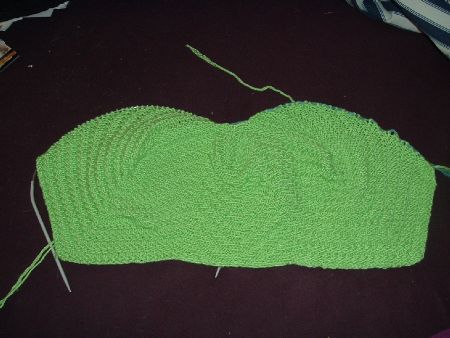 This odd looking neon bustier is actually an Amelia Earhart cap, shown flat before the back seam (the "bustline") is sewn - in this case, grafted, but one could just sew or do a three needle bind-off.
As knitting patterns go, this one is extremely knitterly. The triple lobes that form the earflaps and head cover are created by shortrowing; the complex ridged swirls are nothing more than k2, p2 rib done in a spiral by moving it over one stitch every two rows. The hat looks incredibly hard but once it's set up it's really simple.
Flor's original pattern calls for sport or worsted weight wool; I made this in Lion Brand Microfiber, which is DK weight so increased stitch and row counts on the fly by about 20%. Even with more stitches I was able to knit the whole hat on the bus ride to and from Boston, except for the cast on and about four rows I had knit a few days before to get the project ready for taking on the bus with a minimum of fussing. It's a great travel project – there's a picture of a finished cap and more tips on knitting one here.
Posted by Leigh Witchel at 9:52 AM | TrackBack
September 5, 2006
Home Stretch (II)
I'm fascinated by the home stretch of creation. Whether it's knitting, choreography or cooking, that's the point at which unknown variables make themselves known. There are things that just aren't apparent until the thing is put together, no matter how much you chart the pieces or do the dance in the studio or read the recipe. How will the garment drape on a body - will the audience laugh at that spot - is this dessert going to be too heavy for the entree? You can anticipate all you want; you often don't know until the sweater is put together or the audience is there or the meal is served.
I'm at that point now with the Bamboo Sweater.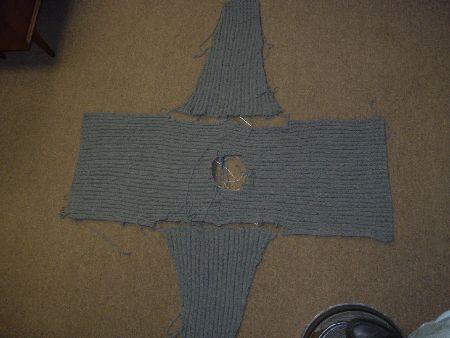 Basting threads are removed, pieces laid flat and the shoulders bound off together using a three needle bind off. The pattern, for standardization, will say to bind off the piece and sew the shoulder seams. If you're making the sweater, do the one you think is firmest - you might consider a backstitch here.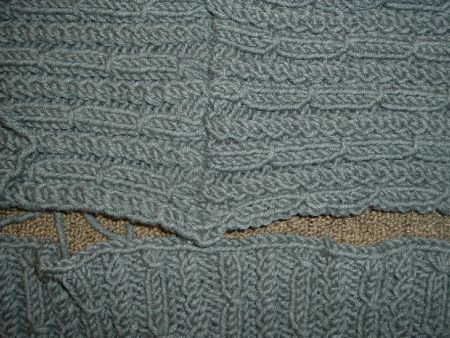 Close up of the shoulder seam. The corded ribbing and bamboo columns don't match at the shoulders. It's barely noticeable when wearing, but I've corrected the pattern to center and match the columns.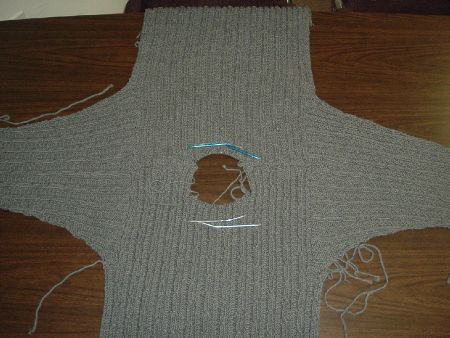 Sleeves set in.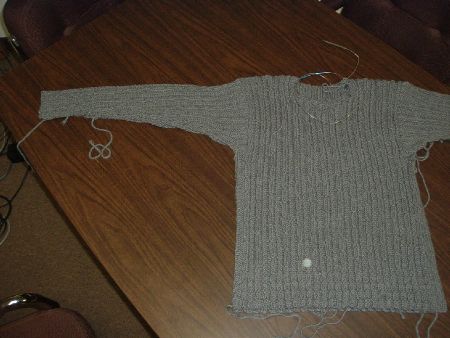 Sides seams sewn, on to the sleeves. It takes shape. The factors coming to the fore are the sweater's weight (more than three pounds), thickness, and relatively close fit.
The neckline - a stand up collar in the baby cable pattern at the borders is next, then working in all the ends. Et fini.
As an antidote to a month of solid gray knitting, I cast on this to knit while walking.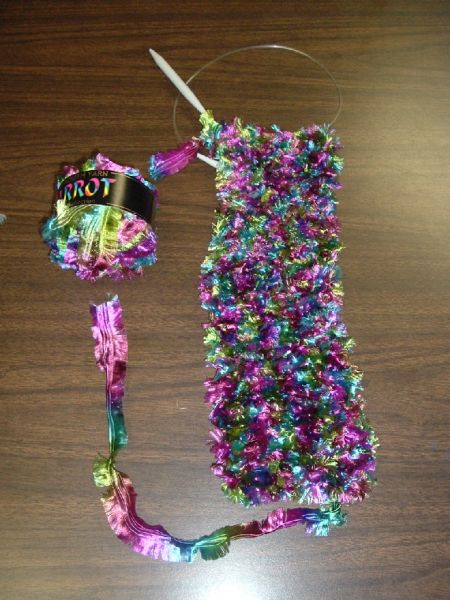 It's a scarf in Plymouth Yarn's "Parrot". The colors are even more deliciously garish than in the picture, think saris on crack. It's mindless, blindingly fast knitting in plain garter stitch on US 15 needles and soothes my Inner Carmen Miranda.
Posted by Leigh Witchel at 11:12 PM | Comments (4) | TrackBack
September 3, 2006
Home Stretch (I)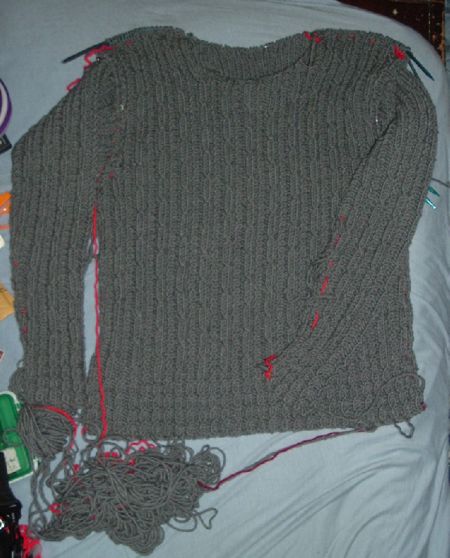 Frankenbamboosweater.
I've knit all the pieces of the sweater, and basted them together to check fit. Stitches are live, needles still in it; I've bound off nothing in case length needed to be added or subtracted. I'm knitting to the measurements of previous sweaters that fit me, so neither seems necessary.
Confession: If you knit the pattern of the sweater as it will be in Vogue Knitting, you will not knit this sweater. You will knit a better one, by and large. Things I didn't do in the knitted prototype (like centering the rib pattern so columns match at the shoulder) will be corrected in the pattern. Other things I will change for simplicity - I stepped the neckhole very slightly (one row) in the prototype. I'm going to make the neckhole square in the pattern.
Other observations. The yarn is heavy - it's taking every ball of yarn they gave me (29) to make a man's size L sweater. I'm hoping the twist stitch columns will help it hold its shape against the weight of the yarn. The yarn also feels delicious - soft like fur. Because of the ribbing, the sweater hugs the body with relatively little ease. It's going to look best on people who are slender.
Posted by Leigh Witchel at 11:38 PM | Comments (3) | TrackBack
September 2, 2006
Eye of the beholder
Last night, I was heading home after dinner with my friend Andrea, a classmate from ballet days and class with the formidable Madame Darvash. Can't recall the name of the restaurant, the credit card receipt only lists them as "Vietnamese Food", but it's at 121 University Place. Excellent Bo Luc Lac, reasonable prices, but it was a busy Friday night and the waiters practically grabbed plates away from you the moment you didn't seem to be finishing it and cleaned the table up around you.
On the subway ride back, I was working on the last sleeve of the Bamboo sweater. The car was relatively empty at West 4th, and filled a bit with each subsequent stops. Two twenty-something guys sat next to me at West 14th. A man got on at 34th. He looked as if he had come from a fantasy equestrian event; thigh high leather boots over khaki pants, blue blazer, green walking stick, straw hat with what looked like Christmas ornaments decorating the brim.
I'm thinking, "Work the outfit!" I notice one of the twenty something kids stealing glances at him too. My guess is we're both thinking the guy is a bit of a New York character – a freak. I think about this for a moment. I'm sitting here like the screaming faggot I am knitting on the subway and the boy next to me has a ring through his nose. And we're all over the equestrian freak across the car?
The moral of this subway story is either: Scratch a normal person and there's a freak underneath, or scratch a freak and there's a normal person.
You pick.
Posted by Leigh Witchel at 12:36 PM | Comments (3) | TrackBack
August 31, 2006
Latest Knitting Article
Technical Difficulties in the "TV" issue of Knit.1 (Fall 2006) - an article on recognizing and fixing mistakes that will make my life easier. Now I'll just bring it in to my beginner class for the section on what to do about mistakes.
Advanced mistake-making

The Accidental Möbius. If you're working in the round, check carefully before you join the round that all the stitches are aligned without twisting (I make sure that my cast-on edge is at the bottom of the needles.) If you leave in a twist, you will make a sort of Möbius strip instead of a tube and it may take several rows before you realize it. There is a quick and dirty fudge if you catch this in the first round or two: At the beginning of the round, align the knitted tube correctly – the running threads between the last and first stitches of the round will become twisted instead. Continue knitting and neaten that small area with the yarn tail when darning it in. If you notice the twist after a few rounds of knitting, there is nothing to do but rip it out.

Posted by Leigh Witchel at 10:52 PM | TrackBack
August 24, 2006
"Knitterly"
The sweater is progressing. The back is completed, the front is about two inches below the neck division and I've done about half of one sleeve. It also has a name now in my mind, the "Bamboo" sweater because of the look of the tied cables.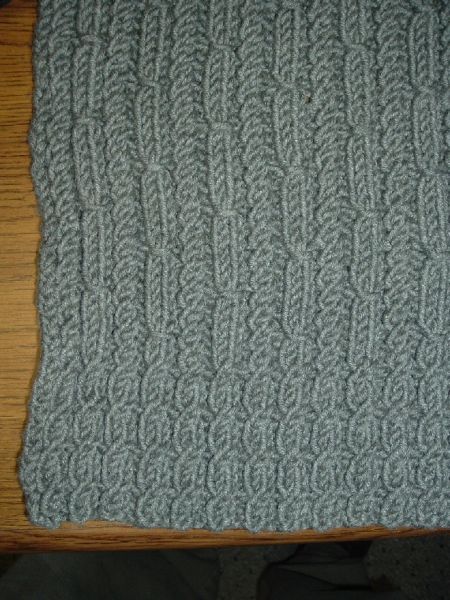 One of my artistic loves is something that uses its medium perfectly: a ballet dance that couldn't be done in anything other than ballet or a sweater that could only be knit. An example in knitting is a cardigan design by Patricia Roberts I recall from when I first began to knit. Instead of using princess seams or darting or another method imported from sewing, the design inserted cabled darts to shape the waist. It's a solution to shaping that's unique to knitting and I love that. As inspirational as I found Kaffe Fassett's work, my one reservation as I became a better knitter is that he saw knitted fabric the same as a painted canvas and kept trying to force knitting to be painting. He never explored what knitting could do other than color, but color was his love - not knitting. He explored one aspect over several media rather than several aspects of one medium.
The bamboo sweater is a knitterly sweater. Its approach to shaping – using ribbed fabric - is from knitting. Its patterns are all organically based on 2x2 ribbing. The knitting is a good balance for the knitter between repetitive and variable. It accounts for the qualities of the yarn (cabled construction and bulkiness) and shows them off.
The flip side of this for me is that creatively, I don't always get the fascination with (or necessity of) "thinking outside the box". I'm usually more interested in exploring what the box does best.
Posted by Leigh Witchel at 11:10 PM | TrackBack
August 21, 2006
Beat the clock knitting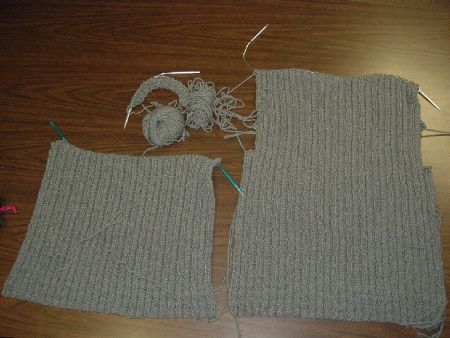 The back is completed, the front is at the underarm bind off, and I've completed the ribbing on one sleeve.
Most of the knitting is being done on the walk to and from work - it's 40 minutes of useful time there and back. That's why I have multiple pieces going. At this point the front is too cumbersome to knit while moving, so I will work on the sleeve while walking and save the front for long phone calls. When this sleeve gets too big, I'll cast on the other. Real planning (like approaching the underarms and shoulder or plotting the increases on the sleeve) gets done as a foreground task.
Aurora Bulky is delicious to work with, but there's going to be about $250 of it in this sweater, which makes it the most expensive sweater I have ever made. All the better that I didn't have to buy the yarn! The yarn has good stitch definition, but swatching is necessary; a stitch pattern that looks good in finer wool may look overbearing. All the ribs and cabling in this are only 2 stitches wide, but that is about 1/2 inch - wide enough.
Posted by Leigh Witchel at 11:02 PM | Comments (2) | TrackBack
August 14, 2006
Reading Leigh
I was a busy boy this Spring – here are several articles that have recently been published:
Dance
These are not online, but I have pieces in the current issues of Ballet Review and Dance Now –
In the Summer '06 issue of B-R there are three pieces – a report on Pennsylvania Ballet dancing two Balanchine programs (Theme/Prodigal/Western and Midsummer):
[The company] has a particularly good Prodigal in Philip Colucci. Reminiscent in build and masculinity to Edward Villella, Colucci turned in a vigorous and powerfully impatient performance.

. . .

Titania suits [Julie] Diana's gifts; she has the delicacy of a spring afternoon. She doesn't have the expansive attack of a dancer like Suzanne Farrell, but she has her soft, pale innocence. The squabbles with Oberon weren't laden with ire, but she was funny in her scenes with Bottom as only a beautiful woman can be – by playing the scene straight and letting the situation get the laughs.
An article on English one-act narrative ballets in repertory at the Royal and Birmingham Royal Ballets:
De Valois' choreography for the female corps [in Checkmate] is also revealing. The pointe work - walks, hops and changes of weight from foot to foot - require strong feet rather than supple ones. Though de Valois was not a chess player and needed to be taught the moves of the pieces, she moved her dancers as one might move chess pieces, decisively and forcefully into designs and tableaux.

. . .

Les Rendezvous is a relatively early work, but one can already see Ashtonisms. There are familiar opposing walks on either relevé or pointe and the final "shrug" of the arms that crops up, done here by four female demi-soloists. . . In a completely different way from ,em>Checkmate, the work is just as specific to the time and as expertly and cannily crafted.

For the men Ashton created an ingeniously designed Spanish-influenced dance. It starts with character steps and moves to classical ones, such as assemblés and beats but even the turns are constructed to finish in forgiving positions and look harder than they are. The dance seems designed not to overexpose the men in a fledgling company but to still make them better dancers.
And a report on two La Sylphides, Johan Kobborg's in London and Nikolaj Hübbe's in Toronto:
London: [Sorella] Englund's conceit that Madge is actually a damaged sylph attracted to James is too pat for my tastes. The ballet is more resonant if Madge is governed by larger cosmic forces rather than smaller personal ones. Still, Englund has earned a right to her interpretation over the years and it's acceptable if one takes her brilliant performances in isolation. But it is better left to enriching the interior dialogue of the performer than seeping into the accepted interpretation of the ballet.

Toronto:The details of [Guillaume] Côté's interpretation were similar to [Aleksandr] Antonijevic's, including the wedding ring stopping his flight, but his strongest attribute as a romantic hero is his unshakable innocence. He makes the repertory believable. He's got ballon as well; even his petit allegro is big, though Antonijevic's petit allegro is sharper. Ironically, the one thing Côté doesn't do affectingly is die. Perhaps that's the price of innocence.
In the Summer '06 issue of Dance Now, a feature Yuri Possokhov and his Cinderella for the Bolshoi:
His soul shows in his ballets as well. Reflections, created in 2005 for San Francisco Ballet and yet to be seen in London, shows the passion that makes Possokhov interesting. An enormous work set to Mendelssohn's first symphony, it has a corps of women in tutus (also by Woodall) complete with fascinating echoes of corsetry. The work is formally crafted but suddenly a ballerina slides across the stage on her pointes and tumbles to the floor. There's an emotional rawness sometimes to the point of awkwardness. Possokhov wears his heart on his sleeve. Even so, he can craft steps eloquently; combined with the honesty of his sentiments, he's an expressionist whom formalists can love. "Critics in Moscow said I brought American ballet to Russian stage. Here in San Francisco, I am too Russian. It's unpredictable. More and more, I think that audiences everywhere are different."
I'm also working on a longer interview with Possokhov that will be in a coming issue of Dance View (print version).
Available online, I provided a link to my review of San Francisco Ballet's Sylvia but not Ashton-esque, the one I did three weeks earlier of Ashton's version for ABT.
It would be delightful to see an Ashtonian "Sylvia" from ABT, but I'd be satisfied to see a "Sylvia" danced in the company style. If only they had one. What we saw on Wednesday night was a hodgepodge of influences that through lack of a point of view never coalesced. There are also restaurants, usually chains in any and every city, where you know the food will be fine, even good. One year, everything is served with chipotle and the next it's all in green curry, depending on the trends. It's not really Mexican or Thai, perhaps it's Mexican-ish or Thai-esque. In the end though, it's still the same inoffensive chicken breast that you forget by the next meal.
If you'd like to compare, here's a journal I did of a week's worth of Sylvia danced by the Royal Ballet in London.
Knitting
In the Fall '06 issue of knitsimple Mischief Managed, an article on (irony of ironies) project management for knitters:
My own project journal is just a list, but that's all I need. Projects are divided into the following categories (acronyms courtesy of the KnitList:)

FO – Finished Object. Nirvana.
AFO – Almost Finished Object. Needs darning, blocking or seaming.
WIP – Work in Progress. Currently being knit
UFO – Unfinished Object. Houston, we have a problem.
In the Queue. – Amazingly enough, there is no acronym for this category, and it's one of the most important.
HALFPINT – "Have a Lovely Fantasy Project, I've no Time". Ideas that will have to wait until the right moment.
TOAD – Trashed Object, Abandoned in Disgust. Disgust can be liberating.
Posted by Leigh Witchel at 12:34 AM | TrackBack
August 12, 2006
Current Knitting (finally!)
I didn't knit at all for several weeks after getting back from Europe; too many other things to do and the weather didn't make me feel like it either. But I have an assignment to do, so I shall be knitting for the next few weeks come heat wave or cold snap. With the permission of the fabulous Adina Klein, my editor at Soho Publishing, I'm giving a sneak preview of an upcoming sweater I am doing for Vogue Knitting.
It was an ego stroke to be asked to be in the upcoming "By Invitation Only" by the editor-in-chief Trisha Malcolm. I haven't done a design for a magazine for a while. This is by choice; I can't make it cost-efficient. But I can't resist the ego boost.
Adina and I decided on the yarn (Aurora Bulky by Karabella Yarns in color 31 - charcoal) and general category (single color, textured) several months ago a little bit after the toilet paper cozy assignment.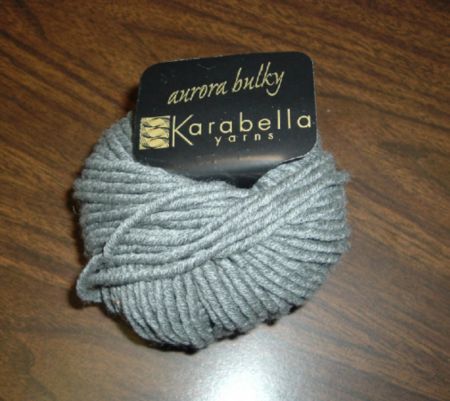 The idea is slightly different than other assignments in theory; I'm making a sweater for myself. In practice, I admit I did the same thing when I made the Puzzle Box Aran for Knitters in 1997. They gave it back to me after about 18 months)
Most designs men like are duller than dirt to knit. Though this sweater is for me, I want people to knit it. So, the skill level had to be accessible, the design had to be wearable and the knitting had to be fast and interesting. Sounds obvious but it takes work to blend all of that.
My inspirations were the patterns in Japanese knitting magazines. They are classic "investment knitting" designs, but with enough of a twist to be interesting knitting. I decided early on this design would be based on classic ribbing because it's flattering to most people. I looked through my stitch dictionaries for variations and started swatching. I had in mind a sort of barred effect and wanted to see what looked best, slipping stitches or tying them. Tying worked best. I swatched several other patterns (mostly rick racks) before I decided I wanted baby cables for the border. Once I chose them, I moved from rick rack to corded ribbing – simply a variation of baby cabling.
I like the way the pattern integrates – no matters what section I am on, the reverse side is always k2, p2 ribbing. Aurora Bulky has low yardage (I knit up at least a ball a day and I am not knitting nonstop) but it's got a great hand and handsome stitch definition. It's really satisfying to me when I feel like I have created the right pattern for the yarn; I feel like this is what this yarn wants to do. The knitting is quick at this gauge, I cast on Monday and I'm past the underarm.
Here's the sweater a few days ago.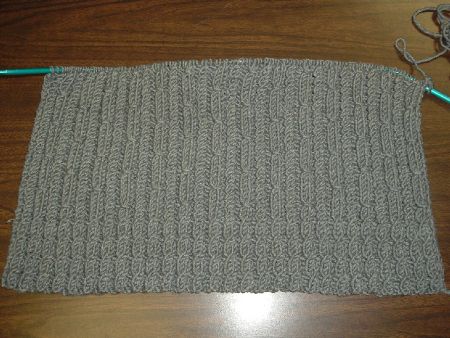 In closer detail.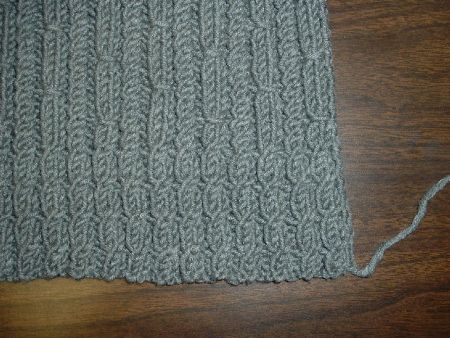 Posted by Leigh Witchel at 9:26 PM | TrackBack
June 8, 2006
Actually Knitting to Relax
Usually I hate the question asked if someone sees me knitting, "That's very relaxing isn't it?" Yesterday, I knit to calm down for the first time in a while. When I came to check in at 1 pm at the Hilton London Euston, after a 2.5 hour bus ride from Bristol and schlepping my heavy bags from Victoria to Euston on the underground, the clerk first asked me umpteen questions only useful for marketing (you don't need my phone number in the US, and you don't need my email address. GIVE ME MY ROOM.) Then he tried to downsell me into a single room when I had paid for a double - something hotels occasionally try and do if you've gotten the room on Priceline. I don't care if I'm only one person, the terms of Priceline are double accommodation. Do not even try and give me a single room - I deliberately use Priceline in London to avoid single rooms the size of closets. Then he told me to come back at official check-in, 3 pm. I went to the plaza outside of Euston Station and knit several squares of Fair Isle entrelac to release the pressure from the steam building between my ears.
Posted by Leigh Witchel at 4:45 AM | TrackBack
FOs
Here's my brother's birthday cabled cap, finished slightly before the stroke of midnight on his birthday. That's not as dramatic as it sounds; I had finished it hours before, but darned in the ends before bed.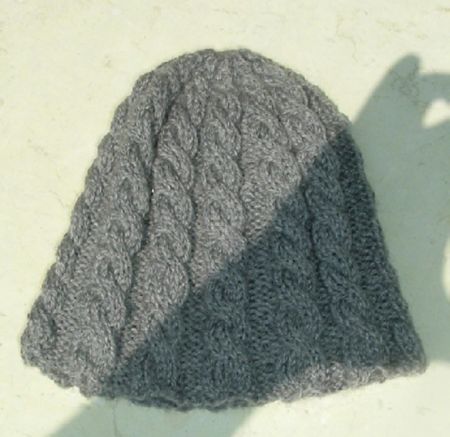 It's much like the ones in fashion right now. Medium gray wool knit on US6 needles, six stitch cables with four purl stitches in between. The two nifty tricks in it are the cast-on (already reported) and the crown decrease. The crown is improvised, but has a gradual decrease by first decreasing the purl stitches down to 3, then 2 between, then turning the 3x3 cable to 2x2. The purls then went to a single and the cable to 1x1. Slipping three sts, then decreasing them (an "SSSK" if such existed) made the final crown decrease look like a last cable twist.
In Bristol I also finished Alexandra's purse. I sewed the lining in London and Cardiff, and trimmed the edges with monk's cord.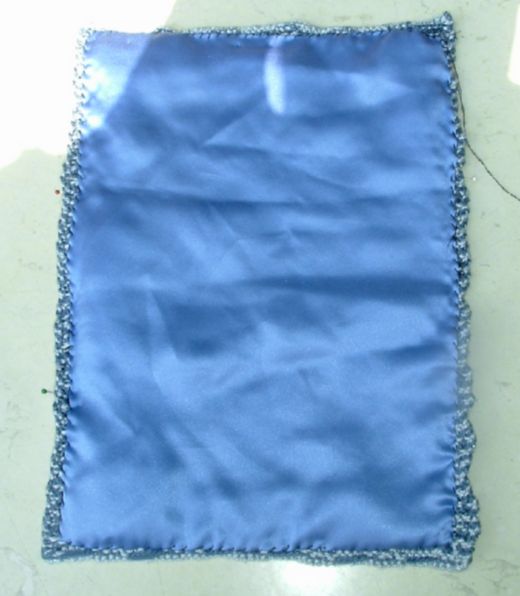 (I wonder what the maid at the Cumberland Hotel would have thought had she walked in on me twisting enormous lengths of silk looped around the handle of the closet). My sister-in-law Julia felt a knot and loop closure was needed, so it was applied.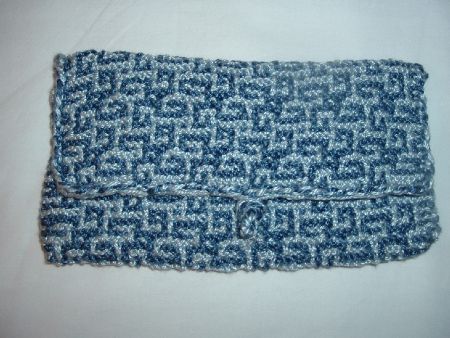 My only slight worry is the purse doesn't have much body. I wonder if they are usually lined with interfacing as well – or if that's less of a problem with items in it. I shouldn't worry about a gift once given, but I really want this to get some use.
On the bus back to Bristol I knit a simple ribbed cap according to my usual formula (which is in the current issue of knit.1 or also on my blog if you search back a few months). So that's three items finished in as many days. Hurrah.
Posted by Leigh Witchel at 4:34 AM | Comments (1) | TrackBack
June 5, 2006
Current Knitting (and other stuff)
I'm again busy knitting fiendishly – gifts for friends on the trip.
The first item finished was a simple blouse scarf in Berocco Glitz. It got cast on before Alexandra and I went to dinner on Friday night. She had an unplanned rehearsal that kept me at the stage door waiting, so I was glad for something to do, but it presented the incongruous picture of a me in a Canali suit and Turnbull and Asser shirt, sitting at the stage door with some unidentifiable piece of fluff in my bag (and occasionally picking pieces of it off my trousers) with something growing from bamboo needles. I don't like knitting in a suit (it ruins the illusion!) but I hate having nothing to do more. I'm glad I suited up for her, though. She came down in a cream wool ensemble looking like two million bucks, and we went to Rules for dinner.
The scarf was presented to my friend Judith at tea. That was also delightful; the first time I've had tea in London, and not the more artificial High Tea, but afternoon tea with cake and conversation at a friend's home. I hadn't finished the scarf, so it was knit as we talked about dance – Judith's husband John is an eminent dance writer and biographer so the conversation was quite amazing; so many things I've read about where he was at the premiere. I had to ask him, who was on the list of dancers he wished he had seen, but had not. His answer – Vakhtang Chabukiani. The top of my list is Tanaquil LeClercq – he had seen her, "Lovely." The scarf grew quickly and got finished before I had to leave for the evening performance at Covent Garden.
Earlier that morning after a few abortive tries I had cast on a simple cabled cap for my brother. I hadn't brought a 16 inch circular needle in a size 8, so I needed to change wool to one that could be used on a size 6 needle. It's just six stitch cables separated by four purl stitches. The one useful trick to report is a way to cast on a neat cabled edge: Instead of casting on multiples of ten (6 st cable + four purl sts), cast on the four purl sts and only half the cable sts (3) – in this case multiples of seven. On the first row, pick up the other three cable stitches in the back of the first three stitches. The edge will wave and curl less.
A good chunk was knit on the bus to Bristol, and I hope it will be finished on a drive to Wales today. I'm going with family, but also hope to visit my friends Emily and Brenda in Cardiff for an afternoon of knitting in Cardiff Castle. We're going overnight, so I'm packing one change of clothing and four knitting projects.
Posted by Leigh Witchel at 3:40 AM | TrackBack
May 19, 2006
Latest Knitting Article
The toilet paper cozies have been published in the current Summer '06 issue of Knit.1 Magazine! What silly fun that was. At first I was only writing an article on embellishing knitting. Then the editor, Adina Klein, wanted some embellished objects to accompany the article. Adina, as all editors should, has a knack for getting you to agree to something in casual conversation and not consider the consequences until you hang up the phone. When I first asked Adina what she wanted embellished, she said anything I would like. I'm not a free-range creative type; I thrive on parameters. I asked her to name something, she thought for a few seconds and said toilet paper cozies. Done.
I had some parameters to follow for the embellishments. One cozy was to be plain, one was to have flowers, one knitted cord, one pompoms and the last was found objects. It took several long walks to figure out what to do. I think the first to be decided was the flowered one; the daisy loom flowers remind me of the late 60's early 70's so I took the psychedelia of things like Rowan and Martin's Laugh-In (Yes, I'm old enough to have watched it as a kid!) for inspiration. Pompoms remind me of cheerleaders, so I did one in a sports theme. It wound up being the Yankees because that's the team colors the yarn came in. The inspiration for what to do with knitted cord came while I was catching up on blogs. Attaturk of Rising Hegemon uses a fez as his avatar. Hmm. Woolease comes in cranberry. Trim with a black tassel. Voila. With three friendly designs, I really needed to do something wrong for the last one, hence my tribute to Sid Vicious in Black Woolease. I lined a cozy with rows of safety pins in graduated sizes (it took about 150) and then threaded it with hot fuchsia yarn, trimming the ends into spikes. My favorite comment was from a recent student who is also a fashion retail maven: "It somehow manages to be cuddly and aggressive at the same time." Then again, maybe she was describing me.
This is a biased opinion because the cozies are in it, but I really like this issue. If you buy a knitting magazine because you're looking for looking for a collection of patterns to knit, it may or may not be to your taste. I never knit patterns literally anyway. If you're looking for energy and inspiration, check it out. The issue reminds me more of how the fashion industry works than the hand-knitting industry, with the accent on creativity, novelty and risk. I love classic wearable designs as well - for the best classic male knitwear patterns, go to a Japanese book store – in NYC try Kinokuniya – and thumb through their collections. I will be doing a sweater for an upcoming issue of Vogue Knitting and I intend do something along the lines of the best Japanese "classic and wearable but with a new twist in a detail" designs. A little novelty is important to keep things fresh and energetic. There's a lot of way-out-there stuff in the issue (John Brinegar has knit hot pants and boxer shorts in it as well as a great 50's inspired cowl front top that's much more practical) as well as some theme layouts – the one on Frida Kahlo is quite good. Another friend, Stephanie Klose, has a piece on knitting and art in the issue. There's nothing I want to knit immediately (I've already made my toilet paper cozies, thanks) but reading it made me want to knit and design, and that's why I like it.
Posted by Leigh Witchel at 10:55 AM | Comments (1) | TrackBack
April 24, 2006
Spring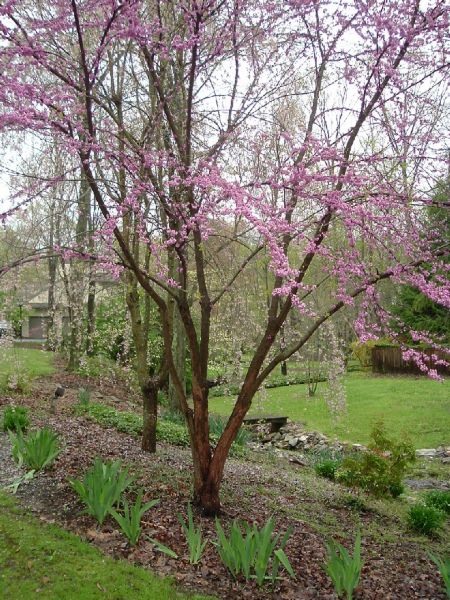 I taught here on Sunday in Chester County, Pennsylvania. The beautiful purple tree in front is an Eastern Redbud. It, along with the Dogwoods, Crabapples and Cherry Blossoms conspired to bloom all at once so southeastern Pennsylvania is a riot of flowering trees. It's very beautiful.
I taught two classes for Main Line Knitting Guild, Entrelac and Stitches No Knitter Should Be Without and had a marvelous time. I piggybacked some dance into the weekend as well; Pennsylvania Ballet did a fine job with Midsummer Night's Dream.
I'm on deadline for a few articles (Knit Simple, Ballet Review) so if I skip a few days, apologies in advance - but I'll try not to.
Posted by Leigh Witchel at 11:12 PM | Comments (1) | TrackBack
April 19, 2006
Re-filling the gift basket
More simple knitting. None of it is particularly original, but it's all fast, pleasant to knit and makes decent gifts.
I can't show you the toilet paper covers from the forthcoming Knit.1 article on embellishing knitting in their full twisted glory; I'll just say one thing: more that 150 safety pins. However, since no one in their right mind is going to knit toilet paper cozies; the bottom two hats in the photo below are the exact pattern that's in knit.1, unembellished except for a sensible pompom on top. Knit (as in the magazine) in a double strand of Wool-ease, they are being given to the parents of newly-born twins. The light blue hat on top is the same stitch pattern, but a different gauge and with a turned up cuff.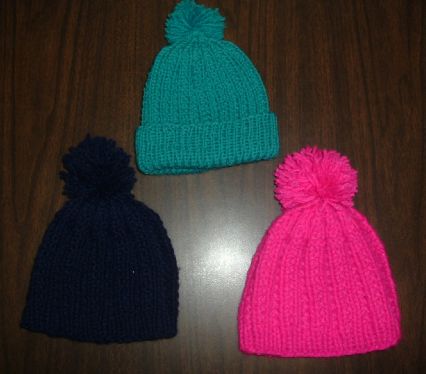 I've made a few scarves to vary the tedium. Both were made from yarn from the Goldman's haul. This one is plain garter stitch in Berocco Lavish. It's a faux fur yarn with glitz shot through it, and at the specific number of stitches in the scarf, the printed repeat of the striping knit up into vertical stripes for a very Phyllis Stein effect.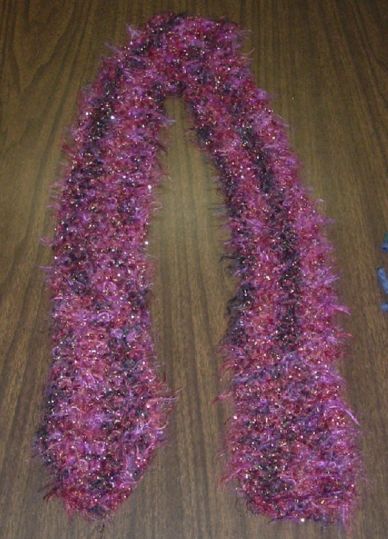 Cast on 3 stitches, increase one stitch at the beginning of each row until the scarf is four inches wide. Continue knitting until desired length, or you've only got about a yard and a half of yarn left. Decrease one stitch at the beginning of each row to reverse shaping, when you have only three stitches left, k3tog, pull the yarn through that stitch to bind off. Ta Da. Decorate with a tassel or as desired.
The knitting is simple enough to do as a first project, but if you're a beginner knitter, do yourself a favor and make your first project in plain yarn. Novelty yarns, especially fluffy or furry yarns are a source of intense frustration to new knitters, because they can't see the stitches. I used to give new knitters this pattern to do; now I have them do a plain garter stitch scarf in bulky wool.
Speaking of same, this one is knit in garter stitch lengthwise rather than vertically for two reasons. It's the simplest way to make lengthwise stripes, and also I only had two balls of yarn (Tahki Baby, a superbulky merino) and did not know when I was going to run out. I think a slightly thin scarf is the lesser evil compared to a too-short scarf, so I cast on sufficient stitches for the right length and kept striping as long as I could while maintaining symmerty. The biggest consideration for a lengthwise knit scarf is how to cast off. A standard "chain" cast off does not match the cast on, and on two five foot long edges, the disparity becomes striking. I used the sewn garter stitch cast off from Elizabeth Zimmermann's Knitter's Almanac
: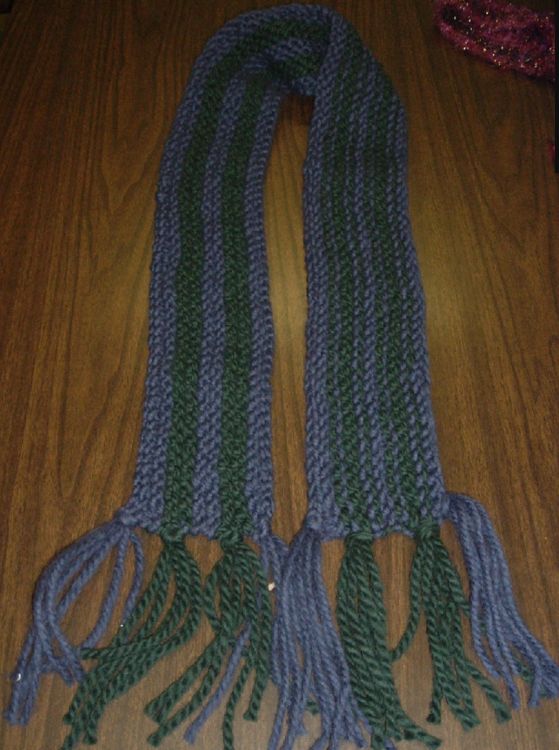 Begin with yarn at the right side. Break yarn, thread through needle.
*Thread needle through first two stitches as if to purl. Thread needle back through the first stitch as if to knit. Drop off first stitch*
Continue until you've cast off all the stitches. This has a similar tension and look to a cast on; use it where you want the cast off edge to match the cast on.
Here's another picture showing the "right side" and "wrong side" of garter stitch stripes. These are 4 rows or two ridges wide.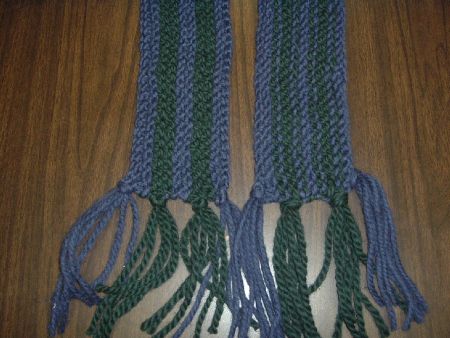 Posted by Leigh Witchel at 11:15 PM | TrackBack
April 3, 2006
Best. Use. of I-Cord. EVER.
A Flying Spaghetti Monster Tree Topper.
Posted by Leigh Witchel at 11:22 PM | TrackBack
April 2, 2006
Grace's shawl
I couldn't blog this as I knit it because I wanted it to be a surprise.
It's mostly the same pattern as the Razor Shell shawl I did earlier, but with an improvised improvement to make the yarn-overs balance better as the shawl grows. I also used a different edging that was nearly my undoing.
Here's the shawl close to its inception: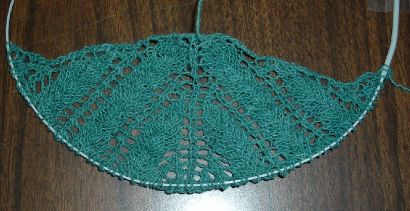 Here it is before blocking: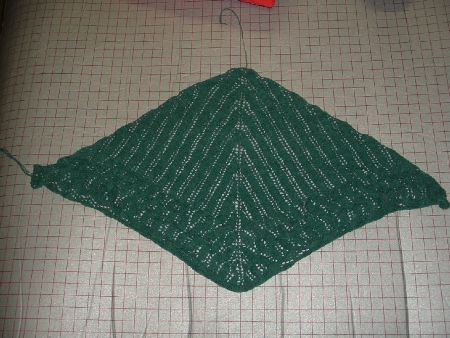 If you look at the first version, the lace eyelets don't immediately become pairs. There's a single one until enough stitches are added to make another and I didn't like the way that looked. I didn't chart out the method I used to add in a yarn over and corresponding decrease, but that is what I did that to get the second yarn over in sooner. The yarn-overs on each side are matched by a triple decrease (sl1, k2tog, psso) at the center of each of the knitted columns or leaves. Since there is only a yarn over on one side, I added the yo and either an SSK or K2tog as appropriate until there were enough stitches from increasing at the edges and center to do a triple decrease.
Instead of doing the simple faggotted edging I did on the previous shawls, I tried a diamond edging. The edging pattern has been around at least since the Victorian era, Sarah Bradberry's source for her site is an 1891 edition of Home Work; I have the same pattern in a Harmony Guide to Knitting Stitches from the late 1980s. In its original form, the pattern was worked in garter stitch; I decided to switch that to stockinette (purling the obverse rows instead of knitting them) because the lace in my shawl was also based on stockinette.
That's when the problems began.
The knitting of the edging itself proceeded uneventfully but I used about the same ratio for attaching stitches as I had with the faggotted edging based on garter - 1 or 2 stitches from the main shawl knit together with the edging on every single row. Garter stitch has a much more compact vertical gauge than stockinette. It looked fine until it came time to block. I intended to block the shawl in the same simple triangular shape as the previous shawl. This shawl put up a huge fight. The edging was so overstretched the lace could not be seen.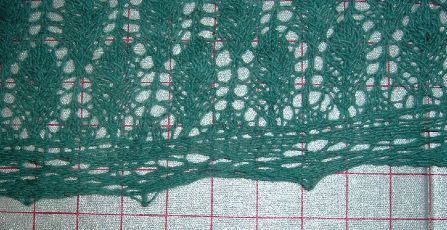 and I had to block the shawl in a semi-circle to block it at all. Note the distortion in the central lace column: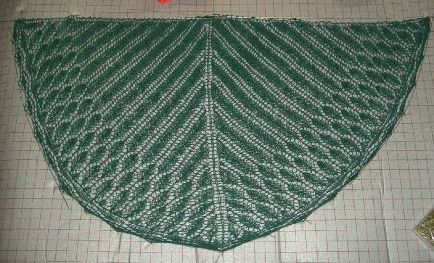 To spend all that work on an edging to have it be invisible is ridiculous. I would have ripped out the edging and reknit it, but I didn't have time and wasn't sure what the result would be once I had already started the process of blocking. I came up with a two-step that was an acceptable save. I let the shawl block as above, then unwired it and blocked only the edging with pins.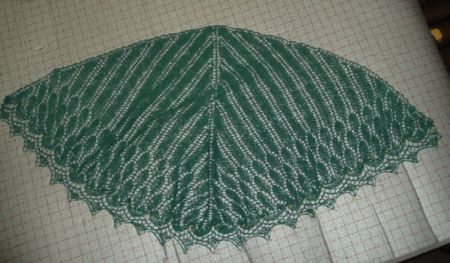 It changed the shape once again, but to a rather pretty one that reminds me a bit of a gingko leaf or a butterfly. I think it will drape nicely and the distortion will not be noticeable when worn.
Here's a closer look at the re-blocked edging: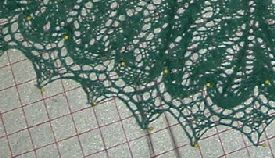 Posted by Leigh Witchel at 12:34 AM | Comments (1) | TrackBack
March 29, 2006
Knitta, Please!
Mike Bryant presents "A gangsta rap song about the most hardcore craft at the craft fair."
Scroll down and look on the right hand column for mp3 downloads.
Don't take no flack from the crochet bitches.
Not entirely work-safe. It's gangsta knit rap, after all.
Posted by Leigh Witchel at 12:03 AM | TrackBack
March 23, 2006
Filling the Gift Basket
I've been doing a lot of knitting recently, very little of which I've recorded here because it's been so basic, almost all hats.
People have been so welcoming to me when I travel so I have been trying to have small gifts to take with me to thank people for their hospitality; hats fill the bill. They're good for birthdays and other occasions and don't take so long to make they feel more like an obligation than a thank-you. I've been making them in advance and then letting people choose the one they like best from a selection. My goal for the stockpile is ten hats in reserve, and then to replace them as they are given away.
Here's the selection that went to San Francisco with me: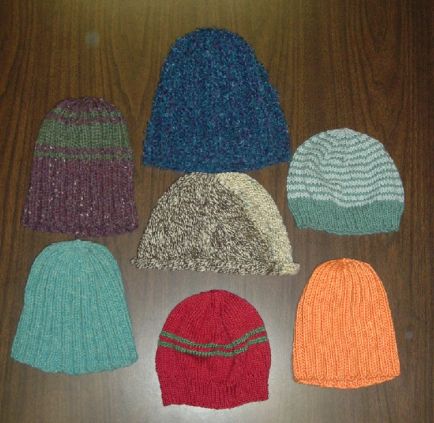 Half of these are ribbed caps I make with a standard formula:
Leigh's Hat Recipe
(An earlier version of this recipe lives here.)
I cast on using Helen Fleischer's "nifty join" (scroll down to the "nifty join")
Knit the hats in P2, K2 ribbing (I start with purl stitches because of the way I decrease for the crown.)
Using appropriate yarn (or several yarns combined), the following number of stitches on these size needles gives me the right circumference for an average head.
(Superbulky) US Size 15 - 48 or 52 stitches. Note: I've gone as low as 40 stitches, depending on the bulkiness of the yarn. The blue cap at the top is done with 44 stitches on US 15s
(Bulky or Superbulky) US Size 13 – 52-60 stitches
(Bulky) US 11 - Metric 8 mm – 58-64 stitches
(Chunky to Bulky) Metric 7 mm – 60-68 stitches

(Heavy Worsted to Chunky) US 9 – 72-80 Stitches. The orange hat is made from a doubled strand of Lion Brand Microspun – 76 stitches on US 9s, the purple hat is from unknown scraps, same needle size but 72 sts.
(Worsted) US 8 - 88 Stitches. The hat in light blue tweed wool is 88 sts on US 8s.
(Sport) US Size 6 - 96 stitches
Knit a P2, K2 ribbing tube. If you're knitting a watch cap with a turned up cuff, knit for 9 inches. Right now, shorter caps without a cuff are fashionable. Those would be between 6.5 and 7 inches long before the crown decrease.
Decrease for crown
First decrease round: P2tog, K2tog across round (You've made a P2, K2 ribbing into a P1, K1 and decreased by half)
Second round: P1, K1
Third round: K2tog. Again, you've decreased by half across the round. Putting the purl stitches first makes the K2tog look smoother, as they swallow up the purl stitches and leave only knit stitches.
Fourth round: K
Fifth round: K2tog.
Break yarn, thread through remaining stitches and pull tight.
There you go!
*
The other hats are Mark Thrailkill's London Beanie.
These are snapped up by my male friends, especially the trendy gay ones. They really like them. The red one is from a leftover skein of Lang Palace (a very yummy merino/cashmere blend) and the blue is two skeins of ancient Columbia-Minerva needlepoint wool.
I work the hats on US 6s instead of US 7s, begin with 81 sts and increase to 90 by doing the following increase round: K9, m1. At the crown, I put a plain round of knitting between the decrease rounds.
The mitered cap in the center is another Emergency Christmas hat based on Nancie Kremer's original pattern.
In San Francisco, Mark snapped up the red beanie, Chris got the blue one. David's favorite color is orange (go figure) so that cap was made with him in mind – and his birthday was shortly after so it served double duty. David also knows how to flatter a knitter. When we met in San Francisco he was wearing the blue socks I had knit him a few years before, and when he visited New York a week later he showed up wearing his hat. Peter got the purple cap, which looked very fetching and butch on him with just a small cuff and Paul got the mitered cap from homespun, which he referred to as a "doughboy". The blue caps both are saved for later, but I've got to refill stock now.
I haven't made one in a while because I've had more men than women to knit for, but I love knitting Flor's Amelia Earhart cap. Her page seems to be sadly down, but you can still find the pattern at archive.org.
I could always use some new simple hat patterns; if you have a favorite, mention it in the comments!
Posted by Leigh Witchel at 3:59 PM | Comments (1) | TrackBack
March 18, 2006
Wild Turkeys and Pork Uteri.
It's been that kind of day. Stopping off to grab dinner after seeing Paul Taylor tonight, the muzak in the store was a klezmer version of "Hazy Shade of Winter".
I went to see Mom in Mamaroneck. Seeing Mom means eating Chinese food, so I did some research and suggested that we try Aberdeen Seafood and Dim Sum in White Plains.
Aberdeen is in the Residence Inn at 3 Barker Avenue and not immediately obvious from the street. We went relatively late on Saturday afternoon so it was not painfully crowded, but reservations are suggested. For people who can't get into New York for dim sum, Aberdeen is probably the next best thing; respectable quality dim sum mostly comprising the standard hit parade.
Most of the dim sum were winners. The shrimp in rice crepe and shrimp shiu mai were as good as those I've had in Chinatown. I've not had fried shrimp rolls before, though it was a very simple and good dish – plain shrimp fried in a wonton wrapper. The baked pork bun with a paste-like filling was not particularly interesting but the fried one with a skin puckered with bubbles was delicious, as was the grilled bun. Turnip cake came to our table only lukewarm; it's a dish at its best freshly made. As in New York, it comes with Hoisin sauce. I asked for it with turnip cake in Toronto and they looked at me like I was nuts. Sticky rice was studded with what looked like dried shrimp and was also relatively disappointing.
Steamed dishes were brought round on carts, other dishes were carried by hand on trays round to each table. The salt fried shrimp looked delicious, but by then we were full. We did have the Chinese Greens in oyster sauce, which was a welcome accompaniment to all the starch; I'm glad places are adding it to the menu. Dishes range between $2.50 and $6; 11 dishes cost us $60 with tax and tip. Mom loved it, so mission accomplished.
There is a mall across the street from the restaurant with an enormous Asian grocery store, Kam Sen Foods. Inspired, Mom bought the same Chinese greens we had just eaten labeled Yu Choy. I needed soba, tamarind and rice vinegar. I didn't need Pocky, but then again, doesn't one always need Pocky? Besides the cognitive dissonance of trundling down the aisles with my tiny shopping cart while the loudspeakers blared Latino music, the best part was seeing these next to the really cheap beef bones: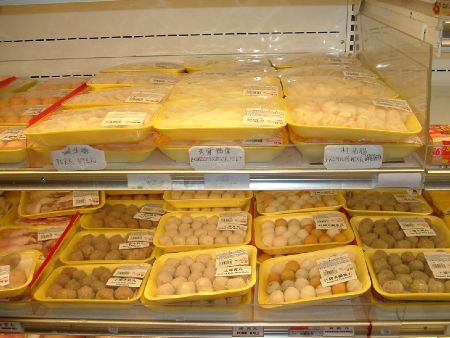 Pork uteri. Yep. And Boneless Duck Feet and Premium Pork UterusIntestines.
Mmmm. I didn't buy any, but you can put recipes in the comments.
The lady who was with Aicha el-Wafi (you know, the one I lied about meeting?) warned me that Goldman Yarns was going out of business and Mom asked if I wanted to stop by. That's about like asking a crack addict if he wants a little hit. We got there about an hour before the store closed its doors for good. Yarn was 70% off and needles 50% off. I regained consciousness about $70 later.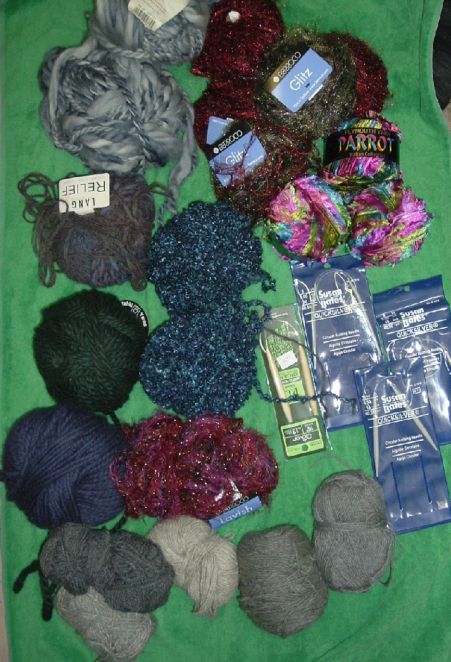 I know you're going to want to know: Two skeins Rowan Biggy Print, two skeins Takhi Baby, six skeins Berocco Glitz, three skeins Plymouth Parrot, one skein Lang Relief (I have another in that color that I bought at Patternworks about a decade ago), one skein Berocco Lavish and a few skeins unlabeled beige and gray stuff that will make hats for guys. It's all going to be made into hats and scarves.
We drove home via I-95 and exited at Playland Parkway near Rye. Heading off the exit, I noticed two large black birds at the side of the road. Bigger than pheasants . . .good grief. Wild turkeys. Something I have never seen before. I was driving so I'm afraid there's no photo.
Posted by Leigh Witchel at 11:13 PM | Comments (2) | TrackBack
March 15, 2006
Knitwhoring
I should take the opportunity of this very short notoriety to flog some knitting classes I'm teaching in April.
I'm teaching a Beginner Knitting class on Wednesday nights starting March 29 and a special "Project Coaching" class for advanced beginners on Tuesday nights in April. All the information you need is here.
For the Main Line Knitting Guild in suburban Philadelphia, I'm teaching "17 Stitches no Knitter Should be Without" on Saturday, April 22 and Entrelac Knitting on Sunday, April 23. For more information email Barbara Borgia.
Posted by Leigh Witchel at 3:24 PM | TrackBack
March 10, 2006
Current Knitting - Charity scarf
It's not stunningly impressive, but it's what I'm doing.
My friend Matt was fascinated with the yarn in raw form; Lion Brand Fun Fur in Sandstones.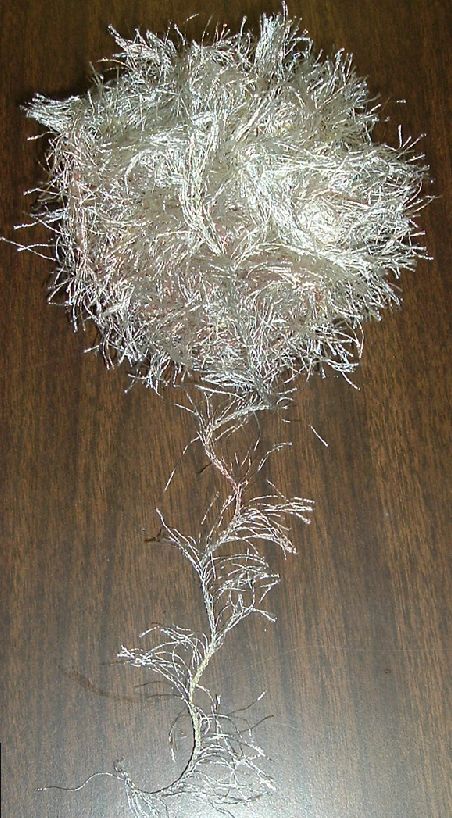 Matt: "I love it. That looks like a hairball thrown up by a 40 foot cat."
The pattern is simple - it's adapted from Dez Crawford's novelty yarn scarf pattern for the KnitList back in '01, except I've got 16 stitches on there (when I can see to count them. . . )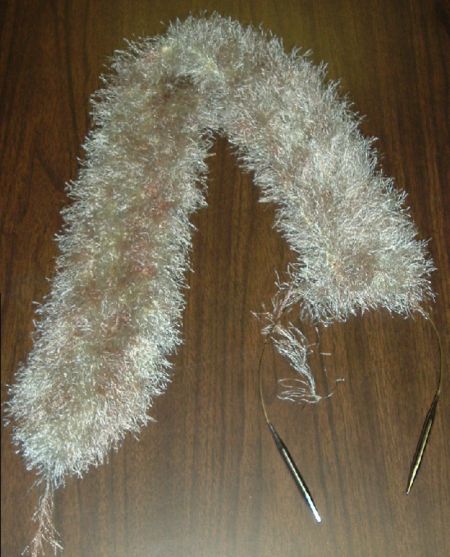 Posted by Leigh Witchel at 6:49 PM | Comments (1) | TrackBack
March 8, 2006
Latest Knitting Article
World Fleece - on travel and knitting in the current (Spring 2006) issue of Knit.1 Magazine:


Long plane flights are an opportunity to make real headway on a project. Yes, you can knit on planes, but plan ahead. The Transportation Security Administration permits knitting needles as a matter of policy, but the final decision is at the discretion of the agent. Nonmetallic circular needles will raise fewer eyebrows. (Pack a large SASE in case security confiscates your tools.)
Working in commercial publishing is an interesting change from working for specialist publications. The pay is better, the writing a bit easier - and you get edited a lot more but it bothers you less.
Posted by Leigh Witchel at 6:32 PM | TrackBack
February 25, 2006
Mood Swings - A visit to San Francisco
Thursday 2:00 pm EST Mood: Frazzled. Preparation for a trip is usually last minute for me. Two things usually happen; I can be relied upon to not pack to the size of suitcase I had hoped to – (aimed for carry on, had to go one size up and check it) and forget one tricial item. This time, it was my belt, which I discovered as I absentmindedly hitched up my pants. I had to go to the post office anyway, I went to Daffy's bought one.
Thursday 5:00 pm EST Mood: Panicked. When I plugged my computer into a power supply at the terminal, no power came through and I figured the outlet was defective. My computer had been working this morning, after all. When I plugged it in a second time at a different part of the terminal with the same result, angst set it. I have an old computer and had two batteries, which would have had an hour of computing time at most between them. How to make that last over three days? I had my PDA and a folding keyboard with me that would suit for writing, but even that got recharged via the USB port by the computer. On the plane, I called my friend Peter for magic words. "Maybe I've already said them, Darling. So if the computer starts working in the hotel, I will take credit." "And I will be happy to give it to you, darling."
In Flight to OAK Mood: Irritated. This was my first time in JetBlue. It's a completely acceptable economy product, but nothing special. If the plane as packed, as this one was, all economy is cramped and irritating even with a 34 inch seat pitch. I do like the cookies. Flying into OAK instead of SF was not appreciably more difficult except that it involves about a 15 minute bus transfer ($2 exact change) from the airport to the BART station. It probably took an hour from de-planing to get to my hotel.
I alternately worked on an article for Ballet Review and a lace shawl I keep as a portable travel project. I saw the battery indicator on my PDA drop from full to ¾ and my mood blackened.
Thursday 11:30 pm PST Mood: Relieved. Check in to the Ramada Hotel on Market Street is fast and friendly and the hotel is an insane bargain ($45/night on Priceline). Amusingly enough, they gave me the exact same room, room 443 with a single queen bed that I had the last time.
In 2004, when they gave me this room the desk clerk announced that he had "a non-smoking queen for me." It was all I could do not to break into my Paul Lynde voice and say "Well, heh heh send him on up."
I plugged in the computer, pulled out the plug, finagled with the power supply, reconnected the pieces, plugged it in again. I've never been so happy to see a little green light. It's a bit sobering to realize how dependent I am on my computer and the Internet. The hotel has wireless service that isn't stunningly reliable, but it's free.
Friday 7:40 am Mood: Satisfied. The fitness center at the hotel isn't great – no elliptical trainer, but two treadmills, two bikes, a stair climber and creaky Universal weight system but it will do.
9:30 am Mood: Elated. I knew that Saigon Sandwich, was only a few blocks from my hotel, but no one told me that so was an entire Vietnamese neighborhood. I bought two heavenly Banh Mi, one roast pork and the other roast chicken and had a breakfast picnic under a flowering bush in a playground near the museum of Asian Art.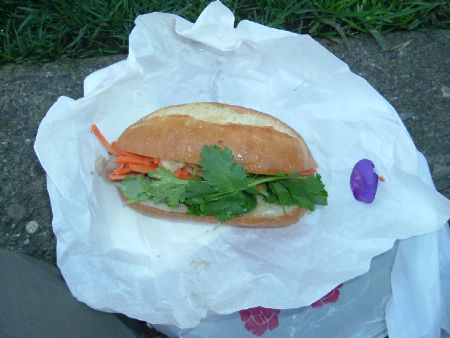 There is a show here of 18th Century painters from Kyoto, I am going to see it today.

11 am Mood: Confused. I'm supposed to meet my friend Rachel for lunch, but I only know her email and she hasn't returned my correspondence. Where is she and how can I get her phone number? I call one friend to get the number of another friend who might have her number and work on other writing in my hotel.

1:30 pm Mood: Resigned. No word from Rachel so I set off for Artfibers, one of the most well-known yarn stores in the city. The walk up Market Street is full of Beaux-Arts buildings and street freaks.
2:15 pm Mood: Covetous. I wasn't going to buy anything at Artfibers, but I want a souvenir of my stay here. I decide on two skeins of Shibori, a hand-dyed silk/kid mohair in forest colors.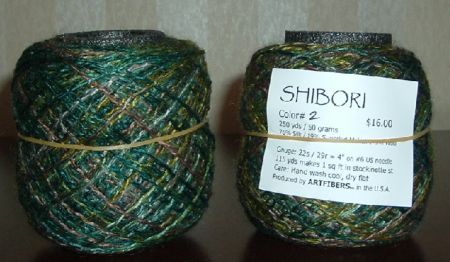 Though it's expensive, it has excellent yardage and 2 skeins should make a beautiful scarf to remind me of here. The staff is friendly and helpful and they keep sample balls and needles available for swatching as well as a comfortable place to knit. It ain't cheap here, but it's worth looking into.
2:45 pm Mood: Bemused. Poor Rachel called me full of contrition. She's not even in town, her husband and she went to Santa Barbara at the last moment. I'm sorry to miss her, but I'm having a great day anyway, so I do my best to absolve her.
5:45 pm Mood: Hungry. After picking up tonight's tickets I meet my friends Mark and Christopher and Christopher's ballet buddy Patricia for dinner at Absinthe. The restaurant is popular and expensive, but the food is commensurate with the price. After a cheese appetizer, we all chose the grilled sturgeon, rightfully recommended by our waitress. I split an excellent tarte tatin with Mark. Dinner with wine was $60 per person. More than I'd usually spend, but meals like that are great fun when shared with others.
8:00 pm Mood: Attentive. San Francisco Ballet Program 3. The most interesting dilemma is to figure out how to compress this into 500 words. I have 5 pages of notes already and two more performances to see. The Taylor piece is formulaic, Magrittomania is fascinating even if I don't love it and I have a soft spot in my heart for Rodeo. Muriel Maffre, who does the lead in Magrittomania with Tiit Helimets is the world's greatest Weird Ballerina. She does one wildly extended and arched tendu with a prehensile foot and you see she's a magnificent freak.
11:00 pm Mood: Flirtatious. We all head to Mecca, a lounge close to the Castro. Randy, whom I've known in correspondence for as long as I've known Mark but we've never gotten to meet in person, comes with his big hunky boyfriend Jim. Jim and I, well . . . hit it off pretty quickly. It went no farther than a flirtation and Randy didn't seem to mind one bit. It's confusing, but amusing. Where is Leticia Baldridge to advise on such things?
In any case, it was close to a perfect day. I headed back to the hotel at 1:00 am exhausted and satisfied.
Posted by Leigh Witchel at 2:14 PM | Comments (1) | TrackBack
February 22, 2006
Is that a good way to meet women?
Today I walked into the elevator of my building working on a lace shawl and that's what the guy asked. Smiling, middle-aged regular guy sort of guy. I wasn't in a snarky mood, so I said, "Actually, yes."
I didn't bother to tell him, "Because they assume you're non-threatening and probably gay." Now, as someone who loathes the stereotype that all male knitters are gay (and therefore knitting, like ballet is suspect because it's, like, coated with icky GAY. . .and therefore we have to publicly display every straight man who has ever put on a dance belt or picked up knitting needles. . .)
Where was I?
Anyway, I hate that stereotype and here I am using it. I'm curious what women actually think. Do you assume anything at all about a man's sexuality if you see him knitting? Even if you don't assume anything about his sexuality at all, would you find it desirable? Would you find it hot?
If I'm knitting and I see a man I think is attractive (and it's that kinda situation . . .) I tuck the needles away pronto. Yes I love knitting, but to me, knitting is most decidedly not hot. Cruising and knitting don't mix. The other time I just can't bring myself to knit? When I'm formally dressed. Cufflinks and a suit and knitting are just not something I can wrap my brain around.
Posted by Leigh Witchel at 6:44 PM | Comments (6) | TrackBack
February 16, 2006
This is what I got a Guggenheim for
I spent this morning attaching 150 safety pins onto a toilet paper cozy.
I swear. It's my tribute to Sid Vicious, but with Charmin.
I promise pictures as soon as the damn thing hits the newsstands.
Posted by Leigh Witchel at 11:14 PM | Comments (1) | TrackBack
February 8, 2006
When it rains it pours.
I have now knit five toilet paper covers. Really. They are to accompany an upcoming article on embellishing knitting in Knit.1 Magazine. I won't spoil the fun by telling more (especially as I have neither decorated the TP covers nor written the article) but to my satisfaction it seems that a toilet paper roll has similar dimensions to a human head. Ruminate on that, but it does mean that the covers make very cute little skullcaps as well.
The Travel Issue of the magazine comes out on the 14th, coincidentally, my first blogoversary. I have a piece in this issue on knitting and travel. Also upcoming in Ballet Review are two articles, one on the June repertory in London and also Swan Lake at Pennsylvania Ballet.
The writing queue overfloweth right now.
Finished in first draft:
La Sylphide in London and Toronto – Ballet Review
Pennsylvania Ballet – Balanchine Program – Dance International.
Being written –
One act English Ballets – Royal Ballet & Birmingham Royal – Ballet Review.
Future Projects –
San Francisco Ballet – Pointe Magazine
An article for Vogue Knitting
A sweater for Vogue Knitting
White Nights at the Mariinsky – Dance Now
And the Swamp Thing of the queue – the potential rewrite of a manuscript for Knit.1 that, if it goes through, will vacuum up most of my time for the next two months. I apologize for being coy, but I'd rather not get the editors pissed off for giving away content. I really enjoy working with both Adina and Leslie at Knit.1. They're reasonable and fun, and Adina makes me feel calm . . . at least in comparison.
You can catch Adina on the tube on March 5 at 3 pm on the Oxygen Network; she's on a new show called Stitchcraft that also features Miss Lily Chin, whom I coincidentally had dim sum with today at Ping's Seafood. The perennially stylish Eve Ng arranges a get-together after Chinese New Year, and we all gorged on turnip cake and roast pork wrapped in rice noodle. We've sampled a few of the dim sum places: Golden Unicorn, 20 Mott and Ping's. I'm partial to Ping's; the dim sum get to the table most fresh here. Go with a large group so that you can sample more. Overeating wildly was about $16 per person.
Posted by Leigh Witchel at 11:57 PM | Comments (2) | TrackBack
January 31, 2006
When your editor calls, don't answer the phone
Because if you do, you will somehow end up agreeing to knit matching toilet paper roll covers.
You think I'm kidding.
Posted by Leigh Witchel at 1:16 PM | TrackBack
January 29, 2006
AFO
The silk purse is an AFO (Almost Finished Object, for non-knitters). It was taken off the needles a few days ago – apologies for not blogging for a bit, I needed to break a logjam in an article I have to get written.
This was an absolute pleasure to knit. There was the tactile pleasure of the silk and the kinesthetic pleasure of the pattern – slip stitch patterns require just enough thought to be interesting, but not enough to slow you down. But the biggest pleasure of all was the efficient use of the medium. I've had this yarn marinating in the stash for over a decade and a half, and when I finally used it, I feel like I made exactly the project it was meant to be. That sort of creativity satisfies me even more than creating without parameters.
You can find the chart for this in Barbara Walker's Charted Knitting Designs
.
This is the piece laid flat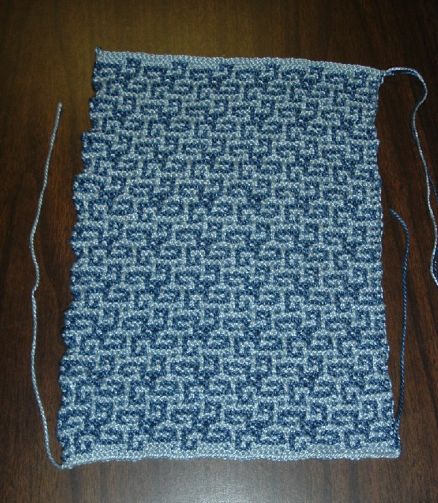 And folded into an envelope clutch.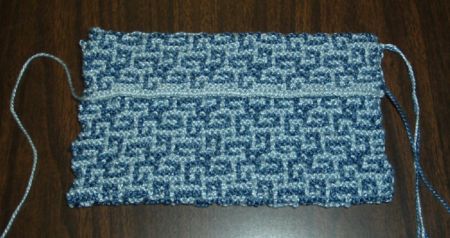 I'll line the bag and make some thicker cord from 3-4 plies of the silk as a strap and as an edging for the flap.
Posted by Leigh Witchel at 11:31 PM | Comments (1) | TrackBack
January 14, 2006
Current knitting progress
The silk purse is up to four repeats. My guess is it will be about 10 total. Silk doesn't always feel wonderful to knit, but this does. It's soft and crushable with give. If silk wasn't available or prohibitive, my guess is that this project would work well in perle cotton.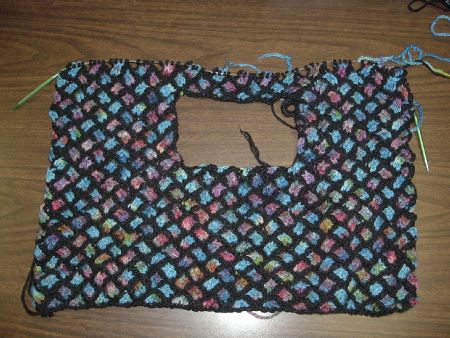 The Fair Isle entrelac yoke is past the neckhole. I'll work my way down the back, then fold it over and pick up a circular tube for the body.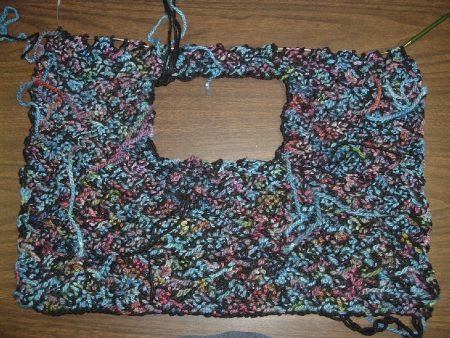 The awful truth. This is what the back looks like.
Posted by Leigh Witchel at 5:42 PM | TrackBack
January 12, 2006
Current Knitting - Silk Mosaic Purse
The neckwarmer is an AFO (almost finished object)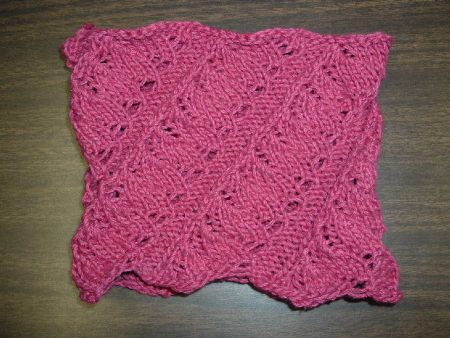 It needs the ends darned in and strenuous blocking; it's quite tight. I think I have enough yarn to make another but the next one will be one repeat larger in circumference. I like the lace pattern very much. It's easy to work (it would have been a heck of a lot easier to work had I just done all yarn-overs!) and interesting as it's based on stockinette not garter, but every row is still a pattern row. Most lace patterns in stockinette stitch have pattern rows alternated by a plain one, usually just purling back after the pattern row.
I cast on a new project on Saturday. I bought two remnant cones of silk way back around 1990 at a place called Yarn Blenders long gone from 46th Street. It was in an office on the second floor of a small building and sold, true to its name, novelty mixtures of various yarns stranded together as well as some remnants like these. The yarn is a cultured silk called "Sumatra" in two shades of blue. It glows beautifully and I wanted to find a way to show off the two tones.
I had never tried mosaic knitting, Barbara Walker's elaborations of slip-stitch colorwork. I thought it would be perfect for a purse. It's based on garter stitch so it produces a stable and flat fabric. In the luminous silk, the little pearls of garter stitch could be like bead knitting without needing beads.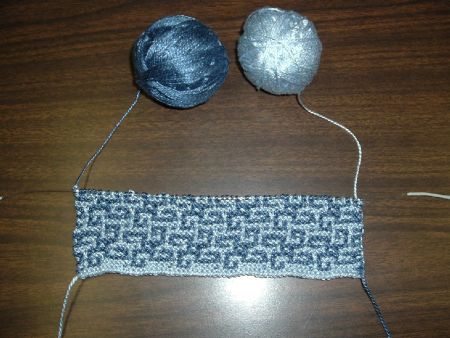 It's been a great project so far, the perfect balance of simplicity and complexity. Mosaic knitting, like Fair Isle, spurs you on by constant small changes so that you keep knitting to see them but the knitting itself takes less attention.
This pattern is called Curled Cross. Walker's charts are simple to read, though I translate them to counts in my head - knit 3, slip 1, knit 5, slip 1 etc. One thing to remember: the patterns look boldly graphic as black and white charts. In order to get that feeling, you need to use very dark and very light yarn at a heavy gauge. I'm knitting on a US 3, at this gauge a pale blue and a deeper blue in a single stitch pattern don't really pop; it's more of a subtle visual motion.
I'm planning on a simple envelope purse and will save enough silk to make a multicolored cording. I'll ask the Mom-o-rama if she has some silk fabric for a lining.
Posted by Leigh Witchel at 12:21 AM | Comments (1) | TrackBack
January 2, 2006
First knitting screw-up of 2006!
I'm getting a jump on things.
I was looking for a fast and portable project and cast on a neck warmer in a brick silk-cotton blend by Stahl that I found close to a decade ago in the sale bins at Patternworks. I thought originally it would knit stiffly like some cotton but the stuff feels almost like brushed suede when knit, hence the idea to use it for something that would benefit from that tactile quality.
I chose a pattern from a Mon Tricot stitch dictionary that Mom unearthed at a garage sale.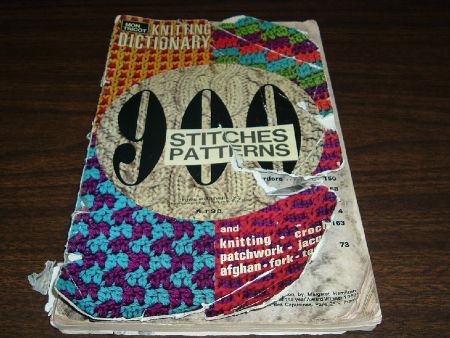 Yes, it's quite well-used. There's one page of patterns specifically for circular knitting and Spiral Stitch looked feathery and interesting.
Here's the pattern as written:
Multiple of 12
Round 1: *P3, won to make 1, k4, k2tog, k3*
Round 2: *P3, K1, wrn to make 1, k4, k2tog, k2*
Round 3: *P3, K2, m1, k4, k2tog, k1*
Round 4: *P3, k3, m1, k4, k2tog*
Not too hard and quick to knit, but I didn't figure out my mistakes until this morning when I was getting the photos ready to blog this.
When I see "m1" in instructions, I interpret it as "place the left needle through the running thread between two stitches and knit the running thread through the back". In short, make an invisible increase. This was pretty hairy on Round 3 because the increase comes directly after a yarn-over and there is no running thread. So I did a lifted increase on round 3 (the first time I ever had to use one) and a m1 on round 4.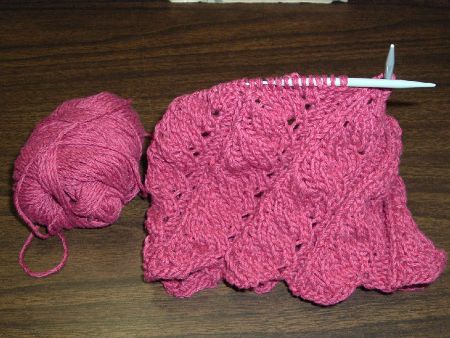 When I looked the picture of the pattern (after knitting a good 4-5 inches) I saw that the picture clearly had open holes at each increase rather than only the first two.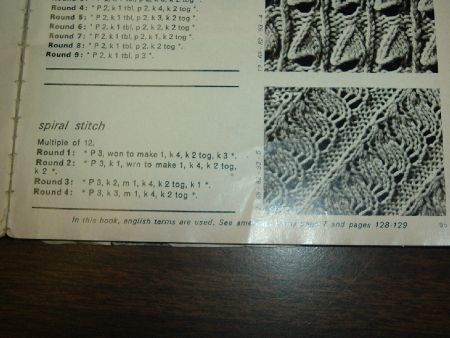 Oh good grief. I looked at what I knit so far, which wasn't bad looking, and at the picture. The pattern in the picture is prettier. Rrrrrrrrrrip.
Casting on again, I assume that m1 here means knit through the running stitch untwisted. That would cause a pretty effect of holes that decreased in size much like the picture. Well, same problem. There's no running thread to knit into on Rounds 3 and 4. To do a m1, I need to alter the pattern as follows:
Set up round: *P3, yo, k4, k2tog, k3*
Round 2: *P3, K1, yo, k4, k2tog, k2*
Round 3: *P3, K6, k2tog, k1*
Round 4: *P3, k2, m1 open st, k4, k2tog*
Round 1: *P3, yo, k3, m1 open st, k2tog, k3*
delaying the open increases for Round 3 and 4 until the following round, doing what I call an "afterthought yarn-over", which I've often had to do on lace when I forgot a yarn-over on the previous round. It looks quite pretty and seems to be what's in the picture. But with delayed increases and an inconsistent stitch count, it's fiddly for what ought to be a simple pattern. It looks like a traditional pattern; would they really have done this in such an indirect fashion?
If you're looking closely at the picture, you may have already guessed the answer. "In this book, english terms are used. See american terms page 7 and pages 128-9"
wrn – wool round needle
won – wool over needle
m 1 – make one, by taking thread over or round needle
Yes indeed. The pattern uses not just two, but three different terms for the exact same thing – yarn over. Yes, a yarn over is done slightly differently depending on whether the stitches involved are knit or purl, but even in that case, wouldn't the first two terms suffice? My version of a m1 looks almost the same as a yo, only slightly smaller, so I shall stick with it through the pattern, but I may have enough yarn to knit two neck warmers. If so, I'll try the simpler, all yo version on the next one.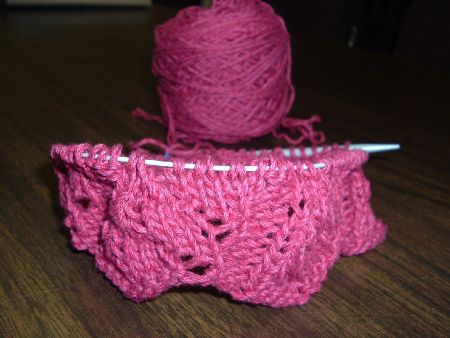 And hunt down the person who wrote this pattern and kill her.
Posted by Leigh Witchel at 9:30 PM | Comments (1) | TrackBack
December 29, 2005
Link dump
A cornucopia on several subjects of interest (at least to me!)
Via dirac in the links forum at Ballet Talk:
R. D. Adams writes a measured assessment of NYCB in the NY Press.
Ismene Brown's take on the year in the dance includes a view of the Royal Ballet that is the opposite of mine; partly because my viewing is not as complete, but it also shows that two reviewers can be looking for completely different things. At this point, I'd rather see the Royal Ballet find themselves as a company than see any new work that didn't assist in that goal, and I'd argue that almost no guest choreographer, especially any whose native tongue is another discipline than ballet, does that.
Robert Gottlieb's take on Ballets Russes is, as only Gottlieb can be, provocative, but he's right about the historical context being a lost opportunity. What's also interesting to me is a connection with something Francis Mason said at the Balanchine symposium in 2003 at the University of Michigan. He moved to NYC in the late 1940s, saw Massine's ballets and hated them, thought they were ridiculous. Contrasting to that was the aesthetic of Balanchine. And here is Gottlieb, implying a similar divide. At the symposium I told Mason (who is my editor at Ballet Review) jokingly that I would one day corner him and get him to defend his statements about Massine. It makes me want to see his work and find out why he went into such eclipse.
In researching for a forthcoming article in Knit.1 Magazine on travel and knitting I came across this brochure for an exhibition I deeply regret missing. It's for knitting's mad scientist, Debbie New, who seems like a mild mannered grandmother but thinks in five dimensions, all of them a different color.
The Random Stripe Generator is both useful and fun. Find out how stripes look in given proportions. A less high tech way to do the same thing is to wind the yarn around a strip of cardboard, but this is even easier.
I've already talked about James Wolcott's crush on Veronika Part. He defends himself here against the hordes who've decided he is gay gay gay. Not that I ever suspected otherwise, but I'm relieved he's straight. Just means there's more room in the castle for us queens.
Speaking of gay gay gay, here is the movie poster you just never never never wanted to see.
Apology accepted.
Posted by Leigh Witchel at 6:26 PM | Comments (3) | TrackBack
December 28, 2005
The Cranky Knitter rides the Subway.
I was cranky for a good reason. I walked home from the office, a 20 minute walk, and got to my block only to realize I forgot my apartment keys. One twenty minute walk was enough, so I took the subway back to retrieve them. I dropped my bags and knapsack off with the doorman, taking just my wallet, Metrocard, phone. I stuffed the mitered hat in my pocket to knit on the subway.
Even with New Yorkers' reputations for being blasé, people on the subway do notice a guy knitting, probably because I notice them – I don't have to look at my knitting when I knit. This freaks people out, so there are times I deliberately look at my knitting because it makes people less uncomfortable. There are times I'll tuck my knitting into my hand to hide it as well, usually when a mob of teenaged boys gets on. Usually they couldn't care less or find it amusing, but I'd rather not risk the exception until they're settled in and ignoring me.
Then there are the people who just think it's abso-fucking-lutely wonderful that I knit. Like this chatty woman who am I am sure is a very nice lady, but whose novel question (that I've only heard 1637 times) is if I knit to relax. Which should be absofuckinglutely wonderful, but it just isn't novel to me that you've seen your first male knitter. I've been knitting for going on two decades. No, I don't have three nipples and last I checked my penis is properly attached in the correct spot. Yes, I am queer. No, I don't need to knit for stress, nor am I mentally unstable. No, I don't do it to relax. I do it because it's a more profitable use of my time than sitting on the subway gawking at some schmuck who's knitting.
So by all means ask me how I knit, or what the pattern is, or where you can buy yarn. Just don't ask me if I knit to relax. Because you're stressing me out.
Posted by Leigh Witchel at 11:35 PM | Comments (3) | TrackBack
December 26, 2005
Mitered hat in progress
I cast on another mitered hat in the same wool as I had made my first; handspun that was a gift from a friend. Nubbly and slubbed yarns are shown to their best advantage in reverse stockinette stitch, so this is a great pattern for the yarn.
Here's the hat in progress with one and one half sections knit. That was accomplished during a phone call and on the walk home. It is a very fast knit and frugal with yarn (both ribbed hats and garter stitch hats use more yarn, but they are also more elastic for the same reason).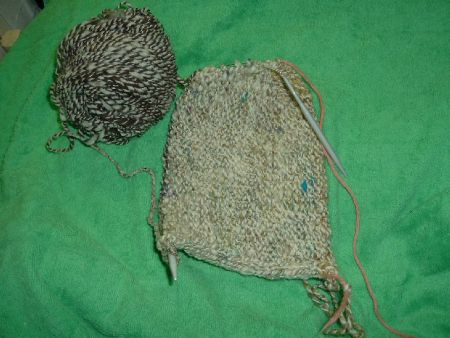 Here's a closer look at the short-rowing that creates the crown in a series of wedges. If you're scared of socks, try this hat first.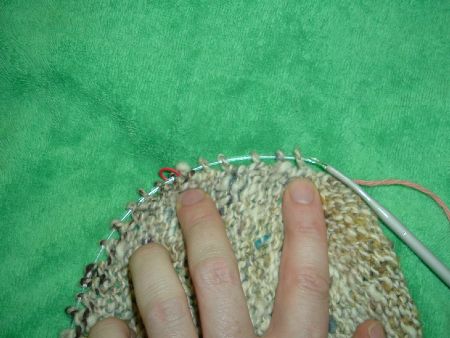 And as weird and as stubby as my fingers look here, I swear I have not had a traumatic amputation. They're just curled under holding the hat.
Posted by Leigh Witchel at 10:48 PM | TrackBack
December 19, 2005
Teaching
I taught one of my knitting workshops tonight; Knit Your Own Valentine. I haven't taught it in a while, but I've got plenty of samples and a detailed lesson plan prepared. I don't know if this happens to other teachers (My friend Margaret first said this when we were teaching at Stitches; it happens to me when I teach ballet as well) No matter how well I know the subject, what I'm usually thinking during the class is, "When are they going to figure out that I'm a complete imposter?"
Amazingly, they haven't yet. They even asked me back.
Posted by Leigh Witchel at 11:31 PM | Comments (1) | TrackBack
December 18, 2005
Emergency Christmas Hat
My friend Cynthia's birthday was Saturday and we celebrated at the lounge at the very swish Tribeca Grand Hotel. The drinks and appetizers were fiercely overpriced but in their defense, when they give you a $25 cheese plate, it's $25 of excellent cheese that's perfectly ripened along with perfectly ripe fruit. You are at least getting top quality for top dollar.
I gave Cynthia back gifts she had given me. It's less parsimonious than it sounds; she had given me yarn she no longer wanted a while back and I returned it in the form of hats. The first one was the Amelia Earheart cap I finished a while back and I also made a second mitered hat as well. The one pictured in my earlier blog entry was given a week ago to my second cousin Sarah at her holiday party.
The mitered hats make great emergency knitting. I finished mine in a few subway rides and it takes very little attention. Nancie Kremer's version works best in garter stitch; I've altered it for the different gauge of reverse stockinette stitch. The main knitting of the hat is very easy but because it involves short-rowing and grafting as well as a provisional cast on, you can learn Mad Sockmaking Skills (boy, slang just rolls right off my keyboard, doesn't it?) at a less than maddening gauge.
Mitered Reverse Stockinette Hat
This pattern is dedicated to Stephanie, who is freaking out over her Christmas knitting.
Materials
About 50g heavy worsted yarn (a textured, nubbly or thick and thin yarn is ideal for this)
Appropriate needles (mine were US size 9)
A ring marker and waste yarn.
Measurements
The hat should be about 20 ins. in circumference. Rather than doing a gauge swatch, knit one "wedge" of the hat. It should be at least 7-8 ins. wide (the wide end will curl forming a rolled brim) and about 4 ins wide at the wide end. If it isn't, you can either add or subtract wedges (this hat takes 5 at this gauge) or rip back to the halfway point of the wedge and add or subtract short rows to make each wedge narrower or wider. It's quite fudgeable.
Provisionally cast on 32 sts. P 1 row.
K the next row until 1 st before the end, wrap the last stitch and turn.
Purl back.
K the next row until 2 sts before the end (one more st than the last row), wrap and turn.
Purl back
Repeat the series of knit and purl rows using one less st each row until you have six wrapped sts.
On the next K row, reverse the process by knitting the first of the wrapped sts, wrap the next st (it now has two wraps on it) and turn. Purl back.
K the next row and knit the next wrapped st with both of its wraps. Wrap the following st, purl back.
Continue the process until you are knitting the full row again. You've made one wedge of the hat. Repeat for five wedges total, and then graft the last row to the provisional cast on. I don't bother transferring the cast-on stitches from the waste yarn to a needle, but you might want to if grafting is new to you. Neaten the hole at the top (if it's larger than a quarter, pick up a few stitches, thread the yarn through them and pull tight), sew in ends and you're done.
If short-rowing is new to you, check out the pictures at knitty.com. It's not hard. The same process that makes the wedge sections of a hat or a doily can make a bust dart, or the heel of a sock.
Posted by Leigh Witchel at 11:04 PM | TrackBack
December 14, 2005
Knitwhoring
I'm teaching a "Knit your own Heart" class for the Bergen Knitter's Guild this Monday, December 19 at the River Edge Library in NJ. Email Bonnie Molloy for more information. It's a fun class, about an hour and a half long that teaches how to knit a cool heart in concentric stripes through the magic of garter stitch shaping.
I'm also forming two workshops in January, one for absolute beginners you (knit a scarf and a ribbed hat) a second steps class where we tackle mittens and a baby sweater. Beginner class is on Monday nights starting January 9, Second Steps is on Tuesdays starting the 10th. More information about classes here.
Posted by Leigh Witchel at 12:16 AM | TrackBack
December 12, 2005
Knitting Exhibition
My friend Gayle Roehm came up this weekend because her work was in a juried exhibition of knitting at the Kiana Malekzadeh Gallery in Chelsea. It's a small, spare gallery (ironically, right across the street from Cedar Lake) and the pieces hung either on the wall or on suspended hangers from the ceiling.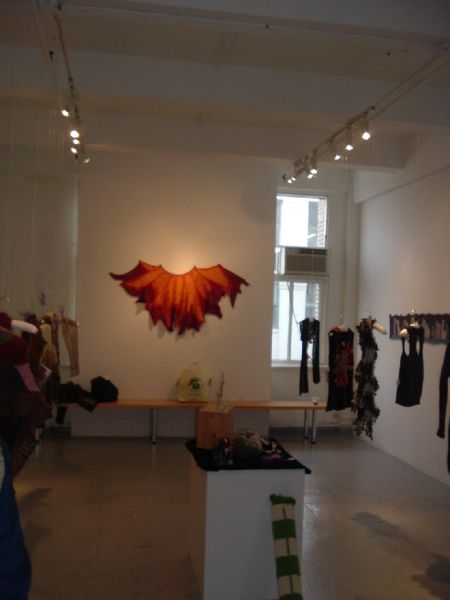 There was a variety of work from toys to garments; made by knitters at different levels of expertise. Now that I've seen knitting in a gallery setting, I found I look at knitting much like I look at dance: from the point of view of a practitioner. The first thing I look at instinctively is how it's made. I see the pretty colors, but first I see that it's Koigu Painter's Palette yarn worked up in Dayflower Stitch.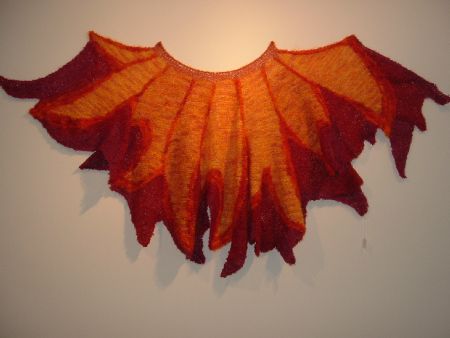 Gayle's piece is called The Wrath of Hell, and was inspired by The Queen of the Night's aria from The Magic Flute.
Yeah, pretty colors, but it's made in garter stitch using hand dyed wool bouclé loop that she got at Maryland Sheep and Wool. Gayle's a knitter after my own heart, she drew the design she wanted on a piece of paper and knit to it.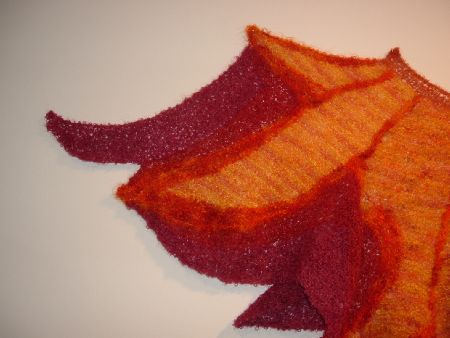 A closer look and a picture that shows it in a different configuration.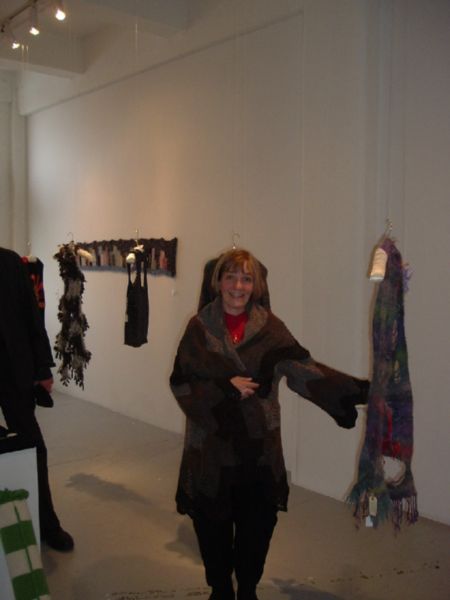 Here's Gayle, wearing a "Pi in your Sleeves" shawl of her own invention. It appeared in the Winter, 2000 issue (#61) of Knitters Magazine and an all-white version donated to Dance as Ever by Gayle was the top bid-getter at the 2001 auction.
Posted by Leigh Witchel at 5:54 PM | TrackBack
November 29, 2005
Dining (and yarn shopping) in Toronto Part II
A visit to Toronto means lots of meals with friends. Desirée and I went to Spring Rolls before the ballet. It was as reasonable and reliable as the previous visit. On a snowy day, a bowl of pho was the perfect dinner. Spring Roll's pho is made for Western palates; rare beef, brisket and meatballs - no tendon and no tripe. Dinner was under $20 CDN per person ordering liberally.
Steph, Danny and I met at Vienna Home Bakery with a bunch of Stephanie's pals for a yarn crawl to Romni Wool and lessons in All Things Canadian. This includes the fact that milk comes in bags and that Tim Horton's Maple Dip is the Donut of Our People. I nearly lost my Honorary Canadian badge by sassing that a Butter Tart with nuts was just a pecan pie.

Romni Wools is big, disorganized, full of interesting yarns and generally friendly, but something happened there that has happened before and turns me off the place. I took two skeins of Jawoll Cotton from a bin clearly marked "Jawoll Cotton - $6.99". When I got to the register, the woman looks it up in her book and says, "Oh no, it's $8.99." When I said that the yarn was marked at $6.99, she said that it must have gotten into the wrong bin. Obviously the wrong bin marked with the correct yarn name. This has happened before there, caveat emptor.
John and I had dinner on Friday at Natchos Thai Thai, which like Spring Rolls is close to his office and to the Hummingbird Centre. Thai food here is good if not stellar, but there's also plenty of it. A good deal is the dinner for two for $40 (which ends up being about $53 with tax and tip). It includes mixed appetizers and three entrees to share as well as one portion of dessert.
Sher-e-Punjab on the Danforth is an established Indian Restaurant that does standard Mughal fare quite well and quite hot. I had prawn saag and shared a more hot than buttery butter chicken with John. The naan were particularly good. Dinner in a large group on Saturday night came to around $17 per person.
John and Chris had just noticed Bamboo on the Danforth and we decided to try it out for dimsum at Sunday lunch. The restaurant was small, quiet and uncrowded, so dimsum was made to order rather than premade and served from carts. This makes a difference. The beef ribs in black bean sauce were particularly good and a surprise to me as I expected spare ribs and they were meaty short ribs with lots of meat and little gristle and bone. Taro cake was also very good but they don't serve it with Hoisin sauce; I'm used to that in NYC. Worth a visit and about $17 per person in a group ordering liberally. I can't find them on the web, but Bamboo is on the north side of the Danforth near Logan (between Chester and Pape stations).
Posted by Leigh Witchel at 12:30 AM | Comments (4) | TrackBack
November 23, 2005
Knitwhoring (again)
I'm teaching a beginning knitting workshop starting next Tuesday, as well as Second Steps starting Wednesday, December 7. Learn to knit for the holidays!
Posted by Leigh Witchel at 9:34 AM | TrackBack
Currrent Knitting
A mitten.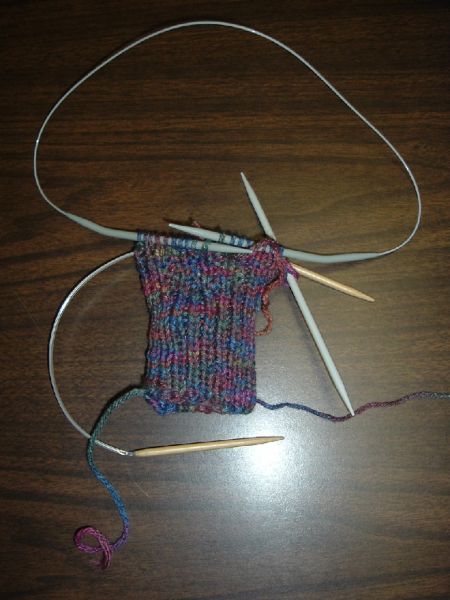 Yes, one mitten. For my Second Steps class. A mitten teaches several skills (working in the round on double pointed needles, gusset shaping, picking up stitches) in one small project. I'll make a second mitten to this point as well so I can show the gusset and thumb shaping.
Yes, I know the only double pointed needle you see is being used as a stitch holder for the thumb stitches. I can't find a full set of size 8 dpn's, though I know I have two. So I'm doing it on two circular needles, which is easier anyway.
Don't tell my students. My reasoning is that if they can work with dpns, circular needles are a breeze.
Here's the mitten in close-up glory: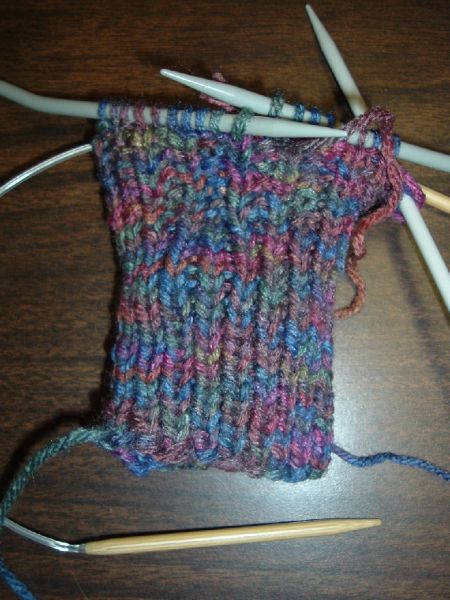 Yup, you're right. It's Red Heart. Again.
No one's actually going to wear this mitten.
So sue me.
Posted by Leigh Witchel at 9:15 AM | TrackBack
November 21, 2005
Latest Knitting Article
I haven't gotten to do one of these in a while!
Mate to Measure isn't online, but is in the latest issue of Knit.1 Magazine and is a beginner's overview to the process of designing a sweater for a man (the assumed reader being a twentysomething female knitting for her boyfriend).
So you want to knit a sweater for That Guy. Good for you. But before you start, bear in mind the most important piece of advice I can possibly give you: DON'T SURPRISE HIM. Just don't. You've been warned, OK?
It was a lot of fun to write - easier than dance writing and the pay is better, but if your motivation to do dance writing is the pay, you need your head examined. I haven't yet seen the article in print, because I haven't gotten an author's copy of the magazine yet (AHEM. . . )
Knit.1 has also started a blog.
Posted by Leigh Witchel at 3:22 PM | Comments (1) | TrackBack
November 17, 2005
Knitter's Geek Code
I'm very late to the party but I thought the idea of a Knitter's Geek Code was quite funny.
Mine, for your approval or disdain:
KER Exp++ SPM+ Pl++ stash>-- scale+ Fin++ Ent--(+++)$ FI+ Int Tex++$ Lace++ Felt Flat++ Circ+ DPN- Swatch(+) KIP+++ Blog+ SNB- EZ(-) FO(+) WIP+ GaugeF/W
There is not yet a ballet geek code . . .
Posted by Leigh Witchel at 10:00 PM | TrackBack
November 10, 2005
Sock debacle
The Socks for Dad are no longer Socks for Dad.
As you know, I'd gotten halfway down the foot of one sock. I decided to try it on during the flight from London to see how many inches I needed to knit before a heel decrease. Dad's foot is half a size larger than mine.
I could get it over my heel but only with effort. He'll never wear them if they're that hard to put on. What happened was I worked with my usual sock numbers but this stitch pattern has less elasticity than ribbing.
As I see it, the best thing to do is finish them and give them to someone with smaller feet. In the meanwhile, I have mittens and a baby sweater to make for my Second Steps class.
Posted by Leigh Witchel at 11:17 AM | TrackBack
November 6, 2005
Red Leaves completed
Red Leaves was a relatively quick knit and took just under three skeins of yarn for a smallish shawl/largish scarf depending on your viewpoint. And as usual, the final blocking is the most fun of all.
Before Blocking: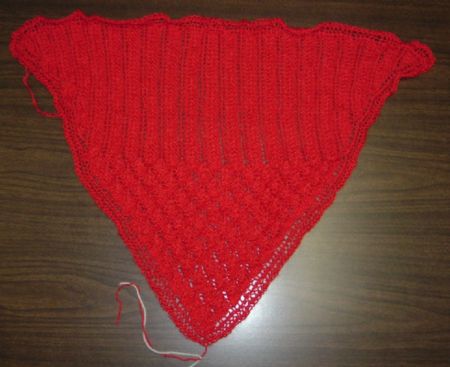 After Blocking: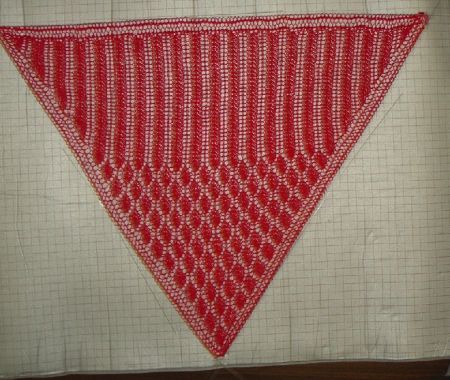 Ain't that neat?
Here's more detail: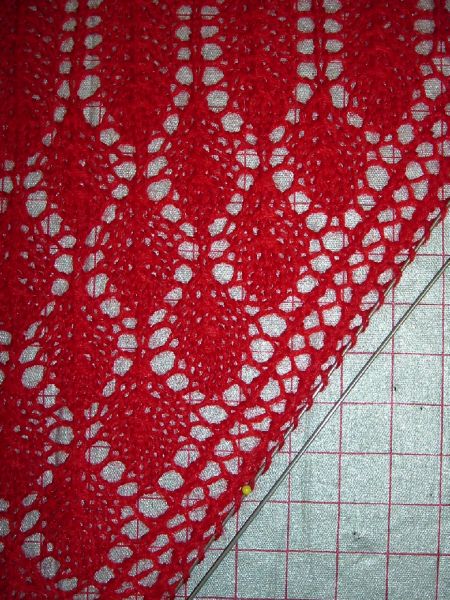 Lace is more impressive looking than it really is, especially at a comparatively large gauge. Check out Stephanie's baby shawl that looks like it has has both Orenberg and Shetland inspirations for an idea of how much work goes into a fine gauge shawl with a complicated edging.
Posted by Leigh Witchel at 11:26 PM | TrackBack
November 2, 2005
My favorite sweater project
My most successful sweater got its inspiration from Kaffe Fassett's "Small Steps" sweater from Glorious Knits. I took the basic geometric design and placement, then used my own colors, details and construction methods.
The sweater has a long history. I bought the variegated yarn, Noro Sarubia, in January of 1998 on a foray up to Webs. It is a 60/40 Silk-Kid Mohair blend in saturated jewel tones. The black yarn is a very light wool bouclé, Lana Cervinia Mimosa. I bought it in late November, 2001 at the annual Manhattan sale for Smiley's Yarns and immediately swatched it with the Sarubia. Like other yarns with color changes every few feet instead of every few inches, Sarubia works best in projects that have relatively large areas of color, such as intarsia or entrelac. I was originally thinking of a slipstitch pattern, but as in Fair Isle knitting, it didn't make big enough areas of color to show the shadings. I had the sudden inspiration to try one of Fassett's intarsia designs, and Small Steps seemed perfect. I began the sweater on 11/30/01 and played with it all afternoon and evening.
Noro yarns are the Ferraris of yarns: Stunningly beautiful but cantankerous. You need to swatch until you find the stitch that brings out their gorgeous colors. Then you have to deal with the idiosyncrasies of the yarn. There was tons of chaff that I had to pick out as I knit and irregularly spun areas that became way too thin, necessitating that the yarn be broken and rejoined. But oh, those incredible colors. Fassett's sweaters are made by using small amounts of many colors, often upwards of 60. Variegated yarn eliminates the work. Sort of. I realized within an inch that to look its best, the colors needed to be symmetrical on the left and right of the sweater and the yarn changed colors progressively from blue to purple to green and so on. To get more or less symmetrical steps, I wound off one long color change from the skein at a time and used half on each side. It looked much better and gave me control over the color changes but there were consequences.
As in my current entrelac project, I like to frame saturated colors with black. Like stained glass, it makes the colors richer. When using several colors in a single project, one way to keep them harmonious is to think less about the hue and more about the value. Pale blue and pink together will be a quieter combination than pale blue and dark blue. All the saturated colors in the sweater are around the same value, so the result is a sweater that is dramatic, but still wearable. And for people like me who can't be bothered with trivial things like accurate gauge swatches, intarsia sections (like entrelac) can be carefully unraveled to make the sweater narrower.

I put the sweater away for much of 2002 while I was working on the Dance as Ever concert, and took it up again in November once the concert was over. I don't usually enjoy intarsia knitting because it often doesn't move in a regular rhythm. But Small Steps moves in a very regular pattern and the slow color changes in the yarn provided little milestones to keep your stamina up. I started on the sleeves by mid-November and finished them by New Year's Day, 2003.
Because I divided the skeins into several individual color changes, I had ends to darn in. A lot of ends. I do not weave in the yarn as I go as I might in a Fair Isle project. With intarsia, it is important to make sure the ends are sewn into a section in the same color to prevent them from showing through from the inside. Darning does this better than weaving though it takes longer. A lot longer. I started darning in the ends on a bus trip to Newport, RI but then took another hiatus. To prod myself to finish, I decided to assemble the sweater first; hoping that I'd be more motivated to darn in ends on a completed garment. The sweater was completely assembled and all the borders were knit by April 6, 2003. Darning the ends in took several months more, because I once again put down my knitting during Dance as Ever (I never could relax enough to knit when I was making a concert) and resumed it again after the concert was done and I went to England for my brother's wedding. I worked on the ends in earnest on the bus from Bath to London and the following morning; about 40% of the ends took six solid hours of work to darn in. The sweater was finished on 10/21 and worn two days later for my fortieth birthday.
I brought the sweater again with me to England and photographed it in Bristol on top of the wedding afghan that I gave to my brother and sister-in-law. Here's a closer look at the detail.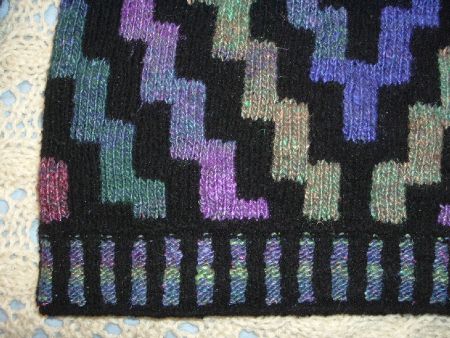 Posted by Leigh Witchel at 11:29 PM | Comments (2) | TrackBack
October 31, 2005
Denial
I am running out of yarn on Dad's sock.
I know I am running out of yarn.
I am halfway down the foot. The skein is losing all body, indicating I'm coming close to its end. I'm at my brother's home in Bristol and there's no postal scale handy, but there's no way there's a quarter of a skein left.
I am running out of yarn.
So why am I knitting blithely on as if I am not running out of yarn?
Posted by Leigh Witchel at 4:42 AM | Comments (2) | TrackBack
October 21, 2005
Return of a UFO
UnFinished Object in knitter slang.
Time spent traveling is my best opportunity to tackle substantial knitting projects, particularly UFOs. However, substantial projects usually take up a substantial amount of space. Last year, I deeply regretted having to take an extra bag for a multicolored project that got dragged from Paris through the Low Countries on planes, trains and buses.
With Alexandra's camisole completed, I hope to cross yet another project off the unfinished list, but not add bulk when I go to England next week. This project fills the bill.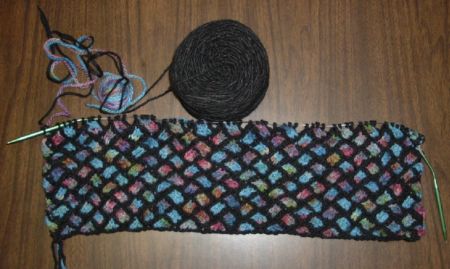 Entrelac knitting is beautiful in effect but painstaking, particularly the way I force myself to do it. Large individual squares are much faster to knit, but I think they look ungainly. I want the effect of a mosaic, so I do tiny squares that require many more turnings and hand movements. The results are almost worth it, at least once enough time has passed that you forget the hassle. That's probably why I go years between entrelac projects.
There are two different yarns in this project. I bought the variegated yarn, Colinette Skye, at a fair near Washington DC when I taught in Bethesda in 1998. The marvelous colorway is aptly named Blue Parrot. The black yarn is a mill end, a silk/cashmere blend that I bought a year later at School Products. I'm knitting on a US 10 (6.5mm) needle.
Per my knitting journals I began this sometime before October '99 and took it with me to Seattle when I covered my first Balanchine Interpreters Archive taping. The entrelac section will be the yoke of the sweater, the bottom of the sweater will be a slip stitch pattern called Royal Quilting that echoes the entrelac squares, only with black centers outlines by variegated slipstitch diamonds. I'm hoping the positive/negative effect will be handsome rather than overpowering.
The sweater probably got put aside because of the tedium of the entrelac, but also because the black yarn was coned, and cumbersome to carry. On Wednesday I did the painfully obvious and snipped the black yarn so I could wind the remainder into a pull skein. It all fits neatly into a small bag now, so it and an extra skein or two of Colinette will be accompanying me to London. Before it is completed I estimate this sweater will have traveled 12,500 miles. To bad it doesn't earn frequent flier miles.
The squares in closer detail: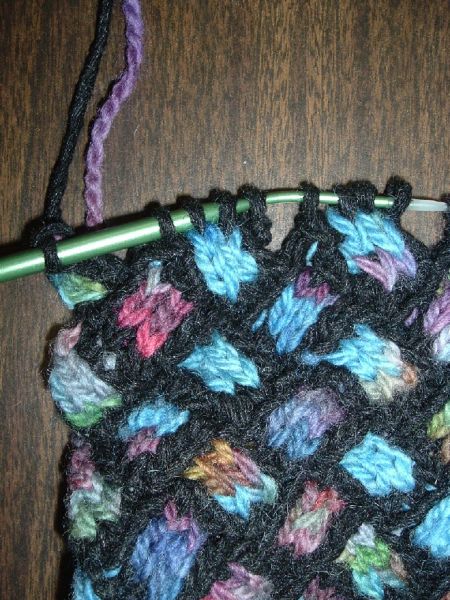 Posted by Leigh Witchel at 11:02 PM | Comments (5) | TrackBack
October 20, 2005
Multi purpose blogging
I had to post this picture of my dear friend Connie's son Alex.
First off, the cat looks remarkably like a less impeccably groomed version of She Who Must Be Petted.
And Connie, smart friend that she is, has dressed Alex in a sweater I made for him.
There's no pattern. It's a raglan cardigan in stripes knit from the top down according to an article from Hand-Knitting Techniques from Threads Magazine,"The Magic Raglan". The yarn is various oddballs of cotton and machine washable wool; some is doubled sock yarn. The sleeves have no shaping to make it easier for the parents to put them on a squirmy toddler. The borders are five rows of garter stitch in stripes, with the cast off on the wrong side. I put shank buttons on the original sweater, Connie immediately replaced them with standard buttons sewn on firmly. She says it is harder for a baby to chew and swallow them.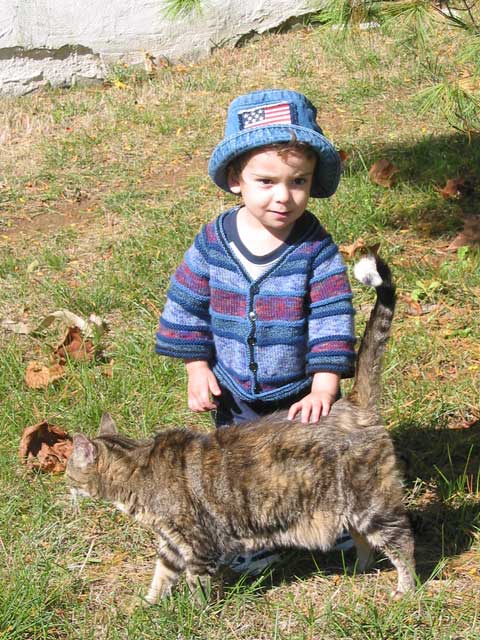 Posted by Leigh Witchel at 12:43 AM | Comments (1) | TrackBack
October 14, 2005
Finito
On Columbus Day, and dispatched to Alexandra. I am anxiously awaiting word on whether it fits.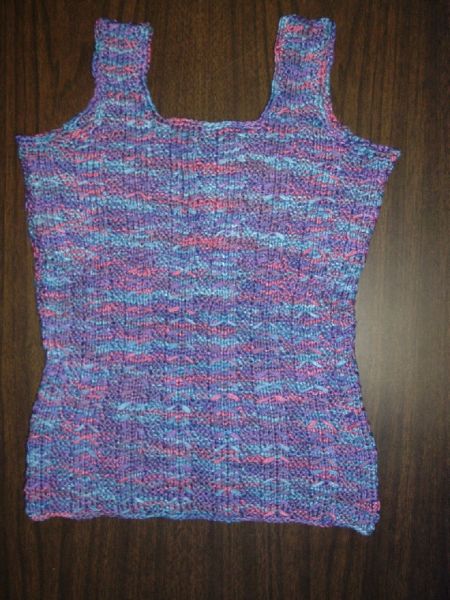 The processing of finishing isn't as dramatic as blocking but it still gives a garment its final form. For this camisole, first the side seams were sewn. Then I made a row of single crochet around the neckline and armholes - or what we call single crochet in the US, which is termed double crochet elsewhere according to my Mon Tricot stitch dictionary. Darning in the ends was the final step. I would not dare block rayon.
Here's a closer look at the neckline.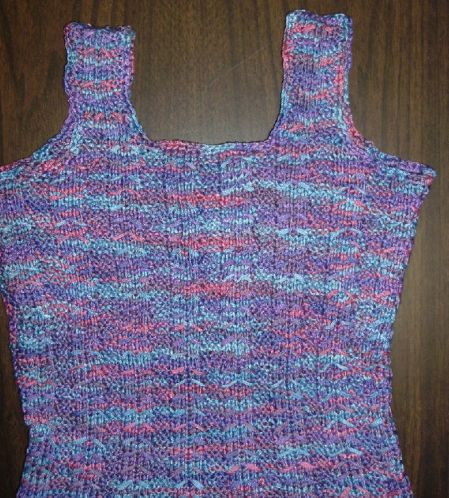 Posted by Leigh Witchel at 11:45 PM | Comments (1) | TrackBack
October 6, 2005
Huzzah
Alexandra's camisole is off the needles.
The underarm decreases and straps took thought because the slip-stitch columns were not exactly where they would have needed to be to create a strap without adjustment. This is one of the deficits of designing on the needles, but I've always been an empirical knitter.
I had to compensate by moving the columns over two stitches as I went up. At first I tried this by decreasing, which might have been the most elegant solution, but as I was also decreasing for the underarm and the neckline it was a lot to juggle. A more direct solution was to move the pattern over one stitch on the final row and wrong side of the pattern.
I bound the straps off together - you can see the two pieces here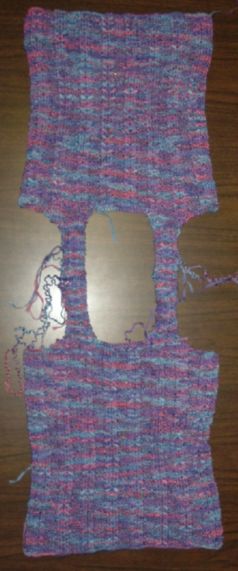 The camisole in a more recognizable form. There's still a reasonable amount to do - seaming, darning in ends and crochet trim on the neckline and armholes. It looks "Happy Hands at Home" to me right now and I'm hoping (but reasonably sure) that's only because it needs careful finishing to look tailored the way I would like it to.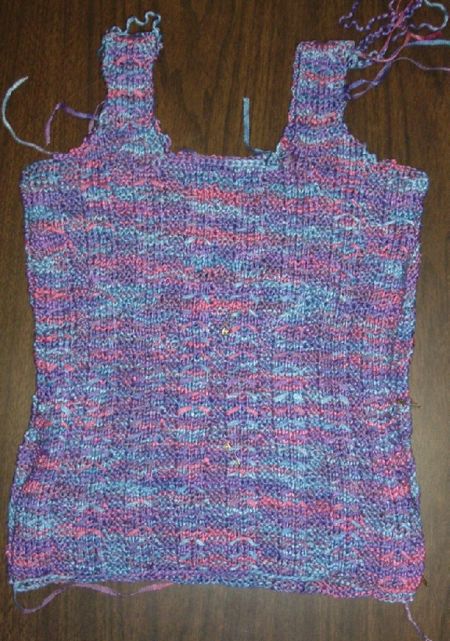 More detail of the neckline.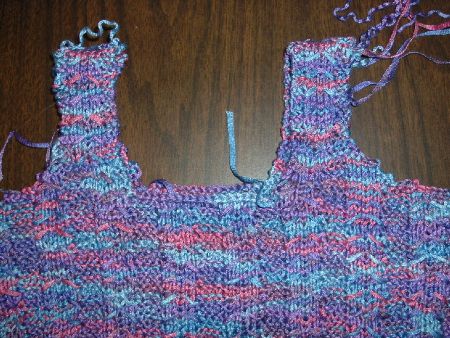 Meanwhile I'm in the middle of the second cuff of Socks for Dad.
Posted by Leigh Witchel at 2:01 PM | TrackBack
October 3, 2005
New York Knit Out
Yes, for non-knitters, there really is such a thing, held annually in October in Union Square Park.
It was larger this year, with more local yarn vendors, though no yarn is sold (not sure why, maybe the sort of license the event has in a public park?) Exhibits, fashion shows, free technique classes, especially the absolute basics of knitting. I saw a few people I know from Internet lists and local gatherings (Hi Bruce and Ann!) and had dinner with Margaret Radcliffe, whom I've known since alt.arts.ballet days. We became fast friends when we realized we had so many overlapping interests.
Sorry, no photos, but Dad's sock made it to the heel turning, so I've started on the second sock. Knitting at about 9 sts/in is slow and I'll be less prone to "second sock syndrome" if I make them both concurrently.
Posted by Leigh Witchel at 2:56 PM | TrackBack
September 21, 2005
Current Knitting
Socks for Dad: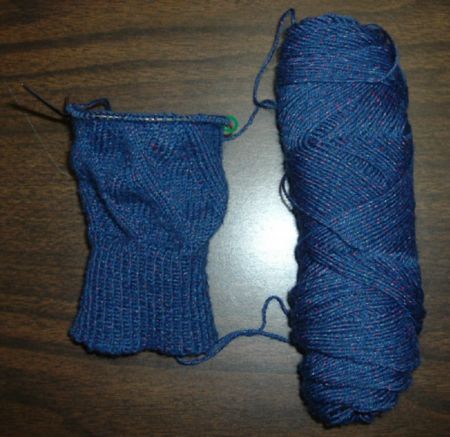 The pattern is simple and suited to circular knitting.
Multiple of 12
Round 1: SSK, K6, M1, K4
Round 2: K
Both the bolded knit sections can be adjusted up or down to achieve a convenient multiple. It's not a difficult pattern, but it isn't as quick to work as something like Twin Rib, which barely takes any attention. That might also be because of the small gauge on 2mm needles. I usually knit socks like this at around 10 sts/in. However, it seems to me to be a very good stitch pattern for men, because there's textural and knitting interest, but it is still subtle - and this is best shown in plain yarns. The one problem I see that I'm getting ladders between the repeats because of the ssk's. Anyone have any tips to prevent it - I'm using Addi 12" circular needles, so it is not because of dpns.
Here's the sock in closer detail.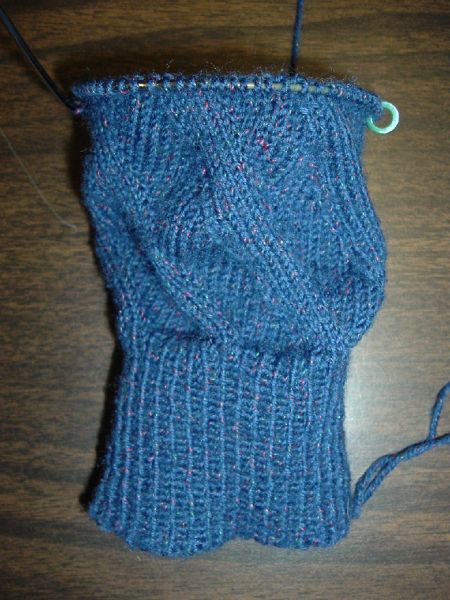 And for Stephanie, here is the Red Leaves shawl pre-blocking. The recipient's birthday is in November, so the finishing probably won't happen until then.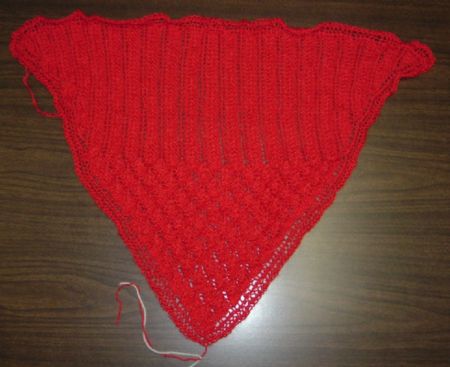 and in detail: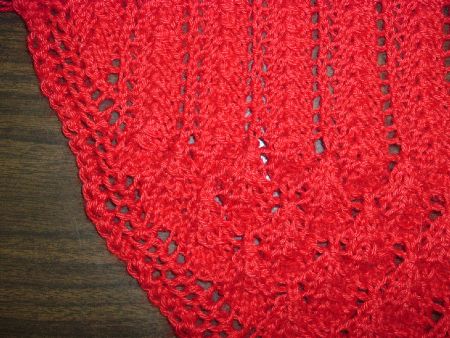 Posted by Leigh Witchel at 11:26 PM | TrackBack
September 14, 2005
Current Knitting
The Red Leaves Shawl is finished except for darning and blocking, which probably won't happen for a bit. I'll take pictures when I do it, 'cause blocking is magic.
Alexandra's camisole is at the underarms. I now have to work out the armhole and neck decreases. The slip stitch columns are not placed exactly where I ought to put the neck opening (that's what you get for designing as you go) but some decreases and matching increases should move them over unobtrusively.
The camisole is no longer brainless or portable. I need a new portable project, so we're doing gifts. Socks. Socks for Dad. It's only an inch of ribbing at present so there's no point in a photo. The yarn is Froelich Blauband from stash in a blue with a very small amount of red and green speckles. I'm using 2mm (US 0) needles and going to try a spiral bias ribbing called Barley Sugar that I've seen Mary Thomas' books and Mon Tricot as well. I'll put up a photo as soon as there's something to show.
Posted by Leigh Witchel at 11:20 PM | Comments (2) | TrackBack
September 12, 2005
Out and About - Art for Free!
My weekend was filled with culture. I didn't realize the Museum of Modern Art was free on Friday evenings. Val and I went to see the Pisarro-Cezanne exhibit, which was quite crowded and then down to the even more impressive permanent collection on the fifth and fourth floors. I haven't been to MoMA in a while; there are a few rooms that you walk into and suddenly are hit with the fact you're looking at five of the most famous paintings of the last century and a half in a single room. It's quite an impact. I'll certainly go again.
Open Stitch is a working exhibition at Location One of 15 designers producing work with the materials provided to them, essentially scrap material and found objects from most from New York's most artistic dumpster diving organization, Materials for the Arts. David Quinn, the designer who has done my costumes since 1996, was participating so I went Sunday afternoon to visit. The room was half sweatshop, half fantasy factory. I loved the energy. Debs (how we all know David) was making the skirt for a jacket just finished. It had a wonderful 60's silhouette, part bolero and part peplum jacket. Debs is in the center of the picture, the dress is on the form at the front left.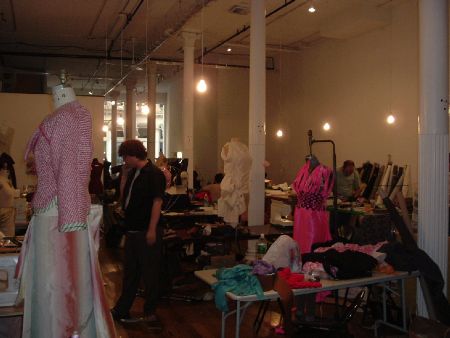 Wishing to fit in, I sat down and pulled out the Red Leaves shawl to work on. That inspired Debs to introduce me to Chris Sanders, one of the designers who is also a knitter. She brought over a shoulderette she had knit from upholstery trim she had unplied and strips of fabric on US 35 needles (for non-knitters, that's humongo-boat-oar size). It shimmered and draped marvelously.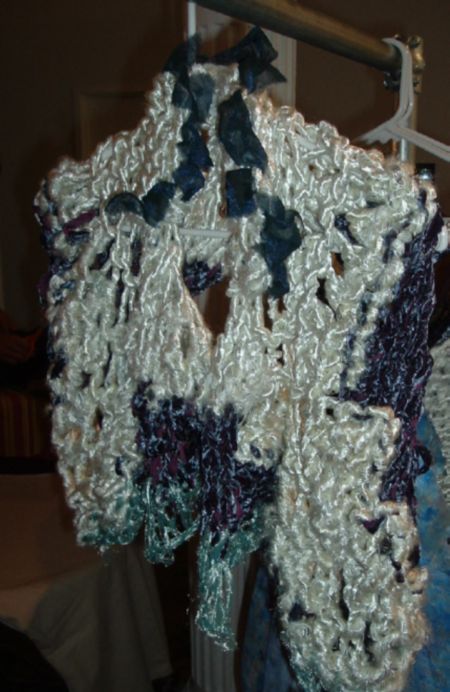 The array of designs was the most enjoyable aspect. Chris was piecing together a carapace-like vest out of pink eyelash trim and silver relective paper. Right next to her Selma Karaca was draping a lovely dress that recalled Mme. Gres' classically inspired dresses, but in bright red. George Hudacko was using fabric strips and trim to create dress with a woven bodice.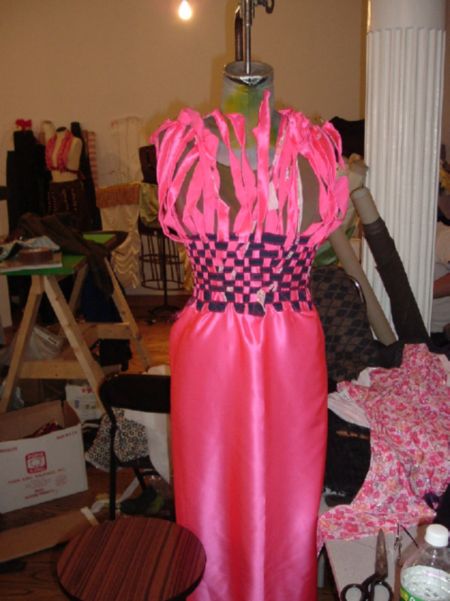 You can see it all yourself now through Wednesday from 12-6 at Location One. The nearest subway stop is the N or R at Canal. After the 13th the workspaces will be left as they were as an exhibit, and then on October 1 there will be a runway show and party. Or, you can watch the whole thing on live streaming video.
Posted by Leigh Witchel at 12:45 AM | TrackBack
September 6, 2005
Knitting update
Ahhh, trains and planes. Choice knitting time.
Both the red leaves shawl and Alexandra's camisole progressed on the flight to Birmingham and a train visit to Mom. I've got one part of the camisole re-knit to the underarm (the same point as before) and the other 1/3 of the way there.
Here's a comparison version of Mark I on the left and Mark II on the right.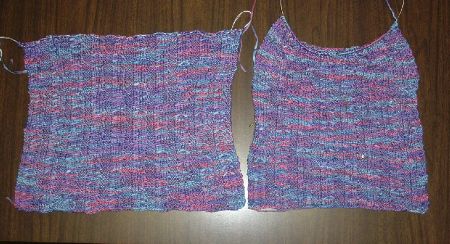 Yes, I had to take it in that much.
Red Leaves is close to finished as well. I'm attaching the top edging at present.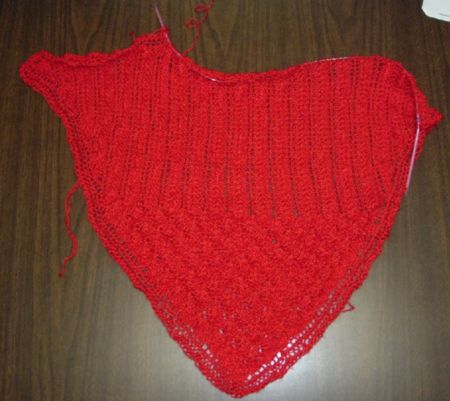 Posted by Leigh Witchel at 10:52 PM | TrackBack
August 25, 2005
A nifty cast from an edging
The Red Leaves shawl has an edging made at the same time as the shawl, but I was having some trouble figuring out how to get a neat point. Simply casting on the two edgings and the first stitch (4+1+4 stitches) meant that the point had no edging. Here was my solution - as Elizabeth Zimmermann would have it, "unvented". It's been done many times before.
Start by casting on provisionally and working about an inch of edging. On this sample I knit one row before starting into the pattern; I think it looks smoother if you start immediately in pattern without that row. To cast on the shawl body, begin at the outside edge, ready to knit to the inner edge. (To my chagrin, I note that this photo was taken as I was about to knit from the inside edge, not the outside!)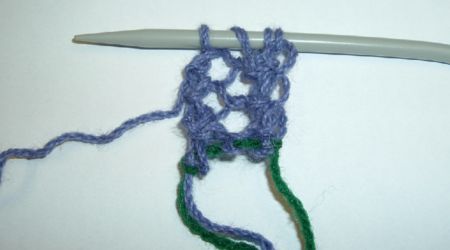 Pick up the provisional stitches. I'm using a thin bamboo double pointed needle from a set my friend Cathy brought back from China as a gift. If there was an underappreciated tool for knitters it is a long, thin double pointed needle. Nothing makes replacing stitches back on a needle easier. You can improvise with a bamboo skewer.
Knit the first four stitches (the edging) in pattern. Place a marker, then yo1, pick up one stitch in the middle of the inside edge, yo1. These three stitches will begin the body of the shawl. Place another marker, work the four provisional stitches in pattern. You're working the reverse - the good thing about the faggotted lace edging is because it is based on garter rather than stockinette stitch, the front and back look about the same.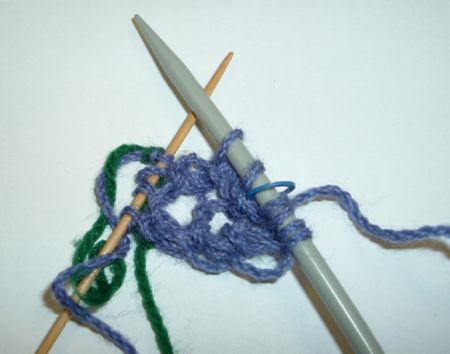 Continue on from there, increasing with a yarn over on the insides of the markers, and working the edging pattern outside of the markers.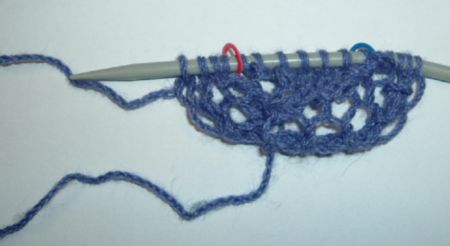 Posted by Leigh Witchel at 11:23 PM | Comments (3) | TrackBack
August 24, 2005
Red Leaves
This is the current portable project: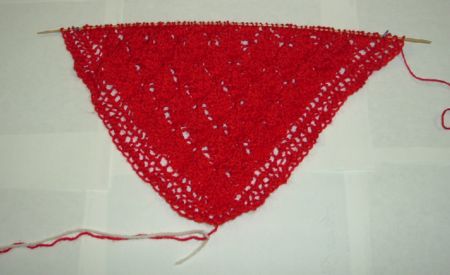 I've gotten in a mood to knit lace. It's portable, interesting knitting and the best lace patterns (the ones with logic and symmetry) feel like they knit themselves after a few rows. Most of the "leaf" laces are like that. The coolest thing about them is that just changing the place of the decrease changes the lace entirely. Put a triple decrease in the center and the edges around the yarn-overs soften and the decrease looks like the veins. Put the decrease directly next to the yarn-overs, and the same pattern becomes a diamond. More magic.
Because I made the razor shell shawl from the top down, I made this new shawl from the bottom up. The shaping premise in both is the same - increase one stitch at both sides to form the triangle, but top down also has a second increase at the center. It's two isosceles triangles sharing a side at that center, while the bottom up is a single larger isosceles triangle, but upside-down. You can stick just about any pattern into that shaping as long as you keep increasing at the sides. Certain laces have that increase built into the pattern, including Openwork Leaf (the pattern I'm using, but with an extra row added to make the edge leaves grow properly) and Diamond Mesh - the pattern the sagacious but compulsive Yarn Harlot used to make Sivia Harding's Diamond Fantasy Scarf pictured here. Easy trick - if the lace pattern has that diamond shape from staggering the repeats horizontally, it's going to work as a triangle.
I liked the idea of a knit-as-you-go edging so I am doing the same faggotted edging as I make the shawl, but with a nifty cast on. I'll show it next post.
It seems there's a lace vibe out there I wasn't aware of. One of the more prolific knitting bloggers out there declared this the "Summer of Lace". She's even knitting a shawl with the same leaf pattern, only knit top-down like the razor shell shawl. Usually I'm the one completely at odds with the trend. This happened to me with travel as well this year. I'm amazed I went to Buenos Aires while it still was the über-gay destination du jour. I suppose I'm going to have to start doing something more appropriately contrary, like Intarsia Tunisian Knitting.
I've used the first ball of yarn out of three that are in my stash – it's Reynolds Coco, a 50/50 wool/rayon blend bought from Webs eons ago. Yes, the pattern knits itself, but it's starting to get just a wee bit predictable. Should I switch to columns of razor shell lace?
Here's a closer look.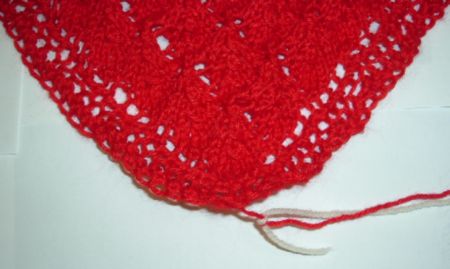 Posted by Leigh Witchel at 11:24 AM | TrackBack
August 23, 2005
It's toooooo wide!
Damn.
The ribbon tunic was tried on its intended victim (Alexandra) this Sunday.
I thought I made an extra small. On a normal human it would have been extra small. It's an inch too wide on both sides. That means it's 4 inches too wide in total. Dang, but that girl is thin. If it had been a half-inch I would have finessed the excess into the seams. This is too much. I'm re-knitting from the ground up.
My fault, I should have known that guesstimating would lead to this. Well, I'll just consider this the pattern for the real thing.

Posted by Leigh Witchel at 11:53 PM | TrackBack
August 22, 2005
Why blocking is like magic
For non-knitters, blocking is the process of shaping knitting while wet . Blocking lace involves stretching the lace, and it goes magically from nondescript to gorgeous. Here's what water, wire and pins can do.
Before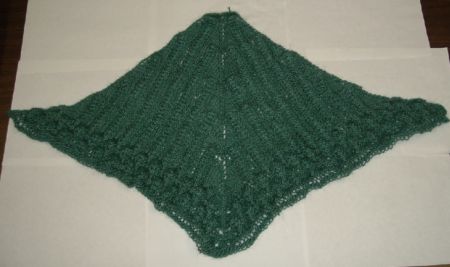 After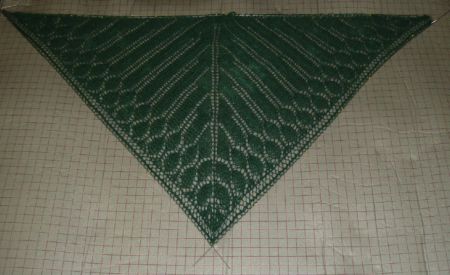 See? Magic.
The photo scale gives the illusion that the size is the same but the shawl is 50% larger after blocking as well. I had to rip back and redo the edging once after I posted; I was running short. Instead of knitting one stitch from the shawl together with the edging, I would take a stitch on one row, then two on the next, alternating. It was a better gauge for the edge so no harm done. Even so, I ran out of yarn (augh!) about an inch before the edging was done, and snuck in some Rowanspun that was a close color match.
Posted by Leigh Witchel at 11:41 PM | Comments (5) | TrackBack
August 17, 2005
Knitwhoring
I'm teaching two knitting workshops in September - Beginning Knitting and "Second Steps". Both classes are in midtown Manhattan, Beginning Knitting is on Wednesday Evenings, Second Steps on Tuesdays. All the information you need is here - and the class is $145 instead of $160 if you register and pay by August 24.
Posted by Leigh Witchel at 4:44 PM | TrackBack
August 16, 2005
A pretty yet minimal lace edging
The razor shell lace shawl progressed with great speed. I only had three skeins of yarn so it's probably more of a shoulder-warmer, but the intended recipient is small and would probably be overwhelmed by a shawl.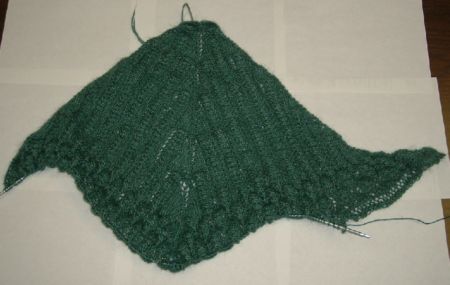 I was looking through my pattern books for a suitable edging. There are many pretty ones, but none would quite do. They either took up too much yarn or they were overpowering. In fine cotton, a nine stitch edging is not much more than an inch wide; in DK weight yarn it's double that.
Here's a discreet narrow border that you knit on to the live stitches as you go. It's based on faggoting. (Non-knitters: This does not mean anything close to what you think it means.)
Narrow Faggoted Lace Edging
At the end of the RS row of the object to be edged, cast on 4 sts.
(WS) (yo, K2tog) 2x (Note: The first yarn over is a bit tricky. Wrap the yarn in front of the needle before bringing it over the needle)
(RS) K2 tog, (Note: Bring the yarn to the back – it will be between the stitches you will knit together. Knit the first stitch together with a stitch from the main knitted item) yo, k2tog, k1.
That's it. It's much more complex in description than execution. Repeat until you've knitted all the stitches from the original item. It makes a pretty looped edge that you can run a blocking wire through for stretching as well.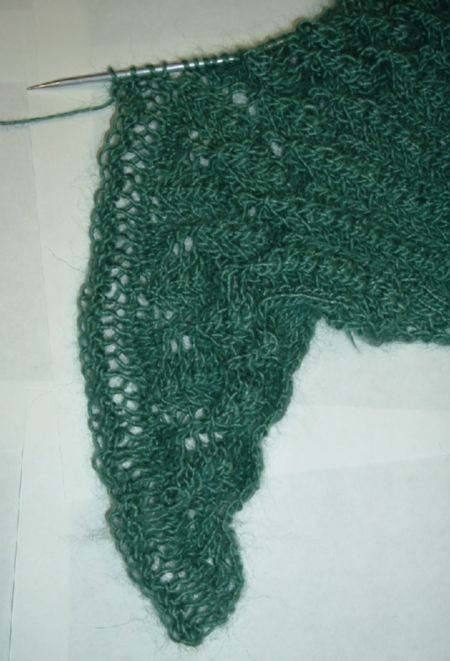 Posted by Leigh Witchel at 1:23 AM | Comments (1) | TrackBack
August 11, 2005
Current Knitting
I took a hiatus of about a month from knitting because I was just too lazy to figure out the underarm decrease for the ribbon tunic. I'm a much lazier knitter than I once was; I knit to knit, not to figure out decreases. So I started a portable project, a small triangular shawl.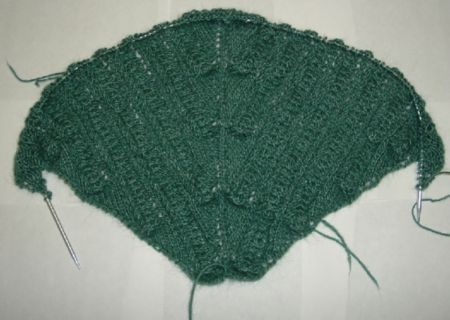 The yarn is Neveda Afternoon Silk; I got it in a trade eons ago. It is a silk/mohair/wool blend and I am knitting it on a US 7 needle. The triangular shape is simple; it's the same idea as the poncho I made (see below) - only cut in half. Start at the top with three stitches and keep increasing. Instead of eight increases, two per quadrant, you increase every other row at each end and on either side of the midpoint stitch, four in total. I worked in stockinette stitch until I had enough stitches to introduce the pattern, but now that I can see clearly what I've done if I knit this pattern again I can figure out a way to gradually introduce the pattern elements before I have the full amount of stitches needed.
The lace pattern is Razor Shell. I tried Vine Lace at first, but that's a disaster because the pattern staggers confusingly and is hard to isolate so it can be introduced as stitches are added. Razor Shell worked much better, and because it's the main element of Trellis Framed Leaf (instead of staying constant Trellis Leaf alternates by increases and decreases between the trellis and the leaf element with the central decrease) I shall use that towards the end.

Here's some detail. It won't look very impressive at all until it is blocked (wet and stretched to show the lace patterns clearly)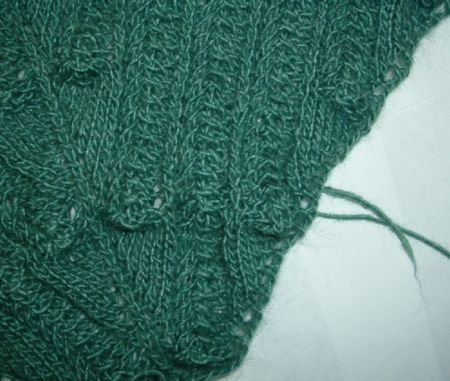 The tunic doesn't look much farther along than the last report but there are now two identical pieces knit to the underarms instead of one.
Here's a shot of one piece and also detail so you can see how I decreased for the waist. I changed the three garter stitches between the slip stitches to two stitches gradually from the outside in and then reversed the process.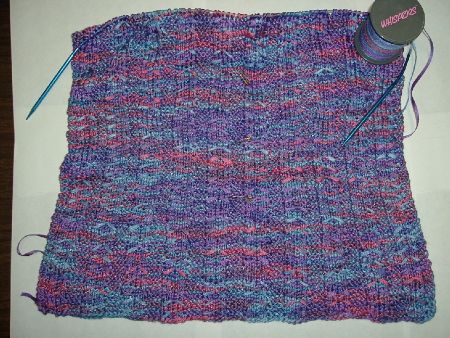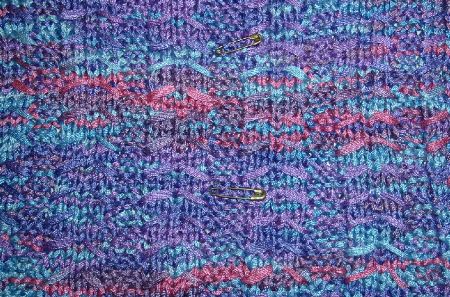 The bulk of the poncho was completed by May, but I didn't bother to bind the thing off until July. It's not merely laziness, the unfinished items are useful in knitting classes as demonstrations for finishing techniques like binding off, or how to deal with yarn ends.
Here's what it looks like now. I really like how the space-dyed yarn and the constant increasing diameter reacted to each other to create an ikat-like effect. The ends need to be darned in, and it needs blocking, in this case not to stretch it but to set and regularize the stitches and fabric. It's surprising how much of the character of the garment happens in the last few steps, which is why I try to take care with finishing techniques.
Here's Danny Ouellette's Easy Head Hugger Hat, finished except for filling in the hole at the top and darning and blocking. Again, it doesn't look like much until you block and finish it, which is why careful blocking and finishing are so important. (Of course, now that I've said that, I will screw up all these projects during blocking and finishing.)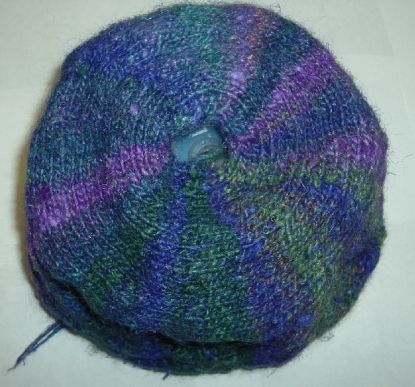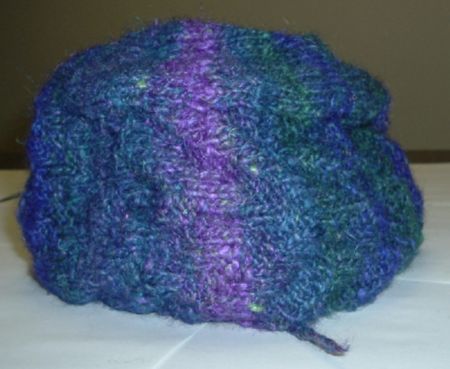 Posted by Leigh Witchel at 1:10 AM | TrackBack
June 8, 2005
Some past knitting projects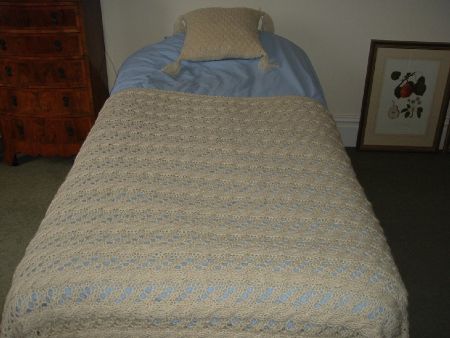 One of my brother and sister-in-law's guest rooms contains two gifts I made for them. Both are made of the same wool, a cream bouclé that came in an enormous mill end cone from I bought at a Christmas sale in 2001 from Webs. The afghan is made with a triple strand of the wool on US 13s. They were married on October 18, 2003. I started the afghan at the beginning of the month and knit it furiously on planes and in hotels as I traveled my way to visit them. I began by flying to Paris, and then flew on BMI from London to Heathrow. That flight was the only one ever I have been asked not to knit. There were no issues during security, and the stewardess found it fascinating, but then the male purser came back and asked me to put it away for safety reasons. Of course I complied; the flight was all of 45 minutes so little precious knitting time was lost, but I did think it was funny. I had a 36 inch plastic needle with more than four feet and four pounds of afghan hanging off of it. If I could have hijacked a plane with it, I deserved to. I continued madly knitting from Bristol to Devon and presented the finished product to my brother at 7:00 am at Gara Rock in Salcombe on the day before the wedding. He was appreciative, if mildly nonplussed, as he was buck-naked.
The pattern was adapted in scale from Charlotte Quiggle's reversible scarves and afghans. There is a seed stitch border, but this is the main stitch element:
Multiple of 9
row 1: k4, p1, yo, p2tog, p2
row 2 (and all even rows): knit the knit stitches, purl the purls
row 3: cable4, p2, yo, p2tog, p1
row 4: repeat row 2
row 5: k4, p3, yo, p2tog
row 6: repeat row 2
The pillow was made for their first anniversary. It was again cast on shortly before leaving to visit them and knit on the plane and while visiting. It is a very simple design, a long rectangle folded like an envelope to enclose a pillow with a button closure in the back. It's knit with a double strand on US 10 needles, and the border is seed stitch as is about two and a half inches at the beginning and end where the buttons are. The main pattern is one of my favorites, seeded rib check.
Seeded Rib Check:
Multiple of 4 + 3
Rows 1,3,5: K1, P1,*K3, P1*, K1
Rows 2,4,6: *K3, P1*, K3
Rows 7,9,11: As Row 2
Rows 8,10,12: As Row 1
Shorthand for construction of an envelope-style pillow
(Back of pillow) Seed stitch for 2.5 inches.
Change to 1 inch seed stitch border and seeded rib check until 1 inch before turn point of the pillow.
1 inch seed stitch
turning row of purl stitch
(commencing the front) 1 inch seed stitch
Change to 1 inch seed stitch border and seeded rib check until 1 inch before turn point of the pillow.
1 inch seed stitch
turning row of purl stitch
(completing the back) 1 inch seed stitch
Change to 1 inch seed stitch border and seeded rib check about 1 inch before the "envelope" when folded completely covers the pillow. The fit to the pillow should be tight. Don't allow for any ease; instead fit it lightly stretched.
Change to seedstitch for 2.5 inches, placing button holes midpoint.
Sew side seams, sew on buttons, insert pillow, decorate with tassels if desired.
Posted by Leigh Witchel at 6:43 AM | Comments (1) | TrackBack
May 16, 2005
Current Knitting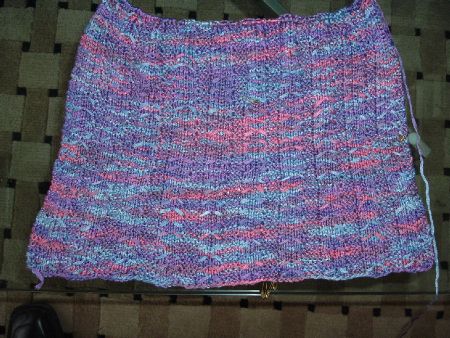 I often catch up on knitting during the travel time on a trip. I managed to squash the poncho into my luggage, and got it to the bottom garter edge.
I also brought a tunic I started in 2003 and let languish. It's made from variegated (peach/purple/blue) rayon ribbon that's probably close to two decades old called "Whispers". I ripped a portion back from an early machine knitting project that looked shapeless and awful. I'm knitting this in a slip stitch pattern called "Little Tents" (from the Walker Treasuries) in a firm gauge on a US 6 needle. It shimmers beautifully. I improvised an elegant and simple waist shaping by gradually decreasing the three garter stitches between each "tent" down to two and then reversing the shaping. This was photographed on Saturday in Toronto. I'm probably only a bit under the underarm by now.
Posted by Leigh Witchel at 11:33 PM | Comments (2) | TrackBack
March 11, 2005
Having to do as I say
Danny's Headhugger Hat is now off the needles. I'll do the darning and finishing at an opportune moment, probably as a demonstration for my knitting classes.
The next portable project is also for knitting class. I've not taught my "Second Steps" class before so I am developing the projects for the class, a baby sweater and mittens. Because it's for a class and I really want to teach them good habits (instead of mine!) I am trying to operate by the book. This means. . .you guessed it.
I'm swatching.
I'm not the world's worst swatcher. As a designer I've learned that a swatch tells you more about the project than merely the gauge. It gives you an idea of drape, the stitch definition, much of everything about how the yarn and needles interact to determine if both are appropriate for the project at hand.
That said, if I am only swatching for gauge I usually throw in the towel after two inches rather than the full four recommended, feeling that it's enough (and on occasion it is, honest.)
But I need to set an example so I am doing a full, neat swatch.
In Red Heart Yarn Fiesta Jewel.
Oh Joy.
You may now laugh at me derisively.
Posted by Leigh Witchel at 1:56 PM | Comments (4) | TrackBack
March 10, 2005
Knitwhoring
I've got a beginner's knitting class starting on Tuesday March 15 (it was postponed a week because of the snowstorm). Four sessions, for three Tuesdays and then ending Monday April 4.
I'll start a beginner session again on April 20 (Tues nights) and "Second Steps" (a baby sweater and mittens) on April 19.
All the information is here.

Posted by Leigh Witchel at 5:36 PM | TrackBack
March 1, 2005
Current Knitting - Easy Head Hugger Hat
Now that the socks are done, the current simple project is an Easy Head Hugger Hat designed by yet another wonderful Torontonian, Danny Ouellette.
Danny is a transplanted Manitoban, who grew up in Thompson, a copper mining town in the far north of Manitoba. So far north the roads don't go there and it's accessible only by plane. I have a fascination with arctic climates. Ask my friend David. We trade URLs about Qaanaaq and South Georgia Island
Danny said about Thompson, "I want to go back there. I miss the winters." It did give me pause. Then he explained. "Thompson has a dry cold. You know what to do; just add another layer. It's a wet cold in Toronto. When I moved here, I didn't know what was wrong with all of the cars. Then I realized none of them had plugs coming out of the grille. [where you'd plug in a heater to keep the engine block from freezing]"
Danny's hat is not arctic at all; it's kinda fez-like. It's made on the same design principal as 19th century doilies - knit flat in pie shaped wedges via short-rowing. I'm using leftover oddments of Noro Sarubia I got years ago at Webs that finally got used in '03 to make my take on Kaffe Fassett's "Small Steps". In order to get the tight, "boardy" gauge to give the hat its pillbox shape, I knit it on US 5's where I'd use 8's for a sweater.
It's a quick knit - here it is about an hour after casting on Thursday.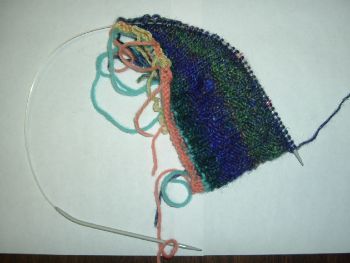 And here it is yesterday.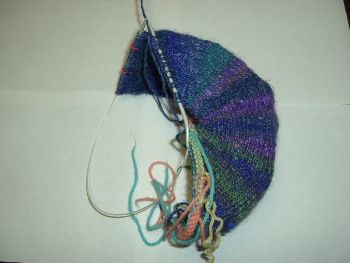 Like most Noro yarns Sarubia has long lengths of color for slow changes, which accentuates the wedges in the design. As always, I changed things. I do a slightly different waste yarn cast-on than Danny's; I also changed the short-rowing to make the repeat of the crown the same as the brim. My suggestion to you if you decide to make one is place a marker before the 11th stitch on the brim. That's right before the halfway stitch, and it lets you know to reverse the pattern without counting.
Posted by Leigh Witchel at 7:45 PM | Comments (4) | TrackBack
February 27, 2005
The scary thing was, I kinda liked the Tutti Frutti Racer Sweater
But that's because I am a sissy.
Museum of Kitschy Stitches - Vol. III - Emasculation Nation: Menswear That Makes Men Swear
Thanks to Grace for this!
Posted by Leigh Witchel at 11:02 PM | TrackBack
February 26, 2005
Update: Trouble in NumaNumaLand
Internet Fame Is Cruel Mistress for a Dancer of the Numa Numa
Poor Gary.
He has now sought refuge from his fame in his family's small house on a gritty street in Saddle Brook. He has stopped taking phone calls from the news media, including The New York Times. He canceled an appearance on NBC's "Today." According to his relatives, he mopes around the house.

What's worse is that no one seems to understand.

Of course I'm guessing, but maybe I get it. In about 1996, when I first started posting to rec.arts.crafts.textile or to the KnitList, the fact that I was a man knitting meant that I had notoriety whether I had any talent or not. I also managed to use both the words "penis" and "faggot" (referring to myself in jest) - in the same post? I don't remember. The exuberance, though obviously intentional, was not calculated.
Shortly, I was getting invitations to national knitting conventions and offers for articles and teaching. It's a good thing I am a good writer and teacher and I think a decent knitter, but I'd say about 1/3 of the KnitList at the time were stronger knitters technically than I was; they just didn't have penises. (There's that word again.)
I thrive on attention but it also disturbed me. We don't just want fame; we want respect. They're two different things. Fame is random; the inflammation of the public imagination. Respect is earned on the merits.
I didn't care when the knitting gigs dried up; it was never a goal of mine. I learned a lot about the vagaries of popularity (however minor) from that experience. At 19, I think the lesson may be a bit disillusioning for Gary.
Thanks to P for sending this to me.
Posted by Leigh Witchel at 1:57 PM | Comments (6) | TrackBack
FO
Socks for Mom.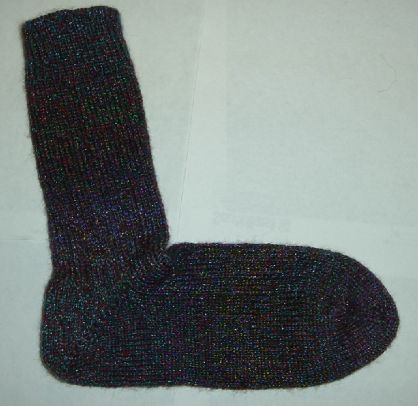 These are made in a Japanese Yarn, "Spark Multi" that was a gift from a friend and Japanophile, Gayle Roehm, who wrote a very useful article on using Japanese patterns (even if you can't read Japanese) in Knitters Issue 46.
The yarn is a 50/50 wool/acrylic. The pattern is my own; here's the abbreviated version of how I make socks:
Cast on tubularly. 72 sts for a man on size 0, six or eight sts less for a woman or on size 1 (depending on your stitch pattern multiple). Place markers at the beginning of the round and halfway.
1x1 rib for 2 ins.
Switch to pattern stitch. This is either 3x1 ribbing (multiple of 4) or Twin Rib. 3x1 ribbing looks like stockinette but has more elasticity, and so is good for printed sock yarns that create jacquard or other effects that you don't want distorted by a stitch pattern. Twin rib is great for yarns that need a little more textural interest.
Multiple of six.
Round 1 - *K3,P3*
Round 2 - *K1,P1*
Cuff to heel turn will be about seven inches.
Do a short row heel on 60% of the stitches, rather than half. (Use 3 sts extra on each side). This makes a deeper, better fitting heel (at least, it does on my foot!)
Continue on for the foot, with plain stockinette for the bottom half of the round (the sole) and the pattern stitch for the top. Try them on and begin toe shaping when the sock reaches the knuckle of your little toe (about 1.5 inches from the end)
I do a standard toe decrease, for top and bottom of sock, k1, k2tog, k to last 3 sts, k2tog, k1 (repeat for bottom half). Do this every other round until you have 50% of the stitches and then every round until you have 8. Graft the toe.
Posted by Leigh Witchel at 9:47 AM | TrackBack
February 25, 2005
Knitting Bee
Knitting is a great solitary pastime, but it's more joyful when it's social. There are informal "knit-togethers" throughout the city; the one I'm lucky enough to attend (when I can, which is less frequent than I would like) is organized by the perennially stylish Eve Ng. Charlotte Quiggle is in town. She's a native Minnesotan who lived in New York for a long while, but then moved back home last year. She's here on a visit, so Eve arranged a get-together.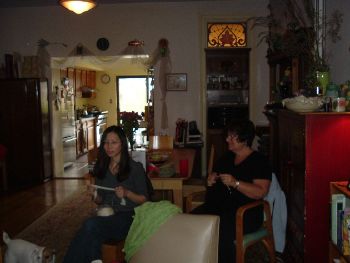 I used the time for finishing rather than knitting, bringing along several AFO's to turn into FO's – Finished Objects.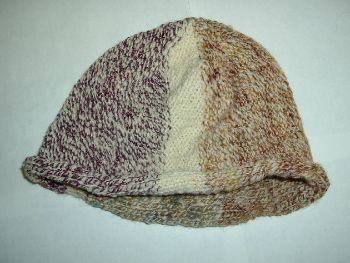 I had left this mitered hat from Nancie Kremer's pattern to languish for 18 months with only the side seam ungrafted. This is a fun pattern for a relatively new knitter, and a good way to learn short-rowing if you'd like to tackle socks later on. The stockinette version has an attractive rolled edge because of stockinette stitch's tendency to curl, just remember that stockinette has a greater row gauge than garter stitch. You may only want to short row until 22 stitches on each wedge to cut some rows in compensation. I also did a provisional cast-on and grafted the sides rather than binding off or sewing. The yarn was handspun that was a gift to me from another friend, Cynthia Davis.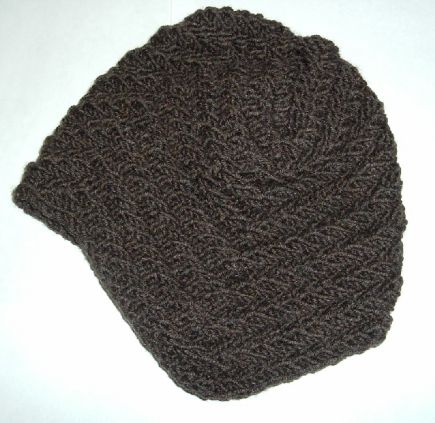 Flor's website has some of the best free patterns around, including one of my favorite, the Amelia Earhart Cap. It has everything to recommend it. It's clear and well written, in both chart and written form, it's ingeniously designed and it's a great combination of interesting shaping and simple knitting; it's just a k2p2 rib that steps on the diagonal and short-rowing at one end. It works up extremely quickly and you can take it anywhere; it's simple enough to work while walking. There's a similar pattern also in "Homespun, Handknit", the cap in the "Bouncing Baby Set" by Jean Scorgie. She says she derived it from a Finnish pattern. Scorgie's pattern uses garter stitch instead of a stepped rib and sews the seams instead of short-rowing.
Flor's pattern looks great in a solid color cabled yarn; it really shows off the pattern. I've used Baruffa Maratona and Filatura di Crosa Zara so far. The photo below is of the model in Zara, which has few short rows omitted because I was running out of yarn. It uses a bit more than a single skein. The provenance of the yarn is from the stash of my friend Cynthia, who occasionally gets stricken with Feng Shui and heaves things out.
You can reduce your need for the knitting chart if you place a marker after the 14th stitch from the edge where you are short rowing. When you hit the marker, it's time to reverse the shaping. For the central lobe of the pattern, place the marker after the 7th stitch. I also tried seeing if slipping the first stitch of the straight edge from rows 56 to 85 produced a neater edge over the forehead. It's six of one, so see if you like it. My one caveat would be that it looks best on women with long hair or bangs. When worn, it's shaped similarly to a bathing cap. If you don't like the way you look in a swim cap; you won't like the way this hat looks. But knit it anyway for the fun of it and inflict it on a friend who would look cute wearing it.
Posted by Leigh Witchel at 12:00 AM | Comments (2) | TrackBack
February 21, 2005
Hurrah Knitty
It's been done before, but I'll applaud anyone who does it. Knitty, the fun Canadian knitting zine, is planning a men's issue for July 2005.


Patterns that don't suck for guys are hard to come by, and we know that first hand.
I'll say. The best patterns for men seem to be from Japan. The patterns I have seen, particularly from the James Dean yarn brand (yes, really) tend to the "classics with an interesting twist" genre. They're very wearable even by finicky men but still interesting to knit - the words every knitter dreads to hear: "I want you to make me a plain sweater." Advice to those who have said that: Plain sweaters are boring to knit and beyond cost-ineffective. Buy it from a store.
You can find pattern books like James Dean Sweater Scene either on eBay or at Kinokuniya or other Japanese bookstores.
(Thanks to Duffy on the GLBT Knitlist for noticing this)
Posted by Leigh Witchel at 12:14 PM | TrackBack
February 18, 2005
Current Knitting
I usually have three active works in progress (WIPs) –
A simple portable project – socks or a hat.
A larger simple project – often an afghan like John and Chris'
A complex project (that languishes unfinished because I never have time for it)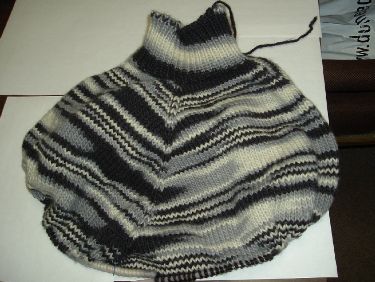 This poncho started small and portable and graduated to large and simple. It lives in the office on weekdays and I work on it for a few stitches if I'm fielding a phone call or my office computer crashes and reboots randomly for the fifth time during the day.
There's no pattern here: Start at the top with a loose cast-on (I use the tubular one) and enough stitches for the neck. Once the turtle neck is the right length (about 4 inches here), place markers at 4 evenly spaced intervals. Every other round, increase on either side of the stitch immediately after the marker – so I increase a stitch, slip the marker, knit the "spine" stitch in between the increases and then make the other increase. Keep going until your poncho is long enough. Cast off loosely, fringe if desired. Voilà.
It's made out of a handpainted single ply yarn with a loose twist called "Matisse" – I snagged it at a yarn swap a few years ago from the ever-stylish Eve Ng. The long color repeats from hand painting mean that again one wants to watch for color pooling, or make it a feature in the alternative. My hunch was that knitting with angles would work best, and I think that hunch was right. The changing number of stitches from the constant increasing also helps to avoid pooling but I very much like the Ikat-like effects of the yarn in this project.
Posted by Leigh Witchel at 2:21 AM | TrackBack
February 17, 2005
Recently Finished Knitting - Simple Afghan
My usual path in the domestic arts is to start with overkill and evolve slowly towards routine and practicality. When I first cooked for myself I thought nothing of tackling fussy multi-course Japanese meals even if I were eating alone. Now, I want to be able to eat dinner when I get home in not much longer than the time it would take to heat it. Most of my cooking is slanted towards meals that can be made in quantity and take well to reheating; this is why I enjoy cooking soups, stews and Indian food.
My earliest knitting projects were exuberant Fair Isle or painstaking tiny entrelac. I don't knit much like that anymore. Knitting is now rarely a foreground task; it's something I do while I do other things; talking on the phone or riding on an airplane. Yes, you can knit on planes. I've almost never had a problem. Use circular needles, preferably wood or plastic, and have the project well underway with knitting on the needles instead of the needles free as a potential weapon. The toughest security I've encountered on the issue is with U.K. carriers.
Here's what's just come off the needles.
John & Chris' housewarming afghan.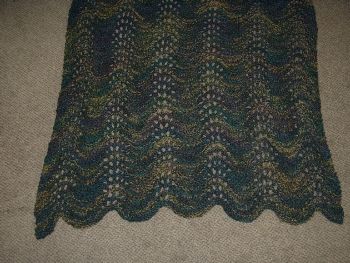 Actually, I'm cheating. This came off the needles in November of last year, but I just got around to darning in all the ends. I use the cash accounting method of Finished Objects rather than accrual, so FO's count in the year actually completed.
The yarn is from New Zealand, by Te Awa Wools, which my father and stepmother brought back as a gift. It's in lovely earth and forest colors, but heartily resisted being knit; the color repeats kept pooling or looking flat in every project (all sweaters) I attempted. Ah, the mysteries of variegated yarn. John and Chris are dear friends in Toronto. I've known John for about 8 years now, and he met Chris about 3 years ago now and fell nauseatingly, completely in love. They've just bought a house together near the Danforth and this afghan is a combined late 40th birthday present to John-housewarming present. It was cast on in London, ripped out (too wide) and cast on again in London, and the bulk of it knit in Toronto while visiting their new home, in fact much of it on the couch where it will reside. The yarn was doubled and knit on US 15s; the large gauge has a fine drape and the doubling solved the pooling of color repeats. It's in Old Shale, one of my favorite bang for the buck patterns – there's only one pattern row to memorize (the rest are plain knit or purl)
If it's unfamiliar to you -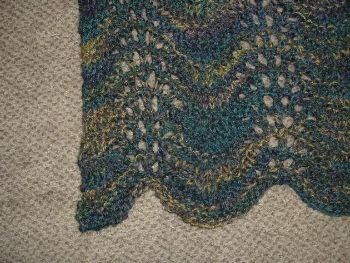 Old Shale
Multiple of 18 sts
Row 1 (RS) Knit
Row 2 Purl
Row 3 (k2tog) 3x *(yo,k1) 6x, (k2tog) 6x* but instead of ending (k2tog) 6x, end (k2tog) 3x
Row 4 Knit
Posted by Leigh Witchel at 10:18 AM | Comments (1) | TrackBack