« July 2005 | Main | September 2005 »
August 31, 2005
Squeezing every last drop out of eBay Anythingpoints
One of the best miles and points deals I've participated in is about to end soon, but I'm getting every last point I can while it's still gasping for breath.
eBay began offering Anythingpoints about two years ago but they never particularly caught on for eBay proper. They were only offered by a few sellers with little incentive for more to use them. Other vendors offered eBay points as well – PayPal, eBay, Points.com and Metarewards were all stirred into the soup, usually causing great irritation as each would blame another if points did not post. I got about 12,000 Anythingpoints I traded for AA miles by participating in trial offers from Metarewards (and then pulling teeth at customer service to get the points credited). But the best deals of all came through the eBay portal for Priceline.
eBay offered points per winning Priceline bid by the star value of the bid, 500 points for 2*, 1000 for 2.5* and 3* and 1500 for 4* and 5*, no matter the length of the stay or dollar value of the bid. This potential $15 rebate was nice enough if you purchased items on eBay. I used 2500 points towards a camera. On Flytertalk I learned that the best deal of all was to convert Anythingpoints to Asiamiles via points.com .
Asiamiles is the mileage currency of Cathay Pacific Airlines. Cathay Pacific has a unique reward structure based purely on mileage rather than location. They don't offer awards from North America to Europe for instance, but from 2,500-5,000 miles. An economy class roundtrip of 2,500-5,000 miles is 45,000 Asiamiles, or 60,000 in business class. This is not merely on Cathay Pacific, but also on several of their partners in the One World group including American and British Airways. Since all destinations in Europe are less than 5,000 miles from the east coast of the US, this is a bargain – it's 90,000 miles on most other airlines. Add to this the fact that Asiamiles has the most favorable conversion ratio to Anythingpoints by a factor of more than 2 – one Anythingpoint is worth 1.125 Asiamiles.
Here's the math: It takes around 53,400 Anythingpoints to get 60,000 Asiamiles. That's just under 36 winning 4* bids on Priceline. Considering that Priceline offers the cheapest hotel prices around anyway, it was icing on the cake.
I just broke 40,000 Anythingpoints when eBay announced the discontinuation of the program. It's being phased out gradually, with eBay sellers programs ended first, then affiliates. MBNA will award eBay points on their MasterCard until the November statement. Points.com will allow swaps into Anythingpoints until September 30 and out until February '06. The eBay Priceline portal no longer mentions Anythingpoints, but this one still does and still works, or did as of 8/29/05 for a 3* bid. So if you're in on the Anythingpoints chase, don't stop using the portal yet!
I'm up to 49,000 miles. My goal is business class to St. Petersburg via London next June.
Posted by Leigh Witchel at 12:45 AM | Comments (0) | TrackBack
August 30, 2005
Great fares to London
British Airways is offering these prices now through Sept. 5 for travel through March, 2006. $358 to London from NYC including taxes. I'd be very surprised if it got any lower than this for the fall. I didn't even think it would get this low; I just bought a ticket on AA for $455. If you're a miles whore, BA's frequent flier program sucks for those who travel economy - you get 25% of miles flown in deep discount, compared to AA's 100%. Much as I like miles, it is odd to reward travelers by the number of miles flown - common sense would suggest you'd reward them by dollars spent. But if you travel infrequently and just want the lowest fare, this is probably it. You could also pay about the same price as the other airlines - around $500, but you'd be in BA's premium economy section with extra legroom, World Traveler Plus, and that gives you full mileage as well. A good deal. There are attractive deals to other cities in Europe as well that may include stopovers in London, and hotel and other add-ons. For a solo traveler, Priceline will probably beat most packages, acceptable hotel rooms in London in chain hotels will go on Priceline for around $70, and that is about $85 inclusive of taxes and fees.
Hat tip to Flyertalk.
Posted by Leigh Witchel at 1:06 AM | Comments (5) | TrackBack
August 29, 2005
How to speak cat
Scott Bateman is going to produce an animated film a day every day for a year. This is Day 11. I believe Mr. Bateman has ambivalent feelings towards cats. He shows no ambivalence towards George Bush.
Posted by Leigh Witchel at 11:13 PM | Comments (1) | TrackBack
Priceline and Force Majeure
I should have been in Birmingham, AL tonight.
I'm not. There's this hurricane, see?
In situations of force majeure such as hurricanes, Priceline refunds bids with almost no hassle. I called the customer service number this afternoon and explained there were no flights into BHM because of Hurricane Katrina and that I could not get there. I was on hold 2-3 minutes and they told me they would refund and gave me a cancellation number. That was that. I rescheduled my flight and re-bid, getting the same hotel, but for $1 less.
Northwest was just as accomodating, but as you might guess, there are a lot of full flights because of displaced passengers.
Posted by Leigh Witchel at 11:05 PM | Comments (0) | TrackBack
August 28, 2005
Le Grand Tour de Badger - with stops in Middle Earth, Kenya and Lapland
Begin with the original - here, here or here. You've also seen the sporting version.
Now let us voyage across the Internet to see . . .
Zombie badgers for Halloween and Christmas badgers!
I never knew about the badger references in Tolkien before I saw this.
Had enough badgers? Let's head to Kenya! This one manages to be just as insidious without a badger in sight. Apologies to all offended Norwegians. Here's the live version. And the Christmas version
With a tune as catchy as that, you'd figure that someone needed to improve it in the only way possible. By adding badgers.
Posted by Leigh Witchel at 1:04 AM | Comments (2) | TrackBack
August 26, 2005
Latest Dance Article
Suzanne Farrell Ballet performing Balanchine's Don Quixote, for Dance International, but available in the print issue (Fall 2005) only.
For people used to the traditional version, Balanchine's version is a shock. It's not the comic love story of Kitri and Basilio, with the Don relegated to the sidelines; it is a dark meditation on love and idealism. Sprawling and only partially successful, it is as daring, personal and ambitious as anything Balanchine ever attempted, and it is anything but entertainment.

. . . it feels as if the problem is with this staging and that Farrell has taken her adoration and worship of Balanchine and transferred it to the Don. In doing so, the objectivity the ballet needs is lost.
Posted by Leigh Witchel at 11:02 AM | Comments (0) | TrackBack
August 25, 2005
A nifty cast from an edging
The Red Leaves shawl has an edging made at the same time as the shawl, but I was having some trouble figuring out how to get a neat point. Simply casting on the two edgings and the first stitch (4+1+4 stitches) meant that the point had no edging. Here was my solution - as Elizabeth Zimmermann would have it, "unvented". It's been done many times before.
Start by casting on provisionally and working about an inch of edging. On this sample I knit one row before starting into the pattern; I think it looks smoother if you start immediately in pattern without that row. To cast on the shawl body, begin at the outside edge, ready to knit to the inner edge. (To my chagrin, I note that this photo was taken as I was about to knit from the inside edge, not the outside!)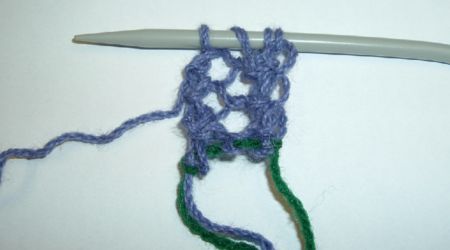 Pick up the provisional stitches. I'm using a thin bamboo double pointed needle from a set my friend Cathy brought back from China as a gift. If there was an underappreciated tool for knitters it is a long, thin double pointed needle. Nothing makes replacing stitches back on a needle easier. You can improvise with a bamboo skewer.
Knit the first four stitches (the edging) in pattern. Place a marker, then yo1, pick up one stitch in the middle of the inside edge, yo1. These three stitches will begin the body of the shawl. Place another marker, work the four provisional stitches in pattern. You're working the reverse - the good thing about the faggotted lace edging is because it is based on garter rather than stockinette stitch, the front and back look about the same.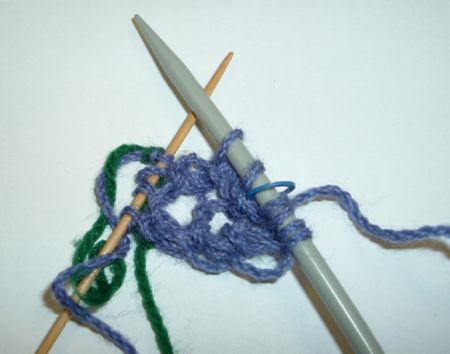 Continue on from there, increasing with a yarn over on the insides of the markers, and working the edging pattern outside of the markers.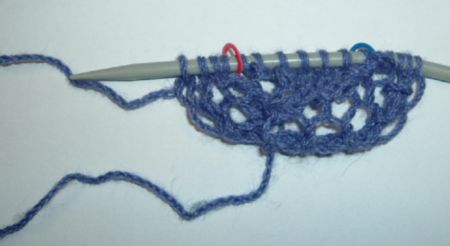 Posted by Leigh Witchel at 11:23 PM | Comments (3) | TrackBack
August 24, 2005
Red Leaves
This is the current portable project: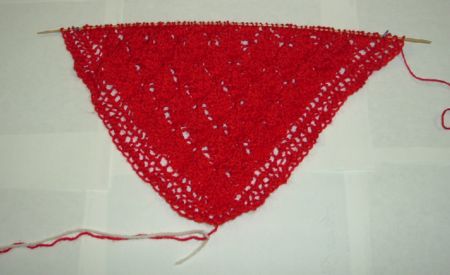 I've gotten in a mood to knit lace. It's portable, interesting knitting and the best lace patterns (the ones with logic and symmetry) feel like they knit themselves after a few rows. Most of the "leaf" laces are like that. The coolest thing about them is that just changing the place of the decrease changes the lace entirely. Put a triple decrease in the center and the edges around the yarn-overs soften and the decrease looks like the veins. Put the decrease directly next to the yarn-overs, and the same pattern becomes a diamond. More magic.
Because I made the razor shell shawl from the top down, I made this new shawl from the bottom up. The shaping premise in both is the same - increase one stitch at both sides to form the triangle, but top down also has a second increase at the center. It's two isosceles triangles sharing a side at that center, while the bottom up is a single larger isosceles triangle, but upside-down. You can stick just about any pattern into that shaping as long as you keep increasing at the sides. Certain laces have that increase built into the pattern, including Openwork Leaf (the pattern I'm using, but with an extra row added to make the edge leaves grow properly) and Diamond Mesh - the pattern the sagacious but compulsive Yarn Harlot used to make Sivia Harding's Diamond Fantasy Scarf pictured here. Easy trick - if the lace pattern has that diamond shape from staggering the repeats horizontally, it's going to work as a triangle.
I liked the idea of a knit-as-you-go edging so I am doing the same faggotted edging as I make the shawl, but with a nifty cast on. I'll show it next post.
It seems there's a lace vibe out there I wasn't aware of. One of the more prolific knitting bloggers out there declared this the "Summer of Lace". She's even knitting a shawl with the same leaf pattern, only knit top-down like the razor shell shawl. Usually I'm the one completely at odds with the trend. This happened to me with travel as well this year. I'm amazed I went to Buenos Aires while it still was the über-gay destination du jour. I suppose I'm going to have to start doing something more appropriately contrary, like Intarsia Tunisian Knitting.
I've used the first ball of yarn out of three that are in my stash – it's Reynolds Coco, a 50/50 wool/rayon blend bought from Webs eons ago. Yes, the pattern knits itself, but it's starting to get just a wee bit predictable. Should I switch to columns of razor shell lace?
Here's a closer look.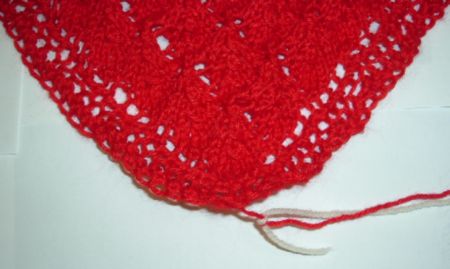 Posted by Leigh Witchel at 11:24 AM | Comments (0) | TrackBack
August 23, 2005
It's toooooo wide!
Damn.
The ribbon tunic was tried on its intended victim (Alexandra) this Sunday.
I thought I made an extra small. On a normal human it would have been extra small. It's an inch too wide on both sides. That means it's 4 inches too wide in total. Dang, but that girl is thin. If it had been a half-inch I would have finessed the excess into the seams. This is too much. I'm re-knitting from the ground up.
My fault, I should have known that guesstimating would lead to this. Well, I'll just consider this the pattern for the real thing.

Posted by Leigh Witchel at 11:53 PM | Comments (0) | TrackBack
August 22, 2005
Why blocking is like magic
For non-knitters, blocking is the process of shaping knitting while wet . Blocking lace involves stretching the lace, and it goes magically from nondescript to gorgeous. Here's what water, wire and pins can do.
Before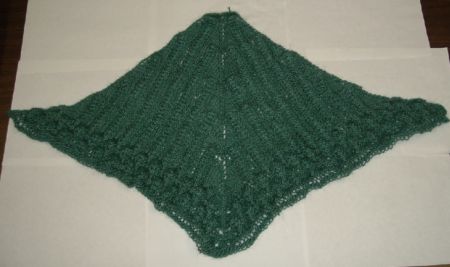 After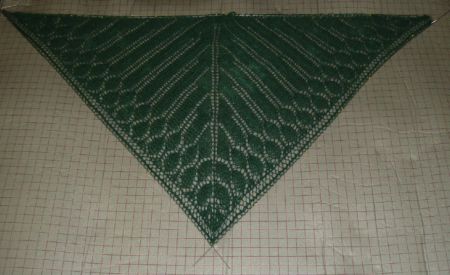 See? Magic.
The photo scale gives the illusion that the size is the same but the shawl is 50% larger after blocking as well. I had to rip back and redo the edging once after I posted; I was running short. Instead of knitting one stitch from the shawl together with the edging, I would take a stitch on one row, then two on the next, alternating. It was a better gauge for the edge so no harm done. Even so, I ran out of yarn (augh!) about an inch before the edging was done, and snuck in some Rowanspun that was a close color match.
Posted by Leigh Witchel at 11:41 PM | Comments (5) | TrackBack
August 18, 2005
Internet Timewaster du Jour!
Don't ask me what it means. I have no clue, but it's catchy.
Note to English friends: Click on the "Football Badgers" link as well. Those from other parts of the UK may wish to give it a miss.
via The Poor Man
Posted by Leigh Witchel at 10:05 AM | Comments (4) | TrackBack
August 17, 2005
Knitwhoring
I'm teaching two knitting workshops in September - Beginning Knitting and "Second Steps". Both classes are in midtown Manhattan, Beginning Knitting is on Wednesday Evenings, Second Steps on Tuesdays. All the information you need is here - and the class is $145 instead of $160 if you register and pay by August 24.
Posted by Leigh Witchel at 4:44 PM | Comments (0) | TrackBack
Chicken & Dumplings
Away from current events and back to recipes!
This one is not exactly dietetic nor particularly gourmet, but it's delicious and sticks to the ribs. As with any soup or stew there's leeway in amounts and proportions and room for variations. Go ahead and use cream and wine or ritzier mushrooms. This is just how I usually make it. And try not to have seconds.
Recipe follows in extended entry.
Basic Stock
2-3 lbs chicken parts (I use 3-4 chicken leg quarters – if your market carries it, by all means use a Soup Hen , Fowl or Gallina – being older it will need longer simmering)
vegetable peelings
1-2 bay leaves, about 1 tsp each coriander seeds and pepper corns, ½ tsp each dried thyme and basil and 4-5 whole cloves

Stew and Vegetables
1-2 T chicken fat
¾ t turmeric
1-2 T flour (depending on how thick you would like the broth)
1 qt. broth
1 13 oz can evaporated milk (reserve about 2 oz for the dumplings)
salt, pepper, Worcestershire and hot sauce to taste (homemade broth will need a healthy amount of salt)
1 13 oz can mushrooms
3 red potatoes, washed but not peeled, cut into eighths
1 large sweet potato, peeled, halved lengthwise and cut into ½ inch slices
3 medium carrots, peeled and sliced in ½ inch rounds
3 ribs celery in ½ inch slices
2 medium onions, peeled, halved lengthwise and cut into ½ inch slices
Handful of celery leaves, chopped.
½ cup frozen peas
Dumplings
1 T chicken fat
1 egg
¼ cup broth
¾ c flour
salt, pepper
chopped parsley (optional)
¼ cup condensed milk (see above)
This recipe is done in two main steps

Chicken broth and meat made ahead of time:
For stock making, I keep and freeze most vegetable peelings especially onions, carrots, celery, tomatoes, mushrooms and ginger, but not potatoes or cabbage family vegetables, they are too strong. Just place them all together in a bag in the freezer until ready to use. Put about 2 cups of peelings (making sure to have a variety) into a large stock pot with the chicken and seasonings. Cover with water, bring to simmer. After about 2 hours (or when chicken is cooked through, leg joint moves easily and juices run clear) take the chicken pieces out, let the stock continue to simmer. When cool enough to handle, remove meat, set aside and return skin and bones to pot. Let broth simmer up to 4-5 hours longer. Strain and let stock cool. Refrigerate stock and let fat congeal at top. You should have more broth than you need for this recipe; freeze fat and broth seperately for other uses.
Stew:
The stew is made much like a Béchamel or white sauce. In Dutch oven or stock pot, melt chicken fat over medium heat. Add turmeric and let fry for a few seconds to "bloom" in the fat. Stir in flour, let cook over low heat a few minutes. Raise heat, add broth in a bit at a time, using a whisk to avoid lumps and letting it come to a boil and thicken before adding more. When all the broth is added, add the milk (keeping ¼ cup in reserve for the dumplings) and add the mushrooms and liquid. Lower heat to a simmer. Add the other vegetables in the order listed except the peas and add the chicken (cut into smaller pieces if needed). Cover and let simmer until potatoes are cooked through (about an hour)
Dumplings
In a large bowl, beat the egg lightly and add the other ingredients except the milk. Add the milk in a bit at a time to make a batter thin enough to be dropped from a spoon (it should not be very runny.)
When the vegetables are cooked through, have the stew at a gentle boil. Drop batter by tablespoonfuls into broth. Cover stew for about three minutes to let the dumplings cook enough to hold their shape, then stir once gently to loosen the dumplings from anything to which they have stuck. You may have to repeat this to add in all the batter. Reduce heat to medium & cover. Simmer for 30 minutes. Add peas five minutes before serving.
This is quite rich, but makes about 6-8 servings.
Posted by Leigh Witchel at 4:32 PM | Comments (4) | TrackBack
August 16, 2005
You could see this one coming miles away
I won't talk about politics frequently here (I'd prefer to talk about subjects on which I have more expertise) but the story of Jean Charles de Menezes bothered me from the beginning.
I'll let the headlines tell it.
Suspected suicide bomber shot dead at London underground station
devolved quickly into

Suspect shot dead 'had no bomb'

and finally to the awful
Shot man not connected to bombing
Met Police Commissioner Sir Ian Blair came out with a heartfelt non-apology

Police chief 'sorry' over death
He acknowledged "somebody else could be shot" as the hunt continued, but added "everything is done to make it right". But he said the "shoot to kill" policy for dealing with suspected suicide bombers would remain in force. [Home Secretary Charles Clarke] told the BBC: "I very, very much regret what happened. "I hope [the family] understand the police were trying to do their very best under very difficult circumstances."
I'm glad that the very best the police could do was to pump seven bullets into the head of the wrong man.
Amazingly, everyone started offering non-apologies, even London's mayor Ken Livingstone, a man not exactly known for shirking from controversy.
London Mayor Ken Livingstone described Mr Menezes as a "victim of the terrorist attacks". He said: "Consider the choice that faced police officers at Stockwell last Friday - and be glad you did not have to take it."
Tim Hames at the Times of London was one of the few willing to question the police:
Oops, sorry, won't do. We can't just shrug our shoulders over this shooting
The inquiry that is coming out seems to be telling a different story.
It was a catastrophic failure of intelligence - ending in the death of an innocent man mistaken for a suicide bomber.

An official inquiry is underway into the fatal shooting of the young Brazilian Jean Charles de Menezes - a tragedy shrouded in confusion from the start.

Now tonight, leaked documents and photographs from that report reveal just how badly the police operation may have gone wrong. The leaked draft - obtained by ITV News -shows:


• The day after the July 21st London bomb attacks, at 9.30am, Mr de Menezes left his home - his block watched by police who thought it housed one of the would-be bombers.

• As Jean Charles made his way out, a surveillance officer was apparently relieving himself and couldn't communicate his observations or video him.

• De Menezes continued on his way - boarding a bus to Stockwell Tube Station.

• Gold Command instructed officers that he was to be stopped from entering the tube system. But this apparently didn't happen.

• De Menezes used his electronic card to pass legitimately through the barriers - he did not jump them - and even stopped to pick up a free newspaper.

• He started to run, possibly to catch a train just pulling in - as armed officers received positive identification of their target - and authorisation to shoot to kill.
More at the Times. He wasn't wearing a heavy jacket. He didn't jump the turnstile. He didn't run from the police. This wasn't about an error made in a split second. It was a monstrous bungling of protocol. If one wishes to argue for the necessity of a shoot-to-kill policy, it might help if the people responsible were able to properly identify their suspects.
Tune in tomorrow when Ken Livingstone explains to us how a man whose doctor removed his heart instead of a lung was actually the victim of lung cancer.
Posted by Leigh Witchel at 5:13 PM | Comments (3) | TrackBack
A pretty yet minimal lace edging
The razor shell lace shawl progressed with great speed. I only had three skeins of yarn so it's probably more of a shoulder-warmer, but the intended recipient is small and would probably be overwhelmed by a shawl.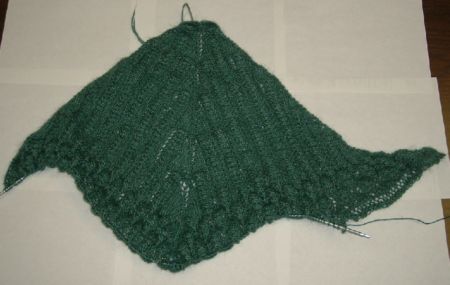 I was looking through my pattern books for a suitable edging. There are many pretty ones, but none would quite do. They either took up too much yarn or they were overpowering. In fine cotton, a nine stitch edging is not much more than an inch wide; in DK weight yarn it's double that.
Here's a discreet narrow border that you knit on to the live stitches as you go. It's based on faggoting. (Non-knitters: This does not mean anything close to what you think it means.)
Narrow Faggoted Lace Edging
At the end of the RS row of the object to be edged, cast on 4 sts.
(WS) (yo, K2tog) 2x (Note: The first yarn over is a bit tricky. Wrap the yarn in front of the needle before bringing it over the needle)
(RS) K2 tog, (Note: Bring the yarn to the back – it will be between the stitches you will knit together. Knit the first stitch together with a stitch from the main knitted item) yo, k2tog, k1.
That's it. It's much more complex in description than execution. Repeat until you've knitted all the stitches from the original item. It makes a pretty looped edge that you can run a blocking wire through for stretching as well.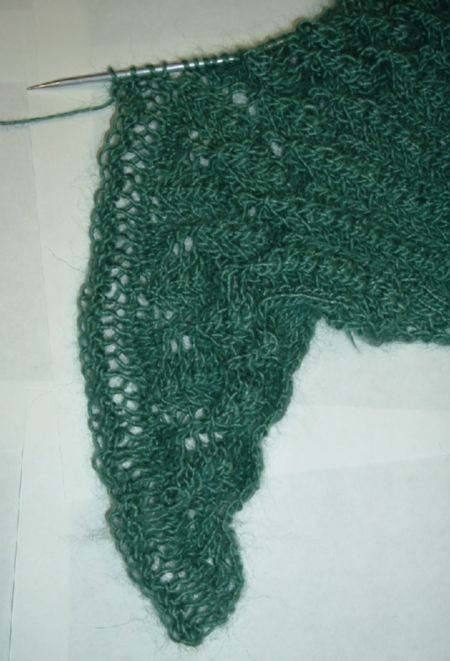 Posted by Leigh Witchel at 1:23 AM | Comments (1) | TrackBack
August 15, 2005
Blog readers
When I first started reading blogs, I checked each blog individually - a time consuming process.
A blog reader monitors the blogs you select and notifies you when there's a new entry. So you don't need to surf randomly.
I use Bloglines. It's seamlessly integrated with the Firefox browser, costs nothing and there are no advertisements. Not every feed works perfectly (I can't get Kristin Sloan's blog The Winger to work via a feed, for instance) but most do.
And if you like reading my blog and want to know when there's something new, it's the most unobtrusive reminder. Just click on the "subscribe with bloglines" button on the top of the right hand navigation bar.
Posted by Leigh Witchel at 9:35 AM | Comments (1) | TrackBack
August 14, 2005
Six Month Blogoversary: How'm I Doin'?
Six months is a bit of a silly milestone, something from childhood when a half a year was a significant chunk of your whole life. Still, I made my first post to this blog six months ago today and it seems like a good time to assess.
The blog has kept pretty close to what I thought it would be when I began it, an informal column about subjects that interested me. I'm writing this with an audience in mind rather than to get stuff off my chest so if you're out there lurking and have a moment, please introduce yourself either via email or in the comments. I'd be interested to know who's reading. If you have comments about the blog itself, please consider telling me.
For instance, I've wondered if the basic focus on a few wildly varying topics makes it hard to read with any regularity. I probably won't change that, but I did move the categories navigation up to the top of the sidebar so people uninterested in dance could get to the posts about knitting, or what have you - though I hope to make a topic interesting enough that you'd consider reading on it even if it isn't a usual interest.
So let's light half a candle!
Posted by Leigh Witchel at 12:55 PM | Comments (4) | TrackBack
August 13, 2005
Loving the Muse
I think it was Twyla Tharp who said she needed to fall in love with a dancer to hire them. I've hired dancers that I haven't fallen in love with, but I know what she means. My personal life might seem somewhat detached to an outsider: many friends and acquaintances, no lovers. Things always change, but at least until now it's not been my role. Like some other artists, I'm the Observer.
A muse is not a lover, but the relationship similar in a classical sense. It's symbiotic with clearly defined roles. The artist is the lover; the muse is the beloved. When I made a ballet in California in 1999, I explained to a dancer why there were so many promenades in her pas de deux. "I want to show that you are beautiful at every angle." There are plenty of instances of the relationship going awry – just like love – but just like love both parties can be immeasurably enriched.
Amy was my first partner and first muse. I still call her Moo. She
got that nickname at about 14 from Jody Fugate, who called her Emu because she was so gangly and long limbed. It got shortened to Moo. Though she was 8 years younger than me, she was the only person I could talk seriously to at Madame Darvash's studio. I had started dance late at 17 and came to the studio at 21 after getting my college degree. At college, you're expected to ask questions. That's a mistake in a ballet studio. Even at 14, Moo was the only one who thought like me, and it's probably why she's now getting her PhD. She knew better than I when not to ask questions, though.
I made my first ballet on her in 1990, Rondo Capriccioso to the Mendelssohn of the same name. It was a showpiece pas de deux in the Tchaikovsky pas de deux mold. I wanted to do a virtuoso pas de deux, but I also did it to help her. The music is in the form of a slow introduction followed by a longer allegro. Moo was a "moonlight and roses" dancer, so she got the adagio that fit her like a glove at the beginning and then . . . six minutes of flat-out jumping and turning that stretched her hard, but not to the breaking point. My natural instinct as a choreographer was in what I did best – petit allegro. Because of her own natural gifts – few people understood better how to let a man do his job as a partner – Moo taught me how choreograph adagios.
I met David after I met Amy but I made my first dance on him a year earlier in 1989; Forest. David was five years younger than me and tall, spidery and blond. David taught me about partnering and how to use it in choreography. He was a great partner and had a strange presence onstage that struck some (including me) as magnetic, but others as shrouded and off-putting. My best work with him was in 1994. Among the other works, I reset a Mozart piece Rondo for Five. Moo had created the female role in 1991 that David now acted as the partner for. It was a piece of straight-up classicism and I had rented from Ballet West stunning tutus and tunics designed by Peter Cazalet for their Sleeping Beauty. The curtain closed on Rondo and rose on David shirtless in we could go on like this all night. The woman's part was far weaker; I unfortunately never developed any rapport with that dancer, but the man's part was built right to David's vocabulary; his ability to dope out unorthodox partnering and his quirky lines. I made him do them back to back because I wanted to show his range. At the cast party for the show we slept together in exhaustion. There wasn't any sex; it was sleeping together – an adolescent hero-worship thing even though I was nearly thirty. I never got the prince before. We woke up bleary eyed the next day and delivered the rolled up Marley floor back to Queens.
It had to end badly. 1995 was an annus horribilis. His girlfriend was dying. There were other entanglements. I put David in the center of a quintet called Sauve qui Peut: Every Man for Himself – the title was a pun about masturbation. I confronted my own demons about homosexuality and David got to go along for the ride. It was a good work in a very unloveable way. We all went a little crazy. David retreated and during the entire rehearsal period acted like an asshole to the other dancers. I got angry and in my own inimitable way, acted like a vicious cunt. Molly died on the second night of performances. I revived the dance in 1996 without David and Jonathan, who took his part, was completely at sea. He kept asking me why certain things in the dance happened and I wouldn't tell him. Because by then I knew that I had done certain things in the ballet to try and provoke a reaction from David; to see what he would do if I made him suck his finger (it was pretty obvious that sometimes a finger is not a finger) and kiss a man onstage. I can't believe how little slack I cut him.
My relationship with Mary is more easygoing but she affected my choreography as profoundly. I follow my muses and go where their gifts lead me. As another friend said to Mary, "You're not a dancer, you're an actress masquerading as a dancer." My ballets became more theatrical because of her. Scherzo Fantastique from 1999 was made for her – we called it the Tennessee Williams ballet because she got to crack up like Blanche DuBois. The relationship was symbiotic. Her part in Quodlibet the next year was straight technique; something she hated. I pulled her aside quietly and said, "You realize that I've given you all your steps?" I constructed it, like Rondo Capriccioso for Moo, to be difficult, but to show her off. I wanted her to be comfortable with straight technique.
The same year I used her gift for comedy in The Elevator, a ballet I would and could never have made without her. Mary played in one memorable scene a mad Giselle misplaced on a park bench who turns an unsuspecting and unwilling passerby into her Albrecht. Her character inspiration was a certain former NYCB ballerina of legendary stature (and weirdness) who shall remain nameless (but she wears shoelaces in her pointe shoes.) I barely choreographed that part – I explained the situation to her and Robert, put on the music from Giselle and off they went. Each show she's been in has included one ballet specifically for her; Green in 2001 was the world's tiniest romantic ballet. When she's taken other dancers' roles in revivals she's always redefined them to her strengths. Her final ballet with me was A Waltz Remembered. She changed it completely, but the original couple from a decade before on the very same stage, was Amy and David.
I'm not sure it isn't presumptuous for me to call Peter a muse. I made fewer ballets on him than on any of the others, and he was never "mine". But doing a ballet on Peter was like putting my brain onstage and letting it dance. It may have even been the weakest part of our work together; there was a tendency in each of the three works we did towards white-on-white. He moved almost too much like I thought; there was no contrasting tension. Though it was always warm, our relationship is not personal. To this day I really only know him as a dancer, but that's enough.
Peter gave me some of my happiest moments ever choreographing. I made my first solo on him, A Shropshire Lad, in 2000. The ending was emotional (the character is dead) and Peter usually marked it. We had finished the entire work a day or so earlier when the publicist came to the studio on other business and sat down to watch. Suddenly there was an audience and everything was different. For the first time Peter actually did the ballet and I got to see the ballet I made on the most talented dancer I will ever work with in my life. I had to leave the room briefly at the end to compose myself.
I commissioned my first score for Peter's solo, Equilibrium, in 2002. We usually rehearsed at the School of American Ballet, and rehearsed to a tape the composer (Eddie Guttman) made on piano though the piece was composed for cello. The cellist, Ariane Lallemand, was rehearsing at Juilliard next door and dropped by to see a rehearsal. Eddie was there watching and taking notes as well. As she was watching, Ariane asked Peter if he liked the tempo as given and suddenly the cello was out of the case and she began to play. The acoustics in the studio are wonderful. I sat on the floor and listened as the rich sounds of the cello filled the room. It was only the four of us in an unadorned room: a choreographer, a composer, a musician and a dancer. We were all talented at what we did and we were making art as equals in an ordinary miracle. It was what I want from my life.
You get possessive of precious things in your life, even the things that aren't really yours. I'd sometimes make Peter do a section in rehearsal again just because I wanted to watch him. He probably knew; he didn't seem to mind that much. In 2002 he was asked to put together a program for the Joyce Theater and he called me to tell me that I was not one of the people he was asking. I knew he was being a gentleman by telling me rather than letting me find out and I did not ask why. You don't ask someone why you're the fifth prettiest girl at the prom. Later when I could say what I felt rather than what I knew, the word that came out of my mouth was "whore". But in art, as in love, there are people that come into your life that will affect you much more than you affect them. And you take it, because it's not their fault and because you're better off for having that small piece of them than nothing at all.
Posted by Leigh Witchel at 11:49 PM | Comments (7) | TrackBack
August 12, 2005
Gazpacho
Just what the world needs. Another recipe for Gazpacho.
Mine is relatively simple and quite healthy. Just the ticket for a light lunch on a hot summer day.
Gazpacho
1 cucumber
5 very ripe tomatoes
(Continued as an extended entry)
½ green pepper
1 small onion
3 garlic cloves (or to taste)
1 tsp paprika
Juice and pulp of 1 lemon or lime.
1 T balsamic vinegar
2 tsp extra virgin olive oil
2 T chopped parsley or cilantro

Peel and seed the cucumber. The easiest way to seed a cucumber is to cut it in half the long way and scoop out the seeds with a teaspoon. Chop the cucumber in small dice (use a food processor if you prefer, but leave some texture) and salt the chopped cucumber, leaving it to release its juices for about half an hour.
I don't peel the tomatoes in this gazpacho. If you prefer to, drop them for about ten seconds in boiling water to loosen the skins. Seed the tomatoes by cutting them in half laterally (around their equator) and squeezing each half over a strainer to catch the seeds and juice. Remove any hard pith and chop the pulp roughly. Strain the juice from the seeds and discard the seeds, reserving the juice.
Chop the onion finely and the green pepper a bit more coarsely. Squeeze the liquid from the cucumber. Combine all the vegetables together in a non-reactive container (glass or plastic).
Pound the garlic in a mortar to a paste. The perfect utensil for this is a Japanese suribachi. If you don't have a mortar, chop in a food processor instead. Add the paprika, oil, vinegar and lemon or lime, continuing to mash with each addition. Add to the vegetables and add the strained tomato liquid (I also use the liquid to wash down the mortar and get the last bits of garlic paste). Add the chopped herbs. Season (salt, pepper, Tabasco and possibly Worcestershire - I don't use it.) to taste. Refrigerate and serve cold.
Posted by Leigh Witchel at 2:50 AM | Comments (5) | TrackBack
August 11, 2005
Current Knitting
I took a hiatus of about a month from knitting because I was just too lazy to figure out the underarm decrease for the ribbon tunic. I'm a much lazier knitter than I once was; I knit to knit, not to figure out decreases. So I started a portable project, a small triangular shawl.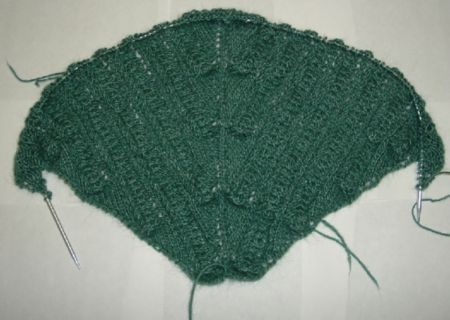 The yarn is Neveda Afternoon Silk; I got it in a trade eons ago. It is a silk/mohair/wool blend and I am knitting it on a US 7 needle. The triangular shape is simple; it's the same idea as the poncho I made (see below) - only cut in half. Start at the top with three stitches and keep increasing. Instead of eight increases, two per quadrant, you increase every other row at each end and on either side of the midpoint stitch, four in total. I worked in stockinette stitch until I had enough stitches to introduce the pattern, but now that I can see clearly what I've done if I knit this pattern again I can figure out a way to gradually introduce the pattern elements before I have the full amount of stitches needed.
The lace pattern is Razor Shell. I tried Vine Lace at first, but that's a disaster because the pattern staggers confusingly and is hard to isolate so it can be introduced as stitches are added. Razor Shell worked much better, and because it's the main element of Trellis Framed Leaf (instead of staying constant Trellis Leaf alternates by increases and decreases between the trellis and the leaf element with the central decrease) I shall use that towards the end.

Here's some detail. It won't look very impressive at all until it is blocked (wet and stretched to show the lace patterns clearly)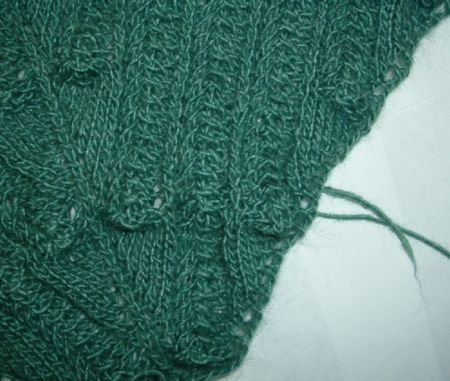 The tunic doesn't look much farther along than the last report but there are now two identical pieces knit to the underarms instead of one.
Here's a shot of one piece and also detail so you can see how I decreased for the waist. I changed the three garter stitches between the slip stitches to two stitches gradually from the outside in and then reversed the process.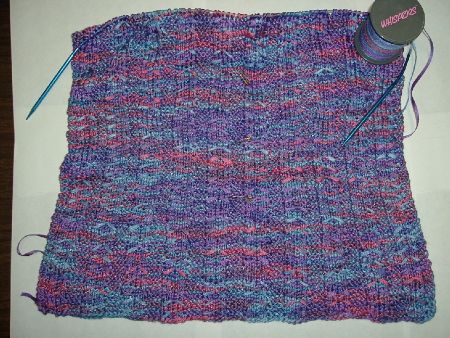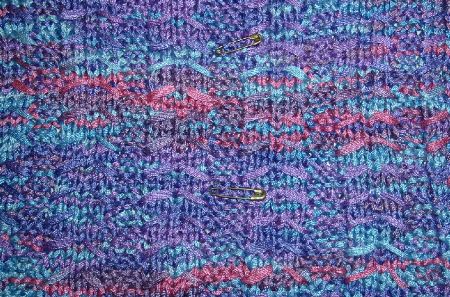 The bulk of the poncho was completed by May, but I didn't bother to bind the thing off until July. It's not merely laziness, the unfinished items are useful in knitting classes as demonstrations for finishing techniques like binding off, or how to deal with yarn ends.
Here's what it looks like now. I really like how the space-dyed yarn and the constant increasing diameter reacted to each other to create an ikat-like effect. The ends need to be darned in, and it needs blocking, in this case not to stretch it but to set and regularize the stitches and fabric. It's surprising how much of the character of the garment happens in the last few steps, which is why I try to take care with finishing techniques.
Here's Danny Ouellette's Easy Head Hugger Hat, finished except for filling in the hole at the top and darning and blocking. Again, it doesn't look like much until you block and finish it, which is why careful blocking and finishing are so important. (Of course, now that I've said that, I will screw up all these projects during blocking and finishing.)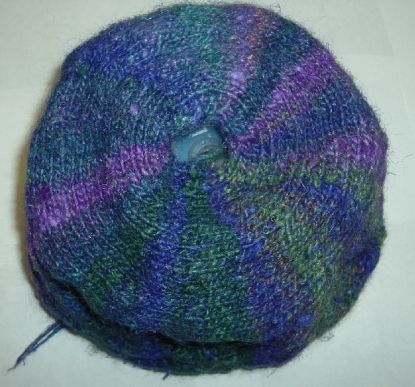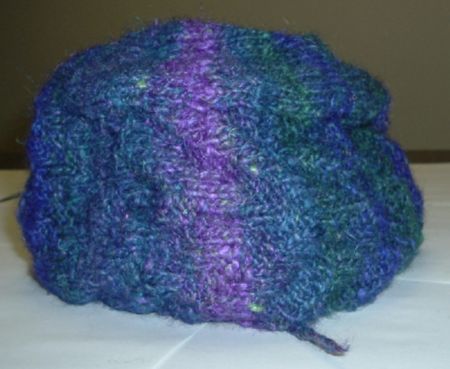 Posted by Leigh Witchel at 1:10 AM | Comments (0) | TrackBack
August 10, 2005
Cooking binge
I'm not sure what got into me this weekend. I usually cook for the week ahead, but this was something - even for me.
Over the weekend, I made pasta sauce (this recipe less the rendered bacon), borscht, gazpacho, chicken and dumplings, and Punjabi black eyed-peas (lobhia). My recipes for gazpacho and chicken will follow in the next few days; for the lobhia I use Madhur Jaffrey's recipe from A Taste of India.
Posted by Leigh Witchel at 7:18 PM | Comments (0) | TrackBack
Less Dance Blogging for a bit (and Pharoah's Daughter)
August is the quietest month for dance in New York, so I'll take the opportunity to catch up on other blogging as I can. I have two articles to write and since I get into bigger trouble if they don't get done, they take precedence.
I never reported on The Pharaoh's Daughter (thanks, Chuck, for the ticket). I finally saw Maria Alexandrova, whom I've missed through the luck of the draw in scheduling up until now. Her look surprised me, because I was basing my hypothesis on casting. I first heard New Yorkers talking about her when the company came to the State Theater in 2000 and she danced third movement, Symphony in C. At least during my viewing at NYCB, there's a pretty specific casting tradition for that role; it goes to the short jumpers in the company. But that's not how it's cast elsewhere; when I last saw it in Paris, it was danced by two of the tallest principals in the company.
When I heard of Alexandrova's success in Symphony in C, I jumped to the conclusion that she was a short athletic dancer. Nope. She's got a good jump, but she's very moderately proportioned and not really of a specific type at all. I'm not that crazy about the ballet itself. My problems are more with Lacotte than Petipa; I think a better revival than this one is possible.
For a more thorough report on a different cast (Alexandrova shows up here in the supporting role of Ramzé rather than the lead, Aspicia) I commend Mindy Aloff's Retrofitting the Mummy
Posted by Leigh Witchel at 6:12 PM | Comments (0) | TrackBack
August 6, 2005
Borscht
One of the joys of having your own site is you can check what search strings bring people here. More than once, someone's come here looking for the recipe for borscht from Veselka, the Ukrainian restaurant on Ninth Street. I've had their borscht; it's really good.
This is not exactly their recipe. Veselka's version, as I recall it, may have more beef and no greens, but I highly recommend adding the greens and stems for both taste and nutrition.
My recipe which has evolved from several different sources, including altering my recipe to taste more like Veselka's with cubed beef and more white vinegar. That, a good homemade beef stock and baking the beets before putting them in the soup, are what makes this recipe. Do try it. As with many soups, its open to variation. Add more or less of an ingredient, or new ones like mushrooms, turnips or parsnips. A different sort of Ukrainian borscht has white beans, pork and sausage in it. This soup could easily be made vegetarian - I don't think it would need a vegetable stock. I'd probably substitute water with soy sauce and miso dissolved into it as a fast stock substitute.
Borscht (recipe follows in an extended entry)
1 bunch of beets with leaves (where I shop a bunch of beets is usually 3 medium to large beets. If the beets are small you may want two bunches.)
1 tsp oil
1 tsp butter
1/3-1/2 lb (or more if you like a meatier soup) stewing beef in ½ inch cubes
1 large garlic clove, minced
1 large onion, coarsely chopped
3 medium carrots, coarsely chopped
3 stalks celery and some celery leaves, coarsely chopped
1 quart beef stock (I use homemade)
1 cup canned tomato and liquid, coarsely chopped
½ small head cabbage.
Seasonings to taste –
1/3 cup white vinegar
2 tsp salt
several grinds black pepper
1 tsp Worcestershire sauce
½ tsp Tabasco
Remove the stalks and greens from the beetroots. Trim the taproot from the bottom of the bulb if needed and wash. Wrap each beet in foil and bake in a 350 oven as you might a potato until cooked through – about 1 hour. Let cool. It's fine to bake the beets beforehand. Just leave them in their foil in the refrigerator until needed. Slip the skins off. If they are stubborn use a vegetable peeler. Chop the beats coarsely.
Take the beet stalks and greens and clean carefully to remove grit and dirt. I soak them in a large pot of water and change the water a few times. Cut the stems and stalks into large pieces (I cut about an inch wide)
In a soup pot, melt the butter with the oil. Over moderate heat sear the beef and then add the garlic, onion, carrots, celery and beets – let the first four sauté a bit and get translucent before adding the beets.
Shred the cabbage in 3/8 inch shreds (I quarter the head, and cut out the core, slicing that thinly separately)
Add the stock, 2 cups additional water, tomato, cabbage and beet greens. Bring to boil, lower heat and simmer covered until all vegetables are tender (45 minutes to an hour)
Season to taste – my amounts are only guidelines but the soup should have a sour tang.
Serve with a spoonful of sour cream and snipped fresh dill if you like, or a sliced boiled potato for a heartier soup. But it tastes great as is.
This makes about 10 cups of soup.
Posted by Leigh Witchel at 2:27 PM | Comments (5) | TrackBack
August 4, 2005
Latest Dance Articles
Two in the Summer 2005 issue of Ballet Review - available only in print.
Giselle and Stravinsky Violin Concerto at the National Ballet of Canada
Tall with long lines, [Guillaume] Côté looks, partners, dances, and acts like a prince, yet he is still young enough to be believable as an innocent Albrecht who does not understand the damage he is causing. He's already fulfilled much of his promise but there is still more potential and he keeps growing in authority.

Because he's older, Aleksandar Antonijevic has to take a slightly more duplicitous approach, but he handles it artfully. The difference can be seen in Act I when Hilarion sounds the horn to call the noble hunting party and Albrecht hears the fateful response. Côté realizes that he's trapped; Antonijevic instead swings into action thinking of a way out. He had a very fine moment when he had almost managed to convince [Greta] Hodgkinson that all could be explained and then Bathilde appeared. When Giselle confronted him and he looked away, it was as much in sad apology as regretful anger, as if he still believed even then that he could have pulled the whole charade off and not hurt anyone.

La Fille mal Gardée
at Pennsylvania Ballet
The company offered two pairs of leading couples, of which Julie Diana and James Ady were most satisfying. Diana comes from San Francisco Ballet and is a fortunate addition to Philadelphia's roster. As Lise, she was a mix of charm, mischief, and delicacy. Her footwork and bourrées were especially fine, particularly a series swift battements serrés as Ady set her down from a lift that conveyed exactly the fluttering ecstasy Ashton intended at that moment. Her performance of the mime sequence Ashton preserved from Karsavina's recollections was also delightful. Naughty, but not cruel, she was a Lise one could both love and laugh with.
Posted by Leigh Witchel at 2:40 PM | Comments (0) | TrackBack
Subway Search Update
I haven't encountered a subway search yet, but The New York Civil Liberties Union has filed suit against the police department to stop the searches. Read here about the plaintiffs.


Andrew Schonebaum . . . commutes daily to his job on the E subway line . . . he was instructed by a police officer at the turnstiles by the main entrance to the Roosevelt Avenue station to go to a table where the bag of another subway passenger was being searched. The police officer at the table asked him to open his bag, which contained a copy of the Sinclair Lewis book "It Can't Happen Here," and then asked him to open another compartment. In turn, he complied with both instructions and the officer visually inspected both compartments. Mr. Schonebaum asked for the officer's name and she gave it to him, asking "Aren't you happy to have your bag searched?"
The political among us make snarky political comments with Sinclair Lewis novels. I'm still tempted to buy the biggest, nastiest looking dildo I can find and stick it in my backback. Who knows, maybe I'll get a date.
Posted by Leigh Witchel at 2:33 PM | Comments (1) | TrackBack
August 1, 2005
Alexandra Ansanelli
I don't have more reliable information about her departure from NYCB than the gossip that's floating around the plaza. We'll all have to wait and see what happens with that, but it seemed like an apropos time to talk a little about Alexandra.
I've seen most, if not all, of Alexandra's career and participated in a small corner of it. I wasn't an immediate fan. As with Miranda Weese, I had initial doubts that were overcome. Different ones: I thought Weese was too facile and Alexandra's body (especially her ankles) was weak and she was being pushed too fast. I was wrong in both cases.
I started changing my mind about Alexandra by 1998 but it was her performances in 2001 of Robbins' Two and Three Part Inventions and especially Wheeldon's Polyphonia that seemed to me to be a turning point. Wheeldon had taken her greatest gift – her projection – and instead of using it in a virtuoso role had given her a delicate lento waltz to dance after being abandoned on a darkened stage. A little girl lost. She made the ballet and the ballet made her.
On Friday, February 8, 2002 Alexandra did an Allegro Brillante that people talked about for the rest of the season. It was an astonishing performance; the kind of performance that you know is astounding even as it's happening before your eyes. She doesn't work for everybody; some people found her projection calculated and artificial. From working with her, I know that it's quite real.
I asked Alexandra to work with me in 2003 through Peter Boal. Courting a dancer is a diplomatic process; my instincts are to use an intermediary. (The story of how I asked Peter to work with me is a saga in itself – though we knew each other casually, I plotted for three weeks to engineer the right "accidental" meeting.) It wasn't difficult this time, both Peter and Chuck Askegard had been happy working with me; Peter mentioned my interest to Alexandra and she called.
The thing that stays with me from those rehearsals was how deceptively strong she was, and how much of it was sheer force of will. There's a step in The Pause on the Way Down that began with an echappé, where she put her legs to the side in a wide position on pointe. From there, I asked Alexandra to do a double pirouette without bending her legs or adjusting, just pulling herself from that spread position into a turn. This is like asking an opera singer to hit a high E with a gag in her mouth. I didn't ask for it out of malice, but I did out of curiosity. I wanted to see if she could do it.
The step seemed impossible in the first rehearsal. She tried a few times and was very frustrated with herself. I was about to add a small plié that would have made the step a great deal more reasonable, but she stopped me saying that she wanted to work on it. She came in the next day able to do it.
Alexandra is tireless, dedicated and ambitious. She's also an Alexandra, don't call her Alex. She loves elegance and femininity. She wasn't always easy to work with. She was never rude or unpleasant – very much the opposite. I've never seen anyone try harder to be considerate. But she lives at a very high pitch; everything is important and no detail can be overlooked. It took a lot of energy to keep up with that; I left every rehearsal exhausted. But that's part of my job description and her talent justified the extra work. Looking back on the solo I made her, I did not accomplish what I had set out to do, and I regret that. Alexandra's schedule was tight; I bit off more than I could chew.
My favorite part of the entire process was the photo shoot. Alexandra is very pretty in person, meticulously so. But the camera absolutely loves her. Josef Astor took the photos and David Quinn, my costumer, brought materials for styling. He had two bolts of fabric, assorted feathers, hats and jewelry. The "dress" she wore for the promotional shots was made of a bolt of velvet and a safety pin. He draped it on her in four minutes; someone timed him.
This was her favorite picture from the shoot.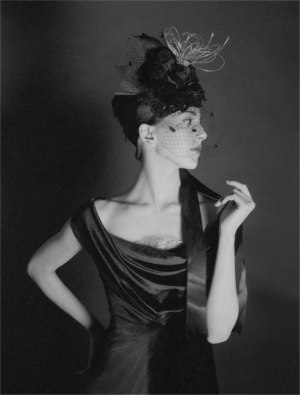 I'm sad that she's leaving NYCB. Often when someone leaves it's because their career has been overlooked. That's not the case; I think both Martins and Wheeldon have done right by her. Martins saw her potential right off the bat; Wheeldon made the roles that defined her. I think NYCB is her best fit and hope that there might be a homecoming at some point in the future. In any case, I hope things work out for her well wherever she goes. The classics are going to be an interesting challenge for her. She's not built with moderate classical proportions; she has a long quirky neoclassical line. Then again, this is also the woman who could do a double pirouette from an echappé because she decided she would. I'd be the first in line to buy tickets to her Giselle.
Posted by Leigh Witchel at 2:40 PM | Comments (3) | TrackBack