« February 2007 | Main | April 2007 »
March 27, 2007
Tuesday Night Jukebox - Ear Bleach Edition
Nancy Sinatra on Scopitone. It takes strong medicine to get this out of your head. I watched it one too many times (that would be twice) in Palm Springs this weekend.
Posted by Leigh Witchel at 6:38 PM | Comments (2) | TrackBack
March 22, 2007
Priceline Caveats
In the comments Mitch Stein wrote about his frustration renting a car from Priceline.
Let me give you the other side of Priceline. I booked a rental car specified on Priceline as an SUV. I thought I was getting a great deal until I found out that some rental car companies have 5 categories of SUV. An "SUV" rental could be for a GEO Tracker for all Priceline cares. The best part is that when there was a death in my family and I had to change my pickup day to 2 days later I forfeited my 177$ rental fee AND THE CAR. Yes because I wanted to pick it up 2 days later and only use it for 3 days instead of 5 days I lost the whole thing, the car and the money! These people use death and emergencies as a big, fat, free profit item! Never again!
It sucks to have that kind of experience and it could happen using Priceline not only for car rentals. If you try to check in a day late on a Priceline reservation you will find the reservation has been cancelled entirely. Also, Priceline defines its own categories. What you think of as a four star hotel may not be what they give you.
My best suggestion to Mitch is, if you have not already gone beyond talking to a customer service rep on the phone, write a letter. You may get a better response higher up the ladder. Priceline has refunded money in limited cases because of emergencies. I was scheduled to be in Birmingham AL, on the night Katrina hit. I called Priceline the same day; they refunded my purchase with no arguments and no penalties.
For others considering bidding on Priceline, caveat emptor. Like any cut-rate seller, Priceline is not something to use without caution and having a good handle on the product.
Check all other options first and have a cancelable backup plan.
Read their contract and conditions CAREFULLY. Can you afford to lose a non-refundable reservation? Do you want to purchase their insurance? For the record, I never have and have not yet needed it. I use Priceline frequently enough that I figure at this point a loss is amortized.
Research your bid first at either Better Bidding or Bidding for Travel.
I would not use Priceline for air travel. I used it occasionally a few years ago, mostly for NYC-YYZ flights; the small savings are not to me worth losing control over schedule (and the airline frequent flyer miles on longer trips).
I haven't yet used Priceline for car rentals. There are enough competitive deals out there that I haven't felt it worth it. For instance, I'm renting with National Car in ONT tomorrow; a coupon for one weekend day free will result in a better price than I think I could get on Priceline.
Hotel deals on Priceline in the last year have gotten steadily less appealing. For a solo traveler, Priceline is usually still the best deal, but I would recommend researching all non-opaque options first. I will be heading to Chicago again for a weekend in April. I may use Priceline, but I also have back up reservations at the Palmer House or the Swissotel for $79 and $99 respectively. Both are cancelable; Priceline would need to beat them by at least 20-25% for me to use it instead.
Will you be satisfied with the product Priceline offers? You've contracted to get:
A hotel anywhere in the mapped area Priceline indicates.
A room that sleeps two adults with any bedding configuration the hotel chooses. I felt that the one Priceline commercial that I have seen on TV was misleading. It is not always "the same room." You're not just buying surplus inventory on Priceline. You are often buying distressed inventory. Recent Priceline stays at Hilton family hotels in SF, Boston and Philadelphia have all yielded "Priceline rooms" – a room near an elevator, with a handicap accessible bathroom or some other feature that might make it less desirable to a standard traveler. Older landmark hotels such as the Westin St. Francis in SF or the Boston Park Plaza give their smaller rooms with double beds only to Priceline guests. They sleep two adults, so it fulfills their contract. I've been in those rooms; they're just fine for a single traveler but it would be a very different story for two travelers who are not an intimate couple. And there's not much to be done besides pay for an upgrade.
At the quality level or better that you indicated. That level is determined by Priceline not by guidebook ratings but by a list of standard facilities, but it's their call not yours. You can argue up to a point, but back up your argument with pictures - I recall a woman getting a refund on a bid that turned out to be a fleapit hotel that way.
Generally non-smoking, but not guaranteed. I've infrequently gotten a smoking room instead of a non-smoking room; I think the trend on Priceline would be even more difficult for smokers. The Hilton Garden Inn in Philadelphia is a non-smoking hotel; they will charge you a $200 cleaning fee if you smoke in the rooms. A smoker who gets it on Priceline is out of luck.
Posted by Leigh Witchel at 3:49 PM | Comments (0) | TrackBack
March 21, 2007
Latest Dance Articles - Major Catchup Edition
I have four articles in the current issue (available only in print) of Ballet Review, which is too many, but two were bumped inadvertently from the previous issue.
West Coast, West Side on San Francisco Ballet's week at Lincoln Center:
It's hard to watch Artifact without regret for what might have been. Back in 1988, when it seemed that every major company was scrambling to get a Forsythe commission and Frankfurt Ballet came to New York's City Center for its own planned invasion, we thought that we were looking at the future of ballet post-Balanchine. As dark and churning as the works were, there was a genuine attempt to assimilate and develop classical ballet. This was supposed to be our generation's contribution, and Part 2 of Artifact Suite eloquently shows why. What happened?
Revival and Repertory at Covent Garden - Sleeping Beauty and the Mixed Rep and Gala programs at the Royal Ballet.
Alina Cojocaru and Marienela Nuñez were both dancing Aurora at the top of their games. Cojocaru's delicacy and modesty is naturally attractive in the role, but she is not a consistent performer. She has bad days when her feet start flopping, but traditional repertory with marginally slower footwork shows her at her best. It was glorious to see her in a performance that justified all the fuss as she sailed through the balances in the Rose Adagio without even needing to show off. Cojocaru balanced through placement; she was on her leg the moment her shoe touched the floor. Nuñez balanced no less successfully, but from muscular strength; one could sense her driving her thigh forward to recalibrate her equilibrium.
In the front of the magazine, two short pieces, one reporting on both Akram Khan and (quoted below) Nrityagram Dance Ensemble:
As with their performances at the Joyce Theater a year previously, one marveled at the skill and stagecraft of the dancers and also at the taste and craft of Sen in her compositions. With their impeccable suspension and control the dancers make the style look deceptively easy (it takes seeing lesser Odissi dancers to know just how good Sen's are). Here the company was almost too good. It has been performing the same program for month. Rather than looking fatigued, their work in unison was amazing. But it looked too drilled, with a high gloss that was difficult to penetrate.
The second on the Sourcing Stravinsky at Dance Theater Workshop with Yvonne Rainer's anatomization of Agon.
Seeing the steps of the opening men's quartet danced by women, one realizes that everything will be the same, but completely different. Rainer's fascination with changing the text by changing the situation – substituting women for men; fracturing and switching the order of sections and substituting music – are interesting, although the better one knows the original, the more wry it becomes. A monitor showed a video of Balanchine's male solo from the first pas de trois; Catterson turned the screen away from the audience and attempted to reproduce it as she watched but we could not.
And available online at Danceview Times:
"Troilus and Cressida (Reduced)" is one of those goofball pieces that Taylor makes every now and again. . .Rob Kleinendorst is the stalwart but incompetent Troilus. He wears a pair of purple velvet pants designed by Santo Loquasto that keep falling down in what might be a backhanded tribute to Kevin MacKenzie's ill-fated Romeo on television with Natalia Makarova. With three red-caped Greek invaders skulking about in pursuit, "Troilus" is brief, silly and harmless, but the result wasn't worth the resources. Disney did better with the music using dancing ostriches and hippos.

New (Old) Balanchine in DC Suzanne Farrell Ballet dancing Balanchine rarities.
The performance wasn't given full-dress treatment; Farrell herself dubbed it a "working rehearsal." She spoke briefly in front of the curtain, saying that she felt very aware of the line between 'preserve' and 'preservation'. To her, "preserve" was passive and "preservation" is active, which gave her license to adapt and rework. As she went on, it was clear she wasn't talking about wholesale changes, but tailoring each work to the current dancer as Balanchine himself might have.
Posted by Leigh Witchel at 6:15 PM | Comments (0) | TrackBack
March 20, 2007
Tuesday Night Jukebox!
Since I'll be heading to that coast-cum-state-of-mind for the weekend, here's the Mamas and the Papas on Hullabaloo! Even if you're not a fan of the song, stick it out until at least 1:15.
Posted by Leigh Witchel at 5:24 PM | Comments (2) | TrackBack
March 19, 2007
Why we knit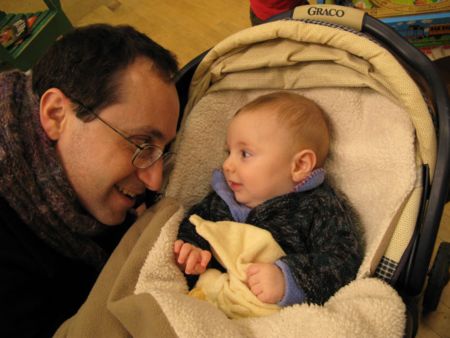 Beauty and the Beast. Nick's wearing the sweater I knit for him (Connie had the good sense to stuff him into it for my visit); I'm wearing a scarf I made from Noro Nadeshiko (wool/silk/angora) several years ago.
Posted by Leigh Witchel at 10:44 PM | Comments (3) | TrackBack
March 16, 2007
Word of Mouth: The Lady in the Fur performs!
Rajika Puri, the woman who introduced me to Indian dance and helped teach me the rudiments of how to appreciate it, will be performing Conversations with Shiva: Bharatanatyam Unwrapped next Thursday to Sunday at Joyce Soho. I'm going to be out of town and will have to make do with the dress rehearsal on Wednesday, but go. I've enjoyed her skilled work many times, it's both theatrical and lucid. I've seen bits of this in rehearsal; what she's doing (examining the structure of a traditional form by gently picking apart the pieces) is very clear to Western eyes. The performance gives a good introduction to the language and ingredients of classical Indian dance, which has conventions that need the same initiation as the secret code of ballet mime.
To imitate Rajika, you must go! Please do, and tell me what you thought.
Posted by Leigh Witchel at 1:07 PM | Comments (0) | TrackBack
March 15, 2007
Back very soon
Two articles submitted, two more will be after final polishing. What a relief.
In Philadelphia this weekend, seeing Pennsylvania Ballet for Ballet Review.
In the meantime, here is something so fabulous you will barely be able to stand it.
Posted by Leigh Witchel at 1:36 AM | Comments (1) | TrackBack