« January 2007 | Main | March 2007 »
February 27, 2007
Hiatus - It'll be a bit longer.
Sorry folks - the usual.
Everything is fine, but I have four articles on deadline; when I get them out of the way I'll be back.
Posted by Leigh Witchel at 11:35 PM | Comments (0) | TrackBack
February 21, 2007
Curse you, Showtunes!
Much as I love Showtunes, I did not need to get Wig in a Box stuck in my head.
Now it's your turn.
Posted by Leigh Witchel at 12:40 AM | Comments (2) | TrackBack
February 20, 2007
Chicago Thaw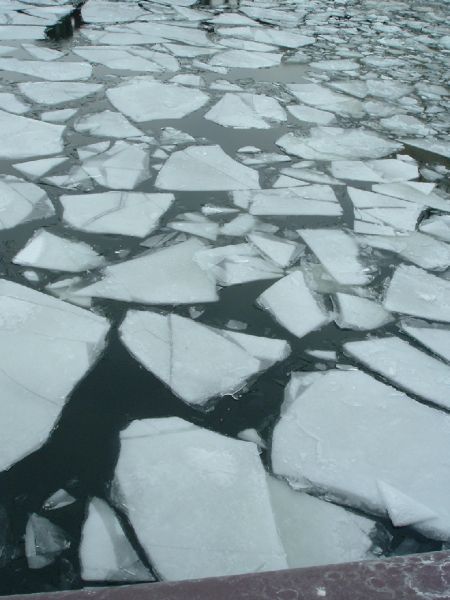 Looking over the bridge on LaSalle Street, 2/19/07
Despite the inauspicious beginning it was a lovely trip.
I saw the Saturday and Sunday matinées at the Joffrey. The long version will be in Ballet Review, the short version is it was worth the trip, and the alternate version lives here – Franklin, a fellow knitter and blogger was my companion on Sunday. He provided excellent company!
I saw several other good friends and got more sense of the city – what's to get a sense of, it's a grid, right? Yeah, and so are New York and San Francisco. Chicago's grid has the added benefit of forcing you to memorize the early presidents in order.
Before going to Chicago, on David B's recommendation I read Devil in the White City
, a book that runs the parallel courses of the Columbian Exposition in Chicago in 1893 and Dr. H. H. Holmes one of the first serial killers who used the fair as a lure for victims. It bills itself as pure history; historians I know roll their eyes when that is said. There's plenty of research in the book; there's also plenty of conjecture. It's You Are There history.
The author, Erik Larson, is better on the Fair and its architects than he is on Holmes. It's probably a good thing, but he has an easier time making more comprehensible men such as Daniel Burnham and Frederick Olmstead come to life than a psychopath such as Holmes who is fascinating in a grisly way, but ultimately reads as a cardboard cutout villain.
That said, Larson does some great things in this ripping yarn. The conjunction of the two plot threads isn't just historically correct; Larson teases out the opportunity and energy in both Chicago and fin de siècle America that fed both builders and madmen. It's a portrait of a city and a country that rings true. Larson also pays special attention to architecture that opens your eyes. It could also be that my friends David B. in Chicago (whom I just visited) and David S. who just moved to Atlanta from San Francisco are an architect and a landscape architect respectively. I found myself noticing the lampposts on Madison Avenue as my bus moved uptown on the way to Boston, and staring upwards at cornices and molded decorations.
Larson's book captures one of Chicago's most vigorous architectural periods; a trip downtown will bring you face to face with some of the buildings described, except, alas, the World's Fair itself. What remains of it is far to the south; David took me there on my first visit to Chicago. My hotel (the Club Quarters Central Loop – gotten again on Priceline for $68/night) is right next to the Rookery, which housed the firm of Burnham and Root. Go to see the Joffrey Ballet at the Auditorium Theatre and you are in Adler and Sullivan's masterpiece. To cap it off, go up the stairs in the Art Institute of Chicago towards their phenomenal Impressionist collection. There is an exhibit of fragments of ironwork and moldings from buildings designed by these very architects. You really are there.
After lunch with David on Monday, as he said with satisfaction the first day above freezing in Chicago in more than a month, I had two hours to kill before heading to O'Hare, and they were profitably spent at the museum. With only that length of time, I decided to see only the Impressionist and American collections, but that means one sees Caillebotte's amazing scene of Paris in a drizzle, Seurat's La Grande Jatte and van Gogh's haunting and claustrophobic picture of his room in Arles. The American collection has Hopper's brilliant Nighthawks and the iconic American Gothic, a painting that's a good deal better than the image that resides in everyone's imaginations. It was an excellent farewell to a vigorous city.
And to make mischief . . . Franklin looks very hot in leather.
〈skips merrily away&rang
Posted by Leigh Witchel at 10:59 PM | Comments (1) | TrackBack
February 19, 2007
Darn or Pitch?
Telling a non-knitter that you're darning socks provokes confusion. Everyone has heard the word "darning," but few people really know what it is. They usually know it's repairing, and that seems even more confusing. Why repair something that costs a couple of bucks?
Hand knitters understand. A pair of hand knit socks takes upwards of twenty hours to make and is an object worth repairing.
I believe my first pair of socks is approaching its tenth anniversary; others are coming up on theirs. Socks get more abuse than almost any other knitted item; they're bound to need fixing.
Here are some of the repairs made. It's interesting for me to see how my sock making evolved from bed socks to socks wearable in shoes.
My first sock was striped in DK weight wool. I think the blue is Wendy Ascot, the gray is Swilan Favora and the yellow is Nylamb. I believe I used a basic pattern by Theresa Gaffney from Threads Magazine with a shaped calf and a gusseted heel. It's got awkward stripes and only good as a bed sock, but oh, it's nice on cold winter nights.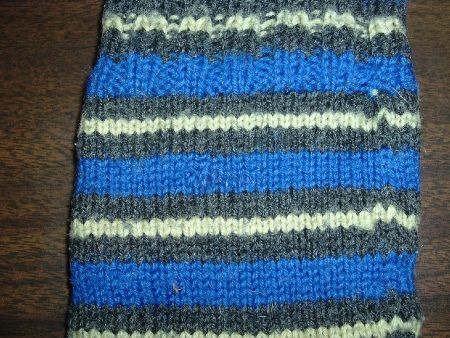 The sock sprouted a hole high up in the calf. That's not from wear, so I have to assume that it was the bane of my existence, a carpet beetle. I have no more Wendy Ascot, so I matched the color as best I could – though not the fiber remotely. My closest match was Euroflax linen. Though distinctly unkosher, I think it was no harm otherwise on a small graft, pictured below.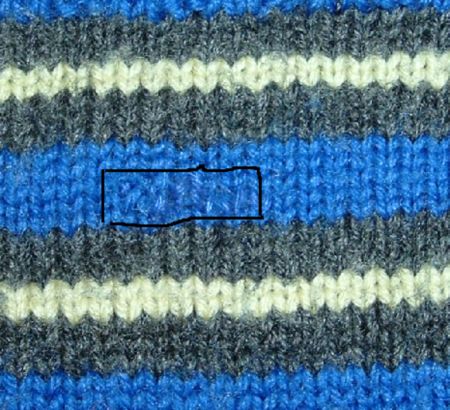 Apologies for my poor photo manipulation skills.
I've had to graft these next socks from Koigu yarn several times already, but I can't bear to part with them because the colors are so pretty. Koigu Painter's Palette is 100% merino, so there's nothing to reinforce them. The painful truth is that if a sock needs a repair. It will soon need more. The fibers have weakened. The other lesson I keep forgetting is that once a sock has needed a repair, you shouldn't machine wash it any longer. I keep forgetting and tossing these in the watch, only to have them come out sprouting new holes.


These socks from Froehlich Wolle are the first socks I made (in 2000) for myself that could be worn as a normal sock. Froehlich wears very well, but I could see the area behind the heel (and naturally, immediately above where I reinforced the sock) was not fraying but becoming thinner and thinner. Instead of grafting, I took matching yarn and wove it through the back of the sock to reinforce it. Yet, see lesson above. I just machine washed this pair, only to find one had come out with the cuff frayed and needing repair.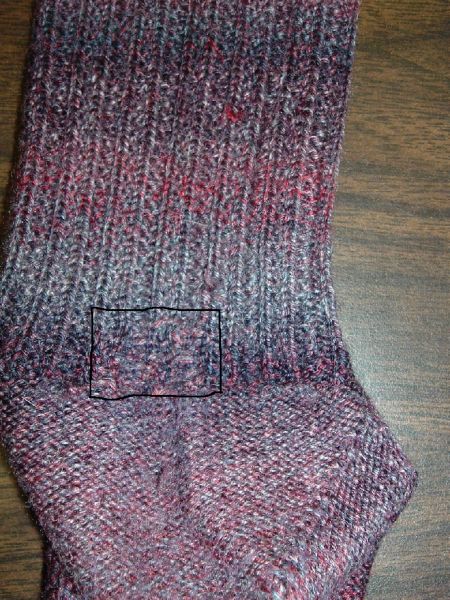 So sock knitters, what do you do? Do you try to prolong your socks' lives by darning or do you take the first hole as a sign that more will soon follow and retire them?

Posted by Leigh Witchel at 11:14 AM | Comments (4) | TrackBack
February 17, 2007
At some point I had to experience the delay from hell
Five hours. I left the office at 6pm. I got to my hotel in downtown Chicago at 4:15 am local time.
It wasn't weather or runway, but the lack of a flight crew.
Ugh.
Posted by Leigh Witchel at 12:11 PM | Comments (2) | TrackBack
February 15, 2007
Leigh's Dance Card - Chicago Edition
Goin' to Chicago. . .to see the Joffrey in Destiny's Dances. I'm seeing Saturday and Sunday matinée to see both casts of each ballet and then (what else?) SHOWTUNES! at Sidetrack.
It wouldn't be Sunday in Chicago without it.
Posted by Leigh Witchel at 6:02 PM | Comments (0) | TrackBack
Latest Dance Article
Armitage Gone! Dance for Danceview Times:
Though I didn't find it compelling, the structure and formality of "Time" kept it watchable; it had the doggedness of a running dream.
The above snippet illustrates what I found hardest about this review: getting the balance right. Armitage knows her craft; but I think there are better works out there than what I saw. It's easy to say that directly in this blog, but that isn't useful in a review; you want to allow the work to be judged on its own. Also, this is the first time I've seen Armitage's work. Dismissing anyone's work in print on the first viewing should only happen in extreme circumstances. Yet, neutrality isn't really neutral in reviewing. My neutral stance, no matter how fair I'd like to be, is a pan. I didn't really like it. Apollinaire Scherr also had mixed feelings, but liked what she saw and slanted it towards a recommendation:
I haven't always been an admirer--in fact, I positively detested her last outing, at the Duke. But everything on the Joyce program is worth seeing--cherishable, even. I didn't love every moment, but I loved the spirit of it: and that's the point--it has a spirit.
The distance between her assessment and mine is actually not that great, but it's a potent reason to know how much your taste overlaps with a given reviewer's.
Another noteworthy article this week was Gia Kourlas' interview with Miranda Weese before she leaves NYCB to go to Seattle and PNB. Kourlas has a gift for features (she did one of me and Chuck Askegard in '99); she managed to ask some very direct questions, kudos to Weese for answering them directly yet with tact and diplomacy.
Posted by Leigh Witchel at 5:40 PM | Comments (0) | TrackBack
February 14, 2007
Latest Knitting Article
Extreme Knitting, in the Spring 2007 issue of Knit.1. This one took time to come together, but doing the interviews with people like Debbie New
or Janet Morton (who knit a house cozy) was an absolute blast. I also tell yet again my story of knitting a sweater for a Visible Horse. This isn't online, and should be hitting newsstands now.
"That's really relaxing, isn't it?" People associate knitting with relaxation. We know better. Ask any knitter feverishly trying to do the last two inches of a sleeve on the ride over to a holiday gathering.

Sometimes the tension is self-inflicted. "I need more yarn!" my friend Grace Judson said urgently to me on a fall day in Union Square Park in Manhattan. I complied and pulled more yarn from a skein, laying it down neatly so it would feed unobstructed on to her needles. We weren't shopping; she about to win [in 2002] the fastest knitter in America competition, and I was her obedient, if inept, yarn boy.

. . .

"Sock Wars came about as a natural progression," [Julie] Gardner continues. " I wanted it to be interactive, as opposed to people doing their own thing. I was mulling over how to achieve this when I heard about 'Street Wars.' I had a thousand possibilities rattling around in my head. Death by Knitting appealed the minute it occurred to me. I love the idea of moving knitting outside the traditional realm. Anything that gets us away from the 'knitting is the new yoga' cliché is progress."
Posted by Leigh Witchel at 8:18 PM | Comments (0) | TrackBack
February 13, 2007
Borders
I've always found borders fascinating.
I grew up in Mamaroneck, 26 miles to the north of New York City. The boundaries were complicated. There was a town and village of Mamaroneck; we lived in the unincorporated zone of the village. Four houses up the street, our neighbor's home had its front yard in the village of Mamaroneck and its back yard in the town of Rye.
In 1979, when I was 15 I went to Finland for the summer and I stayed about 60 km from the Russian border. The family I stayed with asked a man, I think it was someone in the Finnish army, to take me there as a favor so I could see it. I was staying in Taaveti, to the east of Lappeenranta; Nuijamaa was to the west. I don't remember much about the trip, though for some reason I have a feeling we took it in a Lada, but I have a snapshot of the border in my head. A grassy zone, yellow signs, coniferous forest beyond and a watch tower. As we gazed down at it, the man cautioned me about the border zone; walk into it and you risked getting shot. We stayed a safe distance behind.
The border was in the middle of a forest with no distinguishing feature to mark it. Like much of the border the United States and Canada, it was arbitrary. At least there is a river to cross between here and Mexico.
Among the possessions I lost when a box didn't get loaded on a van during a move from 50th Street to 56th Street were my coin collection from childhood, my cookbooks (the loss I felt the most) and a photo album of a trip I took with my friend Dale to the Gaspé in 1986. We circumnavigated the peninsula and on the way back, stopped in a little hamlet called Estcourt. There's a picture Dale took of me, now lost. I'm smiling, wearing a new sweater I had bought at Holt Renfrew in Quebec City and straddling the earth. One of my feet is in the United States, the other in Canada. There's no difference in the ground or the features in the space between my feet, but one is in one country and one in another.
The town itself was as curious. The majority of it was in Canada, a small corner of it where we stopped in the United States. This part contained about four or five houses; families slept in Canada and ate breakfast in the U.S.. There was also a gas station, a drive in movie theater and a post office, all used to advantage by the Canadian residents. Amusingly enough, there was also a customs office. The thing was, the road from the town into the United States led into the Deep North Woods reserve, then petered out to nowhere. It was in the U.S., but you couldn't get to it from there. All the cheap American gas had to either come from Canada or be shipped through it.
I get a small thrill from border signs. They demarcate a road trip and fill one with anticipation. "Connecticut Welcomes You", "Welcome to Massachusetts" and then Boston approaches. "Welcome to New York, The Empire State" on I-95 means the lights of Manhattan will be visible in about half an hour. Border signs in other languages are even more exciting, "Bienvenue à Canada" or "Croeso I Gymru." The drive from Bristol to Wales has a potently tangible boundary; crossing the Severn over the huge span of a new bridge that takes several miles to traverse.
The summer of 1987 was my first year up at Burklyn Ballet. I was a counselor; one Sunday when we were off, I took two of my favorite students, Virginia Batson and Alison Roper on a pleasure drive. Northern Vermont is astonishingly beautiful in the summer; one of the great pleasures is to just get lost. We headed north, probably towards Enosburg about an hour's drive over country roads away.
We headed to the border. It was the country on a beautiful summer's day; it didn't occur to me I was transporting two minors without identification across an international boundary. Even only a few years ago there was less fear of kidnapping or terrorism; we crossed without incident. I can't recall whether we were leaving the U.S. or returning, but we stopped at the border to take a picture, much like the one Dale had taken of me in Estcourt, and then we piled in the car to cross the border.
I've never had a car searched quite so thoroughly before.
The main border crossing in Vermont is at the end of I-89; an efficient toll site that takes one towards Montreal. One day a few years later, my friend Amy and I crossed that border in an enormous 1983 Oldsmobile Delta 88. We were randomly stopped at the checkpoint and examined. The immigrations officer asked Amy if she seeking work in Canada. Amy, who was just shy of 18 and auditioning for ballet companies, answered innocently "No, but I'd like to someday." They smiled and let it pass. A small Quebecoise woman asked to look at the car. "Can you open the hood?"
"No."
She looked at me quizzically.
"I really can't." I explained. "I don't know how." My father had given me the car right before I left. I was living in New York, and only used it in the summer and then when I left the city to work in small ballet companies. I filled it with gas and turned the key; I had no clue how the thing worked.
We did get the hood open and I stared at the enormous engine that I had never seen before in awe. I opened the trunk with alacrity; I was already embarrassed enough and at least that I knew how to open. The trunk was empty, a yawning cavern from a time when cars where huge. The inspector was short and lifted herself into the trunk to check for hidden items. She seemed to disappear into the trunk as Amy and I looked at each other, fighting giggles. Mischief always presents itself at the most inappropriate moment; it seemed way too easy to just close the trunk and drive off with an angry inspector inside.
The border from Vermont to Quebec is arbitrary at that point but the topography changes quickly, the horizon lengthens and flattens quickly once you enter Quebec. The excitement of a border is the excitement of change and transformation. It may not feel different when you cross from Connecticut to Massachusetts, but why does it when you cross from England to Wales, from Finland to Russia, from the United States to Canada?
Posted by Leigh Witchel at 11:21 PM | Comments (1) | TrackBack
February 8, 2007
Latest Dance Article
Personality, a review of the "Essential Balanchine" triple bill at New York City Ballet - and the unannounced tribute to Melissa Hayden:
The minutes went by as d'Amboise spoke and "Liebeslieder" — a masterpiece, but a long masterpiece — was still to come, yet he was mesmerizing in his stories, his blarney and his need to connect to her and (perhaps even more) us. He told of going down to see Hayden in North Carolina as she lay in the hospital on oxygen. Her mind took care of mundane details, telling her children there was a pot roast in the freezer in case d'Amboise stayed the night, but even then she was thinking of the stage. On seeing him, "Oh, Jacques, you came for my last dance." Technique may make a dancer, but personality and hunger is what makes a star. Dancing Hayden's role in "Stars and Stripes," Ashley Bouder has that hunger.
Posted by Leigh Witchel at 9:35 AM | Comments (0) | TrackBack
Leigh's Dance Card - Go Greyhound! Edition
I'm racking up Road Rewards points this week!
Tuesday 2/6 - New York. Armitage Gone! at the Joyce. On duty for Danceview Times. This is going to be hard to write, because it was a first viewing of her work and I was neutral about it. It's a lot easier when you have a stronger opinion about the work.
Thursday 2/8 - Philadelphia. Giselle - Pennsylvania Ballet. On duty for Ballet Review. I think Julie Diana should be perfect in the role, but she did not perform last Sunday. I'm hoping I won't get there and be disappointed by a cast change.
Saturday-Sunday 2/10-11 Boston. A Midsummer Night's Dream - Boston Ballet. On duty for Dance International, but combined with a personal reason; I've known Tai Jimenez since we were students; it will be her debut as Titania on Saturday matinée.
Posted by Leigh Witchel at 9:12 AM | Comments (0) | TrackBack
February 7, 2007
Latest FO's
The cabled hat is finished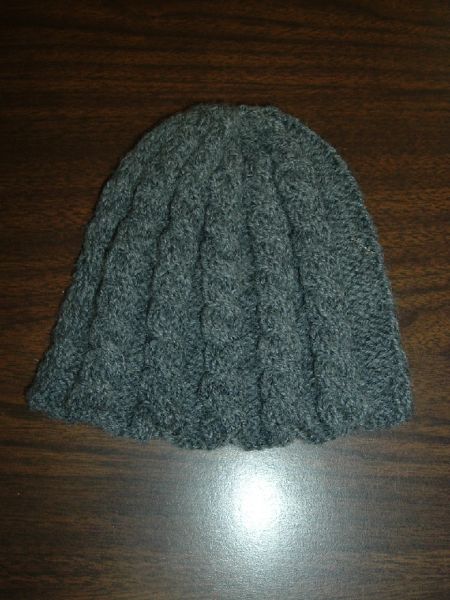 But alas, it's too small for its intended victim's head. It will go in the gift basket and I'll make Frankie another hat.
I imagine that older siblings feel deprived of attentions when newborns arrive so I made Alex's brother a cap based on the fez I made for Knit.1 Magazine. Instead of embellishing with I-cord I knit the contrast colors directly into the hat.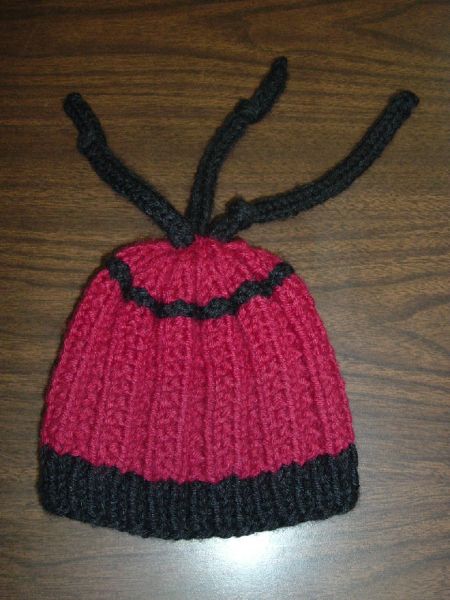 And Nick's Sweater is all done, with blocking and little star buttons.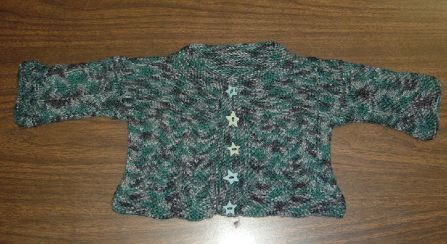 Here's a closer look.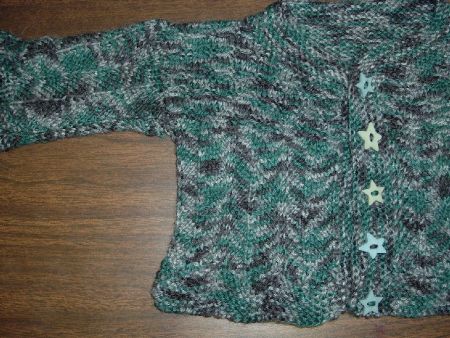 I think Nick approves.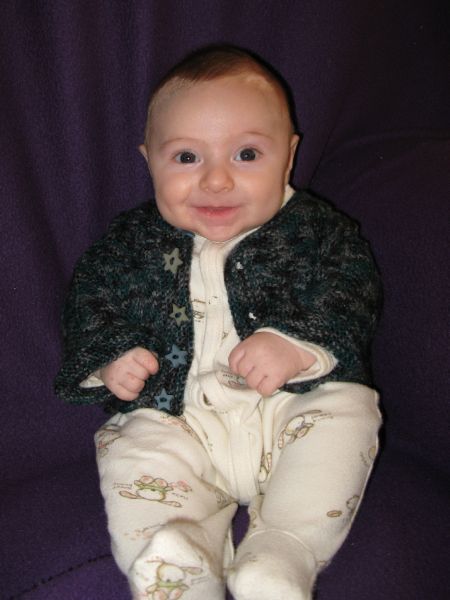 I didn't do much knitting in San Francisco. I'll continue with David's scarf in earnest once I'm sure about the design - I've taken a photo of it in progress and sent it to him for approval.
Posted by Leigh Witchel at 7:52 PM | Comments (2) | TrackBack
February 4, 2007
Four nice things about San Francisco
Tina LeBlanc – 42 year old mother of two. Danced the lead in Divertimento No. 15 on Friday, a lead in both The Dance House and Blue Rose on Saturday night and a lead in Artifact Suite on Sunday matinee. Looks fabulous. We hate her.
Artifact Suite – for someone as ambivalent about Forsythe as I am, these are strong words, but it's the best ballet of the post-Balanchine/Ashton era. The first part is gimmicky with a fire curtain dropping with a clunk to the audience's giggles, but the second part is an atomic age ballet blanc of extraordinary power. It's on program one on Feb 8 and matinee and evening on the 10th. If you can see it, don't miss it.

EOS Wine Bar – My friend Don and I went to dinner there before Saturday evening's performance so I didn't drink, but the food there is marvelous. It's "fusion" which is more gimmicky as a concept than a result. The food is delicious, roasted Brussels sprouts with sesame, winey dumplings stuffed with shiitake in mushrooms, sea bass and especially black pepper filet with eggplant.
Opal Hotel – A very solid hotel bargain. $44 a night on Priceline got me a room. The décor is uninspiring (mmm, tan!) but the rooms are clean and the bed is comfortable. The price includes in room wired access (bring a long Ethernet cable), a fitness center with only barbells but good Lifecycle cardio equipment, and a convenient if uninteresting breakfast. The staff is helpful even if the room I got was close to the elevator. For $44, I wasn't complaining.
Of course, the nicest things about San Francisco are Peter, Mark, Randy, Jim, Don, Jenny, Rachel, Paul and Helene. The only thing missing is David.
Be back home tomorrow.

Posted by Leigh Witchel at 8:54 PM | Comments (1) | TrackBack
February 2, 2007
The Lost Night
I finally read a book!
With the sort of irony only possible after writing a post on travel knitting, my size 8 needle that I was using for David's scarf splintered at the join. I had John's socks to work on as well, but chose instead to read the book I had packed, The Lost Night
by Rachel Howard.
The book is a memoir of Howard's childhood and the murder of her father one night when she was ten. She saw her father as he was dying; the murder has never been solved.
Though the mystery hangs over the book, finding out "who done it" is beside the point. Everything that happens in life, good and bad, is part of you. Howard's story is a poignant journal of integration, of taking the unthinkable and admitting that it happened, and that it affected her irrevocably.
Place is often character. Her descriptions of the flat, hot Central Valley region in California are claustrophobic in their suburban minutiae of developments and malls with no urban area to anchor them. The murder isn't the only violent act in the book. There's suicide and child abuse; Howard brings the Central Valley to life, paradoxically as something that sucks the life out of people, in such a way that it seems somehow complicit in the misfortune.
The first half of the book is harder to read than the second, mostly because Howard's detached, almost breezy style (the book is a very fast read given the subject) mirrors her own attempts during childhood and adolescence to glaze over the event as well. When in the narrative Howard is ready to start facing what happened, the tone changes imperceptibly from glossy to porous.
There is no catharsis in the book, not even in the meeting with her father's last wife, who was there in the house along with her son and Howard on the night of the stabbing. There is integration, which may be less literary, but it's more honest. Somehow, going back to these places as an adult may not solve anything, but it lets you go on.
Rachel is a colleague and a friend, which added a strange twist to the book. A self-centered observation, but it's awkward to discuss autobiography with a friend afterwards. What to say? Rachel and I are due to have lunch on Sunday, so when we spoke today I complimented her on the book and mentioned how difficult it was to read something like this and know a friend went through it. For her part, she briefly said it was a long while ago – also true. Writing gives things immediacy and also exorcises some of the passion. The book is worth reading, especially for anyone who grew up in that area – even though I grew up in a completely different suburb in another state a few years earlier, there were wincing twinges of recognition.

Posted by Leigh Witchel at 10:22 PM | Comments (0) | TrackBack
February 1, 2007
Preparing knitting for traveling
I've always got knitting with me; on a long trip I think I'd go nuts without it.
You can bring knitting on planes in the United States, but each country sets their own security policy. The only time I ever was asked to put away my knitting was on a BMI flight from Charles de Gaulle airport to Heathrow. My project, the wedding afghan for my brother and sister-in-law made it through security with no comment and the plane was on the runway as I was busily trying to get the thing done; I had three days left and a foot to go. The stewardess had the usual reaction of amused fascination, but the purser then came by and asked apologetically if I would put my knitting away. "It's not what you would do but what others might." CDG-LHR is a 45 minute flight and not worth the argument; I simply put it away no matter how silly I thought the logic was. You can kill someone with your bare hands if you've a mind to (I don't!) what I had was a long blunt plastic circular needle with four pounds of cabled wool afghan hanging from it. As far as I'm concerned, if I could figure out how to hijack a plane with an unfinished wool throw, I deserve to. And I deserve to have the plane take me wherever I please.
Me shaking cabled wool throw at pilot threateningly: Take this plane to Reykjavik!
Even though current TSA rules permit knitting needles in carryon luggage, TSA screeners are permitted discretion to not allow any item they construe as dangerous. To raise the fewest objections, use blunt-tipped circular needles in plastic, bamboo or other non-metallic material.
What knitting project to bring? Small is beautiful. So are things that don't involve multiple balls of yarn. I've broken those rules when I needed the time to make headway on a project, but I truly regretted the zillion color Fair Isle sweater I dragged from Paris to Antwerp to Rotterdam to Amsterdam to Bruges to Brussels. And the damn thing still isn't done.
Currently tucked into my carryon are John's socks – both at the heel turning, and a scarf for my friend David from silk/mohair I bought at Artfibers on my last trip to San Francisco. More than enough knitting for the weekend, and each fits into a gallon Ziploc bag with room to spare and crush.
Along with the project and needles, I tuck in a plastic darning needle and a small package of ring markers. And I'm off to the airport.
See you in San Francisco!
Posted by Leigh Witchel at 12:09 PM | Comments (2) | TrackBack