September 7, 2006
Pictures at an Exhibition (III)
Walking on Sunday morning before a matinee.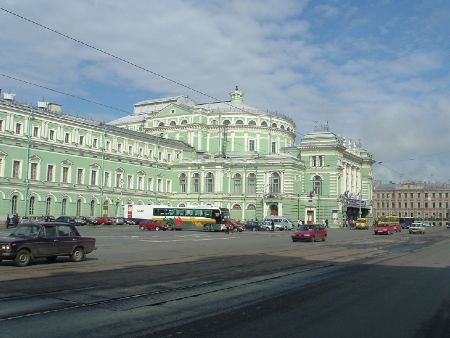 The Mariinsky.
I did try to take pictures of the interior at intermission, they came out predictably awful. There's a panoramic view of the theater at the Mariinsky's own site. It's more gold in that photo than I recall it - my impression (particularly because of the draperies and the ceiling that one can only see around the edges of the panorama) is overwhelmingly pale blue.
St. Nicholas' Cathedral (a naval church) is down the street about two blocks from the Mariinsky.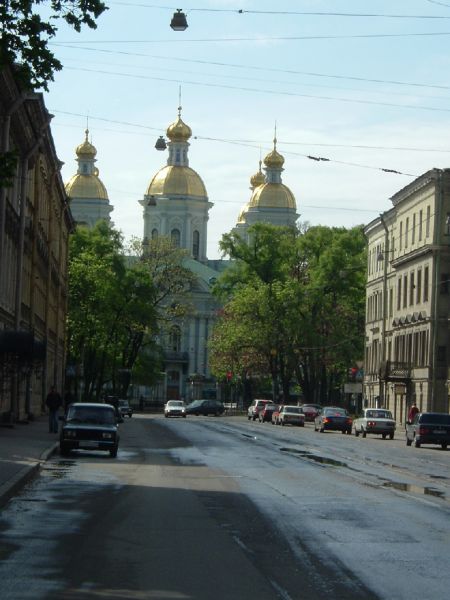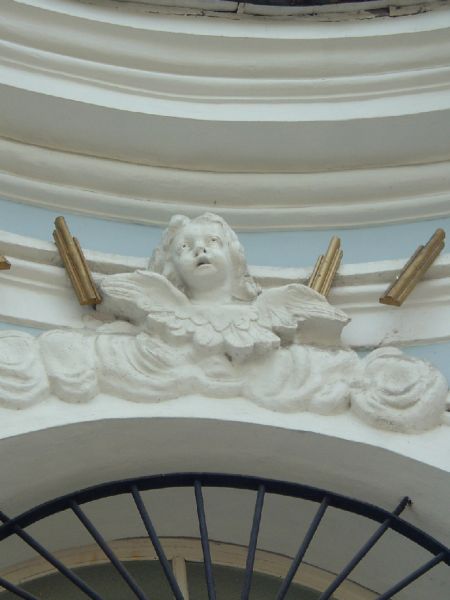 Monday - walking with Nico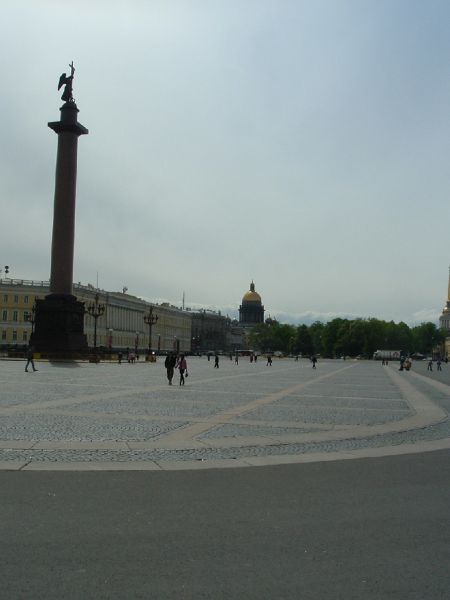 Palace square, looking towards St. Isaac's. A bit of the golden spire of the Admiralty can be seen at the far right.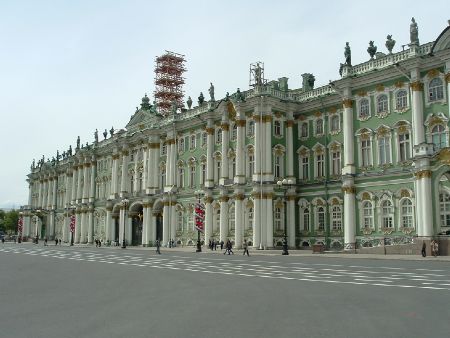 Shock and awe in architecture. The Winter Palace. It's even bigger than it seems as this is only the facade on Palace Square. The building has an interior courtyard and another equally large wing facing the Neva. It's over 1000 rooms and presently houses a portion of the Hermitage collection.
A canal with a connecting bridge above (I believe this may be from the "little" Hermitage to the "old" Hermitage.
Monday: The walk back to the hotel after Swan Lake at the Mariinsky. 10:15 pm, light rain.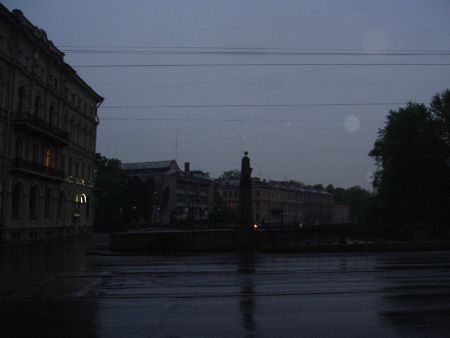 The Moika, looking eastward. The westward view from the same spot is here.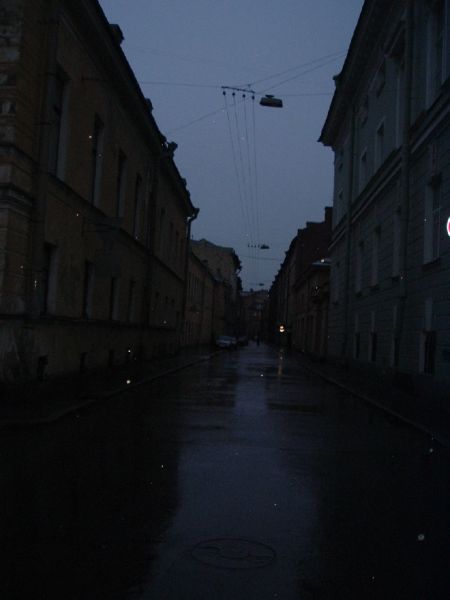 A side street off the Moika.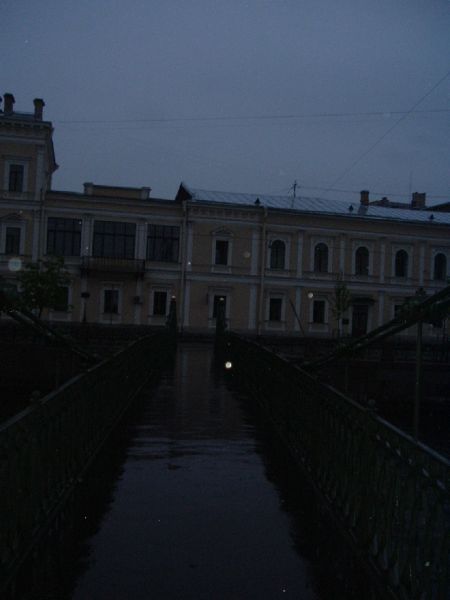 Crossing a bridge over the Moika, looking at the Yussupov Palace.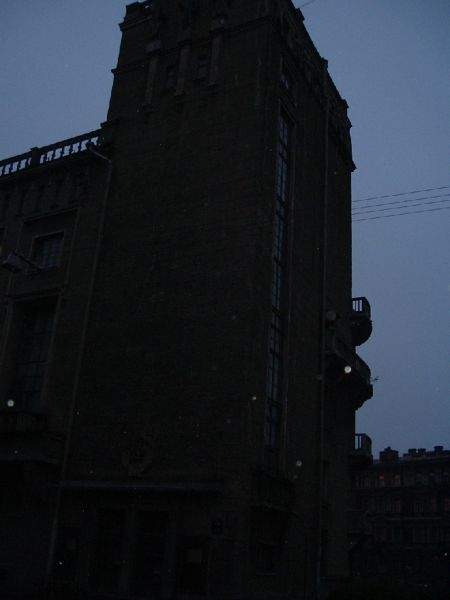 Moika 58 - one of the few Soviet style buildings I saw in the center of the city. Note the hammer and sickle over the portal.
Posted by Leigh Witchel at 10:22 AM | Comments (0) | TrackBack
August 29, 2006
Pictures at an Exhibition (II)
Accidentally not included from my first day, walking back to the Radisson on Nevsky Prospect: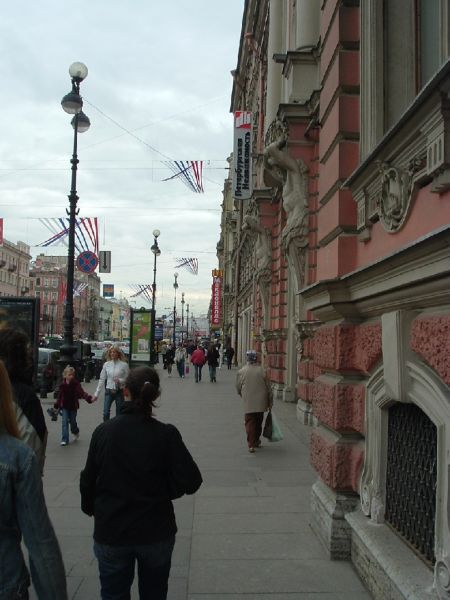 Right down the block from the Beloselsky Palace, the Golden Arches. Yes, it's an exact transliteration. I did not eat there.
The next day, walking to the center of the city. I avoided Nevsky Prospect because there was a huge parade. It was Saturday, and the city's anniversary. I hate to admit it, but I don't like parades or crowds.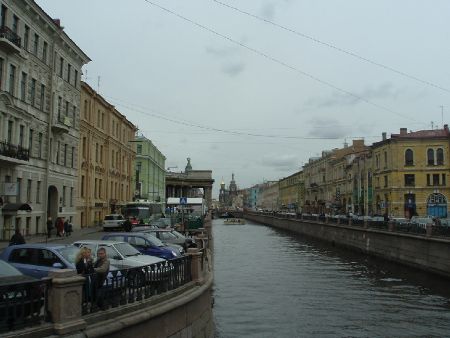 The Griboedov Canal. I stayed about two blocks outside of the Fontanka. The Griboedov (formerly the Catherine) Canal is the next one in. It's quieter, smaller and more meandering than the Fontanka.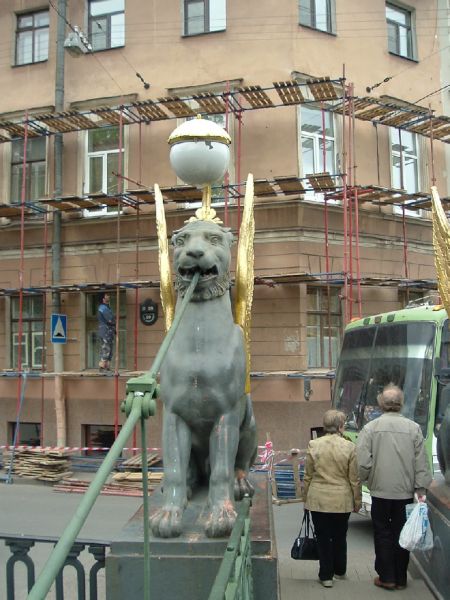 The Bankovskiy Bridge over the Griboedov has four gilded griffons, two at either end.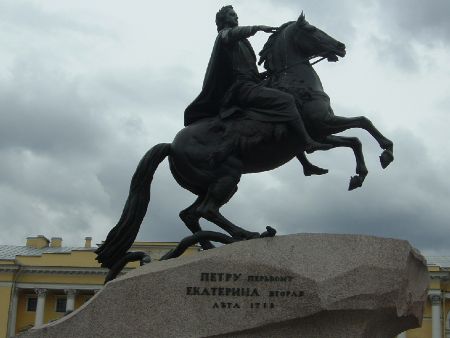 The Bronze Horseman. This statue of Peter the Great was erected by Catherine the Great. The inscription says "To Peter the First from Catherine the Second." Catherine, a German, was skillfully asserting her legitimacy.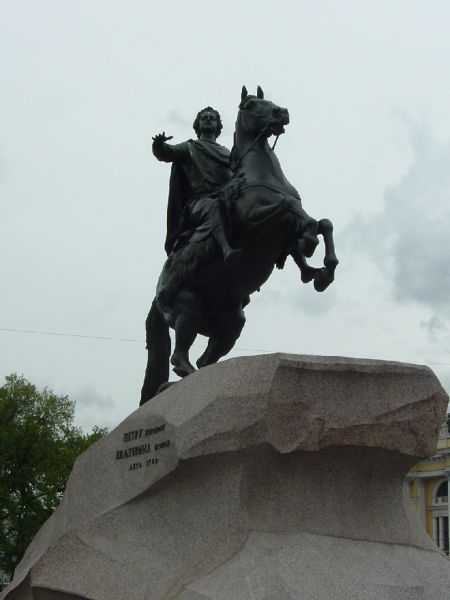 The statue figures so prominently in Pushkin's narrative poem The Bronze Horseman that people referred to it as such afterwards. One can see why poor Yevgeny would find Peter and his aspirations as intimidating as the Neva itself.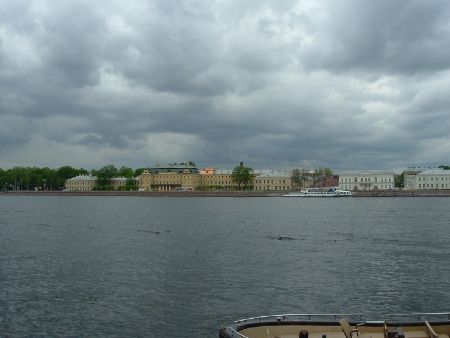 The Neva at the center of the city. The Bronze Horseman tells the story of the flood of 1824.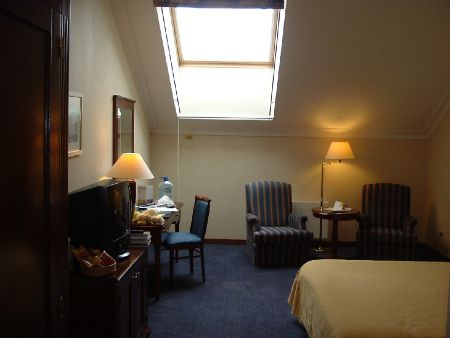 My room at the Radisson. The room was on the level of a good business class hotel in the United States, though because I was on the top floor there was no window, only a skylight. What can I say, it was an award stay at a ridiculously good rate. The breakfast buffet there was also excellent.
Posted by Leigh Witchel at 11:04 PM | Comments (0) | TrackBack
August 20, 2006
Pictures at an Exhibition (I)
I never got around to putting up pictures from St. Petersburg - here are a few, and I'll try to put up more - especially on days when I have nothing better to blog!
This first group of pictures was taken on the morning after I arrived, I took a short walk up Nevsky Prospect at about 9:30 am.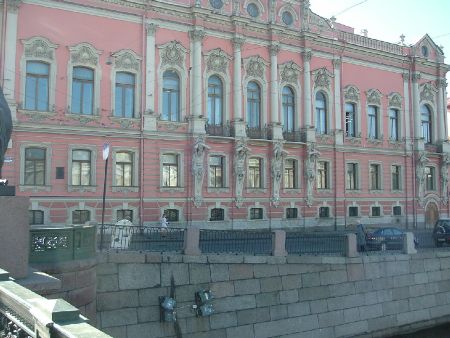 The Beloselsky palace was a block and a half from the Radisson towards the center of the city. It is now a cultural center and tourist office.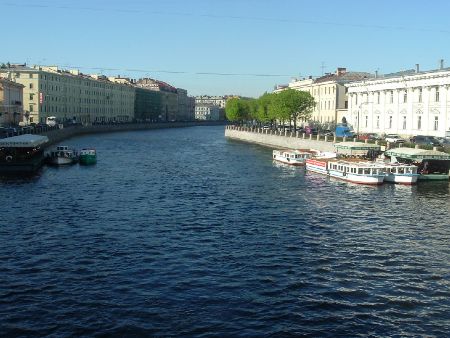 The Fontanka is nominatively a river, but functions more as a canal, one of the waterways that ring the city.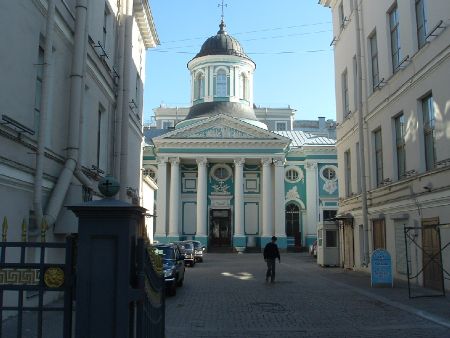 The Armenian Church on Nevsky Prospect.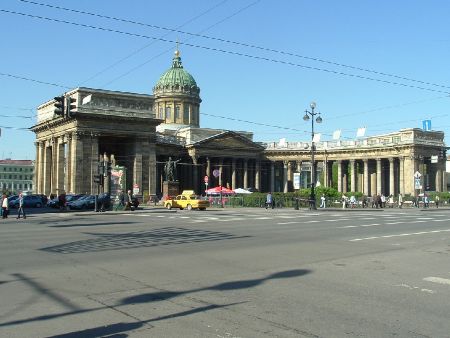 The Cathedral of Our Lady of Kazan.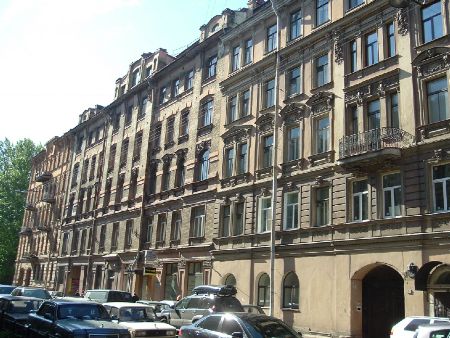 A typical Petersburg street, 3rd Sovietskaya Ulitsa. This was where the Youth Hostel is, and where Peter's Walking Tours begin. I recommend their tours highly, but take a more conventional overview tour first. The tours are different every day according to the group and the guide, but Dmitri (who was very friendly, knowledgeable and helpful) did one that concentrated on offbeat sites, at the expense of some of the major monuments in the center. The rest of the pictures are from the tour.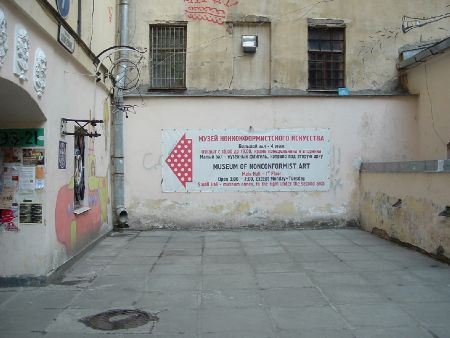 An offbeat site. The Museum of Nonconformist Art.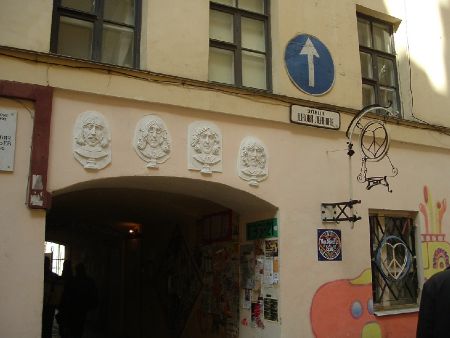 Above the entry to the museum. All you need is love.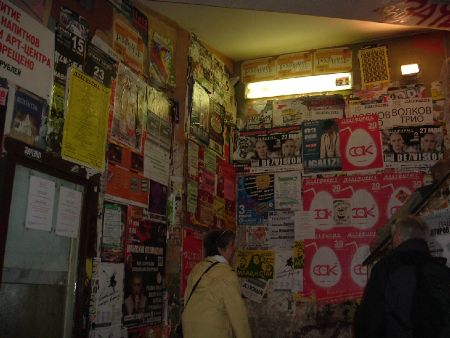 The underground passage to get to the museum courtyard.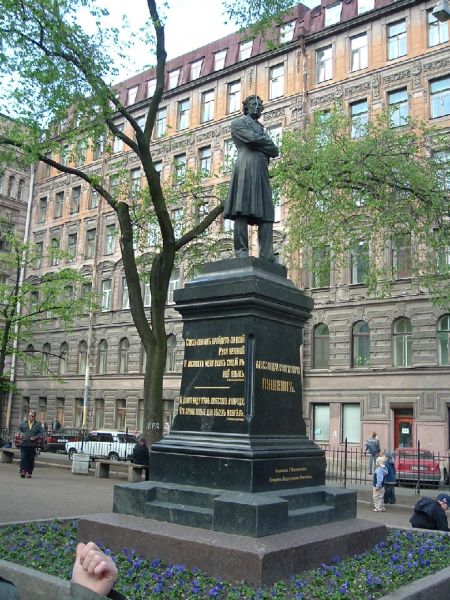 Pushkin, the soul of the city. This is a statue of him in a small park near the Museum of Noncomformist Art. Legend has it that he is looking at the balcony of the woman who funded the statue. Our group was also accosted by a pair of drunk men here.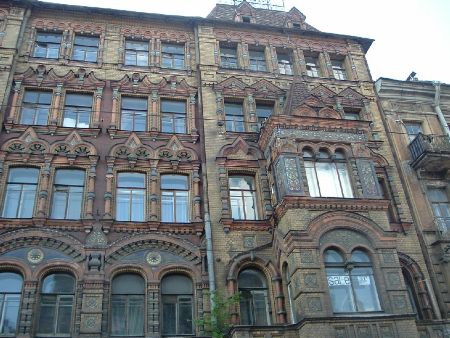 This isn't a famous building, but a fine surviving example of the Beaux Arts style in Petersburg. It's near Vladimirsky Station.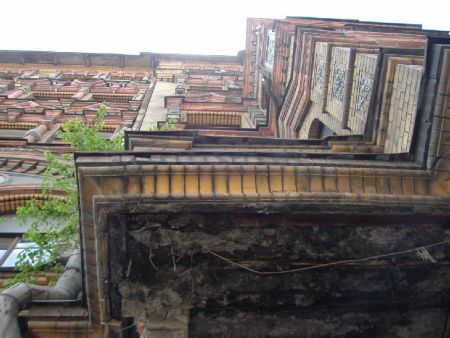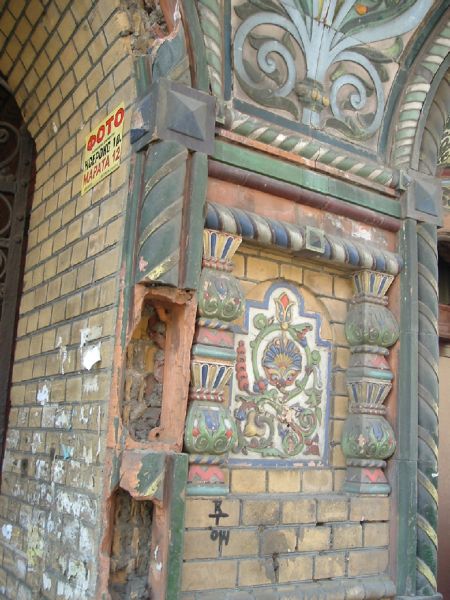 Most tourist attractions in the center were in excellent upkeep, but the buildings that weren't could be in disrepair - also because the municipality was responsible for a building's facade, but the owners for the interior.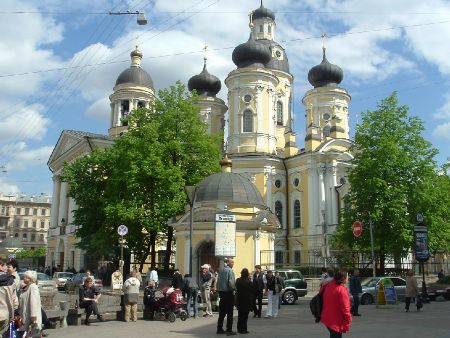 St. Vladimir's Cathedral.
Ground Zero. The Academy of Russian Ballet, A.Y. Vaganova.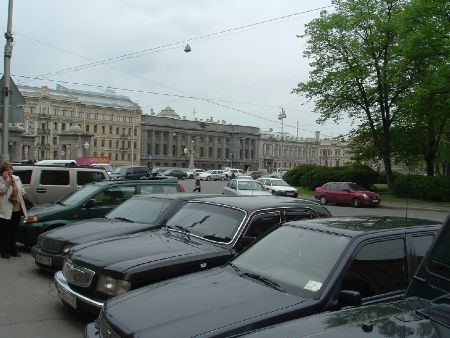 A view of the Fontanka from the Vaganova Academy.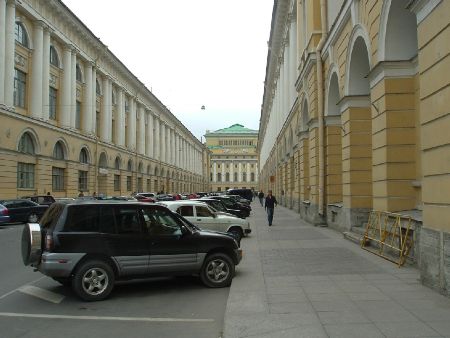 The Academy is on Master Builder Rossi Street, named after Carlo Rossi. The street is ten times as long as its buildings are tall, and it is perfectly symmetrical. You can see where Petipa would get his inspiration for the corps de ballet. The Alexandrinsky theater is at the end of the street.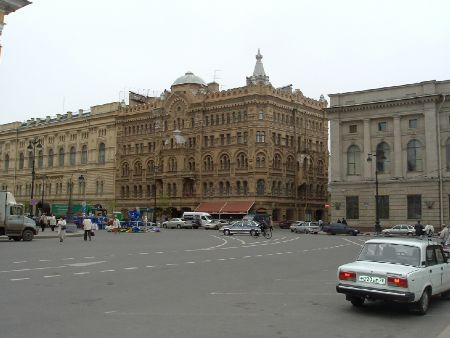 Another ornate building near the Alexandrinsky.
I did not take photographs for a while, but we went to the Ploschad Ostrovkovo in front of the Alexandrinsky to see the statue of Catherine the Great and her advisors. And we were accosted by a pair of drunk men. Across the street we visited the ornate Beaux Arts Yeliseevsky Gastronom, one of the most famed food shops in St. Petersburg. And we were accosted by a pair of drunk men. This never happened while I was alone. Probably a group is more visible.
From there, we walked on Karavannaya Ulitsa past the stables and towards the statue of Peter the Great and the Engineers (Mikhailovsky) Castle, from there into the Mikhailovsky gardens and past the Russian Museum.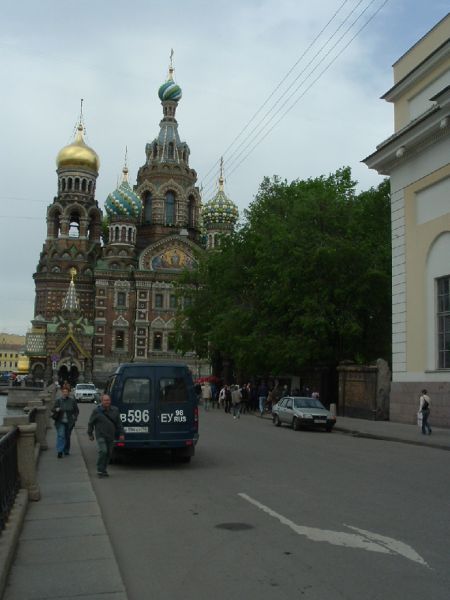 We ended at the Church of the Spilled Blood, built on the spot where Alexander II was assassinated.
Posted by Leigh Witchel at 10:44 PM | Comments (0) | TrackBack
June 16, 2006
В пятницу котенок блоггинг
(Friday Cat Blogging)
по-русски!
Seen on the wall of an alley in St. Petersburg: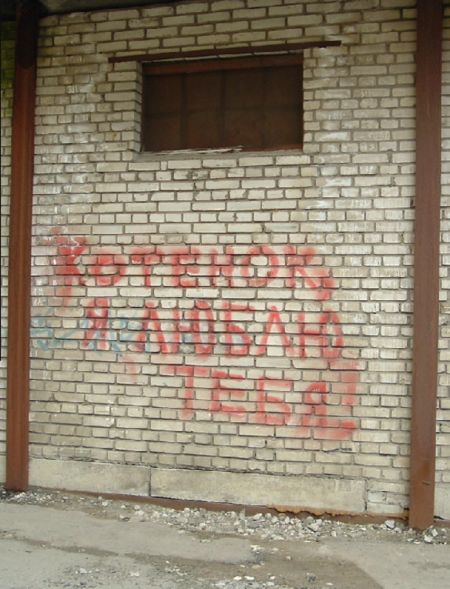 Котенок, я люблю тэбя!
Kitten, I love you!
But then again, who doesn't?
Posted by Leigh Witchel at 5:13 PM | Comments (2) | TrackBack
June 3, 2006
Rent a Buddy
I hid in my room for the rest of the night and pondered my trip darkly, including a few depressed messages to friends. One of them suggested looking at www.gay.ru – I wasn't looking for sex, but I went there anyway. Lo and behold, a section on tour guides. This was exactly what the doctor ordered. I called the most likely of them – the one who wasn't 22. Poor man, I woke him up at 8:30 a.m. – in Europe my body clock shifts to early rising and I have to fight to not get up at 5 a.m.) Nicolay was available and helped salvage the trip.
On Monday, we walked to the Palace Square, down to the Summer Palace and summer gardens and along the Moika and Fontanka. Most importantly, we had lunch, which Nicolay would not have asked about, but as I explained, "If I take you to lunch, I get to eat!" He first asked if I wanted fast food, and I asked for Russian food, something simple. . . Blini? He smiled, and took me to a café that was only a block or two from the Radisson but on the other side of Vladimirsky Prospect crossing Nevsky where I had not gone. It was my first restaurant meal in St. Petersburg – everything else had either been breakfast at the hotel or picking up food at markets and bakeries. By Sunday I had lost the initiative to try and make myself understood in a restaurant. We had chicken and mushroom blinis and I was delighted.
The next day he collected me at the hotel and we walked to the Fortress of St. Peter and Paul to see the cathedral and the walls of the fortress. The all-important lunch (Pelmeni! Broccoli! Hooray, vegetables!) followed at a café right opposite the fortress. Ironically, both this place and the café the day before had English menus – but that didn't mean they had English speaking staff.
After lunch we went on the Metro. As everyone else reports, it is deep. It takes a few minutes on an elevator to reach the trains. It's also frequent and fast but it has limited coverage of the center of the city. We got out at Gostiny Dvor to visit first the Kazan Cathedral and then walked to St. Isaac's, where we said our good byes after looking at the city from the dome. I went on in excellent spirits to visit the Yussopov Palace, only a short walk from my hotel) on my own.
A guide cost a little under $100 for two afternoons, not including lunches, transit and admissions, which added under $40 to the cost. Nicolay's English is self-taught, and considering that rather good though he would get fatigued at times. He was a good tour guide as well, though his specialty is gay Saint Petersburg and I wasn't looking to go to clubs, just not to be shown around by someone who thought American men made wonderful husbands. Had I needed someone with more specialized depth in art or architecture I would done more research, but Nicolay was friendly, helpful, considerate, honest and knew the city. I needed a rent-a-buddy and he did a great job.
Posted by Leigh Witchel at 2:41 AM | Comments (1) | TrackBack
Russian Women make Wonderful Wives
On Saturday night I was seated next to a Russian woman who struck up a conversation with me. I was delighted to have someone to speak in English with at the ballet so the conversation extended through the intermissions and out the door into the rain. She offered to show me more of the city on the next day; I was torn between suspicion and desire for companionship; companionship won out. At first she thought to go into a café near the theater, but it was an Irish-style pub, crowded and noisy with no place to sit. We walked in the rain towards the Renaissance Hotel – she lived on the same street and I would be staying there in a few days so I was curious to see it. Up on the sixth floor terrace we tried to watch the fireworks for the city's anniversary in vain – a few peeked around St. Isaac's dome and then the finale. We both ordered red wine though I was tired and did not want to drink; I picked up the tab. The conversation was pleasant enough and we made arrangements to see each other after the performance and walk around the city, perhaps to go for a meal.
She had been married twice, once in America where she had lived in Los Angeles several years. She asked about my personal life – I simply said I was unmarried and had no interest in marriage. In the United States I would have just told her I was gay. In the United States, though, she probably wouldn't have even had to ask me. My gaydar didn't work on Russians and hers didn't work on Americans. The day before, there had been a riot in Moscow where gays and lesbians trying to put a wreath at a military monument and to commemorate the decriminalization of homosexuality had been assaulted by a mob and denounced by the mayor. I wasn't in the mood to get into it.
After the performance the next afternoon I walked back to the Renaissance where we had arranged to meet, regretting the decision. When she was slightly late, I hoped she wouldn't show, but alas. When she asked to put her hand in my jacket pocket with mine because it was cold I knew I had made a mistake. Congratulations, this was a date. Her hand remained there tenaciously though I made no move to take it.
After dragging me around St. Isaac's Square, she took me to a café, again for red wine. Diplomatically, I developed a crippling case of jet lag, picked up the tab and fled back to my hotel, not coming out the rest of the night. Once again, the number 22 bus did not run on Nevsky Prospect because of a parade of military bands. The toothless conductor talked to me in Russian and I followed everyone off the bus. Two younger women took pity on me and explained what was happening in English; I made the half hour walk back to the hotel. On looking back at the story it's quite funny; at the time I felt as if the only people I would meet in St. Petersburg were either hotel employees, petty criminals or mail order brides.
Posted by Leigh Witchel at 2:38 AM | Comments (0) | TrackBack
June 2, 2006
Orientalism
Russia is enormous. It spans eleven time zones. At the astonishing Yussopov Palace on the Moika, along with the rooms filled with Italian or French art and furniture, there is a phenomenal Moorish room filled with magnificent tile work and flanked by two porcelain busts of a Moorish woman and man. It is analagous to the same fascination of the time in France or England. But when in Russia, the Orientalism of ballets like La Bayadère or even the Chinese dance in The Nutcracker took on different shadings. It felt more complicated – imagine if our ballets had Mexican dances in them. They aren't just talking about exotic far away places; they're talking about their neighbors and their frontier.

Posted by Leigh Witchel at 6:11 AM | Comments (0) | TrackBack
Window on the West
Russia's historical relationship to America feels relatively simple. It's based on the balance of power. Our remotest regions in Siberia and the Aleutians are only a few miles apart, but for the most part we are on the opposite sides of the earth. Russia's relationship to Europe is far more ambivalent. It's about culture and acceptance. There's envy, desire and resentment mixed in as well as simpler needs like power and might. That is why Saint Petersburg is so magnificent; it was built not only to have access to Europe, but to show it up as well. We know our relationship with Russia, but we don't understand Russia until we think of their relationship with Europe.

Posted by Leigh Witchel at 6:09 AM | Comments (0) | TrackBack
Российский Урок
I always forget one item on a trip, this time it was ties. On Friday morning, I took a walking tour, and the helpful guide, Dmitri, suggested that the best compromise of quality and price would be at Stockmann's department store - a Finnish chain I recalled from Helsinki close to 30 years ago.
I headed in there and tried my luck in Russian. "Я хочу купить. . ." "I want to buy . . " but I didn't know the word for tie - which I think from looking in the dictionary is связь. My guess was that the Rusian cognate would be French rather than English, so I tried "cravate". The young sales lady smiled, led me around the corner and answered in good English, "What color?"

"Gold."
She looks on the rack and hands me a beige silk tie. The ties were probably imported from Sweden, of decent quality and cost 495 rubles or about $17 each. I reach for a gold one.
"Orange!" she exclaims.
I also pick out a green one. "Gold?" she asks teasingly.
"In English we say 'The customer is always right!'"
"I know that one," she smiles right back.
Posted by Leigh Witchel at 5:50 AM | Comments (0) | TrackBack
Mariinsky II
The Mariinsky Press office sat me in "extra" seating. IThe ticket situation was a comedy of errors. There is one tiny box office window. Press tickets are "inside, to the right" – I passed through a metal detector to a stairway, most ushers do not speak English besides "left" and "right". Moving down another corridor there is a lone window, the woman inside gave me a hand written ticket and after asking, a program in English. The seat location was written in Russian. There are no seating diagrams that I saw. I went back to the woman at the stairway. She pointed outwards and to the left. I went through another checkpoint. I headed to a door. The woman looked at the voucher. "To the left". I found another usher; she looked at the voucher and said something in Russian. Finally I was at the absolute end of the corridor, where an usher was sitting. "Где?!" (Where??) I pleaded with her. She led me to a box, and pointed to two chairs outside the box. Through quick mime she indicated that I was to take one of the chairs outside and sit in it at the back of the box. Good God. I had been warned that the press office gave awful seats, but this is beyond my expectations. If I sit, my view is blocked by the people in front. If I stand, there is a hanging chandelier that blocks the exact center of the stage. I alternate between standing and kneeling on the chair.
This only happened the first night. On every other night I was in the "parterre" which at the Metropolitan Opera House is a separate ring, but at the Mariinsky is the back of the orchestra. There are six small unmarked chairs curled along the side of the house on both sides; these are given out by management. I was placed in one of these chairs each night; the view is fine.
Besides the corps de ballet in Swan Lake (oddly enough, the corps in La Bayadère did not have the same resonance) the most notable thing of the weekend of performances was Dmitri Semionov performing Solor. Russian friends have been telling us to watch for him for years; but he suffered a major injury. He's got great proportions and an easy, full jump.
Posted by Leigh Witchel at 5:43 AM | Comments (0) | TrackBack
June 1, 2006
History depends on who is telling it
In the Cathedral of Saints Peter and Paul, the tsars are buried in enormous marble tombs under enormous bronze baroque filigree. Most of the tombs are oversized, fitting for the personalities of Peter and Catherine the Great. Alexander II (assassinated by the nihilists) is buried a few steps away next to his wife in a casket of colored marble.
On the other side of the church is a chapel dedicated to Tsar Nicholas II and his family. Their bones were discovered 80 years after their assassination in Ekaterinburg and, along with those of their servants and their pets, are interred there. They have been named martyrs and saints by the Russian Orthodox church.
The guides of the tours I went on emphasized tsarist history and the Soviet period is glossed over. It is the most recent wound. Saint Petersburg is proud of its wealth and commerce. Real Estate and telecommunications are growth industries, markets carry fruits and delicacies from the world over as well as local vegetables, fish, cheese and caviar. The city, at least in the center, is unabashedly capitalist and wants to be nothing else. An icon of Tsar Nicholas II and his family also occupies a corner of Kazan Cathedral, but when I was there, it had no candles lit in front of it.
Posted by Leigh Witchel at 12:35 AM | Comments (0) | TrackBack
Architecture and layout
Saint Petersburg is called the Venice of the North, but Peter the Great went to the Netherlands to learn shipbuilding, and named the city with the Dutch name Sankt-Petersburg. The layout of the city is a semi-circle with radiating embankments and canals, much (as said before) like Amsterdam.
Like Washington DC, Paris or London, Saint Petersburg's buildings are long and low, going out, not up. Several different styles of architecture are represented, from neoclassical and baroque through Beaux-Arts and contemporary. The Summer Palace is a surprisingly modest wooden building in the corner of the Summer Gardens. The Winter Palace, which now houses much of the Hermitage collection, is Baroque excess; Versailles with canals. What's least in evidence in the center of the city, though, is Soviet Architecture. The example I saw most often was a building at Moika 58, and on the route to the airport is a statue of Lenin. As they joke, he's directing traffic.

Posted by Leigh Witchel at 12:33 AM | Comments (0) | TrackBack
Decision
I'm not telling the story of St. Petersburg chronologically. There are better ways to connect the dots. Time means very little here anyway. Things tend to happen when they happen – my guide was as much as 90 minutes late from traffic. Buses on routes stop, or they don't. Sooner or later you'll get the whole story.

Posted by Leigh Witchel at 12:31 AM | Comments (0) | TrackBack
May 31, 2006
Mariinsky
When I travel to see dance, I'm always waiting and hoping for the thing that confirms why I crossed a continent or an ocean to see it. It took a while to happen here. Performances had been middling either because of the choreography (the Chemiakin Nutcracker and Magic Nut are not distinguished works) or casting - the top stars aren't dancing this weekend. The tourists don't seem to care; I'm not sure they even know what they are looking at. The theater is chaotic; flashbulbs pop regularly even after warnings in English and Russian. Seats aren't always clearly marked; some people sit wherever seems likely and only move when the rightful occupant shows up with a ticket and no one seems to find this unusual.
But then on Monday night the swans came in during Act II of Swan Lake in perfect sisterhood and all was forgiven. My Mariinsky moment finally came.
Posted by Leigh Witchel at 12:01 AM | Comments (0) | TrackBack
May 30, 2006
Last Day in Petersburg
I need to apologize - I've had trouble writing about this trip. I'll keep trying, but simple chronology isn't working.
St. Petersburg was alternately magnificent and frustrating. It was a hard city to visit alone, especially during a city holiday. I had a similar problem in Amsterdam two years ago when I was there on Queensday; I don't like parades or crowds, and a mob celebrating in a language you don't understand can be a frustrating thing. The smartest thing I did was hire a guide (as much a guide as someone to talk to and have lunch with!) for the last two days.
Architecturally, the city is drop-dead gorgeous; the pastels of the city and the classical proportions of the low, long buildings match the light.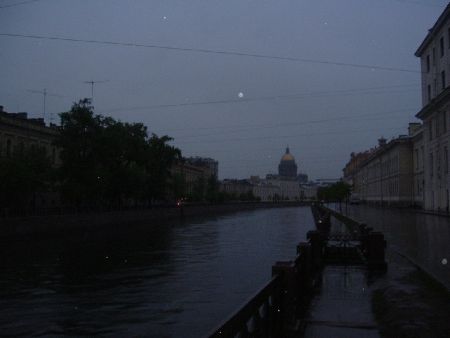 10:15 pm - May 29, 2006. Walking back along the Moika Embankment to the hotel from the Mariinsky in a light rain.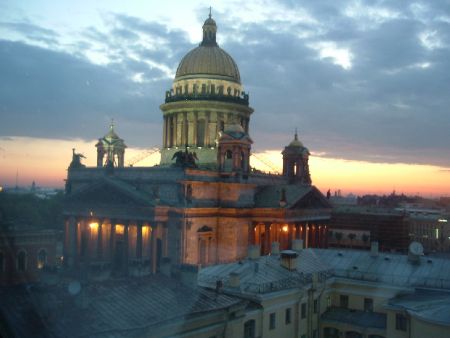 4:09 am - May 31, 2006. St. Isaac's Cathedral from my window at the Renaissance Baltic.
I need to pack shortly. My car to the airport was originally scheduled to leave at 2 pm. The service called last night to try and move it to noon because of horrendous traffic. I explained that was the only day I could see the Hermitage and we compromised at 1 pm for a flight leaving at 5 pm. I will have to speed through portions of the Hermitage this morning.
Posted by Leigh Witchel at 11:37 PM | Comments (0) | TrackBack
May 27, 2006
A Short List of Things about St. Petersburg
1. You take your life into your hands when you cross the street. Really. New York doesn't compare. Drivers don't stop if they see you. I've been nearly hit more than once.
2. Keep your valuables close at hand. Even with the guide on a walking tour the guide himself was accosted three times by a pair of men, with one usually drunk, trying to create a diversion. For what it's worth, when I've been alone, I've had no problems. I don't feel unsafe, I do watch my wallet. It feels about like NYC at its worst 20 years ago.
3. The city is so full of architectural pearls that buildings other cities would be fighting to preserve are falling apart. Also, the facades are the responsibility of the city, so while they may be peeling and crumbling, the interiors are another matter.
4. Pollution is a problem. The air has a distinct odor.
5. You can't get to the Mariinsky from here. It's 15 minutes walk from the nearest metro stop. I tried using a bus last night, but it wasn't going to Nevsky Prospect because of a huge parade - I ended up walking again - a 40 minute walk in a light rain. If the Mariinsky is your prime object, the hotels around St. Isaac's Cathedral are expensive (The Astoria, Angleterre and the Renaissance) but best situated. There are also a few mini-hotels close by. If you're on Nevsky Prospect I think the best route is to go up Nevsky to either Kazanskaya Ulitsa or the Moika Canal and walk across, but with each route you'll need to take one or two more turns. Like Amsterdam, the city is a radiating crescent - if you need to go to a point on the other side of the crescent, it's quicker to do that closer in rather than via one of the circumferal routes further from the center such as the Fontanka.
6. You have not lived until you have dealt with the press office at the Mariinsky. They beat everyone for pure frustration hands down. In comparison, other press people seem like cruise ship directors focused only on my comfort. On Friday my seat was an extra chair at the back of a box where I could see either by alternately standing (and having my view blocked by a chandelier) or kneeling on my chair. Last night I did have a full view seat but my program and cast list were for the wrong ballet (this was set right ten minutes into the ballet by someone slipping in and handing me the correct one.)
7. Despite this, the traces of communism in the city are barely visible in the city center. The culture is consumer-oriented and conspicuous consumption is everywhere. Food is available from all supply channels as is clothing and cars.
8. My gaydar done broke on me. Years ago, on my first trip to London, my gaydar busted the other way; I looked at English men with their streaked and dyed hair five years before any straight man in the US tried it and thought, "They're ALL gay." Here, all the boys with their black leather suit jackets look like something out of The Sopranos and I can't pick out the nancy boys. That's the problem with gaydar, it's country specific, not universal.
More blogging and photos tonight.
Posted by Leigh Witchel at 11:09 PM | Comments (5) | TrackBack
May 26, 2006
Light
When I left the Mariinsky tonight it was still light and remained light the entire hour long walk past the St. Nicholas Cathedral, up Sadovaya Ulitsa and down Nevsky Prospect to my hotel. Nabokov's pale light, like weak tea. We're still a month from the solstice. It was a very full day that started at 5:30 am - it's 11:25 pm now. I walked about 10 miles today, so I will take a bath now and write in the morning.
Posted by Leigh Witchel at 3:22 PM | Comments (0) | TrackBack
May 25, 2006
Transit
The hardest part was the day or so before leaving. I have panic disorder. It's actually no less manageable than asthma, but it's something I have to deal with when traveling and the irony now is I travel more than ever. I get nervous about unfamiliar places or leaving too much unfinished business behind, so this trip was a prime candidate. I've dealt with it long enough so that there isn't much panic in panic disorder, just nervous restlessness, but at about 3 am on Tuesday night when I thought that just not getting on the plane was an appetizing option I knew I was going to have to medicate. No big deal. I've done this often I enough I know my exact dosage so that it stops the adrenalin from coursing through my system without making it harder to think. I cut a bunch of clonazepam pills in half and tucked them in my bag.
I pared the luggage for this trip down to a rolling garment bag and a small roll bag for lighter items that got looped over the handle. My messenger back was also weighted down with books for the flight and yes, a liter of water. Giardia is an issue in St. Petersburg; I didn't want to HAVE to go searching for bottled water immediately. I opted for the bus to JFK instead of the Airtrain. It meant fewer luggage transfers but is more subject to traffic, which was bad. I arrived less than an hour before my flight.
British Airways Club World check-in – actually almost everything about Club World can be confusing because it is designed to be off the logical flow of traffic so only the people who are supposed to use it go to it. If you've never used the service before, finding the check-in counter or the Terraces Lounges can be very counter-intuitive. Once found, the bag drop line (I checked in online) was short; there is a dedicated security checkpoint and off I went to attempt to find the Terraces lounge. This took three circles and finally asking a staff person. I had enough time to drink some grapefruit juice and have a small brownie before I realized my plane was boarding.
Club World service is British Airways business class. It isn't World of Luxury; that really isn't the British way. Service is fast and unobtrusive but they don't fawn. The meal was fine – hearts of palm salad, a small fillet steak, cherry flan for dessert and chocolates. You don't get business class for the food – you get it for the seat.
The Club World seat is an odd affair; a series of compartments arranged like a back to back like a loveseat, but an antisocial loveseat with folding privacy screens that bristle up like a sea of parasols in the rain. With a button, the seat rolls out flat to meet the footrest and become a bed. It is a very thin bed; no big deal for me, but even at my size it was like sleeping in a coffin. Still, you get a lot more sleep than you would in coach. I brought sweatpants and an extra t-shirt in my carry on, a good idea.
Before supper and sleep, I read more of "St. Petersburg, A Cultural History" and also "The Bronze Horseman" by Pushkin in an English translation by Charles Johnson. Tail winds were with us and we made it to London in very fast flying time eaten up by a long delay from traffic control at JFK. Like JFK, Heathrow Airport presents its own problems. JFK is eternally under construction, a subterranean Kafkaesque nightmare. Heathrow is the size of a small principality with 20 minute bus rides between terminals, and not arranged so that one trip through security gets you where you were going. It took three separate security checks before I was at my gate. Club World entitled me to use the Terraces Lounge in Heathrow as well. There are spa services there, alas, the wait was too long so I settled for a shower. Even a shower is a lovely thing. Had I known, I would have also tucked a change of underwear and a razor in my underwear. They've got everything else there (if I had asked, they probably had the razor).
Club Europe is more akin to domestic first class in the US. The seat pitch is 34 inches (same as jetBlue) but the flight was only 3 hours. Food was again perfectly decent (grilled shrimp appetizer, gnocchi main course, cheese for dessert.) I avidly ate all greens and fruit; one of my nervousnesses about St. Petersburg was the warning not to eat any raw vegetables that may have been washed in the water. Blech.
The preferential treatment ends at Pulkovo airport. The first signs you see (Citibank and Jetway) are in English, not Cyrillic, and direction signs are mercifully in both English and Russian, but the immigration form is not. There are too few immigration windows and several chaotic lines that spring up without any sort of traffic control. It takes about half an hour to pass through; passport control is a wordless process that I assume involves the agent looking you up in a database. The luggage was already waiting, and passing through the green "nothing to declare" line at customs is no different than here. With that I was out the door and in Russia.
I don't know the name of my driver; I had arranged him through gotorussia.net for $70 roundtrip – less than a few other places, and I could pre-pay with credit card. I decided not to change money at the airport, for convenience I handed him $20 and he gave me 550 roubles, which is close enough to the official rate. His English was limited, so amazingly enough we had a faltering conversation in Russian. It was not remotely brilliant, but we figured a few things out. The approach into St. Petersburg is anticlimactic, but that's true in New York and Buenos Aires as well. Here, you pass through grim industrial areas and then the city starts to become more beaux arts, but it still is sooty and grim. I haven't gone into the monumental center yet.
The ride took close to an hour from traffic, and I tipped the driver $5, which may have been generous considering he left me around the corner from the entrance and I had to wheel my luggage there myself – but traffic was vile. The Radisson itself is on the level of a solid 4* US hotel. It's clean and pleasant, with all the amenities you would expect from a business class hotel like a Hilton or Hyatt. Call me a wimp, but I'm a stranger in a strange land. I wanted a familiar oasis. Better than anything, it has free wi-fi.
I have a room on the top floor with a skylight but no window. I arrived at 7:30 pm. I was so tired after fourteen hours travel that I just put on the bathrobe that came in the room, worked on the computer until about 11 pm and went to bed, rising at 5:30 am. I always forget one or two non-disastrous items when I travel, unpacking reveals them. This time, I forgot the Imodium I bought, and I forgot to pack ties and to launder half my shirts. I have ten performances to attend this trip so that will need to be taken care of, but I am on Nevsky Prospect, the main shopping street.
I'll be taking a walking tour shortly and going to my first ballet tonight, La Bayadère.
Posted by Leigh Witchel at 11:08 PM | Comments (0) | TrackBack