« February 2005 | Main | April 2005 »
March 31, 2005
Priceline for the Timid: Part II - Pre Bidding Research
PRE-BID RESEARCH
Check for Winning Bids
First go to these two websites – Better Bidding and Bidding for Travel. I prefer Better Bidding as I find it more helpful, user-friendly and open to other strategies besides Priceline if it is not the best choice. However, you may prefer Bidding for Travel and it has a great deal of useful data, so visit both.
Look up the zone you are bidding on and look at the winning bids reported as well as the hotels reported in the zone. Other winning bids are a good guideline but not the only one.
If you see a bid where the dates exactly match yours, that gives you a lot of information. Check to see if the poster left his or her bidding history. If the bid was accepted on the first try, based on other winning amounts you might try to undercut it. If the bid is not recent, the inventory may already have sold out.
I didn't see exactly my dates on either Better Bidding or Bidding for Travel. There seems to be a range for 4* hotels in Philadelphia from as low as $43 a night (for the Hyatt Regency Penns Landing) on up. 3* hotels are reported in a similar range; low forties and up. Fewer reported bids for 2.5*; this could be because there are fewer "free rebids" – I'll explain that later.
In DC, (Better Bidding, Bidding for Travel) there are fewer reported wins in the Kennedy Center area, and more common bidding in the Capitol Hill and Downtown/White House areas as well as the close suburbs, which I do not want. It gives me a range; 4* seems to go from $75 lowball to $110 and up per night in the city. There's much less data for 2.5* and 3* bidding.
Birmingham is just a plain old mystery. There's almost no data. I went to a British site as well, Clever Bidding, that is similar to Bidding for Travel to see if they had any further information, but there wasn't much at all. Bidding for Travel has a few bids, as does Better Bidding, but they're almost all more than a year old. At least it gave me a possible range ($65 for 3*, $70-$85 for 4*).

Check for Availability and Rates
Check the lists of hotels reported at both Better Bidding and Bidding for travel at the hotel's own website (not a travel agency); especially the ones that seem most frequent, and find out costs during your nights. Particularly note if there is a rate change.
The Hyatt Regency is by far the most likely 4* hotel on Priceline for downtown Philadelphia and it is. . . sold out for my dates according to its website. The Hilton Garden Inn, the common 3* is selling at $189/night, well above its usual rate. This is going to be harder than we thought. What I know from this is that lowballing here at $41 or $43 probably won't work but I have enough time to try it anyway if I have the patience.
In Washington, the Melrose, one of the 4* in the Georgetown area, is offering rooms for $109 a night or just under $125 a night with tax. The Park Hyatt is $260, the Westin Grand $340! A 3*, the Marriott Washington Westend, is $189 per night. I can certainly use the Melrose as a cancelable backup (I'll talk about that soon).
In Birmingham, rates are higher on Thursday and drop on Friday and Saturday nights. The 4* Crowne Plaza is £95 on Thursday, £69 on Friday and Sayurday. The Marriott (4*) is £129 and £80, The Hyatt (4*) £119 and £80. The 3* Holiday Inn is £85 and £50, the 3* Jurys Inn is the only hotel with a steady rate, £63 per night.

This gives us plenty of information, but there's still a bit more useful research to do - and we'll do it in the next post!

Posted by Leigh Witchel at 6:42 PM | Comments (0) | TrackBack

Priceline for the Timid: An excruciatingly detailed primer.

Priceline has changed the way I travel. When I went to London in 2000 I stayed at a B&B on Gower Street for the economy price of £41 per night – and got what I paid for – a claustrophobic little dank box of a room with en-suite facilities that included a non-flushing toilet and an (unintentionally and randomly) removable shower head. It was a panic attack waiting to happen.

In 2003 on a Priceline bid, I spent $81 total (about £47 at the time) to stay at the Marriott Marble Arch. Being able to travel like a civilized human has made all the difference. It's much easier to love a city when you're happy where you're staying.

I'm going to London again this summer and even with the soggy dollar I still managed to score rooms in decent hotels (Hilton and Millenium chains) in Kensington for between $94-$104 per night, tax included. Priceline offers tremendous discounts on hotel rooms if you have the flexibility to use it. If you've been nervous about trying it, I hope this primer will demystify it slightly. It's quite long and overdetailed, so I will post it over several days.

I'm over-explaining each step, which makes bidding look like it is harder than it is. And as you get more experienced, you will recognize situations where steps can be skipped. But for your first bid let's go through the whole process as a useful exercise.


When should I consider Priceline?

Priceline is a great idea you are a single traveler or an intimate couple who does not mind possibly sleeping in a double bed, and are flexible in your needs. If you're a family or a larger group, Priceline can still work for you, but you may not be able to fit everyone into a single room in certain situations.

Priceline provides a room with double occupancy with the amenities listed at the star level you selected, anywhere within the map of the zone you agreed to. Double occupancy does not mean your choice of bedding; it could be a double (full size) bed rather than a larger one. If you have specific needs as a traveler – a non-smoking room, a king-size bed, a view, to be within walking distance from a certain location that must be met or you will not be able to use the hotel, then Priceline is probably not appropriate for you. This does not mean you will not get basics like a large bed or a non-smoking room on Priceline; most often you do, or better. It means you have no recourse if you don't.
Getting a smoking room against your wishes is more common in Europe and rare in the US. There was one case of a California hotel only allowing priceline customers smoking rooms and charging them $20 to "upgrade" to a non-smoking room. If this happens, complain loud and long to both Priceline and the hotel corporate management.
Getting a room with a smaller double bed can be common in large cities with older hotels; the Westin St. Francis in San Francisco and the Boston Park Plaza are two recent ones where I have been given a smaller room sold primarily to Priceline guests. As a single traveler, though, I found them just fine – in fact I really liked the Westin – and I saved about 50% of standard rates. Cities where most of the hotel inventory is newer tend not to have this problem. If you must have two beds, Hotwire is your best option; they will let you specify occupancy in the room. Specify four adults; that will guarantee two beds. In European cities, rooms with two single beds are also common.

What star level should I bid?
Priceline ranks its inventory from 1* (budget) to 5* (luxury). You'll get a better idea by doing your research and finding out what inventory people have won. You may find 2* hotels that suit your needs exactly. The Hampton Inn I stayed at in Ann Arbor, for instance, was 2*. No special services, but it was just fine. You you may only be satisfied with 4* or 5*. In NYC 5* hotels that have been reported on Priceline include the Waldorf Astoria and the Pierre. 4* are Hiltons, Marriotts and Hyatts.
If you're bidding for Europe, mentally deduct one star to get a more realistic equivalent to American hotels, which tend to be extravagant. Except in circumstances where I know what's available very well, I tend not to go below 4* in Europe. 3* in Paris is a very wide range from barely above tourist class to just below business class. In an opaque situation, that's not worth the risk.
In the United States, I am often very happy at a 2.5* hotel, and they tend to be the best values, because they are places such as Residence Inns with all-inclusive prices including breakfast, high speed internet access, etc. In larger city with a large market of older hotels and fewer chains, a 2* or 2.5* hotel might be a dump. Checking Bidding for Travel or Better Bidding is the best way to get a feel for the inventory in a zone. The healthiest discounts for bargain hunters though are usually in the higher star properties.
Next: doing your research before bidding
Posted by Leigh Witchel at 12:57 AM | Comments (1) | TrackBack
March 30, 2005
I invite you to dinner!
English spoken here:
Some wonderful recipe websites from around the world.
Marina Dedeshina lives in Archangelsk, in the north of Russia. Click on "I invite you to dinner" on the left-hand navigation bar to read her recipes. I offer you the first one as a sample.
Chocolate heart

5 eggs good shake up with 1 glass of sugar, to add 1 tea spoon of a fluffer of the test, 2 big spoons of 1 glass of a flour, 11gr (pack) of vanillin and a handful of pounded fried nuts. The form to grease with creamy margarine and to lay out a dough. Bake 40-50 minutes at temperature of 180-200 degrees. Take out from the form, cool, cut on 2 parts and to grease with a "fast" cream - sour cream+any jam (I have put strawberry), it is possible to impregnate slightly rum or cognac. Press parts densely and pour the chocolate, dissolved on a water bath. To strew fried nuts . Give a pie to become impregnated with a cream 2-4 hours and it is possible to submit to a table!
It looks quite tasty in the picture but I am trying to figure out what "fluffer" is. Or "fast" cream, at least before I submit to a table.
Closer to the equator, India Tastes is not nearly so picturesque in language, but the recipes are interesting for their abbreviated authenticity.
People in the south of India eat sambar, a lentil and vegetable soup/stew with rice on a regular basis. A recipe for it is not specific, nor does it need to go into techniques, so for an outsider there's an air of mystery.
Sambar

Vegetables required - Onions, Raddish, potato, green peas, drumstick, green peppers(Capsicum), pearl onions, okra, eggplant, pumpkin, chowchow

Heat 2 teaspoons of oil and add 1 tsp mustard seeds. When the mustard splatters add 1/2 fenugreek seeds and 1/4 tsp asafoetida. Add any of the vegetables (cut into large pieces) and fry lightly.Add 2 cups of water and allow it to boil.Add 1 teaspoon salt, 1 1/2 teaspoon sambar powder and tamarind juice(amount vary to taste). Heat until the raw smell of tamarind is gone. Then add 1 cup boiled toor dal(like paste) and heat until it mixes uniformly. Add a teaspoon of kari masala powder.

If you want to use fresh paste, you may grind Sambar paste and add it to the sambar instead of kari masala powder. Add a bunch of curry leaves.
There's also the problem of unfamiliar terminology or ingredients, but the site realizes that and offers a picture glossary and also kindly usually refers to ingredients in English rather than Hindi, although in some recipes that can be random. Drumstick by the way, is a long bean common in the south of India.
Bon appetit!
Posted by Leigh Witchel at 9:53 AM | Comments (1) | TrackBack
March 27, 2005
There wasn't much in the fridge tonight
A few leftovers, almost nothing fresh, no bread, onions but no carrots . . .
Here's what I made: There's almost no point to giving a recipe, it was what was in the fridge, the freezer and the pantry. But there is a point to this recipe.
Baked Gnocchi
Two 13-16 oz. packages potato gnocchi
2 tsp olive oil
½ tsp chopped garlic (mine was from the emergency chopped garlic jar)
2 T coarsely chopped purple onion (what was left)
3 oz smoked pork chop, diced (what was left)
1 13 oz can mushrooms and liquid
2 Tbs. frozen peas.
½ chopped tomato (from the freezer. I throw fresh vegetables that threaten to go bad in there for occasions like this)
2 oz spaghetti sauce (what was left)
4 oz. chicken broth (stored in cubes in the freezer)
2 oz heavy cream (half of what was left)
¾ tsp black truffle paste (thank you, Cynthia)
2 oz pepper jack cheese, diced (half of what was left)
1 slice bread, crumbled into crumbs (from the freezer. See the tomato, above)
½ oz grated Romano cheese (what I could shave off from the recalcitrant nub left at the back of the fridge.)
Salt, pepper, tabasco
Boil gnocchi according to package directions. Set aside. In same pot, heat oil on medium heat. Sauté garlic and onion until translucent. Add cubed pork, continue to sauté. Add mushrooms – reserving liquid. Add peas and tomato, then add liquids (pasta sauce, broth, mushroom liquid, cream) Bring to a boil, add truffle paste, incorporate, add jack cheese. Correct seasoning.
Spray a 9x13x2 inch deep oblong pan (I use a ceramic casserole) with cooking spray. Turn mixture into it. Mix crumbs with Romano cheese, sprinkle over all. Quickly spray with cooking spray (to help the crumbs brown).
Bake at 350 degrees until browned.
You'll probably never want to make this recipe; it isn't even a recipe. It's a basic technique for making a baked dish that can be altered to suit the ingredients at hand. Different starch, different liquids, different meats or vegetables, whatever.
The point of this recipe is that this is how I function most creatively. There are people who have an idea and then need to control it from conception through all parts of the process to fruition. I rarely have ideas like that; I'm at my most creative when responding to parameters. I can take 13 girls who are weak on pointe and one boy who cannot dance and make, somehow, a dance.
There is a lot to be said for a grand, compelling vision. Certainly our contemporary vision of the artist has moved away from the craftsman and towards the auteur. And craft without vision is, well, baked gnocchi made from leftovers. It's a fine dish for dinner tonight, and there are leftovers, but would I serve it to company? Also, the person who can make a dance with thirteen girls who are weak on pointe is the one who tends to get stuck with them. Still, there is a lot to be said as well for the ability to open up the fridge and make something from what's inside.
Posted by Leigh Witchel at 11:21 PM | Comments (4) | TrackBack
March 26, 2005
You Cranium Dining
Miss Mary (Mary Carpenter, who worked with me for six concerts running) is part Ukranian, which meant a pilgrimage down to Kiev on 7th St and 2nd Avenue with Abe and Cynthia for an appropriate Easter meal.
I remembered Kiev as a greasy spoon joint. They've upgraded: upholstered banquettes and signature martinis, but the prices haven't gone up that badly (it was never all that cheap.)
The borscht now comes in a square china bowl, but it's rich with beef. I altered my own borscht recipe after sampling the borscht at Veselka (up the avenue two blocks at 9th Street). My recipe is an amalgam of Eugenia Doll's recipe (from the Gold & Fizdale cookbook) and Bernard Clayton Jr.s recipe from The Complete Book of Soups and Stews. Now I add more cubes of stewed chuck and spike it with a larger shot of white vinegar. Still, Kiev should know that sour cream is not optional.
The presentation of entrees was quite handsome, but almost funny considering the materials. Mary ordered the Kozak, an assortment of all the foods she craved for Easter (potato pancakes, pierogies, Kielbasa and beet salad.) The whole thing came in nouvelle cuisine layers, the pierogies atop the pancake, the grilled kielbasa split atop that and the beet salad sprinkled over the sausage. At the edge of the square plate were dabs of sour cream, applesauce and mustard like painter's pigments. Well, it was lovely, but this is a peasant meal. I tried the Chicken Kiev, which was well made but I'm going to have to remember that Chicken Kiev tastes insipid by nature to me. After sharing a chocolate blintz for dessert, we all went to Sunrise Mart to get Pocky. I love the fact that Glico makes "Men's Pocky". Of course, that's the one Mary bought. I got Crushed Almond Pocky, not feeling butch enough to handle Men's Pocky.
Update: Here's Cynthia's picture of the Nouvelle Kielbasa.

Posted by Leigh Witchel at 11:20 PM | Comments (4) | TrackBack
March 25, 2005
New York v. San Francisco - The Smackdown?
I'm delighted to see a lively commentary on my Tales of the City in San Francisco, but surprised to see how much shade my New York friends are throwing westwards. Any San Franciscans care to respond?
Myself? I'm an Easterner at heart, but enjoy my visits - now. When I was 21, I took a long trip to visit my brother in Berkeley and it was not a great one. That was less a function of the city than of traveling too young alone and not knowing how to travel. I hated Paris on my first visit at 16 as well because I was lonely. I went back to Paris at 30 and fell in love with the city, and returned to San Francisco at 40 and if I didn't leave my heart there (nor my sperm, Peter . . .) I now have so many good friends there; Peter, Mark, Paul, Christopher and now David. I am sure I will be visiting more frequently, but please do not apply to be a San Franciscan friend of mine without an Old or New testament name. Apostolic friends! Collect the whole set!
Posted by Leigh Witchel at 6:31 PM | Comments (0) | TrackBack
Leigh's Dance Card
is blessedly . . . empty. I've got articles on Boston and San Francisco still to write.
I haven't read his reviews to guard against accidentally plagiarizing (it is so easy), but bizarrely enough, John Rockwell at the NY Times ended up going out of town to the same performances in SF, Boston and Philadelphia. I arranged these several months ago, so hey, he's stalking me.
Next scheduled item -
April 5, National Ballet of Canada at BAM - The Contract, which I am seeing because it is probably my last chance to see Martine Lamy, whom I consider a superlative dance actress.

Posted by Leigh Witchel at 6:24 PM | Comments (0) | TrackBack
Friday Cat Blogging - Overgrooming Pussy Edition.
Somebody is going to lick herself bald. Or has already tried.
Talk to the paw . . .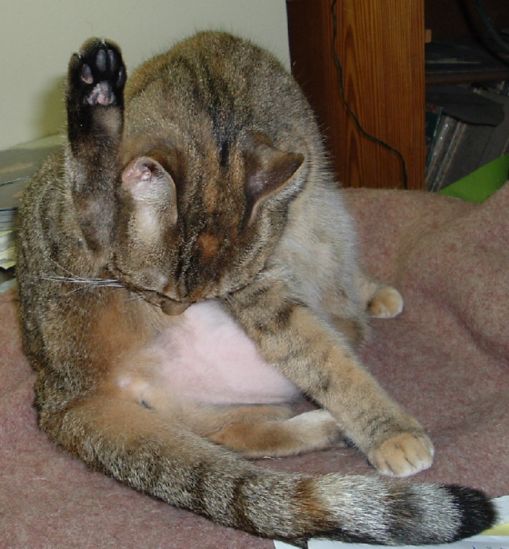 Posted by Leigh Witchel at 6:20 PM | Comments (2) | TrackBack
March 22, 2005
Latest Dance Article
For Danceview Times, the final week of Paul Taylor's season:
Patrick Corbin doesn't try for Gender Illusion in the part; he does drag: nasty, tough transvestite hooker drag with lipstick smeared over his lips, a child playing with Mommy's makeup but also lace-up red patent leather boots with five inch heels.
Posted by Leigh Witchel at 2:22 PM | Comments (0) | TrackBack
March 21, 2005
As God is my witness, I will never wear leather pants again.
The horror of it all.
Those who know me as a traveler know I'm an inveterate overpacker – I pack like a princess on the Titanic. Well, if you're going someplace fabulous, you need outfits and San Francisco is fab-u-lous. You need outfits for the theater, and outfits for knocking about in, and gaywear and . . . and . . . and . . .
I think I showed admirable restraint this trip. One rolling garment bag. But the leather pants got snuck in amidst the gaywear.
I did get two wearings out of them. I wore them to the ballet on Saturday night with a French-cuffed shirt. In my own fantasies they made me look vaguely louche, and it meant my friend Mark and I could go out afterwards without me having to change. I note though, that San Francisco men dress even less than New York men. On first impression, there's much more of a butch fantasy going on in San Francisco, but as one friend said before to me, "Everyone's a top in San Francisco, just like everyone's a bottom in New York." Lots of facial hair and flannel.
I went to Midnight Sun with Mark on Saturday night. As David put it afterwards, it's an S&M bar: Stand and Model. The choice wasn't Mark's fault; the problem is I'm like Goldilocks about bars. This bar is toooooo empty. This one is toooooo full. This one is toooooo loud. This one doesn't have nice chairs . . . And so on. But you know, even Goldilocks finally found a bed she liked.
I had Sunday evening to myself after the ballet so decided to go back, armed with a great deal of advice. Paul suggested The Stud on 9th and Harrison, but Peter said it would be jammed. Peter suggested Twin Peaks (The first gay bar in the Castro to have large plate glass windows) because people would be friendly; Mark dismissed it as "The Glass Casket" or "Tomb with a View".
So armed with contradictory advice, I ventured forth. I tried to keep outfit angst to a minimum. I knew which sweater I was wearing; but should I wear the AbercroZombie cargo pants (in case I needed to blend in quickly with the million other gay men wearing them that evening) or wear the leather pants?
I opted for the latter. Much to my humiliation.
Things were fine most of the evening. I Goldilocksed my way down the Castro, looking for the bar that was juuuuuuust right. The Edge was mobbed and pointless. Harvey's, which had looked so promising with a drag evening the night before (but alas, Mark loathes drag shows) was dead. So was Twin Peaks, so was Moby Dick's. So Midnight Sun it was, which was neither too empty nor too full. The bartenders are quite friendly, and I think I almost spoke to two or three people there. It has enormous video monitors, and they tend to give the men there (who are probably more frightened than snobbish) an excuse to avoid other people.
I tried Badlands after. I actually did have a friendly conversation there, but the music was so loud there we conducted it at a scream and gave up after three minutes. At this point I was fine with ambling back to the hotel.
And this is when it happened.
As I got on the F Trolley up Market, I pulled out my fare and asked rhetorically, "It's $1.25, right?"
Well, the African-American woman running the trolley took one look at me, sizing me up and said, "Yes, but for you in your leather pants, it's $5." And then she laughed with her two friends.
I had just been read left, right and center by a female trolley operator.
Shady black women: the one thing no queen, no matter how acid-tongued, has any defense against. Crushed, I slumped into my seat.
Posted by Leigh Witchel at 11:53 PM | Comments (9) | TrackBack
March 19, 2005
San Francisco Ballet
Preliminary observations after a 22 hour day: The company looked provincial in the best possible way; they looked like they served their city and community and there was nothing they needed to prove. Gonzalo Garcia's Wild Boy persona won't work for every role, but he's an interesting enough artist to accept it for a while longer. SFB does a great job with Grosse Fuge, a piece I find interestingly cool for all the hot chests and sexy moves. Also interesting that you can instantly tell the four men apart, but four women dancing in unison with their hair up. . .well, in this ballet Balanchine was wrong. They're anybody.
Possokhov shows real promise and ambition with "Reflections" and hallelujah, he's a ballet choreographer, not a kickbutt choreographer. There's a lot of energy and experiment in what he's doing and he doesn't edit out some of the bad ideas (and there are more than a few). I want to see more.
My roommate from when I danced at American Festival Ballet in Boise (I am not kidding. Really.) Christopher, invited me to dinner. The meal was marvelous and his home off Church and Market was stunning. I hate him.
On another more depressing subject, I've been to Pennsylvania, Boston and San Francisco in the past three weeks. Each one of them has a better ballet orchestra than NYCB. What the heck is up with that?
Amazingly, I got my Taylor piece written. It will be in Danceview Times on Monday.
Posted by Leigh Witchel at 6:07 PM | Comments (2) | TrackBack
March 18, 2005
You can't see me but I am here
In San Francisco, at the St. Francis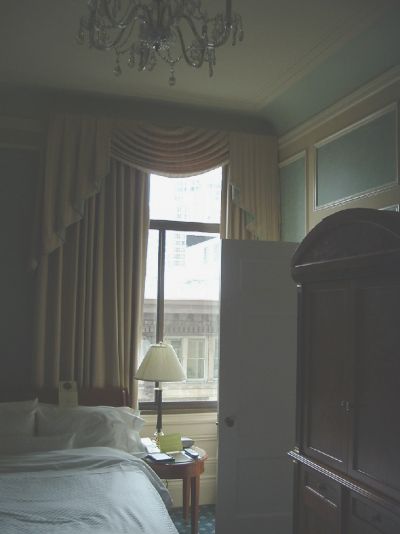 Not a bad slice of history for $73/night on Priceline but I have to say check-in was handled poorly.
Going to see San Francisco Ballet tonight.
Wish you were here.
Posted by Leigh Witchel at 7:34 PM | Comments (1) | TrackBack
Friday Guest Cat Blogging - Chat Français edition.
Meet Venise.
She is the newest member of the family of my friends Estelle and Philippe, who live in Lyon.
I think she's adorable, in a Gizmo kinda way.
More pictures of the New York Kitty next week when I'm not getting up at 5 am to get to JFK.
Posted by Leigh Witchel at 1:25 AM | Comments (3) | TrackBack
March 15, 2005
Leigh's Dance Card - Marathon Bicoastal Edition
3/16 Paul Taylor Dance Company Arden Court, Last Look, Piazzolla Caldera
3/17 Offenbach Overtures, Big Bertha, Esplanade
3/18 - Get up at 5 am EST to get on a flight to San Francisco. Please dear God, let me get some sleep on the plane.
8pm PST - Program 4: Square Dance, Grosse Fuge, Reflections (World Premiere)
3/19 Program 5: Meistens Mozart, Concerto Grosso, Study in Motion, The Four Temperaments
3/20 Program 4 for the second viewing.
Paul Taylor is for Danceview Times, San Francisco Ballet for Ballet Review (alas, no online presence).
If blogging is a little light, please understand.
Posted by Leigh Witchel at 11:42 PM | Comments (1) | TrackBack
March 14, 2005
Latest Article
More on the Taylor season at Danceview Times.
. . . the dance looks like it was dreamed up by the company's director of development . . . the music . . . comes to us directly from Kibbutz Windham Hill.
Posted by Leigh Witchel at 9:49 AM | Comments (0) | TrackBack
Double Happiness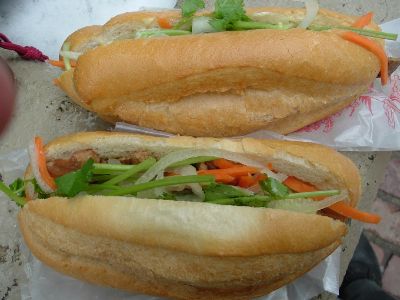 Two Banh Mi from New Saigon Sandwich. They are Gringo banh mi, one filled with teriyaki chicken and the other with grilled beef. The most Vietnamese version has Vietnamese coldcuts and paté along with the toppings (vinegared scallion, carrots, radish, cucumber, cilantro and nuoc cham)
The woman behind the counter took one look at me and didn't even bother asking me if I wanted chilies. She knew a white pussyboy when she saw one. They're still delicious, especially the magnificent crispy baguettes.
Posted by Leigh Witchel at 12:39 AM | Comments (1) | TrackBack
March 13, 2005
Sorella Englundmania
It's not Sorella Englund, but an incredible simulation. . .
There are many good aspects of Boston Ballet's new production of La Sylphide set by Englund, but the most uncanny is how Merrill Ashley, ever the perfect student, has seemed to take every detail of Englund's brilliant performance as Madge and imitated it in her own. It doesn't feel like rote work, but there still is something eerie about that literal an imitation.
I see one more cast tomorrow, and then back home.
Posted by Leigh Witchel at 1:48 AM | Comments (0) | TrackBack
March 12, 2005
Blogging (and dining) from Beantown
This month has included a lot of traveling on the weekends; I've enjoyed packing them pretty full. Both Philadelphia and Boston are great weekends from New York, and you can get a lot of weekend in on a decent budget.
Random Notes:
Food experiences - New Saigon Sandwich is on Washington off Kneeland less than a block from the Wang Center and I have been longing for Banh Mi (Vietnamese Hero) from there since I was in Boston last October. Heaven on a baguette for $2.50 and the perfect pre-theater snack.
Pho Pasteur is two doors down, and I finally had a more authentic Vietnamese Pho (noodle soup) with the ingredients (tendon, tripe) I usually avoid. I did fine until I actually thought about what I was eating. $5.75 for an enormous bowl.
Slightly more upscale on Newbury past Exeter (what's the "F" block named again?) was Kashmir, which served good vegetarian food (it balances out the beef tendon, doncha know).
When I arrived late on Friday night I was having a serious nostalgic fish craving. There used to be a diner style restaurant in Waltham, where I went to college, called simply Waltham Seafood. It was the kind of place with formica tables and paper placemats where they served fresh fish on white plates with a maroon stripe around the rim. The fish was fresh, fried or broiled as you wished and served with a potato and vegetables. Haddock, sole or scrod. I had a huge craving for a plain old fish dinner at a plain old place like that.
Getting into town at ten pm I figured I would have to take what was open. Legal Seafoods is catty corner to my hotel so I decided to give it a try. I had a nice seafood combo, but it didn't satisfy the nostalgia craving. What I really wanted was my memory of broiled sole served on a white plate with a baked potato wrapped in foil. I saw my friend Dale the next day and he told me that Waltham Seafood closed a few years back. I'm not sure where you can get that kind of simple, cheap seafood dinner anymore.
Posted by Leigh Witchel at 12:09 PM | Comments (8) | TrackBack
March 11, 2005
Having to do as I say
Danny's Headhugger Hat is now off the needles. I'll do the darning and finishing at an opportune moment, probably as a demonstration for my knitting classes.
The next portable project is also for knitting class. I've not taught my "Second Steps" class before so I am developing the projects for the class, a baby sweater and mittens. Because it's for a class and I really want to teach them good habits (instead of mine!) I am trying to operate by the book. This means. . .you guessed it.
I'm swatching.
I'm not the world's worst swatcher. As a designer I've learned that a swatch tells you more about the project than merely the gauge. It gives you an idea of drape, the stitch definition, much of everything about how the yarn and needles interact to determine if both are appropriate for the project at hand.
That said, if I am only swatching for gauge I usually throw in the towel after two inches rather than the full four recommended, feeling that it's enough (and on occasion it is, honest.)
But I need to set an example so I am doing a full, neat swatch.
In Red Heart Yarn Fiesta Jewel.
Oh Joy.
You may now laugh at me derisively.
Posted by Leigh Witchel at 1:56 PM | Comments (4) | TrackBack
Word of Mouth - VaVaVoom Room closing
I regret being out of town for this. I have never gotten to see Serge le Gainswack. I've been friends with the alter egos of Serge and Dirty Martini for years and think the burlesque scene downtown is the most energetic in the city. Go if you can. I don't know if he is doing it tomorrow, but Tigger does a strip act as a priest that is too tasteless not to be fabulous.
THIS IS IT! Our LAST show at Fez before it closes its doors!! This Saturday March 12th our cavalcade of stars includes:

Chanteuse Cou Cou Bijoux!
International Fan Dancer Dirty Martini!
Dapper Diamond Redd!
The World Famous BOB!
Dance Stylist Serge le Gainswack!
The Darling, Depraved Julie Atlas Muz!
The Ginge Minge of Tigger!
The return of Ukulele Louie!

& Many More Surprise Guests!
Pianist Brooks "Babyface" Hartell and his whole band!
your Mistress of Ceremonies Miss Astrid
At Fez: 380 Lafayette St @ Great Jones doors open at 10:30 show
begins at 11pm
All tickets $18.00
Reservations:212-533-2680 OR WWW.TICKETWEB.COM
Information: 212-330-9349
www.vavavoomroom.com Your Den of Iniquity for Vaudeville and Burlesque
Voted Best Burlesque Show in NYC by New York Magazine
and everyone else on planet Earth

Posted by Leigh Witchel at 1:48 PM | Comments (0) | TrackBack
Department of "Sometimes even great choreographers make not-very-good dances. . ."
Alas, Klezmerbluegrass by Paul Taylor is a clunker. Save your money and see another evening.
On the much brighter side, Esplanade looks magnificent.
Full review in next week's Danceview Times.
Posted by Leigh Witchel at 1:33 PM | Comments (0) | TrackBack
Friday cat blogging - Egyptian Cat Goddess edition
You know who on her wooly.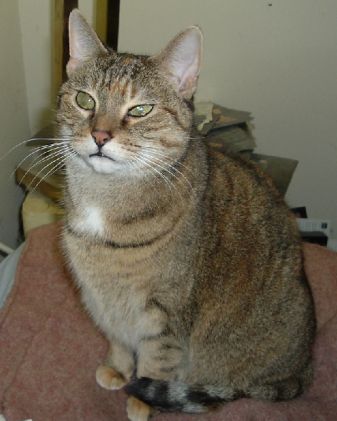 Posted by Leigh Witchel at 12:51 AM | Comments (72) | TrackBack
March 10, 2005
Drive-By Hebrew Numanuma explanations
I can't help but find it funny when looking through the site stats that the thing that brings the most people here is. . .numanuma.
So thank you to the anonymous numanuma fancier in the comments who gave at least an idea of the context for the Hebrew parody.
Re: Israeli Lyrics

A large portion of the song is... difficult to translate. The chorus, however, is

"Hapizmon Zeh Numa Numa Yeh/
Lo Meivin Milah, Okei."

"The chorus is 'Numa Numa'
I don't understand a word, okay?"

Other parts of the song translate but I'm not clear on the connection and I think that chorus might be the answer.

"Mah-ya he, Mah-ya ha...Die Kvar."
"Mah-ya he, Mah-ya ha...enough already."
This is better than I can say for my otherwise-very-nice friend Neil, who was so upset at having the song stuck in his head he refused to translate it.
Before his brain exploded, I did manage to get out of Neil that the people in the videos are celebrities in Israel, but he could not identify them (he's lived here for several years). From the Feujcity site, I gather the blonde woman in the toy car is a singer named Roni, and Neil identified the bald gentleman as a popular comedian.
More numanuma as it happens.
Posted by Leigh Witchel at 6:03 PM | Comments (15) | TrackBack
Knitwhoring
I've got a beginner's knitting class starting on Tuesday March 15 (it was postponed a week because of the snowstorm). Four sessions, for three Tuesdays and then ending Monday April 4.
I'll start a beginner session again on April 20 (Tues nights) and "Second Steps" (a baby sweater and mittens) on April 19.
All the information is here.

Posted by Leigh Witchel at 5:36 PM | Comments (0) | TrackBack
Leigh's Dance Card
3/10/05 - Paul Taylor at City Center - Black Tuesday, Klezmerbluegrass, Esplanade. Reviewing for Danceview Times, which is providing good, heavy coverage of the season. And Miss Dirty Martini is my date! Va-Va-VOOM!
3/12-13/05 In Boston for La Sylphide, set by Sorella Englund, whose Madge was one of the best performances I've seen in the last decade. Alas, I won't see Englund; she performed last week, but Merrill Ashley will be taking that role, with Lorna Feijóo and Larissa Ponomarenko as the Sylph. (I will also unfortunately miss Misa Kuranaga, whom New Yorkers may remember from her 2003 workshop performances at the School of American Ballet). Reviewing for Dance Now.
Posted by Leigh Witchel at 2:23 PM | Comments (0) | TrackBack
March 8, 2005
Latest Article
If I were John Beresford Tipton, Taylor would get a million from me so that he could again have live music.

Paul Taylor at City Center.
Posted by Leigh Witchel at 1:15 AM | Comments (0) | TrackBack
March 7, 2005
Communication Breakdown
Apologies to all. I had a marvelous weekend in Philadelphia, but not only did the antenna snap off my cell phone (this is the Cell Phone Gods telling me to upgrade) but the keyboard on my laptop also decided not to work.
I promise to catch up ASAP. Don't bother trying to call me on my cellphone, though. I'm working on a longer term fix on keyboard issues.
Posted by Leigh Witchel at 1:24 PM | Comments (0) | TrackBack
March 4, 2005
Friday Pomeranian Blogging
Well it looks like a cat.
I believe this puffall's name was Charlie. My friend Peter was taking me around San Francisco last March and we went on the cable car up Nob Hill. At the park near the Fairmont we met Charlie, sunning himself and generally being adorable. He consented to pose for this picture, being far more photogenic than the creature hiding behind him.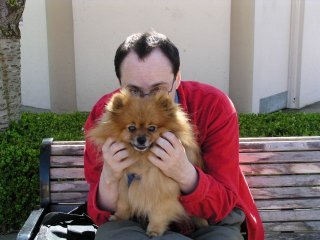 Posted by Leigh Witchel at 12:59 AM | Comments (2) | TrackBack
March 3, 2005
Round the danceblogosphere
Surveying what other dance bloggers are writing on:
Rachel Howard gives a report on a Giselle I wish I had seen. (Paul Parish's description in Danceview Times is particularly nice). But then, I'm a sucker for Giselle.
Alexandra Tomalonis spots (via BalletTalk) a finance columnist writing in Fortune Magazine who writes a lovely report on Wendy Whelan's performance at NYCB, and even writes as if ballet was something normal people attended.
Posted by Leigh Witchel at 7:40 PM | Comments (0) | TrackBack
The performance was great but the dance isn't . . .
Last night at Paul Taylor, Lisa Viola and Michael Trusnovec gave a gripping performance in Promethean Fire, a dance I've never warmed to. I think Taylor's done better Bach pieces and I find the work, especially the schlock-Bach Stokowski transcription, veers past bombast hazardously to parody. Trusnovec and Viola are a great match, each has an intensity only the other can meet. Random thought: Is that what this era's dancers will be known for? Our most memorable dancers aren't the pure ones; they're the go-for-broke super-intense ones like Trusnovec or Wendy Whelan. Perhaps this is the art form mirroring the culture.
Viola hurled herself halfway across the stage to Trusnovec; the audience did not breathe during their entire pas de deux. With that powerful a performance, how can you do anything but take the dance seriously as an artistic statement of magnitude? Did they save the dance or just show us what Taylor meant all along?
I have less love for John Cranko's Onegin but Martine Lamy and Nikolaj Hübbe gave the best performances I saw in 2003. Lamy, completely fighting against type, was shattering in the role.
So how do you separate a lesser ballet from a major performance? If a ballet allows a first-rate performance, what makes it second-rate?
I'll have a full review of PTDC's Wednesday night program in Monday's Danceview Times
Posted by Leigh Witchel at 7:31 PM | Comments (0) | TrackBack
March 1, 2005
Current Knitting - Easy Head Hugger Hat
Now that the socks are done, the current simple project is an Easy Head Hugger Hat designed by yet another wonderful Torontonian, Danny Ouellette.
Danny is a transplanted Manitoban, who grew up in Thompson, a copper mining town in the far north of Manitoba. So far north the roads don't go there and it's accessible only by plane. I have a fascination with arctic climates. Ask my friend David. We trade URLs about Qaanaaq and South Georgia Island
Danny said about Thompson, "I want to go back there. I miss the winters." It did give me pause. Then he explained. "Thompson has a dry cold. You know what to do; just add another layer. It's a wet cold in Toronto. When I moved here, I didn't know what was wrong with all of the cars. Then I realized none of them had plugs coming out of the grille. [where you'd plug in a heater to keep the engine block from freezing]"
Danny's hat is not arctic at all; it's kinda fez-like. It's made on the same design principal as 19th century doilies - knit flat in pie shaped wedges via short-rowing. I'm using leftover oddments of Noro Sarubia I got years ago at Webs that finally got used in '03 to make my take on Kaffe Fassett's "Small Steps". In order to get the tight, "boardy" gauge to give the hat its pillbox shape, I knit it on US 5's where I'd use 8's for a sweater.
It's a quick knit - here it is about an hour after casting on Thursday.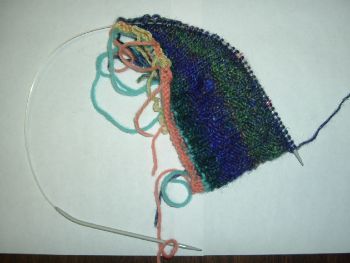 And here it is yesterday.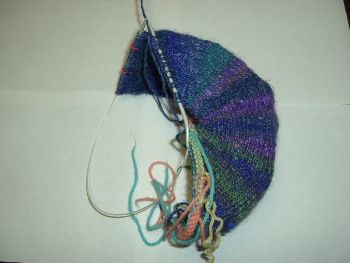 Like most Noro yarns Sarubia has long lengths of color for slow changes, which accentuates the wedges in the design. As always, I changed things. I do a slightly different waste yarn cast-on than Danny's; I also changed the short-rowing to make the repeat of the crown the same as the brim. My suggestion to you if you decide to make one is place a marker before the 11th stitch on the brim. That's right before the halfway stitch, and it lets you know to reverse the pattern without counting.
Posted by Leigh Witchel at 7:45 PM | Comments (4) | TrackBack
Out and About - The Gates (second visit)
I went again on Saturday. The weekend crowds made the event even more like a religious festival, or perhaps a camel market.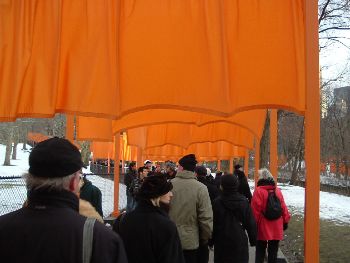 Obviously, everyone had a different reaction and experience with them, but I felt I learned most of what I needed to know about the installation in the first 10 minutes. That said, it was worth the visit and an interesting event.
Posted by Leigh Witchel at 7:37 PM | Comments (0) | TrackBack