February 27, 2005
The scary thing was, I kinda liked the Tutti Frutti Racer Sweater
But that's because I am a sissy.
Museum of Kitschy Stitches - Vol. III - Emasculation Nation: Menswear That Makes Men Swear
Thanks to Grace for this!
Posted by Leigh Witchel at 11:02 PM | Comments (0) | TrackBack
Latest Articles
Two short pieces for Danceview Times
Playing Billy Randolph, the Prince Charming of Hollywood, Damian Woetzel looks so natural in a Broadway role you almost wish he'd go to Broadway and raise the standards there—the problem is that his technique would probably get debilitated rather than Broadway's standards getting raised.
Japanese pop is fascinating to the West because it's our pop transplanted and handed back to us recognizable but completely transformed.
Posted by Leigh Witchel at 10:48 PM | Comments (1) | TrackBack
February 26, 2005
75% off sale
At Housing Works Thrift Stores, at least the Columbus Avenue branch.
I picked up a three button Armani blazer for $12.50, and shoes from Barney's and Kenneth Cole for $3.75 and $5 respectively. I wouldn't have paid the original price ($50 for a used jacket? Nope, not even Armani) but it's a good deal at 75% off.
The sale is on until tomorrow only.
Posted by Leigh Witchel at 7:21 PM | Comments (0) | TrackBack
Update: Trouble in NumaNumaLand
Internet Fame Is Cruel Mistress for a Dancer of the Numa Numa
Poor Gary.
He has now sought refuge from his fame in his family's small house on a gritty street in Saddle Brook. He has stopped taking phone calls from the news media, including The New York Times. He canceled an appearance on NBC's "Today." According to his relatives, he mopes around the house.

What's worse is that no one seems to understand.

Of course I'm guessing, but maybe I get it. In about 1996, when I first started posting to rec.arts.crafts.textile or to the KnitList, the fact that I was a man knitting meant that I had notoriety whether I had any talent or not. I also managed to use both the words "penis" and "faggot" (referring to myself in jest) - in the same post? I don't remember. The exuberance, though obviously intentional, was not calculated.
Shortly, I was getting invitations to national knitting conventions and offers for articles and teaching. It's a good thing I am a good writer and teacher and I think a decent knitter, but I'd say about 1/3 of the KnitList at the time were stronger knitters technically than I was; they just didn't have penises. (There's that word again.)
I thrive on attention but it also disturbed me. We don't just want fame; we want respect. They're two different things. Fame is random; the inflammation of the public imagination. Respect is earned on the merits.
I didn't care when the knitting gigs dried up; it was never a goal of mine. I learned a lot about the vagaries of popularity (however minor) from that experience. At 19, I think the lesson may be a bit disillusioning for Gary.
Thanks to P for sending this to me.
Posted by Leigh Witchel at 1:57 PM | Comments (6) | TrackBack
FO
Socks for Mom.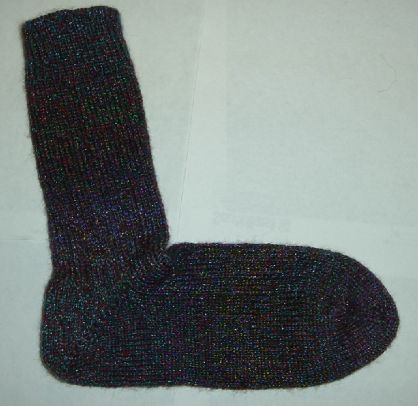 These are made in a Japanese Yarn, "Spark Multi" that was a gift from a friend and Japanophile, Gayle Roehm, who wrote a very useful article on using Japanese patterns (even if you can't read Japanese) in Knitters Issue 46.
The yarn is a 50/50 wool/acrylic. The pattern is my own; here's the abbreviated version of how I make socks:
Cast on tubularly. 72 sts for a man on size 0, six or eight sts less for a woman or on size 1 (depending on your stitch pattern multiple). Place markers at the beginning of the round and halfway.
1x1 rib for 2 ins.
Switch to pattern stitch. This is either 3x1 ribbing (multiple of 4) or Twin Rib. 3x1 ribbing looks like stockinette but has more elasticity, and so is good for printed sock yarns that create jacquard or other effects that you don't want distorted by a stitch pattern. Twin rib is great for yarns that need a little more textural interest.
Multiple of six.
Round 1 - *K3,P3*
Round 2 - *K1,P1*
Cuff to heel turn will be about seven inches.
Do a short row heel on 60% of the stitches, rather than half. (Use 3 sts extra on each side). This makes a deeper, better fitting heel (at least, it does on my foot!)
Continue on for the foot, with plain stockinette for the bottom half of the round (the sole) and the pattern stitch for the top. Try them on and begin toe shaping when the sock reaches the knuckle of your little toe (about 1.5 inches from the end)
I do a standard toe decrease, for top and bottom of sock, k1, k2tog, k to last 3 sts, k2tog, k1 (repeat for bottom half). Do this every other round until you have 50% of the stitches and then every round until you have 8. Graft the toe.
Posted by Leigh Witchel at 9:47 AM | Comments (0) | TrackBack
Leigh's Dance Card
NYCB goes on hiatus until April; it's an opportunity to look at what's happening elsewhere.
Paul Taylor's self-produced season at City Center marks their 50th anniversary, and has been extended to three weeks from the usual two of recent years. If my memory is playing tricks on me, it used to be three weeks, and he used to be able to afford an orchestra. He deserves both.
3/2/05 I'm "on duty" for Danceview Times. Go yourself. Taylor has the ability to make both light and dark works, and tends to program a performance to include both.
Dances to look for - Aureole and Arden Court are among his most beautiful and pastoral, Offenbach Overtures for those who want to see Lisa Viola transfer Gilda Radner's "Colleen the Vegetable Child" to the stage. Last Look is one of the most blandly disturbing dances ever made; Piazzolla Caldera one of the sexiest tango works (with barely a tango step in it). Rear mezzanine seats are a bargain at $15.
3/5-6/05 In Philadelphia for La Fille mal Gardée, Ashton's comic masterpiece. If you're in the area, don't be put off by the French title. For the American visits of the Royal Ballet, I think Sol Hurok wanted to title it "The Farmer's Daughter." I'm "on duty" for Ballet Review.
Posted by Leigh Witchel at 9:19 AM | Comments (0) | TrackBack
February 25, 2005
Friday Cat Blogging
Let sleeping kitties lie.
Lascivious kitty (Note the overgroomed belly. That's from more than two years ago and it's finally growing back.)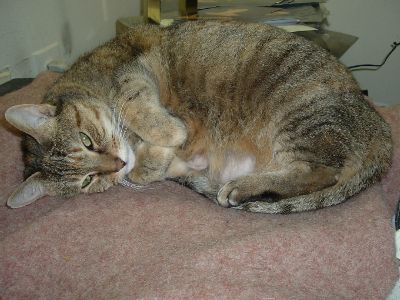 Posted by Leigh Witchel at 12:19 AM | Comments (1) | TrackBack
Knitting Bee
Knitting is a great solitary pastime, but it's more joyful when it's social. There are informal "knit-togethers" throughout the city; the one I'm lucky enough to attend (when I can, which is less frequent than I would like) is organized by the perennially stylish Eve Ng. Charlotte Quiggle is in town. She's a native Minnesotan who lived in New York for a long while, but then moved back home last year. She's here on a visit, so Eve arranged a get-together.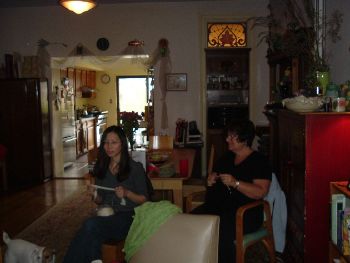 I used the time for finishing rather than knitting, bringing along several AFO's to turn into FO's – Finished Objects.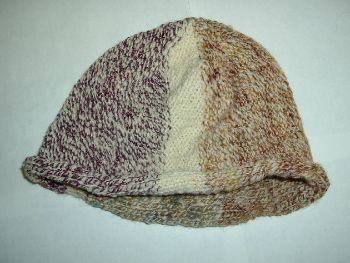 I had left this mitered hat from Nancie Kremer's pattern to languish for 18 months with only the side seam ungrafted. This is a fun pattern for a relatively new knitter, and a good way to learn short-rowing if you'd like to tackle socks later on. The stockinette version has an attractive rolled edge because of stockinette stitch's tendency to curl, just remember that stockinette has a greater row gauge than garter stitch. You may only want to short row until 22 stitches on each wedge to cut some rows in compensation. I also did a provisional cast-on and grafted the sides rather than binding off or sewing. The yarn was handspun that was a gift to me from another friend, Cynthia Davis.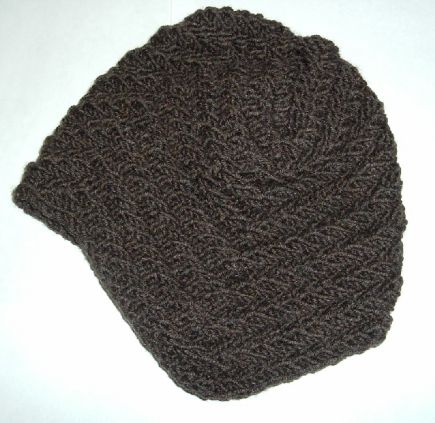 Flor's website has some of the best free patterns around, including one of my favorite, the Amelia Earhart Cap. It has everything to recommend it. It's clear and well written, in both chart and written form, it's ingeniously designed and it's a great combination of interesting shaping and simple knitting; it's just a k2p2 rib that steps on the diagonal and short-rowing at one end. It works up extremely quickly and you can take it anywhere; it's simple enough to work while walking. There's a similar pattern also in "Homespun, Handknit", the cap in the "Bouncing Baby Set" by Jean Scorgie. She says she derived it from a Finnish pattern. Scorgie's pattern uses garter stitch instead of a stepped rib and sews the seams instead of short-rowing.
Flor's pattern looks great in a solid color cabled yarn; it really shows off the pattern. I've used Baruffa Maratona and Filatura di Crosa Zara so far. The photo below is of the model in Zara, which has few short rows omitted because I was running out of yarn. It uses a bit more than a single skein. The provenance of the yarn is from the stash of my friend Cynthia, who occasionally gets stricken with Feng Shui and heaves things out.
You can reduce your need for the knitting chart if you place a marker after the 14th stitch from the edge where you are short rowing. When you hit the marker, it's time to reverse the shaping. For the central lobe of the pattern, place the marker after the 7th stitch. I also tried seeing if slipping the first stitch of the straight edge from rows 56 to 85 produced a neater edge over the forehead. It's six of one, so see if you like it. My one caveat would be that it looks best on women with long hair or bangs. When worn, it's shaped similarly to a bathing cap. If you don't like the way you look in a swim cap; you won't like the way this hat looks. But knit it anyway for the fun of it and inflict it on a friend who would look cute wearing it.
Posted by Leigh Witchel at 12:00 AM | Comments (2) | TrackBack
February 24, 2005
Choreographers on Parade
Seen at the Japan Society for the performance of Condors:
Mark Morris. Wearing a wrap. Arriving three minutes before curtain. Noisily. Then moving seats until he found one he liked.
Some people are physically incapable of not making an entrance.
Posted by Leigh Witchel at 11:02 PM | Comments (0) | TrackBack
Out and About - The Gates
I looped the long way to work today and cut through a small section of Central Park to finally see The Gates. It was only a brief excursion but worthwhile; I hope to go back on Saturday if the weather permits.
The Gates are fascinating more as an event than as artwork; people are streaming into the park to stroll through and explore them. They change the landscape of the park entirely, but temporarily; a benign flexing of humanity's muscle to shape the earth. Perhaps it's the color, which I associate with the robes of Buddhist monks, but the first thing that struck me when I passed under the rippling gates were the pictures my father and stepmother brought back from Tibet of prayer flags. The Gates have the same communal excitement of a religious festival, but in a secular setting.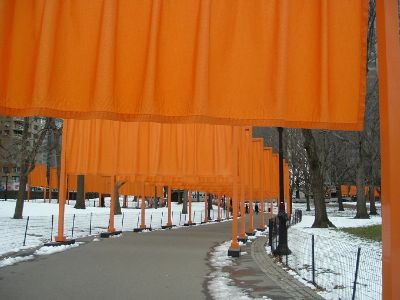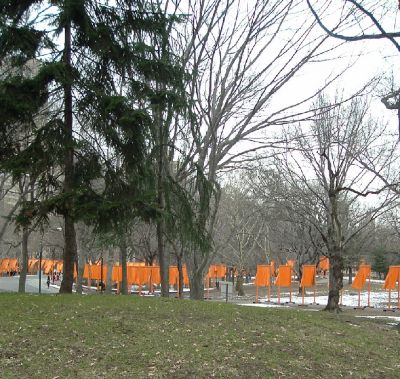 Posted by Leigh Witchel at 10:56 PM | Comments (0) | TrackBack
February 21, 2005
Beautiful writing
The reason I'm happy to write for Danceview Times is that I'm in good company.
Read Paul Parish's piece on the Royal Thai Ballet and Tom Phillips' beautiful report on The Gates and I think you'll bookmark the site for the writing alone.
Posted by Leigh Witchel at 11:18 PM | Comments (2) | TrackBack
Leigh's Dance Card
Upcoming this week -
2/22/05 - Double Feature at New York City Ballet - debuts of Sofiane Sylve, Janie Taylor and Kyle Froman
2/24/05 - Condors in Mars: Conquest of the Galaxy II at the Japan Society - part of the Cool Japan: Otaku Strikes! festival.
Both for Danceview Times
Posted by Leigh Witchel at 11:10 PM | Comments (1) | TrackBack
Hurrah Knitty
It's been done before, but I'll applaud anyone who does it. Knitty, the fun Canadian knitting zine, is planning a men's issue for July 2005.


Patterns that don't suck for guys are hard to come by, and we know that first hand.
I'll say. The best patterns for men seem to be from Japan. The patterns I have seen, particularly from the James Dean yarn brand (yes, really) tend to the "classics with an interesting twist" genre. They're very wearable even by finicky men but still interesting to knit - the words every knitter dreads to hear: "I want you to make me a plain sweater." Advice to those who have said that: Plain sweaters are boring to knit and beyond cost-ineffective. Buy it from a store.
You can find pattern books like James Dean Sweater Scene either on eBay or at Kinokuniya or other Japanese bookstores.
(Thanks to Duffy on the GLBT Knitlist for noticing this)
Posted by Leigh Witchel at 12:14 PM | Comments (0) | TrackBack
Yes, I can actually be quoted in the NY Times without controversy.
Listen Closely, Lean Forward and Squint - An article on the wonderful NYCB docent Miriam Pellman.
Posted by Leigh Witchel at 12:18 AM | Comments (1) | TrackBack
Latest Article (Royal Ballet School)
Watching a graduating performance of any of the major dance academies involves a bit of calculus and science fiction; you're no longer looking at three dimensions on the stage, but also the fourth: time. You watch the stage and see the young dancer onstage overlaid with the dancer five years hence; how will she develop, where will he be?
Posted by Leigh Witchel at 12:03 AM | Comments (0) | TrackBack
February 19, 2005
Out and About – New Chamber Ballet
I've known Miro Magloire for close to a decade by now. I have "unclean hands" for a review, so here are scattered notes from a friend, as it were.
What's interesting about what the New Chamber Ballet does is the deliberate smallness of the enterprise. I considered Dance as Ever's budget to be a shoestring – over 10 years we spent about $330,000 and made 28 ballets on that. Miro probably operates at about 5% of that and still manages a good quality of dance and dancer. What gets ruthlessly stripped out are all production values; you're sitting in a studio (on the fifth floor of City Center. I took morning ballet classes in that room for much of my career. I believe there's a picture of Balanchine rehearsing Danses Concertantes with the Ballets Russes in that room in the Bernard Taper biography of him as well.)
Seeing ballet in a studio is a concentrated experience and Miro's works are particularly so; his aesthetic and palette tend to be rigorous and restrained. I'll admit a partisan liking for it because it's ballet rather than a hybrid form, and he has no trouble finding things within the medium to explore. He did three works, a duet to music by Morton Feldman, a trio to Haydn and a series of Spanish waltzes with three women and a man. The duet is a dreamy work that moves on its own clock time; one woman begins a solo, another woman enters. They dance on the same stage yet barely interact. The first woman leaves the space to the second woman who continues in the same contemplative mood. In no way does the work physically remind one of Merce Cunningham (strike that – it does in one way; Miro used a broken-armed port de bras that reminded me of a ballet equivalent of something derived by LifeForms, the computer simulation model Cunningham has used) but the focus of the piece and its calm insistence on moving at its pace, not ours, are things I associate with watching Cunningham. His women, in this case Elizabeth Brown and Denise Small, are quite lovely. One is blonde haired, the other brunette and ID'ing them turned into a scene out of a Danny Kaye movie. Brown is blonde and Small is brown. Remember that when you are trying to figure out if the chalice with the palace contains the brew that is true.
Small and Brown (one is brown, but neither are small. They're both tall.) were joined by Julia Welsh for the Haydn trio. Again, a well crafted work, miniature in scale but full length. There were some fine moments here including a repeating circle that took a familiar motif and made it unfamiliar. The strength of the works, their clean ascetic rigor and craft, is also their Achilles heel. The works have intimacy, but little theater. We are in a studio, but the dances can feel as remote at times as if they were separated from us by a wall.
Production values could bridge the gap. No lights and simple un-costumes provide the most neutral of settings and the choreography, especially the first piece, demand atmosphere. In the second piece, Welsh added drama of her own. With her wide lovely face and slit-eyed look like Eve Harrington without the malice, she always looked as if she were conspiring something unknown at any moment. You watched her wondering what it might be. And that is theater.
Posted by Leigh Witchel at 11:22 PM | Comments (1) | TrackBack
Out and About - Royal Ballet School
The short version - good training and consistent style. The boys are long and spidery, but strong. Watching Ashton done by 17 year olds who can just about get through it because it's so exposing has its own poignancy.
Whispered in the dark, apropos of nothing actually onstage: "You can be unmusical to absolutely anything. You could be unmusical to 4'33" if you worked at it."
Skirball Center is a new theater at NYU, I'd guess about 900 seats, that will be useful to the University and not very useful to the community at large. Would that someone would build a few more 250 seat houses for dance in New York and a few less 900 seat houses that smaller companies can neither fill nor afford.
Full review at Danceview Times on Monday.
Posted by Leigh Witchel at 2:16 AM | Comments (3) | TrackBack
Reason Prevailed
My travel schedule so far:
Weekend trips to Philadelphia, Boston and San Francisco in March
A week in Argentina in April
A weekend in Toronto in May
Two weeks in England in June
A weekend in Washington DC also in June.
I do not need to go to Japan at the end of April. I might like to see what New York City looks like instead.
Next year. But I swear next year is St. Petersburg. . .
Posted by Leigh Witchel at 1:09 AM | Comments (2) | TrackBack
February 18, 2005
Current Knitting
I usually have three active works in progress (WIPs) –
A simple portable project – socks or a hat.
A larger simple project – often an afghan like John and Chris'
A complex project (that languishes unfinished because I never have time for it)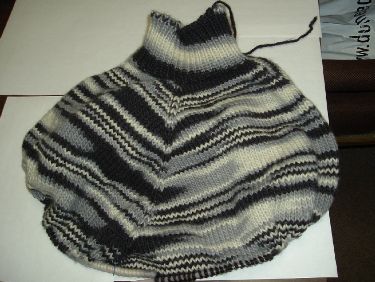 This poncho started small and portable and graduated to large and simple. It lives in the office on weekdays and I work on it for a few stitches if I'm fielding a phone call or my office computer crashes and reboots randomly for the fifth time during the day.
There's no pattern here: Start at the top with a loose cast-on (I use the tubular one) and enough stitches for the neck. Once the turtle neck is the right length (about 4 inches here), place markers at 4 evenly spaced intervals. Every other round, increase on either side of the stitch immediately after the marker – so I increase a stitch, slip the marker, knit the "spine" stitch in between the increases and then make the other increase. Keep going until your poncho is long enough. Cast off loosely, fringe if desired. Voilà.
It's made out of a handpainted single ply yarn with a loose twist called "Matisse" – I snagged it at a yarn swap a few years ago from the ever-stylish Eve Ng. The long color repeats from hand painting mean that again one wants to watch for color pooling, or make it a feature in the alternative. My hunch was that knitting with angles would work best, and I think that hunch was right. The changing number of stitches from the constant increasing also helps to avoid pooling but I very much like the Ikat-like effects of the yarn in this project.
Posted by Leigh Witchel at 2:21 AM | Comments (0) | TrackBack
Yes, we do Friday Cat Blogging here, too.
Call it Internet Peer Pressure.
So for our inaugural Friday Cat Blogging, I offer you -
The Blair Kitty Project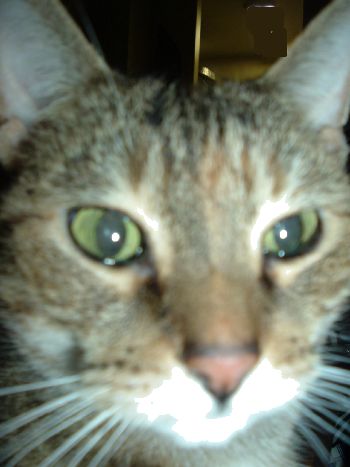 Posted by Leigh Witchel at 12:48 AM | Comments (3) | TrackBack
February 17, 2005
Recently Finished Knitting - Simple Afghan
My usual path in the domestic arts is to start with overkill and evolve slowly towards routine and practicality. When I first cooked for myself I thought nothing of tackling fussy multi-course Japanese meals even if I were eating alone. Now, I want to be able to eat dinner when I get home in not much longer than the time it would take to heat it. Most of my cooking is slanted towards meals that can be made in quantity and take well to reheating; this is why I enjoy cooking soups, stews and Indian food.
My earliest knitting projects were exuberant Fair Isle or painstaking tiny entrelac. I don't knit much like that anymore. Knitting is now rarely a foreground task; it's something I do while I do other things; talking on the phone or riding on an airplane. Yes, you can knit on planes. I've almost never had a problem. Use circular needles, preferably wood or plastic, and have the project well underway with knitting on the needles instead of the needles free as a potential weapon. The toughest security I've encountered on the issue is with U.K. carriers.
Here's what's just come off the needles.
John & Chris' housewarming afghan.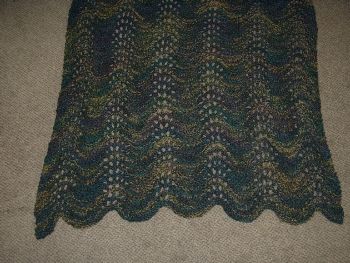 Actually, I'm cheating. This came off the needles in November of last year, but I just got around to darning in all the ends. I use the cash accounting method of Finished Objects rather than accrual, so FO's count in the year actually completed.
The yarn is from New Zealand, by Te Awa Wools, which my father and stepmother brought back as a gift. It's in lovely earth and forest colors, but heartily resisted being knit; the color repeats kept pooling or looking flat in every project (all sweaters) I attempted. Ah, the mysteries of variegated yarn. John and Chris are dear friends in Toronto. I've known John for about 8 years now, and he met Chris about 3 years ago now and fell nauseatingly, completely in love. They've just bought a house together near the Danforth and this afghan is a combined late 40th birthday present to John-housewarming present. It was cast on in London, ripped out (too wide) and cast on again in London, and the bulk of it knit in Toronto while visiting their new home, in fact much of it on the couch where it will reside. The yarn was doubled and knit on US 15s; the large gauge has a fine drape and the doubling solved the pooling of color repeats. It's in Old Shale, one of my favorite bang for the buck patterns – there's only one pattern row to memorize (the rest are plain knit or purl)
If it's unfamiliar to you -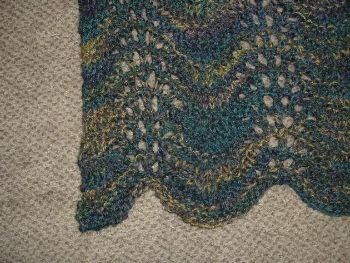 Old Shale
Multiple of 18 sts
Row 1 (RS) Knit
Row 2 Purl
Row 3 (k2tog) 3x *(yo,k1) 6x, (k2tog) 6x* but instead of ending (k2tog) 6x, end (k2tog) 3x
Row 4 Knit
Posted by Leigh Witchel at 10:18 AM | Comments (1) | TrackBack
February 16, 2005
Numa Numa Update
Good grief. The kid is from Saddle Brook.
A chubby New Jersey teen has become the hottest sensation on the Internet with an amateur video of himself singing and dancing to a Romanian pop song.
If you liked Dragostea Din Tei, you'll enjoy Despre Tine as well.
I find them guilty pleasures. Having the words in Romanian means that I don't need to worry about what they are - and O-Zone knows that. In a way, they're channeling ABBA, who used basic English hooks in their pop, but O-Zone just uses syllables (nu ma iei or la la lei)
Despre Tine is their faux disco number. Funny to watch the affection of that age group for the seventies. I suffered through adolescence during it; it was pretty grim. I'm now old enough to step outside the two decade nostalgia cycle and view other's nostalgia through the prism of the experience. What did my parents think of the fifties craze of the seventies? The cycle seems to be getting shorter the more mass media we have; I think we're getting ready for a nineties craze already.
[Added 2-17] One other observation, to be filed under "generation gap". Having now looked at a few of the lyrics in Romanian, if there's a "moon/June/balloon" school of lyric writing in Bucharest or Chisinau, these guys went there. There are a few running similarities among all the songs that are amusing. The littlest Moldovan, Radu, always sings lyrics that are a variation of "I know you don't love me because you never contact me, but know that I always loved you/never wanted anything from you/did not steal your panties from your dresser drawer." OK, he didn't sing the last one. But that must be a Boy Band topoi; rejection and protestation. All of which, I suppose, is another way of saying I Love You. And by what method do you never contact Radu, O Fair Object of Desire? Text messaging or SMS. If he's attracted to women (or men) over 35, it could simply be that we don't know how to respond to text messages. Whenever I get them, I panic.
Posted by Leigh Witchel at 12:42 PM | Comments (0) | TrackBack
Will someone please talk me out of this?
American Airlines is inaugurating their new service to Nagoya, Japan with very low fares, about $630 round trip including tax. That's slightly more than half the price of comparable flights to Tokyo right now. They're also matching United's double miles promotion. Book your ticket by February 18, fly by May 25, get double miles.
Nagoya isn't tempting, but Kyoto is. And so are busmen's holidays.
Research and entreaties to Japanese friends didn't turn up much in the way of ballet in Kyoto, though there is an uncommon appearance of the Paris Opera ballet in Nagoya, coinciding with Expo 2005.
However, the final weekend of April in Tokyo hits the jackpot. Three major performances all in the same weekend.
New National Theatre Ballet, Tokyo - 29, 30 April; 1, 2, 3 May: The Sleeping Beauty
Tokyo Ballet 29, 30 April; 1, 4, 5, 6 May: Sylvie Guillem triple bill
Matsuyama Ballet, Tokyo (Yoko Morishita's company) 29 April; 3, 4 May: Cinderella
(Thank you to Naoko S for all the research)
I am so tempted. It's not cheap, but it isn't that expensive either. $630 for airfare, $290 for Japan Rail pass and Tokyo has the sort of budget hotels that New York doesn't.
The long haul flight comes with certain perks if you're a "miles whore". The flight alone is a bit over 14,000 miles round trip; a significant chunk of getting elite status, or jumping up a notch. And if you make mid tier (Platinum), which I would do after this flight, subsequent flights, including the one I'm taking to London, would earn double miles. All told with bonuses, the $630 round trip flights would net me over 30,000 miles, more than enough for one free domestic round trip.
Of course, now I want to splurge on staying in a Ryokan in Kyoto.
I can probably swing the expense. The real problem is that I am going to Buenos Aires in for a week April and England for two weeks in June. Now I want a week in Japan? Well, yeah.
I've put a ticket on hold until the 18th. Will someone please talk me out of this?

Posted by Leigh Witchel at 2:46 AM | Comments (1) | TrackBack
Pasta Sauce - It's what's for dinner.
Recipes with many ingredients may seem daunting, but this one is really about as simple as it gets. Chop. Sauté. Simmer. There is a lot of chopping involved here; you'll want to use a food processor.
Soups and stews tolerate wide shifts in proportions. Add more of one meat and less of another as you prefer. I picked up the addition of a large amount of chopped carrots from Chris Rankin, my roommate when I danced with American Festival Ballet in Boise in the Mesozoic era. Also, the recipe is keyed toward being made with nonperishables from my pantry – by all means use fresh ingredients when you have them, but for instance, don't let the absence of chicken broth stop you from making this. Use a bouillon cube.

Pasta sauce.
2 slices bacon (about 2 ounces)
1 lb hot Italian sausage
¾ lb. ground chuck
6 oz. beef shoulder (London broil)
1 tsp dried basil
½ tsp dried oregano
½ tsp dried thyme
1 bay leaf
4 cloves garlic
1 very large onion
3 large carrots
3 large ribs celery and a small handful of celery leaves
1 16 oz. can mushrooms (by all means use fresh, they tend to spoil before I get around to cooking, so I keep canned on hand)
1 28 oz. can crushed or whole tomatoes
1 8 oz. can tomato sauce
2 cups strong homemade chicken broth or two beef or chicken bouillon cubes.
½ cup cream, sour cream, milk or condensed milk – depending on how you feel about fat and calories. All work.
1 T salt
Several grinds black pepper (about ½ tsp)
1 tsp hot chili sauce (or to taste)
2 tsp Worcestershire sauce
1/3 cup wine (either red wine, sherry or marsala)
****
In a deep saucepot, render the bacon. Reserve bacon, leave fat in pan. Chop the sausage coarsely. Render the sausage and ground beef on medium heat. Cut the London broil into small dice (less than ½ inch cubes) and brown along with the other meats. Add spices to meats (rub dried spices in your palms before adding to release oils and flavor). Continue sautéing. Chop all vegetables with the bacon (finely chop the garlic, coarsely chop the others). Add to meats, continue to sauté. If you're using fresh sliced mushrooms, add them here as you fry. When all vegetables are no no longer raw, add the next group of ingredients (tomatoes, broth et al.), then add seasonings except wine. Simmer uncovered for about 2 hours. Add wine about 10 minutes before removing from heat. Serve over pasta.

Posted by Leigh Witchel at 1:49 AM | Comments (0) | TrackBack
SOMEBODY is in trouble.
And that somebody is striped and furry.
And that somebody thinks plastic, especially plastic sheathing on wiring, tastes and smells delicious.
AND THAT SOMEBODY ATE MY ETHERNET CABLE.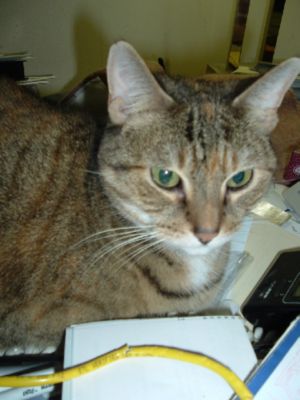 Posted by Leigh Witchel at 12:51 AM | Comments (2) | TrackBack
Getting the hang of Movable Type
Comments now work. I had to dicker around in the archives preference to change to a different template.
For those considering setting up a blog on your own, set aside the better part of an evening. It is interesting, though. Besides Movable Type's own support forums, Elise Bauer's Movable Type tutorials are invaluable.
Posted by Leigh Witchel at 12:48 AM | Comments (0) | TrackBack
February 15, 2005
Leigh's Dance Card
Upcoming this week -
2/18/05 - Royal Ballet School performing at NYU Skirball Center.
2/19/05 - New Chamber Ballet - Miro Magloire.

Posted by Leigh Witchel at 5:08 PM | Comments (0) | TrackBack
Latest Article (Ballet)
. . . they danced like a Noel Coward couple after the divorce
Equals and Opposites George Balanchine's Jewels - reviewed at NYCB on February 9 for Danceview Times.
Posted by Leigh Witchel at 2:54 AM | Comments (0) | TrackBack
Help. Why am I singing in Romanian?
Alo.

Salut.

Sunt eu, un haiduc.

It started with this: Numanuma. Yeah, it's funny, but I love it, as well. The kid is the fat gay kid in all of us with the fierce drag queen waiting to get out.

And the song is catchy. Try and get it out of your head. Just try. See?

Here's the original group: Musique-radio.com présente : O-ZONE "Dragostea Din Tei", vidéo clip. Their name is O-Zone, and they're a Moldavian boy band. Yes, Moldavian. From Moldova. Where's that? Wedged between Romania (Moldova was a former province lost , I believe, in the Second World War) and Russia. They're singing in Romanian, with what I am told is a Moldavian accent. As if I could tell.

It's cheesy, but one learns a few things about boy bands, including those from Moldova:

Boy bands are calculated to equally appeal to gay men (note the rainbow at the beginning, the bodybuilders, the Village People cartoons and the convenient absence of all females) and teenaged women. What does this say about our tastes?

The song was released in Romania in late 2003 and went to #1 in France the following summer. George Bush won the United States election shortly after, and I think the two events are related. Boy bands from Moldova singing in Romanian are one of the final signs of the apocalypse.

Dragostea Din Tei did spawn a few other bizarre videos, among the strangest is this one in Japanese - http://ikari0310.hp.infoseek.co.jp/flash/maiyahi.swf that links English sounding cognates to the Romanian. The "stea din tei" in dragostea din tei becomes "study day". Of course, in the kid's lipsynch version, the Romanian word "fericeria" (happiness - Romanian ia a Latin language - think "felicity") becomes a still shot of feta cheese. Ain't associative logic grand?

To further your numa numa obssession, here are three skinny Polish geeks playing with dildos. They really really really cannot dance. http://strony.aster.pl/amanek/Klip.wmv (not work safe).

A Hebrew parody. Several cute Israeli boys, and some Israeli babes (for thems that likes 'em). Anyone care to offer a translation of the Hebrew lyrics?

And finally -
Romania - Dragostea Din Tei - Lyrics in Romanian and English and
Dragostea Din Tei - Wikipedia, the free encyclopedia (their entry on the song.)
Posted by Leigh Witchel at 2:33 AM | Comments (6) | TrackBack
February 14, 2005
Hygienic, Flavourful & Tasty.
What is Sambar? It's a southern Indian lentil and vegetable soup-stew. It's meant to be eaten over rice like a stew, but the consistency is more soup-like.
As an adventure, I went down to the East Village yesterday to go Indian and Japanese grocery shopping. The fiery spice mix for sambar can either be homemade or bought. As I had not tried the bought version, I decided to get some commercial mix (called either sambar masala or sambar podi) to see how it compared.
At Dowel Quality Products (1st Avenue & 5th Street) I found two varieties of sambar powder, but this was the one that I had to buy.
Hygienic, Flavourful & Tasty. What more could one ask of a new blog?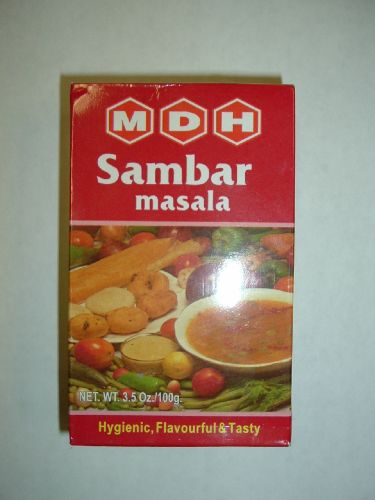 Posted by Leigh Witchel at 11:29 PM | Comments (0) | TrackBack