« September 2005 | Main | November 2005 »
October 31, 2005
Denial
I am running out of yarn on Dad's sock.
I know I am running out of yarn.
I am halfway down the foot. The skein is losing all body, indicating I'm coming close to its end. I'm at my brother's home in Bristol and there's no postal scale handy, but there's no way there's a quarter of a skein left.
I am running out of yarn.
So why am I knitting blithely on as if I am not running out of yarn?
Posted by Leigh Witchel at 4:42 AM | Comments (2) | TrackBack
October 30, 2005
Tube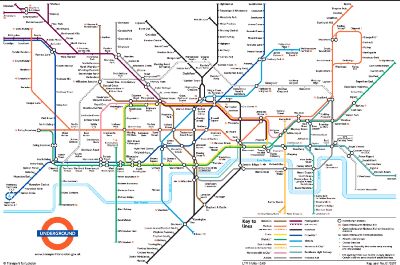 This visit, London was the Tube.
It seemed I went everywhere on it and on more lines than usual.
I don't need to take the subway often at home - work is only about a 20 minute walk from my home and Lincoln Center only 10 minutes. The fact that I take the tube more here contributes to the distorted sense I have of the city being more cramped than NYC.
My hotel is in Kensington, which is on the western side of central London. Covent Garden is slightly east of the center. Sadlers Wells is in Islington, to the north. I've traveled on the Piccadilly, Circle, District, Hammersmith & City, Northern, Central and Victoria lines. There's no traces or aftermaths of the July bombings anywhere I've been, but it has been several months. Queensway Station on the Central line is closed until May, 2006 but I'm not certain it's related.
Instead of a paper Travelcard, you now buy a magnetic Oyster card, which costs the same but can be refilled and can be quickly scanned by a magnetic reader. The card is £18.50 for 7 days unlimited travel in zone 1. If you're coming in from or going to Heathrow, an extension of the card for that trip will cost £1.80.
The London subway is low and cramped - cramped differently than NYC's cars. The cars are smaller, narrower and more frequent. Worse than the cars themselves are the elevators ("lifts") down to the platforms. They're worse than packed; there's little or no crowd control so constantly someone is wandering into them and stopping mid-elevator blissfully unaware that there is a huge pile of people behind him or her needing to get on.
If you're heading to Covent Garden on the Piccadilly line from the west, stay in the back two cars, the exit is there. The lifts will be painfully crowded. If it's more convenient than changing to the Piccadilly Line, there are several alternative stops on other lines close by including Leicester Square, Holborn, Charing Cross or Embankment.
Posted by Leigh Witchel at 6:25 PM | Comments (0) | TrackBack
October 29, 2005
The fastest five days ever
It went by in a flash.
I leave tomorrow morning for Bristol to rest for a day with my brother and sister in law, then back home.
There were more substitutions today. Rojo did not dance; I saw Lamb a second time instead.
All told, I think Sylphide was a success. None of the casts was perfect, none were bad. All had different virtues. All the men looked better coached than they have before. Englund did two performances, each different. The final one was the most explicit playing of an attraction for James by Madge I have ever seen. I don't think it's the best reading, but at this point I think Englund has a right to it. Kobborg hasn't given them a Danish Sylphide either, he's given them the one that seems to suit the company, and one they look good in.
Off to bed.
Posted by Leigh Witchel at 7:02 PM | Comments (0) | TrackBack
Copthorne Tara, London
The Copthorne Tara is considered a booby prize hotel in the Kensington zone by Priceline aficionados. Since I'm a booby, I got the prize by impulsively adding the Kensington zone when I was angling for the Thistle Marble Arch. I've spent several days here now, and it's been as acceptable as any other Priceline experience I've had. This has happened before. The Radisson Harborview in San Diego, the Westin St. Francis in San Francisco and the Boston Park Plaza are also considered booby prizes; the former because of quality, the latter two because they are older hotels and unload their smaller rooms as distressed inventory on Priceline. In all cases I had a good stay; I think many of the complaints are because two travelers find themselves in cramped quarters. If you're traveling alone, it's not an issue.
[continued as an extended entry with room pictures]
The Copthorne Tara is located right off of the High Street Kensington tube station. Turn left out of the main tube entrance and make another left immediately on the corner at Wrights Lane. At the end of the block you will see the Kensington Close hotel, bear left and the Copthorne Tara is the large yellowish brick building immediately to the left. It will be obvious. There's also a faster shortcut, but it's through a poorly lit alleyway. Turn left right out of the tube turnstiles and head to the green "fire exit" sign. I would not use this the first time you go to the hotel, or if you're chary about unlit areas at night.
Check in was polite and speedy. The clerk only had twin bedded rooms, but without asking switched me to a higher floor, and also allowed me to check in at 1:00 pm. This may be the luck of the draw; a man checking in at the same time with another clerk was told to come back at 3:00 pm. My room was a standard twin bedded room, about the same level and design as the Holiday Inn Kensington Forum in London.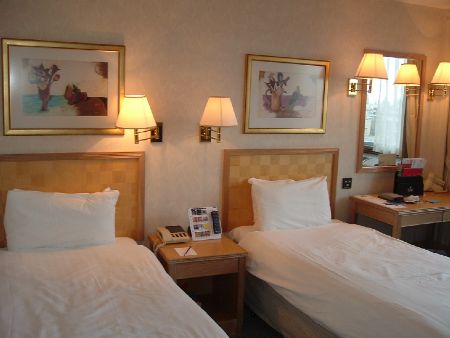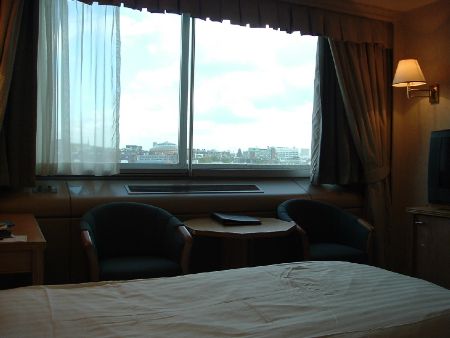 Amenities are basic; there is coffee maker with coffee, a combination trouser press/iron that did not work (I called housekeeping and they promptly brought an iron and board) and a television I never used. The air conditioning unit is similar to those in the U.S. and effective, but not necessary at the end of October. The bathroom had a smallish tub and the hotel provides bar soap, shampoo and shower gel as well as bath and large face towels. If you use conditioner or a small washcloth, bring your own.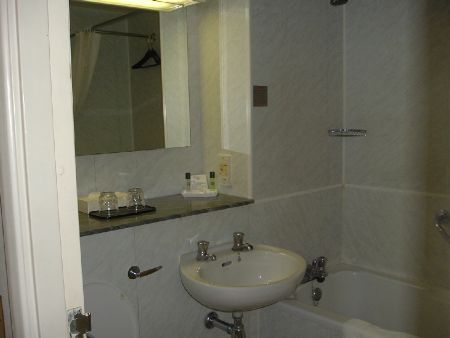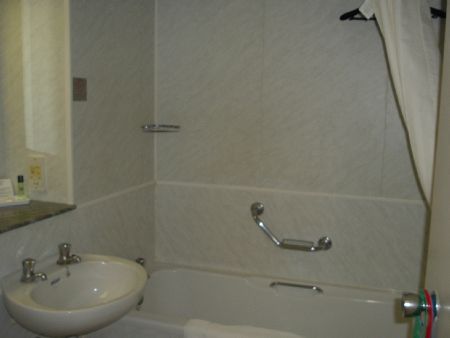 Most conveniently, the room had a small cube refrigerator in it instead of a minibar. Two blocks to the left on the High Street there is a Somerfield market that is well stocked with produce and prepared foods and there are several other options as well. I found with careful shopping I was able to eat healthily and well at my convenience.
Internet service is painfully expensive. WiFi is available only in the lobby and at the cost of £8 per hour. I found that if I walked up the block past the Kensington Close hotel and then crossed Cheniston Gardens and walked another block up Abingdon Villas to Iverna Gardens I found a stray wireless signal on the corner. My guess is there are several others in the neighborhood as well. There is a fitness room in the hotel that costs £5 per visit. I shamefully admit that after packing workout clothing I just never had time to use it.
I'd have no problem staying here again. I liked the convenience to the Tube and the in-room refrigerator. I did not like the high cost for other incidentals (wireless, exercise room) and the location should be considered. Kensington (and presently Marble Arch) seem to be currently the least expensive Priceline zones in London, but Mayfair Soho is the most convenient for a tourist. Most of the central London attractions are there, as is the theater district. I was spending at least an hour daily traveling on the Tube on various trips. Hotels like the Thistle Charing Cross can sometimes come up for around $95/night (I got the Copthorne Tara for $69) but the extra expense may be worth the convenience and offset by the decreased transportation costs.
I'm usually a terrible food shopper in London, and end up coming home feeling like I've eaten only sausage rolls and other junk. I was more careful this time. Here's my shopping list (as much so I remember it for future travel as for your benefit!):
Grapefruit Juice
Bottled water (a six pack of 500 ml bottles)
Fruit (plums, pears, bananas)
Whole grain bread
Yogurt
Bagged mixed salad greens
Carrot sticks
Low fat sliced cheese
Sliced ham
Sliced turkey breast
A small bottle of salad dressing
A small jar of mustard
Plastic cutlery
Paper bowls (for salad)
Posted by Leigh Witchel at 7:34 AM | Comments (1) | TrackBack
October 28, 2005
A tale of one city blogged in the rain
I'm sitting on my corner at Iverna Gardens and oh my it is raining. It wasn't when I started. Blogging is a harsh mistress.
Paris and London seem to trade off in my affections. Since my brother's marriage I've gone to London often, at this point four times since October 2003. The city has become inspiring to me in a way Paris has also been. Alas, Paris Opera Ballet's seasons for the past two years haven't caused me to want to travel there, and in London not only have the seasons been exciting because of the Ashton Centennial, there is the added enticement of my brother and sister-in-law nearby in Bristol.
It's an odd view of a city – hotel rooms, subways and theater interiors, but I think one learns a great deal about the city nonetheless – who goes to the theater, how and to what they go. Londoners have much more of an affection for high culture than New Yorkers; Covent Garden is always better sold than the State Theater. Then again, between the Metropolitan Opera and the New York State Theater, Lincoln Center has about 7,000 seats to fill on any given night compared to around 2500 at Covent Garden.
At each of my trips, the Royal Ballet keeps looking better. They company looked underrehearsed in 2003 in La Bayadère. The Ashton Centennial improved their classical dancing and La Sylphide looks attentively coached. Word seems to be the company dancers are also happy with La Sylphide for the same reason. I've only seen two casts of four (Lamb/Bonelli and Marquez/Samodurov – I see Rojo/Pennefather and Putrov/Cojocaru tomorrow – Kobborg is out and Putrov taking his place.) Both Bonelli and Samodurov have looked better coached dramatically than I have ever seen them; they both are clear on what the plot is and how to communicate it. Nobody looks remotely Danish (I'm not sure Lamb or Marquez could if they tried – it's a totally different way than either of them trained), but they're doing good work within their own styles.
Birmingham Royal is a more modest company in comparison, but just as necessary an institution; they are doing ballets the Royal isn't doing and in at least one case (Scènes de Ballet) BRB did it better. They don't have better dancers; they've got some decent ones, but much less at the top and the bench isn't very deep. But a triple bill of works by MacMillan, de Valois and Cranko filled many gaps in my viewing in one sitting. It was a very pleasant surprise; I didn't know the ballets were as well formed as they were.
Another La Sylphide doubleheader tomorrow; I will be at Covent Garden from 2 pm until 11 pm. Let's see if I can get the iron in my hotel room to work so I can press my ties.
Posted by Leigh Witchel at 6:50 PM | Comments (0) | TrackBack
October 27, 2005
Don't try this at home, kids.
8:15 am Wake up
1:15 pm – lunch with Jane and Roy
2:30 pm – Sadlers Wells Theatre. Birmingham Royal Ballet – Solitaire, Checkmate, Lady and the Fool
5:15 pm – matinee ends. Get on packed No. 38 bus to Holborn, walk to Covent Garden.
6:00 pm – sit in Vilar Floral Hall and transcribe notes. Note running times of ballets carefully. Solitaire is 27 minutes, La Fête Étrange is 35 minutes long.
7:30 pm – Miss Solitaire at Sadlers Wells.
7:30 pm – See La Fête Étrange at Covent Garden with alternate cast you won't see otherwise.
7:57 pm. Solitaire ends at Sadlers Wells. 20 minute intermission begins.
8:07 pm – Attempt to leave Covent Garden during applause. Realize you are penned in by placid applauding couples and infirm ladies.
8:10 pm – Applause ends. Permanently cripple only two infirm ladies as you clamber over them, to be penned in on the stairs out of the stalls circle by waddling men.
8:12 pm – Break free of waddling men and chattering ladies on stairs, head out to Bow Street.
8:14 pm – Catch cab while heading towards Strand.
8:20 pm – Arrive at Sadlers Wells.
8:23 pm – Checkmate begins, blessedly slightly late.
10:25 pm – program at Sadlers Wells ends. Walk to Angel, take extremely circuitous route home because of infrequency of subway trains (Northern line south to Moorgate, Hammersmith Line to Edgeware Road finally after passing up three previous Hammersmith trains when you realize that the Circle Line train you should take just isn't coming, District Line to High Street Kensington)
11:30 pm – arrive at High Street Kensington. Grab a salad to take back to hotel room.
midnight – head for my stray wireless curb at Iverna Gardens to quickly download email.
12:15 am – back to room. Eat late supper, finish note taking and other writing for the day.
1:45 am – bed.
It was quite exhausting, but a very illuminating day filled entirely with English character ballets that I would never see otherwise. No one is making one-act narrative ballets any more. We seem to only think now in terms of full-evening story ballets or one act abstract works. La Fête Étrange has links to Tudor's Lilac Garden, Solitaire to Robbins' Interplay. I found Checkmate the most interesting; I had never seen Ninette de Valois' choreography before, and it is very competent. It's very much of its time (immediately prior to the Second World War) and uses a chess game as a metaphor for negotiation and combat. It isn't like The Green Table but you can tell they were made in the same era.
Posted by Leigh Witchel at 4:19 AM | Comments (4) | TrackBack
October 26, 2005
In London
Back in London again. The weather is lovely. Sitting on the tube last night heading from Kensington into Covent Garden feels as familiar as if I had never left. I'm sitting on a curb in Iverna Gardens about a block from my hotel to save the £8 they want for an hour of wifi. Call me cheap, 'cause I am. The best news is the production of La Sylphide is an honest one. If every night is like the last I'll have no problem watching four. Will blog again as I can.
Posted by Leigh Witchel at 4:37 AM | Comments (0) | TrackBack
October 24, 2005
Latest Dance Article
A New Ballet at ABT! - on the first night of repertory at City Center.
Kaleidoscope is an amiably crafted and competent, but not immediately distinctive work. I'm unsure where [Peter] Quanz is heading with this ballet but often one can't easily get a handle on classical works. It may take several ballets to know what's a reference and what's a rip-off
Posted by Leigh Witchel at 5:25 PM | Comments (0) | TrackBack
October 23, 2005
Leigh's Dance Card - London Calling (again)
Five days. Seven Performances. Four Sylphides.
10/25 The Lesson/La Sylphide, Royal Ballet - (Lesson - Kobborg/Marquez/Yanowsky, Sylphide - Lamb/Bonelli)
As interesting as the other cast of The Lesson (Watson/Cojocaru/Chapman) looks, I won't be there on those dates and this is a ballet I'm not sure I want to see twice.
10/26 matinee Solitaire/Checkmate/Lady and the Fool, Birmingham Royal Ballet at Sadlers Wells
10/26 evening - either the same program or La Fête Étrange/Pierrot Lunaire/Marguerite and Armand at the Royal Ballet
10/27 La Fête Étrange/Pierrot Lunaire/Marguerite and Armand
10/28 Les Rendezvous/La Sylphide (Les Rendezvous - Nuñez/Sasaki, Sylphide - Marquez/Samodurov)
10/29 matinee Les Rendezvous/La Sylphide (Les Rendezvous - Yoshida/Martin, Sylphide - Rojo/Pennefather)
10/29 evening Les Rendezvous/La Sylphide (Les Rendezvous - Nuñez/Sasaki, Sylphide - Cojocaru/Kobborg)
I should be cross-eyed by the end of this. I'm on duty for Ballet Review - so reports here will have to be cursory. More than one article should come from it including one on Kobborg's Sylphide and Hübbe's Sylphide, which will be performed one month later in Toronto.
Posted by Leigh Witchel at 12:45 AM | Comments (0) | TrackBack
October 22, 2005
Carrot soup and Broccoli soup
The basic method for making both of these soups is almost alike, but obviously the tastes are quite different. Cream of vegetable soups are easy to make and delicious served warm as the weather cools.
Broccoli soup
This soup is what I do with the bottom of a bunch of broccoli. The florets are used in another meal, except for a few to garnish.
About 3 servings
1 small onion, peeled and sliced.
3-4 stalks of broccoli (1 bunch) (save florets for another use, reserving one small group of florets for garnish)
1 T oil
1 T flour
2 c. homemade chicken stock
6 oz (1/2 a can) of evaporated milk
seasonings (salt, pepper, Tabasco)
Use a paring knife to peel the broccoli stalks; remove all the woody outer skin to leave only the softer pith. Slice (thickness is not essential, the whole thing will be pureed).
In a heavy Dutch oven, sauté the vegetables in the oil at low heat until the onion starts to become transparent. Don't brown the vegetables. Sprinkle the flour over them and cook while stirring for a minute or so until the flour is no longer raw. Add stock and milk. Bring to boil, stirring. Let thicken, then reduce heat to a simmer and cook until the vegetables are tender. Strain the solids from the liquids. Return the liquid to the pot, pass the solids through a food mill (or use a food processor – I don't for this soup.) Return solids to pot. Season to taste. Serve either hot or cold, using the florets (either boiled or cooked in the microwave) as garnish.
Carrot soup
About 6 servings
1 medium onion, peeled and sliced
10-12 oz. (about 5 large) carrots, peeled and sliced
1 medium potato, peeled and sliced
1 T oil
½ tsp. powdered ginger
½ tsp. dried dill weed
1 qt. homemade chicken stock
6 oz (1/2 a can) of evaporated milk
seasonings (salt, pepper, Tabasco, Worcestershire)
parsley or dill weed as garnish
In a heavy Dutch oven, sauté the spices briefly in the oil, the add the vegetables and cook at low heat until the onion starts to become transparent. Don't brown the vegetables. Add stock and milk. Bring to boil, stirring. Reduce heat to a simmer and cook until the vegetables are tender. Strain the solids from the liquids. Return the liquid to the pot, puree solids in a food processor until desired consistency (I like it very smooth) or use a food mill. Return solids to pot. Season to taste. Serve either hot or cold, garnished with parsley or dill weed.
In both soups, if you've used homemade stock and you don't have health concerns, use a brave hand with the salt. It takes a reasonable amount to flavor a stock. Don't over-ginger the carrot soup. Ginger is a very strong spice, use too much and that is all you will taste. Use only enough so you can sense its warmth underpinning the carrots.
Obviously, go ahead and use cream instead of evaporated milk if you prefer.
Posted by Leigh Witchel at 12:04 AM | Comments (1) | TrackBack
October 21, 2005
Return of a UFO
UnFinished Object in knitter slang.
Time spent traveling is my best opportunity to tackle substantial knitting projects, particularly UFOs. However, substantial projects usually take up a substantial amount of space. Last year, I deeply regretted having to take an extra bag for a multicolored project that got dragged from Paris through the Low Countries on planes, trains and buses.
With Alexandra's camisole completed, I hope to cross yet another project off the unfinished list, but not add bulk when I go to England next week. This project fills the bill.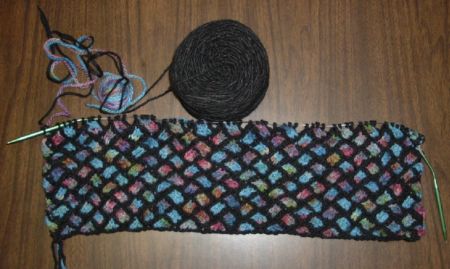 Entrelac knitting is beautiful in effect but painstaking, particularly the way I force myself to do it. Large individual squares are much faster to knit, but I think they look ungainly. I want the effect of a mosaic, so I do tiny squares that require many more turnings and hand movements. The results are almost worth it, at least once enough time has passed that you forget the hassle. That's probably why I go years between entrelac projects.
There are two different yarns in this project. I bought the variegated yarn, Colinette Skye, at a fair near Washington DC when I taught in Bethesda in 1998. The marvelous colorway is aptly named Blue Parrot. The black yarn is a mill end, a silk/cashmere blend that I bought a year later at School Products. I'm knitting on a US 10 (6.5mm) needle.
Per my knitting journals I began this sometime before October '99 and took it with me to Seattle when I covered my first Balanchine Interpreters Archive taping. The entrelac section will be the yoke of the sweater, the bottom of the sweater will be a slip stitch pattern called Royal Quilting that echoes the entrelac squares, only with black centers outlines by variegated slipstitch diamonds. I'm hoping the positive/negative effect will be handsome rather than overpowering.
The sweater probably got put aside because of the tedium of the entrelac, but also because the black yarn was coned, and cumbersome to carry. On Wednesday I did the painfully obvious and snipped the black yarn so I could wind the remainder into a pull skein. It all fits neatly into a small bag now, so it and an extra skein or two of Colinette will be accompanying me to London. Before it is completed I estimate this sweater will have traveled 12,500 miles. To bad it doesn't earn frequent flier miles.
The squares in closer detail: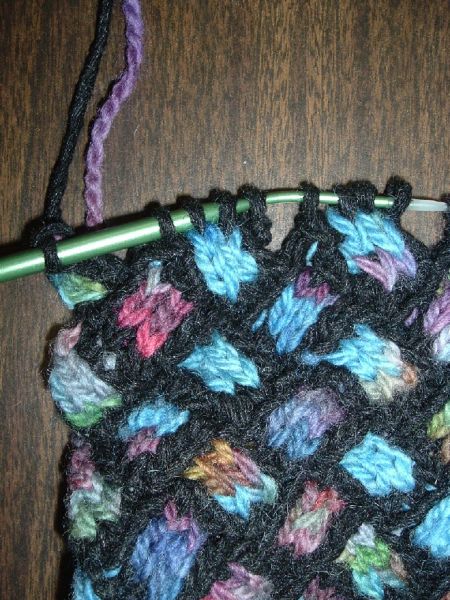 Posted by Leigh Witchel at 11:02 PM | Comments (5) | TrackBack
October 20, 2005
Multi purpose blogging
I had to post this picture of my dear friend Connie's son Alex.
First off, the cat looks remarkably like a less impeccably groomed version of She Who Must Be Petted.
And Connie, smart friend that she is, has dressed Alex in a sweater I made for him.
There's no pattern. It's a raglan cardigan in stripes knit from the top down according to an article from Hand-Knitting Techniques from Threads Magazine,"The Magic Raglan". The yarn is various oddballs of cotton and machine washable wool; some is doubled sock yarn. The sleeves have no shaping to make it easier for the parents to put them on a squirmy toddler. The borders are five rows of garter stitch in stripes, with the cast off on the wrong side. I put shank buttons on the original sweater, Connie immediately replaced them with standard buttons sewn on firmly. She says it is harder for a baby to chew and swallow them.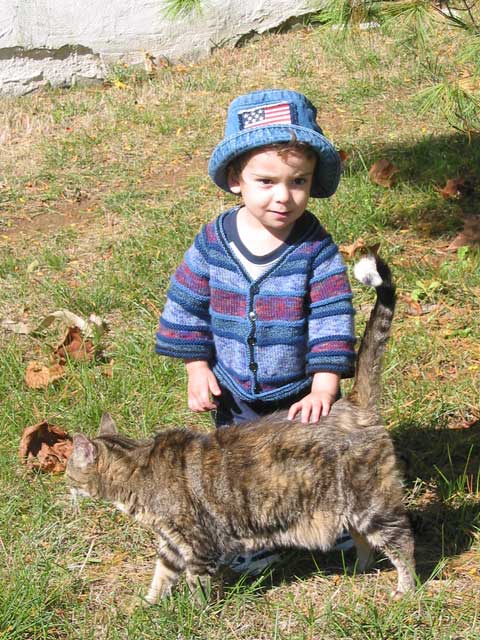 Posted by Leigh Witchel at 12:43 AM | Comments (1) | TrackBack
October 19, 2005
My powers are awesome
Those of reverse summoning, that is.
Just as I report that Tobi Tobias and Brendan McCarthy are on hiatus, both post.
I can't say I mind; I'm happy to read the both of them.
The dance blogosphere shouldn't be an echo chamber - one of the reasons I've tried to keep this blog from getting too personal. As I've said before, this isn't my journal. My guideline for making a post is that it should contain something useful or amusing to the reader. Probably like other professional writers who blog, I think of a blog the same I would think of a newspaper or magazine column, but enriched with commentary and hyperlinks (and detracted by the absence of an editor).
The biggest suggestion I can make to other members of the dance blogosphere is read and discuss what other dance bloggers are saying, including using linking and trackbacks. At least a few of the pro writers will never do this. As said previously, they're writing articles, not blog entries. An article takes enough time and effort - commenting and linking is more labor intensive than it seems if you do it discerningly.
Posted by Leigh Witchel at 5:10 PM | Comments (0) | TrackBack
October 17, 2005
The Dance Blogosphere
In a tangential remark in the comments on the dance blogosphere and its comparative quiet, Rachel of downtowndancer mentions something I've been thinking about for a while. Compared to other special interest blogging, dance blogging is relatively rare and at times, barely blogging.
Right now, it's operating on a skeleton crew. Tobi Tobias has taken time off from blogging until the end of October. Brendan McCarthy just went on hiatus. But there's more to this than frequency. It's a question of community. Several of the dance bloggers, including myself, Tobias, Rachel Howard and Alexandra Tomalonis (whose blog is also sadly inactive) are already professional writers and that creates a different dynamic. For instance, what Tobi is doing is a blog in name only. It's her usual incisive and skilled writing, which is enough for me, but it's a column of the sort she has written most of her career rather than a blog. There's no comment section and no links, which are unique features of blogging and the engine to get a discussion and community going.
Some of this could be because of the strength of the dance discussion boards and news sites. Dance blogs will have to find the niche not filled by places like Ballet Talk, DanceView Times, Ballet.co, Critical Dance or Dance Insider. One thing blogs could be is a bridge between dance communities. Few of the sites above are collegial with one another, unfortunately often for justifiable reasons.
I'm with Rachel in hoping that the dance blogosphere starts getting the critical mass in conversation to get some real discussions going. If you're out there and blogging on dance, please let me know - in the comments, so that everyone else knows, too. I'll be happy to add you to my reading list. Maybe dance bloggers could get a web ring going. I'm glad we haven't gotten into the hair pulling and shouting that goes on in the political blogosphere, but fer chrissake, look at the size of the community that follows my friend Stephanie Pearl-McPhee's blog on knitting. Are dance enthusiasts really that much smaller a number?
Speaking of the political blogosphere, one of the sharpest hair-pullers around, James Wolcott, once again blogs on dance with a favorable mention of Roger Copeland's book on Merce Cunningham. Kudos to Wolcott for insisting that dance is something that every culturally literate person should be interested in.
Posted by Leigh Witchel at 7:21 PM | Comments (1) | TrackBack
Dance Bargain in NYC
The Fourth Ring Society.
Pay $20 now. Get up to two fourth ring tickets for any performance for $15 each for the entire winter and spring seasons. That's half price. Also includes other small benefits. Though you're relatively far from the stage, fourth ring sightlines are unobstructed. Large Balanchine ballets with intricate patterning such as Symphony in C have a differentbut illuminating look up there and if you're in the first few rows of the fourth ring it's not unacceptably far.
Posted by Leigh Witchel at 2:43 PM | Comments (0) | TrackBack
October 16, 2005
Movable Type 3.2
I upgraded when this first came out about one month ago and I'm quite pleased. The most significant improvement is that the filtration devices for comment and trackback spam are effective - it was a real nuisance previously. I accidently caught one legitimate comment, but setting the comment filter to automatic moderation for more than two HTML links filtered out all the garbage. If you're on an earlier version, I think it is worth investigating.
Posted by Leigh Witchel at 9:33 PM | Comments (0) | TrackBack
Leigh's Dance Card
10/20 - American Ballet Theatre starts its fall repertory season (the gala is the night before) with Les Sylphides/Afternoon of a Faun/Paquita pas de deux/Kaleidoscope - a new work by Peter Quanz. I'm on duty for DanceView Times.
Posted by Leigh Witchel at 9:26 PM | Comments (2) | TrackBack
October 15, 2005
What gets cut
My first article for Ballet Review was 14,000 words, so it's no surprise that my biggest challenge as a dance writer is a tendency to over-document. The best solution for me is a "cooling-off" period (ideally a week if I have it), after which I can cut tangential points or trivia more dispassionately.
In two recent articles I cut the better part of a paragraph from each. In the first, a dancer's pointe work was not up to expectations. It seemed to me that it was because of severe bunions, and I thought that because of the look of her shoes. That was all educated guesswork, but even if I could have confirmed it, it should have been cut. The article was about several programs during a season, not about that dancer. It was too specific a detail to warrant the digression. I mentioned her pointe work with no explanation.
In the second, I cut a paragraph on what I thought the ramifications of a specific commission would be on the career of a choreographer because ruminations on the life of a guest choreographer sound as much like career advice as analysis. The reader doesn't care, and the choreographer really couldn't care less, so out it went.
Posted by Leigh Witchel at 9:29 PM | Comments (3) | TrackBack
October 14, 2005
Finito
On Columbus Day, and dispatched to Alexandra. I am anxiously awaiting word on whether it fits.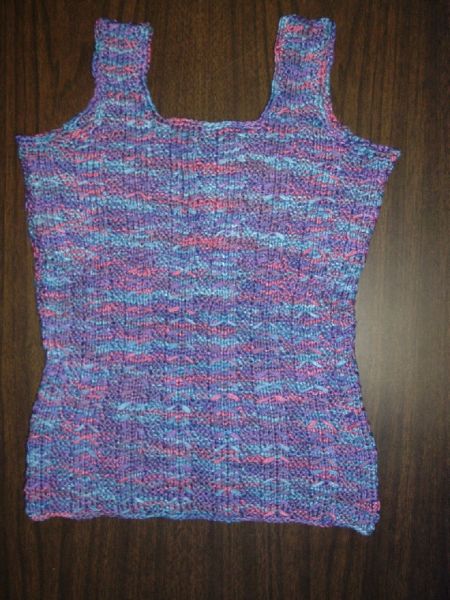 The processing of finishing isn't as dramatic as blocking but it still gives a garment its final form. For this camisole, first the side seams were sewn. Then I made a row of single crochet around the neckline and armholes - or what we call single crochet in the US, which is termed double crochet elsewhere according to my Mon Tricot stitch dictionary. Darning in the ends was the final step. I would not dare block rayon.
Here's a closer look at the neckline.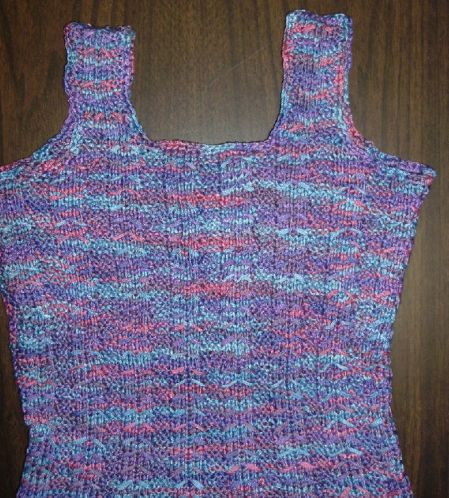 Posted by Leigh Witchel at 11:45 PM | Comments (1) | TrackBack
October 11, 2005
Chicken and Sausage Gumbo with a baked roux
Mmmm. This turned out well. It's also lower calorie than the normal recipe, because it uses a baked roux instead of a flour and fat mixture.
The market had fowl (older hens for soup), which they rarely do. I bought several, used one for this and froze the rest. The stock from fowl is darker and more flavorful and the meat takes longer to cook, but also has more flavor than regular chicken.
Mushrooms are not in most recipes for gumbo I have seen, but they're a tasty addition.

Chicken and stock
1 3 lb. fowl
Assorted vegetable peelings or one carrot, rib of celery and onion, roughly chopped
2 bay leaves
1/2 tsp each dried thyme and basil, peppercorns and coriander.
5 cloves
Place all ingredients in a stock pot and cover with cold water. Bring to boil, reduce heat and simmer until chicken is cooked and tender. A fowl will take about 4 hours, regular chicken parts about half that time. Remove chicken from broth, when cool enough to handle take meat from bones. Return skin and bones to pot, continue cooking for a few hours more. Strain and let cool.
Dry Roux
1/2 cup flour
Place the flour in an iron skillet. Bake in a 400 degree oven until the flour is nut brown, stirring the flour every five minutes (watch closely as it begins to brown). If you have made a roux with oil before, this will be slightly lighter - it darkens when you add liquid. This process can also be done on top of the stove, but will need constant stirring to prevent burning. You can also make extra flour and store it for later use.
Gumbo
1 lb smoked sausage (In New Orleans they would use Andouille, I used kielbasa)
2 medium onions
1 large green bell pepper
2 ribs celery
3 Tb garlic
seasonings - salt, pepper, Tabasco and Worcestershire sauce.
1 small can mushrooms (optional)
1 10 oz. package frozen okra
6 scallions, sliced thinly or chopped
1/3 cup parsley, chopped.
Slice the sausage 1/4 inch thick and place in a pan - bake in the oven at the same time as the roux, or cook in a dutch oven, then pour off the fat and set sausage aside.
Chop onions, green pepper, celery and garlic in food processor. Place in dutch oven on medium heat, let it begin to boil in its own liquid. When it does, add 2 quarts chicken stock. Bring back to boil and add the sausage.
Gradually add 1/2 cup hot water to the browned flour while mixing to a paste. It should be darker than peanut butter (for a multi-cultural reference, mine was about the color of red miso). Add to the dutch oven and bring to a boil to allow it to thicken. Reduce heat and let simmer 15-30 minutes. Add the reserved chicken meat, cut in large dice. Simmer another 30 minutes. Season to taste with salt, pepper, Tabasco and Worcestershire sauce. Add the can of mushrooms (including liquid) and the package of frozen okra, cook ten minutes more. Add green onion and chopped parsley, cook another five minutes.
Serve in bowls with rice or french bread.
Posted by Leigh Witchel at 11:42 PM | Comments (3) | TrackBack
October 7, 2005
Latest Dance Article
Igor's Show - covering the Birmingham Royal Ballet's Stravinsky program - is not available on the web, but in the Autumn, 2005 issue of Dance Now, which also has a lot of coverage on the Bournonville Festival. It's easier to find in the UK, but can be purchased by subscription from overseas.
If you're a choreographer, Stravinsky can be either your best friend or your most formidable opponent. His complex and layered scores, no matter how challenging harmonically, are rhythmically danceable. It's their greatest asset. But music as textured and structurally secure as Stravinsky's is like a corset for choreography; there's plenty of support and not much room to breathe.

. . .

The best Maiden [in Rite of Spring] was the final one, Carol-Anne Millar. She took the best route to making her solo work; she tore into it ferociously. In a lucky bit of synchronicity, Barry Wordsworth and the Royal Ballet Sinfonia were exceeding themselves in the pit that night as well. It made for the most savage and exciting performance, and the first time I have seen the ballet where it felt as if someone were trying to dance herself to death.

. . .

[Scènes de Ballet] [Nao] Sakuma has the warmth, charm and importantly, the chops for the role. I'm pleasantly surprised she has the lines. When I saw her as The Young Girl in The Two Pigeons at the Ashton Festival in New York last year, her limbs seemed linear and almost severe. I thought she might look better in Balanchine. Though this is probably all in the way she approached the role rather than any physical change, she seemed to have grown a few appealingly soft curves for a warm, rounded line that looked better in Scènes.

. . .

In the smallest of packages, Duo Concertant tells you almost everything you need to know about Balanchine's view of love. . .[Robert] Parker and [Elisha] Willis had no trouble with the conceits of the ballet; as good as Parker looked in The Two Pigeons last year in New York, in this programme he looked more comfortable in the Balanchine rather than Scènes. Willis also looked more at home here. She is a quiet, introverted dancer, even a bit closed off but the contrast between his playfulness and her shyness works. He's in charge; he charms her and it makes it all the more charming to us.
Posted by Leigh Witchel at 11:30 AM | Comments (0) | TrackBack
October 6, 2005
Huzzah
Alexandra's camisole is off the needles.
The underarm decreases and straps took thought because the slip-stitch columns were not exactly where they would have needed to be to create a strap without adjustment. This is one of the deficits of designing on the needles, but I've always been an empirical knitter.
I had to compensate by moving the columns over two stitches as I went up. At first I tried this by decreasing, which might have been the most elegant solution, but as I was also decreasing for the underarm and the neckline it was a lot to juggle. A more direct solution was to move the pattern over one stitch on the final row and wrong side of the pattern.
I bound the straps off together - you can see the two pieces here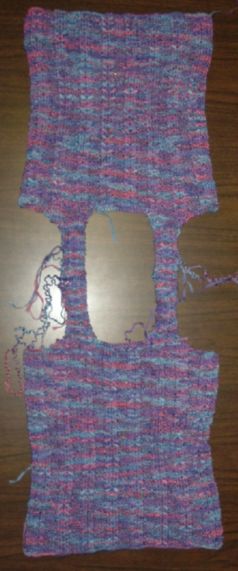 The camisole in a more recognizable form. There's still a reasonable amount to do - seaming, darning in ends and crochet trim on the neckline and armholes. It looks "Happy Hands at Home" to me right now and I'm hoping (but reasonably sure) that's only because it needs careful finishing to look tailored the way I would like it to.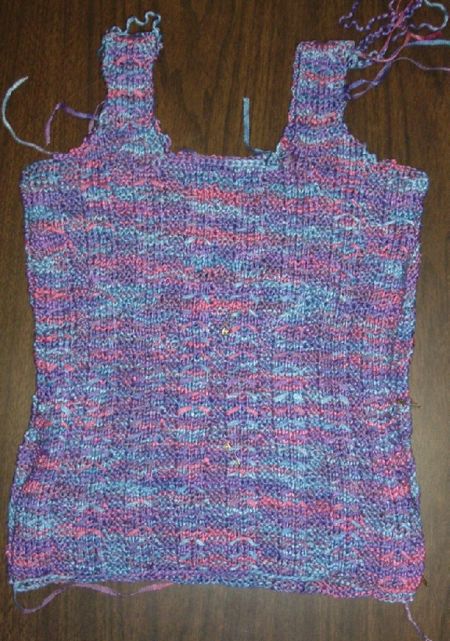 More detail of the neckline.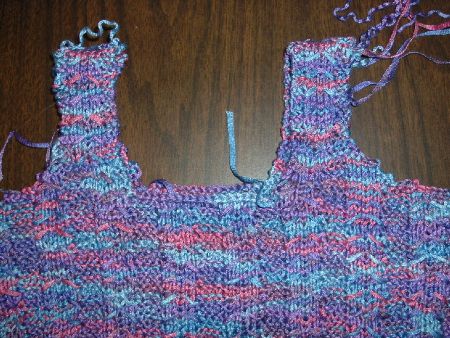 Meanwhile I'm in the middle of the second cuff of Socks for Dad.
Posted by Leigh Witchel at 2:01 PM | Comments (0) | TrackBack
October 5, 2005
Will you just DIE already?
I have this odd fascination presently with execrable songs.
I just downloaded Seasons in the Sun by Terry Jacks. It's easily one of the most loathsome songs of the seventies. A man looks back on his life and says goodbye to his dearest friend, his father, his beloved wife, his pets, his neighbors, his dentist, the milkman, and several people he met once on the checkout line at the supermarket but didn't speak to . . .
All in an extended grating whine.
There are three verses. By the middle of the second you may find yourself screaming, "DIE! DIE ALREADY! DIE!!!!1!" And each time you listen it seems to take him longer to kick the bucket. Most horrifyingly, the song sold over six million copies worldwide. What were people thinking? Then again, I downloaded it, but were all those sales for kitsch value, or to torture unknowing friends? According to the link it was the largest selling single in Canadian history, again proving the correlation between long winter nights and suicidal tendencies.
Every performing art form seems to have the overextended death scene. Opera has its consumptive arias. How long does Violetta or Mimi take to die, and wouldn't it be hard to sing if you had tuberculosis? The champ in ballet is probably Mercutio, who gets goblet after whore after goblet while he's staggering about the stage for about three weeks. Tybalt's death scene is relatively faster, except for the endless drum tattoo where I find myself idly counting the drum rolls until he bites the dust. I swear in some productions they add extra ones.
It's not often seen here, but Ivan the Terrible (also with a score by Prokofiev) has a poisoning scene for Ivan's wife, Anastasia, that lasts several days and includes plenty of high kicks before she finally drags herself to the throne and gives up the ghost. You have to love Stravinsky - while Maria Tallchief was trying to die for all she was worth to his beautifully restrained score for Orpheus and Eurydice, he asked Balanchine, "How long is Maria going to take to die? She needs to be gone by count five."
My attitude is the one I recall from Phil Gardner's shirt. In the eighties, the Joffrey Ballet stage hands would make irreverent T-shirts for their tours. The dancers had them also and Phil would often wear his to class. It was from the tour of the Cranko Romeo and Juliet and said, "Why doesn't she just stab herself now? Then we could all go to the movies."
Posted by Leigh Witchel at 2:10 PM | Comments (4) | TrackBack
October 4, 2005
Latest Dance Article
Aditi Mangaldas at Asia Society for DanceView Times


The most delicious aspect of the solo was the sensuality of it. "Ah, Monsoon, you have drenched me"—desire and high art were intertwined in the most elegant and beautiful manner.
Posted by Leigh Witchel at 11:32 PM | Comments (0) | TrackBack
October 3, 2005
Neighborhood Thai
My neighborhood is blessed with several excellent Thai restaurants, three of which are favorites of mine. I ate at all three this week (!) - out of town friends like Thai food! They're all places with little ambiance but great food and dirt cheap prices.
Pam Real Thai is on 49th Street slightly west of 9th Avenue. It does not take reservations and gets crowded at dinner time - the kitchen is marvelous (and the food tends to be hot, so don't think you need to tell them to make things spicy). Recommended dishes include the pad prik khing (string beans in a chili sauce with your choice of meat - it is particularly good with beef), narm tork (a marinated beef salad) and the pad kra prow ( duck with peppers in a hot sauce). It's cash only and an extravagant meal will come to around $35 for two. You can easily eat for less.

Wondee Siam is on the east side of 9th Avenue between 52nd and 53rd. It's another neighborhood joint, barely a storefront, even tinier and more crowded than Pam Real Thai, and with a kitchen that rivals it. Each has their partisans; I have had great meals at both. The link above has reviews noting a deterioration at Wondee that I have not experienced. Same price range, also cash only. Particularly good here are the duck and beef salads, and fried ice cream ends the meal hedonistically.
If you need a some ambience, Wondee Siam has an upscale sister, Wondee Siam II one block north on the other side of the street. Though still simple, the room is much prettier, the food only slightly more expensive ($1-$2 per entree) and they take credit cards. The kitchen is a bit better at the original though.
Posted by Leigh Witchel at 3:09 PM | Comments (2) | TrackBack
New York Knit Out
Yes, for non-knitters, there really is such a thing, held annually in October in Union Square Park.
It was larger this year, with more local yarn vendors, though no yarn is sold (not sure why, maybe the sort of license the event has in a public park?) Exhibits, fashion shows, free technique classes, especially the absolute basics of knitting. I saw a few people I know from Internet lists and local gatherings (Hi Bruce and Ann!) and had dinner with Margaret Radcliffe, whom I've known since alt.arts.ballet days. We became fast friends when we realized we had so many overlapping interests.
Sorry, no photos, but Dad's sock made it to the heel turning, so I've started on the second sock. Knitting at about 9 sts/in is slow and I'll be less prone to "second sock syndrome" if I make them both concurrently.
Posted by Leigh Witchel at 2:56 PM | Comments (0) | TrackBack
October 1, 2005
I am SO gay
While doing bicep curls tonight I caught myself lip synching.
To Nancy Sinatra.
These Boots are Made for Walking.
I am SO gay.
Posted by Leigh Witchel at 11:19 PM | Comments (1) | TrackBack
What to do when your vegetables threaten to go to the great crisper in the sky
Same thing as you do with every other perishable - make soup or sauce.
Both these recipes are rather good. They're improvised, so feel to improvise further.
Red pepper-mushroom sauce
1 1/2 large red bell peppers - halved lengthwise
8 oz. fresh mushrooms
2 T olive oil
1/2 onion. sliced lengthwise
1 Tb minced garlic
1/2 medium tomato, diced about 1/2 in thick.
1T chopped parsley
1/4 c. cooking sherry
1 c. chicken broth
3 T sour cream
2 oz evaporated milk
1 tsp Worcestershire sauce
1 tsp balsamic vinegar
1 tsp salt
tabasco, pepper
Core the peppers and place them in a greased tin in a 350 degree oven to roast until the skin can be eaily removed (about 45 minutes). (Note: This recipe would probably work with roasted red peppers from a jar. You'd probably need about 3). Remove the skin. Slice the peppers into strips about 3/8 inch x 2 inches (cut once in half crosswise, then slice)
When the peppers are roasted and cooled enough to handle, slice the mushrooms thickly (I think mushrooms taste best sliced about 3/8-1/2 in. thick - 3-4 cuts for an average mushroom. Less than that and they frizzle. ) and fry in oil. When they've started to give up liquid (Added 10/3/05 See the discussion in the comments about frying mushrooms), add the onion and minced garlic. Continue frying at medium heat and let the mixture dry out.
When the onion are translucent add the peppers. After about a minute add the chopped tomato and parsley. Add the liquids, bring to a boil and let condense down to thicken slightly. Season to taste. I served this over penne rigati.
Lettuce Soup
I never think of lettuce as a green for cooking, but it's quite delicious and similar to escarole or bok choy. Use a more substantial lettuce for this than iceberg. Again, I used what was on hand. Feel free to add what's left of a different herb or liquid. This soup is very simple to make.
1 medium onion
a few scraps of leftover ham
1 small carrot
1 rib celery
1 tsp garlic
1 T parsley
1 T cilantro
2 T oil
1 head romaine lettuce, cleaned and trimmed, but no ribs removed
11 oz. evaporated milk (can you tell it was the rest of the can from the recipe above?)
3 cups chicken broth
Salt, pepper, tabasco to taste.
Take the first group of ingredients through the cilantro and chop finely in a food processor. Saute in the oil. Cut the lettuce into fine chiffonade. Add to pot, and let wilt. Add the milk and broth. Bring to a low boil, reduce heat and cook about 30 minutes. The lettuce should be tender but have some crunch from the rib.
Season to taste.
Posted by Leigh Witchel at 9:16 PM | Comments (2) | TrackBack