« October 2005 | Main | December 2005 »
November 29, 2005
Dining (and yarn shopping) in Toronto Part II
A visit to Toronto means lots of meals with friends. Desirée and I went to Spring Rolls before the ballet. It was as reasonable and reliable as the previous visit. On a snowy day, a bowl of pho was the perfect dinner. Spring Roll's pho is made for Western palates; rare beef, brisket and meatballs - no tendon and no tripe. Dinner was under $20 CDN per person ordering liberally.
Steph, Danny and I met at Vienna Home Bakery with a bunch of Stephanie's pals for a yarn crawl to Romni Wool and lessons in All Things Canadian. This includes the fact that milk comes in bags and that Tim Horton's Maple Dip is the Donut of Our People. I nearly lost my Honorary Canadian badge by sassing that a Butter Tart with nuts was just a pecan pie.

Romni Wools is big, disorganized, full of interesting yarns and generally friendly, but something happened there that has happened before and turns me off the place. I took two skeins of Jawoll Cotton from a bin clearly marked "Jawoll Cotton - $6.99". When I got to the register, the woman looks it up in her book and says, "Oh no, it's $8.99." When I said that the yarn was marked at $6.99, she said that it must have gotten into the wrong bin. Obviously the wrong bin marked with the correct yarn name. This has happened before there, caveat emptor.
John and I had dinner on Friday at Natchos Thai Thai, which like Spring Rolls is close to his office and to the Hummingbird Centre. Thai food here is good if not stellar, but there's also plenty of it. A good deal is the dinner for two for $40 (which ends up being about $53 with tax and tip). It includes mixed appetizers and three entrees to share as well as one portion of dessert.
Sher-e-Punjab on the Danforth is an established Indian Restaurant that does standard Mughal fare quite well and quite hot. I had prawn saag and shared a more hot than buttery butter chicken with John. The naan were particularly good. Dinner in a large group on Saturday night came to around $17 per person.
John and Chris had just noticed Bamboo on the Danforth and we decided to try it out for dimsum at Sunday lunch. The restaurant was small, quiet and uncrowded, so dimsum was made to order rather than premade and served from carts. This makes a difference. The beef ribs in black bean sauce were particularly good and a surprise to me as I expected spare ribs and they were meaty short ribs with lots of meat and little gristle and bone. Taro cake was also very good but they don't serve it with Hoisin sauce; I'm used to that in NYC. Worth a visit and about $17 per person in a group ordering liberally. I can't find them on the web, but Bamboo is on the north side of the Danforth near Logan (between Chester and Pape stations).
Posted by Leigh Witchel at 12:30 AM | Comments (4) | TrackBack
November 28, 2005
Airport Transit for the Cheap - LaGuardia and Pearson
You can get to both LaGuardia Airport in NYC and Pearson Airport in Toronto via public transit for the standard fare; $2 for LGA and $2.50 at YYZ.
Midtown Manhattan to LGA takes between 45 minutes to 1.5 hours depending on traffic. Leave for the airport at least 2.5 hours in advance of your flight.
Either:
Take a northbound subway train (several lines will work here - the A, B, C, D, 2, 3, 4, 5 or 6) to 125th Street. I usually take the D because it runs express from 59th to 125th Street. Catch the M60 bus at 125th Street (on the south side of the street heading east); it goes directly to LaGuardia.
or:
Take the E or F trains to Roosevelt Avenue/Jackson Heights. Catch the Q33 bus to LaGuardia at the transportation center adjacent to the subway station.
To Pearson Airport, take the subway out to Kipling, the westernmost stop on the Bloor/Danforth line. Go upstairs to the bus level then walk to the back of the station (towards Toronto the way you came). Bus 192 to the airport leaves from the last door on the left. The bus goes directly to the airport, stopping at terminal 3 first. It usually takes slightly over an hour from the east side of Toronto to Pearson, but could take longer depending on connections.
Public transit in both cities involves some stairs. Don't do it if you have more luggage than you can maneuver with ease or that is extremely bulky. Bus 192 in Toronto has some limited accomodation for luggage and more floor space; the NYC buses are standard cramped MTA buses. In both cases you will need exact change in local currency or a Metrocard in NYC or a TTC token in Toronto. In both cities there's no place I know of at the airport to get bus fare. I buy one or two extra tokens before I leave Toronto for the next trip.
MTA service to airport information
TTC service to airport information
Posted by Leigh Witchel at 11:36 PM | Comments (0) | TrackBack
November 24, 2005
Snow
Greetings from Toronto.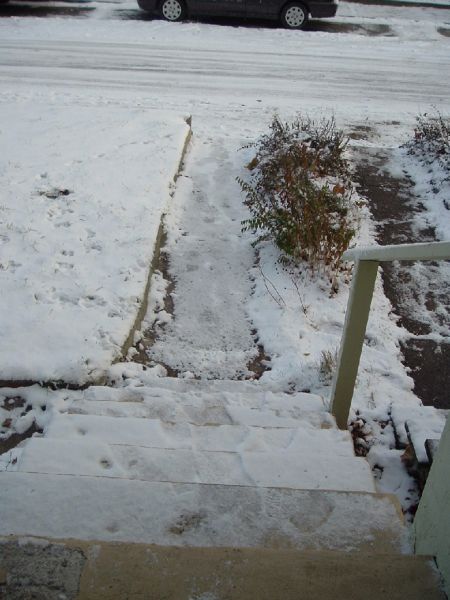 Happy un-Thanksgiving.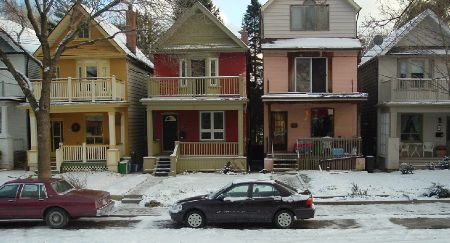 Posted by Leigh Witchel at 4:58 PM | Comments (0) | TrackBack
November 23, 2005
Knitwhoring (again)
I'm teaching a beginning knitting workshop starting next Tuesday, as well as Second Steps starting Wednesday, December 7. Learn to knit for the holidays!
Posted by Leigh Witchel at 9:34 AM | Comments (0) | TrackBack
Currrent Knitting
A mitten.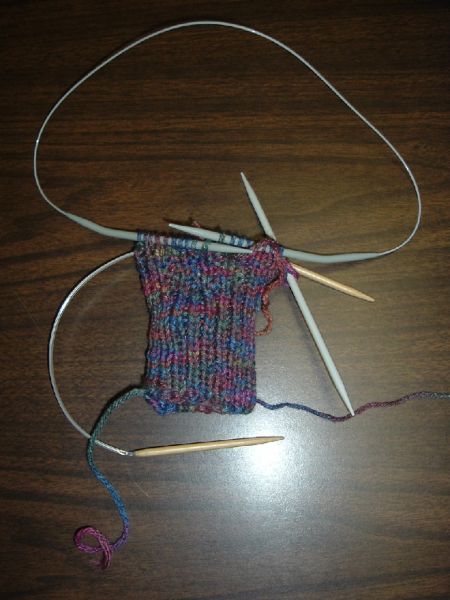 Yes, one mitten. For my Second Steps class. A mitten teaches several skills (working in the round on double pointed needles, gusset shaping, picking up stitches) in one small project. I'll make a second mitten to this point as well so I can show the gusset and thumb shaping.
Yes, I know the only double pointed needle you see is being used as a stitch holder for the thumb stitches. I can't find a full set of size 8 dpn's, though I know I have two. So I'm doing it on two circular needles, which is easier anyway.
Don't tell my students. My reasoning is that if they can work with dpns, circular needles are a breeze.
Here's the mitten in close-up glory: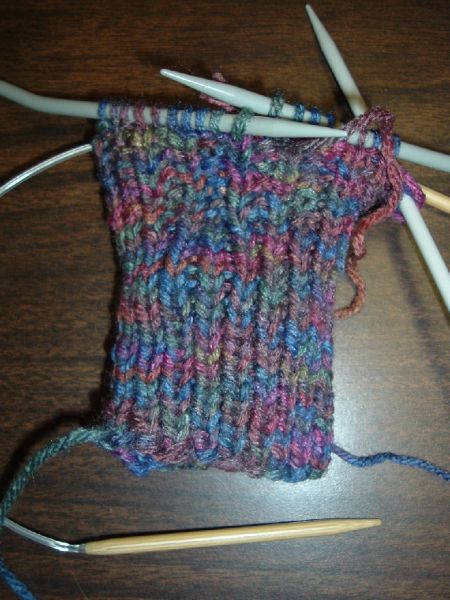 Yup, you're right. It's Red Heart. Again.
No one's actually going to wear this mitten.
So sue me.
Posted by Leigh Witchel at 9:15 AM | Comments (0) | TrackBack
Leigh's Dance Card: No Turkey Edition
Off to Toronto tonight, to see La Sylphide. Yes, again. I will see the ballet nine times this year in three productions; Sorella Englund's setting in Boston, Johan Kobborg's in London, and now Nikolaj Hübbe's in Toronto. Tomorrow, he is also dancing James. On Friday night, it's Aleksandr Antonijevic, on Saturday matinee Guillaume Côté.
NBoC is pairing it with Eliot Feld's Intermezzo, which amazingly enough, I haven't seen yet.
Amidst the ballet going, I get to see several friends, which is the real reason I see NBoC at least twice a year. No turkey, though. Canadian Thanksgiving was more than a month ago.

Posted by Leigh Witchel at 8:52 AM | Comments (0) | TrackBack
November 21, 2005
Latest Knitting Article
I haven't gotten to do one of these in a while!
Mate to Measure isn't online, but is in the latest issue of Knit.1 Magazine and is a beginner's overview to the process of designing a sweater for a man (the assumed reader being a twentysomething female knitting for her boyfriend).
So you want to knit a sweater for That Guy. Good for you. But before you start, bear in mind the most important piece of advice I can possibly give you: DON'T SURPRISE HIM. Just don't. You've been warned, OK?
It was a lot of fun to write - easier than dance writing and the pay is better, but if your motivation to do dance writing is the pay, you need your head examined. I haven't yet seen the article in print, because I haven't gotten an author's copy of the magazine yet (AHEM. . . )
Knit.1 has also started a blog.
Posted by Leigh Witchel at 3:22 PM | Comments (1) | TrackBack
Latest Bloodcurdling Google Search
I guess this is Part 2 of an unplanned series
Welcome (from a safe distance) to the person from India who found this blog by searching for i like men rubbing their penises against me in crowded buses
Remind me to think twice before getting on a bus in India.
Posted by Leigh Witchel at 3:10 PM | Comments (0) | TrackBack
November 20, 2005
Department of "How did I ever live without one?"
Ladies and Gentlemen, I present the Chinese wire strainer.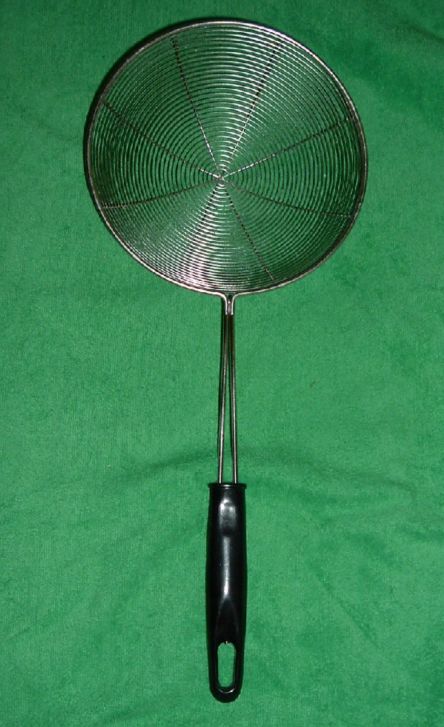 Up until now, I had been using my fine mesh strainer or a slotted spoon to remove items from boiling water. The flatter bowl makes this much more maneuverable and it's wide enough to catch obstinate noodles in one or two scoops. Mine cost $3 at a discount store. I use it all the time.
Posted by Leigh Witchel at 11:44 PM | Comments (0) | TrackBack
November 19, 2005
Letters to yourself
Until November 30, Forbes Magazine is sponsoring an e-mail time capsule. Pick a stable email address that you know you'll have in the future and write yourself a letter to be delivered one, three, five, ten or twenty years from now.
What would you say to yourself?
Via erikjaeger.com - and it struck me because Grace has been prodding me to do this for a few months now.
Posted by Leigh Witchel at 7:54 PM | Comments (1) | TrackBack
A Choreographer's Diary
Here's a blast from the past.
A Choreographer's Diary was written as a diary of the creation and production of Dance as Ever's 1999 concert.
The diary was arguably a proto-blog, written before blogs and blogging software became common. I wanted to give it a permanent home on my own website and it seemed logical to present it in blog form.
It's quite long, but I think an interesting record from start to finish of the production of a chamber dance concert.
Posted by Leigh Witchel at 7:32 PM | Comments (1) | TrackBack
November 18, 2005
Baked LifeForms
Move over Merce. You may have pioneered the use of computer assisted choreography, but here comes Pillsbury.
Via The Poor Man, who will probably sue me.
Posted by Leigh Witchel at 1:06 AM | Comments (1) | TrackBack
November 17, 2005
Knitter's Geek Code
I'm very late to the party but I thought the idea of a Knitter's Geek Code was quite funny.
Mine, for your approval or disdain:
KER Exp++ SPM+ Pl++ stash>-- scale+ Fin++ Ent--(+++)$ FI+ Int Tex++$ Lace++ Felt Flat++ Circ+ DPN- Swatch(+) KIP+++ Blog+ SNB- EZ(-) FO(+) WIP+ GaugeF/W
There is not yet a ballet geek code . . .
Posted by Leigh Witchel at 10:00 PM | Comments (0) | TrackBack
November 16, 2005
Roll Call
Doug Fox over at Great Dance is working to keep the discussion going about the dance blogosphere with an open thread inviting dance bloggers to introduce themselves. So check it out, and check in.
Posted by Leigh Witchel at 10:53 PM | Comments (0) | TrackBack
November 15, 2005
More on the dance blogosphere
Via Rachel at Downtown Dancer, Doug Fox at Great Dance has made an interesting white paper on using blogs to strengthen dance companies.
There's lots of good stuff there, but I'm going to rely on my own experience as a professional writer, Artistic Director and all-around crank to pick at a few things.
A blog may be inexpensive but it is labor-intensive. The things Doug mentions - cultivation of a voice and consistency especially – are not to be taken lightly. Writing is a skill. It takes me a good hour to do a decent blog entry. Good blogging isn't just a diary or an advertisement. It's the careful cultivation of a public persona. Expect it to take time and don't necessarily expect to be good at it.
The internet is a phenomenal tool for increasing visibility and profile. I have used it for both. But as much as writing is an art, so is self-promotion. We had an unwritten rule at Ballet Talk that a member was allowed to promote their own work in proportion to the amount he or she contributed to the whole. If someone only showed up when they were announcing their own performance, we suggested they might wish to post elsewhere. My suggestion would be that if you enter into the blogosphere because you want to contribute to the discussion, you will do something of value. If you enter it to promote your dance concert people will, and should, smell it a mile off.
Amateur voices in the blogosphere are essential. The blogosphere thrives on having a large number of voices. I'd also like to self-interestedly say something for recognizing the value of the pros. I've been on both sides of this issue – at the mercy of reviewers and one myself. Pros contribute several things to the conversation that others don't – the greatest is a depth of viewing. I've got a bit more than two decades of dance viewing under my belt (I deliberately did not begin writing on dance until I had been watching for more than a decade). John Percival can tell you what Scènes de Ballet looked like in 1948. It's more than "I was there". Dance writers place dances in context, tell you what to look for, and what's changed.
It isn't as if the Internet precludes quality writing. One reason I love writing for Danceview Times is that it adds the value of new media (immediacy, access and SPACE!) while preserving a level of quality associated with print. But there's plenty of dross on the Internet because of the low barrier to startup. I started writing because I thought too many people were looking at the dancers and too few at the dance. I find it disheartening when I see "You too can be a critic" articles. Writing on dance isn't about voicing your opinions – I mean, who really cares what I think of Christopher Wheeldon or Ashley Bouder? I love her and you loathe her and that's that. Why do I love her and what can I show you about her? Can I show you a different way of looking at a blackbird? The dance writers I admire are champions of an aesthetic. I skip the ones who write a self-centered and self-aggrandizing litany of opinions.
Getting paid to review doesn't magically make one a good reviewer. You can train your eye, but some people are blessed with that via instinct (Estelle and Michael at Ballet Talk come to mind quickly). Tom Phillips was a pro writer before he took to dance writing, he's one of the best I've seen enter the field recently – the other being the only writer I can think of who is more of a walking conflict of interest than me, Lisa Rinehart. Rinehart is also one of the best new dancer-reviewers. Being a dancer also doesn't necessarily make one a good reviewer; dancers tend to think of dance from that unique point of view – and any dancer can name you any number of lousy dances that are still delightful to dance.
I hope that Rachel, Doug and I aren't setting up an echo chamber of links and trackbacks. Rachel Howard wrote hopefully yesterday about the blossoming of the dance blogosphere. I think we need a few more people to join in before we can savor the bloom on the rose - so make a comment or post your own entry!
Posted by Leigh Witchel at 5:44 PM | Comments (3) | TrackBack
November 14, 2005
Latest Dance Articles
It seems it was my turn to be Carabosse at Danceview Times this week.
The entire dance aims to walk a line between comic and poignant, but the emotional complexity of "Men's Stories" is at the pedestrian level of television. Men are just like big kids. Who would have thought it?
Cedar Lake Contemporary Ballet

Cedar Lake: The name conjures up images of an expensive suburb somewhere. Cedar Lake Contemporary Ballet might as well come from an expensive suburb, one where people have more money than taste.
A negative review is often more memorably written than a postive review and people might think they're more fun to write. They aren't for me. They're written in anger, not glee, and they leave me feeling unpleasant, bitter and remembering the bad reviews I've gotten and how it felt to read them.
I've rarely written a negative review because of incompetence. There are too many good dancers in the city desperate for work. As I wrote in the Cedar Lake review,
. . . if you are paying a living wage in New York City and can't hire excellent dancers you're brain-dead.
If a piece gets a negative review, it's because I disagree with the aesthetics of the work, often because I think the work substitutes effect or shock value for craft. It's a battle nobody else may care about, but I do passionately.
My mood at the time of viewing affects the review and I try to compensate for that and discount criticisms I think arise from it. For the record, I was not in a bad mood when I saw Lubovitch, but was in a foul mood by the time I left. For Cedar Lake, I elected to take a bus instead of the subway to their theater, which is in an area underserved by mass transit (the far west side of Chelsea) and the traffic was horrendous - it took 20 minutes to go 9 blocks. I jumped out of the bus on 47th and 9th and walked the rest of the way, arriving at the last minute. It did not help, but I think this review arises less out of the situation than my dislike of that genre of dance.
Ironically, I had lunch with Tai on Saturday afternoon and we went to see Ballets Russes together. We've been friends for close to 20 years - how do you handle giving a negative review to a show in which your friend is dancing? "Tai, I saw the show on Thursday and I was reviewing. I complemented the dancers, but I wasn't happy with what [Lubovitch] was doing. Don't read my review." And we went on with lunch.
Posted by Leigh Witchel at 12:59 AM | Comments (0) | TrackBack
November 13, 2005
Miscellaneous things that make a plane ride easier
My flight to London was probably the last out of JFK at night (11:30 pm). It's a fast flight; the winds were on our side and it was just six hours, so it's bearable under most circumstances, but there were a few things I did this time that made it even easier.
Because I have elite status on AA I can book an exit row, but as the flight was relatively light (that flight often is, I believe) I changed it before leaving for the airport for an empty middle row. It remained empty and I was able to sleep lying down. Most airlines have seat maps on their website where you can check for empty seating. Another essential site is Seat Guru, which has seating diagrams for many planes and airlines along with advice on which seats to choose and avoid.
I wore a T-shirt on travelling days even though it was cool weather. With luggage in tow, even with wheels, I'm always overheated. When I got to the airport I folded up the nylon coat I always take on trips and packed it in the roll bag I was checking (I bring a rolling garment bag and a light roll bag that loops over the handle - that gets packed with light items) and took out a hooded sweatshirt and sweatpants. Once on the plane I changed into sweatpants in the lavatory, and back to regular pants close to landing. I also tucked a second T-shirt into my carry on in case I felt the need to change that as well.
Before I got on the plane, I had a drink so I could get some sleep. Your mileage may vary on this, but because I'm not a drinker it doesn't take much alcohol to get me drowsy. I didn't get more than 3.5 hours sleep - with takeoff, meal services and landing it would have been hard to get much more, but it helped.
Posted by Leigh Witchel at 11:55 PM | Comments (0) | TrackBack
November 12, 2005
Loathing
This has been a hard week as a dance writer. I saw two performances and loathed both of them. Really loathed. Performances that were completely not my aesthetic, that I'd rather not have seen and that in both cases had I not been reviewing I would have walked out of.
I now have to try to fashion two comparatively objective reviews for the same publication that don't sound alike.
I need to see something I love next, because Cedar Lake Contemporary Ballet (it ain't ballet, I don't care if they jam their women into pointe shoes) made me feel bitter, twisted and old.
On a happier note, I also saw Ballets Russes today, which is a sweet little treasure. If you haven't seen it already, it's worth it if only to see Mia Slavenska tarted up with red lipstick in her wheelchair swearing that Balanchine would have fallen in love with her for her looks. Natalia Krassovska is as I recall her from 1991, when she was setting Les Sylphides on Lexington Ballet. There's only the single man in that ballet, so I did not work with her, but I was assigned to take her out to lunch, which was a rather pleasant duty. She loved being around younger men, and she loved to talk about the Ballets Russes. I recall asking her about the double saut de basques that Marie-Jeanne purportedly did in Ballet Imperial, but although Krassovska also danced the lead, she didn't recall them.
The film dwells more on the personalities of the dancers than it does on the dances themselves, which probably makes it more interesting for the general public, if a lost opportunity. But maybe Ballets Russes will make people want to know more about Massine's choreography or see more than the fleeting glimpse we got of Nijinska's Etude.
Posted by Leigh Witchel at 11:03 PM | Comments (0) | TrackBack
November 11, 2005
Friday Catblogging
Stupid Kitty Tricks
I get a kick out of watching She Who Must Be Petted figure out how to get a Tempting Tuna Treat.
Posted by Leigh Witchel at 11:05 AM | Comments (1) | TrackBack
Latest Dance Articles
It's a Leigh-o-rama in the current issue (Fall, 2005) of Ballet Review. It is not available on the web - ask about purchasing copies or subscriptions at info@balletreview.com.
Pennsylvania Ballet Triple Bill (Raymonda Variations, Continuum, The Concert)
Made between Polyphonia and Morphoses, which were commissioned by New York City Ballet in 2001 and 2002, Continuum was created for San Francisco Ballet. The three works, all to music by György Ligeti, are said to be a trilogy. Maybe so, but it is a trilogy that has not been seen together, I think wisely. [Authors note - this article was written before the performances at the Miller Theater last September that presented all of the works together.] Continuum does not look like a sequel to Polyphonia but closer to its mirror, as if Wheeldon had too many ideas for a single ballet and split them between commissions. Better to do that on two separate companies and coasts.

In addition to both using Ligeti's piano pieces (Continuum also adds in a piece for harpsichord that gives the work its title) both ballets use four couples and concentrate on a series of pas de deux and solos. Of course the steps are not exactly the same as those in Polyphonia, but Wheeldon's response to very similar music is.
An Italian Straw Hat at the National Ballet of Canada
The human interactions belabor the point as well. We got the joke about Virginia and Felix's insatiability about five penetrations back. All the sex actually gets in the way of character development. The differing attitudes towards love and sex among the three couples exist principally in Kudelka's head and never make it across the footlights to us.

At the end of the ballet Kudelka makes a traditional pas de deux for Ferdinand and Hélène to celebrate their wedding. It's lovely, and it also shows that ballet already has, and always has had, an expressive language for love in its own vocabulary that makes the same point better than brute literalism. It's not only unnecessary to be literal; it's duplicative.
San Francisco Ballet Repertory Programs 4 and 5 (including Yuri Possokhov's Reflections and Study in Motion)
Possokhov thinks big; both are sprawling works for large casts to music that doesn't easily support a ballet – Scriabin Piano Pieces and Mendelssohn's First Symphony. His work doesn't fall easily into the usual boxes. It's not ballet mixed with modern dance, it doesn't lean toward tanztheater or dramballet, and it isn't House of Balanchine formalism. Possokhov is most interested in theatrical effect, but not at the expense of form or vocabulary. He's literally making contemporary ballet – not a hybrid form but an attempt to make classical ballet on his terms and in his era. That alone makes him interesting.
Posted by Leigh Witchel at 10:41 AM | Comments (0) | TrackBack
November 10, 2005
Sock debacle
The Socks for Dad are no longer Socks for Dad.
As you know, I'd gotten halfway down the foot of one sock. I decided to try it on during the flight from London to see how many inches I needed to knit before a heel decrease. Dad's foot is half a size larger than mine.
I could get it over my heel but only with effort. He'll never wear them if they're that hard to put on. What happened was I worked with my usual sock numbers but this stitch pattern has less elasticity than ribbing.
As I see it, the best thing to do is finish them and give them to someone with smaller feet. In the meanwhile, I have mittens and a baby sweater to make for my Second Steps class.
Posted by Leigh Witchel at 11:17 AM | Comments (0) | TrackBack
November 9, 2005
So here's my plan . . .
I refer you to my discussion as to how I was saving up eBay Anythingpoints to convert to Asia Miles at points.com to use via Cathay Pacific's partnership agreement with British Airways for a business class ticket to Saint Petersburg via London.
Got that?
It's a convoluted trail, but it worked. Via conversions, I have 56,600 Asia Miles. I get my final Anythingpoints this statement, which should be about 1,000. The rest I can top off by converting spare Starpoints to reach 60 K. I called Asia Miles' service desk today regarding flights. There is availability.
Wahoo.
In London I will see the new production of The Schlepping Beauty and also The Rake's Progress. It's also a good excuse to see my brother on his birthday. London accommodations will be the usual no-brainer on Priceline but horrifically enough there is no Priceline bidding for Russia. Where am I going to stay??
I don't really need a luxury hotel. Give me a clean bright room, internet access and a fitness center and I'm happy. But hotels in Saint Petersburg are either decent and horrifically expensive or less expensive and not great, although there are also other options including mini-hotels and apartment rentals. There are a few huge Soviet era hotels (the Sovietskaya, the Moskva and the St. Petersburg) that might be amusing in a retro and grim way for an evening, but I'm not sure I'd want to spend a week there.
There are very few major chains with hotels in Saint Petersburg. Marriott has a Renaissance and Radisson has the SAS Royal there. Rocco Forte runs both the Astoria and the Angleterre. What was the Sheraton Nevsky Palace is now owned by Corinthia, a smaller chain, and Kempinski has Moika 22 and the Grand Hotel Europe. Hmm. It looks like the Grand Hotel Europe has changed hands and is now part of the Orient Express luxury chain. In all cases, only Marriott and Radisson have stays available for any rewards currency rather than cash.
The scheming begins.
Marriott Rewards Visa is offering both their personal and business cards with 15,000 Marriott points and a one night free certificate. I got accepted for the personal card about a week ago; now I'm working on the business card. That's two free night certificates and 30,000 points total, enough for at least one more night. That's three nights providing no glitches – the Renaissance in St. Petersburg is a "Category 4" hotel; categories go from 1-6 and the certificate is good for categories 1-4, so it should work.
Radisson's rewards program is a partner of a larger rewards program, Goldpoints. (If you think this gets complicated, just wait . . .) Goldpoints also offers a Visa card with a smaller sign up bonus, 5,000 points. I signed up for it when there was an extra bonus offer of 11,000 points and got it.
I thought my dates in St. Petersburg would be Jun 8-14 and was starting to make tentative reservations while there was availability. Shortly after, a friend who married a Petersburger pointed me to this thread on Ballet Alert, warning me that on those dates it is All Wagner Operas All The Time.
Rethink the dates. I'll have to call Asia Miles to recheck availability.
Switching to earlier dates just before Memorial Day puts me at a time when there will be ballet and the city celebrates its anniversary. Also, the rates at the Marriott for rewards nights drop from 30000 a night to 20000 (June 8-10 were blackout dates for standard awards) with an option for a $50/night upgrade to a suite. What the heck, I thought.
The SAS Royal runs 30000 points per night. Both hotels allowed me to reserve a fully cancelable reward stay and not have to redeem the points for several months. So I reserved both hotels and will probably split the stay between them and alter the reservations accordingly as I have some clue where I'll be earning points.
If this made your head hurt, stop reading here. It gets worse. By the way, this is how you do the budget for a dance company as well. I like stuff like this. Scary, ain't it?
Ways to earn points in both programs include using their credit cards and their online shopping portals. The Goldpoints online shopping portal is usually more generous. Marriott offers 4 points on the dollar to shop at Barnes and Noble, for instance, Goldpoints offers 15. A Goldpoint is worth less than a Marriott point in this situation (2/3 of the value, as 20,000 Marriott points will get you one night at a hotel as opposed to 30,000 Goldpoints) but the Goldpoints offer is almost four times as many points.
Converting from other points is another option. The only rewards currency that converts to Marriott Points is Diners Club – the card costs $95, so it isn't happening. Goldpoints converts from points.com, and I have a membership there. American Airlines miles, my largest account and the one I earn the most frequently, convert to Goldpoints at a rate of 1 mile to 1.5 points.
But not with a Radisson Goldpoints card (I told you it got worse.) For some arcane reason, Goldpoints cards issued by Radisson or their affiliate hotels cannot participate in points.com exchanges. I created a new Goldpoints account at goldpoints.com, which allowed a exchanges into points.com. I then called customer service and asked if two accounts with the same name could be combined. All the time, they said.
So, pending the acceptance of the second Marriott Visa card, the plan of attack seems to be to charge whatever I can on Marriott cards despite the lesser rate, because it's the only convenient way to earn points. Marriott allows you to buy 10% of the necessary points as well at a reasonable cost ($10 per 1000) so I will make use of that. Online shopping will be done mostly through Goldpoints. After I figure out how many AAdvantage miles I need and transfer them via points.com I will consolidate the two Goldpoints accounts.
Do you have a headache yet? For me, it's like crossword puzzles, and I'm going to take what is a dream trip for me at a fraction of the cost. As my friend Cynthia remarked after hearing similar machinations a while back, "It's a nice little part-time job."
Posted by Leigh Witchel at 6:33 PM | Comments (0) | TrackBack
November 8, 2005
Leigh's Dance Card
11/10/05 - Lar Lubovitch Company - premiere of Elemental Brubeck, also Mens' Stories. I'm on duty, but Tai Jimenez, a ravishingly elegant dancer and good friend is in the cast. As I went to get the link to Tai, I see my friend Miho Morinoue is also dancing, as well as a few other people I know as colleagues. The more to enjoy, but as I've said before, I am a walking conflict of interest.
11/12/05 - Cedar Lake Contemporary Ballet. They are new to me. Also on duty, in both cases for Danceview Times.
Posted by Leigh Witchel at 5:11 PM | Comments (0) | TrackBack
November 6, 2005
Red Leaves completed
Red Leaves was a relatively quick knit and took just under three skeins of yarn for a smallish shawl/largish scarf depending on your viewpoint. And as usual, the final blocking is the most fun of all.
Before Blocking: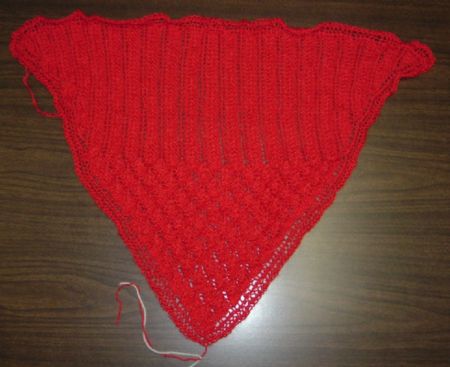 After Blocking: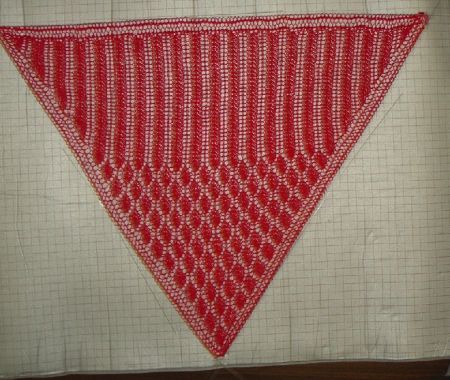 Ain't that neat?
Here's more detail: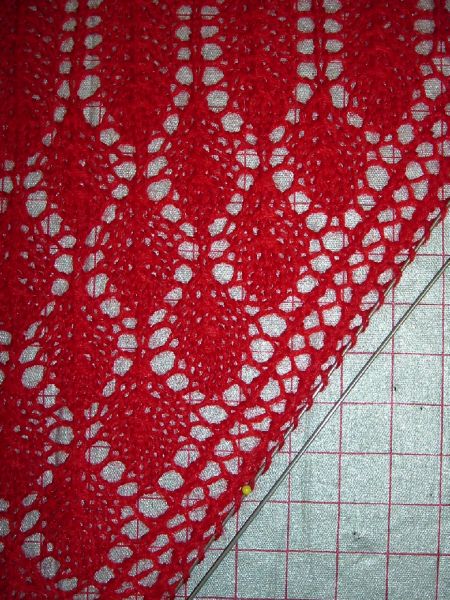 Lace is more impressive looking than it really is, especially at a comparatively large gauge. Check out Stephanie's baby shawl that looks like it has has both Orenberg and Shetland inspirations for an idea of how much work goes into a fine gauge shawl with a complicated edging.
Posted by Leigh Witchel at 11:26 PM | Comments (0) | TrackBack
November 5, 2005
NYC-Chicago or vice versa $131 tax included
Every now and again an airline will have an unannounced sale for reasons only known to them, but usually in response to a comptetitor lowering prices. Right now, ATA is offering NYC-Chicago Midway for $98 r/t ($103 on Travelocity including their fee) and American and Northwest are offering NYC-O'Hare (LGA-ORD) for $112.50. With taxes it comes to $131.40. Occasionally AA will have a weekend special for $139 not including taxes, but this allowed advance planning and leaving any date. The dates on AA are wide open and go through next October, so I picked a late April weekend next year to visit Chicago for the first time. Act fast, these sales often only last a day or so. When they pop up, grab them.
One way to find these sales is at Travelocity Dream Maps. You can customize the URL as follows: http://dps1.travelocity.com/dreamMap.ctl?dep_arp_name=NYC&maxFare=150 - change the NYC to your desired airport code and the 150 to the desired fare cost.
And Dad, if you're reading, not to worry. I picked the dates (out late Friday back early Monday) so I don't miss any work!
Posted by Leigh Witchel at 2:57 PM | Comments (0) | TrackBack
November 3, 2005
Terpy
James Wolcott, whose crush on Veronika Part has been already been aired publicly (it's kinda cute and he's in good company) warns us that Part is dancing Terpsichore on Saturday night.
He then lets us in on a little balletomane lingo:
("Terpy," as we ballet buffs refer to the role)
Terpy. We ballet buffs (yea verily, even we choreographers and dancers) have not heard that one before. I'd try it, but I keep thinking it's short for Turpentine.
I haven't decided what I'm going to this week, if anything. After seven performances last week I'm pretty sated.
Posted by Leigh Witchel at 2:32 PM | Comments (0) | TrackBack
November 2, 2005
My favorite sweater project
My most successful sweater got its inspiration from Kaffe Fassett's "Small Steps" sweater from Glorious Knits. I took the basic geometric design and placement, then used my own colors, details and construction methods.
The sweater has a long history. I bought the variegated yarn, Noro Sarubia, in January of 1998 on a foray up to Webs. It is a 60/40 Silk-Kid Mohair blend in saturated jewel tones. The black yarn is a very light wool bouclé, Lana Cervinia Mimosa. I bought it in late November, 2001 at the annual Manhattan sale for Smiley's Yarns and immediately swatched it with the Sarubia. Like other yarns with color changes every few feet instead of every few inches, Sarubia works best in projects that have relatively large areas of color, such as intarsia or entrelac. I was originally thinking of a slipstitch pattern, but as in Fair Isle knitting, it didn't make big enough areas of color to show the shadings. I had the sudden inspiration to try one of Fassett's intarsia designs, and Small Steps seemed perfect. I began the sweater on 11/30/01 and played with it all afternoon and evening.
Noro yarns are the Ferraris of yarns: Stunningly beautiful but cantankerous. You need to swatch until you find the stitch that brings out their gorgeous colors. Then you have to deal with the idiosyncrasies of the yarn. There was tons of chaff that I had to pick out as I knit and irregularly spun areas that became way too thin, necessitating that the yarn be broken and rejoined. But oh, those incredible colors. Fassett's sweaters are made by using small amounts of many colors, often upwards of 60. Variegated yarn eliminates the work. Sort of. I realized within an inch that to look its best, the colors needed to be symmetrical on the left and right of the sweater and the yarn changed colors progressively from blue to purple to green and so on. To get more or less symmetrical steps, I wound off one long color change from the skein at a time and used half on each side. It looked much better and gave me control over the color changes but there were consequences.
As in my current entrelac project, I like to frame saturated colors with black. Like stained glass, it makes the colors richer. When using several colors in a single project, one way to keep them harmonious is to think less about the hue and more about the value. Pale blue and pink together will be a quieter combination than pale blue and dark blue. All the saturated colors in the sweater are around the same value, so the result is a sweater that is dramatic, but still wearable. And for people like me who can't be bothered with trivial things like accurate gauge swatches, intarsia sections (like entrelac) can be carefully unraveled to make the sweater narrower.

I put the sweater away for much of 2002 while I was working on the Dance as Ever concert, and took it up again in November once the concert was over. I don't usually enjoy intarsia knitting because it often doesn't move in a regular rhythm. But Small Steps moves in a very regular pattern and the slow color changes in the yarn provided little milestones to keep your stamina up. I started on the sleeves by mid-November and finished them by New Year's Day, 2003.
Because I divided the skeins into several individual color changes, I had ends to darn in. A lot of ends. I do not weave in the yarn as I go as I might in a Fair Isle project. With intarsia, it is important to make sure the ends are sewn into a section in the same color to prevent them from showing through from the inside. Darning does this better than weaving though it takes longer. A lot longer. I started darning in the ends on a bus trip to Newport, RI but then took another hiatus. To prod myself to finish, I decided to assemble the sweater first; hoping that I'd be more motivated to darn in ends on a completed garment. The sweater was completely assembled and all the borders were knit by April 6, 2003. Darning the ends in took several months more, because I once again put down my knitting during Dance as Ever (I never could relax enough to knit when I was making a concert) and resumed it again after the concert was done and I went to England for my brother's wedding. I worked on the ends in earnest on the bus from Bath to London and the following morning; about 40% of the ends took six solid hours of work to darn in. The sweater was finished on 10/21 and worn two days later for my fortieth birthday.
I brought the sweater again with me to England and photographed it in Bristol on top of the wedding afghan that I gave to my brother and sister-in-law. Here's a closer look at the detail.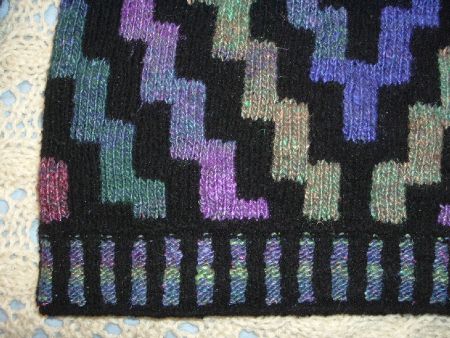 Posted by Leigh Witchel at 11:29 PM | Comments (2) | TrackBack
November 1, 2005
Jennifer Homans on Ashton
Via dirac at Ballet Talk, there's an article on dance in The New Republic.
England on Pointe (You will need to register or use Bug Me Not to read it.)
It's bad form to criticize a colleague, but the article is a tremendous disappointment. Homans is repeating the same tired shibboleths about Ashton that New York critics used a generation ago to justify their preference for Balanchine (that Fred, he's so dear, so twee, so trivial . . .) and adding a layer of historical sludge to justify it.
Ashton's choreography tends to extended, breathless phrases filled with Isadora-like flourishes and feints, barely controlled by conventional grammar. Known for working with gestures and rushes of dramatically tinged movement, which sent him flying across the studio, he would then turn to the dancers and say, "now, what did I do?" In sum, Ashton backed his way into classicism, often pressing ballet into the service of impersonation and his own acute observations of social manners and codes. This led him to a unique and subtle but (as we shall see) highly perishable idiom.
Or, at least as Homans sees. She writes about dance the same way that other writers in TNR write about politics: as if somewhere there was a jury summation to be made or an election to be won (or worse, a doctoral thesis to be defended). We learn what Homans has learned from reading Secret Muses, which makes more sense to her than most of what she saw onstage. Ashton's classicism does come from outside the academy, but his comprehension of it is firm - he's also the man who went up to the balcony to watch Sleeping Beauty and "get a private lesson" from Petipa. Just look at Scènes de Ballet, the Act II divertissement in The Two Pigeons (which bothered some critics who were expecting character dance, and it isn't - it's a classical set piece with a character flavor) the court dances in Cinderella or several other examples.
This has been Homans' modus operandi in several of her articles, which range far and wide but at least all the ones I've read have been about the rise (or not) but always fall of ballet: Historical research laid on thick in a reverse-engineered attempt to justify her own tastes.
So why do British audiences love Ashton so unconditionally? What do they see that I do not?
Ashton's ballets are hard to fathom for an eye trained to American - or Balanchinean - classicism. It took me years. But since Homans can't see it, it must be a unique quirk of the British character. Is it possible that while Homans is delving into her sociology texts and biographies, the audience is actually looking at the ballets?
Posted by Leigh Witchel at 10:01 PM | Comments (2) | TrackBack