« November 2005 | Main | January 2006 »
December 29, 2005
Link dump
A cornucopia on several subjects of interest (at least to me!)
Via dirac in the links forum at Ballet Talk:
R. D. Adams writes a measured assessment of NYCB in the NY Press.
Ismene Brown's take on the year in the dance includes a view of the Royal Ballet that is the opposite of mine; partly because my viewing is not as complete, but it also shows that two reviewers can be looking for completely different things. At this point, I'd rather see the Royal Ballet find themselves as a company than see any new work that didn't assist in that goal, and I'd argue that almost no guest choreographer, especially any whose native tongue is another discipline than ballet, does that.
Robert Gottlieb's take on Ballets Russes is, as only Gottlieb can be, provocative, but he's right about the historical context being a lost opportunity. What's also interesting to me is a connection with something Francis Mason said at the Balanchine symposium in 2003 at the University of Michigan. He moved to NYC in the late 1940s, saw Massine's ballets and hated them, thought they were ridiculous. Contrasting to that was the aesthetic of Balanchine. And here is Gottlieb, implying a similar divide. At the symposium I told Mason (who is my editor at Ballet Review) jokingly that I would one day corner him and get him to defend his statements about Massine. It makes me want to see his work and find out why he went into such eclipse.
In researching for a forthcoming article in Knit.1 Magazine on travel and knitting I came across this brochure for an exhibition I deeply regret missing. It's for knitting's mad scientist, Debbie New, who seems like a mild mannered grandmother but thinks in five dimensions, all of them a different color.
The Random Stripe Generator is both useful and fun. Find out how stripes look in given proportions. A less high tech way to do the same thing is to wind the yarn around a strip of cardboard, but this is even easier.
I've already talked about James Wolcott's crush on Veronika Part. He defends himself here against the hordes who've decided he is gay gay gay. Not that I ever suspected otherwise, but I'm relieved he's straight. Just means there's more room in the castle for us queens.
Speaking of gay gay gay, here is the movie poster you just never never never wanted to see.
Apology accepted.
Posted by Leigh Witchel at 6:26 PM | Comments (3) | TrackBack
December 28, 2005
The Cranky Knitter rides the Subway.
I was cranky for a good reason. I walked home from the office, a 20 minute walk, and got to my block only to realize I forgot my apartment keys. One twenty minute walk was enough, so I took the subway back to retrieve them. I dropped my bags and knapsack off with the doorman, taking just my wallet, Metrocard, phone. I stuffed the mitered hat in my pocket to knit on the subway.
Even with New Yorkers' reputations for being blasé, people on the subway do notice a guy knitting, probably because I notice them – I don't have to look at my knitting when I knit. This freaks people out, so there are times I deliberately look at my knitting because it makes people less uncomfortable. There are times I'll tuck my knitting into my hand to hide it as well, usually when a mob of teenaged boys gets on. Usually they couldn't care less or find it amusing, but I'd rather not risk the exception until they're settled in and ignoring me.
Then there are the people who just think it's abso-fucking-lutely wonderful that I knit. Like this chatty woman who am I am sure is a very nice lady, but whose novel question (that I've only heard 1637 times) is if I knit to relax. Which should be absofuckinglutely wonderful, but it just isn't novel to me that you've seen your first male knitter. I've been knitting for going on two decades. No, I don't have three nipples and last I checked my penis is properly attached in the correct spot. Yes, I am queer. No, I don't need to knit for stress, nor am I mentally unstable. No, I don't do it to relax. I do it because it's a more profitable use of my time than sitting on the subway gawking at some schmuck who's knitting.
So by all means ask me how I knit, or what the pattern is, or where you can buy yarn. Just don't ask me if I knit to relax. Because you're stressing me out.
Posted by Leigh Witchel at 11:35 PM | Comments (3) | TrackBack
December 27, 2005
Looking Back on 2005
Rachel (not the one who's getting married, the one who's written a book and already is) posted on her year in dance. I've done "best-of" lists before, but it doesn't seem apt this year.
Not because of low quality. Nor lack of individual performances: Naming a few high points, Ashley Bouder in Ballo della Regina, Michael Trusnovec and Lisa Viola in Promethean Fire, the entire cast of Big Bertha. I saw hope for new ballet in Yuri Possokhov's work, particularly Reflections out at San Francisco ballet.
The reason a list seems not to make sense is that the performances that were most important to me, the ones I saw at the Royal Ballet and at Birmingham Royal during trips to England, weren't individually stunning. The effect of British ballet on me has so far been cumulative. There wasn't a performance I can point to that was the one that blew me away, but going night after night to see Symphonic Variations three times in a row or Scènes de Ballet four times changed me.
Nrtiyagram did blow me away, and I don't think it was a one-off event. I was introduced to classical Indian dance this year, and I wouldn't be surprised if it stays with me long into the future.
Posted by Leigh Witchel at 6:48 PM | Comments (0) | TrackBack
December 26, 2005
Mitered hat in progress
I cast on another mitered hat in the same wool as I had made my first; handspun that was a gift from a friend. Nubbly and slubbed yarns are shown to their best advantage in reverse stockinette stitch, so this is a great pattern for the yarn.
Here's the hat in progress with one and one half sections knit. That was accomplished during a phone call and on the walk home. It is a very fast knit and frugal with yarn (both ribbed hats and garter stitch hats use more yarn, but they are also more elastic for the same reason).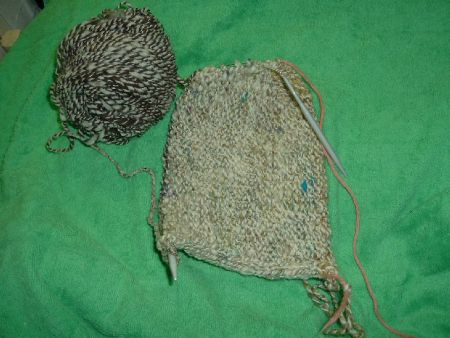 Here's a closer look at the short-rowing that creates the crown in a series of wedges. If you're scared of socks, try this hat first.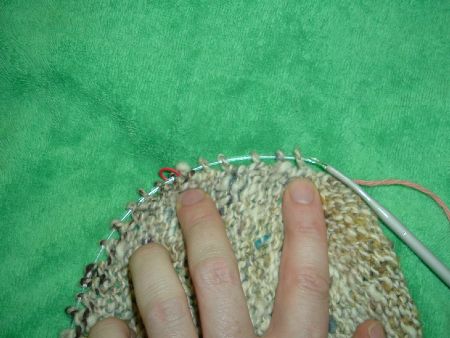 And as weird and as stubby as my fingers look here, I swear I have not had a traumatic amputation. They're just curled under holding the hat.
Posted by Leigh Witchel at 10:48 PM | Comments (0) | TrackBack
December 25, 2005
Ask Mr. Mileage
(I was going to call this "Ask the Miles Whore" but that sounded so louche . . .)
Dear Mr. Mileage:
I would like to go to Hawaii for a special birthday two years from now. I don't travel that often and haven't played the miles game, but I do have some Delta Miles from a previous trip to Europe and a few American Express Membership Rewards Points. What can I do to get as much vacation as I can for my dollar?
Your pal,
Dear Cyn:
Here are my suggestions:
Step 1: Decide where you might want to go.
Go online and browse a few travel sites and get a feel for which islands you want to visit and what hotels are there.
Step 2: Airlines
I'd suggest accumulating either United or Delta Miles.
Destination: United flies to a few more destinations in Hawaii. Delta flies to only Maui, Honolulu and Kona.
Miles Required: United to Hawaii costs 35K, 60K, or 80K miles in Economy, Business or First Class respectively. Delta to Hawaii costs 35K or 75K in Economy or First respectively.
Your Delta miles already earned may give you a leg up, and you can also convert Membership Rewards to Delta Miles but not to United. Depending on whether you have the standard American Express with a yearly fee or the Optima card that is free, your point will convert in either 1,000 or 2,000 mile increments at 1:1 or 2:1 respectively.
Yes, I realize that Delta is in bankruptcy and United is coming out of it. Realize that airline reward currencies are not stable or safe; it is best to earn and redeem them with a short time horizon.
Step 3: Hotels
You will probably find many places that really do it for you, but try and fall in love with a property that is available as a reward from a hotel chain! It seems that Marriott or Starwood have nice properties in Hawaii. The Marriott properties fall towards the top of their rewards tier (mostly category 6; they go up to 7). The Starwood resorts have a few Category 3 and 4 properties sprinkled among the more luxurious offerings. Hilton only has a few properties in Hawaii, but they're also quite nice.
Step 4: Apply for credit cards:
Presently, sign-up bonuses on credit cards are the most bang for your buck.
United:
Getting the United Visa and making one purchase (buy a Metrocard and pay the bill immediately) will get you 20,000 miles and the card is free for one year. Call and cancel it after 11 months. By the way, people have canceled the card, waited 6 months and then gotten it (and the bonus miles!) all over again repeatedly.
Delta:
The Delta SkyMiles American Express gives you 15000 miles and is free for one year (cancel the card before they charge you an annual fee) but has the bonus of giving 2 miles per dollar for "everyday purchases"
Starpoints:
The Starpoints Preferred Guest Platinum Amex does not have as good a sign up bonus but it is a great card because Starpoints are so versatile. If you do not use them at a Starwood Property (Sheratons, Westins, et al.) they are convertible to a lot of major airlines, the one unfortunate exception being United.
Marriott Rewards:
The Marriott Rewards Visa has a great sign-up bonus right now – one free night but if Marriott points are your objective, I would suggest waiting to apply for the card closer to your trip because the free certificates are usually only good for under a year. Or if you're really audacious, as with the United Visa, apply for the card now, get the bonus, cancel it and apply again in a year. You should get the bonus again. (This does not work with all companies, but it does seem to work with the company that issues both of these cards).
Both the Starwood and Marriott cards have small annual fees (about $30 per card)
Hilton:
Hilton has either an Amex or a Visa card; both are offering 15,000 bonus points right now for sign-up. The Amex has the added bonus of getting 5 points per dollar on everyday purchases.
By the way, there is nothing stopping you from applying for both Hilton cards, and you can apply for both a Marriott personal and business card as well.
Radisson:
Although there is only one Radisson Hotel in Hawaii, I would suggest applying for the Goldpoints Visa because the starting bonus (20000 points) is particularly good right now (this offer is assumedly for a limited time). The card has no annual fee.
Put whatever expenses you can on these cards without running a balance. Everything – grocery shopping, phone bills, etc.
Shopping:
Delta, United, Marriott, and Radisson/Goldpoints have shopping portals where you can accumulate additional miles for purchases. Each gives different rates for different vendors; you can use Andrew Cram's charts to check which is the most advantageous. Do whatever shopping you can via these portals. For more information on them, check out Free Frequent Flyer Miles. The Goldpoints portal can be particularly generous. Hilton does not have a retail portal (unfortunately, neither does Starwood), but MyPoints will convert to Hilton points 1:1 in 2,500 point increments.
Other offers:
Check Free Frequent Flyer Miles for a range of offers including offers for points for phone service (those are not as good as they once were, though) and for depositing money in banks or with brokerages. You can even "double dip" miles by using Giftscertificates.com as described by Gary – a direct link won't work; click on "buying stuff" in the left-hand navigation bar of Free Frequent Flyer Miles.

Points for reading your email:
You can accumulate extra Hilton points if you join MyPoints (use this link to get 500 Hhonors points when you join MyPoints) or e-rewards. MyPoints is both a shopping portal and also sends targeted email ads to your mailbox. Read the ad; get 5 points. You may want to reserve a screen name or mail address solely for this purpose to reduce junk mail in your regular mail. E-rewards offers their own rewards currency for reading email ads and participating in surveys; this can be used to buy Hilton points among other rewards. On occasion, MyPoints or someone else will offer a joining bonus for e-rewards; hold off before joining to watch for one.
Yes, this all takes planning and strategizing. It helps to keep spreadsheets of offers and purchases you have made along with saving the offer email or screenshot itself in case your points don't get automatically awarded. But with some planning, you could get your birthday vacation to Hawaii at a significant savings.
Happy Travels!
Mr. Mileage.
Posted by Leigh Witchel at 2:54 PM | Comments (0) | TrackBack
December 23, 2005
Reminder
It's the end of the year. Please give generously to the assorted charities on your list.
Here's my list in case you need some ideas:
Arts
Central Pennsylvania Youth Ballet
Paul Taylor Dance Company
New York Public Library - Library of the Performing Arts
If I can figure out how to get it to them, Nrityagram Dance
Local Charities
City Harvest
City Meals on Wheels
Central Park Conservancy
New York Humane Society
It's not a non-profit, but I also kick in something to Dance View and Danceview Times, because it's a labor of love. You didn't think they paid me, did you?
If you're donating by credit card, don't forget to use a mileage producing credit card for your donation! I'm getting Goldpoints - but if you like Membership Rewards points, Amex will double your points for every donation you make.
So be generous, and don't forget the arts, please.
Posted by Leigh Witchel at 8:55 PM | Comments (0) | TrackBack
Great moments in copyediting
Yesterday while typing and proofreading a motion for summary judgment, I told the lawyer who wrote it that "motherfucker is one word, no hyphen."
Posted by Leigh Witchel at 8:52 PM | Comments (0) | TrackBack
December 22, 2005
Dance Linkage
Today's Internet Timewaster is Pimp My Nutcracker, generously brought to our attention by Jeff Salzberg. No need to thank him, really . . .
Downtown Dancer was commenting on a dance awareness effort in Chicago through television. Via Jack Wright, Boston is working through participatory events with Dance Across the City - a day of free classes and showcases running the gamut of dance styles. It's on January 7, 2006. They're both great ideas, but I'm always partial to anything that encourages people to see dance live; I don't think recorded medium does dance any justice. Boston is also a city that does festival like this proud; I remember First Night from the years after college with great fondness.
Posted by Leigh Witchel at 11:26 AM | Comments (1) | TrackBack
December 21, 2005
My evil plan is working . . .
Progress report on the miles and points chase.
Asia Miles
Miles required: 60,000
Miles in account: 60,000
I transferred 2133 Starpoints to Asia Miles (A reason to accumulate Starpoints and use the Starwood Amex – Starwood points are valuable enough as hotel points, but can also be used to top off miles in almost every major airline but United.
To get travel dates on British Airways with Asia Miles, one has to call Asia Miles' service center in Hong Kong, but it has a toll-free US number. Business class award flights on BA have limited inventory and two calls to Asia Miles yielded no inventory, until at the suggestion of (where else?) Flyertalk I ran the potential itinerary at BA's website to find out open inventory. Asia Miles has access to the same, so they could find the flights and they will hold the ticket one month.
Marriott
Miles required: 38,000 + 2 free night certificates
Miles in account: 16,000 + 1 free night certificate
Miles pending: 15,000 business card opening bonus
300 points for credit card spending
900 for shopping at the Marriott Rewards Mall.
1,000 Marriott Rewards Mall Holiday bonus:
I needed a new pair of boots and zappos.com offered 10 points per dollar, one of the best deals on the site. I also bought a series of gift certificates. This involves some audacious multiple dipping, which I hope works. Marriott offers the 1,000 point bonus for spending $150 or more in a single store at their online mall. I didn't want to make $150 in purchases immediately or at a single store, but one of their stores is giftcertificates.com. I bought a $25 certificate to Barnes & Noble, $50 to drugstore.com and $75 as a "Supercertificate" that can be redeemed at another point. I got 3 points per dollar for the purchase, factored in above. To get more back, I used my Discover card because they are having a bonus offering of 5% cashback on online retail purchases, and I could liberate some money that had been lying there (you can only redeem at $20 intervals). To squeeze every last drop I could out of the purchase, after I earned points for buying the gift certificates at the Marriott portal and they were emailed to me the following day, I headed over to the Goldpoints portal to spend the Barnes & Noble certificate doing shopping at Mom's request (a Christmas gift for my Uncle) and also spent the drugstore.com certificate stocking up on sundries. The Supercertificate will probably be redeemed for a Marriott gift certificate to be used on this trip!
Miles in account & pending: 33,200 + 2 free night certificates. We're on our way to a suite in St. Petersburg. I'm 200 MyPoints away from redeeming those for another $100 Marriott gift certificate to help pay the $50/nightly upgrade fee from a standard room to a suite. If you join MyPoints, do it through this link and you'll get 500 Hilton Hhonors points as well if you give them your Hilton number.
Goldpoints
Points required: 60,000
Points in account: 13,270
Points pending: 4,600 from the Goldpoints mall (see above)
500 for entering a sweepstakes
Points in account + pending: 18,370. I can convert American Airlines Miles and some other orphan miles to Goldpoints via points.com to top off anything I can't earn.
I had no Marriott points or Goldpoints in October, so I think I'm doing pretty well.
Retail value of the flight - $3,700 (yes, business class is overpriced) – I earned the miles via Priceline bidding and using my eBay credit card (alas, eBay points are defunct).
Retail value, 4 nights suite, Renaissance St. Petersburg - $2,600 (yes, a suite at the Renaissance is overpriced). I haven't bought anything I wouldn't ordinarily to get these points except the $75 Supercertificate.
Retail value, 2 nights at the Radisson SAS Royal St. Petersburg - $760. Let's face it – everything on this trip is overpriced. That's why I'm going on this points chase. I did buy an "Entertainment Book" for $28 that was a dubious purchase; let's hope I can put it to use.
Posted by Leigh Witchel at 9:20 PM | Comments (2) | TrackBack
December 20, 2005
Making the dance blogosphere bloggier
Slowly but surely, the dance blogosphere is picking up steam. A few dance bloggers have been having a conversation via email regarding multimedia blogging; Ed McPherson suggesting video blogging and Doug Fox talking about podcasts. I think both ideas are exciting, but not ones I'm going to take up. What I'm doing here, particularly relating to dance, seems to be oriented towards dance writing and the written word. I hope Ed and Doug will follow up on their ideas.
What else can we do to stimulate the discussion? Individual blogs have a clearer focus as the discussion and topic can be under closer control, but group efforts are what will make the conversation grow. Artsjournal's roundtable about New York brought new voices into the arena. Assuming my role as resident crank of the dance blogosphere, I thought the results were mixed; there was some interesting discussion and some bloviating. There's no sin in that – blogging arose in the first place as a place for people to mouth off. But if there's enough of it in what's supposed to be a discussion, a roundtable becomes a circle jerk.
The point I'd like to make to dance bloggers out there is that without the web of links that interconnect and cross-reference, it isn't really a blog; it's a diary or a column. Use the medium. Comments and especially trackbacks can be a hassle because of spamming but without them people don't know that you've referenced their blog (This means you, Mr. Wright!) and there's no feedback. If you're using Movable Type, upgrade to version 3.2; the spam control is significantly improved. I got rid of most trackback spam with a single plug-in, TBPingLinkLookup.
If you can, make an effort to read other dance blogs and continue their discussions. This won't suit everyone; Rachel Howard isn't blogging for the same reason as Rachel Feinerman. But that's what will build the web that keeps bloggers like Ariel from feeling like they're out in the wilderness.
Posted by Leigh Witchel at 11:54 PM | Comments (1) | TrackBack
December 19, 2005
Teaching
I taught one of my knitting workshops tonight; Knit Your Own Valentine. I haven't taught it in a while, but I've got plenty of samples and a detailed lesson plan prepared. I don't know if this happens to other teachers (My friend Margaret first said this when we were teaching at Stitches; it happens to me when I teach ballet as well) No matter how well I know the subject, what I'm usually thinking during the class is, "When are they going to figure out that I'm a complete imposter?"
Amazingly, they haven't yet. They even asked me back.
Posted by Leigh Witchel at 11:31 PM | Comments (1) | TrackBack
December 18, 2005
Emergency Christmas Hat
My friend Cynthia's birthday was Saturday and we celebrated at the lounge at the very swish Tribeca Grand Hotel. The drinks and appetizers were fiercely overpriced but in their defense, when they give you a $25 cheese plate, it's $25 of excellent cheese that's perfectly ripened along with perfectly ripe fruit. You are at least getting top quality for top dollar.
I gave Cynthia back gifts she had given me. It's less parsimonious than it sounds; she had given me yarn she no longer wanted a while back and I returned it in the form of hats. The first one was the Amelia Earheart cap I finished a while back and I also made a second mitered hat as well. The one pictured in my earlier blog entry was given a week ago to my second cousin Sarah at her holiday party.
The mitered hats make great emergency knitting. I finished mine in a few subway rides and it takes very little attention. Nancie Kremer's version works best in garter stitch; I've altered it for the different gauge of reverse stockinette stitch. The main knitting of the hat is very easy but because it involves short-rowing and grafting as well as a provisional cast on, you can learn Mad Sockmaking Skills (boy, slang just rolls right off my keyboard, doesn't it?) at a less than maddening gauge.
Mitered Reverse Stockinette Hat
This pattern is dedicated to Stephanie, who is freaking out over her Christmas knitting.
Materials
About 50g heavy worsted yarn (a textured, nubbly or thick and thin yarn is ideal for this)
Appropriate needles (mine were US size 9)
A ring marker and waste yarn.
Measurements
The hat should be about 20 ins. in circumference. Rather than doing a gauge swatch, knit one "wedge" of the hat. It should be at least 7-8 ins. wide (the wide end will curl forming a rolled brim) and about 4 ins wide at the wide end. If it isn't, you can either add or subtract wedges (this hat takes 5 at this gauge) or rip back to the halfway point of the wedge and add or subtract short rows to make each wedge narrower or wider. It's quite fudgeable.
Provisionally cast on 32 sts. P 1 row.
K the next row until 1 st before the end, wrap the last stitch and turn.
Purl back.
K the next row until 2 sts before the end (one more st than the last row), wrap and turn.
Purl back
Repeat the series of knit and purl rows using one less st each row until you have six wrapped sts.
On the next K row, reverse the process by knitting the first of the wrapped sts, wrap the next st (it now has two wraps on it) and turn. Purl back.
K the next row and knit the next wrapped st with both of its wraps. Wrap the following st, purl back.
Continue the process until you are knitting the full row again. You've made one wedge of the hat. Repeat for five wedges total, and then graft the last row to the provisional cast on. I don't bother transferring the cast-on stitches from the waste yarn to a needle, but you might want to if grafting is new to you. Neaten the hole at the top (if it's larger than a quarter, pick up a few stitches, thread the yarn through them and pull tight), sew in ends and you're done.
If short-rowing is new to you, check out the pictures at knitty.com. It's not hard. The same process that makes the wedge sections of a hat or a doily can make a bust dart, or the heel of a sock.
Posted by Leigh Witchel at 11:04 PM | Comments (0) | TrackBack
December 17, 2005
Devi Diva
Since Rajika Puri, who will probably eternally be The Elegant Lady in the Fur to me, is responsible for introducing me to the beauty of classical Indian dance, there was no way I was going to miss her concert at the Rubin Museum of Art.
The museum, on 17th and 7th is in the building that was Barney's well before it went posh. If I recall correctly, Dad brought me there for my first navy blazer when I was about 11. Instead of six floors of off-price suits, it now houses art from the Himalayan region and a small auditorium downstairs. (Knitter report: There are hand knit and crocheted scarves from Nepalese women's cooperatives in the gift shop, but most textiles are woven and embroidered.) The auditorium is interesting and informal with tables sprinkled among the chairs and candles lit for atmosphere, but looks as if it was designed more for beauty and atmosphere than for practical concerns. The audience is level rather than raked - it looked as if the rear of the auditorium was actually raked slightly in reverse.
Devi-Malika was a performance of "manifestations of the feminine divine in India". It was efficient in resources: a director, a musician (Steve Gorn playing a bamboo flute and other percussion) and Puri herself who sang, spoke and danced. Projections and film were used judiciously to heighten the atmosphere or practically to give Puri a brief rest in a solo performance. Puri and her director, Yuval Sharon, collaborated well; their focus made efficiency seem extravagant.
Six aspects of the feminine divine were shown. As the lights dimmed we heard a low resonant rumble; it was Puri beginning the tale of Lalita (beautiful), a creation myth. Indian classical dance is magical as a solo form; the narrative intimacy and power enables a talented performer to conquer the stage. Clothed in silk and bells (but with relatively little makeup – the theater is small and her eyes don't need it) Puri has a similar magnetism to the best Graham dancers. It's totally different than the magic of a ballet dancer; weight versus weightlessness. Darci Kistler was omnipresent yet intangible on a stage, like sunlight or dew. She perfumed the space. Puri, in the way I imagine Martha Graham, is a vortex into which all energy onstage converges and through which it must pass.
Her manifestations are colored by this power. Parvati – "of the mountain" and Shiva's consort is both power and feminine guile. Her power is her beauty; Shiva was entranced by Parvati the moment he saw her. Puri changes her posture as Parvati; she becomes lighter, gently swaying confidently and seductively. This becomes even more so in the story of Savitri ("born of the sun"), the princess who renounced her status to marry the man of her choice and was so beautiful and quick-witted that she could trick Death out of his intended quarry – her husband. The most delightful of all the vignettes, Puri used a mask that appeared unexpectedly to create a duet out of a solo.
Saraswati, a river diety, was represented in music and on film. Gorn played a raga named for her while we saw only Puri's bejeweled hands on film, performing larger-than-life mudras that flowed like water. It was a lovely and intelligent interlude. She returned as Radha. A common girl as fair as Krishna was dark (With his indigo skin he was known as Shyam – evening); their love elevated her to godhood in partnership with him. The final incarnation, was Sati, "true" – the namesake of the Hindu custom of immolation. But Sati was more than human; she could throw herself into a fire in vengeance for her father's slight to her husband, Shiva, yet return to Shiva as Parvati – in her own sweet time, a millennium later. And as Puri ended, "But that is another story".
Puri is not an anthropologist and makes no bones that what she's offering us is her take on traditional myths. She has the taste to accomplish this and knows how much she can bend the twig before it breaks. It isn't a reinterpretation as much as a view from other angles, such as a dance only of jeweled hands on a projected screen. She knows how to make what she is doing feel traditional even when it obviously isn't.
There are a few common threads I've noticed in the Indian dance I've seen to date, but none more striking than the attitude towards sensuality and sex. In some of the most compelling Western myths, when mortals and gods couple the consequences are dire, far outweighing the pleasure. Even without the intersection with the supernatural, sex and pleasure are often followed by misfortune or punishment hard on its heels. In these dances sex is not only pleasure, but inspiration, bestowing creativity and poetry on the fortunate participants. Even in its poetic euphemisms ("Ah Monsoon, you have drenched me") the sensuality is celebratory. (Added 12/18/05: The closest equivalent that comes to mind from Western culture is the Song of Songs.) It's surprisingly hard to calibrate one's brain to an artistic vision of sex completely untainted by shame. This is idealized, just as the portrait of women in Indian dance is idealized. But it is a fascinating and thought-provoking ideal.
The troika of Puri, Sharon and Gorn provided us with a jewel of an evening, an intricate box with several compartments each with a different surprise. Puri was as delightful talking afterwards as performing; she is very self-aware as a performer. If there was any difficulty with the performance it was that she came up short of breath early on when singing before she found her rhythm and a way to release her diaphragm as singing requires while still engaging it as dancing requires. It was one of the first things she acknowledged about the performance.
Puri lives comfortably in more than one artistic world. She's acted in Julie Taymor's productions and performed in several fusions of Western and Indian dance including meshing it with Flamenco and anatomizing it in a post-modern fashion. Fusion probably came naturally to her; she holds one of the secrets to it. To meld both worlds you must understand and honor both equally and know what can mesh and what cannot. But magnetic performers such as Puri can reconcile what lesser talents wouldn't be able to. In her many incarnations she can contain multitudes.
Posted by Leigh Witchel at 10:19 PM | Comments (2) | TrackBack
December 15, 2005
Artsjournal forum
Artsjournal has held a forum on their site for the next few days: "The Center of the Dance World?" on the place of New York in the dance world inspired at first by Gia Kourlas' article in the Times and also referencing a piece by Wendy Perron.
I've made my own comment there but my other thoughts on the matter are potentially digressive so I'm going to make them here rather than there. I've been trying to write on this for a few days now, and haven't been satisfied with anything I've written yet, so it's either post what I write on this attempt or it's a sign to stay silent. I've never really liked roundtable discussions and I don't feel in sympathy with large portions of the conversation. It's from the point of view of modern dance and that's not my viewpoint.
I don't think what Gia noticed is preventable. The New York dance community is going through the life cycle of any arts community and passing out of its youth into its middle age. It is not a graceful process but it is a natural one. I agree with John Rockwell that "cheap rents" had much to do with the fecundity of the time and with Tobi Tobias that it wasn't just that. Dance in the New York in the earlier part of the last century was a place one could pioneer. There was room and opportunity and as Wendy Perron mentioned, a sense of being unencumbered by the past. Part of the reason we can boast of so many geniuses is that the field was inventing itself. Balanchine, Graham, Tudor, Cunningham, Taylor. . .each had the room stake their claim.
There's no way to reclaim this. The fantasy of having the sort of artistic environment possible only in a field that has never been plowed is part of the confusion and awkwardness we're going through. The closest I see to this sort of energy in the New York scene is in the burlesque revival. But in general, we are no longer a city of pioneers – we're the establishment. We need to learn to do this well.
There are several tenets accepted within the discussion I question. The first, and I say this as a choreographer as well as a dance watcher, is the idea that new work is the most important objective right now. New work is essential to a healthy dance community and without it we have no progress and no legacy. Heaven knows I'm dying to see good new work and jubilant if I do. There's a lot of crap out there. We are not in a golden age of dance. We're in a holding pattern. Surveying the landscape, our job seems to be to keep things together until the next geniuses appear. I'd rather preserve first-rate older works than make room for second-rate new ones. That includes my own work. There, I've said it.
Rebellion and renewal are important aspects of dance history and creativity. Generations have created their dance canon out of the ashes of the previous generation. But, iconoclasm is not the only means of progress. There is also an additive model for art; rather than each generation recreating itself, they can seek to add or build upon what has come before.
Maybe it's time to look at alternatives to the cutting edge. If we're the center, maybe we need to strengthen our center as well as our extremities. We have created institutions, and these are potential powerhouses. NYCB, ABT, Cunningham, Taylor and now Morris – what can we accomplish on an institutional model? This leads to another model we may need to question – that of the choreographer-driven institution. The fight over whither NYCB rages hard and long – what do you do when the genius dies?
I question the implicit notion that originality equals creativity. Originality as a reason for making art is overrated. Most things are only original to people who haven't seen their antecedents. The external demand put on artists to be original is responsible for a lot of lousy art. What most people call originality is a natural by-product of an artist speaking honestly, clearly and urgently. Say the thing you must say and it will become original.
This is a contrary post, yet I do share several underlying concerns with the posters. Funding is also essential. However, as far as I'm concerned, peer review is another word for "clique". We don't police ourselves well, especially in funding. If I were king, I'd try to work on a tiered model, with the first level of funding being modeled on The Field's Fieldays: non-curatorial. If you can demonstrate the commitment to show up reliably and deliver a work, you get some time onstage and a place to perform. If you do well at that, then a bit more money to help do something a bit more elaborate. And so on.
We need to get people interested in art, a monumental task in a nation temperamentally suspicious of it. We need to get people into the theaters. Tere O'Connor and I probably don't see eye to eye on much, but we do agree that Movin' Out is crap, the kind of crap you leave with a headache and leaves people thinking they've seen art when all they've seen is pop. I wouldn't take kids to it either. I'd take them to that haven of satanic patriarchic hegemony and show them A Midsummer Night's Dream.
Posted by Leigh Witchel at 1:43 PM | Comments (1) | TrackBack
December 14, 2005
Knitwhoring
I'm teaching a "Knit your own Heart" class for the Bergen Knitter's Guild this Monday, December 19 at the River Edge Library in NJ. Email Bonnie Molloy for more information. It's a fun class, about an hour and a half long that teaches how to knit a cool heart in concentric stripes through the magic of garter stitch shaping.
I'm also forming two workshops in January, one for absolute beginners you (knit a scarf and a ribbed hat) a second steps class where we tackle mittens and a baby sweater. Beginner class is on Monday nights starting January 9, Second Steps is on Tuesdays starting the 10th. More information about classes here.
Posted by Leigh Witchel at 12:16 AM | Comments (0) | TrackBack
December 13, 2005
Leigh's Dance Card
We're going for contrasts this week.
Friday, December 16, Rajika Puri at the Rubin Museum of Art. Ms. Puri is the "very elegant Indian lady in the long fur coat" who told me as she left that I simply must see the Nrtiyagram dancers, an recommendation for which I cannot thank her enough. I'm excited to see her perform and deliberately going "off-duty". I don't want the pressure of having to review. Another friend also says the museum is quite beautiful.
Saturday, December 17 at midnight. A different, more decadent holiday treat. Murray Hill, "The hardest working middle-aged man in show business" is doing his "Murray Little Christmas" show that will delight all. Most importantly, the midnight show is the only one featuring The Wau Wau Sisters. I saw them for the first time at the Christmas show last year and I cannot adequately describe their brilliance. They do a heavy metal semi-religious quasi-lesbian striptease aerial act. In school uniforms. With stigmata. It's beyond special. If one can possibly gild that lily, Miss Dirty Martini will also be performing. Unsurprisingly, this one's also off-duty.
Posted by Leigh Witchel at 11:42 PM | Comments (0) | TrackBack
December 12, 2005
Knitting Exhibition
My friend Gayle Roehm came up this weekend because her work was in a juried exhibition of knitting at the Kiana Malekzadeh Gallery in Chelsea. It's a small, spare gallery (ironically, right across the street from Cedar Lake) and the pieces hung either on the wall or on suspended hangers from the ceiling.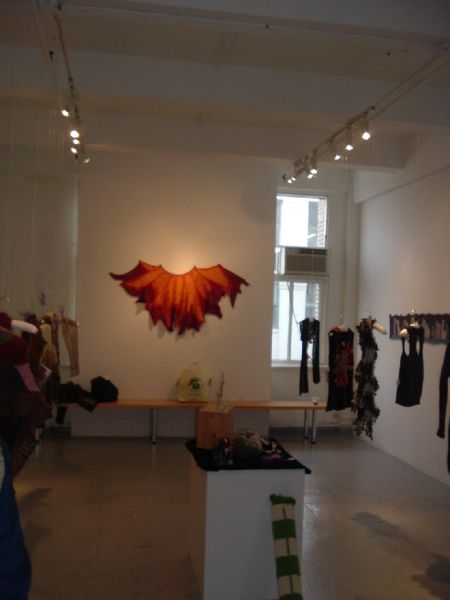 There was a variety of work from toys to garments; made by knitters at different levels of expertise. Now that I've seen knitting in a gallery setting, I found I look at knitting much like I look at dance: from the point of view of a practitioner. The first thing I look at instinctively is how it's made. I see the pretty colors, but first I see that it's Koigu Painter's Palette yarn worked up in Dayflower Stitch.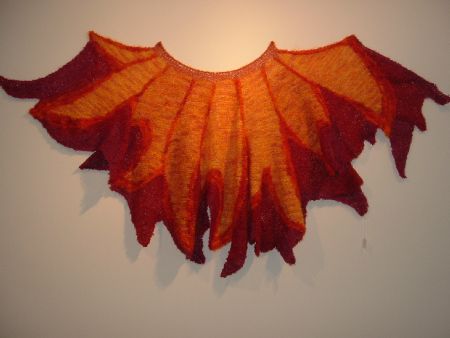 Gayle's piece is called The Wrath of Hell, and was inspired by The Queen of the Night's aria from The Magic Flute.
Yeah, pretty colors, but it's made in garter stitch using hand dyed wool bouclé loop that she got at Maryland Sheep and Wool. Gayle's a knitter after my own heart, she drew the design she wanted on a piece of paper and knit to it.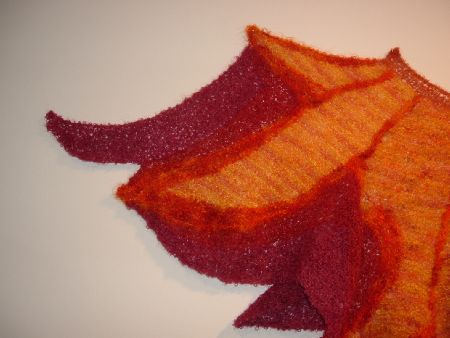 A closer look and a picture that shows it in a different configuration.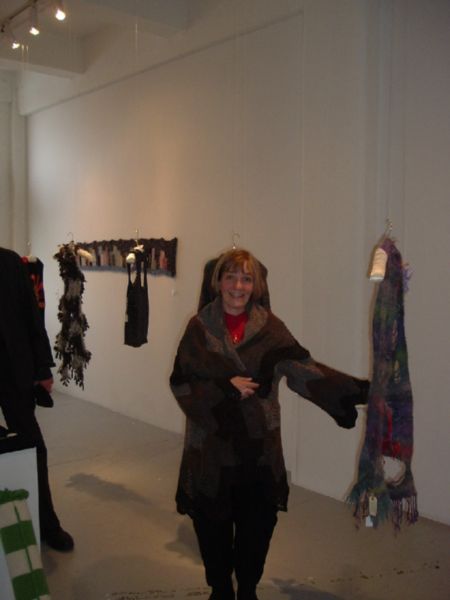 Here's Gayle, wearing a "Pi in your Sleeves" shawl of her own invention. It appeared in the Winter, 2000 issue (#61) of Knitters Magazine and an all-white version donated to Dance as Ever by Gayle was the top bid-getter at the 2001 auction.
Posted by Leigh Witchel at 5:54 PM | Comments (0) | TrackBack
December 11, 2005
Unfrozen Caveman Listens to the Hits
I think our taste in pop music often freezes in our early twenties - shortly after we graduate from college. It did for me, I still like the Talking Heads and the Eurythmics, although my biggest weakness is unabashed pop, preferably done by girl groups like this.
I recently acquired some more pop music and other downloads. What did I download first?
Internet pr0n? Nope. I've never been "visual" that way.
Bugs Bunny.
Rabbit of Seville and What's Opera, Doc? Specifically. Which probably says something about my emotional age; it definitely says I grew up on Bugs when I was a kid. We'll save Bugs for another day.
Since college, I've only listened to pop sporadically. I enjoy it, but I don't listen to the radio and generally play pop as background music. It makes tasks like cleaning and exercising go faster. There are a few more recent songs and artists that I discovered on the way, most of them inextricably linked to the situations and times I heard them rather than their intrinsic merit. Erasure Stop in '89 when I danced with American Festival Ballet; the DJ at Emerald City the only gay bar (at least the only one I found) in Boise, played it all the time, Deee-Lite because in '90 everyone was listening to Groove is in the Heart, Liz Phair because Amy played it in the car on the way up to Vermont in '95, Sheryl Crow's My Favorite Mistake in '99 because it was what played over and over again on VH-1 during the time in my hotel while I was doing the Pacifica Choreographer's Project, Enrique Iglesias' Rhythm Divine for the same reason when I was in Copenhagen for the Bournonville Festival in '00. I Miss You by Björk because Shasta used it in her act. Pop music is a timeline.
As time goes by, I get more and more out of touch with pop music. I downloaded a song by Green Day and one by Coldplay because I wanted to see what those crazy young folk are listening to nowadays. It's probably as good as anything I listened to in college, but pop music is the emblem of a generation. It doesn't matter how good or bad it is; it's not my music and my music isn't yours.
My relative ignorance of current pop makes me like Unfrozen Caveman or Woody Allen in Sleeper. I finally listened to Alanis Morissette, only a decade too late. Wow. She's like an adolescent Glenn Close from Fatal Attraction. Whoever the schmuck was in You Oughta Know oughta be glad she didn't kill and cook his pet bunny.
Other random Unfrozen Caveman observations.
I enjoy Hey ya, but I can't listen to it without imagining the Peanuts characters dancing.
Paradise by the Dashboard Light sounds a lot better and funnier now than it did in 1977. That's probably because being 42 in New York City is a lot better and funnier than being 14 in Mamaroneck.
Truly Guilty Pleasure: Ladies and Gentlemen, Boys and Girls, Pop Goes the World by Men Without Hats!
One Week by the Barenaked Ladies sounds less like rapping to me and more like an updated Gilbert & Sullivan patter song.
If a conspiracy managed to play Bryan Ferry and Chris Isaak simultaneously throughout the world, the entire planet would drop what it was doing and get nasty.
Still angry, still relevant: Holiday In Cambodia by the Dead Kennedys. I'm still amused by the Dr. Seuss reference. Come Again by the Au Pairs – (sorry, no link) with the single most belittling line to the sensitive heterosexual male, "Is your finger aching, I can feel you hesitating?"
And it's got a great dance beat.
Adding to the humungous list of one-hit singers: M, for Pop Muzik. I file it right next to Ice, Ice Baby but it's a better song and at least M had the decency to keep his persona to a single letter.
Posted by Leigh Witchel at 10:04 AM | Comments (3) | TrackBack
December 10, 2005
Apologies
for the more sporadic posting. I'm on deadline with three articles; I'll try to get back to daily posting as quickly as I can.
Posted by Leigh Witchel at 6:44 PM | Comments (0) | TrackBack
December 6, 2005
Techno Badgers!!!
From our pals at Weebl's Stuff just in time for the holidays: A Badger
Remix!
It's a fun rave and a good satire at the same time. My favorite part is the trance-y solo near the end. You can practically see the glowsticks waving.
And Weebl's Stuff is hereby added to Ye Olde Blogrolle.
Posted by Leigh Witchel at 11:37 PM | Comments (1) | TrackBack
December 5, 2005
Press Releases for Dance
I've written them and I get them. The most pitiless fact is that when I get a release, the first thing I do is look at who's involved. If I don't see a name I recognize, the release will probably get pitched. This is not because I'm a snob. It's because I've been watching dance for more than two decades now. Just keeping up with the people I know fills my calendar. Let me know who is working on this project, and boldface the names.
If I see no names I recognize but the work is in my field of interest (ballet, particularly classical or neoclassical) I may very well go, especially if the company is from out of town, which would be a very good reason for me not to recognize the people involved.
Other things could get me to go but they're random and particular to every writer. A dance about knitting would probably not do much for other writers in New York, but I'd be interested.
It's extremely tempting early on in your career to want to explain your work thoroughly. I did my early press releases in the form of an interview, which took nerve but may have helped get me a review or two. It probably also didn't hurt that I was using good dancers and doing independent ballet, something relatively uncommon. My releases got shorter and shorter as I went on and as people became familiar with what I did. Try and keep them as pithy as possible. Invest in photography that conveys the mood of your dances. A really good picture could evoke more about what you're doing than several paragraphs and a gorgeous one can even give legitimacy. It's expensive and it sounds shallow, but the first impression a reviewer gets is your advance materials. They don't need to be embossed on vellum but a professional looking job with a good design gives you credibility.
Your release will be taken painfully literally. Don't include throwaway copy because it sounds sexy. You could get crucified. I'm pretty sure that some flights of fancy on my early releases led to a bad review or two. If you call your company "boldly innovative" you damn well better do something never seen before on stage. I've seen Dennis O'Connor pull an Evel Knievel doll out of his ass on stage; are you going to douse yourself with gasoline and light it ablaze? The danger is reviewers come in all shapes and sizes. "Boldly innovative" works that aren't may get my goat but another reviewer might loathe anything that smells even faintly of the academy. It's a crapshoot. Try and describe what you're doing accurately and briefly. Say enough so that people know what you're doing, but not enough so they can hang you with it. "An edgy quintet to modern music inspired by the poetry of St. John of the Cross." Descriptive, to the point and fair enough – but it had better be edgy.
Don't use your grantwriting materials to fashion a release. Grantmakers are trying to use their money to do charitable work for the general good; this makes them interested in the cultural and social goals of your work in a completely different way than a dance writer. Nothing will set off my bullshit detector faster than a release declaring that your work seeks to explore the otherness forced upon dancers by society's distorted views of body imagery. A press release is not the place for that kind of gobbledygook. Don't use your booking materials either, for the same reason. A dance writer is not a potential presenter.
This is labor intensive, but having more than one release would be helpful. You will probably find that there are a few reviewers you will especially target – the ones whose area of interest overlaps yours. Those people should get special treatment and a release with as little advertising language as possible. They already know what it is you do; they just want to know what the current project is, who is involved and the vital details.
There is a second level of reviewer who may never come and see your work because it isn't in his or her field of interest but you want them to recognize your name and work. The press release might not be different than for the first group, but you might want to include some other material to familiarize them with who you are. A nice postcard or a prior favorable review (one brief one, not a press kit's worth) might be a good idea.
The third group would be general listings. These releases don't go to dance writers specifically, but to people in charge of the calendar and listings sections. The pre-press this can provide is as valuable as any review. Unlike reviewers, listings people need exciting copy and especially exciting photos. If you're going trumpet your work as "slash and burn" or "reinventing dance!" this is where you do it.
Posted by Leigh Witchel at 11:51 PM | Comments (1) | TrackBack
December 4, 2005
Bold advances in audience development!
Kudos to the Royal Ballet of Flanders for targeting the most fruitful new audience for ballet: people who don't like it!
Does the Royal Ballet of Flanders only perform classical ballets?
No! We perform contemporary works as well as the classics. We want to present a range of styles which appeal to as wide an audience as possible.
What I really like is that No! to start. Maybe you could sex that baby up with "God forbid!" or "Ugh!!!!" instead.
Let's try another version of this:
Do the Mets only play baseball?
Gentle potential sportsgoer, No! Ptah! Icky icky oobly oo! We do lots of other things like fire-baton twirling and motocross as well. To present a range of styles which appeal to as wide an audience as possible, we also play football and hockey as well. Let's face it, sports is sports. They're all the same. We know you don't like baseball anyway. We don't either. We never have. Really. We know we can't get you to actually like baseball. We're not even going to try. The truth is, we're kind of ashamed we do it in the first place. Our mothers forced us before we knew better. We wish we were taller, then we could play basketball. We just do baseball because of those stupid folks who like it and for the subsidy.
The Royal Ballet of Flanders. We just call it a ballet company™.
Posted by Leigh Witchel at 12:56 PM | Comments (1) | TrackBack
December 3, 2005
Beauty Immobile
My friend (and costumer) David Quinn celebrated the one-year anniversary of his boutique with a showing of his Holiday collection at Location One.
Alas, I took no pictures but I hope he will have them on his site soon. The stuff was wonderful as usual; my favorite outfit was a trim fitted-bodice black top with a gold cobweb overshirt topping a light skirt gathered in custardy swirls. I also loved an over the top coat of ostrich feathers dyed in the colors of the collection (green, rust, white) and shot through with Lurex. An absolute show stopper, but you'd have to be 6'15" (or a pimp) to pull it off.
There's often a stereotypical hatred borne out of jealousy assumed of gay men or drag queens for women. Debs has never been a body fascist and I think that's because of his empathy with the dilemma of making feminine clothing look good on any body. He's always included plus-sized models (this year the magnificent Dirty Martini). The outfit he sent Dirty out in was audacious, with a large train wrapped at the side in a bow that emphasized and celebrated her curves.
Even though Debs has always been committed to fashion for any body, there still was irony in the show. The models were squired by an entourage of black-clad men, mostly half naked. They included several talented dancers who have danced with Mark Morris, NYCB and though it ain't in the same league, Dance as Ever. The "female" models had some men among the biological females, including the effervescent Shasta Cola in white laced top with poet sleeves and a black flapper skirt. Banu Ogan was dressed in a Victorian-inspired top that made her look like one of the Brontë sisters.
Many of the "female" models (female and otherwise) were as talented dancers as the men. But they did not dance; they couldn't. Perched on five inch heels, they walked or had champagne brought to them by the men as they relaxed on a couch. High fashion turns you into a gorgeous, living statue. Even men's suits do much the same thing, and much as I enjoy wearing them (all men look handsomer in suits) they're as constraining socially as they are to mobility. I can't bring myself to knit publicly when I'm wearing a suit; it seems as ridiculous to me as conducting business in a clown costume.
Posted by Leigh Witchel at 11:44 PM | Comments (0) | TrackBack