« December 2005 | Main | February 2006 »
January 31, 2006
When your editor calls, don't answer the phone
Because if you do, you will somehow end up agreeing to knit matching toilet paper roll covers.
You think I'm kidding.
Posted by Leigh Witchel at 1:16 PM | Comments (0) | TrackBack
January 30, 2006
You know where you stand by where you sit
I was up in the fourth ring of the State Theater on Friday night for the first time in a long while. Press tickets are given either in the orchestra or first ring and the pecking order is perceived that you're more of a Lord High Muckity-Muck if the press office gives you first ring seats. I'm not a Lord High Muckity-Muck, so I get orchestra seats but in my experience the press office at NYCB is one of the most cooperative and I'm very happy with how I've been treated.
The conventional wisdom is that you see patterns better from higher up and that's true. But there's higher up and there's way up in nosebleed country. I'm delighted the performance was almost sold out on Friday, but that meant I was in Row N, two rows from the top of the house. Fourth Ring Society discount tickets are in Rows C-O. I find row C undesirable because there's a railing that can block views from certain angles, and prefer to be around Row E. If the house is uncrowded, I will often sneak into AA or BB, the two rows that are in front of the main access aisle, as soon as the house lights go down. Faces are still discernable in the front portion of the Fourth Ring, by the back you're looking for different cues. I started my viewing up there; it's interesting what changes when you become accustomed to the Orchestra. The Fourth Ring is much kinder to dancers with nerves or tics. Stage fright or fatigue that's palpable from the Orchestra gets smoothed out over the distance. Sharply accented dancers read better than softer dancers as well. We can't see facial cues, so we're looking for those from the body.
Where you sit can change an entire dance. The Lord High Muckity-Muck seats for press at Covent Garden are in the Orchestra Stalls. Those seats have a face-on view of the stage. The other press seats are in the Stalls Circle, a horseshoe that surround the Orchestra Stalls. The farther out along the horseshoe you are, the less clear the stage. I saw La Fête Étrange for the first time from seat B36 in the Stalls Circle (relatively far out on the horseshoe, but still in full view of most of the stage) and the second time from the Orchestra Stalls. The first time the ballet seemed remote, the second time it had a subtle but definite impact. Yes, I saw different casts, but Zenaida Yanowsky in the first cast is not a dancer I've ever considered remote. The ballet was originally done on the tiny stage of the Mercury Theatre and I think it needed to be seen, if not up close, at least dead-on.
At the State Theater I've always had a preference for sitting House Right; my ideal Fourth Ring Society seats are around E2-8. It's a coincidence, but I believe that Balanchine's seat in the theater was all the way house right in the First Ring. Then again, I think his preferred place was to watch from the wings. That was something I refused to do with my own work. At some point I needed to abdicate from control of the ballet, because once the curtain went up there was nothing more I could do. So I sat in the audience, except for The New Rome in 2003. The composer, Evren Celimli, would pace nervously in the back of the house. Nervousness loves company, so I would join him to dig a furrow in the linoleum.
Posted by Leigh Witchel at 5:20 PM | Comments (0) | TrackBack
This is a cartoon about chutney
Weebl has a new, insidious cartoon up.
Mmmm. Chutney.
Posted by Leigh Witchel at 7:59 AM | Comments (2) | TrackBack
January 29, 2006
AFO
The silk purse is an AFO (Almost Finished Object, for non-knitters). It was taken off the needles a few days ago – apologies for not blogging for a bit, I needed to break a logjam in an article I have to get written.
This was an absolute pleasure to knit. There was the tactile pleasure of the silk and the kinesthetic pleasure of the pattern – slip stitch patterns require just enough thought to be interesting, but not enough to slow you down. But the biggest pleasure of all was the efficient use of the medium. I've had this yarn marinating in the stash for over a decade and a half, and when I finally used it, I feel like I made exactly the project it was meant to be. That sort of creativity satisfies me even more than creating without parameters.
You can find the chart for this in Barbara Walker's Charted Knitting Designs
.
This is the piece laid flat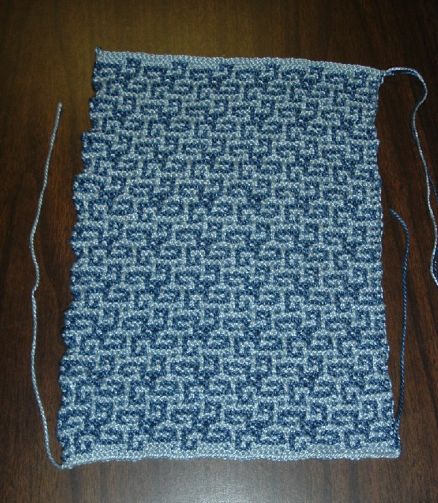 And folded into an envelope clutch.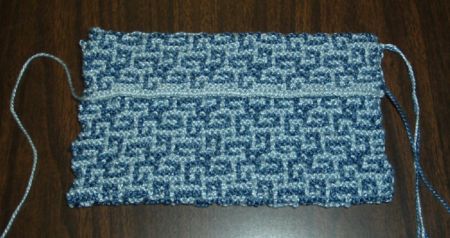 I'll line the bag and make some thicker cord from 3-4 plies of the silk as a strap and as an edging for the flap.
Posted by Leigh Witchel at 11:31 PM | Comments (1) | TrackBack
January 26, 2006
Leigh's Dance Card
All NYCB this week. Tomorrow at 8 pm, Divertimento No. 15, Firebird and Symphony in C. I'm off duty; I'm going just because I want to! On duty Sunday matinee for Sylve's debut in Firebird. Also Mother Goose and Episodes. For Danceview Times.
Posted by Leigh Witchel at 6:37 PM | Comments (0) | TrackBack
Hello, Delhi
American Airlines is having a sale to Delhi - JFK-DEL is $769, or about $840 including taxes. Other departing cities also available, but they only fly ORD-DEL. I think an even better deal would be to upgrade the fare ($500 rt + 50000 miles) so you get business class to Delhi for $1340 rt + 50000 miles, and you earn back 14,600 miles on the flight (more if you have status). Admittedly AA business class is not palatial, but for the price it's a decent deal.
Purchase your tickets on AA.com by February 11, 2006 for outbound travel from April 1 through May 15, 2006. Return travel must be complete by May 31, 2006.
Posted by Leigh Witchel at 6:30 PM | Comments (0) | TrackBack
January 25, 2006
Public Service Announcement
Have you had your eyes examined lately?
Because mine had been relatively unchanged and frankly because it's not part of my insurance plan, I skipped a year.
I went back to my doctor in September of last year, who noticed my pressure scores had been slowly creeping up. The pressure test is the one everyone loathes where a machine blows a small puff of air at your eye. It isn't painful but it's like waiting for someone to throw a pie at your face. My readings from a few years ago were between 14 and 16; they were creeping up to 19 and 20 - just below a risk for glaucoma. He sent me a letter a short while later asking me to come back in three months just for the pressure test and kindly kept the price for a single test to $10.00. The results had shot up again to 22 and 25. He referred me to Dr. Roy Cohen, an optometrist who specializes in glaucoma for a full workup.
I took a battery of tests over the course of an hour. None were awful, but you don't easily get accustomed to someone touching your eyeball, however gently. The worst test is a field analysis test, which lasts 30 minutes. You sit with your head enclosed around a screen where very faint dots of light are projected and press a button each time you see one. It isn't remotely painful, but it is boring beyond belief and after a few minutes you aren't sure if you're seeing lights or your optic nerve is just firing from the fatigue.
Happily, the tests so far are normal but I'm at risk for glaucoma and need have frequent exams to make sure things don't deteriorate. The reason I'm mentioning this publicly is that there were no symptoms. No change in vision. No headaches. Not even a family history of it. Nothing. The only way to detect this at an early stage is with an eye exam. So go, please. Glaucoma causes blindness if untreated.
Better people than I have ranted about the availability of health care in the United States, so consider this sentence the obligatory rant. If you can't afford an eye examination, there are organizations that will screen for glaucoma for free.
We now return you to our regularly scheduled blogging.
Posted by Leigh Witchel at 6:25 PM | Comments (0) | TrackBack
January 24, 2006
Hotel Reward Programs for those who aren't frequent travelers
Here's a comparative look at the major U.S. hotel reward programs for those who won't earn most of their points by hotel stays.
This chart looks at the possible points earning from affiliated credit cards and compares them to the price of a sample award stay and conversion to airline miles. It doesn't tell the whole story, especially if you do travel frequently. Hyatt, an excellent chain, is not included. Why? No affiliate credit card.
If you want points for airline miles, nobody beats Starwood, but Hilton's card if used judiciously for the 5 point per dollar purchases runs a decent second. With no annual fee and an initial sign up offer, it is an alternative or augmentation to consider.
Hotel stays are more complex. The chosen example isn't fair to Radisson; they have one hotel in NYC that costs double their usual award level for the US. For St. Petersburg, Russia, however, the only choices are Marriott at 20,000 points per night and Radisson at 30,000 - but Goldpoints can be earned via credit card usage three times as quickly.
Each program has its advantages with initial bonuses, desired destinations and earnings partners. To get the clearest picture of the best program for your goals, run the numbers for your desired situation and destination.
The table is more clear at this link.

Hotel Rewards at a glance
Hilton
Marriott
Radisson
Starwood
ICHotels
Points earned per $ with hotel stay
10 + either airline miles or 5 bonus points
10 (5 at some properties)
10
2 or 3 with status
10

Points earned per $ with affiliated credit card use
3 (5 at Hilton purchases & grocery stores, restaurants, gas stations)
1
3
1
1

Usual conversion of 10000 points to airline miles (check for exceptions)
1500
1500-2000
1250
10000
2500

# of airline conversion partners
30
25
11
32
36

Amount of points needed for 1 night in NYC
30-40000
30-35000
60000
10000 (Sheraton) - 25000 (St. Regis)
20-30000

Cost for points for 1 night in NYC from stays (if using affiliated card)
$1,500-$2,666
$2,727-$3,181
$4,615
$2,500 - $6,250
$1,818-$2,727

From CC usage
$8,000-13,333
$30-35,000
$20,000
$10,000-$25,000
$20-30,000

Cost for 10000 miles from stays (if using card)
$3,333
$6,060
$6,153
$2,500
$3,636

From CC usage
$13,333-$20,000
$66,666
$26,666.66
$10,000
$40,000

Standard Initial Sign up bonus for credit card (as of January 24, 2006) - always check for special offers!
10,000 (Amex or Visa)
15,000 and a free night certificate (category 1-4)
20,000
0 for purchase, up to 6,000 for stays
15,000 initial + $20 credit on statement, 10,000 bonus for charging $15,000 annually

Online shopping portal?
No
Yes
Yes
No
Yes
Non-travel partners
Several including mypoints and e-rewards
Yes
Yes
Few
Yes

Other notes
40% off "Point Stretcher" rewards to selected hotels (which aren't going to be the most popular ones)
The Scandic chain of hotels is a particular bargain at 10,000 points/night all over Northern Europe.
Amount of points per night drops with each add'l night
3 tiers of awards, point saver, standard and stay anytime
Two tiers of awards, Standard & Flex awards, which usually are double
No blackout dates
various discounts including reduced weekend redemption rates in categories 1-2 and 5th night free in categories 3 and up
Redemption options include paying with combined cash & points at participating hotels.
5,000 point bonus for every 20,000 Starpoints transferred to an airline.
Points required for redemption standardized by brand, with higher levels for "special destinations"


Posted by Leigh Witchel at 6:03 PM | Comments (1) | TrackBack
January 23, 2006
Shopping and Dining with Mom
I took Mom to Costco yesterday. She's getting older and trips that involve bulky objects and lifting are tons easier with my help than without. I think we got most of the things she wanted and I went shopping myself at Costco for the very first time.
We'll start with what I put back: a two pound jar of herring bits in wine and one pound of vacuum packed baked smoke salmon. I ended up buying two loaves of baked-in-store bread, one loaf of Eli's Bread, a pineapple and a three pound bag of salad. Dole Classic Iceberg.
"How can you eat that?" Mom asked. Yeah, I know, but it is so convenient when you're (perennially) late for work and trying to pack lunch. The house Italian loaf is labeled Artisan, which is pushing things. Real Italian or French bread has a specific crust and crumb, this tasted like stuff you can produce with supermarket flour in a home oven. Pleasant enough, but I got suckered by the smell. I know from both friends and family that Costco is all about the high quality of their meats, but I would have been carrying them around for several hours before getting back to New York City.
When I take Mom out for dinner, we have Chinese food. Always. Mom is nothing if not maddeningly consistent. The living room of the house I grew up in is much the same as when we moved there when I was four. Only more dilapidated, like Miss Havisham's parlor.
Mom likes to go to a cheap buffet in New Rochelle. Lots of mediocre food, lots of choices, a vast plastic expanse with steam tables, huge television sets and obese people piling French fries onto their plates. All for only $11.95 and there's a senior discount. Mom trained me well with cheap genes; I regard all-you-can-eat as a challenge and an obligation to be unprofitable to the restaurant. So I don't like it much there. We went before Thanksgiving a month later on her birthday. I suggested that I would like to go elsewhere the next time.
Central Seafood (formerly Hartsdale Garden) is right opposite where Mom used to work. The place is a large Chinese restaurant in the old style; gumball machines for the Kiwanis club in the entry along with aquariums with overgrown fish and inert lobsters. However, the food isn't from Column A and Column B.
Most of the one-from-column-A restaurants from my childhood are gone, but there's still one in Mamaroneck, Tung Hoy. When I was a child it was in an immense (from a five year old's perspective) room in a shopping center bordering on Larchmont. I always got the wonton soup. I still love wonton soup, red tinged pork and all. Tung Hoy moved down the road from its original location to the former site of China Lion, yet another Chinese Restaurant. With Mom, I've eaten in them all but oddly enough, not one of the most ubiquitous in Mamaroneck, Lum Yen. We went back to Tung Hoy about two years ago. It was dreadful. Sticky, pasty dumplings and cold food. And it was mobbed. Maybe this explains the mysteries behind force of habit.
We've gone to Central Seafood about three times. Each time, one dish has been an unexpected surprise and the other a disappointment. Fish dishes there have been wonderful. Last time we had halibut in black bean and garlic, this time flounder sautéed with vegetables served on top of the deep fried flounder carcass. I didn't realize that was edible, but it was dramatic. The fish is top quality and prepared sensitively. We also ordered MaPo Tofu, which was made with silken tofu and insipid because of it. On Chowhound, someone mentions that the restaurant excels at uncommon dishes and falters at the Cantonese hit parade. That seems about right.
When we first came in the table next to ours was occupied by a couple. The gentleman was Chinese, and spread out in front of both of them were at least four main courses. I think he was having a do-it-yourself Chinese New Year banquet. Once they left with a bag of leftovers, another couple came in and things went from aficionado to tyro. The man quizzed the waiter for his recommendation on exactly which was the best Lo Mein. The waiter didn't get the subtlety of the request and just shrugged. I hear the Chop Suey is great, too.
Prices are slightly more expensive than in New York; a meal for two will run around $23 per person including tax and tip. The restaurant was named Best Chinese Restaurant in Westchester last year. If you need to take your Mom out for Chinese in Westchester, go there but don't order the standards.
Posted by Leigh Witchel at 5:47 PM | Comments (0) | TrackBack
January 22, 2006
Just call me Cassandra
Via pmeja at Ballet Talk, Molly Glentzer speaks about Stanton Welch's Brave New Houston Ballet:


Five years from now, will traditional classical ballet exist in Houston? Maybe not, if Houston Ballet continues on the neoclassical arc artistic director Stanton Welch has set.

. . .

The requisite story ballets by Ben Stevenson and Welch "provide the full spectrum of drama, from tongue-in-cheek horror (Dracula) to tragedy (Madame Butterfly) to comedy (Coppélia)," Welch says. He says Dracula is one of the company's most-requested productions.

While these works may be box-office hits, purists may note that they are not, in the strict sense, artistically demanding classics. Welch says he built the season around the story ballets, although "there isn't a huge vocabulary from which to pick."
Five years from now, when the company tries to do The Sleeping Beauty again (only for ticket sales, of course) and they discover they can't get through it, maybe they'll realize that classical repertory and training aren't something you can keep in a cookie jar up on a shelf and only take down when needed.
Posted by Leigh Witchel at 11:55 AM | Comments (1) | TrackBack
January 21, 2006
The best thing to put on sliced bread
I had brunch today with a friend from American Ballet Theatre. Though no blood curdling news was exchanged, it was still dishy enough to remain unreported (I love my friend. I usually get one story I can dine on for a few weeks per meal.)
What is reportable is where we went for brunch - Le Pain Quotidien. There are several in the city; this one is on 19th Street off of Broadway in the building adjacent to ABC Carpets.
Le Pain Quotidien is expensive (our breakfast was $16 per person for not that generous a meal) and the service was friendly but not careful. The waitstaff didn't check frequently for empty water glasses and a request for a refill took a long time. When we asked for spoons, the waitress apologized and said they were low on spoons and would get one as soon as they had some. We smiled, and then my dishy pal said to me as soon as she was out of earshot. "I don't care. Not my problem. You don't have spoons, go and wash some." When the spoons finally came several minutes later, at least my pal's was clean.
We shared their bread basket, two side orders of ham and gruyere cheese and each had a hot chocolate. The hot chocolate is quite good; hot steamed milk served in a French cafe au lait bowl with a small pitcher of chocolate syrup on the side. The assortment of breads are very good (though skimpy on butter) and the cheese and ham plates are fairly priced for the good quality of the ingredients.
It was a mixed experience, but the most fabulous thing there was the "Brunette", a Belgian praline spread that is what prompts this blog entry. It's incredible stuff, a paste the color of tahini with a smooth hazelnut taste that makes Nutella seem juvenile. It's available for sale for those who don't want to chance a meal. I should have bought a jar on the way out, but alas, I forgot.
Posted by Leigh Witchel at 11:58 AM | Comments (2) | TrackBack
January 19, 2006
Shopping around for the best mileage award (Part III)
In the first two sections I've talked about ways of strategizing which award to shoot for when earning miles. How to earn the miles is a huge separate topic; I'll give some basics here on where to start.
The self evident way to earn frequent flyer miles is to fly frequently. If you earn miles "butt in seat" and find yourself flying often, then your choice of what program to belong to ought to be predicated less on raw mileage earnings and more on status. British Airways program sucks for mileage earning in economy, but if you're flying BA often enough to move a few tiers up and earn the upgrades, stay with them for the perks. Smarter Travel just published an interesting discussion of elite strategies.
Rewards currencies are a massive industry and a game everyone – not just business travelers – plays. I did not fly one single mile of the 60,000 I used to purchase my ticket to St. Petersburg. It came primarily from Priceline bidding.
You can do this too. A great first stop is Gary Steiger's Free Frequent Flyer Miles. I've gotten plenty of tips there.
One of the best non-flying mileage earning opportunities is a credit card that offers miles or another reward. Free Frequent Flyer Miles discusses these in great detail, as does Gary Leff's blog View from the Wing. Leff discusses several mileage cards and explains the advantages of each from several perspectives, including that of a business traveler where perks I wouldn't care about, like the ability to buy companion business fares, have more weight.
What do I think the best mileage card is? I agree with Leff; the Starwood American Express because it is by far the most versatile. Starwood points are convertible at a 1:1 rate into over twenty other airlines, including Asia Miles, with a few notable exceptions. The most unfortunate is United at 2:1, as is Varig, but other Star Alliance partners like Asiana are 1:1. Of the Oneworld airlines, soon-to-be member JAL is 3:2, and LANPass is 1:2, which takes into account the difference between kilometers and miles with a slight advantage. Starwood points are valuable on their own for hotel stays (I used mine for a very good cash and points deal at the Sheraton at Iguazu Falls). They have great rewards including Nights and Flights, where 60,000 or 70,000 Starpoints gets you five nights in a hotel (28,000 or 40,000 miles) and 50,000 airline miles – that's a bonus of 8,000 or 10,000 points over doing the two separately. If you opt just to transfer points to miles, for every 20,000 Starpoints transferred another 5,000 points is added, another major perk. The card also has the advantages (better service, especially when something goes wrong while traveling) and disadvantages (less universal acceptance, some higher fees) of being an American Express card. Annual fee is $30 after the first year; there's a signup bonus of 4,000 Starpoints after the first purchase and you'll have gold status in Starwood as long as you hold the card. Starwood has far fewer earnings partners than other rewards programs, so you're probably going to earn the bulk of your Starpoints at Starwood hotels (3 Starpoints per dollar as a Gold member) or through credit card purchases. It would take $20,000 of spending to earn 25,000 Asia Miles, or $6,250 of hotel stays if you charged them to the card as well. After giving you a zillion resons why they're the best card, I'll confess I'm doing almost no spending on it at present. Mine is all on Goldpoints because I'm targeting a Radisson hotel stay.
Another hotel rewards currency that can convert to miles is ICHotel Groups' (Holiday Inn, et al) Priority Club. The conversion rate is much less advantageous than Starwood (4:1 in 10,000 point increments) but it's also to a large amount of airlines including Asia Miles and LAN – but it looks like LAN is 10000 points to 2500 kms – which is pretty dreadful. However, hotel stays earn 10 points per dollar as opposed to Starwood's 2 or 3, so earnings from stays convert at a more comparable rate to Starpoints. The credit card linked to Priority club is a Visa with no annual fee and a 15,000 point sign up bonus – though I have received a 30,000 offer via surface mail. It would take $100,000 of credit card spending to earn 25,000 Asia Miles or $9,091 in hotel stays if you charged them to the card.
Goldpoints are a more complicated story – read Gary Steiger's explanation at Free Frequent Flyer Miles. There are two different Goldpoints, believe it or not; Goldpoints Plus issued by Radisson and plain ol' Goldpoints. Goldpoints Plus has a better conversion rate 8:1 to 11 airlines (including Asia Miles) than Goldpoints, which redeem at 10:1 only on Northwest, US Airways and Delta. So join through Radisson. But I needed to convert AAdvantage miles to Goldpoints via points.com, and the Radisson program cards don't participate. So I ended up opening a second non-Radisson account solely for that purpose (Goldpoints will let you combine accounts) Credit card earners earn 3 Goldpoints per dollar; it is a Visa with no annual fee and a 20,000 point sign up bonus for a limited time. Hotel stays earn 10 points per dollar and there is a 1,000 point bonus for booking online. It would take $66,666.66 (spending of the Beast!) to earn 25,000 Asia Miles or $15,385 in hotel stays if you charged them to the card. However, Goldpoints has a very generous online shopping portal. If you intend to buy flowers online, FTD and the Flower Club earn 100 points per dollar there. Two thousand bucks worth of flowers will get you 25,000 Asia Miles, but hell, it will also get you close to six night's hotel at the Radisson SAS Royal in St. Petersburg, which has a retail value of well over $1,500 in high season.
Priority Club and Goldpoints give you flexibility in use (and Amex isn't accepted everywhere) but at a cost. If you know you're targeting United for a trip to Australia, it makes the most sense to get a United Visa, especially with its large sign up bonus.
So decide where you want to go. Barcelona? Kyoto? (I've tipped my hand to two on my list!) and then decide which airline award is most advantageous to get there. That depends as much on routings as on cheap award levels; I'd love to fly to Kangerlussuaq, but it's not happening via a Oneworld reward. I better start saving up SAS Eurobonus points.
The most advantageous award also might not have the lowest cost award. If United's award is 5,000 more than another carrier, but you'd have more earnings opportunities – credit card and telephone service signup bonuses as well as flights – for United, then target United. Keep your ear to the ground for specials as well. Continental recently ran a sale on award tickets to China; economy to Beijing was only 30,000 miles. There are earning speciasl as well. If you're flying from San Francisco to Asia, Cathay Pacific is currently offering double miles on selected routes. Check the program's website for special offers as well as Free Frequent Flyer Miles, Smarter Travel and View From the Wing.
For day to day credit card expenditures try one of the convertible hotel programs. There's also Hilton and Amex's Membership Rewards, but Hilton's rate for transfers is 20:3; and conversion opportunities at both Hilton and Amex have been dwindling.
Finally, be careful with credit cards. If you can't pay off your balance every month, these strategies cost a whole lot more.
I've worked with Asia Miles already. Their service is quite satisfactory. A toll free US number links you to their 24 hour service center in Hong Kong. Occasionally I have a small language difficulty with the representatives. They have access to the same award inventory as every other partner airline, but when reserving this flight I was not able to get my flights on the first call; they could not find availability. Running a dummy award on British Airway's site told me what flights were actually available. I copied that information down, gave it to the representative at Asia Miles and there were no further problems. The biggest downside with Asia Miles is that their miles expire after three years. Period. No extensions for activity as with most US programs. So don't convert other currencies to Asia Miles unless you are certain you will use them within three years but in plenty of time to get the award you want. I used a few Starpoints to top off my Asia Miles account; it took a little over two weeks for my account to be credited.
LANPoints expire after three years, but are extendable only if you fly LAN. So if you're considering a trip or two to Central or South America, it may make sense to join considering their signup bonuses and that activity extends the shelf life of their miles. I am not a member so you're venturing into uncharted territory regarding partner award availability.
Posted by Leigh Witchel at 10:06 PM | Comments (1) | TrackBack
January 18, 2006
Shopping around for the best mileage award (Part II)
Distances versus zones
Distances don't always work your way. Most domestic awards in the U.S. would cost more from Asia Miles than from American. A ticket from New York to San Francisco (which just breaks into the C award zone of 2,501-5,000 miles) costs the same as a ticket to St. Petersburg.
A distance based reward might be more advantageous than a zone based award if you're working from a gateway city at the edges of the US traveling in the same direction. The magic number for business class awards on Asia Miles is less than 5,000 miles one way. More than 5,000 miles and they jump from 60,000 to 100,000 miles.
Most gateways from the eastern seaboard are less than that distance to most of Europe, though it's dicier the farther south you go. Going from Miami to the lower part of South America from (Buenos Aires, Santiago or Rio) an award that will cost you 90,000 miles on AA will cost 60,000 Asia Miles. There's no advantage over AA's own reward structure as far south as Peru. From New York, Rio de Janeiro is only 60,000 Asia Miles in business (flown on AA) but Buenos Aires is 100,000.
Travelers in Vancouver and Seattle can get to Tokyo or Seoul. L.A. might work for Papeete, Tahiti. Honolulu is only 45,000 Asia Miles in business class from San Francisco; it would be 75,000 on American or as low as 60,000 miles on Alaskan.
The monkey wrench I thought I was going to throw in here isn't turning out to be as good a savings as I had hoped. LANPass is also distance based, but instead of earning miles you earn kilometers. LAN also has different zone dividers than Asia Miles. Just to add to the confusion, the LAN chart is based on round trip distances; Asia Miles' is based on one way. The awards jump at 6,500 and 20,000 kms total in business class and 10,000 kms in economy. 20,000 kms is farther than Asia Miles' equivalent zone (6,214 miles one way rather than 5,000) but the 140,000 kms needed is about 85,000 miles if you earned them flying. Not much of a savings. However, non flying mileage partners such as credit cards usually value LANPass kilometers at 2 per mile, so if you're earning them from those sources rather than flying, it's as low as 70,000 miles.
There are also a few weird situations where LANPass would be a savings. Boston to Dublin is under 10,000 kms round trip, making economy on AA or Aer Lingus cheaper on LANPass (65,000 kms or between 32,500 and 40,400 miles depending on how you earned them). Trips in business class from Miami to Central America might also be a savings. LANPass is worth keeping in mind, especially as there are a few bonuses for new members that might make it worthwhile if you're contemplating flying LAN for the first time anyway.
I also checked Star Alliance to see if there's an equivalent situation. The only distance based awards I found were on Asiana, and there's some savings (JFK-LHR would be 75,000 Asiana miles as opposed to 80,000 on United) but it isn't that great.
[Update 2-7-06: There is another distance based carrier on Star Alliance - ANA. The magic number for ANA is a business class award for less than 8,000 miles total distance. That's as far as JFK-Berlin, and it's only 65,000 miles. I don't think that works for any transpacific flights.
How do you get these miles? Stay tuned.
Posted by Leigh Witchel at 7:45 PM | Comments (0) | TrackBack
January 17, 2006
Really cheap fares to Osaka on United
New York to Osaka for $486 roundtrip including taxes. Other cities as well. Book by January 24, travel outbound by March 31, seven day advance purchase, six nights minimum stay. Travel by January 31 and get 5,000 bonus miles.
I'm not even going to pretend this year that I have time to do this myself, but if anyone goes, send me a postcard from Kyoto!
Posted by Leigh Witchel at 7:33 PM | Comments (0) | TrackBack
Shopping around for the best mileage award (Part I)
Not all airline awards are created equal. You may already know that each airline has a different pricing structure for awards with some awards being more of a bargain (for instance, United to Australia) compared to other programs.
So if you have a special destination in mind, start by shopping around; you may find a program that lets you reach your goal faster.
You can also take advantage of airline alliances. These are groups of airlines banded together to offer greater coverage. United, Air Canada, Singapore and a several others are part of Star Alliance; American Airlines, British Airways, Cathay Pacific, Aer Lingus, Iberia, Finnair, Qantas and LAN are part of Oneworld. I mostly fly American, so I know the Oneworld partnership better. If you are a member of an alliance member's frequent flyer program, you have some privileges throughout the alliance and can earn miles in your own program flying on other alliance members subject to restrictions provided by your own carrier. For example, some fares on Iberia don't earn miles on American. Acquiring miles and program choices will be discussed later. The important aspect of alliance partnerships in this discussion is the ability to redeem awards on other alliance carriers. Here are some ways to make the most alliance partnerships.
If you've been following my Russia saga, you may know by now that a business class ticket on British Airways to Europe from the East Coast is cheaper purchased via Asia Miles than via British Airways itself. That's because Asia Miles (the rewards program associated with Cathay Pacific) sets rewards by distance rather than zones. In specific circumstances you can use this to your advantage.
You need to know the distance you'll be flying. Webflyer's MileMarker is a good simple tool.
New York to St. Petersburg is approximately 4750 mi/7650 km one way and 9500 mi/15300 kms round trip. Oneworld offers two methods to get there, British Airways via London or Finnair via Helsinki. American Airlines and British Airways price this by zone. For a partner award (American doesn't fly to St. Petersburg itself) American charges 60, 90 or 125 thousand miles in Economy, Business and First Class. That's less than British Airways charges for the same award on its own airline: 65, 97.5, 130 and 195 thousand miles. The 97.5 is for a premium economy class BA has that AA doesn't, but AA will charge you less for business class on BA than BA will charge you for premium economy.
Asia Miles charges by distance; anything 2500-5000 miles is 45, 60 or 90 thousand miles. Their website also has a very useful award calculator. So that same BA business class ticket I just redeemed with 60,000 Asia Miles would have cost 90,000 AA miles or 130,000 BA miles. Big savings, but it depends on the distance. New York to Moscow is just over the 5,000 mile mark, and while it costs the same as a ticket to St. Petersburg on both AA and BA, there's a big jump at Asia Miles. A business class ticket is 100,000 miles; more than on AA, though less than BA.
We'll throw another monkey wrench into the works next post!
Posted by Leigh Witchel at 3:18 AM | Comments (0) | TrackBack
January 16, 2006
Dance Linkage
Via my friend Lynette from London, Trooping drag ballet in Iraq. As she succinctly put it, "No, really."
I'm also going to drop in here an article from the UK periodical Prospect that she emailed me months ago and I've been meaning to read more carefully to discuss but before it can no longer be read for free on the site, I'll link to it. The magazine looks erudite and wildly eclectic; this article is by Michael Coveney on the current marginalisation of theater criticism in England. He drops a few bombshells in there.
If you haven't been to Marc Haegeman's For Ballet Lovers Only, drop by. The most recent photo gallery, Light, Colour and Movement is just lovely. I knew Marc first via his photos (and his appreciation for Belgian beer coupled with a loathing of his native cuisine), but he also does interviews and reviews specializing in Russian ballet. A good reason for me to pump him for all he knows before I go.
My favorite story involving Marc and myself is only tangentially about either of us. Marc, his friend Viviane and I were all walking towards the train station in Bruges on a beautiful night about two years ago. A couple came past us on a tree-lined path, speaking in what sounded like a Hispanic tongue to me. I turned to Marc and asked him what language they were speaking. He stopped to listen for a while, then said it was certainly none he knew - he is a native Flemish speaker and is fluent in several other languages. Viviane burst out laughing, and then said what they were saying to Marc in Flemish. "They're speaking Flemish, but it's the local dialect and you can't understand them!" Marc lives in the next large city only about half an hour's drive away. This story wouldn't surpise anyone from England, where accents can change in a few miles, but it takes a lot more distance for that to happen in the U.S.
Posted by Leigh Witchel at 8:03 PM | Comments (0) | TrackBack
January 15, 2006
Latest Dance Article
For Danceview Times - Ashley Bouder and Sofiane Sylve's debuts in Peter Martins' Swan Lake at NYCB. New Swans:
As Odile, [Sylve's] technique was as dangerous as black ice.

. . .

[Bouder's] first lakeside scene seemed restrained and calculated at the opening from the effort to do justice to it but soon her back sang. Like other swans who aren't all leg, that's where she will find the role.

. . .

Adam Hendrickson has always been that oxymoron, a tasteful and intelligent jester.
There was a third debut, 20 year old Sara Mearns was plucked from the corps. Tom Phillips covers that, go and read.
Posted by Leigh Witchel at 11:08 PM | Comments (0) | TrackBack
January 14, 2006
Current knitting progress
The silk purse is up to four repeats. My guess is it will be about 10 total. Silk doesn't always feel wonderful to knit, but this does. It's soft and crushable with give. If silk wasn't available or prohibitive, my guess is that this project would work well in perle cotton.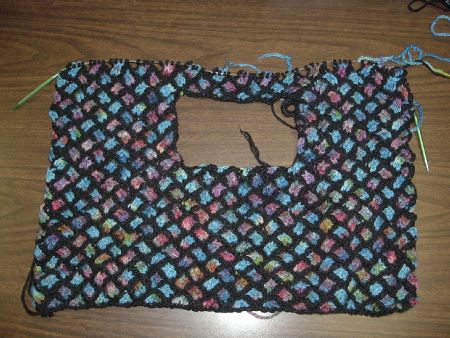 The Fair Isle entrelac yoke is past the neckhole. I'll work my way down the back, then fold it over and pick up a circular tube for the body.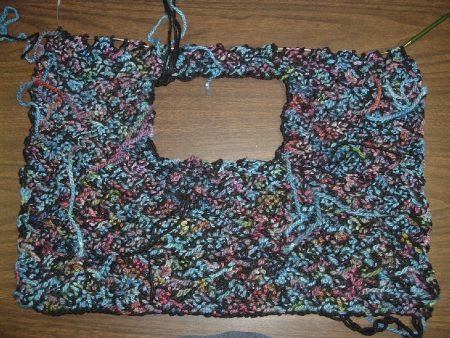 The awful truth. This is what the back looks like.
Posted by Leigh Witchel at 5:42 PM | Comments (0) | TrackBack
January 13, 2006
Malai Murgh
I made this to get rid of some coconut milk and ground almonds that were taking up space in the freezer along with chicken breasts. It's really delicious. I associate coconut milk with Thai curries; this has a different, richer taste.
I've adapted the recipe from Julie Sahni's Classic Indian Cooking
. She uses more chicken (with bones) and no potatoes. I served it with a rice pilaf and greens (frozen spinach and kale) with corn.
Chicken in creamed coconut sauce
(Serves about 4)
One large (about 1 lb) boneless chicken breast
Two medium potatoes, peeled
3T oil (I used corn)
1 medium onion, finely chopped
4 tsp garlic, finely chopped
1 2"x1" piece fresh ginger, peeled and finely chopped
8 green or white cardamon pods
12 whole cloves
1 3-inch cinnamon stick
2 tsp blanched almonds, pulverized
1 cup canned coconut milk
1/4 tsp turmeric
1/2 tsp cayenne pepper or more to taste (I used closer to 3/4, which gives the dish an interesting creamy burn)
2 tsp salt (she recommends kosher salt and so do I)
1/4 cup heavy cream (I used sour cream)
2 tbsps finely chopped fresh cilantro
Cut the chicken breast in half lengthwise, then into 3/4 inch thick slices. Peel and cut the potatoes in the same shape.
In a heavy-bottomed pan large enough to hold the chicken in a single layer sauté at medium heat the onions, garlic and ginger in the oil until the onions are translucent. Add the cardamom, cloves and cinnamon and cook until the spices are slightly puffed. Add the ground almonds and cook stirring rapidly for an additional 2 minutes. Add the chicken and cook until it is no longer pink, but do not let it brown. (I covered it to sweat it, turning the pieces once after about two minutes, which works.) The chicken should remain as white as possible. Add potatoes and cook for about another minute more. Add coconut milk, turmeric, cayenne pepper and salt and bring to a boil. Reduce heat, cover and simmer until the chicken pieces and potatoes cook through. Check and stir occasionally to prevent the sauce from burning. Add the cream off the heat. Let the dish rest, covered, for at least one hour before serving. Reheat when ready to serve, folding in cilantro.
Posted by Leigh Witchel at 12:26 AM | Comments (1) | TrackBack
January 12, 2006
Current Knitting - Silk Mosaic Purse
The neckwarmer is an AFO (almost finished object)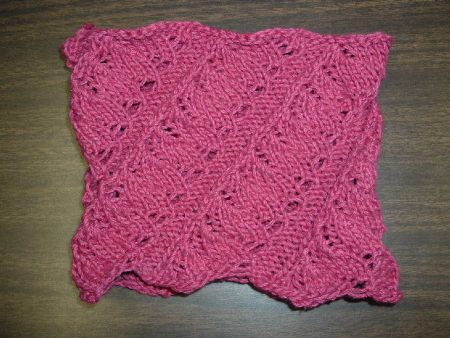 It needs the ends darned in and strenuous blocking; it's quite tight. I think I have enough yarn to make another but the next one will be one repeat larger in circumference. I like the lace pattern very much. It's easy to work (it would have been a heck of a lot easier to work had I just done all yarn-overs!) and interesting as it's based on stockinette not garter, but every row is still a pattern row. Most lace patterns in stockinette stitch have pattern rows alternated by a plain one, usually just purling back after the pattern row.
I cast on a new project on Saturday. I bought two remnant cones of silk way back around 1990 at a place called Yarn Blenders long gone from 46th Street. It was in an office on the second floor of a small building and sold, true to its name, novelty mixtures of various yarns stranded together as well as some remnants like these. The yarn is a cultured silk called "Sumatra" in two shades of blue. It glows beautifully and I wanted to find a way to show off the two tones.
I had never tried mosaic knitting, Barbara Walker's elaborations of slip-stitch colorwork. I thought it would be perfect for a purse. It's based on garter stitch so it produces a stable and flat fabric. In the luminous silk, the little pearls of garter stitch could be like bead knitting without needing beads.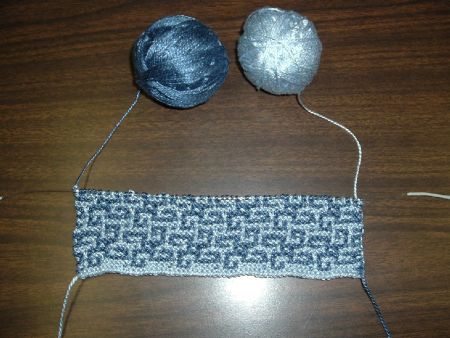 It's been a great project so far, the perfect balance of simplicity and complexity. Mosaic knitting, like Fair Isle, spurs you on by constant small changes so that you keep knitting to see them but the knitting itself takes less attention.
This pattern is called Curled Cross. Walker's charts are simple to read, though I translate them to counts in my head - knit 3, slip 1, knit 5, slip 1 etc. One thing to remember: the patterns look boldly graphic as black and white charts. In order to get that feeling, you need to use very dark and very light yarn at a heavy gauge. I'm knitting on a US 3, at this gauge a pale blue and a deeper blue in a single stitch pattern don't really pop; it's more of a subtle visual motion.
I'm planning on a simple envelope purse and will save enough silk to make a multicolored cording. I'll ask the Mom-o-rama if she has some silk fabric for a lining.
Posted by Leigh Witchel at 12:21 AM | Comments (1) | TrackBack
January 11, 2006
To the IRS:
I would like to commend the security guards at your Midtown Manhattan branch for preventing me from entering your building to get 1099-MISC forms today [January 10, 2006] because I had in my possession a fork.
This fork, with its five metal tines dangerously blunt, looked like a common lunch fork. Most people might have mistaken it for that. But sharp-eyed security guards and Jewish mothers know, "You can put an eye out with one of those things!" Who knows what havoc I could have wreaked with that seemingly ordinary fork? I had been in two banks prior to attempting to enter the IRS building and amazingly enough the tellers did not object to my fork, even though I might have robbed either of them with it.
I asked the security guard if he would let me leave the fork and go up and get the forms, but bravely, he would have none of that. He knew the rules. The Fork Must Stay Outside the Building. Chastened and banished, I left, but the building remained fork-free and safe.
Your guards are admirably vigilant in protecting the Internal Revenue Service from potentially dangerous lunches (though were that the case, I'm amazed they missed the beans I was going to eat with that fork) but would it be at all possible to inject a bit of common sense in your otherwise understandable desire for safety?

Very truly yours,

Leigh A. Witchel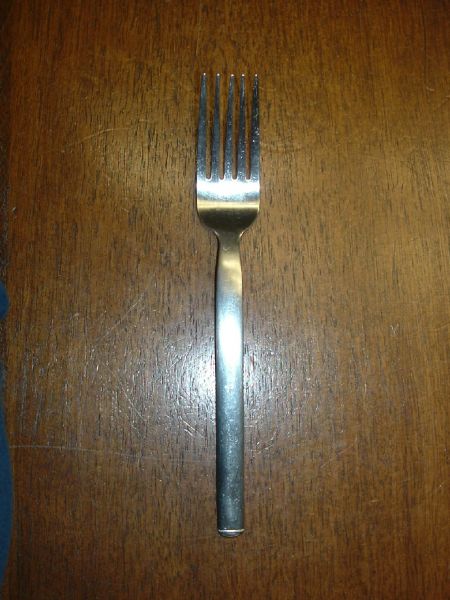 DANGER! FORK OF MASS DESTRUCTION!!!1!
Posted by Leigh Witchel at 12:05 AM | Comments (5) | TrackBack
January 10, 2006
In training

My reading and viewing list in preparation for Saint Petersburg:

This is my first HTML table for the blog, so please be kind.
Guidebooks

Language

Culture

Prima Ballerina Assoluta

I'm starting with Solomon Volkov's book (he also wrote the wonderful Balanchine's Tchaikovsky
). I haven't yet gotten Russian Ark or Natasha's Dance yet. If you've got something else to recommend, please do.
And about all the Amazon.com linkage - please don't feel any need to use it, but if you decide you want one of these books and you get it via Amazon - it's appreciated!
Posted by Leigh Witchel at 1:00 AM | Comments (0) | TrackBack
January 9, 2006
What gets cut, Chapter 2
From yesterday's DVT review, there were two sentences cut from the end of the penultimate paragraph:
It was delightful, but it's actually wrong for the ballet. Still, if we could only all be wrong like Ashley Bouder. . .
They were cut after consultation with the editor, but she did not cut them. I did.
The first review I ever did of NYCB for Danceview Times was assigned to me literally on the plane. I was on a flight from Brussels taxiing to the gate at JFK when Alexandra asked me to cover a performance a few days later. I agreed to it and didn't think much of it until I took my seat in the theater. I knew the program (their "Viennese" evening) but hadn't checked the casting. Who was leading the first ballet out?
"Oh Christ. I don't want to review her." I'd just made a ballet on her the year before. How could I review her? Worse still, I thought she was miscast in the role.
Alexandra Ansanelli nailed everything in the sixth variation and her pas de deux too, especially her rapid footwork and fast, accurate turns. Her impressive strength in that delicate body is always surprising. She isn't yet a natural choice for the role; Ansanelli is the ingénue of the company right now, and the central ballerina role in Divert is a figure of quiet authority. It's not just that the variation is faster and harder and it's not just that she's at the center of every design. She presides over the dance, and Ansanelli tends to dance in her own magical world. She's an enchanted princess in a queen bee role. The performances are investments for later; she'll gain the authority needed with time.
It took me several shots to write that paragraph, and it's not one of my best. I can see the contortions in it; if I didn't know her I might have written "Ansanelli performed well in a role she isn't suited for" and have been done with it. For the audience that's the better sentence because it reflects their point of view. They don't know Ansanelli. But at the time I couldn't write it. Ironically enough, I think she did the role again just recently for Farrell's company at the Kennedy Center honors telecast; I didn't get to see it and find out if my predictions were correct.
I haven't known Bouder as intimately as Ansanelli; I've seen her grow up from a distance. I first saw her dance at CPYB a decade ago. When I participated in Choreoplan there in 1999; I had first pick of dancers. I was planning an ensemble piece; the first thing I said was that I did not want Ashley; that she should go to someone who could give her a leading role.
Later that year she came to SAB. She danced with the school at some NYCB performances in Christopher Wheeldon's Scènes de Ballets as part of a group of five.
She did the lead in Stars and Stripes at the SAB Workshop Performance the following year. When I saw her dance at CPYB she was an amazing technician, but never seemed to smile. It could have just been my luck on what performances I saw, but the girl in the workshop performances at SAB beamed and took the audience into the palm of her hand. And something else, something about her makeup. . .
After the performance I saw Darla Hoover smiling like a mother hen. Hoover had been in NYCB and taught Bouder at CPYB. "Darla, who taught Ashley to do her makeup?" I asked her. She said that she did, but I already knew that. Onstage Ashley's eyes (especially the brows) looked just like Darla's.
In 2001 I was covering an Interpreters Archive filming and there was Ashley learning a variation Balanchine created in 1935. I think she was 17.
The last real conversation we had was after Ashley came back from the yearlong absence that had so many people concerned. I was at SAB rehearsing, I think with Peter. Ashley came down the hall and we hugged.
"Do you know how much we missed you?" I asked.
"Well, I'm back!" was the answer.
I've said this about watching Alexandra or Ashley, but watching them onstage is like watching my favorite niece. I know their flaws but they don't matter to me. But that doesn't help the reader. So my job is to try and balance personal knowledge with what was actually onstage. The fact that I have some connection to the dancers compromises my work somewhat, but it also enriches it. Every reviewer has a bias. This is a glimpse into mine.
Posted by Leigh Witchel at 11:02 AM | Comments (0) | TrackBack
January 8, 2006
Latest Dance Article
[Miranda] Weese knows how to lead a cast and still connect graciously with the audience. She's a great Queen Bee, Margo Channing without the booze and smokes.
Posted by Leigh Witchel at 10:55 PM | Comments (0) | TrackBack
January 7, 2006
Tempus Fugit
Watching Fearful Symmetries tonight, I realized I had seen the original cast, if not the premiere of the ballet back in 1990. 15 years in dance is several generations. Joaquin de Luz came out with Ashley Bouder and I remembered Jeff Edwards with Margaret Tracey. Daniel Ulbricht was doing Benjamin Millepied's (UPDATE 1/9/06 see comments) part (probably his first featured role) as the leader of a trio of men. I remember talking to Jenny Ringer's mom (she was next door neighbors with my parents) and she recounted how excited Jenny was because Martins had chosen her to be in the corps of the ballet. I was still dancing professionally myself.
Time flies.
Posted by Leigh Witchel at 11:49 PM | Comments (2) | TrackBack
January 6, 2006
The Evil Plan continues
A progress report on this:
Cathay Pacific Asia Miles – goal accomplished, ticket held. Will be purchased (with my Goldpoints Visa, natch) around January 17 when my credit card moves to the next billing period.
Marriott Points – 1 free night certificate + 16,474 + 2,040 pending. There was a setback; I wasn't approved for the Marriott Business Visa as well as the personal card. I may have too many cards with Chase already. I used to have only one, but then First USA and Bank One merged with Chase and now I have three. This setback means I'll only have one free night certificate and I think only enough points for an extra night, so I will only plan to stay there two nights and concentrate from this point on getting Goldpoints for the Radisson SAS. New Goal: 1 free night certificate + 18,000 points (purchasing 2,000 more for $20)
Goldpoints – 19,260 + 11,659 pending. That's slightly more than one free night's worth. Points from shopping at their portal add up quickly, earning 15-55 points on the dollar as opposed to 3 points for every dollar of credit card spending. Besides Aadvantage miles being convertible at points.com, so are a few other plans. I have more than enough Aadvantage miles to cover the balance needed, but I'd rather use up a few currencies less valuable to me.
I had 6500 orphan USAir Dividend Miles, but USAir didn't allow transfers out of Dividend Miles without their branded Visa. Then, on the advent of their merger with America West, they allowed transfers between the two programs at 1:1. America West gives much worse transfer rates than USAir, but at least I can exchange the miles.
I value Continental Onepass miles at half of any other reward currency because "Nonepass" is notoriously stingy about award availability, especially at standard rates rather than "Easy Pass". An award that might be 25,000 miles on American is never available for less than 50,000 miles on Continental. Continental Miles can be transferred to Amtrak Guest Rewards at 1:1 by calling Continental's customer service. Amtrak points can convert to Midwest Airlines miles at 1:1 as well. And Midwest miles convert to Goldpoints at a little bit more than 1:1. Not the best ratio (eBay points to Goldpoints was 1:3) but I think the 25,000 points I now have parked at Amtrak waiting to go to Midwest will do me more good as Goldpoints than as Nonepass miles. If I don't need them, I can send them back from Amtrak to Continental.
Posted by Leigh Witchel at 11:33 PM | Comments (1) | TrackBack
January 5, 2006
Shrooms
I had a craving for mushrooms the other day. Recalling my conversation with Grace on mushrooms, I made sure to fry them brutally. Mushrooms, oddly enough like cashmere, are something that one assumes need coddling but actually respond better to rough treatment. Please make your jokes in the comments section.
Made this way, ordinary store mushrooms smell and taste closer to their wild relations. Try it. I served this over buttered orzo. Though it brings up shades of ladies lunching at old-fashioned department store cafes, it tasted even better spooned over good white toast.
Simple mushrooms with cream
8 oz. white button mushrooms
1 T olive oil (more if necessary)
½ tsp each of dried thyme, basil
½ onion, roughly chopped
1 clove garlic, finely chopped
1 oz. lean ham, coarsely chopped
1 tsp sun dried tomatoes, coarsely chopped
¼ cup sherry or marsala wine.
¼ cup broth (beef or chicken)
¼ cup heavy or sour cream.
Salt and pepper to taste
Slice the mushrooms thickly, about 3/8 in thick. Sauté over high heat in the oil, preferably in a heavy skillet (I use cast iron). Keep sautéing until the point beyond where the mushroom is exuding moisture and when it begins frying again. You'll see this because the slices will turn golden and fried, rather like bacon, and there will be no more water in the pan. The mushrooms will also have much more aroma at this point. Lower the heat and add the other dry ingredients in the order listed, sautéing a few seconds in between additions. When the onion has become translucent and is beginning to fry, add the liquids, starting with the wine to deglaze the pan. Raise the heat to thicken.
Serves 2, or one ravenous mushroom fiend.
Posted by Leigh Witchel at 5:41 PM | Comments (3) | TrackBack
January 4, 2006
Leigh's Dance Card: New Year Edition
The repertory season at NYCB starts anew; I'm covering it for Danceview Times on Thursday and Saturday nights. They are similar rep programs; each starts with Allegro Brillante, then Liturgy and Monumentum/Movements. On Thursday night they finish with Symphony in C, on Saturday with Fearful Symmetries. And Monumentum pro Gesualdo is one of my favorite ballets ever. I'm looking forward to going back.
So if you read the blog for the dance coverage and the knitting posts have been making you nuts, dance posting will be picking up again. For what it's worth, I've been trying to cycle among the usual topics(dance, knitting, travel and food) topics, which should please nobody.
Posted by Leigh Witchel at 10:13 PM | Comments (0) | TrackBack
January 3, 2006
Good Luck Kitty
She Who Must Be Petted is thinking good luck thoughts for Steve, who pestered for a kitty picture. So here's one with mood lighting: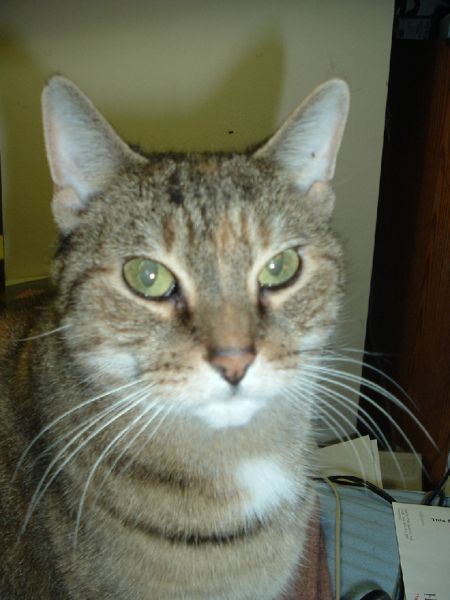 Note the presence, as in Italian portraiture of the Renaissance, of important symbolic attributes of the sitter in the background, in this case tasty plastic-sheathed cords.
Posted by Leigh Witchel at 11:04 PM | Comments (1) | TrackBack
January 2, 2006
First knitting screw-up of 2006!
I'm getting a jump on things.
I was looking for a fast and portable project and cast on a neck warmer in a brick silk-cotton blend by Stahl that I found close to a decade ago in the sale bins at Patternworks. I thought originally it would knit stiffly like some cotton but the stuff feels almost like brushed suede when knit, hence the idea to use it for something that would benefit from that tactile quality.
I chose a pattern from a Mon Tricot stitch dictionary that Mom unearthed at a garage sale.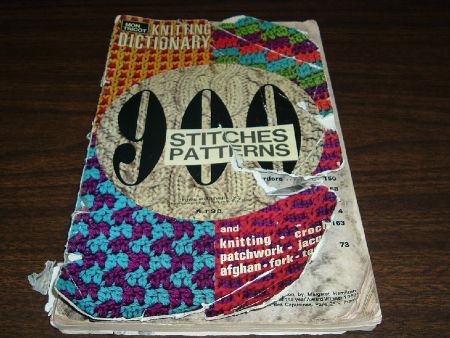 Yes, it's quite well-used. There's one page of patterns specifically for circular knitting and Spiral Stitch looked feathery and interesting.
Here's the pattern as written:
Multiple of 12
Round 1: *P3, won to make 1, k4, k2tog, k3*
Round 2: *P3, K1, wrn to make 1, k4, k2tog, k2*
Round 3: *P3, K2, m1, k4, k2tog, k1*
Round 4: *P3, k3, m1, k4, k2tog*
Not too hard and quick to knit, but I didn't figure out my mistakes until this morning when I was getting the photos ready to blog this.
When I see "m1" in instructions, I interpret it as "place the left needle through the running thread between two stitches and knit the running thread through the back". In short, make an invisible increase. This was pretty hairy on Round 3 because the increase comes directly after a yarn-over and there is no running thread. So I did a lifted increase on round 3 (the first time I ever had to use one) and a m1 on round 4.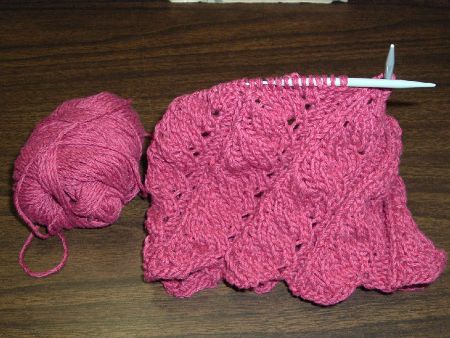 When I looked the picture of the pattern (after knitting a good 4-5 inches) I saw that the picture clearly had open holes at each increase rather than only the first two.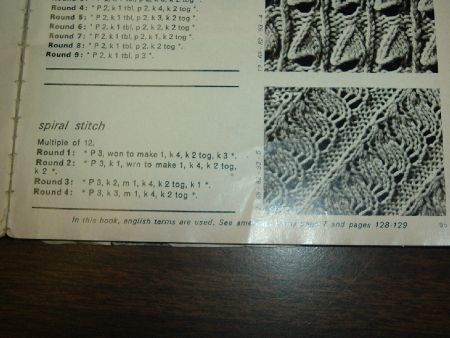 Oh good grief. I looked at what I knit so far, which wasn't bad looking, and at the picture. The pattern in the picture is prettier. Rrrrrrrrrrip.
Casting on again, I assume that m1 here means knit through the running stitch untwisted. That would cause a pretty effect of holes that decreased in size much like the picture. Well, same problem. There's no running thread to knit into on Rounds 3 and 4. To do a m1, I need to alter the pattern as follows:
Set up round: *P3, yo, k4, k2tog, k3*
Round 2: *P3, K1, yo, k4, k2tog, k2*
Round 3: *P3, K6, k2tog, k1*
Round 4: *P3, k2, m1 open st, k4, k2tog*
Round 1: *P3, yo, k3, m1 open st, k2tog, k3*
delaying the open increases for Round 3 and 4 until the following round, doing what I call an "afterthought yarn-over", which I've often had to do on lace when I forgot a yarn-over on the previous round. It looks quite pretty and seems to be what's in the picture. But with delayed increases and an inconsistent stitch count, it's fiddly for what ought to be a simple pattern. It looks like a traditional pattern; would they really have done this in such an indirect fashion?
If you're looking closely at the picture, you may have already guessed the answer. "In this book, english terms are used. See american terms page 7 and pages 128-9"
wrn – wool round needle
won – wool over needle
m 1 – make one, by taking thread over or round needle
Yes indeed. The pattern uses not just two, but three different terms for the exact same thing – yarn over. Yes, a yarn over is done slightly differently depending on whether the stitches involved are knit or purl, but even in that case, wouldn't the first two terms suffice? My version of a m1 looks almost the same as a yo, only slightly smaller, so I shall stick with it through the pattern, but I may have enough yarn to knit two neck warmers. If so, I'll try the simpler, all yo version on the next one.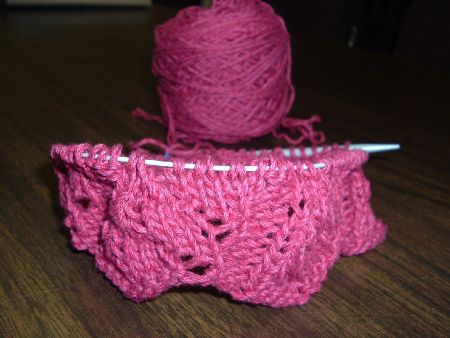 And hunt down the person who wrote this pattern and kill her.
Posted by Leigh Witchel at 9:30 PM | Comments (1) | TrackBack
January 1, 2006
Rank your Seven Deadly Sins!
What better way to start the New Year than by obsessing over your flaws?
Though not as popular as karma or hell, the Seven Deadly Sins have gone from being specific to a religion to common thought. There are the Seven Sins of Deadly Meetings and the Seven Deadly Sins of Applying to Graduate Programs in Social Work. Even Gandhi made his own thought provoking, list of deadly sins.
But the original seven have their very own website.
According to the site's history, Pope Gregory the Great ranked the seven deadlies in the following descending order of seriousness:
Pride
Envy
Anger
Sadness
Avarice
Gluttony
Lust.
In the 17th century sadness was replaced by sloth.
Evidently, Pope Gregory knew me well. Here's my own personal list of seven deadlies, ranked in the order that each of them is my special pal:
Envy
Pride
Anger
Sloth
Lust
Gluttony
Avarice
Not far off his list. I don't know if Gregory would agree, but I think of the first trio and the last quartet as subgroups within the sins and he also has the trio ahead of the quartet. I hold a twisted little place in my heart for envy, which for me has always lived up to its reputation as the green-eyed monster. We're old friends.
So now, dear reader, it's time to play along! Rank your sins and feel free to list them in the comments. And while you're nursing your hangover, here's a list of virtues to counteract your sins. Temperance is number six.
Posted by Leigh Witchel at 12:45 PM | Comments (1) | TrackBack