« April 2006 | Main | June 2006 »
May 31, 2006
Mariinsky
When I travel to see dance, I'm always waiting and hoping for the thing that confirms why I crossed a continent or an ocean to see it. It took a while to happen here. Performances had been middling either because of the choreography (the Chemiakin Nutcracker and Magic Nut are not distinguished works) or casting - the top stars aren't dancing this weekend. The tourists don't seem to care; I'm not sure they even know what they are looking at. The theater is chaotic; flashbulbs pop regularly even after warnings in English and Russian. Seats aren't always clearly marked; some people sit wherever seems likely and only move when the rightful occupant shows up with a ticket and no one seems to find this unusual.
But then on Monday night the swans came in during Act II of Swan Lake in perfect sisterhood and all was forgiven. My Mariinsky moment finally came.
Posted by Leigh Witchel at 12:01 AM | Comments (0) | TrackBack
May 30, 2006
Last Day in Petersburg
I need to apologize - I've had trouble writing about this trip. I'll keep trying, but simple chronology isn't working.
St. Petersburg was alternately magnificent and frustrating. It was a hard city to visit alone, especially during a city holiday. I had a similar problem in Amsterdam two years ago when I was there on Queensday; I don't like parades or crowds, and a mob celebrating in a language you don't understand can be a frustrating thing. The smartest thing I did was hire a guide (as much a guide as someone to talk to and have lunch with!) for the last two days.
Architecturally, the city is drop-dead gorgeous; the pastels of the city and the classical proportions of the low, long buildings match the light.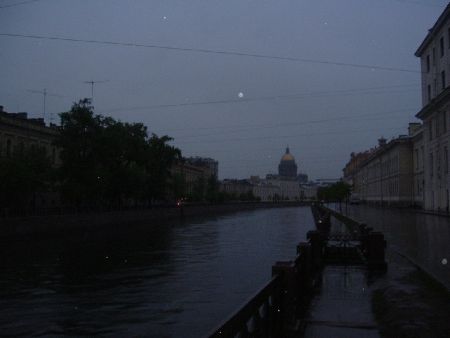 10:15 pm - May 29, 2006. Walking back along the Moika Embankment to the hotel from the Mariinsky in a light rain.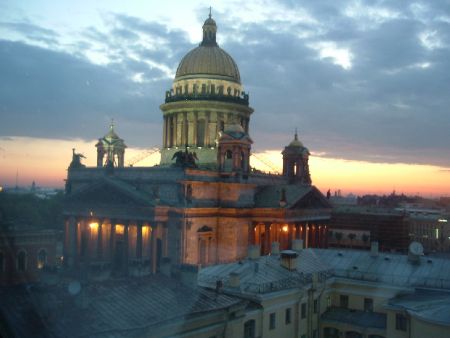 4:09 am - May 31, 2006. St. Isaac's Cathedral from my window at the Renaissance Baltic.
I need to pack shortly. My car to the airport was originally scheduled to leave at 2 pm. The service called last night to try and move it to noon because of horrendous traffic. I explained that was the only day I could see the Hermitage and we compromised at 1 pm for a flight leaving at 5 pm. I will have to speed through portions of the Hermitage this morning.
Posted by Leigh Witchel at 11:37 PM | Comments (0) | TrackBack
May 27, 2006
A Short List of Things about St. Petersburg
1. You take your life into your hands when you cross the street. Really. New York doesn't compare. Drivers don't stop if they see you. I've been nearly hit more than once.
2. Keep your valuables close at hand. Even with the guide on a walking tour the guide himself was accosted three times by a pair of men, with one usually drunk, trying to create a diversion. For what it's worth, when I've been alone, I've had no problems. I don't feel unsafe, I do watch my wallet. It feels about like NYC at its worst 20 years ago.
3. The city is so full of architectural pearls that buildings other cities would be fighting to preserve are falling apart. Also, the facades are the responsibility of the city, so while they may be peeling and crumbling, the interiors are another matter.
4. Pollution is a problem. The air has a distinct odor.
5. You can't get to the Mariinsky from here. It's 15 minutes walk from the nearest metro stop. I tried using a bus last night, but it wasn't going to Nevsky Prospect because of a huge parade - I ended up walking again - a 40 minute walk in a light rain. If the Mariinsky is your prime object, the hotels around St. Isaac's Cathedral are expensive (The Astoria, Angleterre and the Renaissance) but best situated. There are also a few mini-hotels close by. If you're on Nevsky Prospect I think the best route is to go up Nevsky to either Kazanskaya Ulitsa or the Moika Canal and walk across, but with each route you'll need to take one or two more turns. Like Amsterdam, the city is a radiating crescent - if you need to go to a point on the other side of the crescent, it's quicker to do that closer in rather than via one of the circumferal routes further from the center such as the Fontanka.
6. You have not lived until you have dealt with the press office at the Mariinsky. They beat everyone for pure frustration hands down. In comparison, other press people seem like cruise ship directors focused only on my comfort. On Friday my seat was an extra chair at the back of a box where I could see either by alternately standing (and having my view blocked by a chandelier) or kneeling on my chair. Last night I did have a full view seat but my program and cast list were for the wrong ballet (this was set right ten minutes into the ballet by someone slipping in and handing me the correct one.)
7. Despite this, the traces of communism in the city are barely visible in the city center. The culture is consumer-oriented and conspicuous consumption is everywhere. Food is available from all supply channels as is clothing and cars.
8. My gaydar done broke on me. Years ago, on my first trip to London, my gaydar busted the other way; I looked at English men with their streaked and dyed hair five years before any straight man in the US tried it and thought, "They're ALL gay." Here, all the boys with their black leather suit jackets look like something out of The Sopranos and I can't pick out the nancy boys. That's the problem with gaydar, it's country specific, not universal.
More blogging and photos tonight.
Posted by Leigh Witchel at 11:09 PM | Comments (5) | TrackBack
May 26, 2006
Light
When I left the Mariinsky tonight it was still light and remained light the entire hour long walk past the St. Nicholas Cathedral, up Sadovaya Ulitsa and down Nevsky Prospect to my hotel. Nabokov's pale light, like weak tea. We're still a month from the solstice. It was a very full day that started at 5:30 am - it's 11:25 pm now. I walked about 10 miles today, so I will take a bath now and write in the morning.
Posted by Leigh Witchel at 3:22 PM | Comments (0) | TrackBack
May 25, 2006
Transit
The hardest part was the day or so before leaving. I have panic disorder. It's actually no less manageable than asthma, but it's something I have to deal with when traveling and the irony now is I travel more than ever. I get nervous about unfamiliar places or leaving too much unfinished business behind, so this trip was a prime candidate. I've dealt with it long enough so that there isn't much panic in panic disorder, just nervous restlessness, but at about 3 am on Tuesday night when I thought that just not getting on the plane was an appetizing option I knew I was going to have to medicate. No big deal. I've done this often I enough I know my exact dosage so that it stops the adrenalin from coursing through my system without making it harder to think. I cut a bunch of clonazepam pills in half and tucked them in my bag.
I pared the luggage for this trip down to a rolling garment bag and a small roll bag for lighter items that got looped over the handle. My messenger back was also weighted down with books for the flight and yes, a liter of water. Giardia is an issue in St. Petersburg; I didn't want to HAVE to go searching for bottled water immediately. I opted for the bus to JFK instead of the Airtrain. It meant fewer luggage transfers but is more subject to traffic, which was bad. I arrived less than an hour before my flight.
British Airways Club World check-in – actually almost everything about Club World can be confusing because it is designed to be off the logical flow of traffic so only the people who are supposed to use it go to it. If you've never used the service before, finding the check-in counter or the Terraces Lounges can be very counter-intuitive. Once found, the bag drop line (I checked in online) was short; there is a dedicated security checkpoint and off I went to attempt to find the Terraces lounge. This took three circles and finally asking a staff person. I had enough time to drink some grapefruit juice and have a small brownie before I realized my plane was boarding.
Club World service is British Airways business class. It isn't World of Luxury; that really isn't the British way. Service is fast and unobtrusive but they don't fawn. The meal was fine – hearts of palm salad, a small fillet steak, cherry flan for dessert and chocolates. You don't get business class for the food – you get it for the seat.
The Club World seat is an odd affair; a series of compartments arranged like a back to back like a loveseat, but an antisocial loveseat with folding privacy screens that bristle up like a sea of parasols in the rain. With a button, the seat rolls out flat to meet the footrest and become a bed. It is a very thin bed; no big deal for me, but even at my size it was like sleeping in a coffin. Still, you get a lot more sleep than you would in coach. I brought sweatpants and an extra t-shirt in my carry on, a good idea.
Before supper and sleep, I read more of "St. Petersburg, A Cultural History" and also "The Bronze Horseman" by Pushkin in an English translation by Charles Johnson. Tail winds were with us and we made it to London in very fast flying time eaten up by a long delay from traffic control at JFK. Like JFK, Heathrow Airport presents its own problems. JFK is eternally under construction, a subterranean Kafkaesque nightmare. Heathrow is the size of a small principality with 20 minute bus rides between terminals, and not arranged so that one trip through security gets you where you were going. It took three separate security checks before I was at my gate. Club World entitled me to use the Terraces Lounge in Heathrow as well. There are spa services there, alas, the wait was too long so I settled for a shower. Even a shower is a lovely thing. Had I known, I would have also tucked a change of underwear and a razor in my underwear. They've got everything else there (if I had asked, they probably had the razor).
Club Europe is more akin to domestic first class in the US. The seat pitch is 34 inches (same as jetBlue) but the flight was only 3 hours. Food was again perfectly decent (grilled shrimp appetizer, gnocchi main course, cheese for dessert.) I avidly ate all greens and fruit; one of my nervousnesses about St. Petersburg was the warning not to eat any raw vegetables that may have been washed in the water. Blech.
The preferential treatment ends at Pulkovo airport. The first signs you see (Citibank and Jetway) are in English, not Cyrillic, and direction signs are mercifully in both English and Russian, but the immigration form is not. There are too few immigration windows and several chaotic lines that spring up without any sort of traffic control. It takes about half an hour to pass through; passport control is a wordless process that I assume involves the agent looking you up in a database. The luggage was already waiting, and passing through the green "nothing to declare" line at customs is no different than here. With that I was out the door and in Russia.
I don't know the name of my driver; I had arranged him through gotorussia.net for $70 roundtrip – less than a few other places, and I could pre-pay with credit card. I decided not to change money at the airport, for convenience I handed him $20 and he gave me 550 roubles, which is close enough to the official rate. His English was limited, so amazingly enough we had a faltering conversation in Russian. It was not remotely brilliant, but we figured a few things out. The approach into St. Petersburg is anticlimactic, but that's true in New York and Buenos Aires as well. Here, you pass through grim industrial areas and then the city starts to become more beaux arts, but it still is sooty and grim. I haven't gone into the monumental center yet.
The ride took close to an hour from traffic, and I tipped the driver $5, which may have been generous considering he left me around the corner from the entrance and I had to wheel my luggage there myself – but traffic was vile. The Radisson itself is on the level of a solid 4* US hotel. It's clean and pleasant, with all the amenities you would expect from a business class hotel like a Hilton or Hyatt. Call me a wimp, but I'm a stranger in a strange land. I wanted a familiar oasis. Better than anything, it has free wi-fi.
I have a room on the top floor with a skylight but no window. I arrived at 7:30 pm. I was so tired after fourteen hours travel that I just put on the bathrobe that came in the room, worked on the computer until about 11 pm and went to bed, rising at 5:30 am. I always forget one or two non-disastrous items when I travel, unpacking reveals them. This time, I forgot the Imodium I bought, and I forgot to pack ties and to launder half my shirts. I have ten performances to attend this trip so that will need to be taken care of, but I am on Nevsky Prospect, the main shopping street.
I'll be taking a walking tour shortly and going to my first ballet tonight, La Bayadère.
Posted by Leigh Witchel at 11:08 PM | Comments (0) | TrackBack
May 23, 2006
Leigh's Dance Card - Three Weeks, Three Countries Edition
Tuesday Night, 5/23 - New York. New York City Ballet - Monumentum-Movements/Tchai Pas/Evenfall/Fancy Free
Friday Night, 5/26 - St. Petersburg. Mariinsky Ballet - La Bayadere
Saturday Night 5/27 - Gala Evening. The Nutcracker
Sunday Matinee 5/28 - The Magic Nut
Monday Night 5/29 - Swan Lake
Wednesday 5/31 - Landing at Heathrow Airport at 17:30 and making an insane dash to London to make it to Sleeping Beauty (curtain 19:30) by at least the first act (20:24).
Thursday 6/1 - Schlepping Beauty
Saturday 6/3 - Schlepping again.
Posted by Leigh Witchel at 11:27 PM | Comments (0) | TrackBack
May 22, 2006
Latest Dance Articles
The Spring, 2006 issue of Ballet Review arrived in my mailbox today. It is not available online, but I have two pieces in it:
In the front section there's a report on Wheeldon's Swan Lake for Philadelphia:


The most exciting thing about his corps work is its spatial energy; it bursts with patterning and peelings and surges in unexpected directions. It is classical in vocabulary but very much of its time. It doesn't look like Petipa – it moves too much and too fast. It doesn't look like Balanchine – instead of the erect carriage of the torso Balanchine used, Wheeldon prefers a more mobile one, especially of the upper torso, seemingly influenced by contemporary dance. It looks flattering on the company and makes Pennsylvania Ballet look like a company that has the resources to do Swan Lake even though they just barely have enough dancers to tackle it.

But this isn't just a new classical ballet; it's a new version of Swan Lake. Wheeldon's work can't be judged only on the fluency of his choreography, but on his treatment of the story. Do any of the changes or deviations from the traditional Swan Lake illuminate or enrich the story? Has he made a Swan Lake that is in any way better than a traditional version? The answer is no.

I wrote the above in October, 2005; there's a good chance if I had seen Evenfall (had it existed) at that time I might have been more willing to cut Wheeldon a break. I've found that Wheeldon usually keeps at a theme or genre for several times until he gets it.
I've also got a longer report on the end of the Ashton Centennial Season at the Royal Ballet:


These performances brought Monica Mason's second full season running the Royal Ballet to a close. Her approach has been cautious and partially guided by the commemorative obligations of the Ashton centennial, but it's painfully easy to imagine far more perverse approaches to a centennial than the respectful one Mason took. From the look of the company's dancing the retrenching has done the company good. Even with a large contingent of dancers of many nationalities, the company looks English.
Now that Mason no longer has the Centennials to oblige, it's interesting to note that the coming season unfortunately has very little Ashton. I'm willing to trust Mason. For the past two years there have been precious few new works, and little MacMillan. I might prefer the Ashton but there are people clamoring for premieres and MacMillan as well. Still, what the Ashton Centennial showed without a doubt is the ballets need to be danced to be danced well. I hope she'll put more back in 2007-8. Were it me, I would have cut Theme and Variations and put in another Ashton work, but that's because I can see Theme with little effort and I haven't had luck with the Royal dancing Balanchine. A British Balanchinomane might think otherwise.
Posted by Leigh Witchel at 11:38 PM | Comments (0) | TrackBack
May 20, 2006
Watching Music
I went with a friend to Carnegie Hall a week ago to see Mitsuko Uchida play Mozart piano works. I go so frequently to dance and infrequently enough to music concerts that the differences in performance conventions are fascinating and disorienting.

Carnegie Hall is elegant, decorated with ornate gilt moldings but restrained for its time – there is enough white space on the walls to still feel uncluttered and airy. The hall is more intimate than the State Theater and at least the lower rings have an old fashioned system of box seating rather than rows. The absence of an orchestra pit changes the dynamic between the stage and the house. Without a pit as a buffer zone, the stage ends and the audience begins.
The performance has less ritual or ceremony than dance – or it could be that the rituals don't look like rituals to me because they're not familiar: The house lights do not dim and there is no real stage lighting; the soloist comes out onto the unadorned stage through a door unconcealed at the side of the stage. She bows to the audience and sits. Uchida was not one to waste time; the moment she sat, her hands went to the keyboard, there was an intake of breath and she began.
It was hard for me to even get through the first piece, the Fantasie in C minor K475, because of the adjusting I had to make. It's music. What was I supposed to watch? With an orchestra there is motion on the stage; the players often trade melodies or movements cascade and ripple through the string sections like wind through wheat fields. Even though our seats were quite good, a solo piano recital at Carnegie Hall is not the same as in a salon. I couldn't see Uchida's face clearly and besides her fingers, not much moved. Because the lights were up, I often watched the audience watching.
At intermission I had several questions that betrayed my own background:
There's no director, is there? Is there anyone besides a stage manager backstage?
Does she rehearse at all on stage? Is anything "staged"?
What instrument were the sonatas designed for? (A pianoforte.)
What does she do during intermission? (It's painfully practical for dancers – if you're a woman, you're readying your shoes for the next ballet. Otherwise, you're either resting or getting ready for the next piece, but the intermission is essential for the dancers as well as placed there to give the audience a respite)
The minutiae were fascinating to me. Barry explained that for concerts here the pianists did not play a "house" piano. Most of the time, they went to Steinway (a short distance away) and tried out one of many pianos that were there to find the one that sounded and felt best to them. That piano was then delivered to Carnegie Hall for the performances. The production details were a handle to the music itself, which was marvelous, but as with opera I would need more consistent exposure to be able to discuss it properly. I thought it was interesting that the first half of the program was much darker in tone than what I associate with Mozart and Uchida purposefully took a Romantic reading.
Watching music without dance reminded me what I like most about music with dance: choreography fixes music in time. When I was listening to the concert I felt like I was floating in a becalmed and featureless sea. I knew I was in the water, but did not know where I was headed. With dance, music becomes a journey that has a beginning, middle and conclusion.
When I'm at home listening to music, it is a private act done on my terms. I listen attentively or do other tasks. I back the music up and repeat. I play only my favorite parts if I choose; it's up to me. Music in a theater is a more ancient, communal experience, just like dance – yet dance does not transfer well enough to recording to have gone through the transition music made from a communal to a private art. I'm glad dance didn't frankly, one of the reasons I'm mostly uninterested in recording technology for dance. I don't want dance to leave the theater.
Uchida played an extremely brief encore (probably Webern) before a more traditional and contemplative one that was a lovely way to send us into the night. There was nothing but a piano, a soloist, an audience and Mozart. I need more experience and training in the zen of watching music.
Posted by Leigh Witchel at 11:58 PM | Comments (2) | TrackBack
May 19, 2006
Latest Knitting Article
The toilet paper cozies have been published in the current Summer '06 issue of Knit.1 Magazine! What silly fun that was. At first I was only writing an article on embellishing knitting. Then the editor, Adina Klein, wanted some embellished objects to accompany the article. Adina, as all editors should, has a knack for getting you to agree to something in casual conversation and not consider the consequences until you hang up the phone. When I first asked Adina what she wanted embellished, she said anything I would like. I'm not a free-range creative type; I thrive on parameters. I asked her to name something, she thought for a few seconds and said toilet paper cozies. Done.
I had some parameters to follow for the embellishments. One cozy was to be plain, one was to have flowers, one knitted cord, one pompoms and the last was found objects. It took several long walks to figure out what to do. I think the first to be decided was the flowered one; the daisy loom flowers remind me of the late 60's early 70's so I took the psychedelia of things like Rowan and Martin's Laugh-In (Yes, I'm old enough to have watched it as a kid!) for inspiration. Pompoms remind me of cheerleaders, so I did one in a sports theme. It wound up being the Yankees because that's the team colors the yarn came in. The inspiration for what to do with knitted cord came while I was catching up on blogs. Attaturk of Rising Hegemon uses a fez as his avatar. Hmm. Woolease comes in cranberry. Trim with a black tassel. Voila. With three friendly designs, I really needed to do something wrong for the last one, hence my tribute to Sid Vicious in Black Woolease. I lined a cozy with rows of safety pins in graduated sizes (it took about 150) and then threaded it with hot fuchsia yarn, trimming the ends into spikes. My favorite comment was from a recent student who is also a fashion retail maven: "It somehow manages to be cuddly and aggressive at the same time." Then again, maybe she was describing me.
This is a biased opinion because the cozies are in it, but I really like this issue. If you buy a knitting magazine because you're looking for looking for a collection of patterns to knit, it may or may not be to your taste. I never knit patterns literally anyway. If you're looking for energy and inspiration, check it out. The issue reminds me more of how the fashion industry works than the hand-knitting industry, with the accent on creativity, novelty and risk. I love classic wearable designs as well - for the best classic male knitwear patterns, go to a Japanese book store – in NYC try Kinokuniya – and thumb through their collections. I will be doing a sweater for an upcoming issue of Vogue Knitting and I intend do something along the lines of the best Japanese "classic and wearable but with a new twist in a detail" designs. A little novelty is important to keep things fresh and energetic. There's a lot of way-out-there stuff in the issue (John Brinegar has knit hot pants and boxer shorts in it as well as a great 50's inspired cowl front top that's much more practical) as well as some theme layouts – the one on Frida Kahlo is quite good. Another friend, Stephanie Klose, has a piece on knitting and art in the issue. There's nothing I want to knit immediately (I've already made my toilet paper cozies, thanks) but reading it made me want to knit and design, and that's why I like it.
Posted by Leigh Witchel at 10:55 AM | Comments (1) | TrackBack
May 18, 2006
My hovercraft is full of eels . . .
I apologize for the recent blogging silence – I'm leaving for Russia next Wednesday (!) and I've been trying to clear stuff off my plate.
I guess I am about as ready as I will ever be: Did I finish any of the books I bought about St. Petersburg to read? Nope. I got about half way through Kchessinka's memoir, and will probably bring that and Solomon Volkov's book with me, as well as the guides. Tonight, I watched Russian Ark with a friend. I have also been using the Pimsleur Basic tapes. I studied Russian for a year in college, so it's resurrection rather than new learning. I find the method effective – these work with purely spoken language and have no written component, but it forces one to converse. Still, as I walk down the street saying
Что бы Вы хотели? I keep thinking of the Monty Python Sketch with the Dirty Hungarian Phrasebook: "My hovercraft is full of eels."
I found a walking tour to take the first day I am there; I will try to arrange something to Peterhof and the Hermitage as well. I recently spoke to Alexandra, she insisted that I go to the Yusupov Palace; she filmed a part of a documentary there. How could I refuse?
I redeemed 120,000 Goldpoints for the four nights at the Radisson, and amazingly that happened pretty much as I predicted. I'll reconfirm reservations for everything including the Marriott and Radisson over the weekend, and see about airport transfers.
In the end, I used Priceline for my London hotels, in the Bloomsbury-Marble Arch zone rather than cheaper but more distant Kensington. I'm staying first at The Cumberland at Marble Arch, then the Hilton London Euston – opaque bidding in London especially is a grab bag. The Cumberland went for $102/night ($100 was not accepted) and the Hilton for $103. With taxes in both cases it's about $125/night; a decent price in London for an acceptable hotel. In between those stays I go to Bristol to visit family with an afternoon in Cardiff to visit fellow knitters! Being cheap, I do that via bus for £1.
Now that I've finished scheming for this vacation I've exhausted my Asia Miles, Goldpoints and Marriott points. But I have not exhausted my scheming. Currently, I'm about to finish up accumulating enough TrueBlue points on jetBlue for a free flight. I earned half of them on the two trips to California; I figured I would apply for the jetBlue Amex so I could get the flight. I'm also collecting USAir miles via their co-branded Juniper card, as well as Starpoints and some Marriott points via a targeted double point offer.
So where do I want to go?
Here's the list:
Prague-Vienna-Budapest
Barcelona
Kyoto-Tokyo
Australia-New Zealand
to say nothing of return trips to Buenos Aires and Chicago as well as other repeat destinations (London, San Francisco, Paris, Toronto) .
Anybody feel like going?
Posted by Leigh Witchel at 11:45 PM | Comments (2) | TrackBack
May 15, 2006
Latest Dance Article
NYCB's Spring Gala - new ballets by Peter Martins and Christopher Wheeldon:
. . . in "Evenfall", Wheeldon is doing just what one would hope he'd do with his talent and resources. He's making classical ballets for our era.
Posted by Leigh Witchel at 8:12 PM | Comments (0) | TrackBack
May 11, 2006
Gala Report
I was at the NYCB Gala last night. The actual particulars of the dancing will be in Danceview Times on Sunday night (sneak preview, the Wheeldon piece is good, especially if you like him when he's doing more balletic work). So, let's talk about important things.
People's outfits!
I wore my same damn suit (I have three; they're getting old . . .) but I'm glad I picked the olive one; it was a sea of black suits. Le tout NYCB was there; if they are not onstage the dancers are expected to attend. Chuck Askegard and Maria Kowroski went together; Kowroski had her hair in a marvelous upsweep and is built to look fabulous in evening wear. Antonio Carmena was seated directly in front of me (nice suit, Antonio); Jon Stafford a few rows behind. Jenny Ringer and Janey Taylor were each walking about at intermission; Ringer looked very Nora Charles in aqua with a retro bob.
The most fabulous outfit was worn by an audience member. One woman, tall and blond, came in a Hippy Chick short fur jacket that she couldn't bear to check, but rather wore into the auditorium to eye-shattering effect. It was canary yellow. As she maneuvered to her seat I watched her in awe. She looked like a Peep. I just wanted to microwave her. Not only that, but her dress, in some sort of upholstery print, had a train. The look was part Foxy Bown and part Laura Ashley, but since she was bloodthirsty enough to tackle, kill and skin either Tweety or Big Bird, and turn one of them into a coat, I held my tongue.
Posted by Leigh Witchel at 6:31 PM | Comments (0) | TrackBack
May 10, 2006
Leigh's Dance Card
Weds - May 10: NYCB - Diamond Project Gala, New Wheeldon and Martins premieres along with the Herman Schmerman pas de deux by Forsythe. On duty for Danceview Times.
Sat - May 13: Nrityagram. On duty for Ballet Review - and once again, go if you can.
Posted by Leigh Witchel at 5:35 PM | Comments (0) | TrackBack
May 8, 2006
Latest dance article
Variety without cohesion, the premiere of In Vento, the new Diamond Project Ballet by Mauro Bigonzetti:
Bigonzetti seems to be trying for a frisson this work might have had two decades ago if he worked before William Forsythe instead of after. It's also one of life's little ironies that choreographers who have the least to do with Balanchine are the ones who most loudly proclaim their devotion to him. This work is "humbly and passionately dedicated to Mr. Balanchine, my master and master of all my masters." This little bit of brown-nosing is about as convincing as when Boris Eifman tried it.
Posted by Leigh Witchel at 12:13 AM | Comments (0) | TrackBack
May 7, 2006
City of Big Showtunes III – A Chicago Journal
As with Saturday, I spent Sunday morning alternately writing and procrastinating. That's why I get to write articles on project management! I took the Red Line uptown to Uptown – David's neighborhood (he lives equidistant from the Lawrence and Argyle stops). I told him I would call him when I was approaching so that he could meet me at the station (the ride is 20-30 mins). "David, I'm at Addison, who are all these people in funny hats with "C"s on them and why are they all getting off the train?" I had timed my trip to coincide with the rush of Cubs fans heading for a game at Wrigley Field.
David met me at the station; I already had plans for lunch. When we had walked to Argyle the night before on the way to the Joffrey I saw that this was a neighborhood packed with Vietnamese and Thai restaurants and joy of double happinesses, there was a Vietnamese Bakery selling Banh Mi. I think I am making it a rule to try Banh Mi in every city I visit. The irony is I have never eaten one in New York. The bakery is called Ba Le and is mentioned on Chowhound and other online food sites, though I found it by serendipity. We split a Chao Tom – shrimp wrapped in sugar cane and a BBQ pork (thit nuong) Banh Mi. It falls well above those I have had in Toronto, but below those in Boston or San Francisco. The bread is baked on the premises, but heavier than in SF and Boston and the pork filling a bit less interesting. David also got a banana tapioca dessert that tastes suspiciously enough like vanilla yogurt that I think it is mislabeled. Sandwiches are $2.95 apiece; we spent about $8 with tax.
I wouldn't have done this in New York, but since I am in Chicago and not knowing when I will have an opportunity to try these restaurants again, I convince David that the Banh Mi was but an appetizer and drag him across the street to one of the pho restaurants; Pho Xe Tang, or "Tank Pho". The logo is, unnervingly a military tank. The place is absolutely packed, which I take a good sign. We split summer rolls (Goi Cuon) and then both get gringo pho (I#43 on the menu, no tendon or tripe). David was a bit nonplussed by the size of the portion. As Mom said often when I was a kid, my eyes are bigger than my stomach so to his shock I finished the bowl – he made it through about one quarter and took the rest home. Right next to his house there is a community garden; David said that much of the produce grown there was grown by the Vietnamese and ended up in these restaurants. It seemed quite plausible; the bean sprout and herb plate that comes with pho contained some saw-toothed leaves that they don't include in New York, and I bet were grown a few blocks away. The pho was quite good and the meal for two with tax and tip was $20.
I waddled back to David's place where Gatsby was waiting. Gatsby is David's marvelous pooch, a mix of Basenji, Sheltie and probably Shepherd since he is bigger than both the first two breeds. I tried to take some pictures of Gatsby, but sadly the batteries I bought on the trip crapped out after one bad photo (lesson learned – only use alkaline batteries in a digital camera). The most important thing to know about Gatsby is that he has a Kong. To non-dog-owners, this object is a mystery. Dog owners will know it well. I mentioned it to my neighbor Janet and her response was "Oh yes. Mozart [her border collie] has two." "It's a fetch toy and it looks like a butt plug," David explained helpfully. Gatsby, still very active at 11, has a clearly defined Kong ritual, or at least we created one together.

Pace back and forth on the parquet flooring.
Click click click click
Click clickety click clicky.
When the human finally gives in and notices you, drop spittle-drenched Kong in his lap.
Human picks up Kong (gingerly).
Human moves it slowly. Prick up ears and be very attentive.
Human suddenly tosses Kong straight up in air. Leap and make spectacular mid-air catch.
Drop spittle drenched Kong in his lap.
Repeat.

David asked me if I wanted to go to the Art Institute or Oak Park to see more stuff by Frank Lloyd Wright but by this point (2:30 pm) it was too late and I was too lethargic from the meal. What I really wanted to do was take a nap, which I did on Gatsby's sofa. This suited David, who used the time to potter around and do odd jobs. When I got up, we headed back two stops on the Red Line for my walking tour of Boystown. As we passed Addison on the train, we could see a blue flag hoisted above the stadium with an L. The Cubs lost.
Sidetrack is a Chicago institution. It's now expanded over four storefronts (David called it "the bar that ate the North Side" and Sunday afternoons seem to be a particular institution. The theme on the video monitors is Showtunes. The gayest show tunes, including Gentlemen Prefer Blondes and Funny Girl. To fully experience it, go to the darker middle bar rather than the airy glass roofed one. That's where the Showtunes veterans are, and that's where they shout the alternate lyrics. Think of it as an even gayer "Rocky Horror". The best I heard was during Evita; the camera moved from Madonna singing to a shot of Antonio Banderas' face in a crowd, and the regulars shouted, "THERE'S WALDO!" At the tumultuous end came a shower of cocktail napkins and the cheery but long suffering bar back with a broom and dustpan to sweep them up. It's quite a phenomenon; someone even did a grad school paper on it – but then again, no topic is too arcane for a grad school paper.
Also in the bar I also met Adam, whom I knew from years back when we took ballet classes together. He stayed at the Joffrey and is now helping run the company. We had a long, funny and interesting conversation about the ups and downs of the company. It seems all of Chicago is there on a Sunday afternoon.
From there, David took me to his favorite hangout in Chicago, The Pepper Lounge. This was a perfect complement to Sidetrack; a small and mixed hangout that served good drinks and good food. It's extremely friendly, but since David is a regular we got even warmer treatment, and a free mini shot of some delicious chocolately poison. David joked that he didn't take dates there anymore because the proprietor was giving them thumbs up or thumbs down. We stayed at the bar and chatted with Rex, the bartender, who moved to Chicago from San Francisco. Yes, people do that. David felt that Chicago's winters are exaggerated, but they were taking about days that you had to wear three scarves. To me, bitter is single digit Fahrenheit; they were talking -10°F. NYC definitely has winter, but that's about 20 degrees colder than deep winter here; we have the ocean and the concrete to warm things up.
David had his signature martini, dirty with blue cheese stuffed olives. Are blue cheese olives a Midwestern thing? I have never seen them at a New York bar. I had some sort of pansy drink that was pink and peachy. I freely admit to being a pussy boy drinker who can't hold his liquor and prefers sissy drinks, preferably those that have umbrellas in them. Because of the enormous lunch, we only had appetizers but the portions were generous enough to serve as dinner. David had the tuna tartare, I had the beef medallions; both were delicious. Prices are not cheap (a drink and an appetizer came to $29 with a generous tip) but I felt they delivered for what they charged.
Fed and buzzed, I headed back on the El to my hotel and my 5:30 am wakeup call. My internal alarm clock didn't trust the hotel's and woke me up at 4:00 am anyway. I wrote a bit, checked out and headed to the airport, contemplating a jam-packed flight with an upgrade that did not clear. It took just about an hour again from hotel to gate; but part of that was luck. The security line was horrifyingly long, but the TSA employees started plucking out anyone whose flight was less than an hour ahead; mine was exactly at the cutoff time, so they took me to a concession screening area and I got through in five minutes.
The airport gods kept smiling on me. At the gate I approached the agent and said that I didn't expect anything but could she check on if an upgrade was possible? "Are you Platinum?" she asked. I am Gold, having slipped from Platinum. She looked and said, "Believe it or not, you're at the top of the upgrade list and I can clear you." A mystery, but I have two theories. I made the upgrade request at the time I booked the ticket and I was Platinum at the time – AA seems to rank upgrades on your status at the time of the request, rather than at the time of the flight. Also, earliness of check-in matters, and web check in counts. I checked in online almost as soon as applicable. It was a bulkhead seat without any storage on the floor, but as I said before, it beats coach.
And then a few days later I even got miles for the meals at the Signature and Pepper Lounges!
Posted by Leigh Witchel at 7:01 PM | Comments (0) | TrackBack
May 6, 2006
City of Big Showtunes II – A Chicago Journal
I picked a gray, drizzly weekend to visit Chicago. David took me on a driving tour that started on Lakeshore Drive heading south. As David said about the city "We have a spine" – that spine is Lakeshore Drive. It seemed most of our travel was north or south along it (or on the Red Line El) – in that way it reminded me of my trip to Palm Springs where I spent much of the day either going up or down Palm Canyon Drive. The flowering trees were in bloom in as well as tulips as we headed south.
My friend John lives in one of the other Great Lake Cities, Toronto. When I mentioned Chicago to him, his comment was "They did their waterfront right." – which was truer than I thought on reflection. Toronto's long east-west waterfront is little more than condominiums. Chicago made an ordinance that the east side of Lakeshore Drive was public land. The views are unspoiled and the public uses it. We started at the site of the Columbian Exposition. David recommended the book Devil in the White City
that interweaves a series of murders concurrent to the exhibition – I've ordered the book so it can sit among the pile of books I have yet to read. He turned off at Jackson Park to show me the Golden Lady – the statue of Columbia that guarded the exposition.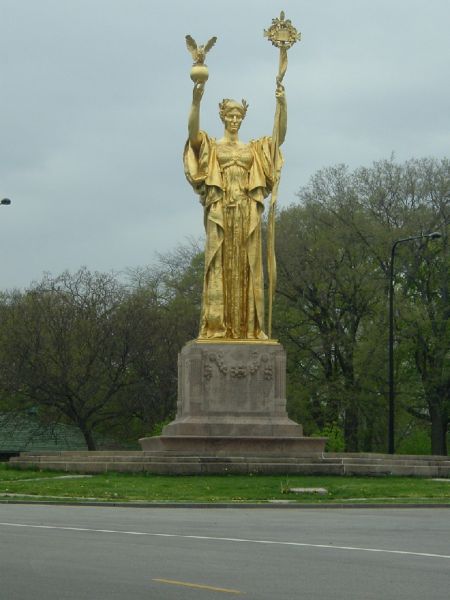 It and the Palace of Fine Arts - now the Museum of Science and Industry are the only two original structures left. The building reminded me of San Francisco's Palace of Fine Arts; both were built for major exhibitions and both had similar caryatids.
We went as far south as the Chicago Cultural Center and then turned back to the campus of the University of Chicago, where I saw what I think is my first Frank Lloyd Wright house – the Robey House from 1907.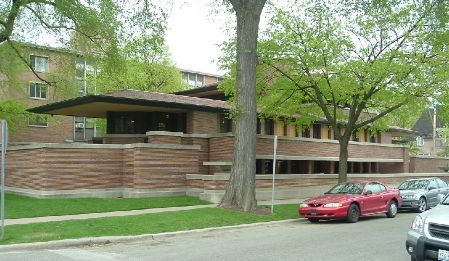 David thought the interior was comparatively disappointing, so we headed back to the center of the city and Millennium Park. (Follow the link - it's a great website.)
Millennium Park is the city's newest showcase. The Harris Theater anchors the park with a bandshell designed by Frank Gehry. You can tell; it looks like a sea anemone made out of crumpled tinfoil. NYCB is coming there in October, much to the delight and anticipation of Chicago Balletomanes. The programs look wonderful, but Good Lord, the prices. Tickets start at $65. Chicago is going to have a great fall for ballet. Besides NYCB, they are getting the Kirov Ballet in Swan Lake at the beginning of November. At the beginning of October, the Joffrey is doing not any old Cinderella, but Ashton's.
Behind the theater lies "The Bean" – a highly polished arch that has a real name "Cloud Gate", but everyone calls The Bean because of its shape. Walking underneath it and looking up gives the most astonishing optical illusion of being underneath a tower when the vault is only a few feet high. Alas, it doesn't really show in the photo.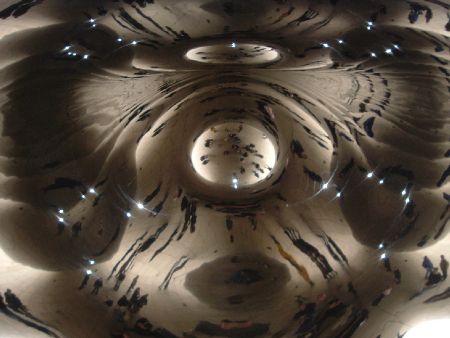 Continuing on a bit is Crown Fountain, two towers of cascading water that add modern technology by projecting enormousfaces that pucker and then spew water. Kids love it; I thought it was a wee bit gross, but then, I have a dirty mind.
The Art Institute of Chicago is nearby, but that is enormous and will have to wait for another trip. We walked round the loop instead and looked at the river and the buildings along it. There are glass boxes as in New York, but the feel of Chicago's skyline seems to come from the early Gothic revival skyscrapers that reminded me of the Woolworth Building here. The Marquette Building, right around the corner from my hotel, houses the MacArthur Foundation (of "Genius Grant" fame – it's their building) and tiled lobby mosaics reminiscent of the Woolworth Building as well.
Walking back to David's car, instead of documenting the architecture, I was taken aback by a wedding cake in a Chinese Bakery that was a veritable Habitrail of brides and grooms ascending and descending a multiple cake structure. I assumed it was a leftover from a Unification Church wedding.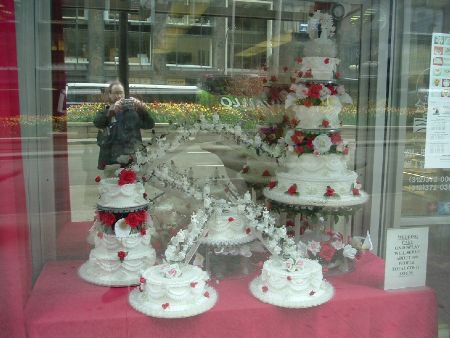 That's me taking the picture. Before we got to the car, David's cell phone rang. It was his friend, Evil Gay Lawyer, who had been stood up (or so he thought) . We headed north once again on Lakeshore Drive to pick him up and get a late lunch or early dinner. Per David Andersonville is where the Swedes were and the Lesbians are. If you're a Swedish Lesbian, it must be paradise, but I saw neither. We were headed to Jin Ju for Korean Food, but it was not serving yet so went to Ladonna – an Italian restaurant with deliciously silken pumpkin ravioli. I took the waitress' suggestion and tried the butter and sage sauce instead of the balsamic cream. I'd recommend it, the sage sets off the sweetness of the pumpkin. And Evil Gay Lawyer? Well, it's only a single impression but I'd say he's pretty much like his blog.
To simplify David's life (we'd now headed up and down Chicago a few times) we took the El back downtown to see the Joffrey Ballet do the Cool Vibrations program at the Auditorium Theater. I'm reviewing the program for Ballet Review, so can only comment cursorily here. I was glad to see a full house; Chicago has a notoriously bad record of supporting their ballet companies. I wonder if the reason Joffrey has survived a decade is because they aren't from Chicago, but rather moved there. The program was a revival of Twyla Tharp's Deuce Coupe, a new work (Motown Suite) by Donald Byrd and a revival of the first part of Billboards by Laura Dean. Of the three, I found the Tharp piece the most interesting.
It was a very full day. I walked David to the El and headed back to the hotel to transcribe notes and to write an article for Knit Simple for which I was about to blow the deadline. I got it in late, but not so late that anyone minded – the delicious irony was that the article was on how to get your knitting projects done on time.
Posted by Leigh Witchel at 11:11 PM | Comments (0) | TrackBack
May 4, 2006
City of Big Showtunes – A Chicago Journal
In November of last year the airlines had a fare sale to Chicago. I've never seen the city, so found a weekend in the spring that the Joffrey Ballet was performing to kill two stones with one bird. I asked my pal David in Chicago about the city; it turned out he hasn't been to NYC in two decades and the fare worked in both directions. So we decided upon a gay version of AFS. I went there last weekend, he's coming here next and each gets to show off our city.
I traveled after work on a Friday and flew AA first class; I had upgrade points. Not bad for a $131 fare total. The flight to Chcago is about two and one half hours. On AA it's on an MD-80, in first class it's two by two seats with a 39 inch seat pitch and they served dinner. Someone had the brains to cater braised boneless short ribs; a dish that benefits from reheating. AA First Class not the Ritz, but that flight was booked solid and a seat in a full first class is infinitely preferable to a seat in a full coach section.
The El Blue Line runs directly into Chicago; it costs $2 and takes 40 minutes – in my case I was at my hotel a bit under one hour from arrival at the gate. The El runs on a fare card system – there are machines at the terminal; bring dollar bills (the cost is $2) or coins. As far as I could tell, there's no volume discount on the card, so it doesn't make sense to pay for several rides at a time except for convenience.
I stayed at the Club Quarters, Chicago Loop on West Adams (Priceline, 3* Loop, $70/night). The neighborhood feels like lower Manhattan in NYC, a business section that is vibrant during the daytime and clears out at night. The hotel itself was perfect for a single traveler; the rooms are compact with double beds, but not at all claustrophobic and well designed for work – but they only have showers rather than bathtubs. I was given a room with a double bed; though more than enough for me, it would have been close quarters for a couple. I didn't use the fitness center or the lounge, but the lounge was pretty constantly occupied. Service was accommodating; there is free wireless but signal is of varying quality. I'd have no problem staying here again at all.
David picked me up at the hotel and drove north. He is an architect, so pointed out designs and landmarks along the way, although it would have to wait for daylight for me to understand more intuitively the lay of the land. We parked at his office and walked a few blocks to the Hancock Building. The Signature Lounge on the 96th Floor was David's planned destination. In his opinion, it's the most reasonably priced view of Chicago, and on the only clear night for the weekend it was quite magical.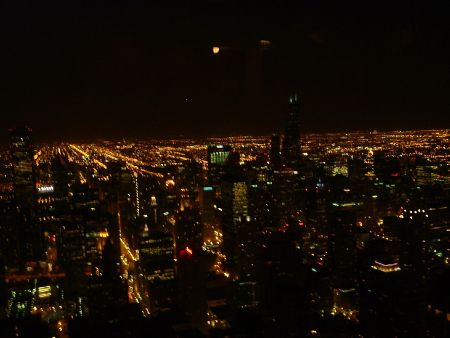 The city spreads out for miles below in a rigorous grid and boy, does it seem flat and large. David pointed out sites and told me Chicago lore. We got drinks and mediocre sandwiches, either is about $10 per item. You're eating and drinking the view.
It had been a long day so I headed back to the hotel afterwards for a full day of sightseeing the next day.
Posted by Leigh Witchel at 6:49 PM | Comments (1) | TrackBack
May 3, 2006
Word of Mouth - Nrityagram Dance next week
If there's only one suggestion of mine that you take this year, it should be this one.
Nrityagram Dance will be coming to the Skirball Center at NYU next Friday and Saturday May 12 and 13th.
They were one of the best things I saw last year. The dancing and choreography were immaculate.
Just go.
Posted by Leigh Witchel at 10:52 PM | Comments (0) | TrackBack
May 1, 2006
Go to a museum for free this month
via Flyertalk: An MBNA or Bank of America Credit Card will get free admission for you and a guest to several museums throughout the Northeast, including the Guggenheim in NYC, Philadelphia's gorgeous Museum of Art and the MFA in Boston.
Offer valid from 5/1/06 to 5/31/06. Photo ID and Bank of America credit card, ATM card, Check Card or MBNA credit card must be presented. Excludes fundraising events and ticketed shows. Free admission limited to cardholder and one guest per participating institution. Not to be combined with other offers.
Posted by Leigh Witchel at 11:36 PM | Comments (0) | TrackBack