« May 2006 | Main | July 2006 »
June 30, 2006
Friday Cat Blogging - Guest Kittysaurus Rex edition
This is Archie: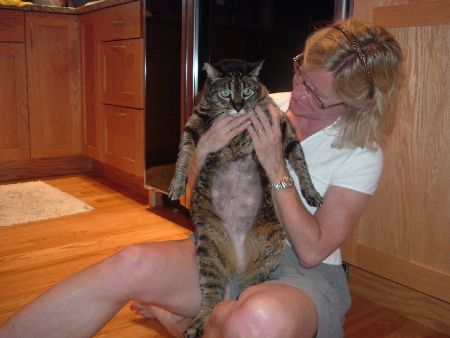 As you can see, Archie is a big boy - almost double the size of She Who Must Be Petted. Unlike her, his bald belly was not self-inflicted; the vet needed to shave poor Archie. Archie is being held by his companion, my Wicked Stepmother.
He is particularly fond of ham.
Posted by Leigh Witchel at 11:03 PM | Comments (6) | TrackBack
June 28, 2006
Light posting for a while longer
Apologies. There's no crisis, I just have four articles I need to finish.
I'll be back as soon as I can.
Posted by Leigh Witchel at 12:13 AM | Comments (0) | TrackBack
June 27, 2006
Latest Dance Articles
Funerals, Weddings and Westerns on Miranda Weese's debut in In Memory Of . . . and a look at Russian Seasons:


Weese began her career as a virtuoso, speeding through Merrill Ashley's coloratura soprano roles. Maturity (and injury) added darker coloring as well as emotional complexity to her dancing; to extend the metaphor she's become the company's preeminent contralto.
Remembrance of Things Past on Neil Greenberg's concert at Dance Theater Workshop:


"At this point in the making of the dance my friend Michael Mitchell died." The last line projected at the back of the stage in Neil Greenberg's "Not-About-AIDS-Dance" (1994) encapsulates the urgency of it. Eight friends died while the dancers created the piece, as did his brother Jon. Greenberg himself was HIV+.

Fast forward twelve years later. Protease inhibitors made him asymptomatic. Greenberg looks in admirable dancing shape, better than I have seen in a few years. He's still making dances.
Not online, but in the June-July issue of Pointe Magazine is my review of San Francisco Ballet
Taylor is fascinated by the pastoral, but he's done this before and better in works such as Arden Court.

Quaternary is also a U.S. premiere, and Christopher Wheeldon's fourth ballet for SFB. Choreographed in his slickly inventive, contemporary mode; Quaternary is as calculated as a fashion ad.
Posted by Leigh Witchel at 11:45 PM | Comments (0) | TrackBack
June 19, 2006
Leigh's Dance Card
Tuesday June 20 - NYCB. Friandises, Slice to Sharp (new Diamond Project piece by Jorma Elo) and Vienna Waltzes. Off duty, but I want to catch Pascale van Kipnis returning to repertory after a long injury. Michael Popkin reports on the Elo piece at Danceview Times.
Wednesday, June 21 - NYCB. Russian Seasons (a new Diamond Project piece by Alexander Ratmansky) In Memory of (Miranda Weese and Jason Fowler make debuts) and Western Symphony. On duty for DVT.
Friday, June 23 - Neil Greenberg at DTW. Not-About-AIDS-Dance and Quartet for Three Gay Men. Recommended. I wrote a long appreciation of Greenberg's works in '98 and think that along with The Disco Project, Not-About-AIDS-Dance is his best work. Also on duty for DVT.
Also at DVT: Lisa Rinehart discovers that maybe Giselle ain't so bad, after all.
Posted by Leigh Witchel at 7:29 PM | Comments (0) | TrackBack
June 17, 2006
I. am. TRAUMATIZED.
Days like this that convince me that like Sutherland in Dancer from the Dance, my years in New York City have turned me into some sort of sea anemone that can only live in a pressurized environment, and removal from that environment can be potentially hazardous.
I spent the afternoon in a mall.
I. am. traumatized.
Mom needed to buy a water heater so we went to Sears in White Plains. It took some finding as it had been in the same place since I was a child but was no longer there. A quick phone call indicated that it was now in the Galleria Mall a few blocks away, having moved about 3 years ago.
While Mom was haranguing the poor sales clerk about the warranty on a heater, I hadn't eaten lunch so got some food at the Food Court. I know there are a few food courts in Manhattan, but they don't have their full effect here. You need a big one with Dunkin Donuts and Sbarro and Wendy's and McDonalds and Nathan's and Cinnabon and Manchu Wok and Sayonara Sushi and every mediocre dining chain and ersatz ethnic franchise in the book. Obese people were trundling around with large plates of fried chicken wings and pork fried rice. Children were racing around, honking toy cars while their parents ate. I grabbed a small burger at Wendy's and contemplated my fate. One floor up, I could see Piercing Pagoda.
I don't think I am meant for Mall Culture.
Today was also the U.S. Open. It was held at Winged Foot Golf Course in my home town, Mamaroneck. I don't get golf as a spectator sport (it moves at such a deliberate pace, what is there to watch?) but golf fans probably don't get watching ballet. Metro-North had extra trains to accommodate the spectators but it was still a mob scene at the train station. I've already been traumatized at the food court, so I was contemplating darkly the suburban hell at the train station. Acres and acres of heterosexual drones wearing polo shirts with logos and khaki shorts and baseball caps. . .
About at this point I noticed what I was wearing – a polo shirt and khaki pants.
But my shirt was black and without a logo, so it's O.K.
Posted by Leigh Witchel at 10:07 PM | Comments (2) | TrackBack
June 16, 2006
В пятницу котенок блоггинг
(Friday Cat Blogging)
по-русски!
Seen on the wall of an alley in St. Petersburg: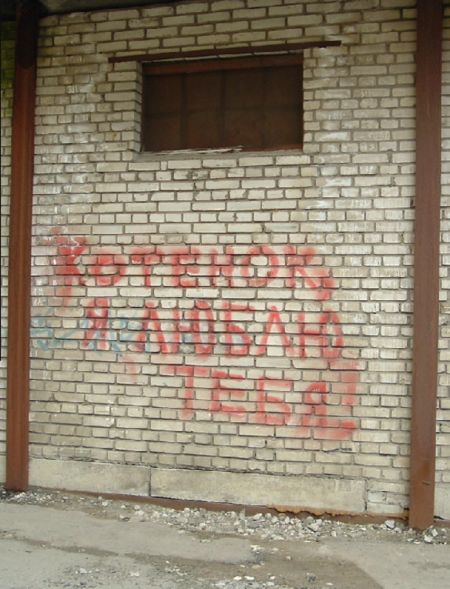 Котенок, я люблю тэбя!
Kitten, I love you!
But then again, who doesn't?
Posted by Leigh Witchel at 5:13 PM | Comments (2) | TrackBack
June 9, 2006
Homeward Bound
This will probably be my last entry from London. I leave for home at 6 pm GMT, arrive in NYC 8 pm EDT. You'll hear from me again when I am home.
Posted by Leigh Witchel at 4:26 AM | Comments (0) | TrackBack
I hate to admit it, but Balanchine was right
With every trip to see the Royal Ballet my affection grows, but there's one way in which I do agree with Mr. B. on the company. I know the English think our hands look like claws when we dance, but to me, their hands, with the fingers held together, DO like mittens!
Posted by Leigh Witchel at 4:25 AM | Comments (0) | TrackBack
I saw the Queen!
Last night was a gala for the 75th anniversary of the Royal Ballet that was also part of the celebrations for Queen Elizabeth II's 80th birthday. Security was higher at the Opera House (sniffer dogs and policemen) though I practically walked right in. The Queen arrived last to the Royal box – which is in the Grand Tier on house right – the large box that is third from the stage. It was decorated with her herald and a large garland of flowers. The assembly stood as she entered; the orchestra played "God Save the Queen" and we sat after she was seated. From my vantage point in the Stalls Circle I could see her enter and sit - people to my right could not see her at all. She's in millions of photos, and as is no surprise, she looks like her pictures. Another way to mark an American – I did know the etiquette on what to do when royalty attends an opera house (in 2000 I was caught unawares when Queen Margrethe attended the Bournonville Festival in Copenhagen. "Why is everyone standing? OH!!") but the only words I know to that anthem are "My country, 'tis of thee . . ."
After the gala (Carlos Acosta can certainly work up a stir. He outdid himself in the Corsaire pas de deux with astounding elevation) Monica Mason led the assembled company and school in what I thought might be a formal defilé but was a modest and charming moment. "Your Majesty, we have danced for you tonight. Now we would like to sing for you." And they sang "Happy Birthday, Your Majesty."
The Queen has a Queenmobile – it's assumedly a Rolls Royce (but it may be a Bentley – I don't know car grilles by sight) with her insignia on the roof, and the insignia is lit. Had she been driven in New York, it most resembles a taxi light both in size and placement. Someone probably would have tried to hail it.
Posted by Leigh Witchel at 4:20 AM | Comments (1) | TrackBack
Familiarity
On Wednesday night, I was seated next to dance researcher Stephanie Jordan, who asked me as a greeting, "Are you based here now?" It made me smile; I guess I've been there a reasonable amount. We sat in the orchestra stalls; I'm only seated there as press infrequently. Generally I am in the Stalls Circles. The view is slightly different; one main difference is that one can't see the ceiling, which is Wedgwood blue with gold trim. From the Stalls Circle, one's impression of the house is entirely red velvet and gold.
My friend John once said his travel was based on people rather than buildings. Mine is mostly based on dance, but what he said is also truer for me than I once realized. At present, the three cities I return to most often (London, Toronto and San Francisco) are as much for friends and family as for dance. Each has a strong ballet company, but taken equally with no other claims of friendship, London is the one that would prompt a dance aficionado to travel the greatest distance.
This trip has given me even more familiarity with the city. There are still things I don't get. Crossing the street will probably always be harrowing; I rely on the "LOOK LEFT – LOOK RIGHT" signs they paint in the center of London for tourists from places where traffic flows on the right. But I better understand the layout of city; coming from a city mostly on a grid, it was once was an opaque jumble of streets. I'm starting to know where the main thoroughfares (Oxford Street, Euston Road, Knightsbridge and others) where they go – and what names they have in different sections. Like 9th Avenue becoming Columbus Avenue, streets change names here – but they do it more often.
Posted by Leigh Witchel at 4:17 AM | Comments (1) | TrackBack
Bluebells
While in Wales, we went on a walk in a bird sanctuary at Llyn Brianne, during which we did not see a single bird of interest besides what one of us termed "LBJ's" – Little Brown Jobbies. What we did see was the woods carpeted in bluebells. It was as if we were walking in a purple-blue sea amidst the foliage.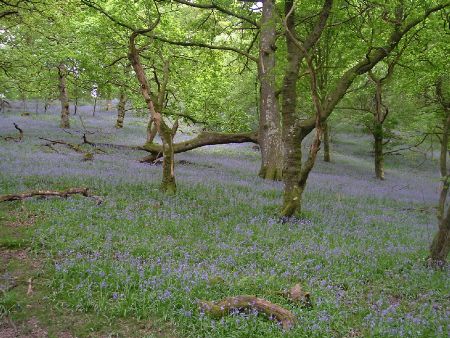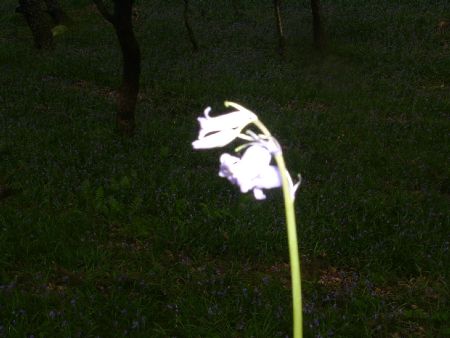 Posted by Leigh Witchel at 4:12 AM | Comments (2) | TrackBack
June 8, 2006
Actually Knitting to Relax
Usually I hate the question asked if someone sees me knitting, "That's very relaxing isn't it?" Yesterday, I knit to calm down for the first time in a while. When I came to check in at 1 pm at the Hilton London Euston, after a 2.5 hour bus ride from Bristol and schlepping my heavy bags from Victoria to Euston on the underground, the clerk first asked me umpteen questions only useful for marketing (you don't need my phone number in the US, and you don't need my email address. GIVE ME MY ROOM.) Then he tried to downsell me into a single room when I had paid for a double - something hotels occasionally try and do if you've gotten the room on Priceline. I don't care if I'm only one person, the terms of Priceline are double accommodation. Do not even try and give me a single room - I deliberately use Priceline in London to avoid single rooms the size of closets. Then he told me to come back at official check-in, 3 pm. I went to the plaza outside of Euston Station and knit several squares of Fair Isle entrelac to release the pressure from the steam building between my ears.
Posted by Leigh Witchel at 4:45 AM | Comments (0) | TrackBack
FOs
Here's my brother's birthday cabled cap, finished slightly before the stroke of midnight on his birthday. That's not as dramatic as it sounds; I had finished it hours before, but darned in the ends before bed.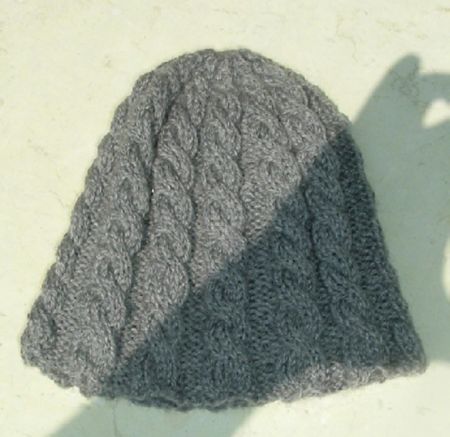 It's much like the ones in fashion right now. Medium gray wool knit on US6 needles, six stitch cables with four purl stitches in between. The two nifty tricks in it are the cast-on (already reported) and the crown decrease. The crown is improvised, but has a gradual decrease by first decreasing the purl stitches down to 3, then 2 between, then turning the 3x3 cable to 2x2. The purls then went to a single and the cable to 1x1. Slipping three sts, then decreasing them (an "SSSK" if such existed) made the final crown decrease look like a last cable twist.
In Bristol I also finished Alexandra's purse. I sewed the lining in London and Cardiff, and trimmed the edges with monk's cord.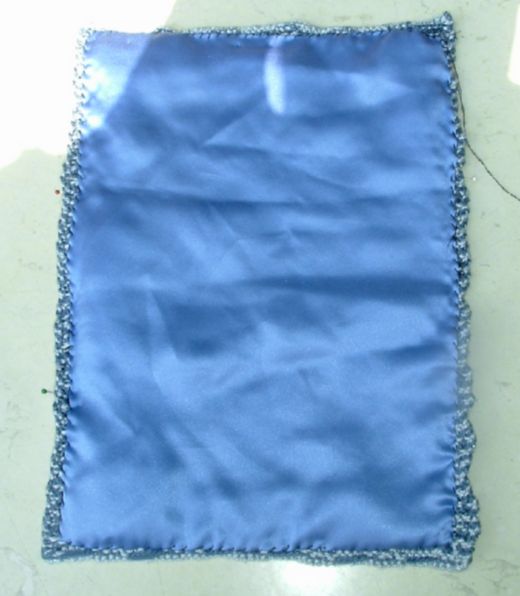 (I wonder what the maid at the Cumberland Hotel would have thought had she walked in on me twisting enormous lengths of silk looped around the handle of the closet). My sister-in-law Julia felt a knot and loop closure was needed, so it was applied.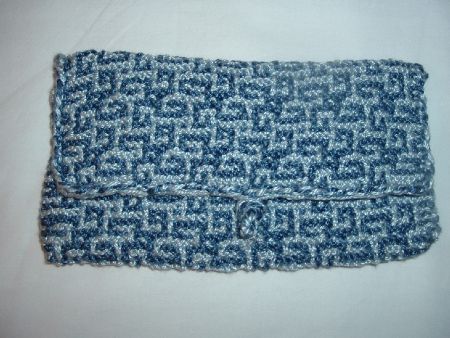 My only slight worry is the purse doesn't have much body. I wonder if they are usually lined with interfacing as well – or if that's less of a problem with items in it. I shouldn't worry about a gift once given, but I really want this to get some use.
On the bus back to Bristol I knit a simple ribbed cap according to my usual formula (which is in the current issue of knit.1 or also on my blog if you search back a few months). So that's three items finished in as many days. Hurrah.
Posted by Leigh Witchel at 4:34 AM | Comments (1) | TrackBack
When Shuffle gets it right
Yesterday on the bus to London, my mp3 player played Dancing With Myself
and then immediately, Why Can't I Be You?
Good going, Shuffle.
Posted by Leigh Witchel at 4:27 AM | Comments (0) | TrackBack
June 7, 2006
What kind of animals does one see in Wales?
One sees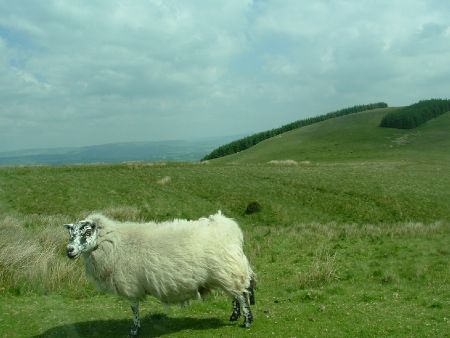 Sheep (this one moved to the side of the road after stopping our car)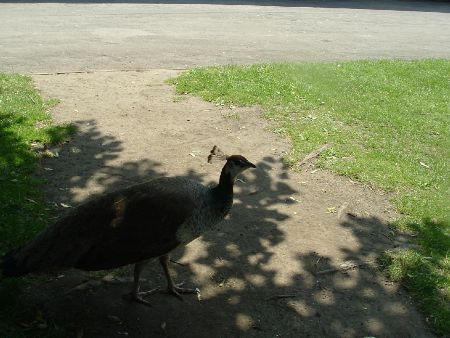 Peacocks (this one lives in Cardiff Castle, where I spent the afternoon knitting with Emily and Brenda!)
and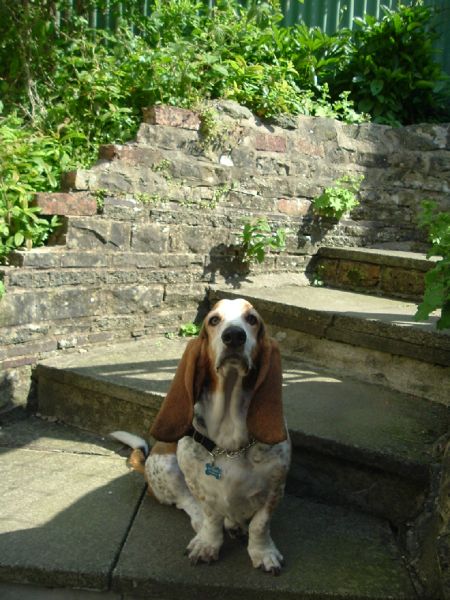 Basset Hounds (this one lives at Carlton House, where we dined, and is named Alex)
We even saw them on Tuesday instead of Thursday. Take that, Tbogg!
Off to catch a bus back to London - will talk to you again when I find net access!
Posted by Leigh Witchel at 2:28 AM | Comments (1) | TrackBack
June 5, 2006
Current Knitting (and other stuff)
I'm again busy knitting fiendishly – gifts for friends on the trip.
The first item finished was a simple blouse scarf in Berocco Glitz. It got cast on before Alexandra and I went to dinner on Friday night. She had an unplanned rehearsal that kept me at the stage door waiting, so I was glad for something to do, but it presented the incongruous picture of a me in a Canali suit and Turnbull and Asser shirt, sitting at the stage door with some unidentifiable piece of fluff in my bag (and occasionally picking pieces of it off my trousers) with something growing from bamboo needles. I don't like knitting in a suit (it ruins the illusion!) but I hate having nothing to do more. I'm glad I suited up for her, though. She came down in a cream wool ensemble looking like two million bucks, and we went to Rules for dinner.
The scarf was presented to my friend Judith at tea. That was also delightful; the first time I've had tea in London, and not the more artificial High Tea, but afternoon tea with cake and conversation at a friend's home. I hadn't finished the scarf, so it was knit as we talked about dance – Judith's husband John is an eminent dance writer and biographer so the conversation was quite amazing; so many things I've read about where he was at the premiere. I had to ask him, who was on the list of dancers he wished he had seen, but had not. His answer – Vakhtang Chabukiani. The top of my list is Tanaquil LeClercq – he had seen her, "Lovely." The scarf grew quickly and got finished before I had to leave for the evening performance at Covent Garden.
Earlier that morning after a few abortive tries I had cast on a simple cabled cap for my brother. I hadn't brought a 16 inch circular needle in a size 8, so I needed to change wool to one that could be used on a size 6 needle. It's just six stitch cables separated by four purl stitches. The one useful trick to report is a way to cast on a neat cabled edge: Instead of casting on multiples of ten (6 st cable + four purl sts), cast on the four purl sts and only half the cable sts (3) – in this case multiples of seven. On the first row, pick up the other three cable stitches in the back of the first three stitches. The edge will wave and curl less.
A good chunk was knit on the bus to Bristol, and I hope it will be finished on a drive to Wales today. I'm going with family, but also hope to visit my friends Emily and Brenda in Cardiff for an afternoon of knitting in Cardiff Castle. We're going overnight, so I'm packing one change of clothing and four knitting projects.
Posted by Leigh Witchel at 3:40 AM | Comments (0) | TrackBack
June 3, 2006
Rent a Buddy
I hid in my room for the rest of the night and pondered my trip darkly, including a few depressed messages to friends. One of them suggested looking at www.gay.ru – I wasn't looking for sex, but I went there anyway. Lo and behold, a section on tour guides. This was exactly what the doctor ordered. I called the most likely of them – the one who wasn't 22. Poor man, I woke him up at 8:30 a.m. – in Europe my body clock shifts to early rising and I have to fight to not get up at 5 a.m.) Nicolay was available and helped salvage the trip.
On Monday, we walked to the Palace Square, down to the Summer Palace and summer gardens and along the Moika and Fontanka. Most importantly, we had lunch, which Nicolay would not have asked about, but as I explained, "If I take you to lunch, I get to eat!" He first asked if I wanted fast food, and I asked for Russian food, something simple. . . Blini? He smiled, and took me to a café that was only a block or two from the Radisson but on the other side of Vladimirsky Prospect crossing Nevsky where I had not gone. It was my first restaurant meal in St. Petersburg – everything else had either been breakfast at the hotel or picking up food at markets and bakeries. By Sunday I had lost the initiative to try and make myself understood in a restaurant. We had chicken and mushroom blinis and I was delighted.
The next day he collected me at the hotel and we walked to the Fortress of St. Peter and Paul to see the cathedral and the walls of the fortress. The all-important lunch (Pelmeni! Broccoli! Hooray, vegetables!) followed at a café right opposite the fortress. Ironically, both this place and the café the day before had English menus – but that didn't mean they had English speaking staff.
After lunch we went on the Metro. As everyone else reports, it is deep. It takes a few minutes on an elevator to reach the trains. It's also frequent and fast but it has limited coverage of the center of the city. We got out at Gostiny Dvor to visit first the Kazan Cathedral and then walked to St. Isaac's, where we said our good byes after looking at the city from the dome. I went on in excellent spirits to visit the Yussopov Palace, only a short walk from my hotel) on my own.
A guide cost a little under $100 for two afternoons, not including lunches, transit and admissions, which added under $40 to the cost. Nicolay's English is self-taught, and considering that rather good though he would get fatigued at times. He was a good tour guide as well, though his specialty is gay Saint Petersburg and I wasn't looking to go to clubs, just not to be shown around by someone who thought American men made wonderful husbands. Had I needed someone with more specialized depth in art or architecture I would done more research, but Nicolay was friendly, helpful, considerate, honest and knew the city. I needed a rent-a-buddy and he did a great job.
Posted by Leigh Witchel at 2:41 AM | Comments (1) | TrackBack
Russian Women make Wonderful Wives
On Saturday night I was seated next to a Russian woman who struck up a conversation with me. I was delighted to have someone to speak in English with at the ballet so the conversation extended through the intermissions and out the door into the rain. She offered to show me more of the city on the next day; I was torn between suspicion and desire for companionship; companionship won out. At first she thought to go into a café near the theater, but it was an Irish-style pub, crowded and noisy with no place to sit. We walked in the rain towards the Renaissance Hotel – she lived on the same street and I would be staying there in a few days so I was curious to see it. Up on the sixth floor terrace we tried to watch the fireworks for the city's anniversary in vain – a few peeked around St. Isaac's dome and then the finale. We both ordered red wine though I was tired and did not want to drink; I picked up the tab. The conversation was pleasant enough and we made arrangements to see each other after the performance and walk around the city, perhaps to go for a meal.
She had been married twice, once in America where she had lived in Los Angeles several years. She asked about my personal life – I simply said I was unmarried and had no interest in marriage. In the United States I would have just told her I was gay. In the United States, though, she probably wouldn't have even had to ask me. My gaydar didn't work on Russians and hers didn't work on Americans. The day before, there had been a riot in Moscow where gays and lesbians trying to put a wreath at a military monument and to commemorate the decriminalization of homosexuality had been assaulted by a mob and denounced by the mayor. I wasn't in the mood to get into it.
After the performance the next afternoon I walked back to the Renaissance where we had arranged to meet, regretting the decision. When she was slightly late, I hoped she wouldn't show, but alas. When she asked to put her hand in my jacket pocket with mine because it was cold I knew I had made a mistake. Congratulations, this was a date. Her hand remained there tenaciously though I made no move to take it.
After dragging me around St. Isaac's Square, she took me to a café, again for red wine. Diplomatically, I developed a crippling case of jet lag, picked up the tab and fled back to my hotel, not coming out the rest of the night. Once again, the number 22 bus did not run on Nevsky Prospect because of a parade of military bands. The toothless conductor talked to me in Russian and I followed everyone off the bus. Two younger women took pity on me and explained what was happening in English; I made the half hour walk back to the hotel. On looking back at the story it's quite funny; at the time I felt as if the only people I would meet in St. Petersburg were either hotel employees, petty criminals or mail order brides.
Posted by Leigh Witchel at 2:38 AM | Comments (0) | TrackBack
June 2, 2006
Orientalism
Russia is enormous. It spans eleven time zones. At the astonishing Yussopov Palace on the Moika, along with the rooms filled with Italian or French art and furniture, there is a phenomenal Moorish room filled with magnificent tile work and flanked by two porcelain busts of a Moorish woman and man. It is analagous to the same fascination of the time in France or England. But when in Russia, the Orientalism of ballets like La Bayadère or even the Chinese dance in The Nutcracker took on different shadings. It felt more complicated – imagine if our ballets had Mexican dances in them. They aren't just talking about exotic far away places; they're talking about their neighbors and their frontier.

Posted by Leigh Witchel at 6:11 AM | Comments (0) | TrackBack
Window on the West
Russia's historical relationship to America feels relatively simple. It's based on the balance of power. Our remotest regions in Siberia and the Aleutians are only a few miles apart, but for the most part we are on the opposite sides of the earth. Russia's relationship to Europe is far more ambivalent. It's about culture and acceptance. There's envy, desire and resentment mixed in as well as simpler needs like power and might. That is why Saint Petersburg is so magnificent; it was built not only to have access to Europe, but to show it up as well. We know our relationship with Russia, but we don't understand Russia until we think of their relationship with Europe.

Posted by Leigh Witchel at 6:09 AM | Comments (0) | TrackBack
Российский Урок
I always forget one item on a trip, this time it was ties. On Friday morning, I took a walking tour, and the helpful guide, Dmitri, suggested that the best compromise of quality and price would be at Stockmann's department store - a Finnish chain I recalled from Helsinki close to 30 years ago.
I headed in there and tried my luck in Russian. "Я хочу купить. . ." "I want to buy . . " but I didn't know the word for tie - which I think from looking in the dictionary is связь. My guess was that the Rusian cognate would be French rather than English, so I tried "cravate". The young sales lady smiled, led me around the corner and answered in good English, "What color?"

"Gold."
She looks on the rack and hands me a beige silk tie. The ties were probably imported from Sweden, of decent quality and cost 495 rubles or about $17 each. I reach for a gold one.
"Orange!" she exclaims.
I also pick out a green one. "Gold?" she asks teasingly.
"In English we say 'The customer is always right!'"
"I know that one," she smiles right back.
Posted by Leigh Witchel at 5:50 AM | Comments (0) | TrackBack
Mariinsky II
The Mariinsky Press office sat me in "extra" seating. IThe ticket situation was a comedy of errors. There is one tiny box office window. Press tickets are "inside, to the right" – I passed through a metal detector to a stairway, most ushers do not speak English besides "left" and "right". Moving down another corridor there is a lone window, the woman inside gave me a hand written ticket and after asking, a program in English. The seat location was written in Russian. There are no seating diagrams that I saw. I went back to the woman at the stairway. She pointed outwards and to the left. I went through another checkpoint. I headed to a door. The woman looked at the voucher. "To the left". I found another usher; she looked at the voucher and said something in Russian. Finally I was at the absolute end of the corridor, where an usher was sitting. "Где?!" (Where??) I pleaded with her. She led me to a box, and pointed to two chairs outside the box. Through quick mime she indicated that I was to take one of the chairs outside and sit in it at the back of the box. Good God. I had been warned that the press office gave awful seats, but this is beyond my expectations. If I sit, my view is blocked by the people in front. If I stand, there is a hanging chandelier that blocks the exact center of the stage. I alternate between standing and kneeling on the chair.
This only happened the first night. On every other night I was in the "parterre" which at the Metropolitan Opera House is a separate ring, but at the Mariinsky is the back of the orchestra. There are six small unmarked chairs curled along the side of the house on both sides; these are given out by management. I was placed in one of these chairs each night; the view is fine.
Besides the corps de ballet in Swan Lake (oddly enough, the corps in La Bayadère did not have the same resonance) the most notable thing of the weekend of performances was Dmitri Semionov performing Solor. Russian friends have been telling us to watch for him for years; but he suffered a major injury. He's got great proportions and an easy, full jump.
Posted by Leigh Witchel at 5:43 AM | Comments (0) | TrackBack
June 1, 2006
History depends on who is telling it
In the Cathedral of Saints Peter and Paul, the tsars are buried in enormous marble tombs under enormous bronze baroque filigree. Most of the tombs are oversized, fitting for the personalities of Peter and Catherine the Great. Alexander II (assassinated by the nihilists) is buried a few steps away next to his wife in a casket of colored marble.
On the other side of the church is a chapel dedicated to Tsar Nicholas II and his family. Their bones were discovered 80 years after their assassination in Ekaterinburg and, along with those of their servants and their pets, are interred there. They have been named martyrs and saints by the Russian Orthodox church.
The guides of the tours I went on emphasized tsarist history and the Soviet period is glossed over. It is the most recent wound. Saint Petersburg is proud of its wealth and commerce. Real Estate and telecommunications are growth industries, markets carry fruits and delicacies from the world over as well as local vegetables, fish, cheese and caviar. The city, at least in the center, is unabashedly capitalist and wants to be nothing else. An icon of Tsar Nicholas II and his family also occupies a corner of Kazan Cathedral, but when I was there, it had no candles lit in front of it.
Posted by Leigh Witchel at 12:35 AM | Comments (0) | TrackBack
Architecture and layout
Saint Petersburg is called the Venice of the North, but Peter the Great went to the Netherlands to learn shipbuilding, and named the city with the Dutch name Sankt-Petersburg. The layout of the city is a semi-circle with radiating embankments and canals, much (as said before) like Amsterdam.
Like Washington DC, Paris or London, Saint Petersburg's buildings are long and low, going out, not up. Several different styles of architecture are represented, from neoclassical and baroque through Beaux-Arts and contemporary. The Summer Palace is a surprisingly modest wooden building in the corner of the Summer Gardens. The Winter Palace, which now houses much of the Hermitage collection, is Baroque excess; Versailles with canals. What's least in evidence in the center of the city, though, is Soviet Architecture. The example I saw most often was a building at Moika 58, and on the route to the airport is a statue of Lenin. As they joke, he's directing traffic.

Posted by Leigh Witchel at 12:33 AM | Comments (0) | TrackBack
Decision
I'm not telling the story of St. Petersburg chronologically. There are better ways to connect the dots. Time means very little here anyway. Things tend to happen when they happen – my guide was as much as 90 minutes late from traffic. Buses on routes stop, or they don't. Sooner or later you'll get the whole story.

Posted by Leigh Witchel at 12:31 AM | Comments (0) | TrackBack
Transit II - The Great Race
10 pm 5/30 St. Petersburg Time. Get call from airport transfer. Traffic in St. Petersburg is awful, they want to move their pickup from 2 pm to noon. This is my only chance to see the Hermitage. We compromise on 1 pm.
7:00 am St. Petersburg Time. Wake up. Pack.
10:30 am. Go to Hermitage. For piece of mind, decide to look at it as a palace, not an art collection. If I had to really look at the art, I'd start crying in frustration.
Noon. Return to hotel and check out.
1 pm. Car picks me up.
2:06 pm - get to Pulkovo II. Pass through initial security, but one is not allowed to check in until 2 hours before flight, so I get to sit in the airport for the hour I could have used to see more of the Hermitage.
3:10 pm. Flight check in. Visit the palatial Pulkovo Lounge for cheesy potato chips and second hand smoke.
4:30 pm. Chaotic security screening and pat-down.
5:10 pm BA 0879 takes off on time.
5:30 pm GMT - BA 0879 lands ten minutes early without any circling over Heathrow.
5:43 pm - Through Passport Control
5:50 pm Baggage Claim
5:54 pm at Heathrow Express
6:02 pm HEX arrives at Terminal 1
6:17 pm HEX arrives at Paddington
6:25 pm Cab to Cumberland Hotel, Marble Arch
6:40 pm Check in at hotel
6:55 pm Marble Arch Tube
7:10 pm Holborn Tube
Walk to Covent Garden - arrive at 7:21 pm.
The dash cost £23. £14.50 for HEX, £7 for the cab, £1.50 for the tube (I am glad I saved my Oyster card from my last trip!) The ticket itself (a standing place because I wasn't sure I would make it) only cost £9. I have to say it was all worth it. I woke up in Russia. I went to sleep in London. I was at the Hermitage and Covent Garden. My body had no idea what time it is, and I was so tired during Act III I might as well have hallucinated purple bats. The cosmos may have taken pity, because a couple left only a few minutes into the prologue directly in front of me and I slipped into their seats at the interval and sat for the rest of the performance.
The embarrassing thing to admit is a palpable relief to be in familiar London, where I know the language, the transit system and the theater. Some of it is my mood, some of it is the actual performance, which taken in full beat anything I saw at the Mariinsky for quality - but I think that's the luck of the draw, not the position of the two companies. The Mariinsky was having an undistinguished weekend, and the Royal was working at its best.
Posted by Leigh Witchel at 12:16 AM | Comments (0) | TrackBack