« July 2006 | Main | September 2006 »
August 31, 2006
Latest Knitting Article
Technical Difficulties in the "TV" issue of Knit.1 (Fall 2006) - an article on recognizing and fixing mistakes that will make my life easier. Now I'll just bring it in to my beginner class for the section on what to do about mistakes.
Advanced mistake-making

The Accidental Möbius. If you're working in the round, check carefully before you join the round that all the stitches are aligned without twisting (I make sure that my cast-on edge is at the bottom of the needles.) If you leave in a twist, you will make a sort of Möbius strip instead of a tube and it may take several rows before you realize it. There is a quick and dirty fudge if you catch this in the first round or two: At the beginning of the round, align the knitted tube correctly – the running threads between the last and first stitches of the round will become twisted instead. Continue knitting and neaten that small area with the yarn tail when darning it in. If you notice the twist after a few rounds of knitting, there is nothing to do but rip it out.

Posted by Leigh Witchel at 10:52 PM | Comments (0) | TrackBack
August 30, 2006
Are you thinking what I'm thinking, Pinky?
Jaimie Tapper today announced her retirement from the Royal Ballet.
She was only publicly announced in casting for Sleeping Beauty and Nutcracker, so those will have to be re-cast, but that's only the immediate effect.
It means there's a slot for a female principal open.
Doubtless it won't be filled immediately, but looking at the roster of female First Soloists you can guess who my money is on.
I don't think it's just bias. Given her situation and the fact that (like the recently promoted Sarah Lamb) she dropped down in rank to come to the company, I think she's the most likely candidate.
I'm curious to see if how they re-cast Tapper's performances gives any sense of how the wind is blowing. Tapper was to dance Beauty with Bonelli and Nuts with Pennefather - Alexandra did Tschai pas with Bonelli and is dancing Beauty with Pennefather.
We shall see . . .
[Thanks to Jane for the tip!]
Posted by Leigh Witchel at 4:58 PM | Comments (0) | TrackBack
August 29, 2006
Pictures at an Exhibition (II)
Accidentally not included from my first day, walking back to the Radisson on Nevsky Prospect: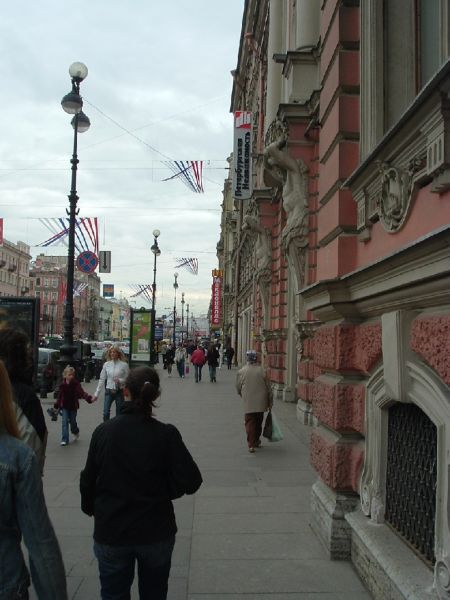 Right down the block from the Beloselsky Palace, the Golden Arches. Yes, it's an exact transliteration. I did not eat there.
The next day, walking to the center of the city. I avoided Nevsky Prospect because there was a huge parade. It was Saturday, and the city's anniversary. I hate to admit it, but I don't like parades or crowds.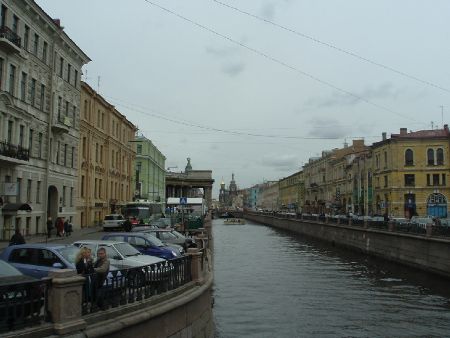 The Griboedov Canal. I stayed about two blocks outside of the Fontanka. The Griboedov (formerly the Catherine) Canal is the next one in. It's quieter, smaller and more meandering than the Fontanka.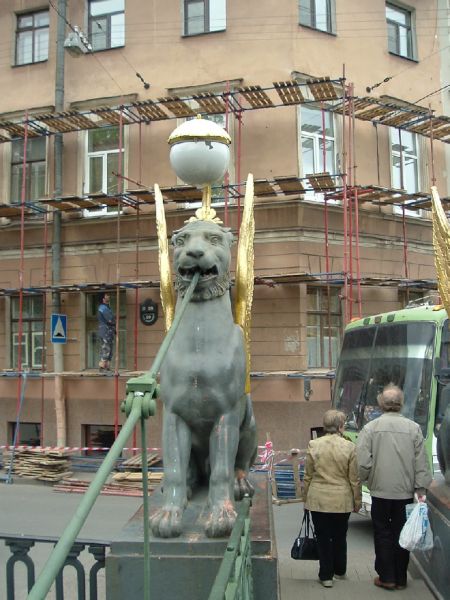 The Bankovskiy Bridge over the Griboedov has four gilded griffons, two at either end.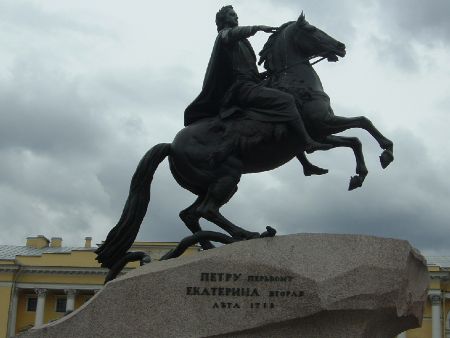 The Bronze Horseman. This statue of Peter the Great was erected by Catherine the Great. The inscription says "To Peter the First from Catherine the Second." Catherine, a German, was skillfully asserting her legitimacy.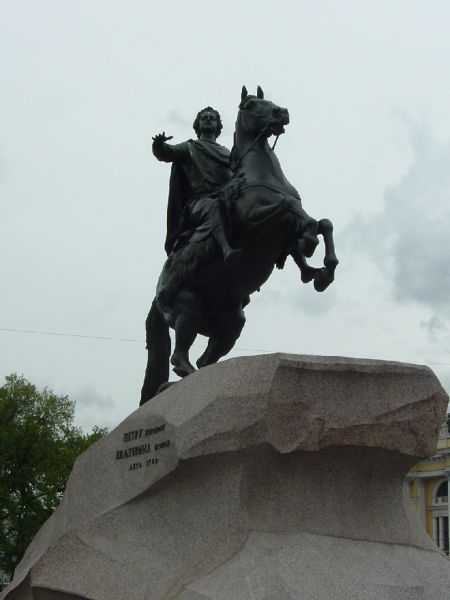 The statue figures so prominently in Pushkin's narrative poem The Bronze Horseman that people referred to it as such afterwards. One can see why poor Yevgeny would find Peter and his aspirations as intimidating as the Neva itself.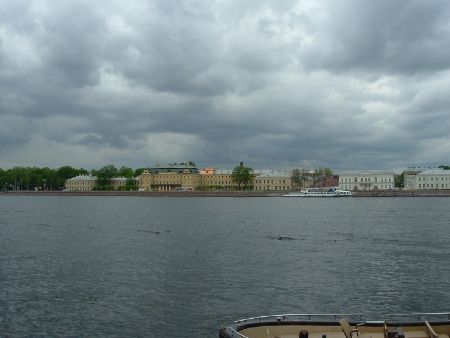 The Neva at the center of the city. The Bronze Horseman tells the story of the flood of 1824.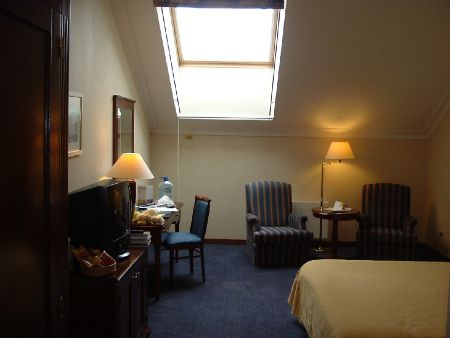 My room at the Radisson. The room was on the level of a good business class hotel in the United States, though because I was on the top floor there was no window, only a skylight. What can I say, it was an award stay at a ridiculously good rate. The breakfast buffet there was also excellent.
Posted by Leigh Witchel at 11:04 PM | Comments (0) | TrackBack
August 28, 2006
Cheap fares JFK-Gatwick and vice versa
Delta is inaugurating their JFK Gatwick nonstop service with really cheap fares - $305 r/t with all taxes from JFK-LGW and £160 all-inclusive from LGW-JFK. If you prefer to go business class it is a bargain at about $1000 r/t (before taxes)
I'm betting this sale will only last a few more days.
Allowable travel dates are Nov 16-Dec 14 and January 8-March 21
The Royal Ballet's season:
BRB is in London before these dates.
ENB is doing Giselle in London Jan 10-13.
For the Londoners who never ever EVER visit us (wimps) - NYCB is in season.
So come here for a change. It's still a bargain.
Posted by Leigh Witchel at 5:57 PM | Comments (0) | TrackBack
August 27, 2006
Department of Maybe That's Not How You Wanted to Put That
Seen in the subway today - a poster for the anti-HIV medication Truvada. The slogan, also on their website, is "You've worked hard to get where you are."
Maybe they want to reword that just a bit.
Posted by Leigh Witchel at 11:00 PM | Comments (0) | TrackBack
August 26, 2006
Thank you Messrs. Olmstead and Vaux (and good art too!)
For Central Park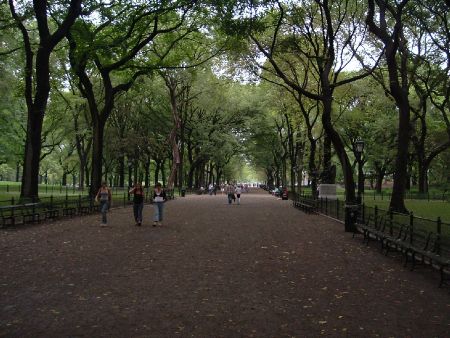 The Mall. It was a gray day, but that meant everything seemed greener.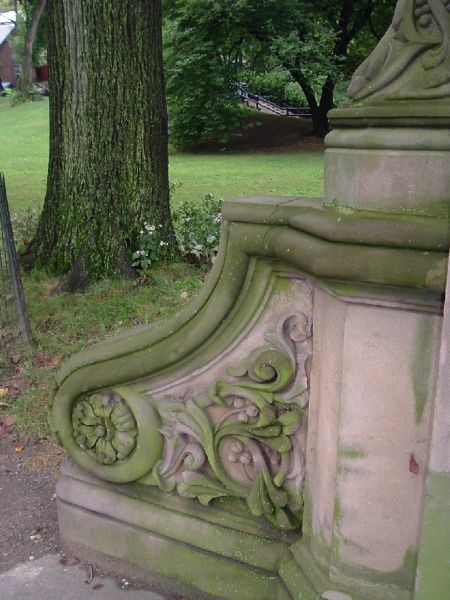 Even the stone work.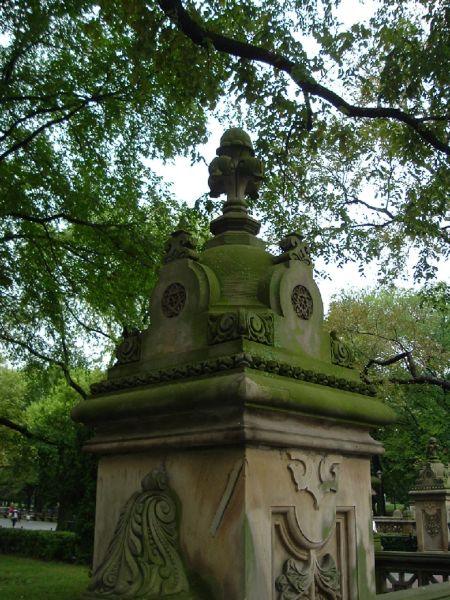 I was walking through the park this morning on the way to the Metropolitan Museum, where my friend Matt and I spent the afternoon. We both marveled at the efficiency of the visit. Usually visits to that vast hulk of a museum involve a lot of getting lost and aimlessly wandering. This time, we headed straight up the stairs and hit the exhibition of Rembrandt drawings and etchings first. Walking out of that brought us right to his objective for the visit, the Raphael Colonna Altarpiece. From there, we headed out to the Impressionist collection - right down the hall and looked at the Greatest Hits - Monet's Rouen Cathedral series, Seurat's Circus Sideshow, Vuillard, Toulouse-Lautrec, Van Gogh. From the impressionist area we went through the Great Hall (the Islamic art has been relocated there while its exhibition area undergoes renovation) and into the Chinese galleries, where we both gawked at the massive Buddha painted on the side of a wall and wondered how they got it to the museum. The Astor Court - a Chinese scholar's garden had him staring at the woodwork and me marveling at the calmness of the architecture. From there, we both went nuts over the Japanese screens, particularly a comparatively modern one of morning glories that looped right back to the Impressionist paintings we had just seen.
From there, as a lark, we looked at the Anglomania exhibition of traditional and "transgressive" fashions set in period rooms, which was insubstantial in comparison but fun nonetheless (albeit crowded). Heading to the exit, we finally got lost. It isn't an afternoon at the Met without getting lost once.
Matt and I make excellent museum companions; we both move at about the same pace when looking at art so one of us isn't racing ahead or lagging behind. We also know each other's taste very well, and it's been interesting to watch both of our taste evolve and influence each other. Matt helps me appreciate the offbeat; I get him to appreciate the more classical. We passed a small drawing Rembrandt made of the execution of a young woman on a gibbet; I knew he was going to love it - sure enough I was right.
Ironically, I had gone with Valerie the night before to the Morgan Library, where many of the same Rembrandt etchings (though often in subtly differnt versions) were on display - it is the 400th anniversary of his birth.
The Morgan is free on Friday nights after 7 p.m., and the collection is very high quality - medieval art, books and manuscripts and early religious art including reliquaries and ciboria. It's not crowded, the museum is a lovely setting (although a bit aggressively brand spanking new still - it seems all atrium in its new design that moved the entrance from 36th Street to Madison Avenue). A great way to spend a friday night, and free, to boot.
Posted by Leigh Witchel at 9:56 PM | Comments (0) | TrackBack
August 25, 2006
Friday Cat Blogging - Early Morning with Hobbit Feet Edition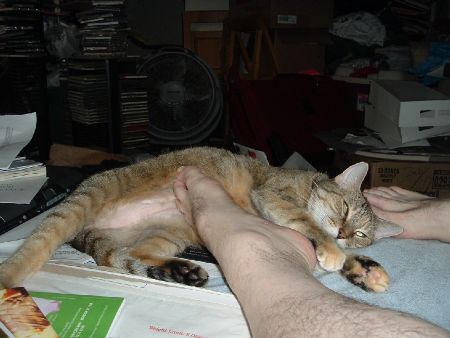 It's good to have a slave. Keep rubbing, infidel.
I'll tell you when to stop.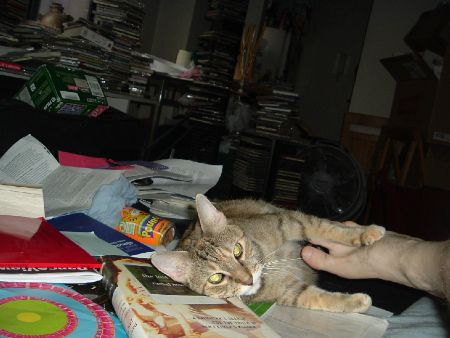 Like about now.
She Who Must Be Petted With All Available Appendages is also plugging Rachel Howard's The Lost Night, which I will get to read as soon as she's done with it.
Posted by Leigh Witchel at 9:03 AM | Comments (0) | TrackBack
August 24, 2006
"Knitterly"
The sweater is progressing. The back is completed, the front is about two inches below the neck division and I've done about half of one sleeve. It also has a name now in my mind, the "Bamboo" sweater because of the look of the tied cables.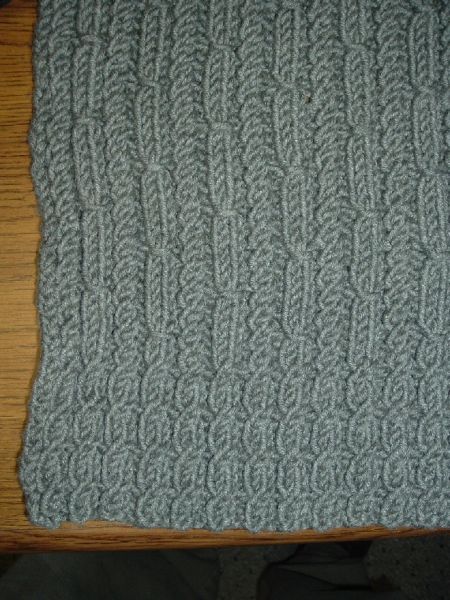 One of my artistic loves is something that uses its medium perfectly: a ballet dance that couldn't be done in anything other than ballet or a sweater that could only be knit. An example in knitting is a cardigan design by Patricia Roberts I recall from when I first began to knit. Instead of using princess seams or darting or another method imported from sewing, the design inserted cabled darts to shape the waist. It's a solution to shaping that's unique to knitting and I love that. As inspirational as I found Kaffe Fassett's work, my one reservation as I became a better knitter is that he saw knitted fabric the same as a painted canvas and kept trying to force knitting to be painting. He never explored what knitting could do other than color, but color was his love - not knitting. He explored one aspect over several media rather than several aspects of one medium.
The bamboo sweater is a knitterly sweater. Its approach to shaping – using ribbed fabric - is from knitting. Its patterns are all organically based on 2x2 ribbing. The knitting is a good balance for the knitter between repetitive and variable. It accounts for the qualities of the yarn (cabled construction and bulkiness) and shows them off.
The flip side of this for me is that creatively, I don't always get the fascination with (or necessity of) "thinking outside the box". I'm usually more interested in exploring what the box does best.
Posted by Leigh Witchel at 11:10 PM | Comments (0) | TrackBack
August 23, 2006
Food for thought
George Jackson pens a very interesting opening to his review at Danceview Times of Trey McIntyre's work at Jacob's Pillow.
Expectations differ for up-and-coming ballet choreographers and for their counterparts in contemporary dance. In ballet the choreographers themselves and their clienteles put more emphasis on craft than on vision. It is the nuts-and-bolts, the tooling, the finish of a new ballet that gets comments from fans and from the press. Making a piece in the manner of this or that famous example is expected and, indeed, considered desirable. So what if the work has no singular, original, innovative vision? Skeptics even argue that there's no such thing as real novelty because, if you look closely, ballet choreographers have been copying their teachers' dance pieces since the dawn of the artform and only the handwriting is new.
He's certainly describing how I judge a ballet work. I'm not looking for pastiche, but I do think originality as a driving force for creation is overrated, and if a work isn't soundly crafted, I usually don't care how expressive it is.
Posted by Leigh Witchel at 11:28 PM | Comments (0) | TrackBack
August 21, 2006
Beat the clock knitting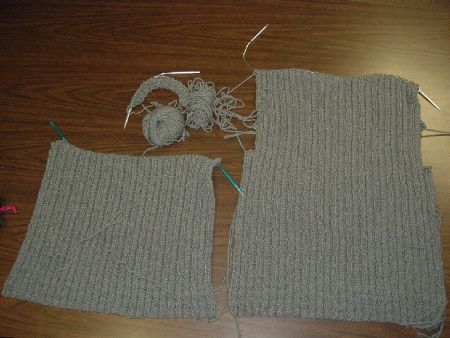 The back is completed, the front is at the underarm bind off, and I've completed the ribbing on one sleeve.
Most of the knitting is being done on the walk to and from work - it's 40 minutes of useful time there and back. That's why I have multiple pieces going. At this point the front is too cumbersome to knit while moving, so I will work on the sleeve while walking and save the front for long phone calls. When this sleeve gets too big, I'll cast on the other. Real planning (like approaching the underarms and shoulder or plotting the increases on the sleeve) gets done as a foreground task.
Aurora Bulky is delicious to work with, but there's going to be about $250 of it in this sweater, which makes it the most expensive sweater I have ever made. All the better that I didn't have to buy the yarn! The yarn has good stitch definition, but swatching is necessary; a stitch pattern that looks good in finer wool may look overbearing. All the ribs and cabling in this are only 2 stitches wide, but that is about 1/2 inch - wide enough.
Posted by Leigh Witchel at 11:02 PM | Comments (2) | TrackBack
August 20, 2006
Pictures at an Exhibition (I)
I never got around to putting up pictures from St. Petersburg - here are a few, and I'll try to put up more - especially on days when I have nothing better to blog!
This first group of pictures was taken on the morning after I arrived, I took a short walk up Nevsky Prospect at about 9:30 am.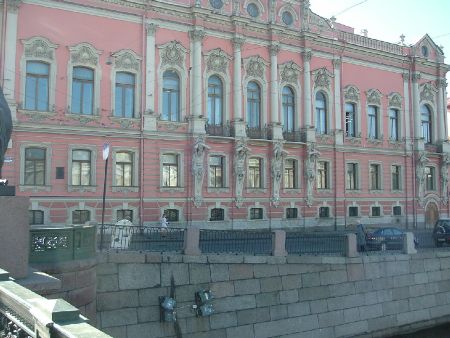 The Beloselsky palace was a block and a half from the Radisson towards the center of the city. It is now a cultural center and tourist office.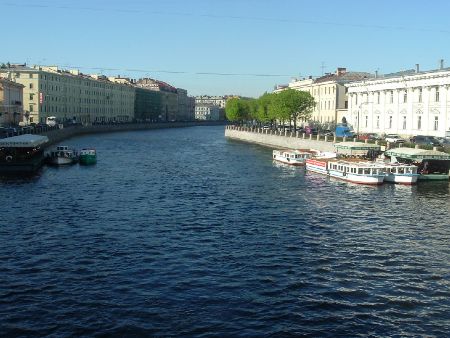 The Fontanka is nominatively a river, but functions more as a canal, one of the waterways that ring the city.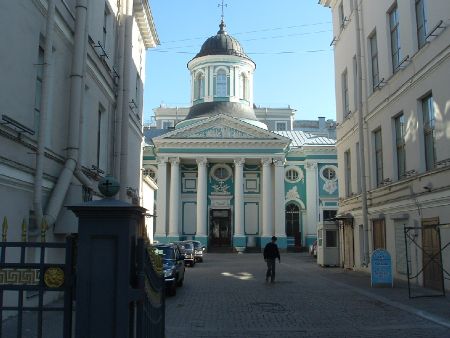 The Armenian Church on Nevsky Prospect.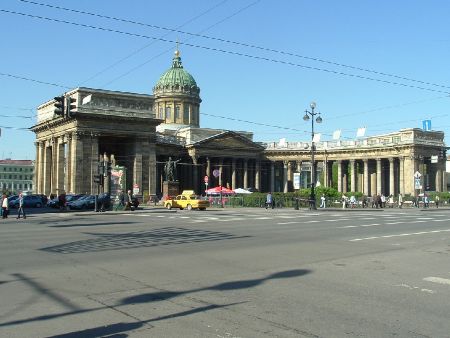 The Cathedral of Our Lady of Kazan.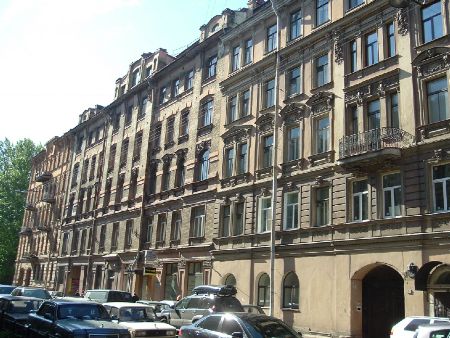 A typical Petersburg street, 3rd Sovietskaya Ulitsa. This was where the Youth Hostel is, and where Peter's Walking Tours begin. I recommend their tours highly, but take a more conventional overview tour first. The tours are different every day according to the group and the guide, but Dmitri (who was very friendly, knowledgeable and helpful) did one that concentrated on offbeat sites, at the expense of some of the major monuments in the center. The rest of the pictures are from the tour.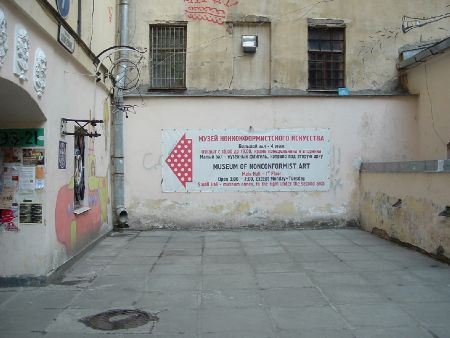 An offbeat site. The Museum of Nonconformist Art.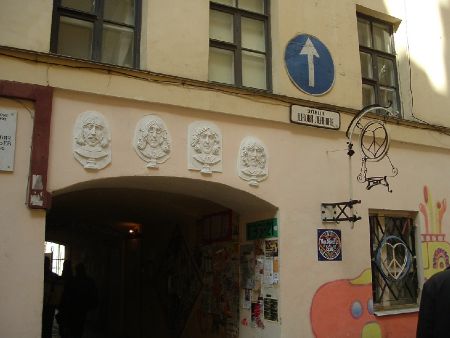 Above the entry to the museum. All you need is love.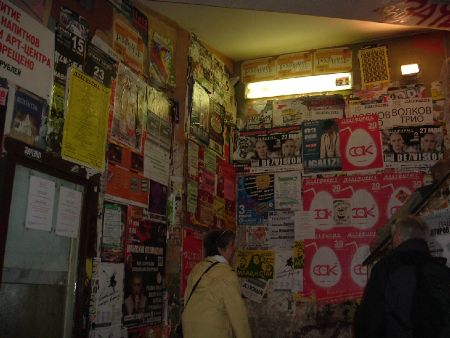 The underground passage to get to the museum courtyard.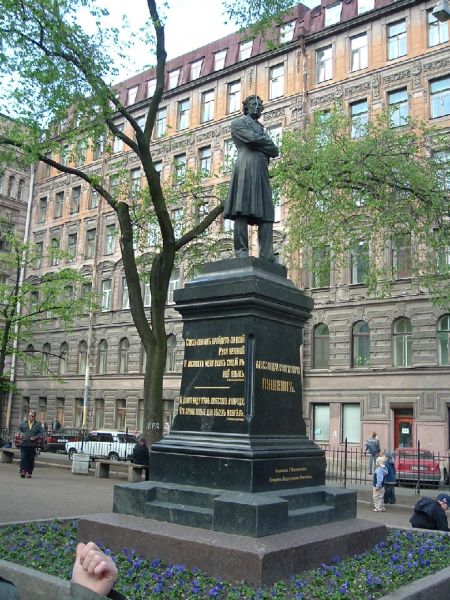 Pushkin, the soul of the city. This is a statue of him in a small park near the Museum of Noncomformist Art. Legend has it that he is looking at the balcony of the woman who funded the statue. Our group was also accosted by a pair of drunk men here.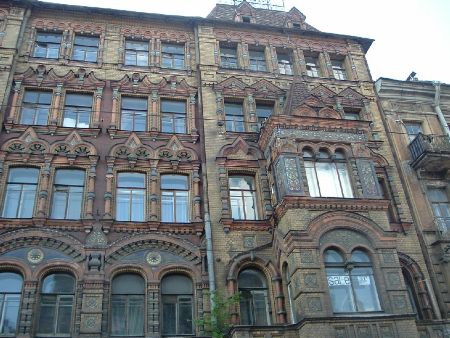 This isn't a famous building, but a fine surviving example of the Beaux Arts style in Petersburg. It's near Vladimirsky Station.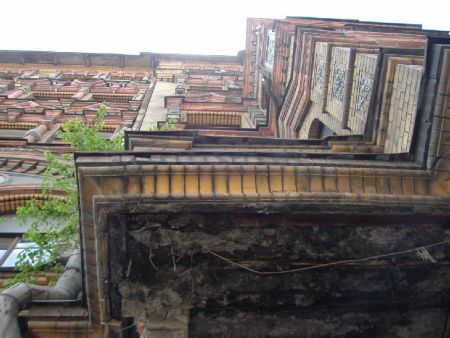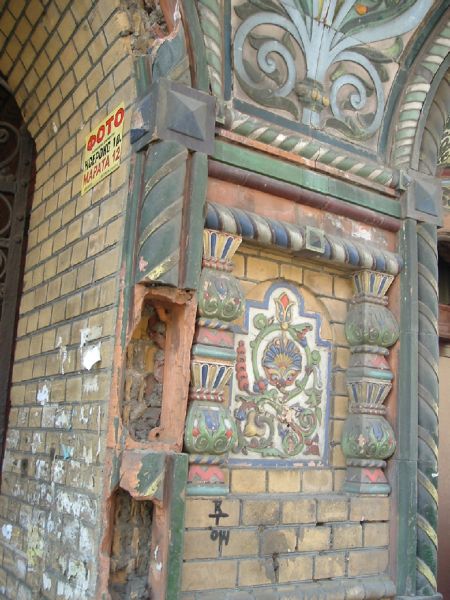 Most tourist attractions in the center were in excellent upkeep, but the buildings that weren't could be in disrepair - also because the municipality was responsible for a building's facade, but the owners for the interior.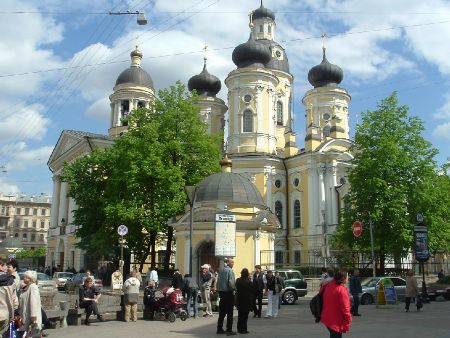 St. Vladimir's Cathedral.
Ground Zero. The Academy of Russian Ballet, A.Y. Vaganova.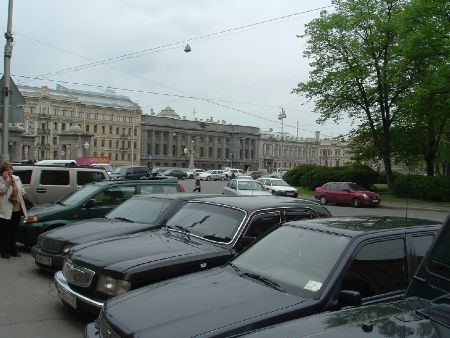 A view of the Fontanka from the Vaganova Academy.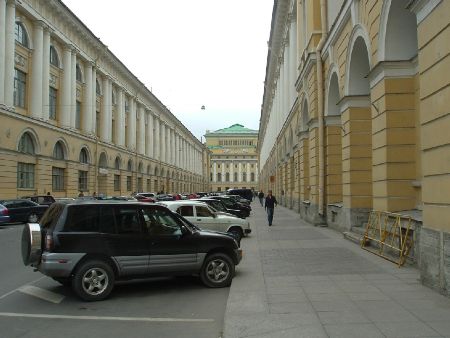 The Academy is on Master Builder Rossi Street, named after Carlo Rossi. The street is ten times as long as its buildings are tall, and it is perfectly symmetrical. You can see where Petipa would get his inspiration for the corps de ballet. The Alexandrinsky theater is at the end of the street.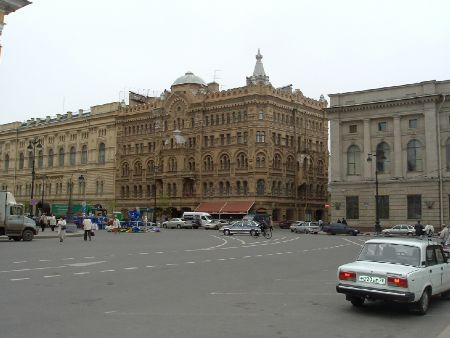 Another ornate building near the Alexandrinsky.
I did not take photographs for a while, but we went to the Ploschad Ostrovkovo in front of the Alexandrinsky to see the statue of Catherine the Great and her advisors. And we were accosted by a pair of drunk men. Across the street we visited the ornate Beaux Arts Yeliseevsky Gastronom, one of the most famed food shops in St. Petersburg. And we were accosted by a pair of drunk men. This never happened while I was alone. Probably a group is more visible.
From there, we walked on Karavannaya Ulitsa past the stables and towards the statue of Peter the Great and the Engineers (Mikhailovsky) Castle, from there into the Mikhailovsky gardens and past the Russian Museum.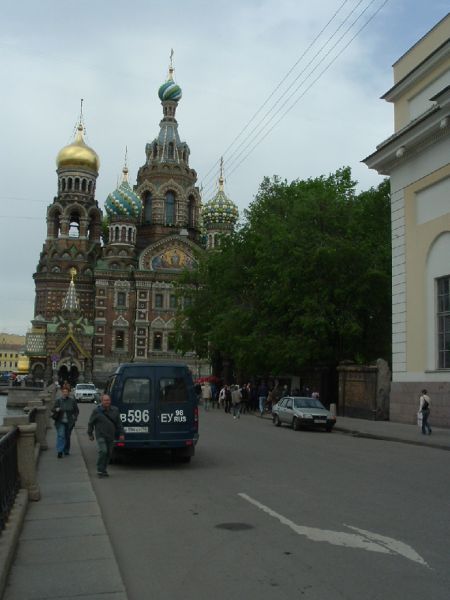 We ended at the Church of the Spilled Blood, built on the spot where Alexander II was assassinated.
Posted by Leigh Witchel at 10:44 PM | Comments (0) | TrackBack
August 18, 2006
Friday Cat Hair Blogging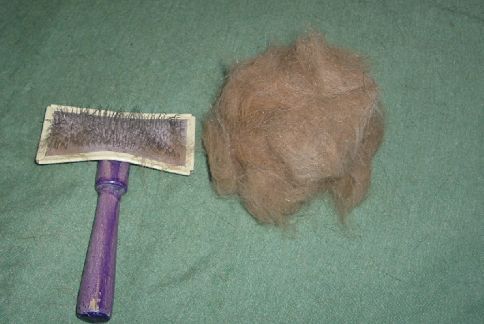 At this rate I should have enough for a spare cat in a few weeks.
Posted by Leigh Witchel at 9:53 AM | Comments (1) | TrackBack
August 17, 2006
R.I.P Clark Reid
The first item a few days ago in the links section at Ballet Talk was one I really did not want to see – Clark Reid's obituary in the Louisville Courier-Journal - the city where he had a long career as a principal dancer in the Louisville Ballet. There is a second obituary with a photo, guest book, and condolences in the Salt Lake Tribune; he had danced with Ballet West before going to Kentucky.
Clark and I knew each other informally as occasional 'net buddies way back when on alt.arts.ballet and he invited me to participate in the Choreographer's Showcase at Louisville Ballet in 2002. He was a decent man who kept his word, honest and passionate to a fault. He treated me very fairly, and assembled a cast of dancers for me that was better than the one I could have picked myself.
I think I only saw Clark dance once, back in 1990 when I was dancing in Lexington and went to Louisville to see their company. He danced in Antony Tudor's Echoing of Trumpets, playing the resistance fighter who gets hanged. When I mentioned it to him, he wrote back,
When I thought I had done just about everything on stage, I get bound, hung upside down and shot. And then dragged around in a pas de deux.
Typical Clark.
Clark's great role was Billy the Kid. I asked to see the ballet while I was in Louisville, all they had was an archive tape shot in wide angle, but I got to see it. Clark excelled in character parts from a vanishing repertory, Billy or Mac in Filling Station.
Clark posted infrequently on Ballet Talk, but once when I asked him he wrote about Billy (look for the post by "cerky") and his approach to the role. He jokes about not being much of a writer, but you can see his understanding was the deep instinct of a performer – he didn't analyze a role; he experienced and lived it.
He was a beloved teacher but there was so much he could have taught. 51 was way too young to go.
Posted by Leigh Witchel at 11:21 PM | Comments (2) | TrackBack
August 14, 2006
Reading Leigh
I was a busy boy this Spring – here are several articles that have recently been published:
Dance
These are not online, but I have pieces in the current issues of Ballet Review and Dance Now –
In the Summer '06 issue of B-R there are three pieces – a report on Pennsylvania Ballet dancing two Balanchine programs (Theme/Prodigal/Western and Midsummer):
[The company] has a particularly good Prodigal in Philip Colucci. Reminiscent in build and masculinity to Edward Villella, Colucci turned in a vigorous and powerfully impatient performance.

. . .

Titania suits [Julie] Diana's gifts; she has the delicacy of a spring afternoon. She doesn't have the expansive attack of a dancer like Suzanne Farrell, but she has her soft, pale innocence. The squabbles with Oberon weren't laden with ire, but she was funny in her scenes with Bottom as only a beautiful woman can be – by playing the scene straight and letting the situation get the laughs.
An article on English one-act narrative ballets in repertory at the Royal and Birmingham Royal Ballets:
De Valois' choreography for the female corps [in Checkmate] is also revealing. The pointe work - walks, hops and changes of weight from foot to foot - require strong feet rather than supple ones. Though de Valois was not a chess player and needed to be taught the moves of the pieces, she moved her dancers as one might move chess pieces, decisively and forcefully into designs and tableaux.

. . .

Les Rendezvous is a relatively early work, but one can already see Ashtonisms. There are familiar opposing walks on either relevé or pointe and the final "shrug" of the arms that crops up, done here by four female demi-soloists. . . In a completely different way from ,em>Checkmate, the work is just as specific to the time and as expertly and cannily crafted.

For the men Ashton created an ingeniously designed Spanish-influenced dance. It starts with character steps and moves to classical ones, such as assemblés and beats but even the turns are constructed to finish in forgiving positions and look harder than they are. The dance seems designed not to overexpose the men in a fledgling company but to still make them better dancers.
And a report on two La Sylphides, Johan Kobborg's in London and Nikolaj Hübbe's in Toronto:
London: [Sorella] Englund's conceit that Madge is actually a damaged sylph attracted to James is too pat for my tastes. The ballet is more resonant if Madge is governed by larger cosmic forces rather than smaller personal ones. Still, Englund has earned a right to her interpretation over the years and it's acceptable if one takes her brilliant performances in isolation. But it is better left to enriching the interior dialogue of the performer than seeping into the accepted interpretation of the ballet.

Toronto:The details of [Guillaume] Côté's interpretation were similar to [Aleksandr] Antonijevic's, including the wedding ring stopping his flight, but his strongest attribute as a romantic hero is his unshakable innocence. He makes the repertory believable. He's got ballon as well; even his petit allegro is big, though Antonijevic's petit allegro is sharper. Ironically, the one thing Côté doesn't do affectingly is die. Perhaps that's the price of innocence.
In the Summer '06 issue of Dance Now, a feature Yuri Possokhov and his Cinderella for the Bolshoi:
His soul shows in his ballets as well. Reflections, created in 2005 for San Francisco Ballet and yet to be seen in London, shows the passion that makes Possokhov interesting. An enormous work set to Mendelssohn's first symphony, it has a corps of women in tutus (also by Woodall) complete with fascinating echoes of corsetry. The work is formally crafted but suddenly a ballerina slides across the stage on her pointes and tumbles to the floor. There's an emotional rawness sometimes to the point of awkwardness. Possokhov wears his heart on his sleeve. Even so, he can craft steps eloquently; combined with the honesty of his sentiments, he's an expressionist whom formalists can love. "Critics in Moscow said I brought American ballet to Russian stage. Here in San Francisco, I am too Russian. It's unpredictable. More and more, I think that audiences everywhere are different."
I'm also working on a longer interview with Possokhov that will be in a coming issue of Dance View (print version).
Available online, I provided a link to my review of San Francisco Ballet's Sylvia but not Ashton-esque, the one I did three weeks earlier of Ashton's version for ABT.
It would be delightful to see an Ashtonian "Sylvia" from ABT, but I'd be satisfied to see a "Sylvia" danced in the company style. If only they had one. What we saw on Wednesday night was a hodgepodge of influences that through lack of a point of view never coalesced. There are also restaurants, usually chains in any and every city, where you know the food will be fine, even good. One year, everything is served with chipotle and the next it's all in green curry, depending on the trends. It's not really Mexican or Thai, perhaps it's Mexican-ish or Thai-esque. In the end though, it's still the same inoffensive chicken breast that you forget by the next meal.
If you'd like to compare, here's a journal I did of a week's worth of Sylvia danced by the Royal Ballet in London.
Knitting
In the Fall '06 issue of knitsimple Mischief Managed, an article on (irony of ironies) project management for knitters:
My own project journal is just a list, but that's all I need. Projects are divided into the following categories (acronyms courtesy of the KnitList:)

FO – Finished Object. Nirvana.
AFO – Almost Finished Object. Needs darning, blocking or seaming.
WIP – Work in Progress. Currently being knit
UFO – Unfinished Object. Houston, we have a problem.
In the Queue. – Amazingly enough, there is no acronym for this category, and it's one of the most important.
HALFPINT – "Have a Lovely Fantasy Project, I've no Time". Ideas that will have to wait until the right moment.
TOAD – Trashed Object, Abandoned in Disgust. Disgust can be liberating.
Posted by Leigh Witchel at 12:34 AM | Comments (0) | TrackBack
August 12, 2006
Current Knitting (finally!)
I didn't knit at all for several weeks after getting back from Europe; too many other things to do and the weather didn't make me feel like it either. But I have an assignment to do, so I shall be knitting for the next few weeks come heat wave or cold snap. With the permission of the fabulous Adina Klein, my editor at Soho Publishing, I'm giving a sneak preview of an upcoming sweater I am doing for Vogue Knitting.
It was an ego stroke to be asked to be in the upcoming "By Invitation Only" by the editor-in-chief Trisha Malcolm. I haven't done a design for a magazine for a while. This is by choice; I can't make it cost-efficient. But I can't resist the ego boost.
Adina and I decided on the yarn (Aurora Bulky by Karabella Yarns in color 31 - charcoal) and general category (single color, textured) several months ago a little bit after the toilet paper cozy assignment.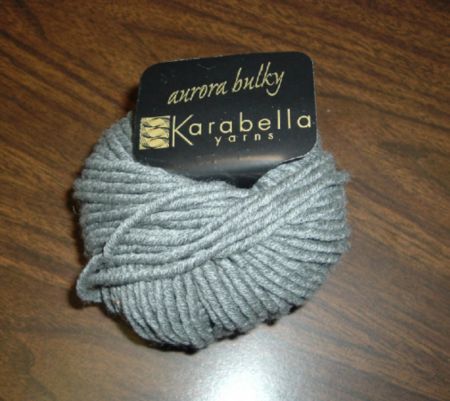 The idea is slightly different than other assignments in theory; I'm making a sweater for myself. In practice, I admit I did the same thing when I made the Puzzle Box Aran for Knitters in 1997. They gave it back to me after about 18 months)
Most designs men like are duller than dirt to knit. Though this sweater is for me, I want people to knit it. So, the skill level had to be accessible, the design had to be wearable and the knitting had to be fast and interesting. Sounds obvious but it takes work to blend all of that.
My inspirations were the patterns in Japanese knitting magazines. They are classic "investment knitting" designs, but with enough of a twist to be interesting knitting. I decided early on this design would be based on classic ribbing because it's flattering to most people. I looked through my stitch dictionaries for variations and started swatching. I had in mind a sort of barred effect and wanted to see what looked best, slipping stitches or tying them. Tying worked best. I swatched several other patterns (mostly rick racks) before I decided I wanted baby cables for the border. Once I chose them, I moved from rick rack to corded ribbing – simply a variation of baby cabling.
I like the way the pattern integrates – no matters what section I am on, the reverse side is always k2, p2 ribbing. Aurora Bulky has low yardage (I knit up at least a ball a day and I am not knitting nonstop) but it's got a great hand and handsome stitch definition. It's really satisfying to me when I feel like I have created the right pattern for the yarn; I feel like this is what this yarn wants to do. The knitting is quick at this gauge, I cast on Monday and I'm past the underarm.
Here's the sweater a few days ago.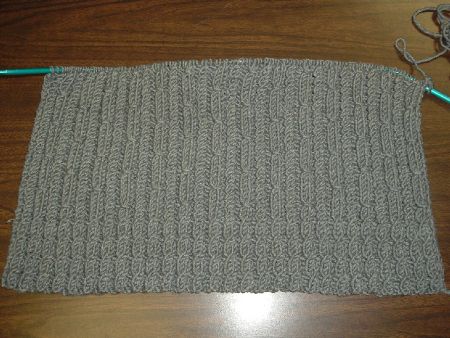 In closer detail.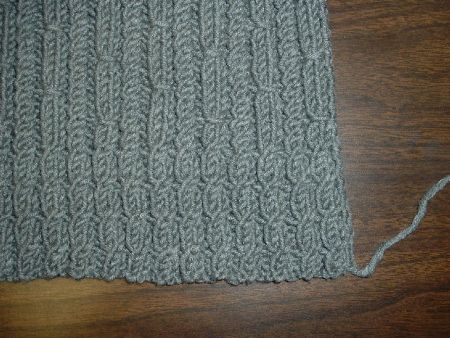 Posted by Leigh Witchel at 9:26 PM | Comments (0) | TrackBack
August 11, 2006
Friday Catblogging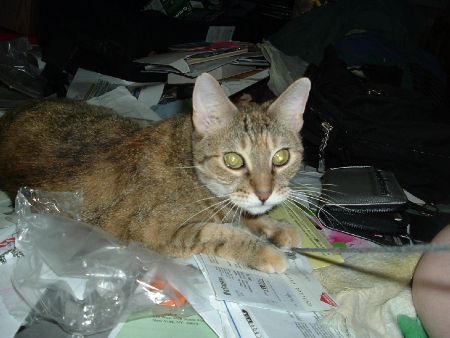 Following the trend of today's photojournalists, this photo is faked.
She Who Must Be Petted is usually not interested in yarn - I trolled it past her several times like a fishing lure to get this shot.
I love her also because she never tells me the bed is messy.
Posted by Leigh Witchel at 1:11 AM | Comments (1) | TrackBack
August 10, 2006
Melissa Hayden 1923-2006

Photo by Carl van Vechten, 1956
Milly Hayden was one tough cookie.
I met her only once in 2000, for a coaching session under the aegis of the Balanchine Foundation's Interpreter's Archive and wrote the first piece in a series on the project. I had conducted a phone interview with her nearly three years before, regarding Agon.
Anna Kisselgoff's obituary captures her spirit as a performer better than I ever could. She retired from NYCB close to a decade before I started watching, and now taught at the North Carolina School of the Arts. I had heard the horror stories. She ate adolescent girls for breakfast. One of my favorite students from Burklyn Ballet would call me in tears; finally she quit. The boys always said they had an easier time with her.
When I called to interview her, she asked questions suspiciously, rapid fire. "Well, what to you want me to say?" she snapped.
I guessed that she was like Antony Tudor and this was a test. Back down, and she would move in for the kill. So I didn't.
"Why don't you just talk and I'll type?" I said. So she talked. As she talked, from the questions I asked about her variation, she realized that I actually knew it. Her demeanor changed. We talked for well over an hour, at the end of which she admitted in surprise that she had a wonderful time. After I stopped sweating, so did I.
In her memory, here are the notes of that interview – they've not been published in raw form before.

Interview with Melissa Hayden, June 6 1997 by phone at 12:00 noon on the subject of Agon
Do you have any idea why you were cast to do Agon? (laughs) Not a clue.
Do you remember how Balanchine taught the ballet? It was a wonderful experience. Called to a rehearsal on 83/Mad in the small studio. Called to a rehearsal alone, which made me assume I had a solo. We walked in, and there is Mr. B and no pianist. But he sat down at the piano and played the notes - for himself. He then got up and said "try this". He indicated what he wanted, I did it. He said "This [the first phrase given] is now 7 counts." "Now try this" - and he made phrase of five, and another phrase of five and then a six count phrase. He showed the movements, and then he played, and I could hear what he meant. 7-5-5-7 and a 6. It fit perfectly. [the castanets moved in a regular 6 underneath an irregular rhythm. He was very much aware of this as he choreographed] The first part was made in half an hour - then the pianist came in another half hour and the variation was completed.
Were there specific corrections he gave repeatedly? (i.e. sharper, jazzier - et al?) I never got corrected, I did what he showed. He didn't change anything in the variation.
Were there changes made in the first year? Timing got off in the coda of the pas de trois - it had to be rehearsed more, but no changes were made.
Was there a rehearsal assistant? By the '60s, Rosemary Dunleavy.
The 1960 filming: [L'Heure du Concert, CBC]
Do you remember anything about the circumstances of the film? Was it a difficult shoot? Was any spacing or steps changed? Were there any alterations in the 2nd pas de trois for Verdy vs. Hayden? Why didn't Hayden do it at the filming? Was not there for the filming, was doing something else. She showed Violette the variation once, late at night. After that she did not have anything to do with how Violette did it. See below for further comments.
The move to State Theater: What sort of changes were made to accommodate the larger space? Very few changes. It's still done as if it were danced on a smaller stage, like Barocco. It can't be opened too much, you lose the patterns.
Who would have been responsible for the ballet at that time? Balanchine didn't bother with a ballet too much once it was done. After he did a ballet, it was finished - although when we traveled, he would rehearse the ballets more intensively at those times.
Did you see Suzanne and Allegra in the role? Do you think they changed how the company danced Agon as a whole? Vast difference between Suzanne and Allegra. Diana was stiffer and looked more manipulated. The most important thing about Balanchine is "sound" not music - its feeling, it "sings" underneath the movement. Villella was wonderful, he danced the pas de trois with Pat Neary and another woman. The original girls [Barbara Walczak and Barbara Milberg] got lost in Todd's performance, and were not very distinguishable - one only remembers Todd's performance, they were like fringe. She taught Karin von Aroldingen the variation. It was closest to the way she did it. The final pose is done with the hands primarily and was very subtle.
She went back into her part in the second pas de trois for the 1972 Stravinsky Festival. By this point, the duet for the two men had become so that it was danced more straight up and down, more " two dimensional." She saw this in rehearsal and remarked to Balanchine, "Hey, this is the way the boys used to do it." "Oh yeah" and Balanchine began to show it more off balance. "It's playful...it's games." How you get from one step to another is up to the dancer. There are steps changed in the middle of the coda of the second pas de trois, to modify or simplify the movement. The changes were there by the time Gloria Govrin was there - slight changes, nearly the same, the original was possible and could have been done, but was slightly awkward.
The steps for the men in the 2nd duet haven't really changed. The style has changed. "Mr. B originally choreographed my variation at about 60 beats/minute, a very comfortable tempo. Then Stravinsky came and was checking tempos, the first pas de trois was just what he wanted, the second pas de trois entree was just fine. Then mine. The two heads came together. [She imitates Balanchine's nasal tone] 'Milly do you think you can dance it a little faster?' Well I did it, and there was still some room for style. The heads came together again. 'Milly do you think you can dance it a little faster?' Well it got spastic, and they saw the look on my face. It became a compromise between a 60 and a 72 tempo (66) How do I know that? I checked with the pianist." When we went to Russia it got so fast...
Did the 1957 premiere, through 1972. Came back to role because of the 1972 Stravinsky Festival. It became a "tall" role when Gloria Govrin took the part. The tempo may have been slowed when the "big girls" did it. The variation has to be done with the accents up.
Extra information on the existence of films: To celebrate Stravinsky's 80th Birthday, a program consisting of Apollo, Orpheus (with Villella), and Agon was filmed in Hamburg and I was in it in the early 60's. Films of the company were made in the late 50's during the tour of Japan by NHK. Agon not filmed as it was not performed on tour. The pas de deux with McBride and Mitchell was filmed in Toronto around the early 60's.
Somewhere in Russia there is probably a film of Agon from the Bolshoi visit to NYC in 1959. They came and watched Serenade, Agon, Sym in C. put on stage without costumes. Diana Adams probably did 2nd mvt, she did 3rd mvt Sym in C with Eddie Villela. She remembers that day very clearly ("I wore a little pink skirt...")
Ballet tempo may have slowed when the big girls did it. Accents up.
Posted by Leigh Witchel at 12:25 AM | Comments (0) | TrackBack
August 9, 2006
Sound and Fury
Well, it's August.
Lewis Segal started it off with a bang, with Five Things I Hate about Ballet, an article that looks like it was designed to stimulate more chatter than discussion. And people did indeed chatter.
I'm not sure refuting Segal's arguments is worth the effort; the piece doesn't seem to have been written to be taken too seriously but rather as fodder for a slow season. Then again, what is a blog other than chatter?
So here goes:
Paraphrasing his five points:
1. Ballet has less history than it pretends. Segal's real objection seems to be to shoddy versions of the classics.
[D]on't let the myth of ballet's ancient primacy and long hold on Western culture keep you from openly dissing all that's dreadful in the contemporary perversions of 19th century classics that companies keep merchandising.
Fair enough, but it would be better stated as such. Ballet does have a history and tradition; the legacy needs better care rather than abandonment. Are we supposed to hate Swan Lake or campaign for a better one?
2. Ballet reinforces prejudiced and racist stereotypes. And so does The Merchant of Venice, but we still produce it. There is only so much one can judge art by standards that changed in society after it was made. I agree that there are certain stumbling blocks, such as parts in blackface – the Mariinsky still does this for the children in Bayadère – that either should be changed or given context for the audience. Still, I think the stereotypes Segal talks about are, in the end, less important and universal than the work itself. A feminist Giselle may be worth seeing, but it is no longer Giselle. People need to – and do – relate to Giselle, as a woman who rightly or wrongly dies for love and redeems her lover by her forgiveness. The original transcends the issue simply by committing to portraying its world wholly and honestly, and without the original, none of the variations have a context.
3. Ballet infantilizes and mechanizes its participants. Didn't this one go out of fashion with Off Balance and Dancing on My Grave? As most of Balanchine's ballerinas attested, no one let them feel more like themselves. In the years I danced, what Segal describes as infantilization I chose to accept as a form of voluntary discipline. It wasn't easy, and I would not ask others to do it unwillingly (nor does it give a license for abuse of authority) but it's like a religious vocation. The rewards are intangible and those on the outside may never fully understand why.
I recall dancing in the corps de ballet in the Snow scene of the Nutcracker over 15 years ago – a version with men in it. We had done 14 Nutcrackers in a row. I was tired and wondering where I was going to find the strength to do another show. The music came on; the snow started to fall. I listened to the Tchaikovsky. I lifted Eleanor, my partner, in a soaring arc to enter and I felt my place in the landscape and inside the music. I was there, with the other dancers, making something bigger than all of us. You can call me a cog in a wheel if you wish, but at that moment I knew more than any other exactly why I danced.
4. Ballet stars are compromising and not advancing the art. Well, I'd like to see a generation of better stars, but is this really one of the five biggest things you hate about ballet, Mr. Segal? Hollywood movie stars are earning millions of dollars for steaming piles of celluloid crap and you're carping about ballet dancers selling out?
5. True beauty is endangered by mere prettiness. Again, Segal has a very good point. But is it a reason to hate ballet? Demand beauty! It is out there. Don't settle for prettiness.
As others have pointed out, Segal is in Los Angeles, and the ballet situation there is transient. There's no resident company (they've tried again and again, another one is starting up even now) and the touring companies he sees are world renowned, but on tour one sees snapshots rather than process.
John Rockwell at the Times weighed in as well. We are generally on the same side in this argument, so I wish I were not taking exception, but there is a point he makes that needs to be addressed because he makes it continually – it's his shtick.
It seems as if every fourth article Rockwell brings up the specter of the Luddite balletomane who is against all progress. Occasionally they appear as "high minded critics" while he stalwartly represents the vox populi.
Fanatic balletomanes resist such change on the very grounds Mr. Segal uses to chide all of ballet. For them anything but classroom ballet technique degrades the form, and a search for relevance is a descent into gimmickry and perversion.

There are so many ballet magazines and ballet Web sites out there now that simply assume the superiority of ballet to all other forms of dance that it is nice to have a corrective.
John and I have had this discussion before. I'm calling bullshit. Let me try and make this explicit and clear.
John, if you're going to insinuate that balletomanes think all dance forms are inferior to ballet, then you've got to come up with a better example than Jennifer Homans' article, which I (a fanatic balletomane if ever there were one) didn't agree with either and where it's only what you inferred. You've convinced yourself of this.
No one is arguing against change. Nor is anyone is arguing for absolute purity. If you say we are, cite it already.
We are arguing that the stuff currently being produced by crossover choreographers for ballet companies is lousy, often because they aren't skilled enough at ballet and don't know how or in what proportion to integrate it with their own vocabulary. I use this analogy frequently, but if you add a teaspoon of soy sauce to a pound of steak you get a well flavored steak. If you add a pound of soy sauce to a pound of steak you wind up with something inedible.
We are also not arguing against ballet and other forms ever mixing. We are arguing for better ballets, and we don't think the road to them is looking only outside the walls.
Anything but classroom ballet technique does not degrade the form. Any ballet without mastery of it does. A search for relevance is not a descent into gimmickry or perversion, but I'm far more interested in the artist saying what's on his or her mind honestly than trying to be relevant.
Look, we all like ballet here. But you're the chief dance critic of the chief paper in the United States. Enough with the strawmen already.
Posted by Leigh Witchel at 12:35 AM | Comments (1) | TrackBack
August 8, 2006
Kill Me Now
You'd think if I had spare time, I could blog. . .but no. . .I go on youtube to terrify myself.
So I thought I might as well terrify you.
I apologize.
Posted by Leigh Witchel at 1:37 AM | Comments (5) | TrackBack