« Sneak Preview of the Bamboo Sweater in Vogue Knitting | Main | What we're doing for Christmas »
December 24, 2006
The Rest of the Knitting
Catching up on what I was knitting while I wasn't blogging:
Besides Owen Robert's Aran I took two other projects off my UFO list.
I finished Danny Ouellette's Easy Head Hugger Hat back in March, 2005 but hadn't darned in the ends or blocked the hat to give it its fez shape. I went to Toronto in November and brought assorted knitted gifts for friends; something I'm now trying to do when I travel. Instead of picking what hat to give each person, I make one or two extra and let everyone pick the one they like. Good thing, that; no one in Toronto chose the object I thought they would. My friend Desirée chose the hat; I thought she would chose the elongated scarf in Biggy Print (it went to Denise). The night before I left John and I searched for a form to block the hat. We were downstairs in the den watching TV; John pointed to the wastepaper basket.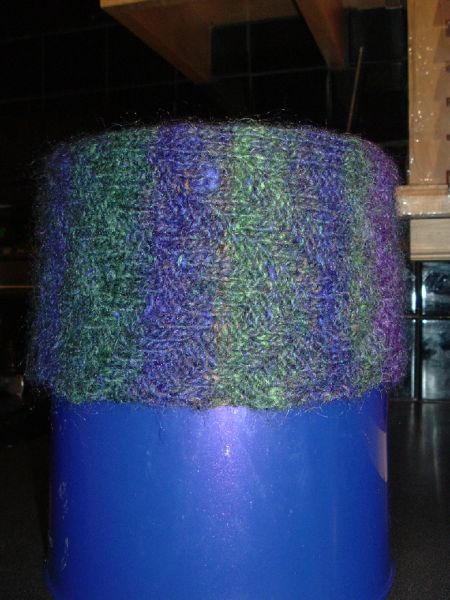 Voila.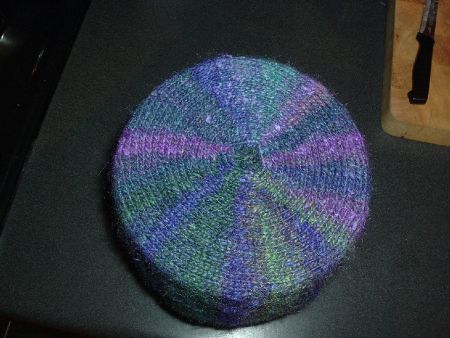 The hat ended up looking more cloche-like than fez-like on Des, but I think it's rather fetching.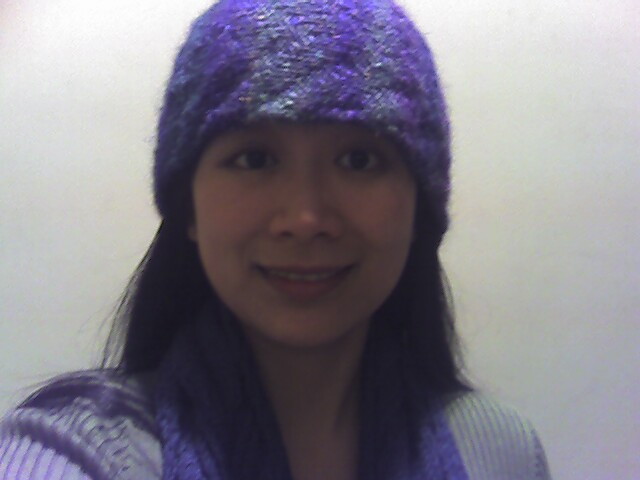 The disaster socks for Dad from last year are now socks for my friend Mary, because I like her and she has the smallest feet of anyone I know. One sock was at the toe decrease (actually it needed to be ripped back a few rows) and the other was just past the heel turning. Alas, I hated knitting these every inch of the way. I got the bright idea that because sugar-stick ribbing is meant for circular knitting, it would make a neat sock. Well, it's a neat sock, but not a good sock. The pattern is fiddly to knit and has limited elasticity. Further, because I'm a glutton for punishment, I just had to knit the foot so the pattern was only on the top of the foot and the sole was knit plain. This meant inserting compensating increases and decreases at the start and finish, which would have been nifty except it didn't stop the whole pattern from shifting over slowly. That's the nature of the stitch, and why it was meant to be knit in the round so it could spiral. The whole foot twists a quarter turn. I jammed my foot into the sock and luckily it seems the twist disappears in wearing, but still. I'm glad I finished them; never again for that design.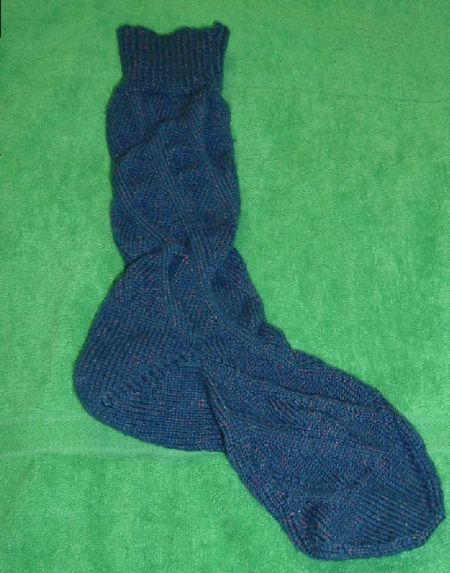 I also finished a pair of my standard socks for my sister-in-law, but those never made it out of WIP status to UFO. I cast them on in September and they were finished just before I took the bus back to London from Bristol. I forgot to bring wooly nylon with me on the trip, so the toes were knit in Bristol (after checking fit) and I borrowed a spool of black sewing thread to use as reinforcement.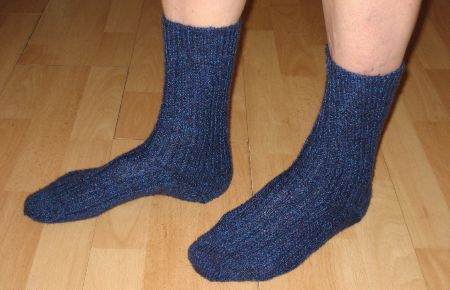 The last holiday gift was made for my Mom. It's her birthday today, but I give her a separate Christmas gift; almost everyone born near Christmas feels gypped by combined presents. This one is the another lengthwise garter striped scarf, but I think the color combination is particularly nice and it stretched out the dark blue yarn, "Curly" from the Goldman's haul enough for a full scarf. That's the best thing about a lengthwise scarf.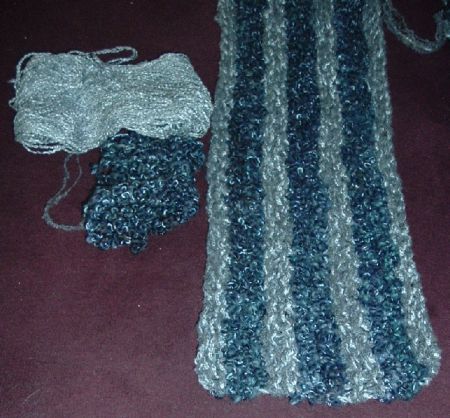 Besides the projects already described as part of the quick knit resources, I also made three more blouse scarves, four more London Beanies (it's now my hat of choice for male friends and one of Helen Fleischer's felted hats awaiting felting.
The baby sweater for Nicholas (formerly known as Kangaroo) moves into WIP position, but I was weak; I read about Judy Becker's Magic Toe-Up Cast-on in Knitty and had to try it with some sock yarn in stash. (DCB Confetti - a self patterning yarn I bought in Toronto)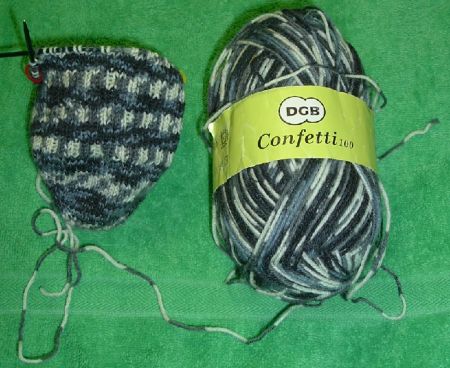 Now that I've tried the cast on, I'm committed to knitting the socks, but they are moving quickly as I'm using K3, P1 instead of my usual Twin Rib. Mary Dominski ("Dr. Sock") suggested this to me a few years back when I first tried self-patterning yarns; Twin Rib obliterated the pattern while K3, P1 gave elasticity while letting the patterning show. I'm still not fully converted to toe-up cast ons. I find them fiddly for the same reason as sugar-stick ribbing. Both involve a lot of increases and a "make one" increase with 12" circular needles is harder to manipulate than decreasing.
Posted by Leigh Witchel at December 24, 2006 11:25 PM
Trackback Pings
TrackBack URL for this entry:
http://www.leighwitchel.com/cgi-bin/mt-tb.cgi/589
Comments
What a brainstorm to use the trash basket!!!! Fun.
Posted by: Holly Burnham at December 26, 2006 11:53 AM
As a December baby, let me say thank you for doing your mom's birthday separately. :) When I was about 13, my little sister gave me the first earring for my birthday... Wouldn't want your mom having to hop around on one besocked foot for a couple of days there, you know.
Posted by: Alison Hyde at December 28, 2006 12:58 AM
Post a comment