« February 2006 | Main | April 2006 »
March 31, 2006
"We are full of feelings that we cannot understand"
I saw Don Giovanni at City Opera last night; the first opera I've been to in a while. I enjoyed it very much but wasn't enamored of the production; my companion who has more experience in opera also agreed the acting was flat. The production never got beyond the singing to the characters or the story. Character issues abound in the opera. Like Albrecht in Giselle, Don Giovanni has to have the audience's sympathies. Donna Elvira needs to reconcile her contradictions; Don Ottavio's impatience needs to be more than horniness. The best way to do this is the same as in ballet. The singers need to know and believe in the story.
The big eye opener for me was facing the conventions of another art form. From the operas I've seen, da Ponte and Mozart seemed to have a formula for a well-made opera both musically and structurally. There's a celestial trio in the first act, which closes with a sextet. The tenor gets at least one slow aria that shows off his legato but grinds the story to a halt. The lyrics to the arias are fascinating because they go beyond a soliloquy to a narrative to the audience of the interior state. "My heart is broken, yet I still feel pity." "We are full of feelings that we cannot understand."
I find Giselle or Swan Lake far more moving than Don Giovanni. Why? Because I know the language and conventions of ballet so that form has meaning. The way a woman rises on to pointe; how a man gives his hand to his partner – there's as much information there to me as in a paragraph. In San Francisco last month, Muriel Maffre did a tendu in Yuri Possokhov's Magrittomania that looked like no one else's in the world. Her simple motion of her foot to the side was a small tale all on its own. I don't understand opera in that way: to be able to interpret a singer's approach to a note the way I can interpret a ballet step. All I have is the plot. A good reminder that ballet looks like secret code to even the educated audience that hasn't seen it before.
Posted by Leigh Witchel at 6:47 PM | Comments (0) | TrackBack
March 29, 2006
Knitta, Please!
Mike Bryant presents "A gangsta rap song about the most hardcore craft at the craft fair."
Scroll down and look on the right hand column for mp3 downloads.
Don't take no flack from the crochet bitches.
Not entirely work-safe. It's gangsta knit rap, after all.
Posted by Leigh Witchel at 12:03 AM | Comments (0) | TrackBack
March 28, 2006
It had to happen eventually
Not only did I hear it at Hunter's in Palm Springs, I even danced to it (as I cringed).
The Disco remix of "The Wings" - the theme from Brokeback Mountain.
Posted by Leigh Witchel at 11:43 PM | Comments (0) | TrackBack
March 26, 2006
I'm here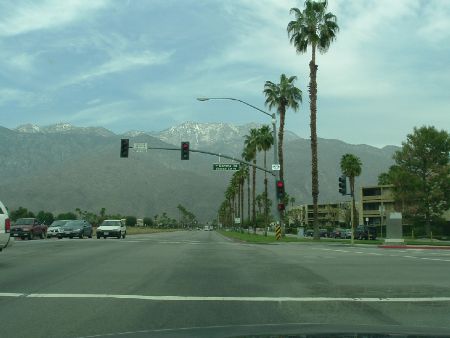 It's a different point of view.
Be back Monday. Will report more fully.
Posted by Leigh Witchel at 12:13 PM | Comments (0) | TrackBack
March 23, 2006
Filling the Gift Basket
I've been doing a lot of knitting recently, very little of which I've recorded here because it's been so basic, almost all hats.
People have been so welcoming to me when I travel so I have been trying to have small gifts to take with me to thank people for their hospitality; hats fill the bill. They're good for birthdays and other occasions and don't take so long to make they feel more like an obligation than a thank-you. I've been making them in advance and then letting people choose the one they like best from a selection. My goal for the stockpile is ten hats in reserve, and then to replace them as they are given away.
Here's the selection that went to San Francisco with me: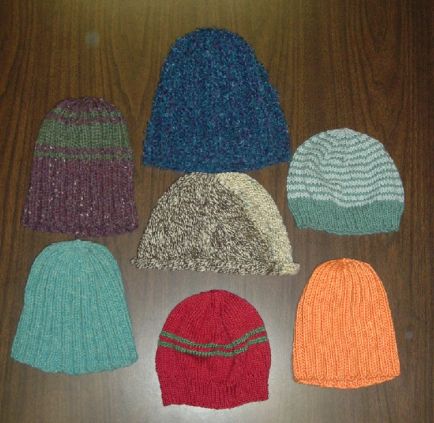 Half of these are ribbed caps I make with a standard formula:
Leigh's Hat Recipe
(An earlier version of this recipe lives here.)
I cast on using Helen Fleischer's "nifty join" (scroll down to the "nifty join")
Knit the hats in P2, K2 ribbing (I start with purl stitches because of the way I decrease for the crown.)
Using appropriate yarn (or several yarns combined), the following number of stitches on these size needles gives me the right circumference for an average head.
(Superbulky) US Size 15 - 48 or 52 stitches. Note: I've gone as low as 40 stitches, depending on the bulkiness of the yarn. The blue cap at the top is done with 44 stitches on US 15s
(Bulky or Superbulky) US Size 13 – 52-60 stitches
(Bulky) US 11 - Metric 8 mm – 58-64 stitches
(Chunky to Bulky) Metric 7 mm – 60-68 stitches

(Heavy Worsted to Chunky) US 9 – 72-80 Stitches. The orange hat is made from a doubled strand of Lion Brand Microspun – 76 stitches on US 9s, the purple hat is from unknown scraps, same needle size but 72 sts.
(Worsted) US 8 - 88 Stitches. The hat in light blue tweed wool is 88 sts on US 8s.
(Sport) US Size 6 - 96 stitches
Knit a P2, K2 ribbing tube. If you're knitting a watch cap with a turned up cuff, knit for 9 inches. Right now, shorter caps without a cuff are fashionable. Those would be between 6.5 and 7 inches long before the crown decrease.
Decrease for crown
First decrease round: P2tog, K2tog across round (You've made a P2, K2 ribbing into a P1, K1 and decreased by half)
Second round: P1, K1
Third round: K2tog. Again, you've decreased by half across the round. Putting the purl stitches first makes the K2tog look smoother, as they swallow up the purl stitches and leave only knit stitches.
Fourth round: K
Fifth round: K2tog.
Break yarn, thread through remaining stitches and pull tight.
There you go!
*
The other hats are Mark Thrailkill's London Beanie.
These are snapped up by my male friends, especially the trendy gay ones. They really like them. The red one is from a leftover skein of Lang Palace (a very yummy merino/cashmere blend) and the blue is two skeins of ancient Columbia-Minerva needlepoint wool.
I work the hats on US 6s instead of US 7s, begin with 81 sts and increase to 90 by doing the following increase round: K9, m1. At the crown, I put a plain round of knitting between the decrease rounds.
The mitered cap in the center is another Emergency Christmas hat based on Nancie Kremer's original pattern.
In San Francisco, Mark snapped up the red beanie, Chris got the blue one. David's favorite color is orange (go figure) so that cap was made with him in mind – and his birthday was shortly after so it served double duty. David also knows how to flatter a knitter. When we met in San Francisco he was wearing the blue socks I had knit him a few years before, and when he visited New York a week later he showed up wearing his hat. Peter got the purple cap, which looked very fetching and butch on him with just a small cuff and Paul got the mitered cap from homespun, which he referred to as a "doughboy". The blue caps both are saved for later, but I've got to refill stock now.
I haven't made one in a while because I've had more men than women to knit for, but I love knitting Flor's Amelia Earhart cap. Her page seems to be sadly down, but you can still find the pattern at archive.org.
I could always use some new simple hat patterns; if you have a favorite, mention it in the comments!
Posted by Leigh Witchel at 3:59 PM | Comments (1) | TrackBack
March 20, 2006
Latest Dance Articles
Trouping the Classics on Tchaikovsky Perm Ballet for Danceview Times.


On a Saturday they danced "Sleeping Beauty" at the Lehman Center in The Bronx. The performance ended at 10:00 pm. Assumedly they ate afterwards, if they could find an open restaurant by the time they cleared out of the theater. Then probably they slept, woke up and got on a bus to load into the McCarter Theater in Princeton, rehearse and have the curtain go up on "Swan Lake" at 4:00 pm. They performed in Boston two days later.
Top Drawer Taylor, also for DVT, on Arabesque, Nightshade and Promethean Fire:

[Trusnovec] exemplifies the best of what this generation has to offer dance. We aren't a subtle generation, nor are we a gentle one. What grace and elegance we find doesn't spring from these qualities. We're about energy and intensity. Like Wendy Whelan, who typifies a similar stance in ballet, Trusnovec has an ethos of burning commitment to the movement. It's intelligent, not wildly misdirected or thoughtless.
Posted by Leigh Witchel at 3:29 PM | Comments (0) | TrackBack
March 19, 2006
Getting the best deal and most miles out of a rental car
I don't often rent a car, but I'm going to Palm Springs, CA for a fast weekend and will need one. I'm flying JetBlue into Ontario, CA. A little comparative shopping worked wonders.
The Entertainment Book has many discount car rental offers, so I have finally gotten to put the book I bought primarily for the Goldpoints to use. Several companies offer a free weekend day on a three day rental; my rental was slightly under three days (2 days 14 hours or some such) but National Rent A Car would still accept the coupon at booking. A compact car was $17.90 per day - total cost of rental with the discount and fees - $49.
Since rental car companies allow cancellations without penalty, it makes sense to book whatever fee you see that's acceptable and shop again later on. I looked again this week; the same reservation came to $44 with the Entertainment Book discount, or I could have chosen a Northwest Airlines promotion that would get me triple miles and a full size car for $61. I'm one person and one suitcase so I think a compact should be fine.
Most car rental companies partner with several travel providers to offer miles or points. Which one to take? Because of the small amount of miles earned, my first thought would be to earn miles in the programs where I have fewer miles and infrequent earnings rather than in my strongest programs. For most U.S. and many international programs, earning the miles stops the clock on mileage expiration for 36 months. Check each program for their specific rules. My hotel stay will also earn 250 miles; I'm opting to put them into Aeroplan for this reason. I have some British Airways miles that will expire this year; I'm not using any of their partners so I will extend those miles by having a meal at a restaurant in the Executive Club Dining program.
I'm opting to earn miles for the car rental on Northwest because of the specials they are running. Their base earnings are nothing special, the standard 50 miles per day that most rental companies offer. However, NWA is having a 100,000 mile Dash offer where completing even the minimal offer such as one car rental will earn you 500 miles. It takes completing a few more offers to get the next level of benefits, so I won't bother.
On top of that, NWA is partnering with National and Westin Resorts for a Fairway Flyaway Sweepstakes. National Rentals through April get 1,000 bonus miles.
On top of that, National Car rental is waiving their membership fee in the Emerald Club for a limited time.
1,650 miles, free Emerald Club membership and a car for the weekend for $44. Can't beat it with a stick.
Posted by Leigh Witchel at 9:13 PM | Comments (0) | TrackBack
March 18, 2006
Wild Turkeys and Pork Uteri.
It's been that kind of day. Stopping off to grab dinner after seeing Paul Taylor tonight, the muzak in the store was a klezmer version of "Hazy Shade of Winter".
I went to see Mom in Mamaroneck. Seeing Mom means eating Chinese food, so I did some research and suggested that we try Aberdeen Seafood and Dim Sum in White Plains.
Aberdeen is in the Residence Inn at 3 Barker Avenue and not immediately obvious from the street. We went relatively late on Saturday afternoon so it was not painfully crowded, but reservations are suggested. For people who can't get into New York for dim sum, Aberdeen is probably the next best thing; respectable quality dim sum mostly comprising the standard hit parade.
Most of the dim sum were winners. The shrimp in rice crepe and shrimp shiu mai were as good as those I've had in Chinatown. I've not had fried shrimp rolls before, though it was a very simple and good dish – plain shrimp fried in a wonton wrapper. The baked pork bun with a paste-like filling was not particularly interesting but the fried one with a skin puckered with bubbles was delicious, as was the grilled bun. Turnip cake came to our table only lukewarm; it's a dish at its best freshly made. As in New York, it comes with Hoisin sauce. I asked for it with turnip cake in Toronto and they looked at me like I was nuts. Sticky rice was studded with what looked like dried shrimp and was also relatively disappointing.
Steamed dishes were brought round on carts, other dishes were carried by hand on trays round to each table. The salt fried shrimp looked delicious, but by then we were full. We did have the Chinese Greens in oyster sauce, which was a welcome accompaniment to all the starch; I'm glad places are adding it to the menu. Dishes range between $2.50 and $6; 11 dishes cost us $60 with tax and tip. Mom loved it, so mission accomplished.
There is a mall across the street from the restaurant with an enormous Asian grocery store, Kam Sen Foods. Inspired, Mom bought the same Chinese greens we had just eaten labeled Yu Choy. I needed soba, tamarind and rice vinegar. I didn't need Pocky, but then again, doesn't one always need Pocky? Besides the cognitive dissonance of trundling down the aisles with my tiny shopping cart while the loudspeakers blared Latino music, the best part was seeing these next to the really cheap beef bones: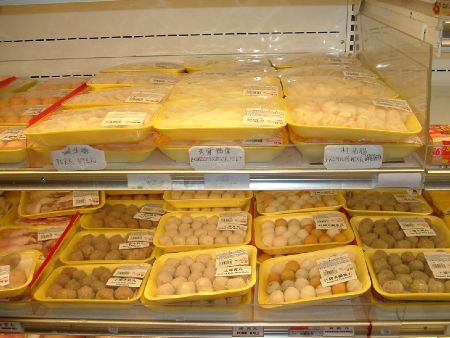 Pork uteri. Yep. And Boneless Duck Feet and Premium Pork UterusIntestines.
Mmmm. I didn't buy any, but you can put recipes in the comments.
The lady who was with Aicha el-Wafi (you know, the one I lied about meeting?) warned me that Goldman Yarns was going out of business and Mom asked if I wanted to stop by. That's about like asking a crack addict if he wants a little hit. We got there about an hour before the store closed its doors for good. Yarn was 70% off and needles 50% off. I regained consciousness about $70 later.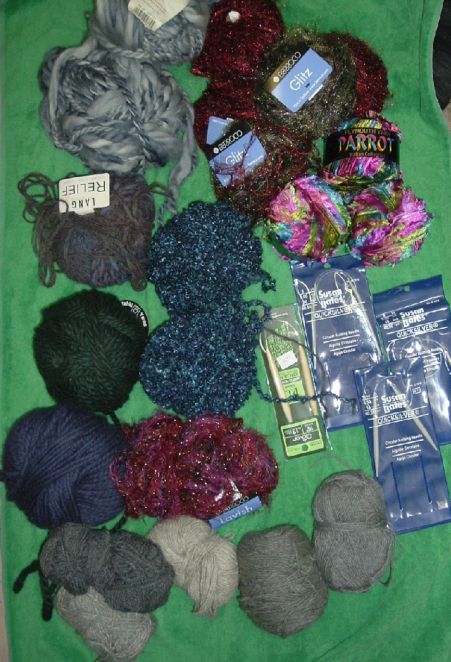 I know you're going to want to know: Two skeins Rowan Biggy Print, two skeins Takhi Baby, six skeins Berocco Glitz, three skeins Plymouth Parrot, one skein Lang Relief (I have another in that color that I bought at Patternworks about a decade ago), one skein Berocco Lavish and a few skeins unlabeled beige and gray stuff that will make hats for guys. It's all going to be made into hats and scarves.
We drove home via I-95 and exited at Playland Parkway near Rye. Heading off the exit, I noticed two large black birds at the side of the road. Bigger than pheasants . . .good grief. Wild turkeys. Something I have never seen before. I was driving so I'm afraid there's no photo.
Posted by Leigh Witchel at 11:13 PM | Comments (2) | TrackBack
March 16, 2006
Reminder
Philadelphia PA - Germantown.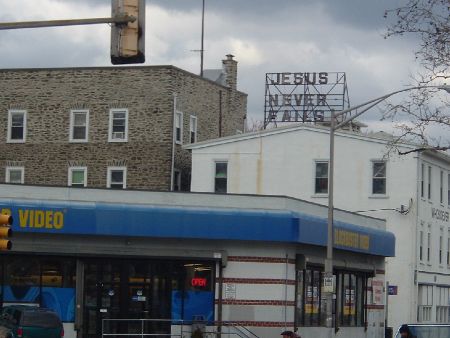 Posted by Leigh Witchel at 11:16 PM | Comments (3) | TrackBack
March 15, 2006
Knitwhoring
I should take the opportunity of this very short notoriety to flog some knitting classes I'm teaching in April.
I'm teaching a Beginner Knitting class on Wednesday nights starting March 29 and a special "Project Coaching" class for advanced beginners on Tuesday nights in April. All the information you need is here.
For the Main Line Knitting Guild in suburban Philadelphia, I'm teaching "17 Stitches no Knitter Should be Without" on Saturday, April 22 and Entrelac Knitting on Sunday, April 23. For more information email Barbara Borgia.
Posted by Leigh Witchel at 3:24 PM | Comments (0) | TrackBack
March 13, 2006
Incident
I was waiting for the D train to take me up to Lehman College in the Bronx on Saturday evening, where I was going to see Sleeping Beauty. An older lady, voluble and friendly, came up to me because she saw me knitting a hat and wanted to talk about teaching her grandson to knit. At first I froze, waiting for the inevitable "I'll bet you find that relaxing." But that never came, she knitted herself and we got to talking. She was with three companions, two of whom were French including a middle-aged French-Arab woman. I started talking French with them to try and be welcoming. The Arab lady was very nice - from Narbonne, near Montpellier. I took out a lace project, that impressed her far more than the simple hat. "C'est un châle." I said, doing my best in my rusty French.
They were going to the same stop as me, but not to Lehman for the show so to make small talk I asked the American lady where they are going. "A human rights meeting." She sounded embarrassed so I apologized and explained I only meant generally. "You don't frighten easily?" she asked. I said no, but I was bracing myself. The Arab (more accurately Moroccan) woman, Aicha, is the mother of Zacarias Moussaoui. The American woman I was talking to lost her son in the Towers. Through his trial, they have become close.
I had no idea what to say. By this point Aicha had moved to the other side of the subway car to speak with another of her companions and I was talking only to this woman (she's not a public figure, so I don't wish to identify her.) I asked about her son, but I knew his story even before she told it. I had heard it a hundred times. Cantor Fitzgerald, this time in the IT department. Memories of the days immediately after, the color xeroxes of the missing lining the walls of the subway stations, the candles in Union Square Park, the raw shock and pain of the bereaved, the acrid stink in the air came back. I told her I was impressed with her.
Going out of the train, my friend Mary caught me - we were going to the performance together, but had to travel separately and didn't know we were on the same train. I said my goodbyes to the ladies; we went down the hill towards Lehman and they went up to their meeting.
There's no moral to this story. 3000 people are still dead. We're trying to kill another man, and he's no innocent but it hasn't yet been proven that he had anything to do with it. And someone who lost her son finds the way she can make sense of it is to work for mercy.
Postscript 3/15/06: Greetings to those stopping in from AMERICABlog, Buzzflash or Metafilter. Thanks for stopping by, please feel free to look around. I don't blog often on politics, when I do it's in the category "current events" and you can find a category list on the home page. More about my blog here. Y'all come back.
Update: It's a shock to see how many people have read this. So far, the most interesting comments have come from Metafilter, where I have been called a liar, moralizing and female. I can only categorically refute the third.
Posted by Leigh Witchel at 11:06 PM | Comments (19) | TrackBack
March 12, 2006
Latest dance article
Spring Rounds, Dust and Esplanade during Paul Taylor's season at City Center:
San Francisco Ballet gave "Spring Rounds" its debut last summer, now the Taylor company is giving the piece, set to selections by Richard Strauss after Couperin, its New York premiere. I saw SFB perform the dance during their repertory season in San Francisco. The main difference between the two productions is the steps. There are plenty of steps when SFB dances it; and they do them well. When the Taylor company does it, there are barely any steps—and they're doing it right.
Posted by Leigh Witchel at 10:13 PM | Comments (0) | TrackBack
March 10, 2006
Current Knitting - Charity scarf
It's not stunningly impressive, but it's what I'm doing.
My friend Matt was fascinated with the yarn in raw form; Lion Brand Fun Fur in Sandstones.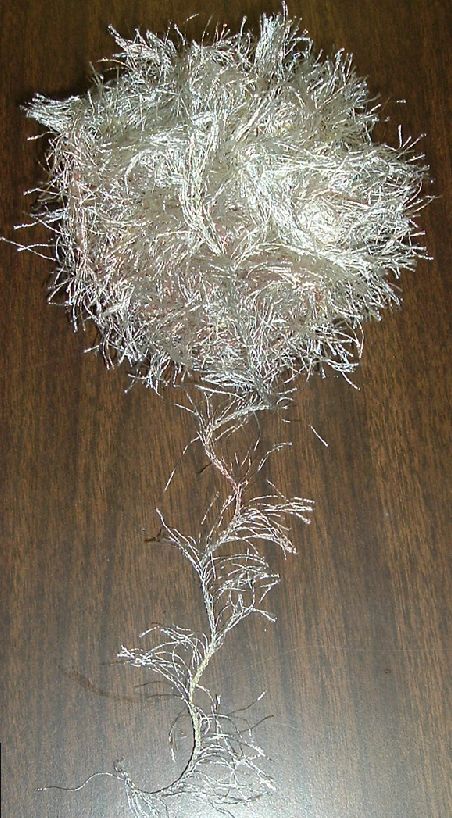 Matt: "I love it. That looks like a hairball thrown up by a 40 foot cat."
The pattern is simple - it's adapted from Dez Crawford's novelty yarn scarf pattern for the KnitList back in '01, except I've got 16 stitches on there (when I can see to count them. . . )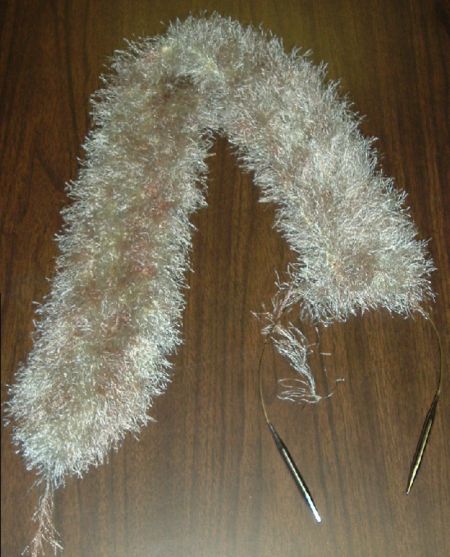 Posted by Leigh Witchel at 6:49 PM | Comments (1) | TrackBack
March 9, 2006
Dance Linkage
It's an old link, but I very much liked this article by Jeffrey Gantz comparing Balanchine and Mark Morris' use of music:
Morris gives us comfort-food dance; Balanchine is Jacob wrestling with the angel. Nancy Reynolds in Repertory in Review describes Concerto Barocco as "a ballet especially for the legs and feet." Balanchine is all about legs and feet, about limbs and appendages galvanized by the center of the body and reaching, reaching, reaching. The original version of his Square Dance, another dance set to Baroque music (Vivaldi and Corelli), has Elisha Keeler calling, "Now keep your eye on Pat [Patricia Neary]/See what she is at/Watch her feet go wickety-wack." MMDG feet never go wickety-wack; they don't do much of anything.
At Downtown Dancer, Rachel is protesting a very odd editorial stance at Dance Europe. For further background see Stephanie Freid's blog and also Steven Weiss' Canonist for a not very productive sort-of exchange between the parties.
The one party I can't find an official postion from yet is Dance Europe. I hope they respond to this, either to confirm or deny. A commenter in Rachel's thread posts to say the statements are inaccurate.
While neither my situation nor my position on Israel would be the same as Stephanie's (she lives in Tel-Aviv) this quote seems particularly apt:
I'm against the occupation too, for the record, and want a resolution to the HLC (Holy Land Central) mess more than does the London Dance Lady because I have more at stake.

But we're talking dance here, folks.
Dance Europe is a dance magazine. Not a political organization. Injustice is a powerful and thorny issue, but when you start blaming the dance organizations in one country for the actions of their governments where do you stop? Are we going to stop writing about American dance companies for Iraq? Indian dance companies for nuclear proliferation? Turkish dance companies for Armenian genocide? English dance companies for Northern Ireland?
Who is the judge of which dance companies are represented by governments moral enough for us?
Posted by Leigh Witchel at 5:03 PM | Comments (0) | TrackBack
Priceline reduces rebid wait time to 24 hours
via this thread on Flyer Talk and double checked on the Priceline web site, the waiting time for rebidding is no longer 72 hours, but 24. As long as we don't go bid-happy (something that always works in Priceline's favor) this is a good thing.
Posted by Leigh Witchel at 12:03 AM | Comments (0) | TrackBack
March 8, 2006
The perils of dithering
I had decided to splurge on the Kingsway Hall Hotel after asking about it; I admit I was leaning that way even as I wrote the query - writing the question helped me know what I wanted. But I waited until Tuesday, when I had completed ticket arrangements at Covent Garden before going back to Lastminute.com to purchase the room.
Gone.
With no trace.
And a few weeks earlier, when the Waldorf Hilton (another place that was exactly what I wanted) was coming up at $109 on Hotwire, I waited as well for my credit card statement to end. It was gone before then.
The lesson, which I may never learn but I'll say it anyway is:
If you're shopping with some clue of what you're doing and you see what you want at a price that you think is fair, don't wait forever to buy it.
Posted by Leigh Witchel at 6:53 PM | Comments (3) | TrackBack
Latest Knitting Article
World Fleece - on travel and knitting in the current (Spring 2006) issue of Knit.1 Magazine:


Long plane flights are an opportunity to make real headway on a project. Yes, you can knit on planes, but plan ahead. The Transportation Security Administration permits knitting needles as a matter of policy, but the final decision is at the discretion of the agent. Nonmetallic circular needles will raise fewer eyebrows. (Pack a large SASE in case security confiscates your tools.)
Working in commercial publishing is an interesting change from working for specialist publications. The pay is better, the writing a bit easier - and you get edited a lot more but it bothers you less.
Posted by Leigh Witchel at 6:32 PM | Comments (0) | TrackBack
March 7, 2006
Aspects of the Feminine
It was a scene almost out of an E.M. Forster novel; a view of India that through western eyes was stereotypically oversimplified – that of elegant chaos. "Dancers with a Difference" was a performance of four female soloists at the Indian Consulate. Hundreds of people were generously invited; the amount that accepted and showed were at least double the seating prepared. A white sheet was spread in the front of the ballroom where the performance took place to protect the oriental carpeting; people took off their shoes and sat down and still there was not enough room; not room for the consul's guests, nor room for the dancers themselves. We squeezed to the side as they stepped over us to reach the stage. Elderly women were fanning themselves with postcards to combat the excessive heat from the crowd. I shed my shoes first, then my sweater. By the third performer, I wasn't sure that I could feel my legs. People paid attention, but attention in a different way; they talked, they laughed. I could hear one of the dancers behind me stamp in sympathetic rhythm as she was carried by the beat when another performed. Much the same, in a row of chairs behind the musicians playing; a drummer from a previous performance drummed his thighs. The ballroom of a Fifth Avenue mansion built by the Astors felt like a festival outdoors.
The four soloists, Swati Gupte Bhisé, Anita Ratnam, Rajika Puri, and Janaki Patrik each specialize in a different area of Indian dance; each were allotted fifteen minutes to give us a taste of it. Bhisé showed us "at aerobic speed" Ashtanayika: 8 Broad Facets of a Woman in the Bharatanatyam style. Ratnam performed Neo Bharatam, a forceful amalgamation of classical and modern styles; Puri danced in the Odissi style a section from Devi Malika depicting the story of Radha and Krishna, and Kathak – The Art of the Storyteller gave Patrik a chance to break down the art of Kathak for us. Each style is subtly different. Kathak is marked its spinning charkas and percussive stamps. Bharatanatyam is flickering where Odissi is sinuous.
Bhisé had two students perform with her, beautiful Indian girls of about fourteen years of age. It is quite marvelous to see the movement on young girls; in its oblique innocence it almost seems devised specially for them. Each girl was adept at the motion of rotating the neck and head off the axis of the spine and the beautiful wide-eyed but strangely focused stares that throw us into another world and perception. One of them stumbled and fell during a plié; she quickly got up and it only made her more delicately attractive.
The strange connection I came away from the performances was with the relationship between these dances and drag. It's certainly not a direct one, but I think it's there, and if I had to guess how it would be to trace back from Martha Graham's onstage mystique to Ruth St. Denis' fascination with ethnic dance. It was most apparent in Bhisé's dance. She presented us with "8 broad facets of a woman" – what is drag but the same boiling down not of womanhood, but the broadest essences of femininity? In the same way Bhisé's portraits went beyond womanly to hyper-feminine; the woman who shouts at her lover to leave immediately, and then is furious when he takes her literally. Ratnam showed us seven graces of the Buddhist Goddess Tara; again broad strokes and essences boiled down. Puri's tale of the love of Radha, as fair as sunlight and the roving Krishna, whose skin is as deep blue as the evening sky was the gentlest of all. It showed another aspect of the eternal feminine; She Who Forgives, part Graham, part torch songs.
The hyper-feminine extends to the idea of the diva; a divahood similar to old-school modern dance. Each woman could hold a stage in an overcrowded, overheated room; Puri readjusted her microphone barely missing a beat from the spell she wove. Amidst the powerful stampings in Ratnam's dumb show were moments of silent-movie mime. It tapped into the same mystique as a lip-synch of a Pop Goddess. The only westerner of the lot, Patrik's work was the most direct and constructed like a lecture-demonstration; a simple theme was amplified and varied into impressive elaboration. She was also the one who broke one of the rules of divahood on stage: If the music is off tempo, if the microphones are not working, if the volume is too low, do not let the audience know it is disturbing you. Carry on as if nothing is amiss and kill the offending parties afterwards.
Before sending us out into the winter night, the consulate treated us to a feast that was perfect given what had come before; delicious tandoori chicken, samosas and kachoris were served in a packed room where the waiters ran out of glasses and plates long before the people stopped arriving.
Posted by Leigh Witchel at 6:13 PM | Comments (3) | TrackBack
March 6, 2006
Leigh's Dance Card - Indians, Modern Dance and Russians edition
Monday, 3/6 Dancers with a Difference. 4 Indian dance soloists performing at the Indian Consulate. Off duty.
Tuesday 3/7 Paul Taylor at City Center (Note to self: not at 8 pm. At 7 pm. 7 PM. 7 PM!). Spring Rounds, which I saw at SFB two weeks ago, Dust and Esplanade. On duty for Danceview Times.
Saturday 3/11 and Sunday 3/12 - I'm getting Perm'd. Sleeping Beauty at the Lehman Center in the Bronx and Swan Lake (if press seating becomes available - it's sold out) at the McCarter Theater in Princeton by the Tchaikovsky Perm Ballet and Orchestra. It sounds like a pickup group but it's not; Perm has a major school and is where Vaganova and the Kirov Ballet decamped during the siege of Leningrad. I'm curious to see them. Also for DVT.
Posted by Leigh Witchel at 10:36 AM | Comments (0) | TrackBack
Super cheap fares from NYC-Portland OR and vice versa
Don't know why or for how long (fares like this usually are pulled in under a day), but American Airlines is having an unadvertised sale on airfares to Portland, Oregon from NYC for $99 + tax ($138 total). Pretty darn good. Sale fares start in late May, are spotty through the summer and very open in the fall. I've got one for Columbus Day weekend on hold. You can find the dates at Yahoo Travel (use a "my dates are flexible" search) or by searching at American Airlines (I'd suggest searching for dates at Yahoo and then booking at aa.com)
Just in case you wanted to visit Portland (or NYC!)
UPDATE: Just heard back from the folks at Oregon Ballet Theater. Their performances are Oct. 14- 21 so I moved my dates to 10/14-16
Posted by Leigh Witchel at 9:19 AM | Comments (0) | TrackBack
March 5, 2006
Trip Progress, London Dithering
Here's where we are on the St. Petersburg - London trip:
Airfare: Ticketed. Business class on BA via Asiamiles JFK-LED-LHR-JFK. Cost was taxes - $306 and 60,000 Asiamiles (exactly what I had, what a coincidence!)
St. Petersburg Hotels: Renaissance St. Petersburg. Two nights redeemed. This was very dicey. Between the time I had reserved the reward and the time when I came to redeem the points needed for it a few days ago, the hotel raised categories from a Reward Category 4 to 5. For the part paid with Marriott points, this is no problem; Marriott honors the rate at the time the reservation was made. The problem was that one night is to be paid for with a VISA promotional certificate good only up to category 4. At first, the rewards desk told me it was no longer good. Speaking to a supervisor there got an offer of 7,000 points, which was useless. Calling the customer service department, however, got the problem entirely solved. They will honor the certificate and it is documented in my reservation. I will call the hotel directly before leaving, however. I'm not going to find out this did not work when I am in St. Petersburg. I should note that even though this took a few calls to unscramble both the rewards desk and customer service at Marriott are unfailingly polite and make every attempt to be helpful. Total cost will be the taxes, $50/night upgrade fee to a suite, the certificate (which I earned for applying for the VISA) and 20,000 Marriott points (it would have been 25,000, but they honored the earlier rate). I had 18,000 points total and Marriott allows you to buy 10% of a reward in 1000 point increments at $10/1000 points, so I bought 2,000 points for $20 rather than having to charge $2,000.
Radisson Baltic St. Petersburg. We're still earning points. I'm at 37,500 so far. I've converted 25,000 Continental OnePass Miles to 25,000 Amtrak Points to 25,000 Midwest Miles (It's all done via Amtrak Guest Rewards). When the miles land at Midway, I will convert them via points.com to Goldpoints. It should be about 25-26,000. I've got about 1250 Goldpoints pending from online purchases and about 4000 from purchases. My guess is I will have around 70-75000 of the 120,000 points I need, and the rest will be converted from AA miles via points.com
Got that?
I still have to apply for my Russian visa. I have the documents assembled, I just need to get a photo, and the fee in a money order.
On to planning for London:
Given my tendency to overstrategize travel to the point where the hourly cost of my dithering is astronomical, I thought I'd ask you all what you thought.
I've stayed in Kensington most of my trips to London but there's almost nothing in Kensington I do. When I go to London, I live at Covent Garden. At this point I'm getting kind of tired of spending an hour a day on the tube or not being able to get back to the hotel room for a break. So I was trying on Priceline for a room in the Mayfair-Soho or at least within walking distance of Covent Garden. (I'm a good walker)
Lastminute.com has the Kingsway Hall Hotel as a "top secret" special (I'm positive about the ID) for £79 per night - that would be $139/night and VAT is included but there is a credit card fee and currency conversion to be considered. It is *exactly* what I want. 1/4 mile from Covent Garden, Free Wireless in the Lobby, Fitness Center. To beat that on Priceline, I would have to get a Mayfair hotel for under $115 per night with fees thrown in and it may not have those amenities. The Waldorf Hilton was coming up on Hotwire for those days for $109 (that would add up to about the same with taxes and fees - around $138), but I waited too long; now it's $338.
Some cities regularly show "counteroffers" on Priceline. These are very useful markers on about how much you will need to bid - it will (except in circumstances I have not yet encountered) be less than the counteroffer. In London, if you have the time, you can get a lay of the land by lowballing several zones one at a time and seeing what the counteroffers are. BE SURE TO REALLY LOWBALL. If your bid is accepted, you're stuck. In zones I didn't really want to stay in, I was bidding around $50 for a 4*, which I have never seen accepted in London (though I have seen a few dollars more get accepted recently - so check recent bids on Bidding For Travel or Better Bidding)
This is what came up:
Mayfair 4* No counteroffer for bid up to $85
3* $110 Counteroffer on bid of $60. My guess is this is the Thistle Trafalgar, which is a mediocre hotel with a good location and no facilities.
Bloomsbury 4* $101 Counteroffer on bid of $50 - My guess is the Thistle Marble Arch. This is a long walk, but possible.
Westminster 4* $85 Counteroffer on bid of $50 - My guess is the Jolly St. Ermins. This is within (a long) walking distance, also no facilities.
City 4* $76 Counteroffer on bid of $48 - not sure what this is; if it is the Tower Hotel it is not in walking distance.
Kensington 4* $68 Counteroffer on bid of $50 - not sure what this is; if it is Holiday Inn Kensington Forum (which is coming up again on winning bids) I like the place and it has all the facilities I want, but it means a 20-25 minute subway ride.
What would you do? Bidding on a Kensington hotel is a savings of about $65/day - or double. The first four nights hotel on Priceline at $63/night comes to $306.35 - the total for the Kingsway Hall on Lastminute.com will be about $570 with currency and credit card fees but it is also exactly what I want. However, over 7 days that is a very healthy sum.
Help me stop dithering!
Posted by Leigh Witchel at 9:08 PM | Comments (3) | TrackBack
March 4, 2006
In a crowded and noisy bar, things sound different
After seeing him last week in San Francisco David came here with his boyfriend Duane to visit.
We went first to Pam Real Thai and then out to Therapy for drinks.
I don't know where or why in the conversation (or after how many cocktails) David asked if I were a gerontophile.
I thought he said Torontophile.
Of course I said, I've been there several times.
Posted by Leigh Witchel at 11:58 PM | Comments (0) | TrackBack
March 3, 2006
German Winter Pasta
My own invention and fanciful name for this dish but I'll bet there's something out there like it. It's a very simple dish, and fattening but delicious on a cold winter night. I've served it over spaghetti and frozen cavatelli; I bet it would be delicious with homemade spaetzle. Use good mustard; it's the main flavoring.
German Winter Pasta
2 slices bacon (about 2 oz)
1 small onion, chopped roughly
2 medium cloves garlic, chopped finely
1/3 lb green beans, washed, trimmed, cut into 1 in. lengths
1 oz ham, diced
1 small tomato, coarsely chopped
10 sprigs flat leaf parsley, finely chopped
1 tsp prepared mustard (I use hot honey mustard)
¼ cup heavy cream
¼ cup broth
¼ cup white wine
1 tsp Worcestershire sauce
Salt (probably not needed), pepper, hot pepper sauce
In a heavy skillet, render the bacon until crisp. Remove the bacon, leaving fat in skillet. In a separate pan, boil the beans until just tender (about 4-5 mins) – I do this in the water that will then be used to cook the pasta. Sauté the onion and garlic in the fat over medium heat. Chop the bacon, return to pan. When the onion is translucent, add the ham and beans. Sauté about 2 minutes; add the tomato and parsley. Sauté about a minute to incorporate. Add the liquid ingredients and turn up the heat to let come to a boil and thicken. Correct seasoning and serve over buttered pasta. Makes about 1.5 cups sauce and serves between 2-4 depending on appetite and amount of pasta made.
Posted by Leigh Witchel at 10:47 AM | Comments (0) | TrackBack
March 2, 2006
Paula Citron on Jewels
Presented without comment. I'll let her words speak for themselves.
Which brings us to the problematic Emeralds. While Balanchine does create fetching lyrical movement of consummate grace that emulates the gentle turns, dainty jumps and delicate footwork of the period, his choice of music sinks the dancing. In Rubies and Diamonds, his composers are synonymous with the style. For Emeralds he chose dreary music by Gabriel Fauré that bears no relation to the dance.

Hopefully, when the copyright is over, some smart person will go back to the music of Adam, or even Delibes, and reset the choreography over the poignant, melancholy melodies that are so sadly missing from this section.

OK, I will comment. That is the stupidest thing I have ever seen in print about Balanchine. Too bad there isn't a real choreographer out there (James Kudelka, Ms. Citron?) who knew what sort of music that choreography really called for and would boldly go and reset it once all the foolish naysayers and stick-in-the-muds, to say nothing of the choreographer, are dead. After that, maybe we can do something about the boring bits in Ashton or Tudor.
I can't believe her editor wasn't kind enough to strike that paragraph before it hit print.
Posted by Leigh Witchel at 9:47 PM | Comments (1) | TrackBack
March 1, 2006
500 Words
That's about one page, single-spaced or four long paragraphs.
This is the first time in a while I've had to write to strict space limits and it's a fascinating exercise. It changes everything you do. I've had conversations with my friend Alexandra Tomalonis about newspaper style; as a writer for the Washington Post it is quite familiar to her. Those discussions came in handy.
The biggest difference is that I did not focus on what I thought was best about the performances. I focused on what was newsworthy; this meant concentrating on the new productions even they did not contain the best work of the weekend. The dancers only got mentioned in passing, and only selected dancers. There's barely enough room to get the reader up to speed on the production itself. As Alexandra said, for a new production, review the production. If the production has already been written about, then review the performances.
You choose your details carefully. There's about enough room to describe one moment in the ballet, it had better be emblematic. There's also no room to cover your ass in 500 words. If you want to make an assertion, you have to make it without qualification. I only had room to say "Gonzalo Garcia that was the next best thing to seeing Jacques d'Amboise in the role [of Apollo]"; I didn't have the room to explain why I felt that way even though I never saw d'Amboise dance the role.
As reportage, 500 words aren't satisfying; I can barely give the reader an inkling what happened. But it is sufficient for summary and opinion and there are certain performances where that's enough. I could see doing more of these, especially where I'm "checking in" on a familiar company or production.
Posted by Leigh Witchel at 11:35 AM | Comments (3) | TrackBack