« January 2006 | Main | March 2006 »
February 28, 2006
I left my cell phone . . . in San Francisco . . .
Everybody sing along!
It started to rain on Sunday, making it a good day to leave but there was plenty to do before.
The burrito pilgrimage was to El Tonayense, a taqueria in the Mission district on 24th & Shotwell. We found it on a walk two years ago, and we've gone together on every visit I've made since. Peter gets the super carne asado burrito, affirming my Jewishness I get the super al pastor with grilled pork. Being adventurous and gluttonous, for the first time we ordered something else in addition – a chicken super quesadilla – just so we could explore the menu. The quesadilla was heavenly and unlike those I have had in NYC – this was closer to a burrito without rice. Mexican food in California puts the slop served in New York City to shame. Cal-Mex is a cuisine; NYC Mexican restaurants serve stuff only good as an excuse to soak up the alcohol in a margarita.
Balmy Alley is a few blocks from El Tonayense on 24th; an alleyway lined with murals including this one.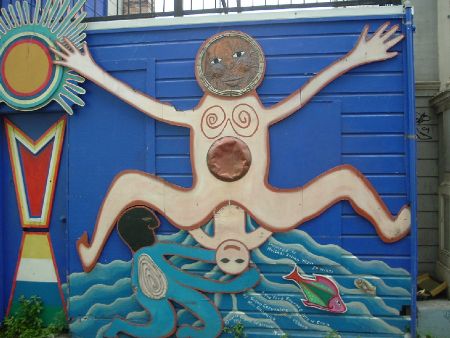 Oh happy womb!
Peter and I walked off our gluttony through the Mission District before I headed to the ballet. Alas, Peter's back was bothering him and he wasn't up to sitting through the ballet, so I gave his ticket to an usher who needed a seat. The program was the same as Friday night's with some cast changes – Katita Waldo instead of Muriel Maffre in Magrittomania, Kristin Long and Matthew Stewart for Rory Hohenstein in Rodeo. Alas, Damian Smith, a dancer I like very much, is replaced in his roles. Magrittomania holds up on a second viewing, though Waldo is not as extreme as Maffre. Spring Rounds looks negligible; as a friend said who saw it in Paris, paint-by-numbers Taylor. Long and Stewart do great work in Rodeo.
It was drizzling before the ballet but as we leave it is raining heavily. I take the short walk to the hotel to pick up my suitcase and then head to BART. The station is immediately next to the hotel – another good thing about the Ramada. I head across the bay to Berkeley to have dinner with my friend Paul.
Paul is one of the most beautiful thinkers I know. Every conversation is tinged with poetry. He's from the Deep South, which has something to do with it. Very good Thai Beef Salad and Chicken and Coconut soup at Racha Café wash down the conversation on Brokeback Mountain, Mark Morris, Frederick Ashton and aging parents. It's no use to try and explain what is so special about the way he thinks, just read his review of the programs I saw at SFB (but on different nights with different casts)
Paul drove me to Oakland Airport; when I got there I learned that the same headwinds that had made my outbound flight so long delayed this plane and projected departure was an hour late. I passed through security and headed for the gate. Searching around, I finally found a quiet place with an outlet, took out my charger to charge my phone – and realized I had no phone to charge. After ripping apart my bag, a kind soul let me borrow her phone and I left a message for Paul. He doesn't have a cell phone, so there was nothing more to be done.
The headwinds worked in our favor on the flight back; it was slightly more than four hours and I slept most of the way. Even with losing my cell phone it was a marvelous trip. I called my phone when I got home, and there was one mysterious message – no voices, just ambient noise. From that, I guessed that it had fallen out of my bag and opened, but did it happen on BART (I made a call to Paul to let him know I was arriving) or in Paul's car?
Right before I was about to order a new phone I got an email from Paul. My phone was under the passenger's seat. It beeped at him; it must have been lonely. I'll see it quite soon.
Posted by Leigh Witchel at 11:11 PM | Comments (0) | TrackBack
February 26, 2006
A whole lotta eatin' and drinkin' goin' on.
Day two in San Francisco was as good as day one.
I haven't seen my college suitemate Don for several years. We met in the lobby of my hotel; with the exception of a few gray hairs he looked much the same as in college. "You didn't think I was going to get fat and bald?" he asked. "I'm glad we're both vain." I answered. He had bicycled to the hotel, probably the reason why he looks much the same. He had made a reservation at Absinthe, I laughed and he apologized, not knowing I had eaten there last night. No matter, it was just as good for breakfast. I had the blueberry pancakes, he had eggs and bacon and both were as good as their premium price would demand.
After brunch, we went to the plaza of the Civic Center to talk and catch up. He told me about his wife and children, we both exchanged news about our parents and siblings. It was slightly colder than the day before but clear and sunny; there was some sort of demonstration of various leftist causes in the plaza.
My hotel is only 2-3 blocks away from City Hall; David met me there at 2:30. He also had not gone to seed; he looked thinner and even more like Clark Kent than the last time I had seen him six years ago. Welcome to the era of the Internet where you have close friends you speak to all the time, but don't see for years on end.
We went to the exhibit of Kyoto artists at the Museum of Asian Art. His favorite paintings were of two waterfalls; I liked those very much but favored the one of a monkey by Rosetsu that is on the linked page.
Dinner followed the Japanese theme; we went to Yum Yum Fish, which is near his apartment about a 20-5 minute MUNI ride from the hotel. The place is a dive (three tables in what looks like a fish market) with top quality sushi for dirt cheap. Six pieces of nigiri sushi (salmon, yellowtail, eel) and a huge plate of rolls ("Dynamite" roll – spicy tuna, BBQ Eel, California roll with real Dungeness Crab, and Salmon belly roll) set us back $22.50 and the fish is fresher than I recall even at the best sushi places in NYC.
We hustled back to the Opera House for Program 2. The highlight is Gonzalo Garcia's performance in Apollo, which is as good as I recalled it, only the production around him has gotten even more taut. Besides my friends, that was the thing worth flying across the country to see.
I took David out for dinner and gave him an knitted watch cap I made for him in his favorite color - orange of all things. Happy Birthday, Chuckles! David took me out for a drink at the Orbit Room and the cocktails were interesting enough that we both decided to have one instead of our usual safer drinks. I am an alcohol sissy; I usually get a vermouth and soda so I don't become incapacitated but I went for a Venus Lemonade and he chose a Mojito. We toasted his boyfriend Duane, away on business in New Orleans, but who sent David $10 to buy me my drink. Thank you kindly, Duane.
I stumbled home in a happy state of exhausted mild inebriation. Now, I'm off to shower, pack and vacate the room, then see Peter for a burrito pilgrimage in the Mission District and the matinee at SFB, then dinner with Paul. On the red eye and back in NYC at 5 am. I'm having a delightful weekend.
Posted by Leigh Witchel at 12:38 PM | Comments (0) | TrackBack
February 25, 2006
Mood Swings - A visit to San Francisco
Thursday 2:00 pm EST Mood: Frazzled. Preparation for a trip is usually last minute for me. Two things usually happen; I can be relied upon to not pack to the size of suitcase I had hoped to – (aimed for carry on, had to go one size up and check it) and forget one tricial item. This time, it was my belt, which I discovered as I absentmindedly hitched up my pants. I had to go to the post office anyway, I went to Daffy's bought one.
Thursday 5:00 pm EST Mood: Panicked. When I plugged my computer into a power supply at the terminal, no power came through and I figured the outlet was defective. My computer had been working this morning, after all. When I plugged it in a second time at a different part of the terminal with the same result, angst set it. I have an old computer and had two batteries, which would have had an hour of computing time at most between them. How to make that last over three days? I had my PDA and a folding keyboard with me that would suit for writing, but even that got recharged via the USB port by the computer. On the plane, I called my friend Peter for magic words. "Maybe I've already said them, Darling. So if the computer starts working in the hotel, I will take credit." "And I will be happy to give it to you, darling."
In Flight to OAK Mood: Irritated. This was my first time in JetBlue. It's a completely acceptable economy product, but nothing special. If the plane as packed, as this one was, all economy is cramped and irritating even with a 34 inch seat pitch. I do like the cookies. Flying into OAK instead of SF was not appreciably more difficult except that it involves about a 15 minute bus transfer ($2 exact change) from the airport to the BART station. It probably took an hour from de-planing to get to my hotel.
I alternately worked on an article for Ballet Review and a lace shawl I keep as a portable travel project. I saw the battery indicator on my PDA drop from full to ¾ and my mood blackened.
Thursday 11:30 pm PST Mood: Relieved. Check in to the Ramada Hotel on Market Street is fast and friendly and the hotel is an insane bargain ($45/night on Priceline). Amusingly enough, they gave me the exact same room, room 443 with a single queen bed that I had the last time.
In 2004, when they gave me this room the desk clerk announced that he had "a non-smoking queen for me." It was all I could do not to break into my Paul Lynde voice and say "Well, heh heh send him on up."
I plugged in the computer, pulled out the plug, finagled with the power supply, reconnected the pieces, plugged it in again. I've never been so happy to see a little green light. It's a bit sobering to realize how dependent I am on my computer and the Internet. The hotel has wireless service that isn't stunningly reliable, but it's free.
Friday 7:40 am Mood: Satisfied. The fitness center at the hotel isn't great – no elliptical trainer, but two treadmills, two bikes, a stair climber and creaky Universal weight system but it will do.
9:30 am Mood: Elated. I knew that Saigon Sandwich, was only a few blocks from my hotel, but no one told me that so was an entire Vietnamese neighborhood. I bought two heavenly Banh Mi, one roast pork and the other roast chicken and had a breakfast picnic under a flowering bush in a playground near the museum of Asian Art.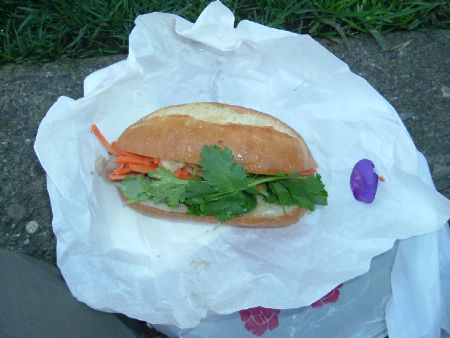 There is a show here of 18th Century painters from Kyoto, I am going to see it today.

11 am Mood: Confused. I'm supposed to meet my friend Rachel for lunch, but I only know her email and she hasn't returned my correspondence. Where is she and how can I get her phone number? I call one friend to get the number of another friend who might have her number and work on other writing in my hotel.

1:30 pm Mood: Resigned. No word from Rachel so I set off for Artfibers, one of the most well-known yarn stores in the city. The walk up Market Street is full of Beaux-Arts buildings and street freaks.
2:15 pm Mood: Covetous. I wasn't going to buy anything at Artfibers, but I want a souvenir of my stay here. I decide on two skeins of Shibori, a hand-dyed silk/kid mohair in forest colors.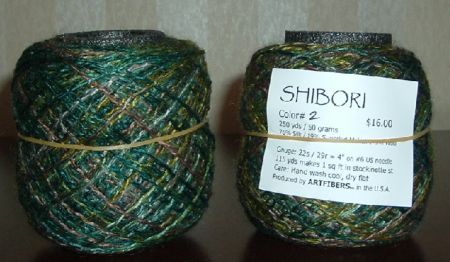 Though it's expensive, it has excellent yardage and 2 skeins should make a beautiful scarf to remind me of here. The staff is friendly and helpful and they keep sample balls and needles available for swatching as well as a comfortable place to knit. It ain't cheap here, but it's worth looking into.
2:45 pm Mood: Bemused. Poor Rachel called me full of contrition. She's not even in town, her husband and she went to Santa Barbara at the last moment. I'm sorry to miss her, but I'm having a great day anyway, so I do my best to absolve her.
5:45 pm Mood: Hungry. After picking up tonight's tickets I meet my friends Mark and Christopher and Christopher's ballet buddy Patricia for dinner at Absinthe. The restaurant is popular and expensive, but the food is commensurate with the price. After a cheese appetizer, we all chose the grilled sturgeon, rightfully recommended by our waitress. I split an excellent tarte tatin with Mark. Dinner with wine was $60 per person. More than I'd usually spend, but meals like that are great fun when shared with others.
8:00 pm Mood: Attentive. San Francisco Ballet Program 3. The most interesting dilemma is to figure out how to compress this into 500 words. I have 5 pages of notes already and two more performances to see. The Taylor piece is formulaic, Magrittomania is fascinating even if I don't love it and I have a soft spot in my heart for Rodeo. Muriel Maffre, who does the lead in Magrittomania with Tiit Helimets is the world's greatest Weird Ballerina. She does one wildly extended and arched tendu with a prehensile foot and you see she's a magnificent freak.
11:00 pm Mood: Flirtatious. We all head to Mecca, a lounge close to the Castro. Randy, whom I've known in correspondence for as long as I've known Mark but we've never gotten to meet in person, comes with his big hunky boyfriend Jim. Jim and I, well . . . hit it off pretty quickly. It went no farther than a flirtation and Randy didn't seem to mind one bit. It's confusing, but amusing. Where is Leticia Baldridge to advise on such things?
In any case, it was close to a perfect day. I headed back to the hotel at 1:00 am exhausted and satisfied.
Posted by Leigh Witchel at 2:14 PM | Comments (1) | TrackBack
February 24, 2006
Friday Cat Blogging - Kitty Nirvana Edition
Who gave you permission to get on a plane? Finish scratching my chin, Infidel.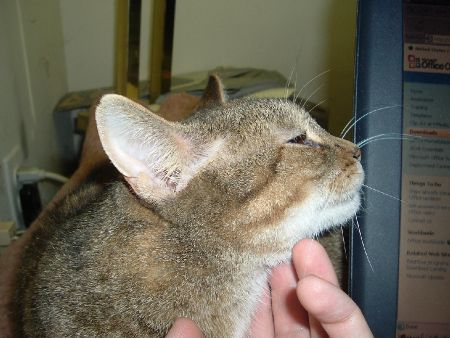 Posted by Leigh Witchel at 3:32 AM | Comments (1) | TrackBack
February 23, 2006
Leigh's Dance Card - Leaving on a Jet Plane Edition
San Francisco Ballet
Friday 8 pm - Spring Rounds (Taylor) Magrittomania (Possokhov), Rodeo (DeMille)
Saturday 8 pm - Apollo (with Gonzalo Garcia as Apollo, who was coached by Jacques d'Amboise and looks it), Blue Rose (Tomasson), Quarternary (Wheeldon)
Sunday 2 pm - same as Friday.
All on duty for Pointe Magazine. I get 500 words.
I am deliriously overscheduled with good friends: Rachel for lunch Friday (and I brought my copy of The Lost Night for her to sign), Mark and Chris for dinner and the ballet, Randy joins us for drinks after and so on. . .
I've come to really love San Francisco but I usually need a vacation from vacations there.
Posted by Leigh Witchel at 1:20 PM | Comments (0) | TrackBack
February 22, 2006
Is that a good way to meet women?
Today I walked into the elevator of my building working on a lace shawl and that's what the guy asked. Smiling, middle-aged regular guy sort of guy. I wasn't in a snarky mood, so I said, "Actually, yes."
I didn't bother to tell him, "Because they assume you're non-threatening and probably gay." Now, as someone who loathes the stereotype that all male knitters are gay (and therefore knitting, like ballet is suspect because it's, like, coated with icky GAY. . .and therefore we have to publicly display every straight man who has ever put on a dance belt or picked up knitting needles. . .)
Where was I?
Anyway, I hate that stereotype and here I am using it. I'm curious what women actually think. Do you assume anything at all about a man's sexuality if you see him knitting? Even if you don't assume anything about his sexuality at all, would you find it desirable? Would you find it hot?
If I'm knitting and I see a man I think is attractive (and it's that kinda situation . . .) I tuck the needles away pronto. Yes I love knitting, but to me, knitting is most decidedly not hot. Cruising and knitting don't mix. The other time I just can't bring myself to knit? When I'm formally dressed. Cufflinks and a suit and knitting are just not something I can wrap my brain around.
Posted by Leigh Witchel at 6:44 PM | Comments (6) | TrackBack
February 21, 2006
Tempus Fugit (II)
On both directions of a subway ride the other day I started a conversation with a handsome young man reading a book. It didn't hurt that they were handsome, but it was the books I was interested in: Gravity's Rainbow
and Private Domain
. The man reading Gravity's Rainbow was the older of the two, probably 26 or 27, and worked for a literary magazine. He was within the first few pages from the beginning; I jokingly asked if he knew what he was getting into.
I read Gravity's Rainbow in the summer of 1979, the summer before I went to college. I was 15; I didn't get most of it. I told the young man that it helped to have a solid background in physics and that there were formulas as part of the novel. "Yeah, but they weren't real?" he asked. No, I averred, Pynchon studied physics at Cornell – more accurately, he studied engineering physics, but completed his degree as an English major after his Naval service.
We talked about writing classes. He didn't believe in them; I understand why, but said I had a few very good teachers (Geoffrey Woolf) as well as some dreadful ones (Alice Walker – the worst teacher I ever encountered). When I mentioned reading books to prepare for St. Petersburg he mentioned Ryszard Kapuściński's Imperium
; I'll check it out.
Heading back home, a young man trundled into the subway car and sprawled open-legged on the seat. He pulled out his book; when I noticed Private Domain I had to comment once more. "It's a great book, but don't forget that you can't trust him. He's like Ford Maddox Ford
, what he says may or may not be true." He smiled; he was planning to audition for the company so he wanted to read it.
I wished him luck and refrained from mentioning that he'd probably need to bulk up to get into Taylor. We got to talking. He got his training in college in Maryland, had been here for a year. Medium height, slender build, pretty hair, bright eyed and bushy tailed. He was taking class at Cunningham, so we played the "do you know" game – but we didn't really know the same people – his favorite teacher at the studio is Jeff Moen.
"I'm in 10:00 am class at Cunningham every day so if you're ever around . . ." I laughed. I stopped taking class in 1998 and my body stopped hurting. When I was studying at Ballet Arts with Jan Miller, Nina Stroganova used to teach class before hand, one that was frequented by many older dancers from the Ballets Russes and other companies. There was tons of amazing history in that class that went foolishly unexplored, but they looked ridiculous to us – they weren't dancers, they were old people who could barely lift their legs. I promised myself that I would stop taking class before I looked like that.
It's funny to see books I read as a student being read by new students. It's funny to talk to a young dancer with his career in front of him pointing to the unknown. Those books, those boys and their place in time remind me of where I am presently suspended in time – not old, but no longer young.
Posted by Leigh Witchel at 11:41 PM | Comments (1) | TrackBack
February 20, 2006
What to do with Onepass Miles - Alaska Airlines
About a month ago, Gary Leff wrote on View From The Wing, And if you're not going to earn status and you're going to fly on Continental for goodness sakes accumulate your miles in a real program like Alaska Mileage Plan.
It's good advice. My beef with Continental has always been simple: Award availability sucks unless you're willing to pay double the amount of miles that a standard award would cost – and even then other airlines are better. Flights on Continental can earn miles in any of their Skyteam partners as well as Amtrak Guest Rewards, which used to be a better option than it is now. Amtrak Guest Reward points used to be convertible 1:1 to Continental, Midway and most usefully, United, but the ability to exchange for United miles was terminated abruptly at the beginning of last year. Converting to Midway means you can use points.com – usually not the best deal, but I'm exchanging into Goldpoints for my hotel in Russia this year because the conversion rate is still worth more than trying to use the 25,000 Onepass miles I have for a painfully scarce domestic award or to upgrade at an exorbitant cost.
Continental flights can also earn miles on Alaska Airlines. If you're someone who flies several airlines, Alaska's program may also be a good way to consolidate miles.
Alaska has an uncommon network of partnerships that span two major alliances. The majors include
Skyteam
Air France
Continental
Delta
KLM
Northwest
Oneworld
American
British Airways
Cathay Pacific
LAN
Qantas
With exceptions that should be checked before booking, you can earn Alaska miles on any of these airlines, so a BA flight here and a KLM flight there that might otherwise sit unused as orphan miles can add up to an award.
In many cases I would rather accumulate miles in the original plan or an alliance partner, but there are exceptions. Asiamiles are very valuable to me, but they expire in approximately three years without any extension. If I didn't think I could earn enough for an award, I might opt for putting them into Alaska's program where miles only expire after three years of complete inactivity.
Alaska also offers one Continental reward at a discount – BusinessFirst from North America to South America via CO is 75,000 miles. Onepass charges 70,000 miles for the northern countries, but 90,000 for Argentina, et al, so that is a savings. Caveat – award availability on CO probably won't be any better for Alaska Airlines than it will for Onepass.
Posted by Leigh Witchel at 9:46 PM | Comments (0) | TrackBack
February 19, 2006
Latest Dance Article
Three Couples Times Three for Danceview Times.
This year will mark [Wendy] Whelan's second decade at NYCB. In that time, we've seen the best qualities of her dancing: her courage, intensity and close-to-brutal honesty. Christopher Wheeldon gave her a role that summarizes those gifts and resets them so that we see not just courage but vulnerability, not just intensity but tenderness, and not just honesty but angelic compassion.
While you're there, there's a new writer making his debut at DVT, Michael Popkin. He talks about Friday's program - Wheeldon's version of Scènes de Ballet and Union Jack. Check it out.
Posted by Leigh Witchel at 11:58 PM | Comments (0) | TrackBack
Weird Linkage of the Day
Discovered while writing my review this week for Danceview Times, and oddly in keeping with the cowboy theme of the last few weeks.
Ladies and Gentlemen, meet Tom Mix and Tony the Wonder Horse
Mix, Hollywood's star cowboy of the 20's, died when beaned on the head by a suitcase that flew of the back of his car while driving through the desert.
Posted by Leigh Witchel at 3:24 PM | Comments (1) | TrackBack
February 18, 2006
It's All Drag
Running to the train today I passed a gentleman in a black leather biker jacket and a black leather cowboy hat. He looked quite proud of his ensemble, which was complemented by the parcels and bags, presumably from Sephora or Saks Fifth Avenue.
I was thinking that if he just wore a tool belt, he could have been at least three of the Village People with a single outfit. But his drag was effective. Like they said in Gypsy, ya gotta have a gimmick.
Posted by Leigh Witchel at 11:23 PM | Comments (0) | TrackBack
Two Shirts. Slightly used. $56,311.35
That's the bid as I write on Jack and Ennis' shirts from the final scenes of Brokeback Mountain.
The auction is to benefit Variety - a children's charity in Southern Calfornia.
I read via a friend that the jackets from the movie fetched $43,000 on auction at the annual dinner in NYC for HRC.
You could buy the whole ensemble for only a little more than $100,000. Bravo to Focus Features for donating the memorabilia for auction for good causes. However, clothing fetishists, beware. Your hobby is getting expensive.
Bidding for the shirts end on Monday, so sell your assets and jump on it.
Update 2/22/06: Holy Moly. They went for $101,100.51.
Posted by Leigh Witchel at 11:27 AM | Comments (0) | TrackBack
February 17, 2006
Friday Cat Blogging - French Movies Edition
Some Guest Kitty Blogging again, but with multimedia.
Venise, la chatte de Lyon shows us how well she can jump.
Posted by Leigh Witchel at 4:05 PM | Comments (1) | TrackBack
NYCB 2/16/06
Some of what is so beloved about NYCB isn't on the stage. It's the sense of family in the audience. My friend Chuck and I had dinner before; when we got there Juliet and Eric were there, and Michael was there with his mom, aged 93. Nina came running up to me to say hello; I caught a glimpse of Frankie at intermission; we hugged and joked. It's mishpocheh, and this is our hometown team.
I don't have anything more to say about Baiser de la Fée than I've said before. I still haven't figured out what Balanchine was after; the mood and even the vocabulary of the ballet is inconsistent.
I have some new theories about Tālā Gaisma or as I think of it, "Love For Three Hairstyles". Perhaps the best was my friend Nancy's. She thinks the male protagonist surrounded by his three differently coiffed beauties is Warren Beatty and this is a dramatization of Shampoo. Here's my alternate. The costume for the man is a relatively simple brown unitard, but with some sort of gold design across the chest. I realized today that it looks like Pi. I believe that the man is in fact a Cheerleader for Pi. Go Pi! Let's hear it for Pi! Miranda Weese showed her usual razor-sharp timing and tight turns; Sofiane Sylve did so many turns in an en dedans pirouette that I lost count. And then there's Sebastien Marcovici. Let's just say he redefines partnering.
Ashley Bouder did not debut in the second movement of Western Symphony; Megan Fairchild went in instead. She hasn't yet worked out the role; she was pleasant enough but didn't let the audience in on the jokes; Albert Evans has been doing the part long enough he's got all the jokes down. Jenifer Ringer is starting to develop a new specialty; slumming roles. She does the first movement a lot like the Costermonger pas de deux from Union Jack; she's a good girl who wants to play at being bad. Her usual Pearly King, Nilas Martins, is also her partner here and he looks his best in these loose informal parts. Teresa Reichlen keeps getting more and more interesting. She's a little too sharp by nature for her debut in the fourth movement and not yet comfortable with fouettés, but she made the sharpness fascinating and she's certainly got the legs for the famous diagonal of extensions. Damien Woetzel made a welcome appearance in a role that's one of his best. The facility and technique is just starting to fade (did he take ballet class up at Harvard?) but the energy he brings to the part is still there.
Posted by Leigh Witchel at 12:22 AM | Comments (0) | TrackBack
February 16, 2006
This is what I got a Guggenheim for
I spent this morning attaching 150 safety pins onto a toilet paper cozy.
I swear. It's my tribute to Sid Vicious, but with Charmin.
I promise pictures as soon as the damn thing hits the newsstands.
Posted by Leigh Witchel at 11:14 PM | Comments (1) | TrackBack
February 15, 2006
Leaving Brokeback Mountain
I'm relieved I wasn't alone in finding Brokeback Mountain depressing. It wasn't particularly cathartic for me; whatever mistakes I've made in my life, they weren't those. Still, taking from Proulx' own description of Ennis del Mar, he felt about as bad as he ever had and it took a long time for the feeling to wear off.
Here is assorted interesting reading on the movie:
David Ehrenstein raises objections; once you get past the Evil Bitter Queen persona in his own blog, the points are interesting – most interesting to me is in the comments at Fablog referring to a standard plot device from Vito Russo's The Celluloid Closet
: "The Faggot Dies".

Daniel Mendelsohn talks eloquently of the "tragedy of the closet" in the New York Review of Books. I agree with him in that the tragedy is specifically a gay one but I wouldn't rule out the universality of the narrative. Regarding both of the above, we have an addiction to sad stories and doomed lovers; I don't think it's sadism as much as a talisman. We see and tell sad stories in part to ward off tragedy in our own lives. We aren't always punishing those characters; they're protecting us.
Suzette Chan's piece on Brokeback and Arcadia is also quite nice and got me thinking.
The original story can be bought
or found sprinkled throughout the net – do a Google search for the first line of the novella - Ennis Del Mar wakes before five, wind rocking the trailer, hissing in around the aluminum door and window frames. It's worth noting that the version that originally appeared in the New Yorker did not have this preface.
Rereading the short story again got me thinking about the differences between the story and the movie. The ones that stand out for me fall into two areas. The first is to subtly change Ennis' character in order to push him further, if that were even possible, into the closet.
In the story, it's Jack rather than Ennis who calls their first sex "a one-shot thing". The screenplay may have given the line to Ennis to give him something more to say; his only response was "I'm not no queer", and it fits into the movie's view of Ennis.
This is the novella on their first leavetaking at the end of the summer:
"Well, see you around, I guess." The wind tumbled an empty feed bag down the street until it fetched up under his truck.
"Right," said Jack, and they shook hands, hit each other on the shoulder, then there was forty feet of distance between them and nothing to do but drive away in opposite directions. Within a mile Ennis felt like someone was pulling his guts out hand over hand a yard at a time. He stopped at the side of the road and, in the whirling new snow, tried to puke but nothing came up.
In the movie, Ennis walks. He doesn't have a truck; he always has fewer possessions than Jack and his poverty is central to his character. So is his frustrated anger. He doesn't just try and vomit when he leaves Jack, he punches a wall repeatedly in tears and yells, "What the fuck are you looking at?" when he notices that someone can see him. He's also not just at the side of the road; he's in (what looked like) a small space between two buildings – caged and observed.
Jack's speech in the climactic scene in the movie ("I wish I knew how to quit you.") is lifted straight from the story, but Ennis' reaction is not:
Ennis stood as if heart-shot, face grey and deep-lined, grimacing, eyes screwed shut, fists clenched, legs caving, hit the ground on his knees.
"Jesus," said Jack. "Ennis?" But before he was out of the truck, trying to guess if it was heart attack or the overflow of an incendiary rage, Ennis was back on his feet and somehow, as a coat hanger is straightened to open a locked car and then bent again to its original shape, they torqued things almost to where they had been, for what they'd said was no news. Nothing ended, nothing begun, nothing resolved.
This is how the quote is reported at IMDb though from memory I think it is slightly off:
Ennis Del Mar: [crying] Well, why don't you? Why don't you just let me be? It's because of you that I'm like this! I ain't got nothing... I ain't nowhere... Get the fuck off me! I can't stand being like this no more, Jack.
It's not made clear what brings Ennis to his knees in the story; it could be anger, it could be the fact that Jack threatened to leave him, it's probably several things at once. The movie verbalizes and brings to the fore the frustrated self-loathing. It was Heath Ledger's hook into Ennis' character as well:
Those involved with making the film had much to say at the Venice festival on Friday. While Gyllenhaal and Ledger have previously taken a "so what?" attitude to the film's homosexuality, they did acknowledge a bit of discomfort at the love scenes. "I was really lucky that my character was uncomfortable with it and knew it too," Ledger told reporters, "so I could use my own level of discomfort, because it was new and strange for me, and that worked for me."
In the story, while Ennis' self-awareness is flawed, he isn't clueless about his sexuality.
Ennis pulled Jack's hand to his mouth, took a hit from the cigarette, exhaled. "Sure as hell seem in one piece to me. You know, I was sittin up here all that time tryin to figure out if I was -- ? I know I ain't. I mean here we both got wives and kids, right? I like doin it with women, yeah, but Jesus H., ain't nothin like this. I never had no thoughts a doin it with another guy except I sure wrang it out a hunderd times thinkin about you. You do it with other guys? Jack?"
"Shit no," said Jack, who had been riding more than bulls, not rolling his own. "You know that. Old Brokeback got us good and it sure ain't over. We got a work out what the fuck we're goin a do now."
"That summer," said Ennis. "When we split up after we got paid out I had gut cramps so bad I pulled over and tried to puke, thought I ate somethin bad at that place in Dubois. Took me about a year a figure out it was that I shouldn't a let you out a my sights. Too late then by a long, long while."
For the movies' purposes, this was more self-reflection than they wanted the character to have.
I noted previously that the movie added an incident where Ennis decides to attend his daughter's wedding even though it will jeopardize his employment. It's not in the original story; I saw it as Hollywood's necessary glimmer of hope. What it substitutes for is:
Around that time Jack began to appear in his dreams, Jack as he had first seen him, curly-headed and smiling and bucktoothed, talking about getting up off his pockets and into the control zone, but the can of beans with the spoon handle jutting out and balanced on the log was there as well, in a cartoon shape and lurid colors that gave the dreams a flavor of comic obscenity. The spoon handle was the kind that could be used as a tire iron. And he would wake sometimes in grief, sometimes with the old sense of joy and release; the pillow sometimes wet, sometimes the sheets.
A funny substitution because in its own way, the dream sequence is as Hollywood as a reconciliation. It isn't just Hollywood, either. It's the dream of Paradise that is the consolation we offer for loss. Somewhere, somehow, we will be reunited. Ennis performs as much of an expiating ritual as he can, constructing his own small shrine to his lover. From an interview (not directly linkable, but in the 2/14/06 issue at Advocate.com and called "Brokeback's Big Secrets") the idea to switch the shirts so that Ennis' was now protecting and enfolding Jack's was Ledger's. Ennis' dreams are the cousin of Solor's opium vision of the Kingdom of the Shades in La Bayadère. And having mentioned that, I am doing an incantation to prevent Brokeback Mountain from ever, ever becoming a ballet, although I can already see the long ghostly line-dance of cowboys snaking in . . .
Posted by Leigh Witchel at 3:17 AM | Comments (0) | TrackBack
February 14, 2006
Happy Blogoversary!
Today is my First Blogoversary. Happy Blogoversary to me!
This might be a good time for a précis about the blog for newcomers.
The blog concentrates on a few areas of interest to me, usually in rotation. The main topics are dance and ballet, knitting, food, travel - particularly miles/points and Priceline bidding, and all-too-infrequent appearances by She Who Must Be Petted. I also announce my upcoming articles and projects here. Other topics will come up; part of the fun of blogging for me is that I can talk about what I please, but within that freedom I impose some restrictions. This blog is more column than diary; blogs should be personal but I'm not going to bore you with the minutiae and tedium of my life. My main criterion for a post is potential interest/use to the reader. Look around, there should be posts on something you wanted to know about or that will make something easier the next time you try it.
If you're only interested in one of the topics, you can filter out other posts by reading the topic archives but I hope to interest you in the other topics as well.
I plan to tune up the site and do some (mild) design changes in the next few weeks.
Thanks for sticking around and reading. I appreciate it.
Posted by Leigh Witchel at 7:02 PM | Comments (3) | TrackBack
February 12, 2006
More on mushrooms
Since Grace and I both expounded on the virtues of frying mushrooms I discovered that the same trick works for canned mushrooms as well. I'm not going to say it makes them taste as good as fresh but the improvement is remarkable. Before proceeding with any recipe, take an 8 oz. can of mushrooms and squeeze them out as much as possible, reserving the liquid to add to the dish or for another use. Add about 3T oil to the pan and sauté the mushrooms until they start to become crisp and golden outside. This takes longer than with fresh mushrooms, as long as 20-30 minutes. They will not develop much scent, but their taste will intensify considerably.
Posted by Leigh Witchel at 11:25 PM | Comments (2) | TrackBack
February 11, 2006
Brokeback Mountain
I don't go to many movies. It's easy, too easy for me to get swept into the story as if it were fact rather than fiction and I don't like the feeling of getting my emotions jerked around. I knew I had to see Brokeback Mountain (I didn't want to lose my gay card), but I waited a while, deliberately until I was feeling in a very good mood, as I knew it wasn't a film I wanted to see were I feeling low.
Good thing, that. I made it through fine to the final scene. The movie moves slowly and deliberately with the artifice of storytelling. It's Hollywood, but Hollywood at its best. The gorgeous location shots were filmed in Kananaskis Provincial Park in Alberta. It makes me want to see the Canadian Rockies. I'm a weeper at shows, can't do much about it. I cry at the end of Giselle, La Sylphide, Swan Lake, hell I cry at the end of West Side Story Suite. It's as much cued by the subject as it is by music; the right progression of chords and there I go. I was mostly dry-eyed until that final mournful theme
was played, and then . . . waterworks. I bundled my jacket collar up and left the theater in a hurry.
The thing I came away from Brokeback with was sadness at Ennis (Heath Ledger) being so beaten by circumstance from the start that he couldn't even imagine a life where he was happy. All the characters deserved better from their lives. The movie opens up the short story
by Annie Proulx; to me the biggest liberty they take is slightly changing the circumstances at the end. The movie adds an incident; Ennis gives up work to attend his daughter's wedding. Hollywood needed to add a glimmer of hope, and put Ennis' final enigmatic line "Jack, I swear. . ." into context. It could have been a hell of a lot worse.
I watched it for the sex too, which was minimal. Unlike other gay men, I didn't find the rough ease of their first sex implausible. It isn't usually that fast, but it can be (Too Much Information, but my first was like a hot knife into butter. After that, it was another matter.) It's never said overtly, but Ennis and Jack's masculinity is another can of worms for gay culture. What are we looking for when we're attracted to another man? Often, it's their maleness. And the unspoken corollary is that we ourselves, or any gay man who isn't butch, are not man enough.
The line that echoed in my head on the walk home wasn't from the movie. I involuntarily fix movies in my head. The perfect non-butch fix would have been for Cowgirl Glinda, the Good Witch of The West in heels and spurs, to ride into camp and tell Ennis that he had been wearing the fucking ruby slippers the whole damn time. I wanted him to say yes to the possibility of being happy. The last line from Ulysses
was what stuck in my head. It's completely out of context but it was what I wished for anyone in that untenable situation.
Yes I said yes I will Yes.
Posted by Leigh Witchel at 11:25 PM | Comments (1) | TrackBack
February 10, 2006
Friday Catblogging - Rotten father edition
I hate you so much for this, Dad.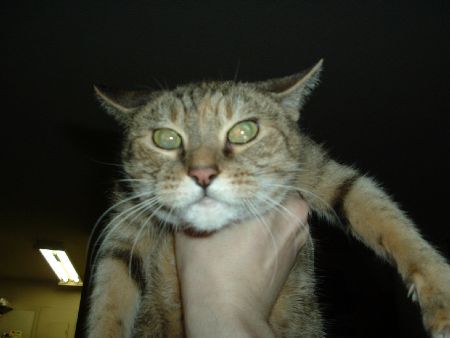 Posted by Leigh Witchel at 8:48 PM | Comments (2) | TrackBack
February 8, 2006
When it rains it pours.
I have now knit five toilet paper covers. Really. They are to accompany an upcoming article on embellishing knitting in Knit.1 Magazine. I won't spoil the fun by telling more (especially as I have neither decorated the TP covers nor written the article) but to my satisfaction it seems that a toilet paper roll has similar dimensions to a human head. Ruminate on that, but it does mean that the covers make very cute little skullcaps as well.
The Travel Issue of the magazine comes out on the 14th, coincidentally, my first blogoversary. I have a piece in this issue on knitting and travel. Also upcoming in Ballet Review are two articles, one on the June repertory in London and also Swan Lake at Pennsylvania Ballet.
The writing queue overfloweth right now.
Finished in first draft:
La Sylphide in London and Toronto – Ballet Review
Pennsylvania Ballet – Balanchine Program – Dance International.
Being written –
One act English Ballets – Royal Ballet & Birmingham Royal – Ballet Review.
Future Projects –
San Francisco Ballet – Pointe Magazine
An article for Vogue Knitting
A sweater for Vogue Knitting
White Nights at the Mariinsky – Dance Now
And the Swamp Thing of the queue – the potential rewrite of a manuscript for Knit.1 that, if it goes through, will vacuum up most of my time for the next two months. I apologize for being coy, but I'd rather not get the editors pissed off for giving away content. I really enjoy working with both Adina and Leslie at Knit.1. They're reasonable and fun, and Adina makes me feel calm . . . at least in comparison.
You can catch Adina on the tube on March 5 at 3 pm on the Oxygen Network; she's on a new show called Stitchcraft that also features Miss Lily Chin, whom I coincidentally had dim sum with today at Ping's Seafood. The perennially stylish Eve Ng arranges a get-together after Chinese New Year, and we all gorged on turnip cake and roast pork wrapped in rice noodle. We've sampled a few of the dim sum places: Golden Unicorn, 20 Mott and Ping's. I'm partial to Ping's; the dim sum get to the table most fresh here. Go with a large group so that you can sample more. Overeating wildly was about $16 per person.
Posted by Leigh Witchel at 11:57 PM | Comments (2) | TrackBack
February 7, 2006
Ask Mr. Mileage
Dear Mr. Mileage:
I have a lot of Membership Rewards points. What are my best options for redemption?
Your Wicked Stepmother
Dear Wicked Stepmother:
Needless to say, Mr. Mileage jumped on this request with great alacrity.
Membership Rewards can be converted to 14 different airlines. Skyteam and Star Alliance are represented, Oneworld isn't really - you can get certificates for discounted economy fares on Cathay Pacific and Qantas, but that's not what we want.
Which are the best transfers? The answer depends on where you want to go. All of these awards are in business class. Would I stick you and Dad in Economy?
If you want to go to South America, I suggest transferring the miles to Aeroplan. A Star Alliance flight to South America (that would probably be on Air Canada, United or Varig) is 75,000 miles.
If you want to go to Europe and the distance is under 8,000 miles total (JFK to Berlin is about as far as you can go), I suggest transferring to ANA Mileage Club. The rewards are distance based and the magic number is under 8,000 miles roundtrip. That award is only 65,000 miles. It's the same situation as Cathay Pacific for Star Alliance members. You could fly United, Lufthansa, Air Canada or Singapore Airlines among others.
For Asia, there are two possible options. Mexicana partners with several airlines, including Singapore Airlines. A roundtrip award to Asia is 90,000 miles. Australia or Oceania on either Singapore or Air New Zealand is 100,000 miles. If you'd be better off flying on Skyteam, then Aeromexico may work better. Awards to North Africa are 80,000 miles, Southeast Asia is 95,000 miles, India is 100,000 miles.
Needless to say, first ascertain routing and availability as best you can. The airline that offers the lowest theoretical partner award might not have a partner that flies where you want to go, or if it flies there they may not have award availability. Once you know you can get the ticket, then transfer the miles.
Bon voyage!
Your scheming stepson.
Posted by Leigh Witchel at 12:20 AM | Comments (1) | TrackBack
February 6, 2006
Philadelphia
I love spending the night in a hotel. It's a treat for me to be in an uncluttered room. I got the Philadelphia Marriott Downtown on 12th and Market for $47 on Priceline + taxes and fees. The room was lovely, it was at most a ten minute walk from the ballet and I even had a view of City Hall from my room. There is also a very large fitness center including a pool and at least ten treadmills.
Connie and I had planned to go to Singapore, our favorite Chinese vegetarian restaurant to commune with the heavenly orange non-beef. My friend Dale had also decided to go down to see the performances and we were surprised by a friend from Los Angeles who had flown in for the day to see the performance! So we all headed to the restaurant and even Dale, as confirmed a carnivore as me, agreed that the orange non-beef was celestial.
The one drawback to the Marriott was that at 6:46 am, someone pulled a fire alarm, starting off a very Orwellian loudspeaker alarm. Waking up to noises and flashing lights, it took me about half a minute to realize where I was. It was a false alarm, but I noticed the view out the window of City Hall and Philadelphia's mirrored skyscrapers, now against a background of the most beautiful lapis sky. I would have missed it if the alarm hadn't have gone off. I admired it for a few minutes before going back to bed. You never know when a bad situation is going to turn itself inside-out to become an opportunity.
Posted by Leigh Witchel at 9:46 PM | Comments (3) | TrackBack
February 5, 2006
Latest Dance Article
Neatness Counts - on three performances at NYCB this week.
It's the Age of Neat at New York City Ballet. One of the qualities of several of the current dancers—the one that seems the hardest to swallow for viewers who saw the company in Balanchine's time—is neatness.
Posted by Leigh Witchel at 11:50 PM | Comments (0) | TrackBack
February 2, 2006
More on Awards shopping
The comparisons I'm making of awards are most advantageous to people who either get most of their miles from credit card expenditure or people who fly constantly. For people in between those extremes who fly frequently enough to possibly achieve status, that should be a consideration as to where you credit your flights.
I did the series on distance based vs. zone based award systems less to see which was better overall than to illuminate a few exploitable anomalies, such as Asia Miles to Europe. Someone planning a dream vacation in the future is in the perfect position to take advantage of these, as long as you realize that frequent flyer program rules and awards change with little or no notice.
Look at the award levels for as many airlines as you can to your chosen destination and also its partners. Here's another comparison - New York to Buenos Aires in Business Class.
American Airlines flies this route non-stop. At 11 hours duration even non-stop, if the plane is full it's a pretty miserable flight and worth flying in business class. A business class award on AA costs 90,000 miles. Purchased with money, an economy ticket on this route is around $830 including taxes; business class is an astronomical $8300, though my guess is you can find a discount. By more circuitous routes on other airlines business class goes as low as $2200. If you want to attain status or accumulate miles on American, a round trip NYC-EZE nets you 10,400 miles, which is a significant chunk of the way towards status, at least gold status on a challenge, platinum if you buy a more expensive economy fare that gives you 1.0 Elite Qualification Points per mile instead of .05. If this is desirable for you, the best option may be to use AA miles to upgrade. AA lets any fare be upgraded for miles. Flights to Europe, Asia and the lower part of South America also require a co-pay of $250 one way. Flying business class would cost approximately $1,330 + 50,000 miles and you would earn miles and points towards elite status.
You can also get this award from other Oneworld partners. I'm discounting Aer Lingus, Finnair and Iberia from this comparison; in the first two cases the awards tables are not available on line. In the last, the system of points awarded doesn't lend itself to comparison with the other programs. Leaving the remaining partners, the results are a bit surprising.
Cost for a round trip ticket in business class, NYC-EZE on American Airlines:
American Airlines: 90,000 miles
LAN: 140,000 kilometers (between 70-87,000 miles depending on how earned)
British Airways: 80,000 miles
AsiaMiles: 100,000 miles
Qantas: 144,000 miles
So the winner, depending on the method of earning is LAN or possibly (and surprisingly) British Airways. British Airways is a lousy airline to credit flown miles to, as discounted economy earns .25 of actual miles flown, soemthing none of the American carriers do. But it can be an advantageous company to convert credit card miles to; there have been large bonuses given before. With this bonus as an example, 20,000 Starpoints gets a 5,000 Starpoint bonus, converted at a 2:3 rate - 37,500 points. So 45,000 Starpoints (40,000 with 10,000 bonus points and an extra 5,000 to top it off) would have become 80,000 BA miles, enough for an NYC-EZE reward. LAN accumulates actual kilometers and there are some bonuses if you happen to take a LAN flight for the first time, but as with BA, the most advantageous way to accumulate miles with them is converting Starpoints.
Venturing away from Oneworld, on Skyteam, Continental, Northwest and Delta all charge the same for that award, 90,000 miles, but you could get in from Air France for 80,000. On Star Alliance, United charges 80,000, Aeroplan is a very low 75,000. But it won't be a non-stop flight as only American flies that route.
The moral of the story? Once you have a destination in mind, do your research. You don't need to earn Frequent Flyer miles on them the airline you flew on. Figure out the best partner for your goal, and put them there. Unless there are rumors to consider of a change in conversion ratios or participants, don't convert anything out of Starpoints or another convertible reward currency until you need to or when there's an offer to pounce on.
Posted by Leigh Witchel at 11:46 PM | Comments (0) | TrackBack
February 1, 2006
Leigh's Dance Card
Four performances this week:
Wednesday 2/1- NYCB. Ashley Bouder and Ana Sophia Scheller make debuts in Divertimento No. 15, Jonathon Stafford makes his debut in the first movement of Symphony in C. He seems to be filling in for Ask La Cour during his injury. These sandwich Duo Concertant and Tschaikovsky Pas de Deux.
Thursday 2/2 - NYCB. Another Stafford debut, this time Jonathon's sister Abi as the second ballerina in Concerto Barocco. Peter Martins' Songs of the Auvergne returns to the repertory and Sofiane Sylve reprises her performance in Firebird.
Saturday 2/4 matinee and evening - Pennsylvania Ballet. More Balanchine, only in Philadelphia. Pennsylvania Ballet essays Theme and Variations, Prodigal Son and Western Symphony. I'm very interested to see how Julie Diana, to me the company's ballerina, does in Theme.
Posted by Leigh Witchel at 6:22 PM | Comments (0) | TrackBack