« December 2006 | Main | February 2007 »
January 31, 2007
Leigh's Dance Card - Bicoastal Edition
On the road again. . .
New York
1/30 - NYCB Essential Balanchine - Square Dance/Liebeslieder Walzer/Stars and Stripes. You want variety, they give you variety. If you're curious about Balanchine's range, this is a great program to see, although Liebeslieder is not beginner's Balanchine (it's long, though it doesn't seem so to me). At last night's performance, there was an unannounced tribute to Melissa Hayden. Jacques d'Amboise came out and reminisced for close to 20 minutes before Liebeslieder. It made for a very long evening, but it was mesmerizing. I'm on duty for Danceview Times.
San Francisco
2/2 - SFB Program 1 - Divertimento No. 15/Aunis/Artifact Suite
2/3 - SFB Program 2 - Blue Rose/The Dance House/The Firebird
2/4 - As 2/2
Nice work if you can get it.
Posted by Leigh Witchel at 11:02 PM | Comments (0) | TrackBack
January 29, 2007
Swag winners!
It's my contest, I can have multiple winners. We've got three.
Javasmom and Deb D get skeins of evil and wonderful Jaeger furry yarn (either sparkly cherry-red Vienna or sparkly blue Wolga - you two get to fight it out.) Javasmom gets some because, unlike her dog, it won't felt and Deb D gets some for the best save after assuming I had a vagina. I don't, not even a spare. I am hoping she will knit something drag-o-licious.
As for the calendar, it's going rather randomly to Tallguy in Alberta. Probably because he's in Alberta. I want to suck up to him, 'cause I intend to visit Banff one of these days.
Thanks for commenting, and stick around for more knitting, dance and other stuff.
Posted by Leigh Witchel at 10:42 PM | Comments (0) | TrackBack
January 28, 2007
Latest Dance Article
Tributes on the Tribute to Kirstein program at NYCB including the NYCB premiere of Tribute by Christopher d'Amboise:
The musical selections testified to Bach's range and the choreographic quotations to Balanchine's range. That also meant things didn't always follow and the piece was quite derivative. Without particularly looking for them, I caught segments cribbed from "Symphony in C" and "Concerto Barocco." D'Amboise's take on Balanchine style also got fussy; his choreography tended to feminize the men. Still, "Tribute" was created for the school as a teaching ballet, and one is more tolerant of the derivative nature of a ballet for that purpose. It was an amiable but inconsequential work that was better section by section than as a whole.
Posted by Leigh Witchel at 10:22 PM | Comments (0) | TrackBack
January 27, 2007
Smell-o-round
It's probably been done before, but it was a first for me. At Soaking WET, the dance performance series curated at the West End Theater by David Parker, I sensed something amiss during Wendy Blum's piece. Well, I heard and smelled something amiss. Some idiot was making microwave popcorn, and then cooking dinner during her dance with loud popping and frying noises and a microwave "ding". David told me afterwards it was actually part of the piece. Audacious, but I think it needed to be made clearer. The dance onstage had no associations for me with the cooking. I assumed it was accidental smells and disturbances from a nearby kitchen; we were in a church that had a lot of other functions.
Also on the program was Daniel Gwirtzman's spoof of a rehearsal that was tightly made and quite nicely danced, as well as Jody Sperling's beautiful evocation of Loie Fuller's work with fabric and light from the turn of the last century. Wearing yards of white fabric in a simple circle and using colored light, one would think the effect would wear thin, but it's endlessly fascinating. A second program was Fiona Dolenga's thoughtful "Aftermath". Dolenga's aesthetic mixes the Judson Church with the club scene – she shares some reference points with choreographer Stanley Love, but her take aims more towards high art.
Soaking WET is in the church of St. Andrew and St. Paul right near the 1/9 subway on 86th Street (walk one block west from Broadway, the church is on the north side of the street) on until Sunday and cheap - $15. The box office telephone number is 212-337-9565
Tonight I'm going to see the new Christopher d'Amboise ballet in tribute to Lincoln Kirstein at NYCB, on duty for Danceview Times.

Posted by Leigh Witchel at 4:10 PM | Comments (0) | TrackBack
January 26, 2007
Friday Catblogging: Shared Bodyheat Edition
She Who Must Be Petted isn't really a snuggler, and rather prefers being given her due adoration at arms length. But when the temperature drops to single digits Fahrenheit it is another story. The blue striped blob at the side is a convenient human space heater, namely me.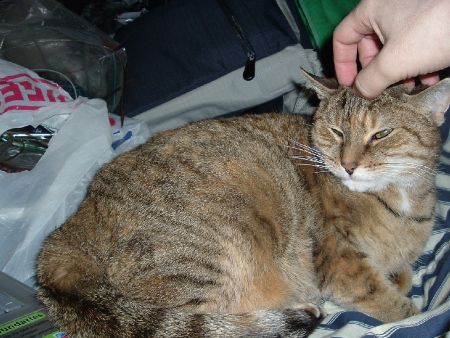 Posted by Leigh Witchel at 9:08 AM | Comments (1) | TrackBack
January 25, 2007
Current Knitting
The socks in Confetti are now both at the heel turning. They're large, so they've found a home with my friend John in Toronto, who is a size 12. It's appropriate; the yarn was bought in Toronto, so it is returning home. John's birthday isn't for several months, so they've been set aside in favor of more pressing tasks.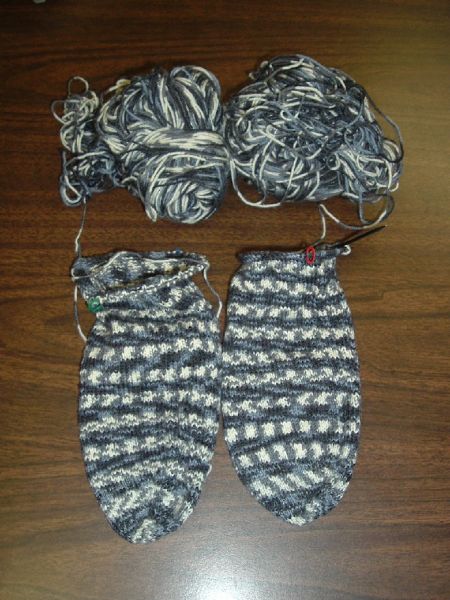 The current walking project is a cabled hat made much like the one I made last year for my brother. I may not be knitting while walking much in the next few days; it's bitterly cold.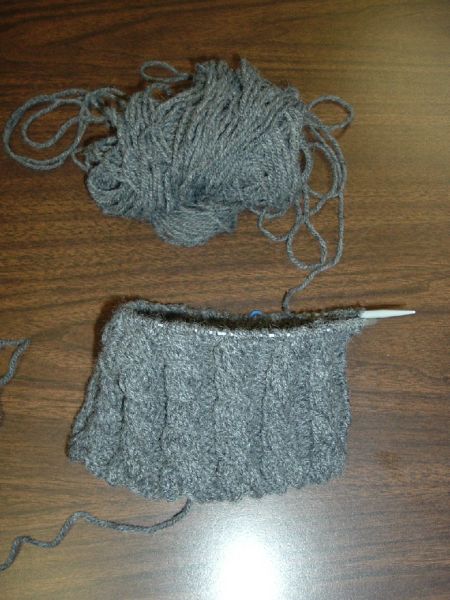 I began Nicholas' sweater back in October, but restarted it at the beginning of this year, feeling there were enough small errors that I was happier just starting again. The bottom chevron stitch curls naturally and will need blocking. I tried several different stitches for the yoke before deciding on a modification of Swag Stitch, which had both a nice horizontal effect (a good thing at the yoke, not that a baby needs to look broad shouldered) and a pretty retro feel. Swag Stitch, in the Walker treasuries, also works up lickety-split. I need to complete the seaming, do borders and buttons and finally block it. It better turn out well. Though I had nothing to do with his creation (scout's honor, though I was never a scout), it seems Nicholas Leigh is my partial namesake.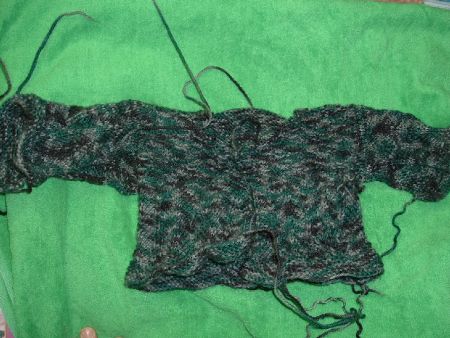 Here is a closer look.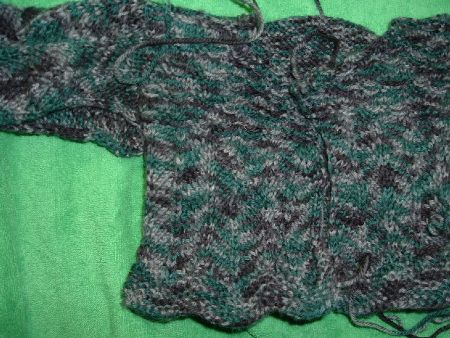 Posted by Leigh Witchel at 10:59 PM | Comments (1) | TrackBack
January 23, 2007
Latest Dance Articles
In this week's Danceview Times, Partners and Shadows: New dancers in the Stravinsky ballets
If we've lost Peter Boal to Seattle, we haven't lost his shadows. Sean Suozzi, Tyler Angle and Adrian Danchig-Waring were all taught by Boal at SAB. Suozzi, who has also worked with Boal in Boal's own chamber ensemble, went into his teacher's role in the first pas de trois [in "Agon"]. Suozzi's attack is more violent than Boal's; it brought to mind Edward Villella, an earlier proponent of role. Suozzi's performance was syncopated and forceful but with depth and intelligence, relishing the soft-shoe flavor of the combinations. He still pushes too hard, but maybe in a few performances he'll stop trying to show us that he gets it. Angle looked well-paired with Danchig-Waring, two finely-bred young attendants in the second pas de trois with Teresa Reichlen. Reichlin was daring and aerial: long and sharp, but flickering as a flame. Angle is the one who looks as if he may be the replacement for Peter Boal in five years. He has the talent, presence and elegance; the main difference is that Angle is less reticent, and — here lies the danger — less modest.
Not in print, but in the current (February/March, 2007) issue of Pointe Magazine, Talkin' 'Bout My Generation: Young Choreographers At Covent Garden
The founder of England's Royal Ballet, Ninette de Valois, had her recipe for a balanced repertoire. It included classics, contemporary works and novelties, all in proportion. The company's current director, Monica Mason, has spent her tenure getting the classics back in order. It was time to tackle the other ingredients in de Valois's stew by presenting two new works by young English choreographers, along with a Balanchine masterpiece, in November, at the Royal Opera House at Covent Garden.

Though the program notes spout grandly about neuroscience and "freedom space," Wayne McGregor's work can have the depth of a music video. However, his new piece for 10 dancers, Chroma, would have de Valois checking "topical novelty" off her list in approval. Shortly after this performance, Mason announced McGregor's appointment as resident choreographer—not the proportion de Valois imagined.

Posted by Leigh Witchel at 10:52 PM | Comments (1) | TrackBack
January 22, 2007
Beauty, discussed
We interrupt the knitting to bring you some dance!
Apollinaire Scherr, dance writer at Newsday and proprietor of Foot in Mouth and I have been talking over there about Sleeping Beauty. I'm going to take the liberty of continuing my responses here, because it gives me something to put on my own blog (daily content is a chore!)
Apollinaire and I are coming at this from slightly different angles, which can make things constructive. One of the most useful dance discussions I had with a friend was over Boris Eifman, a choreographer I loathe. By the end of the discussion, I loathed his work no less, but I understood why she liked it. It may not have convinced me, but it helped me see another point of view.
Apollinaire was discussing suggested revisions to Peter Martins' production of The Sleeping Beauty, some of which I questioned her about. You can see the original discussion here.
I've seen versions of Beauty by most of the major companies: ABT's Macmillan version, about to be supplanted by McKenzie/Kirkland, NYCB's version by Martins, the Kirov's "New/Old" version as well as the Soviet one, POB's version by Nureyev as well as an earlier Nureyev setting for National Ballet of Canada, and the Royal Ballet's current version, which I saw five times this year. My aesthetic for the ballet is probably most shaped by that last version.
To me, the widest gap between Apollinaire and I (and if the conversation travels down this road, great!) is between innovation and advocacy. I think both of us see advocacy the same way – as illuminating the text. I also agree with Apollinaire that a stager has the right to forego absolute fidelity to a text; in dance, that's impossible anyway because there isn't a concrete text. But I think we'd draw the line at acceptable variants at different places, with me being more traditional in outlook.
To take the example at hand, I don't think the court/fairy dichotomy in Beauty that Apollinaire suggests is constructive, primarily because Beauty is about the court - in many ways it's not-so-subtle propaganda for the glories of monarchy. The fairy world may be eternal, but in some ways it is in fealty to the court. I don't like the entrances at NYCB either, but that's because the wing everyone enters (mid stage right) is way too tight. It feels as if the King and Queen enter separately because there is no room for them to enter together. In the Royal version the fairies enter through colonnades at the back – the main entryway for most other characters. It works quite well. The change I would make there is architectural rather than choreographic; have a grander entryway.
Carabosse's music. After having seen the Royal version and then NYCB's version shortly after I noticed the large cuts in the music Martins takes for the first time. In fact the first time I heard them, in 2004 awkwardly edited into a tape at Central Pennsylvania Youth Ballet, I didn't even know where the music was from, a rather poignant reminder that tradition is What You Are Familiar With. That said, I don't think the music was conceived for dancing, as I believe Carabosse was not conceived as a dancing role. In the Kirov reconstruction of the version from 1903, Carabosse is played en travesti by a man. Also, once you've heard it enough, you can hear the difference between music for mime and music for danced steps, though as Bournonville said, mime is dance for turned-in feet. I do agree the music moves, but I think that movement is for Carabosse's attendants. It diminishes her stature to have her dancing.
Giving the prince the entre'acte as a variation. Careful. I'll point to two examples of an Act II variation. Nureyev's has already been discussed. It's really awful. Ashton also has one to a brief portion of an excised Sarabande that was made for Anthony Dowell. It's much more modest; yet many of the old-timers who recall the 1946 production *hate* it (as much because it necessitates the Prince not wear his long red coat, which they loved). I don't have that historical allegiance, but of the Princes I saw, the only one out of five that could do the variation justice was Rupert Pennefather. A true prince can show as much character standing still as in motion. Cast the role correctly and the variation is unnecessary.
Posted by Leigh Witchel at 6:22 PM | Comments (0) | TrackBack
January 21, 2007
Tips for knitting the Bamboo Sweater
The pattern that's in the Winter 06/07 Issue of Vogue Knitting is pretty much as I wrote it, with one exception – I also charted it. I would recommend charting it, especially if you're resizing it.
The pattern is not difficult to resize – it is a 16 stitch repeat of 4 stitch units. You can change the width by four stitches units on either side, but be sure to center the pattern - that's why charting helps. However, the four sizes written out in the Vogue pattern cover all permutations. If you change the number of repeats in the body, one of those sizes should work.
The shoulder shaping is a simple notched armhole that you can make shallower or deeper, again by four stitch units.
If I were to knit the pattern again, I would make it in thinner yarn (a matter of personal preference) and raise the front neck opening about ½-1 inch from the model. I believe I did this in the pattern. For a man, it should be 2 ½ to 3 inches from the top. This might mean deleting one repeat of baby cables from the collar, but don't omit the one with the decreases in it.
Wrap the stitches way I describe in the directions (going round the back first). It's much prettier than the other way.
It's definitely possible to substitute yarns in this pattern, even yarn of a different gauge, but that will take resizing. This pattern is meant to be made with a cabled yarn such as Trendsetter yarn used in the pattern, Filatura di Crosa Zara, Karabella Aurora, or Baruffa Maratona. There are several other cabled yarns on the market, but I would stick with that type of yarn because of the crisp stitch definition.
Enjoy. If you knit it, let me know.

Posted by Leigh Witchel at 3:21 PM | Comments (3) | TrackBack
January 20, 2007
Swag!
I have an extra copy of the Stitch 'n Bitch 2007 Calendar
. I'm not much of a paper calendar user, so I'd like it to go to a good home. However, I'd like the lucky recipient to earn it.
Here's the contest. Leave a comment, any comment. Why you want the calendar, contribute a quick-knit pattern or link, follow up on something else I've written, whatever. Amuse, entertain and/or enlighten us. I'll give the calendar to one of the commenters at the end of next week. If you make a comment as a contest entry on some other thread than this one, put something to the effect of "by the way, gimme the calendar!" at the end. Because of comment spam, I need to approve all comments so be patient. I usually get to them within a short while if I'm at the computer. Multiple entries permitted, but don't turn into comment spam yourself.
Have fun!
[Update: You don't need to deserve this calendar to get it. Say something funny. Say something useful. Say something interesting. Say something amusing. Have fun.]
Posted by Leigh Witchel at 2:11 PM | Comments (36) | TrackBack
January 19, 2007
Leigh's Dance (and Music) Card
It's a busy weekend.
Tonight, 1/19. NYCB for the Stravinsky/Balanchine bill. On duty for Danceview Times. These ballets are always a pleasure to see, but I've written about them several times already for DVT alone, to say nothing of elsewhere. This isn't a bad thing; if you've already said your piece on Agon (and I've said that many times over) it makes it easier to stay brief and keep to the performance at hand.
The APAP conference is happening in New York right now so there are showings everywhere, most of which are open to the public at a low cost (it looks good to draw a crowd).
Tomorrow night, I will try and check out Dance Gotham at Symphony Space - I've not seen Larry Keigwin's work in a while.
On Sunday night I'm going to Joe's Pub to see Zippo Songs and John the Revelator by composer Phil Kline. These are off duty.
Posted by Leigh Witchel at 4:58 PM | Comments (0) | TrackBack
January 18, 2007
The first FO of the year
It's nice that the first thing I knit this year was for charity. My friend Charlotte forwarded on a plea from a daughter of her friend who wanted to collect 100 hand-knit caps to gives to Caps for Kids as a service project for her Bas Mitzvah. (Nice idea. I don't recall having to do that for mine.) I finished it a few days ago; it's a very simple design, but the plain rectangular shape when laying flat turns into rather cute "ears" when worn sideways on the head. For the record, I used Red Heart Plush that I had laying around (I have no clue why), doubled on a US. 10.5. 60 stitches in circumference, about 1.5 ins. ribbing, then stockinette for about 7 ins. At the top there's no shaping, just do a three needle bind off with half the stitches on either side. It's reversible, or decorate the points with tassels, pompoms, googly eyes, etc.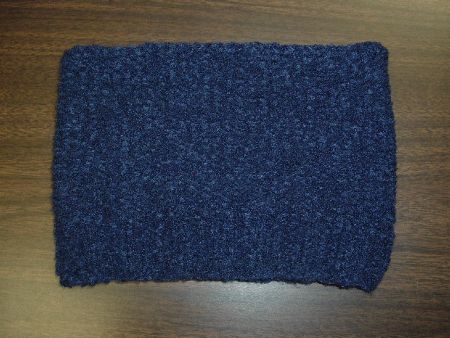 Posted by Leigh Witchel at 10:51 PM | Comments (5) | TrackBack
January 17, 2007
First Steps, Again
I started making a ballet today again for the first time in over three years.
It started with a series of emails in October. Mary, one of the dancers I've made the most ballets on, sent me an email saying she had talked to Frankie (another classmate who also worked with me) and they had got to talking about how they missed working with me and that they had decided I needed to do a pas de deux for them before they got too old to do one anymore.
Yes, it made my day.
The hardest thing for all of us at our ages isn't body issues – both of them at least are in unnaturally good shape. It's our schedules. It took several months to find time we all were free to work together. I blocked off Wednesday nights and finally once Nutcrackers and the holidays were out of the way we got together.
It's nice to work with friends and contemporaries. Frankie and Mary are still in good shape, but we have experiences in common as well as training and colleagues. I know how the two of them move and how they think. It makes things very comfortable, though it doesn't make me feel any less rusty. Steps, what are those?
I had been joking with Mary for years that I was going to make a ballet for her loosely inspired by the character of the child vampire in Anne Rice's novels. When she and Frankie approached me (both of them seemingly, and irritatingly, ageless – Bitches. I hate them.) it seemed like the right time to do it. I've never made a narrative work before. Because I was too lazy to find music that perfectly fit the plotline (and because I like it when people get to work) I asked Eddie Guttman, who made the cello solo for Equilibrium in 2002, to compose a piano score. He's out of town; we'll hear fragments next week.
To give everyone (especially me) a chance to ease into things, and because it's hard to make real progress without a score, we worked tonight mostly on plot, character and motivation. Who these people are; what brings a seemingly young girl and an older man into the same deserted alley late at night. It's interesting to see how motivation inspires and enriches movement – you touch someone's head differently when you decide that the reason you're doing it is to check for a bruise or cut. The interesting part is to then translate back this movement to ballet vocabulary. Rising onto pointe will be an important part of how to communicate this little girl is not what she seems – little girls can't rise onto the tips of their toes.
What feels most different is there was no build up to rehearsal. With Dance as Ever there was so much preparation involved, and much of it was administrative. There's only so much artistic preparation I can do before I walk into a studio – it still feels made up on the spot. I can't prechoreograph. This is far more casual; there's no performance date, and no music either (yet). I've deliberately not worried about finding a venue; I don't mind being released from the ambition and hopes I had when I was younger. It's just three friends in the studio, working.
Posted by Leigh Witchel at 11:04 PM | Comments (2) | TrackBack
January 16, 2007
Latest Knitting Articles
The Opposite of Love is Moths (I don't title 'em, I just write 'em) in the current issue of Knit.1
Knitted items are like relationships: It takes work and tender loving care to keep them in shape. Both are also inherently fragile and gradually disintegrate over time, but who's bitter?
Brandon Mably's Colorful Wanderlust
in the current issue of
Vogue Knitting
. That's the one with my sweater in it; his (the "handprint" sweater) is right next to mine.
At 8:30 a.m. en route from Seattle to Portland, Brandon Mably whoops with satisfaction and relief. Somewhere near Centralia, Washington, hometown of modern dance legend Merce Cunningham, Mably needs his morning caffeine and has finally found a Starbucks. He brings the same joyous enthusiasm to the workshops in color and design he teaches around the world and now to his new book, Knitting Color.
Note the completely gratuitous reference to Merce Cunningham. Can't help it; it's the first thing I think of when I think of Centralia. This gratuitous Cunningham reference is brought to you by my friend Nancy Dalva, whose love for Merce and elegant, passionate writing about his work helped me understand and appreciate it.
The articles are only available in print.
Posted by Leigh Witchel at 11:22 AM | Comments (3) | TrackBack
January 15, 2007
Latest Dance Article
Beauty's Debutantes, on Sterling Hyltin's debut as Aurora (among several others) at NYCB.
Even with her lively presence, one could sense that Sterling Hyltin had the jitters in her debut as Aurora in Peter Martins' "Sleeping Beauty".
The first paragraph of that review got rejiggered a few times, because of the way I write reviews. I take notes during the performance, then transcribe them at home and craft the review from that. It means I have a clear record of my immediate thoughts as I watched, but the danger is that the notes have little perspective in their immediacy. On the first draft, I felt that I dwelled too much on Hyltin's nerves. It does need to be mentioned, but nerves in a debut as Aurora is more the rule than the exception. By changing the order of the sentences to front-load the paragraph with more about Hyltin, as opposed to Hyltin's nerves, I felt it better reflected what actually happened.
Glamorous and malevolent, Barak looked as if she didn't only use NYCB's previous interpreters as models; there seemed to be a bit of Walt Disney's Maleficent as well as The Wicked Witch of the West thrown in. If there is any justice, she'd be groomed and put on a path to becoming a Principal Character Artist. But of course, NYCB is a company that doesn't need such things. Or does it? Now that the company is doing more and more narrative ballets for better and for worse, are they going to admit that it takes different abilities, training and coaching to dance and act them, or are they going to keep pretending that changes in repertory have no consequences?
It's nice to have gotten to the point in reviewing where I feel able to open up a can of worms, as in that last sentence, without feeling as if I need to close it again. It's a very interesting issue - and one I hope to discuss in the future here, but I was assigned to cover debuts in Sleeping Beauty.
There are two other Beauty reviews at DVT this week as well, Gay Morris' of the Bouder/Millepied cast and Michael Popkin for Fairchild/deLuz. Check 'em out.
Posted by Leigh Witchel at 3:54 PM | Comments (0) | TrackBack
January 14, 2007
$17 off a jetBlue flight one way, $34 off r/t
From an Ad in Seventeen Magazine

Receive $17 off the purchase of one-way jetBlue air travel

800-jetblue or jetBlue website

Enter promo code SEVENTEEN between 1/13/07 & 2/14/07 and receive $17 off
all published one-way fares between above dates. Travel must be complete by 2/14/07.

Only available for new travel directly through jetBlue.

Ad States "limited availability".

I checked and it does take the $$ off both ways on a round trip. I am not sure if this is helpful for anyone, but if you need a quick trip from one of the locations jetBlue travels... hopefully this can save someone a few dollars.
This is an OK deal for a transcon, but a great deal for a less expensive short hop. JFK-Pittsburgh roundtrip is $45 with taxes, Chicago is $65.
Who can afford to stay home?
Posted by Leigh Witchel at 11:37 PM | Comments (0) | TrackBack
January 8, 2007
A favorite quote on choreographing
Said by a friend, Arnie Apostol:


Make a piece. If it sucks, make the next one better. And if that one sucks, make it shorter. That's all.
Posted by Leigh Witchel at 11:35 PM | Comments (1) | TrackBack
January 5, 2007
Friday Catblogging - Photographic Assistant Edition
Somebody had to get into the shoot when I was photographing Mom's scarf.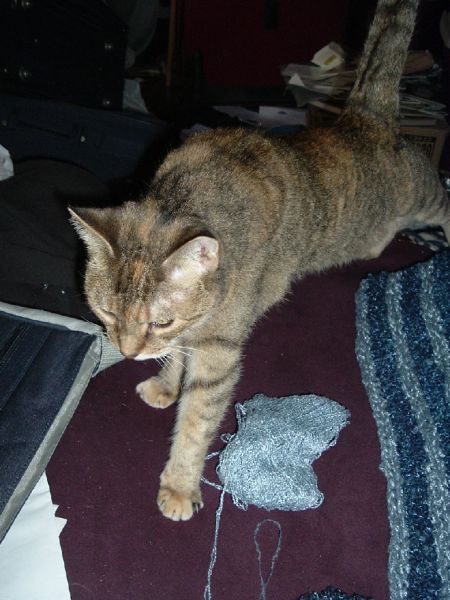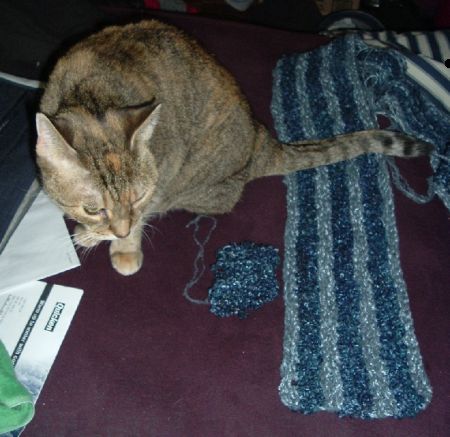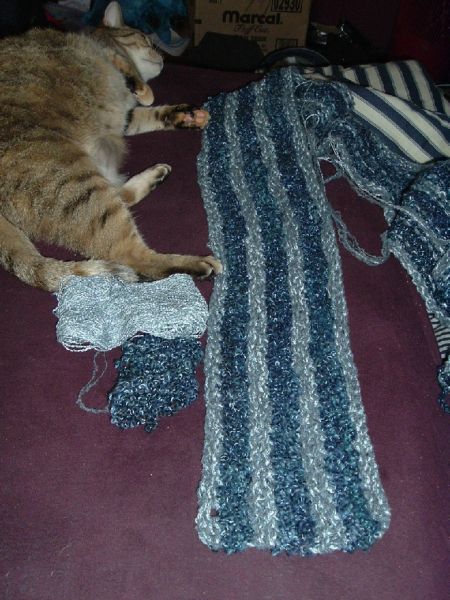 Posted by Leigh Witchel at 4:09 PM | Comments (3) | TrackBack
January 4, 2007
Latest Dance Articles - Catching Up Edition
Catching up on both recent articles and some pieces from when I went on hiatus:
Les Ballets Trockadero de Monte Carlo - Make 'em Laugh:
In the Trock's version of "Les Sylphides", Olga Supphozova (Robert Carter) grinned maniacally as she thundered across the stage in the Mazurka. She posed at the front wing to secure our undying affection (or else) and then literally jogged offstage for the sprint to the back wing to barrel out for another bout of leaps. My companion, a woman who had danced the same role professionally and had to make that same breathless dash, leaned over and whispered. "It feels exactly like that." It's funny either way but if you know the role, it's hilarious.
Tanztheater Wuppertal Pina Bausch - Bausch's Baedeker
A woman in a cocktail dress was staring at the audience. A man in a suit walked up to her. "What are you doing?" He asked. "I'm smiling. Without a reason. It's difficult, try it." He did. And it was. "Keep smiling." She offered helpfully, as they backed off the stage. "Without a reason. It's difficult."
Limón Dance Company -
After Limón
It's interesting to compare "Dances for Isadora", rather than to MacMillan's bioballet, to Frederick Ashton's "Five Brahms Waltzes in the Manner of Isadora Duncan".
Roseanne Spradlin Dance - Mosaic of Survival
At the most dryly theatrical moment in the first half, all four performers brought out stuffed black ravens to dance a quadrille. Each held his or her raven differently; [Walter] Dundervill looked fabulous with one perched on his head.
Apart from the Trocks, I chose things other than ballet to review. The ABT season was already covered by other writers; NYCB only has one or two press nights for Nutcracker (and I've covered it several times). I chose the three above to round out my viewing. It's much harder to write without depth of viewing; the hardest was the Limón piece. I'm indebted to the kindness of the publicist (Audrey Ross) who offered me a ticket to the program I was not reviewing as well the one that I was. It made a difference getting to see the company twice. It didn't change my impressions; it helped to confirm them. I needed that; I felt uncomfortable reviewing Limón and Humphrey having seen so little of both.
Posted by Leigh Witchel at 10:34 PM | Comments (0) | TrackBack
January 3, 2007
Fare Glitch on CO - JFK/LGA to SFO for $158 + tax
This smells like a mistake; someone may have loaded a round trip fare for the one way cost.
LGA or JFK (not EWR) to SFO via IAH (translation for those who do not speak Airport Code - JFK or LaGuardia in NYC to San Francisco airport via Houston) is available for $158 roundtrip plus tax - a major sale. I grabbed it on Travelocity for $195 total, but it's now shown up on continental.com. I grabbed it for the first weekend in February to see San Francisco Ballet programs 1 and 2.
Dates available through March 9; my guess is it will be pulled very soon.
Posted by Leigh Witchel at 4:35 PM | Comments (0) | TrackBack
January 2, 2007
New Year's Eve
Was quite fun. I spent it with friends, and just enough celebration to enjoy the season (and not feel like a complete unloved loser) but not enough to have the thing I dislike about New Year's - enforced jollity.
Cynthia shows it all in pictures. Enjoy the videos. If you want to see exactly how I knit, she's documented it. As for Ric's story, I'm not telling what he's talking about. Check out his photo essay, which wasn't really anyone's idea. He passed around a wreath and it just happened.
Posted by Leigh Witchel at 11:27 PM | Comments (0) | TrackBack