« November 2006 | Main | January 2007 »
December 26, 2006
Good Deal - Discover gives 5% back on travel from 1/1/07 to 3/31/07
Discover Card was one of the first cashback cards I had, but was eclipsed by cards with better offers, and as I learned more about how to work them, by assorted mileage offering cards. Discover began a competitive deal; the "Get More" program. For 3 months, a limited range of items earns 5% cashback. So far, that's been online retail purchases, medical expenses, automotive expenses. It's presently restaurant expenses and from January 1 to March 31, it will be travel.
There are of course terms and conditions to the offer, and Discover will clarify when asked. Here's what Discover wrote me:
From January 1, 2007, through March 31, 2007, Discover Cardmembers who participate in a Cashback Bonus Program can get a 5% Cashback Bonus Reward on qualifying purchases. The transactions must post as hotel, travel/entertainment (Priceline and Hotwire are not classified as such).

To take advantage of this free benefit, simply sign up on our home page, discovercard.com, or respond to this message. Once you sign up, you will begin receiving the 5% Cashback Bonus Reward on travel purchases including airlines, hotels, cruises, car rentals as well as on Amtrak and Greyhound tickets. You may schedule your trips for any time, as long as your purchases post to your Discover Card Account by March 31, 2007.

There is a cap of $1,000 in purchases (for a total Cashback Bonus Reward of $50), but after you reach this cap, additional purchases will earn the regular Cashback Bonus Reward of up to 1%. Remember, you have to sign up to receive this special Reward!

Following are the terms and conditions of this offer:

1. Sign up for this offer and receive a full 5% Cashback Bonus Reward when you use your Discover Card for the qualified purchases listed above.
2. The 5% Reward applies to purchases made from January 1, 2007, or the date you sign up (whichever is later), to March 31, 2007.
3. We are not responsible for merchant delays in processing transactions. While your 5% Cashback Bonus Reward will normally be processed a few days after your purchase, we ask that you allow up to five weeks for your Reward to post.
And the way you know I'm a total deals whore is that I keep putting my reservations to Chicago on a 24 hour hold on AA - I've done this three days running in the hopes of making it all the way to January 1, so I can pay for the tickets with Discover! I keep putting them on hold in case the fare disappears before then, then I can buy the tickets I've held. [Update: which I just had to do for my February flight, so I got Starpoints instead.]
Posted by Leigh Witchel at 10:44 PM | Comments (0) | TrackBack
December 25, 2006
What we're doing for Christmas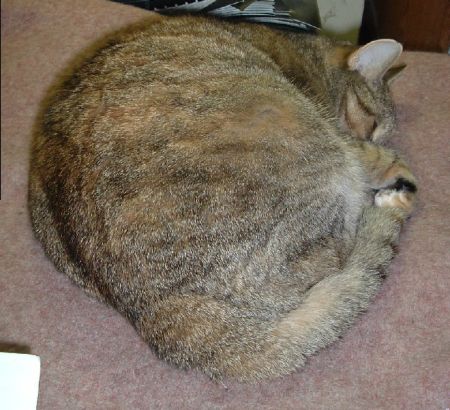 Have a restful holiday, whatever you celebrate.
Posted by Leigh Witchel at 3:34 PM | Comments (2) | TrackBack
December 24, 2006
The Rest of the Knitting
Catching up on what I was knitting while I wasn't blogging:
Besides Owen Robert's Aran I took two other projects off my UFO list.
I finished Danny Ouellette's Easy Head Hugger Hat back in March, 2005 but hadn't darned in the ends or blocked the hat to give it its fez shape. I went to Toronto in November and brought assorted knitted gifts for friends; something I'm now trying to do when I travel. Instead of picking what hat to give each person, I make one or two extra and let everyone pick the one they like. Good thing, that; no one in Toronto chose the object I thought they would. My friend Desirée chose the hat; I thought she would chose the elongated scarf in Biggy Print (it went to Denise). The night before I left John and I searched for a form to block the hat. We were downstairs in the den watching TV; John pointed to the wastepaper basket.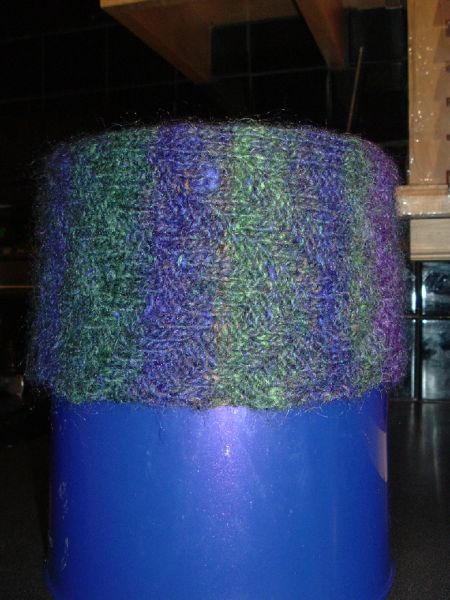 Voila.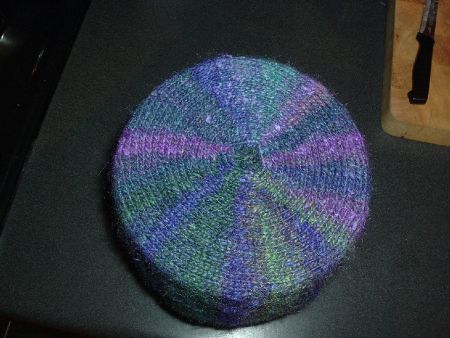 The hat ended up looking more cloche-like than fez-like on Des, but I think it's rather fetching.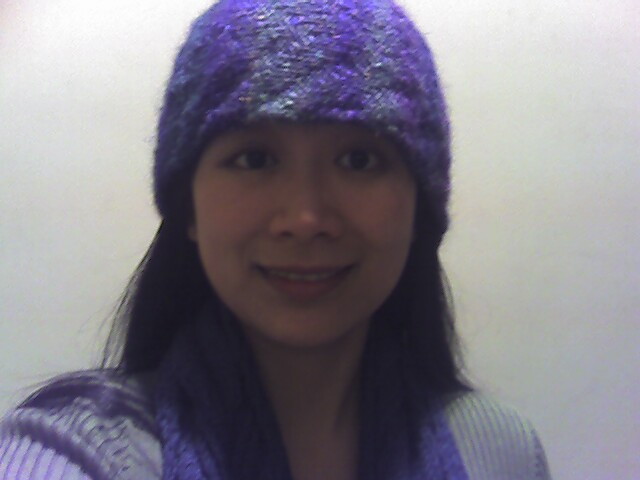 The disaster socks for Dad from last year are now socks for my friend Mary, because I like her and she has the smallest feet of anyone I know. One sock was at the toe decrease (actually it needed to be ripped back a few rows) and the other was just past the heel turning. Alas, I hated knitting these every inch of the way. I got the bright idea that because sugar-stick ribbing is meant for circular knitting, it would make a neat sock. Well, it's a neat sock, but not a good sock. The pattern is fiddly to knit and has limited elasticity. Further, because I'm a glutton for punishment, I just had to knit the foot so the pattern was only on the top of the foot and the sole was knit plain. This meant inserting compensating increases and decreases at the start and finish, which would have been nifty except it didn't stop the whole pattern from shifting over slowly. That's the nature of the stitch, and why it was meant to be knit in the round so it could spiral. The whole foot twists a quarter turn. I jammed my foot into the sock and luckily it seems the twist disappears in wearing, but still. I'm glad I finished them; never again for that design.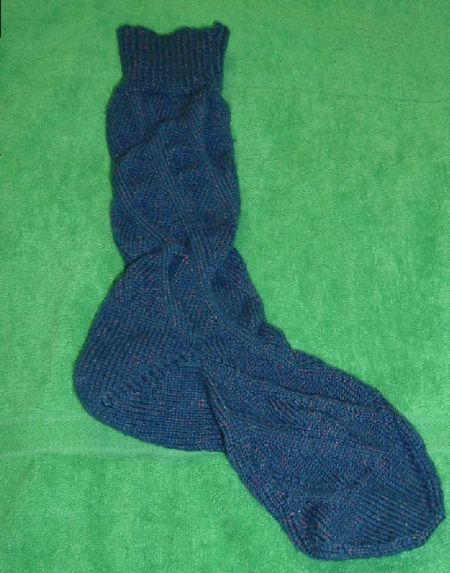 I also finished a pair of my standard socks for my sister-in-law, but those never made it out of WIP status to UFO. I cast them on in September and they were finished just before I took the bus back to London from Bristol. I forgot to bring wooly nylon with me on the trip, so the toes were knit in Bristol (after checking fit) and I borrowed a spool of black sewing thread to use as reinforcement.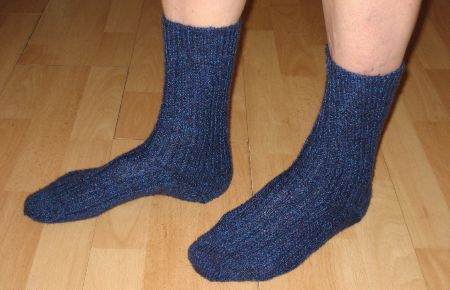 The last holiday gift was made for my Mom. It's her birthday today, but I give her a separate Christmas gift; almost everyone born near Christmas feels gypped by combined presents. This one is the another lengthwise garter striped scarf, but I think the color combination is particularly nice and it stretched out the dark blue yarn, "Curly" from the Goldman's haul enough for a full scarf. That's the best thing about a lengthwise scarf.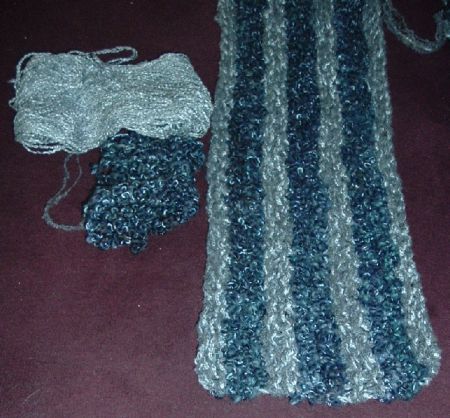 Besides the projects already described as part of the quick knit resources, I also made three more blouse scarves, four more London Beanies (it's now my hat of choice for male friends and one of Helen Fleischer's felted hats awaiting felting.
The baby sweater for Nicholas (formerly known as Kangaroo) moves into WIP position, but I was weak; I read about Judy Becker's Magic Toe-Up Cast-on in Knitty and had to try it with some sock yarn in stash. (DCB Confetti - a self patterning yarn I bought in Toronto)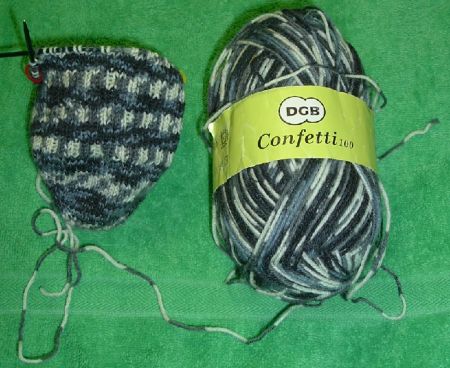 Now that I've tried the cast on, I'm committed to knitting the socks, but they are moving quickly as I'm using K3, P1 instead of my usual Twin Rib. Mary Dominski ("Dr. Sock") suggested this to me a few years back when I first tried self-patterning yarns; Twin Rib obliterated the pattern while K3, P1 gave elasticity while letting the patterning show. I'm still not fully converted to toe-up cast ons. I find them fiddly for the same reason as sugar-stick ribbing. Both involve a lot of increases and a "make one" increase with 12" circular needles is harder to manipulate than decreasing.
Posted by Leigh Witchel at 11:25 PM | Comments (2) | TrackBack
December 23, 2006
Sneak Preview of the Bamboo Sweater in Vogue Knitting
Woohoo! It's up on VK's website. It's the first picture in the "By Invitation Only: Man to Man" feature. (Note: This link will probably only be good until the next issue comes out about two months later.)
I like the contrast between the three sweaters pictured (according to the table of contents, there is one more not shown). It's nice to be doing the "practical" sweater for a change.
Posted by Leigh Witchel at 12:34 AM | Comments (7) | TrackBack
December 22, 2006
NYC- Chicago fare sale
There are really good deals right now from all NYC airports to O'Hare. I believe jetBlue started with a promotion fare of $49 each way that the major carriers matched, then Airtran upped the ante to $39 and several carriers matched, including Continental and American, which has convenient non-stops and is discounting every day including weekends. I priced leaving 4/6-9 (out late Friday, back early Monday) $98.60 total. At that price, why stay home?
If you're a true miles whore, register for this AA promotion, take three round trips before February 28 and get 25,000 bonus miles. Note to balletomanes: The Joffrey is doing Destiny's Dances a triple bill of Les Presages, Apollo and The Green Table from Feb 14-25. It would be eminently worth traveling to see, but they are also doing almost the same program (Deuce Coupe instead of Les Presages) nearby at the Tilles Center on March 9 and 10 and SUNY Purchase on March 11. Alas, it's Les Presages that I want to see, so I just may be going to Chicago in February. American's flights at that time are about $148 total, but Continental has the $78 sale fare on 2/16-19.
Posted by Leigh Witchel at 10:59 PM | Comments (0) | TrackBack
December 21, 2006
FO: Owen Robert's Aran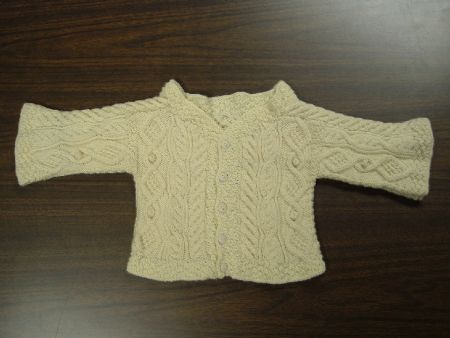 Well, this one took a while, but I'm really happy with it. According to my records I cast it on in May of 2003. It's a miniature Aran, but because of the scale (and the Sausage Cable in the middle) it has Tyrolean echoes as well. There is no pattern; it's a basic boxy sweater with a saddle shoulder that accommodates a central cable. I stopped working on the sweater in October of 2003 because I thought it would not fit the intended wearer, my friend Connie's first child Alex. (I was wrong). I picked up again in September of this year, and finished it. It needed half of one sleeve, all of the second, assembly and borders. And repair of a carpet beetle hole.
The yarn is a superwash wool I bought at Smileys several years ago, Swilan Turbo. Superwash wool often grows with washing; in this case that was a good thing, and it probably happened because the tightly knit textured stitches relaxed. Above is after soaking in a basin with soap to get rid of accumulated dirt from handling and knitting; below is the sweater before washing.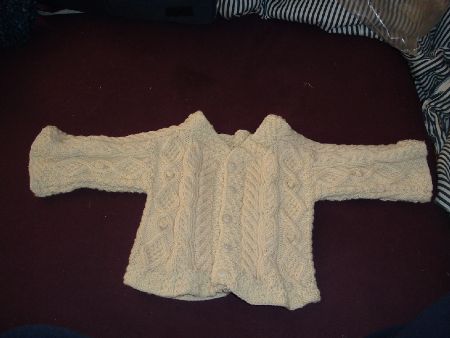 Here's the back. The patterns are all from Barbara Walker's treasuries. Aran Moss Diamond and Bobble, Sauasage Cable and Staghorn Cable. The Staghorn Cable is broken in two in the front of the cardigan. I hope it makes a special sweater for a first child.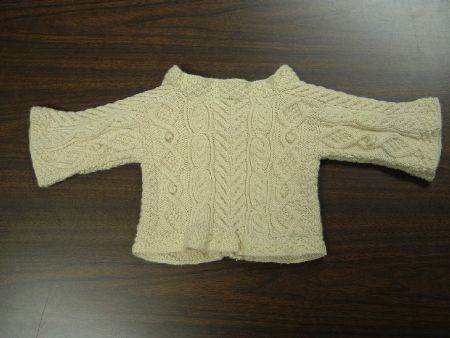 Here's a closer look: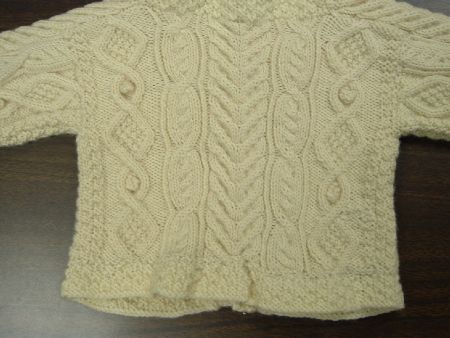 Posted by Leigh Witchel at 5:46 PM | Comments (0) | TrackBack
December 20, 2006
Quick Knit Resources
I've been doing a lot of knitting, much of it gifts to bring to friends when I travel and holiday gifts. For my benefit and yours, here are some good, fast patterns all gathered into one place for when you've got one more gift to make, now.

Hats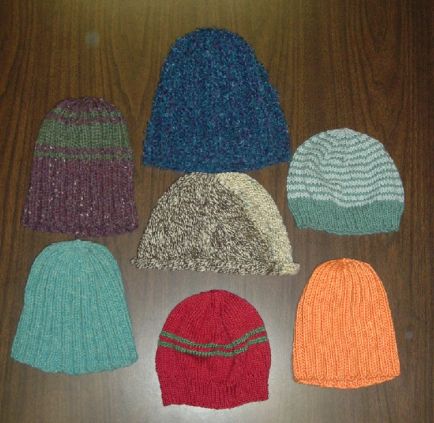 Hats are the fastest gift you can make except for headbands. Those barely need a pattern except to note that they should be about 4.5 inches wide and a double thickness is better than a single one, with a nice soft yarn next to the ear.
Ribbed watch cap:
My watch cap recipe lives here. I can make one of these in worsted yarn or heavier in a few hours. This is a great all around hat that everyone wears and can be made plain or fancy depending on the yarn.
Shorthand version: Cast on a multiple of 4. p2 k2 tube for appx 7 inches w/o cuff, 9 inches with.
Decrease rounds -
p2tog,K2tog
P1, K1
K2tog
K
K2tog
Mitered hat: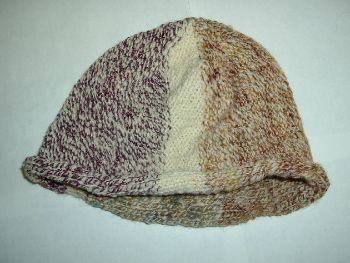 Choose this if you have a textured yarn; it looks great in thick and thin or slubbed yarn. I think it makes more of a woman's hat, but I've had male friends choose it from the gift basket. It takes a bit longer to make that the watch cap because of the grafting, but it is still quite fast in worsted weight or larger.
Nancie Kremer's original pattern has vanished due to "link rot" but can be found here. My version is here
Shorthand for both versions. You're working the hat laterally rather than vertically in short-rowed pie wedges to create the crown. Cast on your stitches provisionally. Working in garter stitch or stockinette (textured yarns look best turned inside out to the purl side) place a marker about 1/3 of the way from the crown. Work short rows from the crown, 1 stitch per row until you reach the marker, then reverse shaping. Repeat wedges until the hat is correct size (that will be more wedges in garter than stockinette). Graft, sew or cast off the edges together.
London Beanie: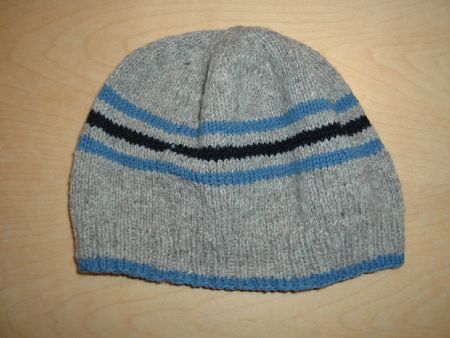 This is the perfect gift hat for young or fashion conscious men. The one above was in fact given to my friend Alexander in London! Mark Thrailkill's original pattern lives here.
I usually use sport or DK weight yarn on a US 6 needle with 81 stitches to start, or fingering wool as above (that's the leftovers of a skein of Haneke Merino) on a US 3 with 117 stitches to begin. I also use a long-tail cast on instead of cable cast on and I work a plain row between each row of decreases. Even in thinner wool this pattern doesn't take more than two days to make, and less in sport weight. The pattern uses less than a skein of wool, plus uses up various oddments that were too nice to throw away and can be tucked into a stripe. It's great portable mindless knitting, so make a batch of them while you're on the go and save them for gift-giving occasions.
Shorthand for my version. Cast on a multiple of 9, K2, P1 rib for about 1.25 ins. Increase round: K9, inc1 across round. Work in stockinette with whatever stripes are desired until 5.25 ins (or try it on and see if it fits round ears as you want).
Decrease rounds:
K8, K2tog
K
K7, K2tog
K
etc until you only K2tog. Break yarn, pull through rem sts
TP cap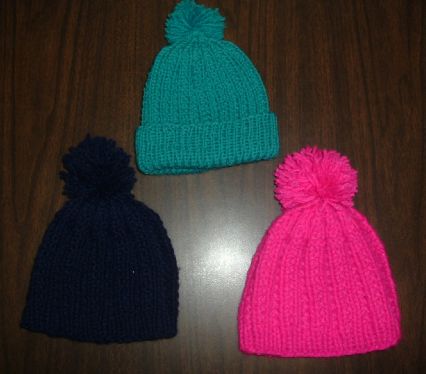 I made this originally as a toilet paper cozy for the wonderful "Art" issue of Knit.1 Magazine and I reproduce it here with their permission (Thank you, Adina!)
Embellish it like crazy as in the issue, or made plain with just a pompom it makes a great close fitting cap that knits up in a few hours.
Yarn: 1 skein Woolease or other light worsted yarn worked double throughout pattern.

US 10.5 needle (16 or 24 in circ) and US 10.5 dpns.

Pattern Stitch:

Twin Rib
Multiple of 6

Round 1 K3, P3
Round 2 K1, P1
Repeat these two rounds

Body

CO 66 sts. Join round.
Work K1,P1 rib 5 rounds
Work twin rib 20 rounds or 5 inches total (or to fit.)

Top

Purl 1 round
Work 3 more rounds (starting with pattern round 1) in twin rib.

Decrease for top

*K1 K2tog, P1, P2tog * 44 sts
K2,P2
*K2tog,P2tog* 22 sts
K
*SSK* - 11 sts
K
K1, *K2tog* 6 sts
Break yarn, thread through final stitches and pull tight.

Tam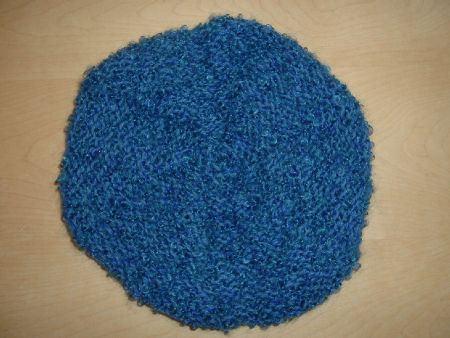 This one is fast. I made this one with three strands of yarn held together on 8mm needles in about two hours and given to my friend Lynette in London. Here's a shorthand pattern:
Cast on 60 sts (or a multiple of 6), placing 6 markers. Work k1, p1 ribbing for 1.5 ins. Change to stockinette stitch, work an increase after each marker every other round (so you increase six stitches total in the round). Keep going until there are 84 sts, or you've increased 40% of the original number. Work even until the hat is four inches total. Now K2tog after each marker every other round until there are 48 sts, or 80% of the original number. Work even one more round, decrease after each marker every round until you have 6 sts left. Break yarn, pull through remaining stitches.

Amelia Earhart cap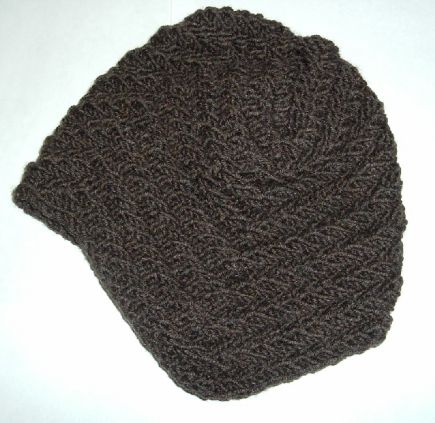 This one has also vanished from link rot, but can still be found at archive.org. It takes a little longer than the other hats to make, especially if you graft the end, but it is so much fun to knit. Use a smooth, cabled yarn. I've used Filatura di Crosa Zara, Baruffa Maratona and Lion Brand Microspun. The latter has a smaller gauge, so I increased the length to 44 sts and added two more sets of short rows – it could have been slightly smaller. I think this hat looks its most charming on a woman with long hair and bangs.
---
Scarves
Blouse scarf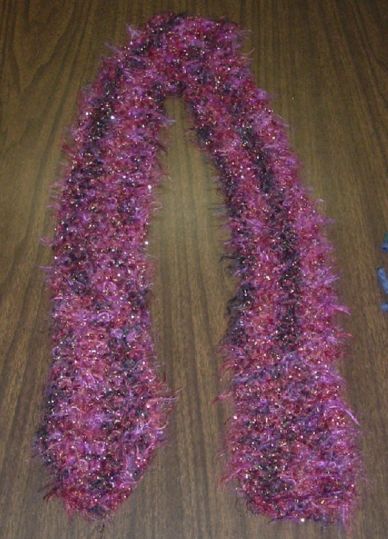 This is a classic fast gift and excuse to play with novelty yarns. It knits up in only a few hours but usually a bit more time than a hat. My original source was Dez Crawford's pattern.
Here's a shorthand version. Use a novelty yarn; they're a bitch to knit with, but plain yarn will make something that looks very po'faced. Cast on 3 sts, work in garter, inc 1 st at beginning of each row until scarf is 4" wide. Work to desired length (about 4 feet), dec 1 st at beg of row until 3 sts remain, K3tog to cast off.
Lengthwise garter scarf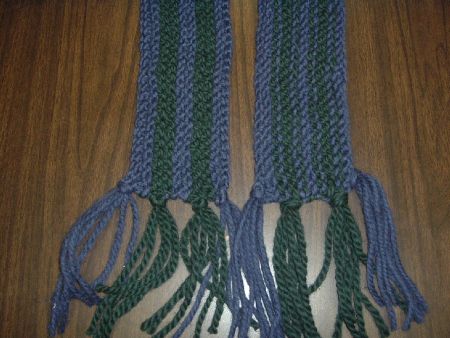 I can't tell you how many times I've had what looked like more yarn in stash than I needed for a hat, but a questionable amount for a scarf.
I think a slightly thin scarf is the lesser evil compared to a too-short scarf, so cast on sufficient stitches for the right length and keep striping (two rows or four) as long as you can while maintaining symmetry.
A standard "chain" cast off does not match the cast on, and a long edge, the disparity becomes striking. Try the sewn garter stitch cast off from Elizabeth Zimmermann's Knitter's Almanac
:
Begin with yarn at the right side. Break yarn, thread through needle.

*Thread needle through first two stitches as if to purl. Thread needle back through the first stitch as if to knit. Drop off first stitch*

Continue until you've cast off all the stitches. This has a similar tension and look to a cast on; use it where you want the cast off edge to match the cast on.


Elongated stitch scarf
This is another great way to stretch out novelty yarn, and it is fast as the wind. Rowan Biggy Print is super-duper bulky, but has only 33 yards per skein. With this pattern I was able to stretch two skeins into a thin four foot scarf.
By doing the garter ridges with one four ounce skein of plain worsted black wool, I was able to make a little more than one skein 50g skein of Divé Lauren into a full size scarf for my friend Jane in London.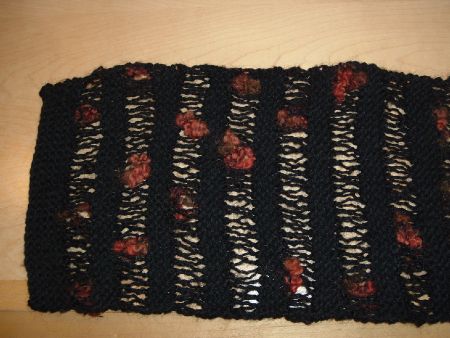 Because of the gauge, this took longer; about 8-10 hours from start to finish. The Rowan scarf might have taken three.
You're just working in garter stitch (9 sts, US 17 for the Rowan, 30 sts, US 10 for the Lauren) and making 3 (5 for Lauren) ridges to begin. You may work the ridges in plain yarn. Introduce your novelty yarn as follows:
K the st, *wrap the yarn twice round the needle and K the next st.* Continue across the row.
K the next row, dropping the wraps.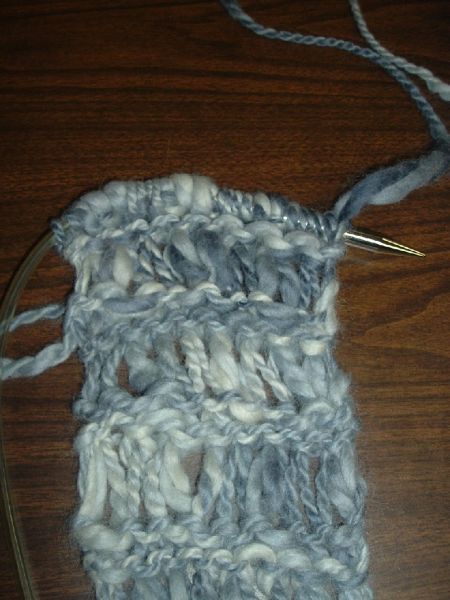 I worked three more knit rows on the Rowan scarf in between elongated stitches, and seven in the Lauren.
Multidirectional scarf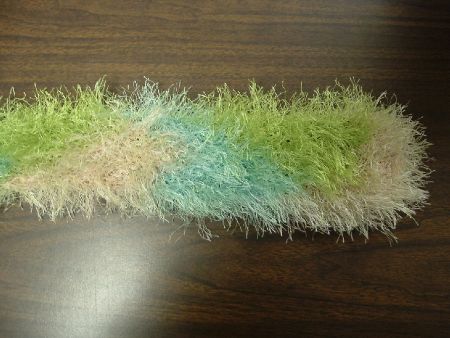 This one seems to be the latest fad among knitters. It looks great in yarns with long striped color changes like Noro yarns. I did the one here in Lion Brand Fun Fur (I am finally using all the stuff up that my knit.1 editor yarn-bombed me with when I was doing the embellishing article). The changes of direction can't be seen through the fur, but it makes the colors into interesting polygonal blocks. Depending on the gauge of the yarn, the thickness and the length of the scarf, it doesn't take that much longer than a blouse scarf.
Posted by Leigh Witchel at 11:40 PM | Comments (3) | TrackBack
December 18, 2006
A new resident choreographer at the Royal Ballet
Wayne McGregor's appointment has been chronicled at Ballet Talk and Ballet.co with Ballet.co being more positive and Ballet Talk at best ambivalent.
Brendan McCarthy posts his thoughts on the appointment and now Zoë Anderson has a very interesting interview up with Wayne McGregor at the Independent.
I'm firmly among those who are concerned. There's no reason McGregor shouldn't work with the company; but a resident choreographer – as McGregor says himself –
. . . develop[s], over a period of time, a programme of work that will have some impact on the way in which the dancers move.
And as Anderson comments:
A resident choreographer is in a position to make fundamental changes. It's not just that the Royal Ballet will dance more works by McGregor. Mason has already used the Ashton repertory to change the way that the Royal Ballet dances. By concentrating on those ballets, she built a shared style, redefining the company's identity.
The company was in a slump for several years, and only brought out of it by rediscovering the Ashton that was at the core of who they are. If McGregor sees his association with the company as more than that of a guest choreographer he could easily endanger that by making works that pull them in a different direction. If you think the company can be a servant of two masters, look at history. Classical style, as Alexandra Tomalonis has said, isn't something you can take down off the shelf like a cookie jar and leave unattended until needed again. It needs constant maintenance. McGregor is not trained in ballet; his wriggling, eel-like vocabulary with no center or axis, is antithetical to classical training. He isn't qualified to be a resident choreographer at a major ballet institution. See Alexandra's humorous take at Danceview Times.
There's a good chance he doesn't intend that sort of association; reading the article he has rather grand plans for collaborations and mentoring but no intention of giving up any other of his many committments.
That's a very old-fashioned perception. This is a much more mobile, fluid, multi-modal kind of arrangement. I want to develop a new set of relationships with the building and the organisation, to do things that aren't currently happening.
Actually committing yourself to an institution is so very single modedly Old School, you know.
He goes on to say:
I want to develop more choreographic mentoring, in-house here, to provide more opportunities for young choreographers.
Which should
tick
off
the people at the ROH who already have these programs in place that he says are not happening.
Reading between the lines, one senses McGregor's talent, if not for choreography (Chroma was a good work, not a great one – and the other stuff I've seen of his has been like watching MTV) then certainly for ambitious self-promotion. I would like to see dance regain respect among intellectuals at well, but can't we do it with less pretentiousness?
Posted by Leigh Witchel at 10:36 PM | Comments (0) | TrackBack
December 15, 2006
Some signs of good dance (or other critical) writing
This is like one of the tests in Cosmo: Are you being attacked by a rabid wolverine? Answer these 10 easy questions and find out!
It's good dance writing if:
It told you what you needed to know about a performance.
It helped you understand something you were confused about.
It helped you to notice something you hadn't previously seen.
It put into words a thought about the performance that you were having difficulty expressing.
It helped you understand another point of view – why someone would have disliked a performance that you liked without taking away your right to your own conclusion.
It entertained you.
You marveled at the writing style.
It made you want to see an artist's work.
It made you want to go see more dance.
All the signs don't have to be there. But the good stuff has a few of them.
For the knitters - a knitting post is coming up soon, I promise.
Posted by Leigh Witchel at 5:43 PM | Comments (3) | TrackBack
December 14, 2006
How not to write a press release
From a release received today from Dance New Amsterdam:
B.J. Sullivan, the New York native responsible for "safety release technique", created Walk-in-Closet in an attempt to eradicate the dichotomy between the selves we present to the world, and the selves that we keep behind closed doors.
What wrong with this description? It sounds like a grant proposal rather than a release because the sentence describes not what the dance is, but what it's trying to do. As I've said before, the goal of a critic isn't the same as the goal of a grant maker. I don't care what the social benefits of the dance are or what the dance is trying to do (I'll make that decision myself from watching it, thanks); I need to know what it is. What's the music, how many people are in it. Is it possible to describe a moment of the dance - particularly one that gives a picture of the entire mood? Use descriptive language and get a picture in our minds.
The language choices don't work here. "Attempt" weakens the idea that "eradicate" wants to convey. "Dichotomy" in context seems pretentious. The idea of a walk-in closet as a metaphor for a private life is a powerful and familiar one; better language could connect the dots. A possible example (with completely made up facts - my apologies to BJ Sullivan)
BJ Sullivan breaks into the hidden spaces in our lives in Walk-in-Closet, a tense dance for women who spy on each other's private moments while Bernard Hermann's movie soundtracks drone ominously in the background.
Also, while "release technique" is familiar to most NY dance writers, "safety release technique" without an explanation just provokes humorous visions of Susan Klein and Barbara Mahler dancing to Men Without Hats
. I know space is limited, but explain the idea - and why I need to know about it - or leave it out.
Posted by Leigh Witchel at 6:10 PM | Comments (0) | TrackBack
December 13, 2006
Critiquing the Critics
Time Out New York has just published an article critiquing the New York critics in several fields including dance. Like much of what TONY does, it's aimed more at titillation than at stimulating discussion. TONY decided to work in the form of a survey, which dooms the enterprise at the outset: There is too small a group of respondents (though there may be more I don't know, in the list of panelists I recognize seven names as dance professionals) for any type of real analysis. But numbers and rankings are more sexy than a discussion. I'm rather surprised TONY didn't give each of them stars.
Here's a do it yourself guide to evaluating a critic. It takes more work, but you'll learn more from it:
Go to a performance, one popular enough that you know it will be reviewed by several papers. Think about what you saw. Now read every report you can possibly find on the same performance.
Apollinaire Scherr, a critic at Newsday, blogger at Artsjournal and one of those reviewed, wisely notes that, "to say that a critic's got 'good taste' is just saying, 'She's like me!'" At the same time, how close a critic's viewpoint is to your own – I refer to it as "overlap" – is important and useful to know when reading them. I've learned that certain colleagues will usually dislike something I enjoy and with others I have a relatively close overlap. Overlap does matter. Reading a review by someone with whom I have almost no overlap is like visiting a parallel universe. Often it's instructive; sometimes it's disorienting or even infuriating. Still, reading contrary opinions helps you define your own aesthetic.
There are less subjective criteria. Depth of viewing is important. Openness is as well, the openness to realize that each performance needs to be judged on its own merits, and that not only is ballet not modern, but French ballet is not American ballet is not English ballet is not Release Technique is not Graham is not Cunningham is not Tanztheatre. A critic should not judge one form or aesthetic by another's goals. (And that, Mr. Rockwell, is another reason why the differences between them matter.) The nuts and bolts of being a good writer matter as well, although there is one writer I can think of, who when someone criticized that critic's pedestrian writing style, I responded, "But at least I know I went to the same performance."
Update 12/15/2006: More thoughts on the subject here.
Posted by Leigh Witchel at 6:49 PM | Comments (6) | TrackBack