June 12, 2008
Itemization
Posted to
Kitty
Patient #13194
"Javi", Feline, DSH
Spayed Female
4.49 lbs, 2.040 kgs, 14 years old.
06-06-08 Ult, Abdomen
06-06-08 Consult, Emergency Exam
06-06-08 Siemens Blood Gas Full Panel
06-06-08 Blood Typing, initial
06-06-08 Radiograph, 2 Views
06-06-08 Radiograph, Additional Views
06-06-08 Hospitalization - ICU2
06-06-08 Nursing Care - ICU2
06-06-08 Catheter, IV
06-06-08 Fluid Therapy, IV
06-06-08 Inj, Famotidine
06-06-08 Consultation
06-06-08 Euthanasia
06-06-08 Cremation Communal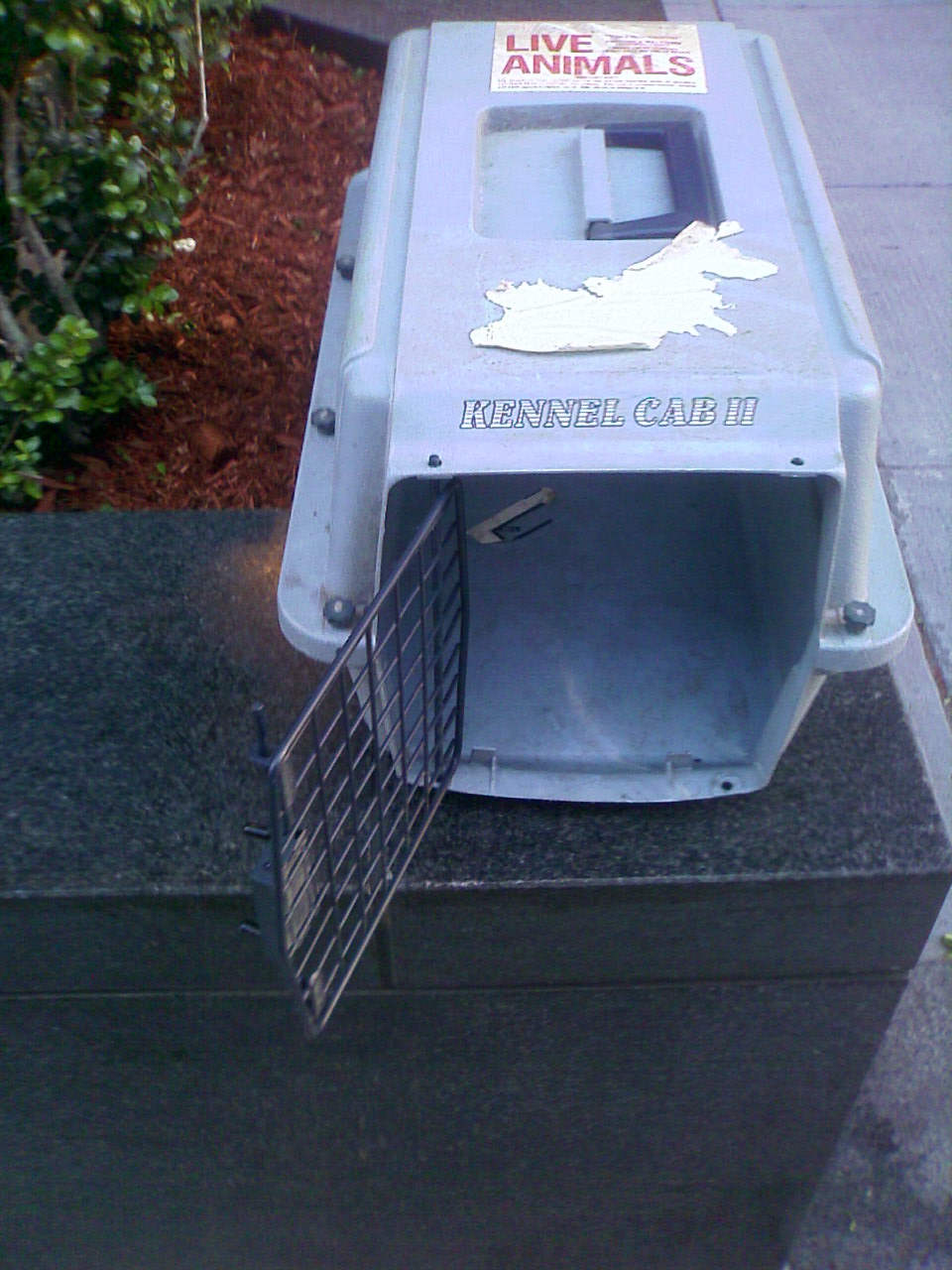 Posted by Leigh Witchel at 11:40 PM | TrackBack (0)
June 6, 2008
Waiting
Posted to
Kitty
|
Knitting
|
Personal
Several years ago, when I was visiting my friend John in Toronto, I was knitting a pair of socks for my brother. It was in my usual pattern (for the knitters out there, Twin Rib, short row heel, made out of Fortissima sock yarn) and I had finished the first sock and was about three quarters done with the second.
I lost the second sock somewhere.
I don't know where. It could have been at brunch with John, it could have been where we parked. It could have been walking around.
I spent portions of the next two days going back to places, calling and making inquiries to see if it had turned up. When you lose something, places need to be revisited; possibilities need to be crossed off the list. Until that point, the sock still might have been found – I couldn't allow myself to admit it was gone, I had to keep looking. As much frustration there was in losing the sock, dealing with that point before the loss is final was somehow worse. Sometimes, things turn up, like my driver's license a few days ago when an airline mailed it back to me. Usually they don't. In the interim, you're suspended, unable to deal with the loss, because it might not be lost. You just have to wait.
Javi went to the hospital today. She lost a serious amount of weight while I was traveling. I was haunted by thinking that she may have starved herself (cats do) because she was upset. Because she hated going out of the building so much, I tried to get her to eat first without involving a vet. I tried bribing her with different food. For a few days she'd eat temperamentally, eating one food one day and refusing it the next, or eating the same food on a plate but not in a bowl, or on the bed but not at her usual spot. Last weekend, she started hiding and refusing food.
I took her to a local vet. He tried to not be alarmist, but couldn't help saying, "You have a very sick kitty." Things yo-yoed. She looked awful that day and much better in the night. We went over and spent time with our neighbors Janet and Mozart and she was social, even though she was weak. The next morning I went to the vet and got food for feeding via syringe. She accepted it, not happily, but she did. I thought if I could feed her, maybe I could help her get better. I could do something. The vet suggested I take her to a nearby hospital for a sonogram.
When I saw her that night my optimism was gone. She came out to greet me listlessly and I really looked at her. She couldn't jump up and down and even climbing was hard. She needed to find flat surfaces to lie down on, and she had no energy. I had never seen her look like this. When I held her, she didn't resist, and all I felt was bones and fur. She had lost more than half her body weight.
When something is lost, you can't admit it is lost until you exhaust the possibilities.
My eyes kept closing and then snapping open. At 4:30 am I took a klonopin and passed out about a half hour later, getting up a little before nine. I didn't bother showering and took Javi to the hospital.
The female doctor there was very caring, but more aggressive than Dr. Fisch. She didn't want to do just a sonogram, but also chest x-rays and blood work, and then if treatment was possible, to keep Javi for the weekend for testing and transfusions. I didn't know what to say; I said yes and handed them my credit card.
When I got home, I called Dr. Fisch. "She's really very sick." He said. "I guess the x-rays make sense, I thought of doing them myself, as does the blood work to see if there's any movement. But I would have done the sonogram first to see if anything further was even necessary."
The hospital doctor called me about an hour later. "There are possibilities, but I promised, and I want to check in with you before we do anything." She explained that there was a mass in Javi's intestine, and bleeding. She was anemic but the cause of the anemia would require further testing.
A hundred possibilities opened. Were any of them not dead ends? When my last cat Winnie died, I took her to the Animal Medical Center. They made her life – and death – hell over a week with exploratory surgery and learned nothing. I asked if I could call Dr. Fisch. "Of course. He speaks to me three times a day. Just tell him to call Jenny."
Dr. Fisch is easy to read and he's not one to dissemble. "Well, she has some sort of cancer. They could do something but it would take further tests and at minimum surgery and chemo. Maybe she could live a year. Maybe she'd never get out of the hospital."
I asked if it was time to put her to sleep. I hate that term.
"I wouldn't talk you out of it, no."
I called Jenny and told her what Dr Fisch said. "Honestly, I wouldn't talk you out of it either. I want to give you every option."
When something is lost you need to exhaust every possibility before you can admit that it is lost.
I couldn't. I hope I did it for Javi. But I have to live with the fact that I also did it for me. I couldn't stay hostage to hope.

Posted by Leigh Witchel at 7:51 PM | TrackBack (0)
May 11, 2007
Word of Mouth: David Parker tonight & tomorrow at Dance Theater Workshop
Posted to
Dance
I really enjoyed David Parker's Hour Upon The Stage last night at DTW. David is a deft choreographer and he and I have been friends for well over a decade. It isn't right for me to review it, but speaking personally here, this was the best thing I've ever seen of his. It may be because he wasn't in it. The distance that allows gave the work a sharpness and the excellent dancers gave it a glow.
The dance is a group work, most sections without music. The hallmark of David's choreography is percussive movement that creates its own accompaniment. His source is primarily tap but there are many felicitous borrowings from soft shoe and this time a lot from ballet. His chameleon borrowing is happy. His dancers are comfortable with ballet technique without looking like ballet dancers and it's nice to see someone borrow from ballet with affection rather than issues. Hour Upon the Stage is very sweet natured with some poignant partnering - another hallmark of David's choreography. He has a way of letting what looks like a gag blossom into something thoughtful. All the dancers are really personable – you connect with them quickly. The only thing I did not like was the usual modern dance structure of a longer work without intermission - my brain likes 20 minute chunks.
It's only on until tomorrow, alas, but a very enjoyable evening. I wish I could have let people know sooner.

Posted by Leigh Witchel at 5:15 PM | TrackBack (0)
May 7, 2007
Money for nothing (cleaned up and updated)
Posted to
Good Deals
|
Miles and Points
Like a jerk I made the Free Stuff web page by auto-converting an Excel spreadsheet.
I've redone it as a series of pages that hopefully will be a good deal simpler to read. There are also some survey providers I inadvertently omitted.
Have a gander.
Posted by Leigh Witchel at 4:26 PM | TrackBack (0)
May 5, 2007
Money for Nothing and Your Clicks for Free.
Posted to
Good Deals
|
Miles and Points
I've been meaning for ages to do a post on shopping portals and other sources of free and nearly free cash and points, since I am officially an eggspert on them. Now that I'm avoiding writing a review, it seems like the perfect time. If you like the information here, could you join the programs through my links, or send me an email to refer you? It won't cost you a thing and I get some points or cash for my effort. Thanks!
(I'd put it on the blog, but it's too complicated to fix the formatting - sorry.)
Posted by Leigh Witchel at 8:01 PM | TrackBack (0)
May 3, 2007
Gone fishing
Posted to
Blogging
Apologies. Same as usual - I need the time in the day I would spend blogging for other things.
In the meanwhile, please read my writing on dance at Danceview Times on the web, or in print in Ballet Review, Point Magazine, Dance Now, Dance International or Dance View.
For me on knitting, check out Knit.1 Magazine, Vogue Knitting and Knit Simple.
I've turned off the comments to keep the spam to a minimum but feel free to write.
Posted by Leigh Witchel at 12:28 AM | TrackBack (0)
April 14, 2007
Live Birthday Kitty Action
Posted to
Kitty
|
Personal
Steve asked for something special for his birthday.
Here's some live action Kitty porn.
Happy Birthday, Steve.
This may work better in a new window.
Posted by Leigh Witchel at 11:16 PM | Comments (2) | TrackBack (0)
April 3, 2007
Tuesday Night Jukebox - Unkosher for Passover Edition
Posted to
Queer
|
Tuesday Night Jukebox
Everyone knew about the Scissor Sisters well before me, and I wish I were a little earlier on the bandwagon. The video for "Filthy Gorgeous" celebrates the downtown club scene; my friend Dirty Martini is in it. Murray Hill, the drag king without whom there would not be Christmas, is the one spanking Jake Shears.
Ahhhh. Jake. He's totally not my usual fantasy type but there is something so magnificently out there about him, to say nothing of the way the outfit that he is wearing fits him that makes me want to. . .well, you know. As one of his lovers interviewed said he "helped me find my inner daddy."
Posted by Leigh Witchel at 11:19 PM | Comments (1) | TrackBack (0)
March 27, 2007
Tuesday Night Jukebox - Ear Bleach Edition
Posted to
Tuesday Night Jukebox
Nancy Sinatra on Scopitone. It takes strong medicine to get this out of your head. I watched it one too many times (that would be twice) in Palm Springs this weekend.
Posted by Leigh Witchel at 6:38 PM | Comments (2) | TrackBack (0)
March 22, 2007
Priceline Caveats
Posted to
Priceline
In the comments Mitch Stein wrote about his frustration renting a car from Priceline.
Let me give you the other side of Priceline. I booked a rental car specified on Priceline as an SUV. I thought I was getting a great deal until I found out that some rental car companies have 5 categories of SUV. An "SUV" rental could be for a GEO Tracker for all Priceline cares. The best part is that when there was a death in my family and I had to change my pickup day to 2 days later I forfeited my 177$ rental fee AND THE CAR. Yes because I wanted to pick it up 2 days later and only use it for 3 days instead of 5 days I lost the whole thing, the car and the money! These people use death and emergencies as a big, fat, free profit item! Never again!
It sucks to have that kind of experience and it could happen using Priceline not only for car rentals. If you try to check in a day late on a Priceline reservation you will find the reservation has been cancelled entirely. Also, Priceline defines its own categories. What you think of as a four star hotel may not be what they give you.
My best suggestion to Mitch is, if you have not already gone beyond talking to a customer service rep on the phone, write a letter. You may get a better response higher up the ladder. Priceline has refunded money in limited cases because of emergencies. I was scheduled to be in Birmingham AL, on the night Katrina hit. I called Priceline the same day; they refunded my purchase with no arguments and no penalties.
For others considering bidding on Priceline, caveat emptor. Like any cut-rate seller, Priceline is not something to use without caution and having a good handle on the product.
Check all other options first and have a cancelable backup plan.
Read their contract and conditions CAREFULLY. Can you afford to lose a non-refundable reservation? Do you want to purchase their insurance? For the record, I never have and have not yet needed it. I use Priceline frequently enough that I figure at this point a loss is amortized.
Research your bid first at either Better Bidding or Bidding for Travel.
I would not use Priceline for air travel. I used it occasionally a few years ago, mostly for NYC-YYZ flights; the small savings are not to me worth losing control over schedule (and the airline frequent flyer miles on longer trips).
I haven't yet used Priceline for car rentals. There are enough competitive deals out there that I haven't felt it worth it. For instance, I'm renting with National Car in ONT tomorrow; a coupon for one weekend day free will result in a better price than I think I could get on Priceline.
Hotel deals on Priceline in the last year have gotten steadily less appealing. For a solo traveler, Priceline is usually still the best deal, but I would recommend researching all non-opaque options first. I will be heading to Chicago again for a weekend in April. I may use Priceline, but I also have back up reservations at the Palmer House or the Swissotel for $79 and $99 respectively. Both are cancelable; Priceline would need to beat them by at least 20-25% for me to use it instead.
Will you be satisfied with the product Priceline offers? You've contracted to get:
A hotel anywhere in the mapped area Priceline indicates.
A room that sleeps two adults with any bedding configuration the hotel chooses. I felt that the one Priceline commercial that I have seen on TV was misleading. It is not always "the same room." You're not just buying surplus inventory on Priceline. You are often buying distressed inventory. Recent Priceline stays at Hilton family hotels in SF, Boston and Philadelphia have all yielded "Priceline rooms" – a room near an elevator, with a handicap accessible bathroom or some other feature that might make it less desirable to a standard traveler. Older landmark hotels such as the Westin St. Francis in SF or the Boston Park Plaza give their smaller rooms with double beds only to Priceline guests. They sleep two adults, so it fulfills their contract. I've been in those rooms; they're just fine for a single traveler but it would be a very different story for two travelers who are not an intimate couple. And there's not much to be done besides pay for an upgrade.
At the quality level or better that you indicated. That level is determined by Priceline not by guidebook ratings but by a list of standard facilities, but it's their call not yours. You can argue up to a point, but back up your argument with pictures - I recall a woman getting a refund on a bid that turned out to be a fleapit hotel that way.
Generally non-smoking, but not guaranteed. I've infrequently gotten a smoking room instead of a non-smoking room; I think the trend on Priceline would be even more difficult for smokers. The Hilton Garden Inn in Philadelphia is a non-smoking hotel; they will charge you a $200 cleaning fee if you smoke in the rooms. A smoker who gets it on Priceline is out of luck.
Posted by Leigh Witchel at 3:49 PM | TrackBack (0)
March 21, 2007
Latest Dance Articles - Major Catchup Edition
Posted to
Dance Writing
I have four articles in the current issue (available only in print) of Ballet Review, which is too many, but two were bumped inadvertently from the previous issue.
West Coast, West Side on San Francisco Ballet's week at Lincoln Center:
It's hard to watch Artifact without regret for what might have been. Back in 1988, when it seemed that every major company was scrambling to get a Forsythe commission and Frankfurt Ballet came to New York's City Center for its own planned invasion, we thought that we were looking at the future of ballet post-Balanchine. As dark and churning as the works were, there was a genuine attempt to assimilate and develop classical ballet. This was supposed to be our generation's contribution, and Part 2 of Artifact Suite eloquently shows why. What happened?
Revival and Repertory at Covent Garden - Sleeping Beauty and the Mixed Rep and Gala programs at the Royal Ballet.
Alina Cojocaru and Marienela Nuñez were both dancing Aurora at the top of their games. Cojocaru's delicacy and modesty is naturally attractive in the role, but she is not a consistent performer. She has bad days when her feet start flopping, but traditional repertory with marginally slower footwork shows her at her best. It was glorious to see her in a performance that justified all the fuss as she sailed through the balances in the Rose Adagio without even needing to show off. Cojocaru balanced through placement; she was on her leg the moment her shoe touched the floor. Nuñez balanced no less successfully, but from muscular strength; one could sense her driving her thigh forward to recalibrate her equilibrium.
In the front of the magazine, two short pieces, one reporting on both Akram Khan and (quoted below) Nrityagram Dance Ensemble:
As with their performances at the Joyce Theater a year previously, one marveled at the skill and stagecraft of the dancers and also at the taste and craft of Sen in her compositions. With their impeccable suspension and control the dancers make the style look deceptively easy (it takes seeing lesser Odissi dancers to know just how good Sen's are). Here the company was almost too good. It has been performing the same program for month. Rather than looking fatigued, their work in unison was amazing. But it looked too drilled, with a high gloss that was difficult to penetrate.
The second on the Sourcing Stravinsky at Dance Theater Workshop with Yvonne Rainer's anatomization of Agon.
Seeing the steps of the opening men's quartet danced by women, one realizes that everything will be the same, but completely different. Rainer's fascination with changing the text by changing the situation – substituting women for men; fracturing and switching the order of sections and substituting music – are interesting, although the better one knows the original, the more wry it becomes. A monitor showed a video of Balanchine's male solo from the first pas de trois; Catterson turned the screen away from the audience and attempted to reproduce it as she watched but we could not.
And available online at Danceview Times:
"Troilus and Cressida (Reduced)" is one of those goofball pieces that Taylor makes every now and again. . .Rob Kleinendorst is the stalwart but incompetent Troilus. He wears a pair of purple velvet pants designed by Santo Loquasto that keep falling down in what might be a backhanded tribute to Kevin MacKenzie's ill-fated Romeo on television with Natalia Makarova. With three red-caped Greek invaders skulking about in pursuit, "Troilus" is brief, silly and harmless, but the result wasn't worth the resources. Disney did better with the music using dancing ostriches and hippos.

New (Old) Balanchine in DC Suzanne Farrell Ballet dancing Balanchine rarities.
The performance wasn't given full-dress treatment; Farrell herself dubbed it a "working rehearsal." She spoke briefly in front of the curtain, saying that she felt very aware of the line between 'preserve' and 'preservation'. To her, "preserve" was passive and "preservation" is active, which gave her license to adapt and rework. As she went on, it was clear she wasn't talking about wholesale changes, but tailoring each work to the current dancer as Balanchine himself might have.
Posted by Leigh Witchel at 6:15 PM | TrackBack (0)
March 20, 2007
Tuesday Night Jukebox!
Posted to
Tuesday Night Jukebox
Since I'll be heading to that coast-cum-state-of-mind for the weekend, here's the Mamas and the Papas on Hullabaloo! Even if you're not a fan of the song, stick it out until at least 1:15.
Posted by Leigh Witchel at 5:24 PM | Comments (2) | TrackBack (0)
March 19, 2007
Why we knit
Posted to
Knitting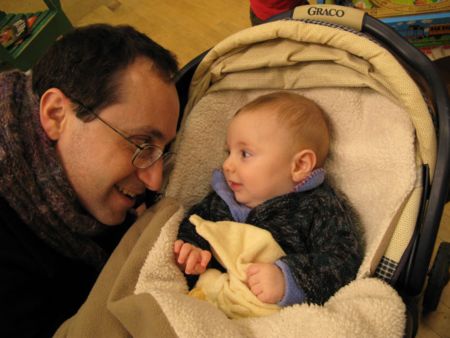 Beauty and the Beast. Nick's wearing the sweater I knit for him (Connie had the good sense to stuff him into it for my visit); I'm wearing a scarf I made from Noro Nadeshiko (wool/silk/angora) several years ago.
Posted by Leigh Witchel at 10:44 PM | Comments (3) | TrackBack (0)
March 16, 2007
Word of Mouth: The Lady in the Fur performs!
Posted to
Dance
Rajika Puri, the woman who introduced me to Indian dance and helped teach me the rudiments of how to appreciate it, will be performing Conversations with Shiva: Bharatanatyam Unwrapped next Thursday to Sunday at Joyce Soho. I'm going to be out of town and will have to make do with the dress rehearsal on Wednesday, but go. I've enjoyed her skilled work many times, it's both theatrical and lucid. I've seen bits of this in rehearsal; what she's doing (examining the structure of a traditional form by gently picking apart the pieces) is very clear to Western eyes. The performance gives a good introduction to the language and ingredients of classical Indian dance, which has conventions that need the same initiation as the secret code of ballet mime.
To imitate Rajika, you must go! Please do, and tell me what you thought.
Posted by Leigh Witchel at 1:07 PM | TrackBack (0)
March 15, 2007
Back very soon
Posted to
Blogging
Two articles submitted, two more will be after final polishing. What a relief.
In Philadelphia this weekend, seeing Pennsylvania Ballet for Ballet Review.
In the meantime, here is something so fabulous you will barely be able to stand it.
Posted by Leigh Witchel at 1:36 AM | Comments (1) | TrackBack (0)
February 27, 2007
Hiatus - It'll be a bit longer.
Posted to
Blogging
Sorry folks - the usual.
Everything is fine, but I have four articles on deadline; when I get them out of the way I'll be back.
Posted by Leigh Witchel at 11:35 PM | TrackBack (0)
February 21, 2007
Curse you, Showtunes!
Posted to
Pop Culture
|
Queer
Much as I love Showtunes, I did not need to get Wig in a Box stuck in my head.
Now it's your turn.
Posted by Leigh Witchel at 12:40 AM | Comments (2) | TrackBack (0)
February 20, 2007
Chicago Thaw
Posted to
Culture
|
Dance
|
Knitting
|
Queer
|
Travel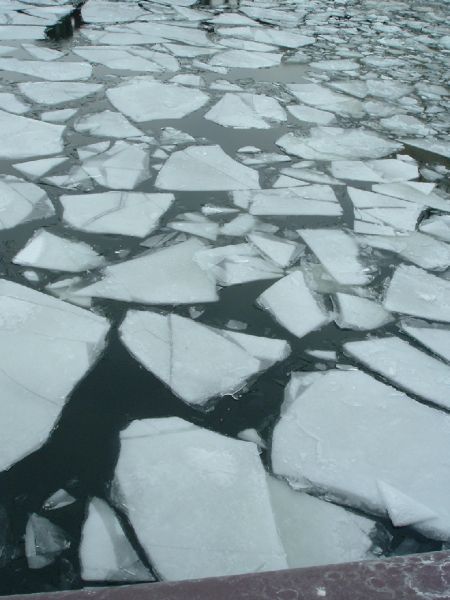 Looking over the bridge on LaSalle Street, 2/19/07
Despite the inauspicious beginning it was a lovely trip.
I saw the Saturday and Sunday matinées at the Joffrey. The long version will be in Ballet Review, the short version is it was worth the trip, and the alternate version lives here – Franklin, a fellow knitter and blogger was my companion on Sunday. He provided excellent company!
I saw several other good friends and got more sense of the city – what's to get a sense of, it's a grid, right? Yeah, and so are New York and San Francisco. Chicago's grid has the added benefit of forcing you to memorize the early presidents in order.
Before going to Chicago, on David B's recommendation I read Devil in the White City
, a book that runs the parallel courses of the Columbian Exposition in Chicago in 1893 and Dr. H. H. Holmes one of the first serial killers who used the fair as a lure for victims. It bills itself as pure history; historians I know roll their eyes when that is said. There's plenty of research in the book; there's also plenty of conjecture. It's You Are There history.
The author, Erik Larson, is better on the Fair and its architects than he is on Holmes. It's probably a good thing, but he has an easier time making more comprehensible men such as Daniel Burnham and Frederick Olmstead come to life than a psychopath such as Holmes who is fascinating in a grisly way, but ultimately reads as a cardboard cutout villain.
That said, Larson does some great things in this ripping yarn. The conjunction of the two plot threads isn't just historically correct; Larson teases out the opportunity and energy in both Chicago and fin de siècle America that fed both builders and madmen. It's a portrait of a city and a country that rings true. Larson also pays special attention to architecture that opens your eyes. It could also be that my friends David B. in Chicago (whom I just visited) and David S. who just moved to Atlanta from San Francisco are an architect and a landscape architect respectively. I found myself noticing the lampposts on Madison Avenue as my bus moved uptown on the way to Boston, and staring upwards at cornices and molded decorations.
Larson's book captures one of Chicago's most vigorous architectural periods; a trip downtown will bring you face to face with some of the buildings described, except, alas, the World's Fair itself. What remains of it is far to the south; David took me there on my first visit to Chicago. My hotel (the Club Quarters Central Loop – gotten again on Priceline for $68/night) is right next to the Rookery, which housed the firm of Burnham and Root. Go to see the Joffrey Ballet at the Auditorium Theatre and you are in Adler and Sullivan's masterpiece. To cap it off, go up the stairs in the Art Institute of Chicago towards their phenomenal Impressionist collection. There is an exhibit of fragments of ironwork and moldings from buildings designed by these very architects. You really are there.
After lunch with David on Monday, as he said with satisfaction the first day above freezing in Chicago in more than a month, I had two hours to kill before heading to O'Hare, and they were profitably spent at the museum. With only that length of time, I decided to see only the Impressionist and American collections, but that means one sees Caillebotte's amazing scene of Paris in a drizzle, Seurat's La Grande Jatte and van Gogh's haunting and claustrophobic picture of his room in Arles. The American collection has Hopper's brilliant Nighthawks and the iconic American Gothic, a painting that's a good deal better than the image that resides in everyone's imaginations. It was an excellent farewell to a vigorous city.
And to make mischief . . . Franklin looks very hot in leather.
〈skips merrily away&rang
Posted by Leigh Witchel at 10:59 PM | Comments (1) | TrackBack (0)
February 19, 2007
Darn or Pitch?
Posted to
Knitting
Telling a non-knitter that you're darning socks provokes confusion. Everyone has heard the word "darning," but few people really know what it is. They usually know it's repairing, and that seems even more confusing. Why repair something that costs a couple of bucks?
Hand knitters understand. A pair of hand knit socks takes upwards of twenty hours to make and is an object worth repairing.
I believe my first pair of socks is approaching its tenth anniversary; others are coming up on theirs. Socks get more abuse than almost any other knitted item; they're bound to need fixing.
Here are some of the repairs made. It's interesting for me to see how my sock making evolved from bed socks to socks wearable in shoes.
My first sock was striped in DK weight wool. I think the blue is Wendy Ascot, the gray is Swilan Favora and the yellow is Nylamb. I believe I used a basic pattern by Theresa Gaffney from Threads Magazine with a shaped calf and a gusseted heel. It's got awkward stripes and only good as a bed sock, but oh, it's nice on cold winter nights.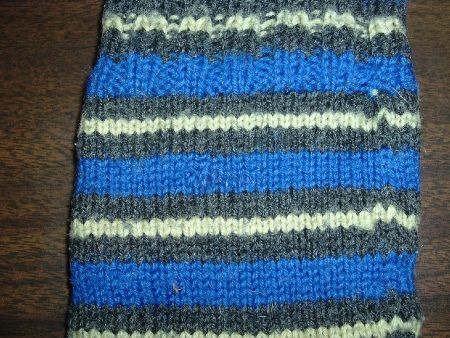 The sock sprouted a hole high up in the calf. That's not from wear, so I have to assume that it was the bane of my existence, a carpet beetle. I have no more Wendy Ascot, so I matched the color as best I could – though not the fiber remotely. My closest match was Euroflax linen. Though distinctly unkosher, I think it was no harm otherwise on a small graft, pictured below.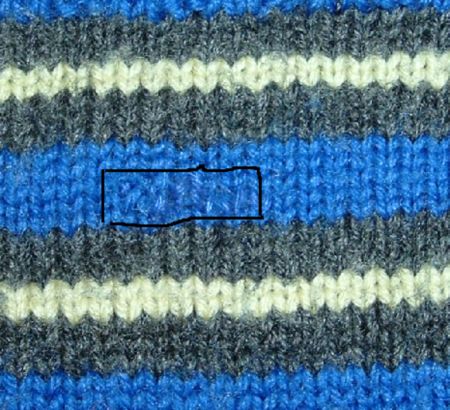 Apologies for my poor photo manipulation skills.
I've had to graft these next socks from Koigu yarn several times already, but I can't bear to part with them because the colors are so pretty. Koigu Painter's Palette is 100% merino, so there's nothing to reinforce them. The painful truth is that if a sock needs a repair. It will soon need more. The fibers have weakened. The other lesson I keep forgetting is that once a sock has needed a repair, you shouldn't machine wash it any longer. I keep forgetting and tossing these in the watch, only to have them come out sprouting new holes.


These socks from Froehlich Wolle are the first socks I made (in 2000) for myself that could be worn as a normal sock. Froehlich wears very well, but I could see the area behind the heel (and naturally, immediately above where I reinforced the sock) was not fraying but becoming thinner and thinner. Instead of grafting, I took matching yarn and wove it through the back of the sock to reinforce it. Yet, see lesson above. I just machine washed this pair, only to find one had come out with the cuff frayed and needing repair.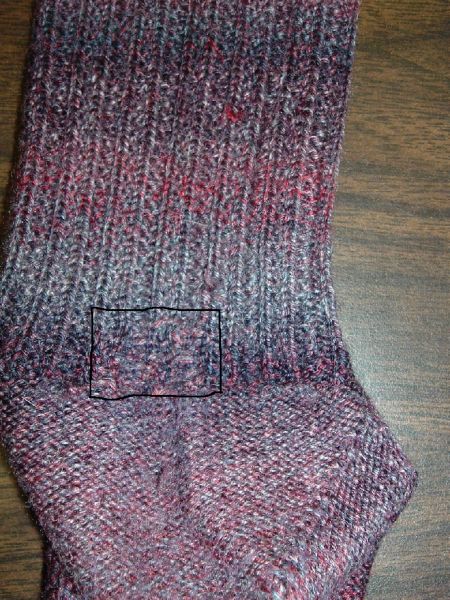 So sock knitters, what do you do? Do you try to prolong your socks' lives by darning or do you take the first hole as a sign that more will soon follow and retire them?

Posted by Leigh Witchel at 11:14 AM | Comments (4) | TrackBack (0)
February 17, 2007
At some point I had to experience the delay from hell
Posted to
Travel
Five hours. I left the office at 6pm. I got to my hotel in downtown Chicago at 4:15 am local time.
It wasn't weather or runway, but the lack of a flight crew.
Ugh.
Posted by Leigh Witchel at 12:11 PM | Comments (2) | TrackBack (0)